Your Guide to Small, Micro, and Nano Drones
Entry Level to Advanced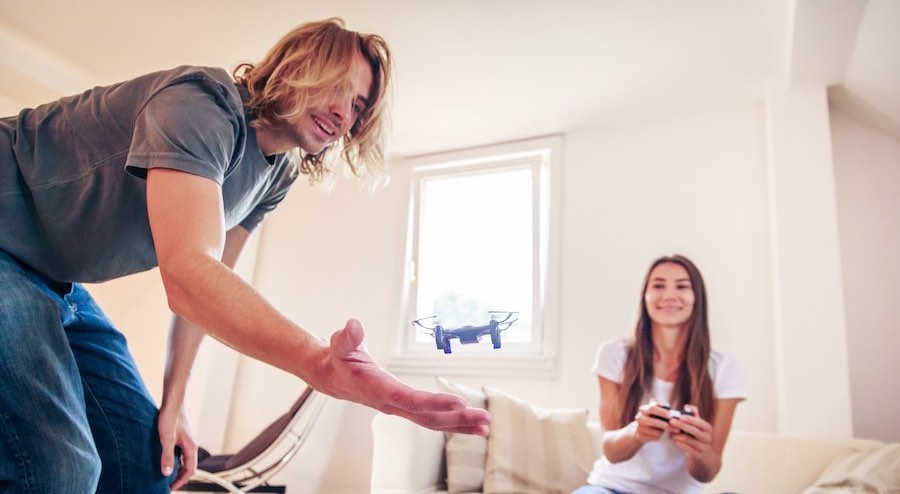 Little, Micro, Nano, and Mini Drones
Consumer drones come in all shapes and sizes. At one end there are the big and heavy crafts. At the other extreme you have micro drones that are so small you'll miss them if you blink.
Why would anyone want to bother with a little nano drone in the first place? Well, we've all got to learn to walk before we can run, or in this case—fly. These drones are perfect for kids and learner pilots.
Not only that, but they're affordable, durable, and safe for indoor flying. This guide looks at 10 of the best nano drones (aka micro drones) and mini drones at the present time.
| Name | | Range | Max Flight Time | Rating | Price |
| --- | --- | --- | --- | --- | --- |
| | Wingsland S6 | 100m | 10 minutes | | |
| | Holy Stone HS170 | 50m | 8 minutes | | |
| | Virhuck Volar-360 | – | 8 minutes | | |
Little and Mini Drones By Budget :
Click below to get detailed information on each drone.
Top 10 Nano and Mini Drones in 2017
Some makers refer to their drones as "nano" when they're more mini (bigger) in size. And some makers call theirs "mini" when they're more micro (smaller) in size. For simplicity I name them by size.
You can refer to the section above "Nano Drone VS Mini Drone" for further clarification.
Nano Drone VS Mini Drone — What's the Difference?
About the Federal Aviation Administration (FAA)
The Price of Affordable Nano Drones
About this Guide
Great Little Drones Under $50
You'll often here this budget friendly range of mini and nano drones referred to as "Chinese toys". Don't let the tacky title put you off. What you have here are great little flying robots, perfect for anyone at any age who wants an introduction to consumer drones.
These are tough little crafts best suited for indoor flying. They're safe for kids—under supervision—as well. It won't take long to hone in and develop your new drone piloting skills. I've even listed one here for less than 20 bucks so now anyone can fly.