Best Small, Micro, and Nano Drones
3D Insider is ad supported and earns money from clicks, commissions from sales, and other ways.
Consumer drones come in all shapes and sizes. At one end there are the big and heavy crafts. At the other extreme, you have micro drones that are so small you'll miss them if you blink.
In this guide, we take a look at the best small drones that you can buy.
Budget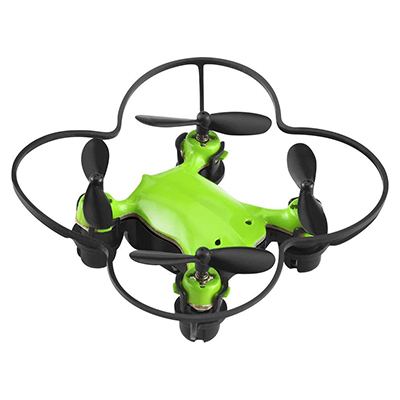 Virhuck Volar-360
4.1/5.0
Very quick charging time
Flight time 8 minutes
High average flying time and No FAA registration needed.
Check Amazon
Best Value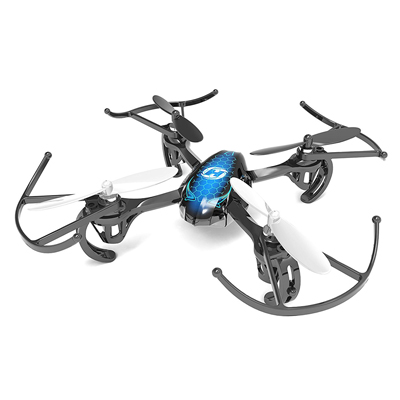 Holy Stone HS170
4.6/5.0
Range 50m
Flight time 8 minutes
Wind resistant and shockproof and intuitive transmitter (RC).
Check Amazon
Top Pick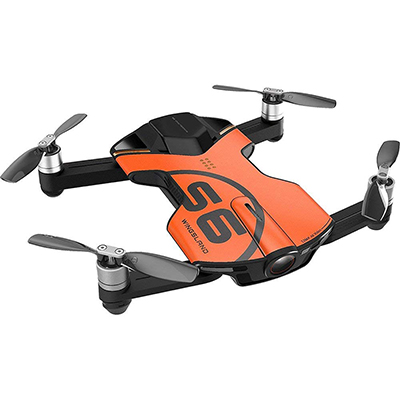 Wingsland S6
4.1/5.0
Range 100m
Flight time 10 minutes
Impressive 13MP camera, 4K video and brushless motors.
Check Amazon
Why would anyone want to bother with a little nano drone in the first place? Well, we've all got to learn to walk before we can run, or in this case—fly. These drones are perfect for kids and learner pilots.
Not only that, but they're affordable, durable, and safe for indoor flying. This guide looks at 10 of the best nano drones (aka micro drones) and mini drones at the present time.
Little and Mini Drones By Budget:
Click below to get detailed information on each drone.
Nano Drone VS Mini Drone — What's the Difference?
About the Federal Aviation Administration (FAA)
The Price of Affordable Nano Drones
About this Guide
Top 10 Nano and Mini Drones in 2017 Comparison Table
Some makers refer to their drones as "nano" when they're more mini (bigger) in size. And some makers call theirs "mini" when they're more micro (smaller) in size. For simplicity, I name them by size.
You can refer to the section above "Nano Drone VS Mini Drone" for further clarification.
Great Little Drones Under $50
You'll often hear this budget-friendly range of mini and nano drones referred to as "Chinese toys". Don't let the tacky title put you off. What you have here are great little flying robots, perfect for anyone at any age who wants an introduction to consumer drones.
These are tough little crafts best suited for indoor flying. They're safe for kids—under supervision—as well. It won't take long to hone in and develop your new drone piloting skills. I've even listed one here for less than 20 bucks so now anyone can fly.
1. Cheerwing Syma X20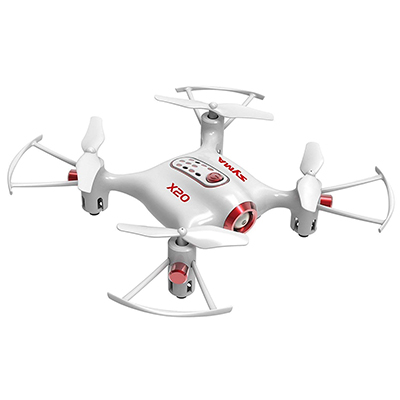 View on Amazon
Editor's Rating: 4.8/5.0
The Syma X20 looks like the perfect kid's toy, and it is. But it's also a great little mini drone for anyone to have fun with as they practice drone piloting skills. Prepare for a treat if this is your first time.
The only thing you won't like about this indoor micro quadcopter is the short battery life. You only get around five minutes of flying time per charge. By the way, that's pretty standard for most tiny drones.
The recharging time isn't too bad at around 50 minutes. The Syma X20 has a control range of 20m in ideal conditions. This gives you plenty of distance for flying around in most indoor spaces.
I love this mini drone's one-key takeoff/landing and its flight performance. Despite the low price, you get a smooth flyer with a pretty good altitude hold feature. This makes the X20 perfect for beginners.
With more experience, you can flip it (360° roll) and switch over to the high-speed mode. And the drone can rely on its headless mode and continue its flight if you lose track of the fuselage direction.
The fixed prop guards offer the blades some protection. That's handy despite adding a little extra weight to the craft. And the red orientation light shows you which way the drone's facing.
The pebble-shaped remote controller (RC transmitter) uses sliders rather than control sticks to navigate. Other than that, the RC is intuitive and self-explanatory. If in doubt, refer to the guide.
Some reviewers complain that the Cheerwing Syma X20 falls short on flight features. I think it offers plenty of everything for less than 30 bucks. The only real gripe I have is with the built-in battery.
Despite its tiny size you have a robust mini craft here that's simple to fly and fun to practice with. Don't make your mind up just yet, though. The other capable crafts on this page may suit you better.


Tech Specs
Weight: 23g (with battery)
Battery: 3.7V 180mAh 1S Li Po
Charging Time: 50+ minutes
Control Range: 20m (65.6 ft.)
Max Flight Time: 5 minutes
Max Speed: Not known
The Pros
Affordable price tag
Ideal beginner drone
Nice flight performance
Intuitive transmitter (RC)
Great looking craft
Perfect for indoors
Powerful motors
No FAA registration needed
The Cons
Built-in battery
Fixed prop guards
2. Holy Stone HS170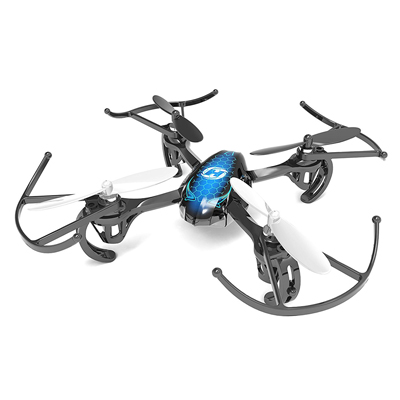 View on Amazon
Editor's Rating: 4.6/5.0
My second pick in this category is the RTF (ready to fly) Holy Stone HS170 Predator. It's an entry-level mini drone and a great choice for beginners. Stick this one on your shortlist if you're a first-time flyer.
This mini drone is a #1 Best Seller on Amazon with thousands of reviews and a high ranking. There's no better endorsement for a product than that of real users who leave personal feedback.
The Predator certainly looks the part and it flies really well too. It has to be one of the best pilot training crafts around. It's the perfect quadcopter to help prepare you for better things ahead.
The only downside—from a newbie's perspective—is the absence of any actual flying tips. That means you have to learn how to do some stuff yourself. The good news is there's no steep learning curve.
You do get all the essential information you need—it's the little extra details that are missing. The remote controller (RC) is simple to use and responsive, but it too is void or any markings to guide you.
The RC function buttons can activate the headless mode. This means you don't have to worry about the drone's orientation. In other words, you get to concentrate more on the flight and less on the craft.
You can toggle the lights on and off from the RC controls and launch the return-to-home mode. You have control over the drone's balance as well, once you've figured out how it all works.
The Holy Stone Predator Mini is big enough to enjoy outdoors as well as in. Considering its size and weight it copes pretty well in a wind. Its shockproof design means it can take a few knocks as well.
You can stay airborne for around eight minutes under ideal conditions. That's not bad for a toy drone. It takes up to 80 minutes to recharge the battery. Unlike the first pick, this battery is not built-in.
My advice is to always keep a spare battery or two with you. It's the only way you can enjoy more flight time. Extra batteries don't cost much and they're easy to install.
Once you become comfortable flying this impressive little drone you can take things up a level. There are a few nifty stunts to enjoy with the HS170, including the 360-degree flips in any direction.
It's because of the unmarked controls that the Holy Stone HS170 Predator takes second place. It's still a great toy drone all the same. It certainly offers a lot to the novice pilot.


Tech Specs
Weight: 408g (14.4 oz.)
Battery: 3.7V 350 mAh LiPo battery
Charging Time: 80 minutes
Control Range: 50m (164 ft.)
Max Flight Time: 8 minutes
Max Speed: 3 speeds (top speed not known)
The Pros
User-friendly (great for beginners)
Good looks
Affordable price tag
Intuitive transmitter (RC)
Great looking craft
Wind resistant and shockproof
Flies really well
No FAA registration needed
The Cons
Unmarked controller
Fairly long recharge time
3. Eachine E012 Nano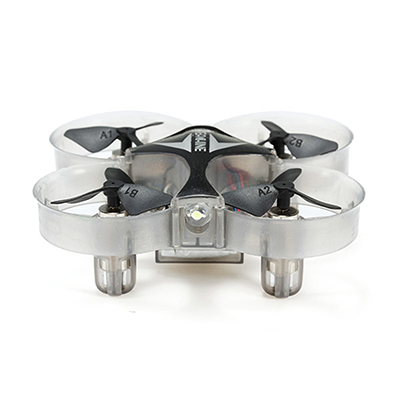 View on Amazon
Editor's Rating: 4.4/5.0
Also called the micro tinywhoop, the Eachine E012 is the first of my nano drone picks and costs just over $21. It's a tiny quadcopter and one of the smallest around. Don't let its minuteness put you off.
There's a lot to enjoy with the E012 once it's in the air. Make sure you practice indoors or you risk losing it. This is a fun craft to fly whether you're a complete beginner or an expert pilot.
The nano copter is almost ready to fly out of the box. All you have to do is fully charge the drone's battery from a USB connector. Have a read of the instructions as you wait for the battery to power up.
The five minute flight time is disappointing but it's also quite average for a nano-quadcopter. The average recharging time is just 40 minutes. At least you don't have to wait too long between flights.
The control range is somewhere around 30m or just under 100 feet. You really don't want it to be any further with a drone this tiny. And closer is also better with only five minutes of flight time.
The user manual has all the instructions for newbie pilots. Don't worry there's not much to take in. Nonetheless, you still need to know the essentials to get the most out of your new tinywhoop.
The transmitter or remote controller (RC) is pretty basic as you'd expect but then it doesn't need sophistication. You can use it to perform some pretty nifty flips and turns once you get confident.
Fly it outside after sundown and watch it glow in the dark. I wouldn't recommend trying to fly the E012 in a wind, though, as a sudden gust could make it disappear for good. It's better as an indoor toy.
Stay on the slowest of the three-speed modes if you're a novice. It's a stable little craft, and it'll sustain a good few knocks. Even so, it's best not to tempt fate by going too fast too soon.
My only real gripe is that the battery can be fiddly to fit into position. This is significant as it affects the craft's balance. Remember the importance of this if you have to reposition the battery after a crash.
Summing up, you get a lot of technology in a tiny package. It costs peanuts and provides heaps of fun.


Tech Specs
Weight: 10g (0.02 lb.)
Battery: 3.7V 200 mAh 1S LIpo
Charging Time: 40 minutes
Control Range: 30m (98 ft.)
Max Flight Time: 5 minutes
Max Speed: 3-speed modes, top speed unknown
The Pros
Affordable price
Great beginner craft
Small and lightweight
Dedicated transmitter
Fast recharging time
Reasonable control range
Stands up to knocks
No FAA registration needed
The Cons
Short flight time
Fiddly to fit battery into ideal position
4. REALACC H36 Mini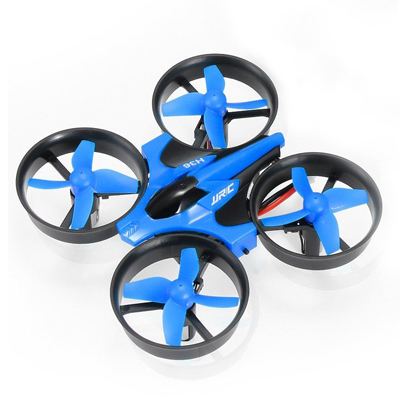 View on Amazon
Editor's Rating: 4.2/5.0
The REALACC H36 Mini quadcopter is a nano drone despite its name. Manufacturers target these tiny crafts at beginners but most of them are fun to fly at any level. This one looks like a flying car.
It's a tiny craft that provides any first time pilot with plenty of skills practice. Become an expert at flying this little beauty and you'll be set to handle bigger, better drones in the near future.
Once you get a bit of practice you'll be flipping, rolling, and whizzing around any space in no time at all. Those four-direction 3D-rolling special effects are certain to impress any onlookers.
There's the standard 4-5 minute flight time and a 40-minute recharge time with the REALACC H36 battery. That means you'll soon be airborne again, working on your 360-degree rolls.
The 30m maximum control range is also average for a micro drone. And its headless mode means you don't have to adjust the direction of the craft before takeoff. It's just one less thing to worry about.
You also have bright LED lights and 6-gyro axes for steadier flights and extra control. With this tiny drone comes a mini transmitter. Not all remote controllers (RC) share the same ergonomics.
There are complaints that the H36 transmitter is just too tiny for certain hands. It's something to think about if your hands are on the big side of average or if you have overly thick fingers.
The key functions include:
Increase / decrease
Left / right
Front / back
Left side fly/ right side fly
360°rotation
Return key (brings the H36 back to base whenever you command it)
Headless mode
Memory function
What a lot of reviewers love about the H36 Nano Quadcopter—aside from its flying potential—is its durability. There are lots of accounts of crashes and collisions with no reports of major damage.
The REALACC H36 is a good all-round flying robot whether you want it for yourself or as a gift for someone else. Twenty bucks—or thereabouts—and it's all yours.


Tech Specs
Weight: 99g (3.5 oz.)
Battery: 3.7V 150 mAh
Charging Time: 40 minutes
Control Range: 30m (98 ft.)
Max Flight Time: 5 minutes
Max Speed: High/Low speed shift (top speed unknown)
The Pros
Great beginner craft
Fast charging time
Stable flyer
Durable
Small and lightweight
Dedicated transmitter (RC)
No FAA registration needed
The Cons
Short flight time
Tiny remote controller
5. Virhuck Volar-360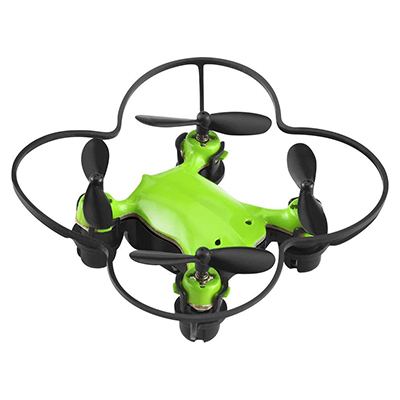 View on Amazon
Editor's Rating: 4.1/5.0
The Virhuck Volar 360 Nano is another incredibly tiny drone. This is a great starter craft at the entry-level. It's also the cheapest in this category coming in at around 17 bucks (at the time of writing).
Even with its transmitter—which houses the drone when not in use—the whole package is smaller than a regular cell phone. Put it in your pocket and take it anywhere. It really is incredible value for money.
The 360 Nano gives you up to eight minutes flying in ideal conditions. What's even better is the short battery charging time. It takes just 20 minutes to fully recharge before you're back in business.
Don't let the small size fool you. This drone is as mighty as it is minuscule. It comes with multi-colored LED lights, four powerful little motors, and their capable propellers. Flight stability is impressive too.
The remote control (RC) transmitter is just great. It has all the usual controls for a nano drone: left/ right, ascend/descend, forward/ backward. You'll love the 3D rotation and 360° eversion mode.
You also have the one key return-mode for when it's time to call the craft home. There's so much to like about this little quadcopter. Kids love it, but dads and teens probably enjoy it just as much.
It doesn't feel right to gripe about anything with this pocket drone, At least not at the price and with this much technology. But then I wouldn't be doing my job if I skipped at least one or two minuses.
The tiny size proves to be too small for some reviewers. And a few complain that it's not as easy to fly as the makers suggest. As the latter is a minority complaint, there could be a little impatience here?
From a personal perspective, I don't think you could find a better or more enjoyable micro drone for this kind of money.


Tech Specs
Weight: 42g (1.48 oz.)
Battery: 3.7V 80 mAh
Charging Time: 20 minutes
Control Range: Not known
Max Flight Time: 8 minutes
Max Speed: It's nippy (top speed unknown)
The Pros
Affordable craft
High average flying time
Beautifully packaged
Very quick charging time
Durable
No FAA registration needed
The Cons
Too small for some users
Harder to grasp (fly) than some other nano drones
Nano & Mini Drones Under $100
All the nano & mini drones in this section cost less than $100. These are some brilliant flying machines here that make great gifts. Or maybe you're here because you want a consumer drone all for yourself.
Newbie flyers don't always wish to spend a lot on their first craft. That's quite understandable. Flyaways, crashes, and collisions are all par for the course. Yes, costlier drones can also be incredibly user-friendly. But it's a good idea to try your piloting skills out on an inexpensive toy-like drone first. Not only that, but you'll also find out whether you have a real passion for flying drones or not.
Keep reading to see just how much bang you're going to get for your hard earned buck.
6. QCopter Mini Quadcopter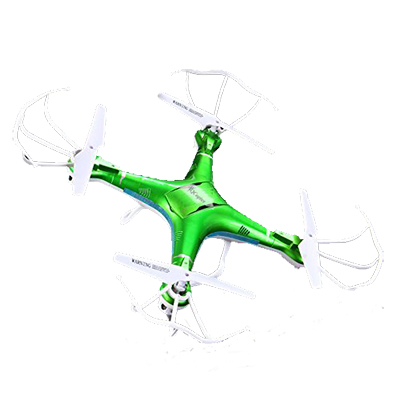 View on Amazon
Editor's Rating: 4.3/5.0
Now we're moving up to the next level of micro and mini drones. There's no better product to start with than the QCopter Mini. It has great flight stability which makes it a great craft for beginners.
Compared to a lot of tiny toy-like drones, the QCopter Mini has a decent flight time of up to 15 minutes per charge. More battery life equals more fun, and you'll experience plenty of that.
The downside is the battery recharging time. It can take between 90-120 minutes. That's the bad news. The good news is the quad comes with a bonus battery, effectively doubling your flight time.
You're Ready-to-Fly (RTF) pretty much out of the box once the battery is fully charged. Beginners will enjoy smooth flight performance thanks to the 6-axis gyro. That last point is important.
Nothing instills confidence in novice pilots more than a stable flyer, and that's what you get. With practice, you'll be able to impress yourself and others with the 360 eversion feature and aerial flips.
The Qcopter's remote control has everything you'd expect for a drone in its class. It's both easy-to-use and responsive. There are all the usual controls and modes plus a small LCD status update screen.
With this mini flying robot, you get to take your experience level from flyer-only to camera-drone. At less than 100 bucks you now have aerial video and photography capabilities at your disposal.
The QCopter QC1 includes an entry-level ventral camera. With this, you can capture 12MP stills and 1080p video. The quality and features won't blow you away, but it's a great beginner kit nonetheless.
With the USB dongle (included) you can easily download all your aerial footage to a mobile device or computer. If you want to dabble with aerial photography and videography, consider the QCopter.
I have to point out that the user manual is quite vague and may cause frustrations for novice pilots. Another complaint is the lack of a GPS-guided gimbal for the drone's Return-to-Home function.
Considering the 80 bucks price tag there's plenty to like. The craft maneuvers really well, it's sturdy, and it's fairly wind-resistant. And let's not forget the longer flight time boosted by the bonus battery.


Tech Specs
Weight: 453g (1 lb.)
Battery: 3.7V, 1100 mAh
Charging Time: 90 – 120 minutes
Control Range: 100m (328 ft.)
Max Flight Time: 15 minutes
Max Speed: 20 m/s (45 mph)
The Pros
Decent flight time
Bonus battery included
Ready to fly (RTF)
Stable flyer
Wind and knock resistant
Nice video and still images
No FAA registration needed
The Cons
Vague user manual
Long battery charging time
Ready to fly (RTF)
7. Blade Nano QX RTF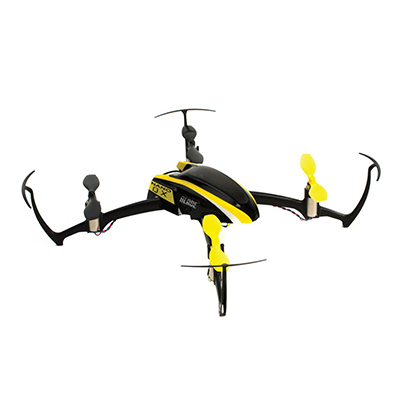 View on Amazon
Editor's Rating: 4.0/5.0
This is perhaps one of the best total-beginner mini quadcopters out there right now. The Nano QX uses something called SAFE™ technology systems. This helps to take care of inexperienced pilots.
Add to this the smart flight control software and your craft is able to take care of itself if you lose control. If you get into a jam just let go of the sticks and let the drone stabilize itself.
The maximum flight time is just eight minutes but the battery recharges fast. On average it should only take a little over 30 minutes to fully power up. That's pretty good compared to some.
I always suggest drone pilots invest in one or two extra batteries when they buy any new craft. There's nothing more frustrating than having to stop the fun just minutes after takeoff.
The Blade Nano QX is an RTF quadcopter so it's ready-to-fly out of the box. There seem to be a few conflicting reports on the actual flight range. This could be due to how people adjust their antennas.
The controller is basic but it responds well with the craft and its pilot. It helps to teach novice users safe flying and more advanced stunts like aerial flips and rolls. Everything about the RC is intuitive.
One common complaint is the short flight time. People expect this with nano drones but hope for a bit longer with mini drones at three times the cost. The unpredictable flight range is another gripe.
Even the raw beginner should master the Blade Nano (which is actually a mini) without too much fuss. It has a myriad of great features for the money. Still, not everyone's expectations are the same.
The Nano QX highlights are the fast battery recharge time. Spare batteries are cheap too, so that takes some of the sting out of short flight times. It's also easy to control and perfect for the novice.
Anyone who wants to eventually move up to more professional drones should find this $60 flying robot the perfect learning tool. Keep reading as there's still one more to go in the under $100 category.


Tech Specs
Weight: 16.5g (0.58 oz.)
Battery: E-flite 1S 3.7V 150 mAh 25C Li-Po
Charging Time: 30+ minutes
Control Range: 120m (394 ft.)
Max Flight Time: 7-8 minutes
Max Speed: Variable (top speed unknown)
The Pros
The perfect practice drone
Affordable price tag
Durable and lightweight
Wide range of features
SAFE™ technology systems
Fast battery charging time
Nice looking craft
Reasonable control range
No FAA registration needed
The Cons
Fairly short flight time
Poor propeller guards
Bulky remote controller (RC)
8. Hubsan H107D+ FPV X4
View on Amazon
Editor's Rating: 3.9/5.0
The Hubsan X4 H107D+ is an amazing little RTF quadcopter loved by beginners and experts alike. It's the first of our drones that look a little less toy-like and a bit more professional.
Stay tuned if you're a beginner who wants to learn about aerial photography and videography as well as flying. For around 70 bucks you even get First Person View (FPV) capabilities with this beauty.
If this H107D+ is within your budget range you won't want to skip this review. It's still a micro quadcopter but this one is special. It has a wide-angle camera and 5.8G First Person View or FPV.
The flying time is around seven minutes which is on the good side of average for a drone in this class. And the short 30-minute battery recharging time is definitely worth a mention.
The actual craft is a great little flyer and incredibly stable. It offers two speed modes, Normal & Expert. Newbies can practice their flying and shooting skills indoors thanks to the wide-angle lens and FPV.
It's not a fast quadcopter but it's consistently steady. That's a perfect balance for anyone who wants to learn how to fly and improve their aerial photography and video skills with a 720p HD Camera.
You won't win many photographic or cinematography awards with the Hubsan X4 H107D+. But by the time you've gotten good with it, you'll be ready to move on to much bigger and better things.
One drawback is the lack of failsafe features. If you fly out of range you risk a flyaway with no control of where the craft will land—or crash. It's something to be wary of for outdoor flying in particular.
The only surefire way to prevent the dreaded flyaway is to always stay within range. The transmitter has a nice ergonomic design and uses the standard buttons and sticks for control. Overall it's intuitive and easy to handle. A rubber coating would have given it a better grip, though.
When you're ready for some fancy flying you can enjoy 3D flips and try your hand at some creative filming. You'll also be pleased to know that the X4 H107D+ is fairly crash-resistant.
I doubt you'll find a much better micro 5.8G FPV quad at this price and with these features. It's a far cry from the costlier drones but it offers a lot of fun and acts as a perfect practice camera quadcopter.


Tech Specs
Weight: 58g (2 oz.)
Battery: 3.7V 520mAh Li Po
Charging Time: 30 minutes
Control Range: 100m (328 ft.)
Max Flight Time: 7 minutes
Max Speed: 2 speed modes. Not a fast craft. Top speed unknown.
The Pros
Great beginner FPV quad
Affordable price
RTF out of the box
Fast battery recharge time
Decent camera for the money
Wide-angled lens (great for indoor shooting)
Altitude hold
No FAA registration needed
The Cons
No failsafe feature (absent one-key return)
No rubber coating on the remote controller (RC)
Little Mini and Micro Drones Over $100
The over $100 category is for anyone who wants to skip the toy-like drones and go for something more professional. Or maybe you've got the bug from cheaper drones and are ready for an upgrade.
The two UAVs (unmanned aerial vehicles) in this category are pocket drones. They're still some distance away from the high-mid range crafts but they're pretty good nonetheless. They both have more than adequate cameras as well, making them the perfect flying selfie copters.
9. Wingsland S6 Pocket RC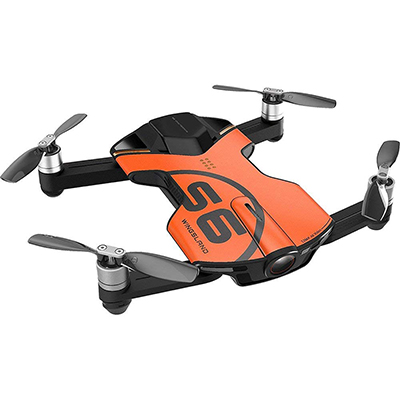 View on Amazon
Editor's Rating: 4.1/5.0
The manufacturers refer to Wingsland S6 as an outdoor 'Pocket Selfie RC Quadcopter'. It comes with WiFi, a 4K UHD camera, and first Person View (FPV) capability. There's a lot going on with this one.
The remaining two drones of this guide take a considerable price hike but I think they're worth it. They're also ideal crafts for entry-level users as well as more experienced pilots.
The Wingsland S6 is almost as flat as a pancake when folded up. It's only about the size of an average smartphone. This means you can take it with you anytime and fly it pretty much everywhere you go.
This little stunner can give up to 10 minutes of flight time in ideal conditions. The battery's long 120+ minutes charging time, though, is not such a good point. However, it does come with a bonus battery.
This pocket quad has a lot to offer for its $350 price tag, including brushless motors. These give more power and last longer compared to standard brushed DC motors found on a lot of drones.
The following intelligent functions add further to this pocket drone's appeal:
Automatically follow
Forward/backward
First Person View, FPV
Gravity sense control
Low-voltage protection
One key auto return
One key landing
One key takeoff
Point of interest
Selfie mode
Turn left/right, up/down
Voice control
WiFi Connection
The built-in 4K HD video recording delivers high-quality video. The fully stabilized 3-axis gimbal ensures the 13MP camera keeps your footage crisp and clear when shooting from above.
You can fly the Wingsland S6 with the smart app and a WiFi connection. Remote piloting is easy. You have the virtual lever, voice control, and gravity sensing. The app is also great for editing footage.
Need to perfect your piloting skills? Exploit the app's impressive flight simulator and you'll become an expert flyer in no time. There's a lot to enjoy with this drone but I do have a couple of reservations.
The price is quite high even for a drone with this much capability. It's justified if the craft checks enough of your personal boxes. If not, you may want to consider one of my less expensive picks.
The long battery charging time is disappointing but the bonus battery kind of compensates for that. You'll see that there's a lot of value here if you compare what you get alongside a higher priced craft.


Tech Specs
Weight: 250g (8.8 oz.)
Battery: 7.6V 1400mAh 10.64Wh (2S LiPo)
Charging Time: 120+ minutes
Control Range: 100m (328 ft.)
Max Flight Time: 10 minutes
Max Speed: 8 m/s (18 mph)
The Pros
Ultra slim/portable
Impressive 13MP camera
4K video
Clear photographs
Brushless motors
Built-in 6-axis Gyro
WiFi Remote Control
Beautiful design
No FAA registration needed
The Cons
High price tag
Average flight time
Long recharging time
10. Zerotech Dobby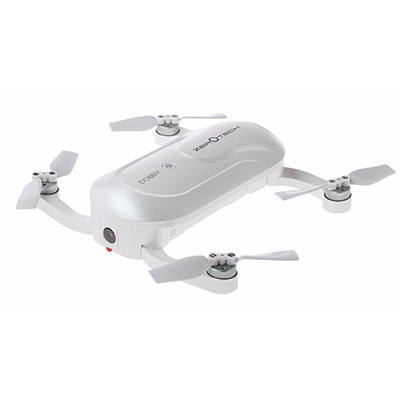 View on Amazon
Editor's Rating: 3.8/5.0
My final pick is the Zerotech Dobby Pocket-sized Selfie Drone. If you want camera capability, portability, and an easy-to-fly craft, then you'll want to at least consider this beauty.
It's smaller than a standard smartphone. This makes the Zerotech Dobby Drone an ideal travel companion. It's a great choice for budding aerial videographers and ambitious photographers.
The maximum flight time is 10 minutes and the battery will recharge in around 45 minutes. Flying this mini drone is a cinch. You can take off from the palm of your hand using the simple one-key function.
All you need to fly and control the Zerotech Dobby is the smartphone DoFun app. The interface is uncluttered and intuitive. You still need some time to become familiar with all the features, including:
Orbit (flies around the subject)
Target Tracking
Face Tracking
Return To Home
Takeoff/Landing
Voice Control: Fly Up, Get Down, Cheers (takes photo), Dobby Go, and Dobby Back
https://www.youtube.com/watch?v=5Tbit8g0fZ4
The 28mm f2.2 lens has a 75° field of view (FOV). There's an option for six manual angle adjustments too. There isn't any mechanical gimbal but there is image stabilization (not as good).
The one-key short movie feature is popular among travelers in particular. The follow me and return-to-home features are two more of the main attractions. And most users rave about the real-time FPV.
The biggest letdown for me is the absence of a gimbal to properly stabilize videos and stills. The other gripe is the all too common short flying time. Unfortunately, the last point is not unique to this craft.
Overall, this is a worthy pocket-sized selfie drone and a decent upgrade from the toy UAVs.


Tech Specs
Weight: 230g (0.5 lb. or 8.1 oz.)
Battery: 7.6V 1400mAh 10.64Wh (2S LiPo)
Charging Time: 45 minutes
Control Range: 100m (328 ft.)
Max Flight Time: 10 minutes
Max Speed: 14 m/s (31 mph)
The Pros
Nice design and lightweight
Small and easily portable
Fast charging time
Nice flyer, plenty of features
Voice commands
16GB storage
4K video capability
13MP stills
No FAA registration needed
The Cons
Pricy for some
Relatively short flight time
Lands in place with lost signal
No mechanical gimbal
Closing Thoughts
OK, that concludes my updated guide on the mini and nano drones. As technologies change—and new and improved models come onto the market—I'll update this page accordingly.
This guide is not conclusive. There are plenty of other little drones and micro crafts on sale. The ones in this list, though, are among the most popular and sought after at the time of compiling this guide.
Happy flying