7 Best Smart Air Purifiers of 2019
3D Insider is ad supported and earns money from clicks, commissions from sales, and other ways.
Does the day often greet you with splitting headaches and terrible coughs? Can you remember the last time your nose wasn't runny and you weren't on the verge of getting sick? Breathing germ-infested, stale air day in and day out will do that to you. There's little that can be done about your workplace environment or the outdoors come allergy season, but you can at least breathe fresh and clear air at home if you get an air purifier. Preferably a smart one.
Why would you want a smart air purifier? Because they're equipped with the most sophisticated air filtration technology available, let you control air quality with voice commands or remotely wherever you are and can be automated to perform their duty only when someone is home. Some adjust their intensity based on your local climate while others will even order new filters ahead of time so you don't forget.
We have researched dozens of smart air purifiers. The best are featured in the reviews below, so take a deep breath and discover one which will rid you of impure air forever. The Dyson Pure Hot Cool Link Air Purifier is a fantastic choice as well. To read its in-depth review, check out our picks for best smart heaters.
Budget
GermGuardian CDAP4500BCA
4.4/5.0
Coverage (square feet): 124
Fan speeds: 5
Gets rid of almost all airborne particles and odors. Quiet operation.
Check Amazon
Best Value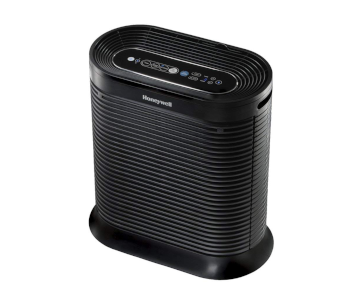 Honeywell HPA250B
4.2/5.0
Coverage (square feet): 310
Fan speeds: 4
Shuts off automatically when you're away. Excellent companion app.
Check Amazon
Top Pick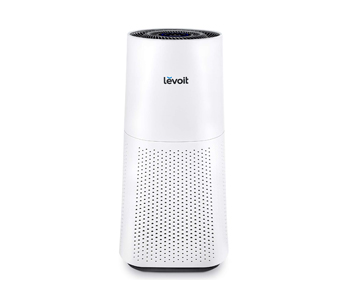 LEVOIT LV-H134
4.6/5.0
Coverage (square feet): 710
Fan speeds: 5
Real-time particulate monitor and smart display, noiseless operation.
Check Amazon
7 Best Smart Air Purifiers Comparison Table
| Make and Model | Rating | Coverage (square feet) | Filters | Fan speeds | Price |
| --- | --- | --- | --- | --- | --- |
| Philips Air Purifier 2000i | 4.7 | 277 | Pre-filter, active carbon, HEPA | 5 | Check Price |
| Honeywell HPA250B | 4.2 | 310 | Pre-filter, active carbon, HEPA | 4 | Check Price |
| AIRMEGA 400S | 4.4 | 1,560 | Pre-filter, active carbon, HEPA | 4 | Check Price |
| LEVOIT LV-H134 | 4.6 | 710 | Pre-filter, active carbon, HEPA | 5 | Check Price |
| Winix NK105 | 4.0 | 300 | Pre-filter, active carbon, HEPA, ionizer | 4 | Check Price |
| Blueair Classic 205 | 3.5 | 280 | Particle and Smoke Stop | 3 | Check Price |
| GermGuardian CDAP4500BCA | 4.4 | 124 | Pre-filter, active carbon, HEPA, UV-C light | 5 | Check Price |
1. Philips Air Purifier 2000i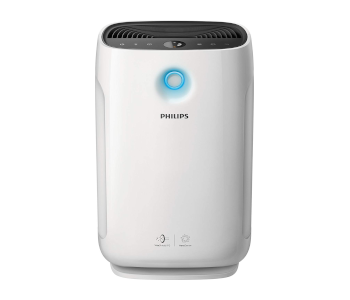 View on Amazon
Editor's Rating: 4.7/5
Allergy sufferers have a hard enough time when going outside or working during allergy season and need a sanctuary where they can breathe and rest. With the 2000i from Phillips, you can turn any large room into an allergy-free zone. It features an impressive array of controls, three effective filtration stages, and an intuitive interface which lets you quickly adjust every setting either on the purifier or through its app.
Allergens and Germs Be Gone!
The 2000i's design blends a simple yet appealing aesthetic with a great user experience. Its rounded white exterior and indicator ring give this device a prestigious and futuristic look. It weighs 20 pounds and is well-proportioned so you don't need to worry a child or pet will topple the purifier. On top, there are controls for fan speeds, light dimming, purification modes, and timing. Some of them toggle a setting on or off while others need to be cycled through to get to the setting you need.
This purifier is designed to cover rooms as big as 277 square feet. Once one of its five fan speeds is chosen, air gets sucked in through the front and is subjected to three stages of purification before coming out clean through the top grate. It passes through a pre-filtration mesh that catches stray hair, bigger pet dander etc. Then the air is filtrated through active carbon which takes care of mid-sized particles and foul odors. Finally, a true HEPA filter catches 99.97 percent of the remaining germs & allergens.
While every fan speed and duration setting can be chosen manually, there are three pre-programmed modes for automatic air filtration. The 2000i has a clever LED ring which subtly changes color from blue to red depending on air contamination. Automatic filtration kicks in on high contaminant levels when filtration is set to general. Allergens mode lowers this threshold and never lets air quality fall below medium. Bacteria & Virus mode sets the fans to the highest speed and purifies air the quickest.
You can control the 2000i from your smartphone with the Air Matters app. You're able to keep tabs on the air quality and allergen levels in your home or access any of the purifier's settings with the app. The app also aggregates current air quality data for 50 countries. This includes an overall quality score, pollen count, and weather so you always know what to expect when going outside.
What's Bad About It?
Some of the onboard controls aren't intuitive when you first start using the purifier. They're represented with ambiguous icons instead of being clearly labeled so you'll need to reach for the manual a few times before remembering all of them. Only 2.4 GHz Wi-Fi networks are supported and the app suffers from occasional connection issues.


Tech Specs
Dimensions: 16.2 x 11.6 x 24.1 in
Area covered: 277 sq. ft.
Fan speeds: 4
Filters: Pre-filter, active carbon, HEPA
The Pros
Excellent three-stage filtration system
Responsive indicator LED ring
Responds well to app controls
App keeps track of weather conditions and pollen
The Cons
Confusing control icons
Spotty Wi-Fi connection
2. Best Value – Honeywell HPA250B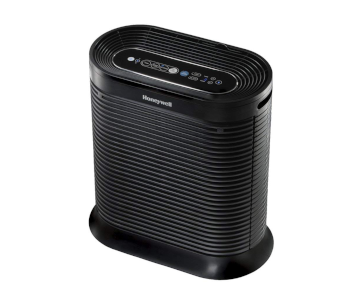 View on Amazon
Editor's Rating: 4.2/5
Air purifiers can decrease the pollutant count in your home quickly, so there's no need to keep one running if there's no one at home to enjoy the benefits. Since some of us are likely to forget to turn it off, a surefire way of doing so built into the purifier sounds like an excellent idea. That's exactly what Honeywell's HPA250B offers. This filter connects to your phone via Bluetooth and can be set to turn itself off when the phone gets out of range.
Optimum Air Quality Regardless of the Season
This is the shortest air purifier on our list and its footprint is on par with the 2000i. It isn't hard to move the HPA250B as it weighs only 14 pounds. Even so, it can improve the air of a large living room. There are touch-operated controls for various filtration modes, sensors, and a timer on its top panel. This model doesn't come with an air quality indicator light, but each filter has an LED associated with it that changes color as the time to change filters draws closer.
The HPA250B produces little noise on all but the Turbo setting in manual mode. Turning on the VOC (volatile organic compound) sensor will cycle through the available speeds as needed. If your phone is nearby and its GPS is on, the purifier can communicate with its companion app and get data on the concentration of various allergens in the air. This causes it to adjust fan speed automatically in response. A simple 1 to 18-hour timer is available on the device itself. An advanced scheduling tool that lets you set working hours for every day of the week complete with adjustable fan speed options is part of the app.
The HPA250B takes the prize for best app design! Pairing it with your phone involves simultaneously pressing on two connect buttons and is done in seconds. The app's home screen is a virtual representation of the purifier's analog interface. Each setting is both responsive and accompanied by an informative description you can bring up at any time. Other than controlling the HPA250B, the app gathers information on allergen concentration in your local area and can send messages if their levels rise. You can also order replacement filters directly through it from a handful of trusted retailers.
Are There Drawbacks?
The HPA250B is an excellent air purifier, but its smarts are hindered by Bluetooth's range limitations. This model has been out for quite some time now and its app hasn't been updated recently. Some newer smartphones might experience difficulties in getting it to work because of this.


Tech Specs
Dimensions: 17.7 x 10.1 x 18.9 in
Area covered: 310 sq. ft.
Fan speeds: 4
Filters: Pre-filter, active carbon, HEPA
The Pros
Shuts off automatically when you're away
Excellent companion app
Detailed explanations for each setting
Takes local allergen data into account
The Cons
Bluetooth pairing severely limits app's range
App is out of date
3. AIRMEGA 400S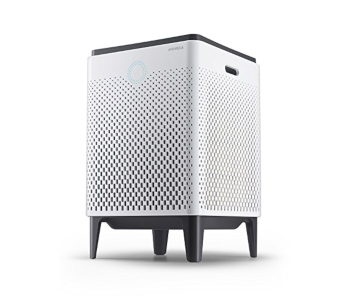 View on Amazon
Editor's Rating: 4.4/5
The purifiers we've reviewed so far do a fantastic job, but they're only good for maintaining clean air in a single room. If you want a comprehensive air purification solution for an entire large home, you should go for AirMEGA's 400S. Its powerful fans are able to cover an area larger than 1,500 feet! The purifier has four fan speeds, smart energy conservation settings, and can be controlled remotely.
Purify Your Entire Home
You'd think that its large capacity would make the 400S look less than attractive. While it does have a boxy appearance and is no picnic to move at 24 pounds, it won't clash with your furniture or other contemporary appliances. Its control scheme is sparse, showing the current mode & fan speed on the right side and the status of both filters on the left. There's also an air quality indicator ring which transitions from blue through green and yellow to red as air quality decreases and is a handy visual indicator if you run the purifier manually.
The 400S has a perforated cover and filters on two sides which allow it to take in and put out much more air than its competitors. The filters consist of a pre-filter which can be washed, an active carbon layer, and a true HEPA filter on each side. You can set the purifier to one of four speeds whose loudness ranges from 22 to 88dB. Smart mode will regulate the speed automatically as air quality changes. If you also turn Eco mode on, the fans will stop moving if air quality is good for 10 minutes. Night mode is useful in keeping air fresh during the night as it will keep the fans on their lowest setting and turn off the indicator ring.
The app lets you track indoor and outdoor air quality, set a timer from one to eight hours, and receive alerts when the air is contaminated or the filters need replacing. You can also activate Amazon Dash and have the app order replacement filters as soon as the current ones are no longer safe to use. The 400S can be controlled through Alexa too.
Are There Drawbacks?
AirMEGA's model is the most expensive on our list by a considerable margin. Two sets of filters need replaced each time and they don't come cheap either. The Alexa skill for this purifier is poorly implemented. The commands which control it are long and specific. You'll have to learn them by heart as Alexa won't respond to shorter or different wording.


Tech Specs
Dimensions: 14.8 x 14.8 x 22.8 in
Area covered: 1560 sq. ft.
Fan speeds: 4
Filters: Pre-filter, active carbon, HEPA
The Pros
Covers a huge area
Washable pre-filters
Energy-saving eco mode
Night mode
The Cons
Very expensive both initially and in the long run
Poor Alexa support
4. LEVOIT LV-H134 (Top Pick)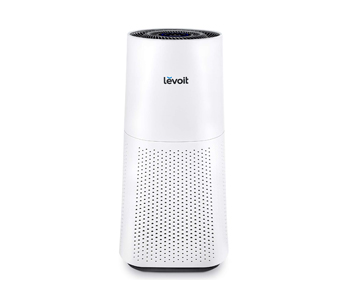 View on Amazon
Editor's Rating: 4.6/5
The air purifiers we've covered so far can adequately cover either one room or, in the case of the Airmega 4005, the whole house. What if you live in a mid-sized apartment though and want to keep the air in it germ-free with a single device? Leviot's LV-h134 is designed to rid 710 square feet of space from any odors, bacteria, and allergens! It has a sophisticated sensor that gives you real-time readings on air quality, can barely be heard on its lowest setting, and features an intuitive touch display.
Overview of Features
The LV-H134 is among the most elegant and best-designed air purifiers on review. Its rounded aesthetic is eye-catching, as is the combination of white for the body and black for the exhaust fans & touch controls. The unit is 29 inches tall and weighs 25 pounds. The LV-H134's stable base ensures that children or pets won't knock it over, while a set of wheels make transporting it from room to room more comfortable.
The purifier's design serves an important practical purpose too – the bottom part is riddled with holes because the LV-H134 takes in air in a 360-degree area around itself. This allows it to move large quantities of air up through the exhaust fins and improve its quality in minutes. The highest of its three fan speeds creates a pleasant breeze throughout your home while the slowest lets you run the purifier day & knight without noticing since its loudness is only 25 dB.
Setting the LV-H134 up is a breeze and shouldn't take more than 5 minutes. All you need to do is take the filter from its bag, insert it into the LV-H134, and you're good to go. The filter has a unique cylindrical design that lets it purify the air from all sides. It has three layers – a pre-filter, a TrueHEPA filter, and an active carbon filter. The first two take care of increasingly smaller dirt particles and germs while the active carbon layer eliminates odors.
One of the best things about the LV-H134 is how intuitive it is to use. The purifier has a PM 2.5 particular monitor that takes readings every 30 seconds. An LED ring on top of the device changes colors based on these readings – red and yellow mean there are lots of contaminants in the room while green and blue mean the air is clean and fresh. Thanks to the PM monitor, the LV-H134 has an Auto mode that regulates fan speeds and even turns the purifier off to maintain air purity levels. Other essential control options include manual fan speed settings, a Sleep mode that keeps the device running at the lowest setting, a 12-hour timer, and a lights off button that disables the LED ring and touch panel lights for restful sleep.
What's Bad About It?
The filter you get with the purifier lasts for 6 months. New filters cost more than $60 each, which you should factor into your maintanace costs. Some users report problems with noise, but our test unit cannot be heard even when standing right next to it in auto-mode.


Tech Specs
Dimensions: 12.5 x 12.5 x 29.5 in
Area covered: 710 sq. ft.
Fan speeds: 5
Filters: Pre-filter, HEPA, active carbon
The Pros
Real-time particulate monitor and smart display
Intuitive touch controls
Easy to set up and replace the filter
Noiseless operation
The Cons
Replacement filters are expensive
Might develop whine over time
5. Winix NK105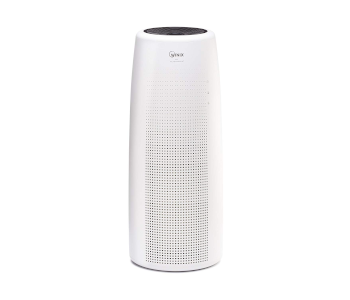 View on Amazon
Editor's Rating: 4/5
HEPA filters can remove 99.97 percent of contaminants from the air, which begs the question – what happens to the other 0.03 percent? These particles are too small to capture and will remain floating in the air unless you can find a way to make them bigger. Ionization is the answer, and the Winix NK105 is the smart air purifier to get if you're concerned that the minuscule amount of filth other models leave behind could ever become a health hazard.
A Buzz in the Air
This air purifier wouldn't be much different from other models on review without the ionizer and its tower fan shape. The 29-inch tall unit features a set of large vertical filters and capable fans which can suck up a lot of air quickly and are effective for rooms as big as 320 square feet. Everything else is in line with what most other smart air purifiers offer – an indicator ring, automatic and manual operation, app controls & notifications etc.
Winix's patented PlasmaWave technology is what separates this model from the rest. First, air passes through the standard three filtration levels. Then it gets hit by a pulse which creates plasma (ions containing either a positive or a negative charge). These ions quickly bind themselves to moisture in the air to create unstable water molecules. They are charged as well and attach themselves to any remaining pollutants, creating heavier particles. Now the NK105's standard filters have no trouble stopping these harmful particles from getting back into the air.
What's Bad About It?
The purifier has four fan settings the most powerful of which is uncomfortably loud. Night mode turns off most of its lights including the LED ring, but the power light remains active and bright. As with the model from Phillips, Wi-Fi connectivity is spotty.


Tech Specs
Dimensions: 12.2 x 12.2 x 29.5 in
Area covered: 300 sq. ft.
Fan speeds: 4
Filters: Pre-filter, active carbon, HEPA, ionizer
The Pros
Very thorough air purification
Good air intake
Stylish tower fan design
The Cons
Loud when running in turbo mode
Night mode doesn't disable all LEDs
Spotty Wi-Fi connection
6. Blueair Classic 205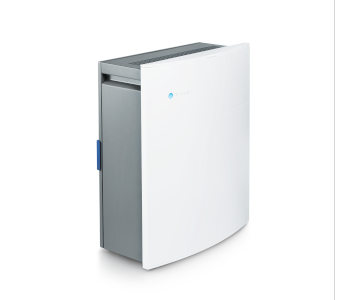 View on HomeDepot
Editor's Rating: 3.5/5
Blueair's Classic 205 is another fine-looking smart air purifier which gets rid of the vast majority of pollutants thanks to an effective true HEPA filter. It can cover a respectable 280 square feet, tracks changes in air purity in its app, and can be voice-activated through Amazon Alexa. It does suffer from a few drawbacks which may end up being deal-breakers for some though.
The Incomplete Air Purifier
The Classic's design is anything but. The purifier makes an immediate impression with its white metal body and sleek curves. At first, you see only a single blue LED at the front. Popping up a lid on top reveals cleverly concealed basic settings for power, fan speed, and filtration. You'll want to set the Classic up in the middle of the room for best results. Considering its modern appearance, this shouldn't pose an aesthetics problem.
Unlike other models which have two or more different filters that need replaced separately, the Classic 205 accommodates two varieties of a single HEPA-based filter. The Particle Filter tackles germs and other tiny pollutants only. Spend around $50 more and you can get a premium Smoke Stop Filter which makes short work of foul odors and especially fine particles.
The Blueair app has a barebones design and doesn't offer many features when you're using the Classic 205 on its own. You're limited to toggling between three fan speeds, adjusting the LED's brightness, setting up filter replacement alerts, and turning on night mode.
What We Didn't Like
The Classic 205 is one of the more expensive models given its coverage. This wouldn't be a problem if the purifier wasn't stunted without an additional expensive accessory. To get the most out of Blueair's air purifier, you have to purchase an external sensor called Blueair Aware. The sensor tracks air quality, enables automatic speed adjustment, and sends air quality information to your phone. All of these features should have been built into the Classic 205 from the start.


Tech Specs
Dimensions: 17 x 8 x 21 in
Area covered: 280 sq. ft.
Fan speeds: 4
Filters: Particle and Smoke Stop
The Pros
Modern design
Smoke Stop filter is great at removing odors
First two fan settings are very quiet
The Cons
Lackluster app
Many features require an additional expensive purchase.
7. Best Budget Option – GermGuardian CDAP4500BCA
View on Amazon
Editor's Rating: 4.4/5
Many air purifiers promise to rid your home of odors and harmful airborne particles yet fall short due to inadequate filtration. GermGuardian's CDAP4500BCA tackles foul air with a three-stage filtration system that gets rid of dust particles, bacteria, and the odor of your cat's litter box in minutes. It has sophisticated sensors which constantly keep track of its environment and connects to a smartphone app which keeps you up to date on your home's air quality.
The CDAP4500BCA is small and light, allowing you to transport it from room to room or place it on a table for less dust bunny exposure. Its all-black design coupled with a prominent LED ring and indicator lights gives this purifier a contemporary look which fits well into a modern home's décor. You can set the fan to five speed settings the first of which is inaudible while the last still lets you have a conversation in the same room. If you leave speed control up to the air purifier, the fans will speed up and slow down depending on the room's air quality.
The 3-stage filtration system starts out with a two-sided filter. Its front side contains a pre-filter and a layer of active charcoal. This first line of defense stops bigger debris and filters out offending smells. The backside houses a HEPA filter which can collect bacteria and dust larger than 0.3 microns, stopping all but the smallest germs. These are then killed and decomposed by ultraviolet light. The two-sided filter needs replacing every six months while the HEP filter can last for a year.
A built-in smart sensor takes constant readings and displays the results as a score in the Guardian TE app. If automatic filtration is on, the purifier will start working when the air quality drops to red, saving energy. The app can send out notifications when air quality is low, tell you when it's time to replace the filters, and set a timer. The purifier supports voice commands through Amazon Alexa too. You can ask her to turn it on or off, adjust the fan speed, or tell you about the room's current air quality.
What We Didn't Like
The green ring keeps glowing while the purifier is on and is very noticeable in a dark room, so you'll want to cover it up if you can't fall asleep because of the glow. This is an inexpensive model because the area it covers is small. You may want to consider one with more coverage if you plan on using it in a room larger than a kitchen or nursery.


Tech Specs
Dimensions: 8.9 x 6.4 x 22 in
Area covered: 124 sq. ft.
Fan speeds: 4
Filters: Pre-filter, active carbon, HEPA, UV-C light
The Pros
Gets rid of almost all airborne particles and odors
Easy to set up and transport
Easy to control via app
Quiet operation
The Cons
Green LED ring can't be turned off
Effective only in small to mid-sized rooms