6 Best Smart Air Quality Sensors of 2019
3D Insider is ad supported and earns money from clicks, commissions from sales, and other ways.
We spend a lot of time micromanaging the temperature and humidity of the air in our homes, but how often do you stop and think about how clean that air is? Dust, elevated levels of carbon dioxide, and high concentrations of chemicals all affect your health and energy levels. You won't know if you need to act at all until you've analyzed the air's composition, and that's what smart air quality sensors excel in doing.
Smart air quality sensors detect elevated levels of harmful particles & chemicals quickly and relay that information to you via smartphone apps in a format that's easy to interpret. Some of them can be voice-operated with a virtual assistant, and there are even models which connect to other smart devices and orchestrate their behavior. With such a sensor, your lights can start flashing red and a fan can turn on whenever air quality levels drop dangerously low, and all it takes is a simple set of commands you enter once.
Here are the six best smart air quality monitors you can buy right now. All have finely-tuned sensors which respond to slight changes in a closed environment. Pick one that fits your existing home automation setup and budget the best and let a breath of fresh air into your stale surroundings.
Budget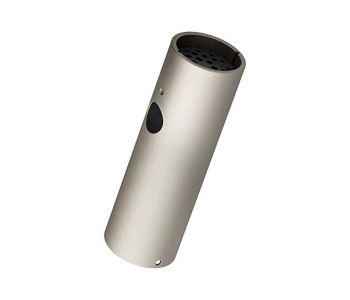 Atmotube 2.0
4.0/5.0
Dimensions: 0.9 x 0.9 x 2.6 in
Connects through: Wi-Fi
Portable and has an app comes with useful extra features.
Check Amazon
Best Value
Awair Glow
4.5/5.0
Dimensions: 2.6 x 1.8 x 3.6 in
Connects through: Wi-Fi
Can act as a smart plug and has accurate readings.
Check Amazon
Top Pick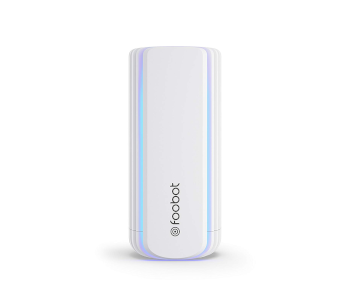 Foobot Indoor Air Quality
4.8/5.0
Dimensions: 3.2 x 2.6 x 6.7 in
Connects through: Wi-Fi
Measures wide array of air quality data and has a well-made app.
Check Amazon
Smart Air Quality Sensors Comparison Table
| Make and Model | Rating | Detects | Compatible with | Price |
| --- | --- | --- | --- | --- |
| Foobot Indoor Air Quality Monitor | 4.8 | VOC density, particulate matter, CO2, temperature, humidity | Amazon Alexa, IFTTT, Nest | Check Price |
| Awair Glow | 4.5 | VOC density, CO2, temperature, humidity | Amazon Alexa, Google Assistant | Check Price |
| Elgato Eve Room 2 | 4.4 | VOC density, temperature, humidity | Apple HomeKit | Check Price |
| Airthings Wave Smart Radon Detector | 4.1 | Radon concentration, temperature, humidity | IFTTT | Check Price |
| Netatmo Smart Indoor Air Quality Monitor | 3.9 | CO2, temperature, humidity, sound levels | Apple HomeKit | Check Price |
| Atmotube 2.0 | 4.0 | VOC density, CO, temperature, humidity | N/A | Check Price |
1. Best Overall – Foobot Indoor Air Quality Monitor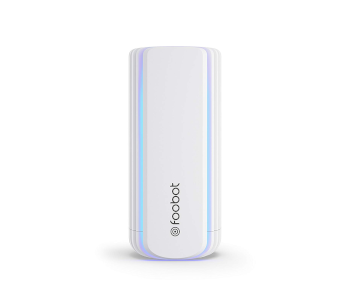 View on Amazon
Editor's Rating: 4.8/5
On its own, an air quality monitor can't do much. Paired with your HVAC system, lights, and other smart gadgets, it becomes a versatile tool that not only monitors but combats an unhealthy home environment as well. That's the philosophy behind the Foobot indoor air quality monitor. It combines comprehensive and detailed metrics with a cleverly designed app and IFTTT to give you an additional layer of control over your smart home.
The Smartest Air Quality Sensor Around
Foobot's appearance is elegant yet confusing. You might mistake it for a new smart speaker at first glance due to its height and sturdy build. The design is both modern and necessary to accommodate all of the Foobot's advanced sensors. There's a prominent LED that runs along its front side which serves as a quick indicator of current air quality. Blue means the air is fine, orange is a cause for concern, while red indicates that one or more tracked statistics has reached dangerous levels.
The Foobot measures & tracks the humidity and temperature, the density of volatile organic compounds (VOC) such as ammonia or methane, and the concentration of particulate matter like dust and other allergens. These last two readings are the basis for CO2 measurement. The monitor is accurate across the board, although you'll first need to wait six days before all the sensors are calibrated. Once that's done though, activities like cooking or cleaning will have an immediate impact on the Foobot's readings.
You monitor current and gathered readings through the Foobot app. It is aesthetically designed with various readings shown as circles filled to varying degrees. You can view all tracked levels at a glance or tap on one to see its score and how that score compares to categories ranging from great to poor. There's also a historical overview, a general score for the current outdoor air quality in your area, and a tips section that aims to educate you on improving air quality.
This is the smartest air quality sensor as it pairs effortlessly with different home automation gadgets. Installing the Foobot Alexa skill lets the smart assistant tell you about the current air quality and ways to improve it with a voice command. Connecting the Foobot to Nest adds the ability to control your HVAC system based on its readings. Most impressively though, the Foobot supports IFTTT. Through IFTTT commands, you can control all manner of smart devices once tracked levels reach a set threshold.
What We Didn't Like
The Foobot is the most expensive item on the list and costs twice as much as the equally competent Awair Glow. Its LEDs are very powerful and glow brightly even during the day. There's an option to dim them or turn them off on a schedule, but you can't keep them off permanently.


Tech Specs
Dimensions: 3.2 x 2.6 x 6.7 in
Connects through: Wi-Fi
Detects: VOC density, CO2, temperature, humidity
Compatible with: Amazon Alexa, IFTTT, Nest
The Pros
Measures wide array of air quality data
Accurate readings across the board
Excellent 3rd party device support
Well-made app
The Cons
Expensive
Bright LEDs that can't be turned off permanently
2. Best Value – Awair Glow
View on Amazon
Editor's Rating: 4.5/5
No matter how many stats they track or how accurate they are, most air quality sensors can only report on a room's air quality and do nothing to actually improve it. The Awair Glow stands out in that respect as it acts as both an air quality sensor and a smart plug which activates the "dumb" AC, humidifier, or air purifier you plug into it once air quality drops. It's a cinch to set up, is very intuitive to understand & operate, and has a fantastic companion app.
Take Control of Air Quality in Your Home
The Awair Glow looks like a spruced-up air freshener and won't clash with the décor of your home. It features a standard three-pronged plug for "dumb" appliance control, a button that toggles the power, and a versatile LED light. When the sensor is in use, the light glows either red, yellow, or green, depending on the overall air quality level. At night, it changes to a pleasant movement-activated night light.
The sensor measures four statistics: temperature, humidity, CO2 levels, and VOC density expressed in parts per billion (ppb). You need to pair it with the Awair app through Wi-Fi first though. The process is simple and you're guided through each step. Once the Glow is paired, you're presented with five monitoring presets. They're meant to boost productivity, react quicker to allergens, or ensure better sleep for you and your baby respectively.
The app is fun to use and has an excellent user interface. The home screen features a big overall air quality score and smaller ratings for each individual stat. Tapping on "Tips" brings you to a screen filled with health-related articles and tips on improving air quality tailored to the scores you get. "Trends" is a tab that shows how readings change over time in graph form. "Awair+" is where you set triggers for the appliances you plug in as well as their weekly schedules. Lastly, in "Notifications" you set if and when notifications are pushed to your phone.
The Awair Glow is a connected device that supports both Amazon Alexa and Google Assistant. Each can be asked to remotely turn an appliance plugged into it on or off. The feature is limited at the moment but may be expanded with future updates.
What's Bad About It?
Whenever you unplug the Awair Glow or the power goes out, it will reset itself. Temperature and humidity levels will quickly become accurate, but it takes a day to calibrate the CO2 sensors each time this happens. Sometimes the Glow won't pair with Alexa even though the Awair skill is installed properly.


Tech Specs
Dimensions: 2.6 x 1.8 x 3.6 in
Connects through: Wi-Fi
Detects: VOC density, CO2, temperature, humidity
Compatible with: Amazon Alexa, Google Assistant
The Pros
Acts as smart plug
Accurate readings
Different preference modes
Excellent and feature-rich app
The Cons
Needs to be recalibrated each time it is powered off
Has trouble connecting to Alexa
3. Elgato Eve Room 2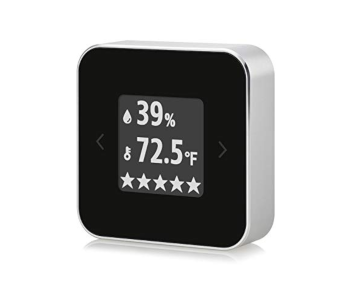 View on Amazon
Editor's Rating: 4.4/5
The first Eve Room was released in 2015 and has proven to be a simple yet reliable air quality sensor with a few annoying limitations. Its 2nd iteration features a better power source, a visual overhaul, and an app which lets you see all the information gathered over time at a glance. If you've already invested in a HomeKit home automation environment, it's the best air quality sensor to get.
A Welcome Upgrade to Home Air Quality Monitoring
The Eve Room 2 has kept the original's small cube shape, but that's where their aesthetic similarities end. An uninsured white has been replaced with elegant polished plastic at the front and brushed aluminum on its sides. The LED display is gone too, replaced by a fitting and more visible one which uses e-ink. Disposable batteries are no longer needed – the Eve Room 2 now runs on a built-in rechargeable Li-ion battery which lasts for six weeks.
You can use the sensor straight away without connecting it either to its app o HomeKit. The e-ink display will show volatile organic compound density in the air with a simplified 5-star rating, and displays temperature & humidity in three ways that differ only in aesthetics. Its range is limited as the eve Room 2 connects only through Bluetooth. This can be mitigated though if you've got a HomeKit compatible device like the Apple HomePod
The app offers a few basic features and is easy to use. You can check out current readings, adjust whether the temperature will be displayed in Celsius or Fahrenheit, or view a detailed log of past readings. The historical data is viewable either as a series of entries or a colorful graph. The sensor can store data for a couple of days so you don't need to sync it with the app all the time.
One of the Eve Room 2's major selling points is HomeKit compatibility. You pair it with the HomeKit app by scanning a QR code. The sensor then appears in the corresponding category of devices in the HomeKit app and you get access to its readings from there. More importantly, high VOC levels or temperatures can serve as the trigger for other connected devices, so you can automatically activate an air purifier, air conditioning unit, or similar compatible device to bring readings back to normal.
Are There Drawbacks?
This sensor is intended solely for iOS users. There's no Android app even though there's no reason Android users shouldn't be able to take advantage of its every feature except HomeKit compatibility. If you only have an iPhone or iPad and don't have HomeKit yet, you'll be limited to the Eve Room 2's Bluetooth and won't be able to check the readings when you're not home.


Tech Specs
Dimensions: 2.1 x 2.1 x 0.6 in
Connects through: Bluetooth
Detects: VOC density, temperature, humidity
Compatible with: Apple HomeKit
The Pros
Elegant design
Rechargeable battery
Easy to read screen
Intuitive app
The Cons
Doesn't have an Android app
Limited to Bluetooth compatibility without select Apple devices
4. Airthings Wave Smart Radon Detector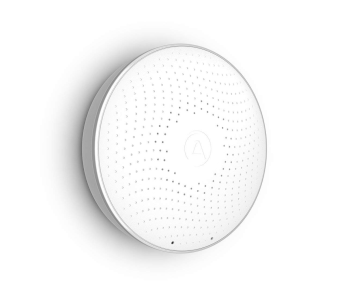 View on Amazon
Editor's Rating: 4.1/5
Most air quality sensors measure only VOCs and CO2 levels, but there's another, equally dangerous compound to keep track of – radon. Radon is a gas that radiation-rich minerals like uranium release into the air. It has no color, taste, or smell, and accumulates in houses over time. It is also the 2nd largest cause of lung cancer worldwide. The Airthings Wave is a radon sensor that will keep you appraised of radon levels in your home.
The Best & Most Accurate Home Protection Against Radon
This air quality sensor looks like a smoke alarm and installs much in the same way with the help of supplied mounting brackets. A circular LED is what sets it apart from a smoke alarm though. Wave your hand in front of it (hence the name), and the monitor will light up in green, yellow or red. Green means everything's fine, yellow signifies that radon levels are elevated and further monitoring is needed, while red means that you should take action.
Establishing a reliable radon measurement takes time. The Wave is accurate to within 20 percent after it's been in use for a week, and 10 percent after the first month. Considering home test kits take up to three months to deliver similar results, it is both quick and reliable. Apart from radon levels, the Wave also measures temperature and humidity.
There's not much to the mobile app, but it is well-organized and pertinent information is easily accessible. The home screen is made up of a colored ring that mirror's the Wave's current state as well as readings for all three tracked properties underneath it. You can get into more detail for each on another screen which shows average readings for up to a year along with a line graph. The Wave connects only through Bluetooth, but you're still able to access all the information it accumulated through a web interface if you enter your username & password.
IFTTT is a recent addition which makes the Wave more versatile. By setting up a few commands, you can create tables for long-term data analysis and export them into .CSV files, receive notifications whenever radon levels get too high, or pair the monitor with lights, heaters, etc. and create scenes with the Wave as a trigger.
What We Didn't Like
At over $180, the wave is an expensive device, especially if you consider that it only measures the concentration of one specific gas. The app's unreliability is a bigger problem however. Sometimes it won't connect for hours or even days at a time. The Wave keeps a record and will sync with the app once it stops acting up, but you may miss out on potentially vital alerts if you don't check on the monitor manually during that time.


Tech Specs
Dimensions: 4.6 x 1.3 x 4.6 in
Connects through: Bluetooth
Measures: Radon concentration, temperature, humidity
Compatible with: IFTTT
The Pros
Accurate and quick radon measurement
Simple to use
Good 3rd party smart device support
The Cons
Expensive
App suffers from connection issues
5. Netatmo Smart Indoor Air Quality Monitor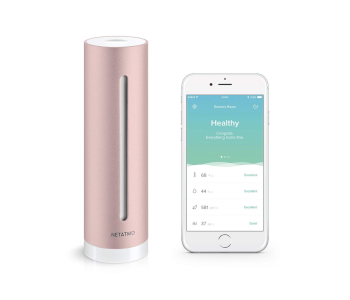 View on Amazon
Editor's Rating: 3.9/5
All the air quality monitors we've reviewed so far have in-depth stat tracking options. What if you just want an overview that anyone can understand without needing to read graphs or grapple with scientific measurements? In that case, Netatmo's smart indoor air quality monitor is ideal for you. It's a beautiful, unobtrusive device that gathers air quality data and presents it in an elegant way in a minimalistic yet functional app.
Hoe Air Quality Monitoring Made Easy
Netatmo's monitor is yet another stylish gadget. Cylindrical in shape, it has a rose-gold finish and a vertical LED at the center which changes color in alignment with the overall air quality rating. The monitor connects to a standard plug through a USB adapter and has a QR code that lets you pair it to HomeKit.
Unlike other tested models, this one measures sound levels up to 120dB as well. Along with temperature, humidity, and CO2 levels, this amounts to a good indicator of how healthy an environment is for both living and work. All sensors are fairly accurate and respond quickly to a window being opened or changes in humidity brought on by cooking.
The Home Health Coach app is Netatmo's nerve center. Its design couldn't be simpler. You start with a screen divided into two. The top part glows from a pleasant blue-green when everything is fine to red when there's cause for concern on all fronts. Its brief status message provides tips for improving the specific reading responsible for a less than perfect score. Underneath are the current values for each category
Tapping on one of the readings brings you to a simplified overview screen. There you can see how each score measures up to optimal values on a single colorful line. You can view this for the current results or the past 24 hours on an hourly basis. There are no graphs to analyze, just the lines with different sweet spots depending on the type of measurement that interests you.
What's Bad About It?
Netatmo's biggest drawback are its incessant connectivity issues. No matter which mobile operating system you're using, the app has a hard time recognizing the device and will refuse to connect more often than not. CO2 is the only air quality measurement. Other models measure the presence of organic chemicals and particles, which are much more useful for allergy and asthma sufferers.


Tech Specs
Dimensions: 1.8 x 1.8 x 6.1 in
Connects through: Wi-Fi
Detects: CO2, temperature, humidity, sound levels
Compatible with: Apple HomeKit
The Pros
Effortless setup
Simple app
Tracks sound levels
The Cons
App has severe connection issues
Doesn't measure VOC or particulate matter
6. Best Budget Option – Atmotube 2.0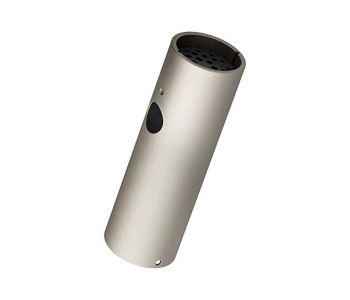 View on Amazon
Editor's Rating: 4/5
Buying an air quality sensor is a smart way of improving your home's health, but won't help if you spend much time on the go. The Atmotube 2.0 is a crowd-funded, portable air quality sensor you can clip onto a belt and take with you to work, a hotel etc. It calibrates itself quickly and delivers results via button press or in its app. If you're concerned about the air quality of closed spaces outside of your home, this is a product you need to have.
Accurate Air Quality Readings Wherever You Are
The Atmotube is designed with portability in mind. Unsurprisingly, it looks like a small metal tube and it is made from titanium. It will come away without a scratch and continue working if dropped. The sensor is powered by a rechargeable battery which lasts for 8 hours.
Using the Atmotube on its own limits you to a simplified overall assessment expressed through a bright LED. There are five quality levels, blue being the best and red the worst. Unlike other models which take hours or even days to calibrate, the Atmotube produces consistent readings after an hour.
Atmotube's app is one of the best we've seen and comes with a host of features the others don't have. There's the standard overview screen with an overall score and values for temperature, humidity, carbon monoxide levels, and VOCs. Historical data can be accessed too, and you can calibrate push notifications to be sent when levels exceed your comfort zone.
You also have access to useful information on your surroundings like the current barometric pressure and the height you're at above sea level. There's even a network of other Atmotube users you can access. Doing so gives you air quality readings made by people in your area and all over the world.
Are There Drawbacks?
Low battery life is the Atmotube's only serious flaw. Its sensors take readings every second. While this keeps the readings up-to-date, it drains the battery quickly. The issue is compounded by the fact that you can't turn the Atmotube off manually, only through its app.


Tech Specs
Dimensions: 0.9 x 0.9 x 2.6 in
Connects through: Wi-Fi
Detects: VOC density, CO, temperature, humidity
Compatible with: N/A
The Pros
Portable
Quick calibration
App comes with useful extra features
The Cons
Battery drains very quickly
No manual shutoff