6 Best Smart Baby Monitors of 2019
Bloodshot eyes, sleepless nights, and constant worrying about the baby's wellbeing have been parents' constant companions from the dawn of time. Even the most dedicated parents need a breather though and should be able to take a step back from 24-hour child rearing while knowing that their tot is safe & sound. Classic baby monitors were a huge help since they let mom & dad hear what was going on in the nursery without being there, but their functionality is limited.
Enter the new generation of baby monitors – the smart kind! Two-way audio is the least of their features as clear HD video feeds, sensor readouts, and customizable notifications have become the norm. Now you can check up on the baby, sing it to sleep, and get a full report on the quality of its surroundings whether you're in the next room or half the world away.
You can read the reviews of the best smart baby monitors we've tested below along with a small guide on the points you should go over before buying. Whichever monitor you choose, it's sure to make the stresses and anxieties of early parenthood much smaller.
Budget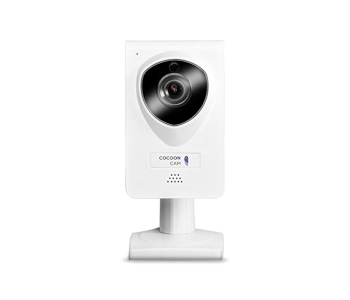 Cocoon Cam Plus
3.9/5.0
Resolution: 720p
Subscription service: Free
Refined motion sensors and has good video quality for the price.
Check Amazon
Best Value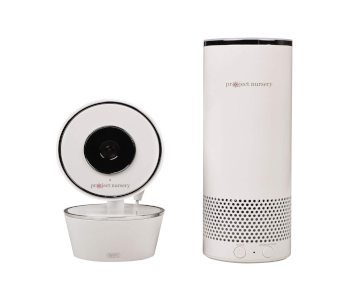 Project Nursery
4.7/5.0
Resolution: 720p
Subscription service: Not needed
Comes with Echo speaker and has excellent Alexa integration.
Check Amazon
Top Pick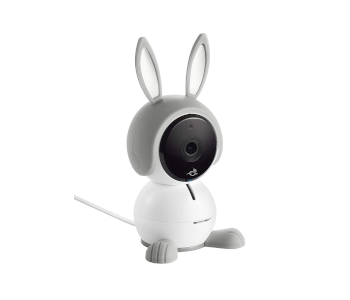 NETGEAR Arlo Baby Monitor
4.9/5.0
Resolution: 1080p
Subscription service: Free + paid
Exceptional video quality and generous cloud storage plan.
Check Amazon
What to Look for in a Smart Baby Monitor
Placement Options
Sensors
Video Quality
Complementary features
App & Monthly Subscriptions
Smart Baby Monitors Comparison Table
| Make and Model | Rating | Resolution | Sensors | Subscription service | Price |
| --- | --- | --- | --- | --- | --- |
| NETGEAR Arlo Baby Monitor | 4.9 | 1080p | Motion, sound, temperature, humidity, air quality | Free + paid options | Check Price |
| Project Nursery Smart Baby Monitor System | 4.7 | 720p | Motion, temperature | Not needed | Check Price |
| Safety 1st HD WiFi Baby Monitor | 4.6 | 720p | Motion, sound | Free | Check Price |
| Nanit Smart Baby Monitor | 4.2 | 960p | Motion, sound, temperature, humidity | $10/month after a year | Check Price |
| iBaby Care M7 | 3.9 | 1080p | Motion, temperature, humidity, CO2, overall air quality | Free | Check Price |
| Cocoon Cam Plus | 3.9 | 720p | Motion | Free | Check Price |
1. Best Overall – NETGEAR Arlo Baby Monitor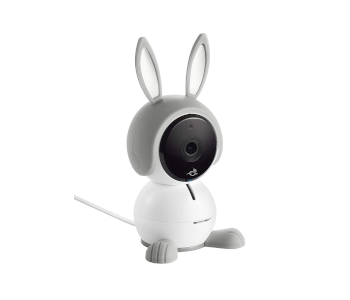 View on Amazon
Editor's Rating: 4.9/5
A feature-rich model whose connectivity, video quality, and sensors can't be beaten.
Arlo and Nest are neck and neck when it comes to the world's best smart security camera. What Nest doesn't have and Arlo absolutely outclasses the competition with though is a dedicated baby monitoring system. The Arlo Baby Monitor has it all – beautiful 1080p video, an array of sensors that thoroughly assess the conditions in the nursery, a simple app, and free cloud storage! Considering everything Netgear has managed to pack inside their cute camera, it's very reasonably priced too.
The Smartest Baby Monitor Around
This kid-friendly camera is as capable as it is cute. It comes dressed up in a bunny outfit and can be placed anywhere in the nursery thanks to a rechargeable battery. It has a multi-colored nightlight whose color and on times are customizable. There's two-way audio and a button that lets you play lullabies or soothing white noise. Lastly, the camera is jam-packed with sensors which react to the child's movement and the sounds it makes while taking measurements of the humidity, temperature, and air quality.
Video output is excellent! 1080p may seem like overkill to cover a child's room, but you'll be glad you invested in it once you see the crystal-clear feed and quality clips for the first time. The 130-degree field of view is adequate for encompassing a small room, and night vision is effective up to 15 feet. The camera conserves power until you turn it on and will notify you when the battery needs recharging. All the footage it records is stored for 7 days on Netgear's cloud completely free with more advanced plans available at reasonable prices.
The app gives you complete control over the camera's behavior. Here you can view the feed and sensor logs, adjust sensor sensitivity, and set notifications whenever the sound or motion sensors are triggered. Geofencing is also supported, meaning that alerts can be enabled and sent to your phone whenever it gets out of the monitor's reach.
Another powerful feature is Arlo's ability to connect with other smart devices in your home through either Apple HomeKit or IFTTT. This lets you use its sensor readings as triggers for certain events. For example, if the temperature in the nursery is too low, your HVAC system can be activated automatically, or a light can be turned on if the baby is stirring. Voice commands are supported through Siri and Amazon Alexa too.
What's Bad About It?
We really had to struggle to come up with any kind of deal-breaker for this exceptional baby monitor. There's no pan & tilt, meaning that you'll have to find a good vantage point to take in the entire room.

Tech Specs
Resolution: 1080p
Field of view: 130°
Mechanical Pan & tilt: No
Video storage: Cloud
Sensors: sound, temperature, humidity, air quality
Works with: Amazon Alexa, Apple HomeKit, IFTTT
The Pros
Exceptional video quality
Multi-colored nightlight
Good integration with 3rd party devices
Generous cloud storage plan
Long-lasting rechargeable battery
The Cons
No pan & tilt function
2. Best Value – Project Nursery Smart Baby Monitor System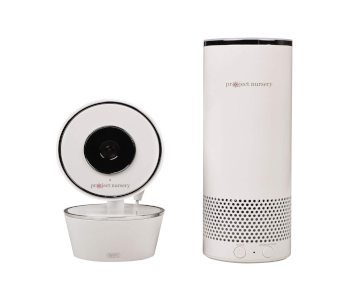 View on Amazon
Editor's Rating: 4.7/5
A capable baby monitor in its own right augmented by the complete Alexa experience.
Alexa has become indispensable in most people's smart homes. If you buy the Project Nursery smart baby monitor system, she can also start helping out with the baby! Don't fire your babysitter just yet as there's only so much a camera and Echo speaker can do. Even so, letting Alexa into your nursery opens up intuitive baby camera control, gives you a lot of info on the baby's surroundings, and makes taking care of your little bundle of joy that much easier.
Alexa, What's the Baby Up To?
Project Nursery consists of a 720p camera and a modified Amazon Echo speaker. It's always nice to have another one of these in your home, but if you don't need the Echo, the camera is sold separately too. We strongly recommend that you go for the complete version as the speaker has all the features of a regular Echo, plus two additional buttons. One lets you shut the speaker off completely – microphone and all – which comes in handy when you want some privacy. The other disables its Wi-Fi, turning the Echo into a stand-alone Bluetooth speaker.
The camera has a sturdy base and delivers a feed of your nursery in excellent quality 720p. You'll need to plug it in, but the long cable lets you position the camera in a reasonably large radius around the outlet. Its night vision is strong and able to provide a detailed view of the entire nursery with good contrast. The camera can record video locally onto an SD card so you won't need to pay cloud storage fees. It has mechanical tilt & pan as well as an accurate temperature sensor.
The individual components of Project Nursery work best when used together. Asking Alexa to show you the nursery through the supplied Echo opens up the camera's feed in seconds. You can also inquire about the current room temperature, take 30 – 90-second clips or snapshots, and play soothing noises or lullabies either from one of the system's smartphone apps or by telling Alexa what you need. Best of all, Project Nursery works with existing Echo devices, meaning you can access it from anywhere within your home and from multiple sources.
What We Didn't Like
The only real drawback to this baby monitor is the need to install & use multiple apps to take complete advantage of it. You'll need the standard Alexa app for voice commands, another app to control the speaker, and yet another one to access the camera's live feed. We hope that future versions of Project Nursery will be accessible through a single app.

Tech Specs
Resolution: 720p
Field of view: Not specified
Mechanical Pan & tilt: Yes
Video storage: Local
Sensors: Motion, temperature
Works with: Amazon Alexa
The Pros
Excellent Alexa integration
Comes with Echo speaker
Clear and detailed image regardless of lighting
Sensitive motion & temperature sensors
The Cons
Requires three separate apps to be used effectively
3. Safety 1st HD WiFi Baby Monitor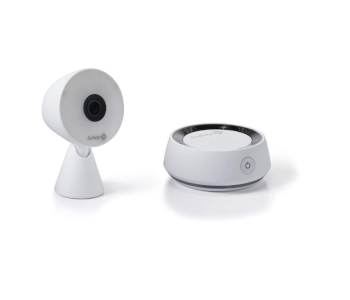 View on Amazon
Editor's Rating: 4.6/5
Traditional baby monitors amounted to a two-way speaker system that let you listen in on your baby's activities. While smart models integrate this feature as a matter of course, few of them supply a dedicated speaker that lets you know what the baby is doing without needing to check your phone. That's exactly what Safety 1st was concerned about when designing this smart baby monitor. Although the separate speaker is its standout feature, smooth video and access sharing make this model even more appealing.
I've Got My Eye (and Ear) on You
The camera is small & unobtrusive. You can install it anywhere within reach of an outlet including screwing it onto a wall or other flat surface. The speaker needs to be plugged in too, but its small form factor makes transport and placement easy. Once paired with the camera, it will establish a two-way audio connection whenever the sound or motion sensors are triggered. It also has a bright LED that can alert you instead if you need to mute the audio.
Picture quality is excellent for a 720p model. We particularly liked how its 30fps feed remained smooth & constant. Colors are vivid in a well-lit environment while twelve powerful LEDs produce serviceable night vision in a 15-foot radius. The audio unit's sound quality is crisp and your voice won't sound tinny or distorted when you talk to the baby.
To conserve power, the camera only turns itself on when the sensors pick up sound or movement. Each time it does, a small clip called Baby Moment is recorded & stored for later viewing. Safety 1st offers a day's worth of storage for free so you can review and download everything that happened while you were at work. Access sharing is another interesting feature that allows grandparents, coworkers, and other interested parties to view the feed for a while. Finally, the app features in-depth sensor sensitivity and alert customization for both devices.
What Could Be Better?
This model would have been so much better if you could record video on your own. At the moment you can only view the real-time feed, take snapshots, and store Baby Moments which only occur when the sensors are triggered. You'll need an excellent Wi-Fi connection to use the app normally as it has problems with camera lag and connection issues on unstable networks.

Tech Specs
Resolution: 720p
Field of view: 130°
Pan & tilt: Yes
Video storage: Cloud
Sensors: Motion, sound
The Pros
Dedicated audio monitor
Easy setup
Access-sharing
Smooth and vibrant video
The Cons
No manual recording option
Connection issues
4. Nanit Smart Baby Monitor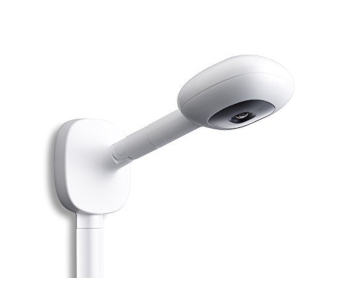 View on Amazon
Editor's Rating: 4.2/5
Smart baby monitors depend on a constant internet connection to keep you informed of your baby's activities. If the internet ever goes down, you're pretty much left in the dark even if you've bought the most sophisticated model. The Nanit Smart Baby Monitor keeps on recording and sending the feed to your smartphone even when the internet is down temporarily. On top of that, it offers high-quality video and an insightful sleep tracker.
Constant Monitoring for Peace of Mind
Unlike other smart baby monitors you can set up in range of any outlet, the Nanit's setup is a bit more involved. You have to place the monitor over the crib for accurate results of its motion sensors. A wall mount is included as part of the package and there's a convenient stand you can buy separately if the crib isn't up against a wall. The monitor doubles as a night light whose glow points away from the baby, creating a soothing atmosphere.
960p is an unusual resolution for today's standards but the camera's output is outstanding nevertheless. The angle the monitor is set at helps give you a detailed bird's eye view of your infant while well-placed LEDs make for decent night vision. Should your internet go out, the monitor can communicate directly with your router and stream to your smartphone without interruption.
If you subscribe to Nanit Insights, you get the benefit of the app's built-in sleep–tracking feature. This uses the monitor's motion sensors to determine how long it took for the baby to fall asleep, the overall sleep quality based on the amount of the baby's movement, and total sleep time. Adult visits are recorded too and don't interfere with the sensors' assessments. Free features are a standard set of monitoring tools with video and photo saving, sensor threshold settings, and feed sharing.
What Could Be Improved?
Nanit is by far the most expensive baby monitor on the list. Cost is compounded further by the optional stand and the monthly subscription if you want to use Insight. You get the first year for free but have to pay a minimum of $10/month to continue using it afterward.

Tech Specs
Resolution: 960p
Field of view: not specified
Pan & tilt: No
Video storage: Cloud
Sensors: Motion, sound, temperature, humidity
The Pros
Continues monitoring when internet is down
Excellent sleep-tracking sensors
Soothing night light
Decent picture quality
The Cons
Advanced features require monthly subscription
Expensive
5. iBaby Care M7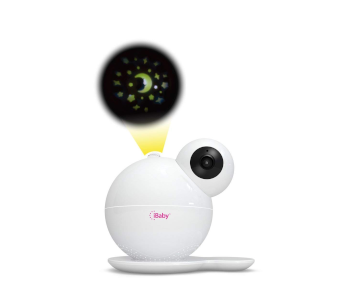 View on Amazon
Editor's Rating: 3.9/5
Changing the diapers after your baby has proudly done a number two is a young parent's worst nightmare and one of their most dedicated acts of love. It's natural to want to deal with the issue only when it arises, and up until iBaby's M7 came out, there was no way for a baby monitor to let you know that junior has done his business. The M7 packs a highly sensitive air quality sensor that can detect changes in air composition and alert you to their cause. That's just the tip of the iceberg as the M7 is capable of much more.
Something in the Air
The M7 is quite a hefty baby monitor and you'll need to make some room on a shelf to place it. The sturdy base is where all of its advanced sensors, audio equipment, and a small projector are. The projector casts an image of the night sky onto the nursery's walls & ceiling, soothing the baby into blissful slumber. A separate bulbous camera protrudes from the base and can rotate a full 360 degrees.
Expect outstanding FullHD video quality that's on par with the Arlo's! Even better is the M7's night vision which we found to be the best of the bunch as it offers good contrast and can illuminate everything clearly up to 20 feet away. The monitor's speaker doesn't lag behind either. Literally hundreds of songs, stories, and nature sounds can be played back in a warm yet clear tone.
The iBaby app presents you with a live view as well as numerous customization options and features. The advanced air quality sensors can send an alert if the concentration of harmful particles gets too high and acts as an accurate diaper-changing notice. You can also use the app to manually set diaper changing or feeding notices. Videos and stills can be recorded whenever you like and temporary permissions of varying levels can be issued to other users as well.
Are There Drawbacks?
While comprehensive, the app isn't intuitive. Getting to some settings is convoluted and setting up permissions for others can take a while. When the projector is active, the whole monitor rotates in a circular motion. This means that the camera is moving too and isn't focused on the baby.

Tech Specs
Resolution: 1080p
Field of view: 360°
Pan & tilt: Yes
Video storage: Cloud
Sensors: Motion, temperature, humidity, CO2, overall air quality
The Pros
Excellent night vision and crisp video
Large selection of lullabies and soothing sounds
Comprehensive app
The Cons
App can be hard to navigate
Moonlight soother causes the camera to rotate
6. Best Budget Option – Cocoon Cam Plus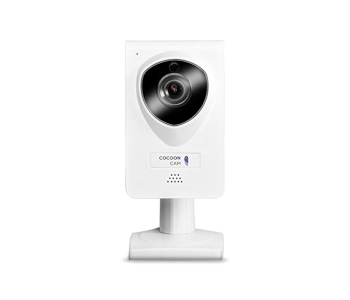 View on Amazon
Editor's Rating: 3.9/5
Armed with the most sophisticated motion detection sensors today and smart about using them to monitor your baby's health.
Sudden Infant Death Syndrome is a terrifying condition that has claimed many seemingly perfectly healthy babies in their sleep. While medical experts aren't sure what causes it, parts of the brain which control breathing seem like the likely culprit. None of the baby monitors we've covered so far offered a way to reliably track your baby's breathing patterns. The Cocoon Cam Plus makes it a priority to alert you of any abnormalities in that respect and also happens to be the most affordable product in the guide.
The Life-saving Baby Monitor
Installation of this monitor is similar to Nanit's model and with good reason. The camera needs to be positioned to look over the center of the crib's side in order for its sensors to gauge the baby's movements as intended. You'll need to do some drilling and cover the power cord up with something, but the monitor's accuracy and your baby's safety make it all worth the hassle.
The 720p stream is of average quality, yet the night vision stands out as being both effective at longer distances and showing the tyke in detail. Similar to Safety 1st's Baby Moments, the camera stores collections of photos and clips on Cocoon Cam's free cloud service. You can't manually record video.
The app has standard monitoring features but is really built around the activity picked up by the monitor's sophisticated motion sensors. They're so refined that they sense and log changes in breathing patterns each time the baby stirs or wakes up with amazing accuracy. You can view each event in a timeline along with a picture of the baby that helps eliminate false alarms.
What Could Be Better?
The Cocoon Cam Plus's obvious drawback is a focus on just one sensor. It doesn't have sound or temperature sensors, so you can't intervene if the environment becomes uncomfortable for the baby. Later this year, Cocoon Cam plans to release a model called Clarity which will hopefully address these issues.

Tech Specs
Resolution: 720p
Field of view: not specified
Mechanical Pan & tilt: No
Video storage: N/A
Sensors: Motion
The Pros
Refined motion sensors
Good video quality for the price
Useful & accurate app alerts
Excellent value for the money
The Cons
Tricky to install
Relies on a single sensor
No manual video recording