6 Best Smart Baby Speakers of 2020
3D Insider is ad supported and earns money from clicks, commissions from sales, and other ways.
Being a parent to a small child is one of life's most stressful experiences, but modern gadgets like smart baby speakers can help both you and your little angel catch some well-deserved Zs. They can soothe the baby to sleep with sounds of the ocean or wind, play love notes from grandma, or keep the little one enthralled with stories and music. More advanced models offer comprehensive monitoring of the baby and its surroundings, and the most sophisticated ones can even be controlled through Alexa.
Here are the six best smart baby speakers you can get today. Our picks include everything from simple animal-shaped Bluetooth speakers to gadgets worth several hundred dollars that alert you to all of baby's needs. Choose one that's appropriate for your child & budget and let both of you finally enjoy a good night's rest.
Budget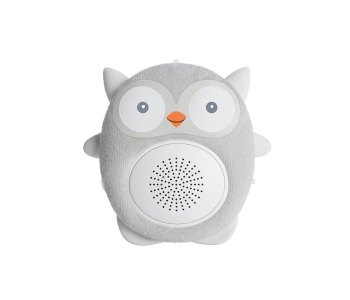 WavHello SoundBub
4.2/5.0
Two-way audio: No
White noise: Yes
Noise machine and quality speaker in one.
Check Amazon
Best Value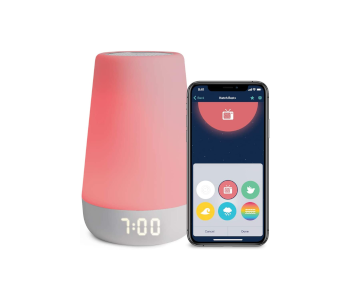 Hatch Rest+
4.6/5.0
Two-way audio: Yes
White noise: Yes
This has a long-lasting battery.
Check Amazon
Top Pick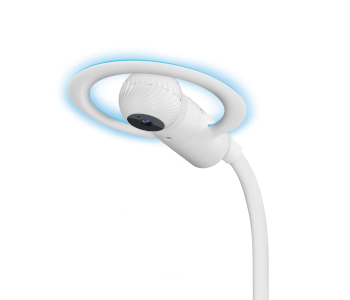 Motorola Halo+
4.7/5.0
Two-way audio: Yes
White noise: No
Intuitive app with lots of features.
Check Amazon
Smart Baby Speakers Comparison Table
1. Best Overall – Motorola Halo+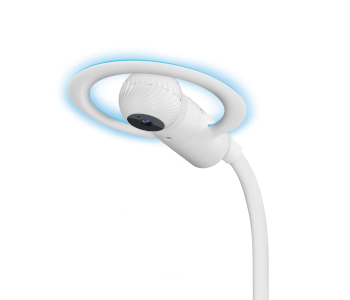 View on Amazon
Editor's Rating: 4.7/5
The Halo+ by Motorola is much more than a baby speaker. It's a comprehensive baby monitoring system that lets you know exactly what the little one is doing at the moment. It keeps tabs on her sleep patterns and comfort. The device has a sharp camera with infrared for night vision, a night light, two-way audio, and a separate monitor you can use when you don't feel like tinkering with its excellent app.
Overview of Features
A camera and puck-shaped stand are at the core of the Halo+. You can use them on any flat surface or mount them onto a set of poles that attach to the crib to get an overhead view of the baby. The Mounting procedure is easy to follow and explained well in the instructions. Using the mount also enables a halo-shaped night light and a soothing projector that helps the baby fall asleep faster.
The camera's video quality is excellent. It delivers detailed 1080p video live to the monitor or your phone. The monitor's resolution isn't up to snuff, but it will do for basic checkups. It has a rechargeable battery and lasts for five hours before needing replenishment. The camera has a series of infrared LEDs that facilitate night-time viewing without disturbing the baby.
The speaker part of the Halo+ enables clear two-way communication to soothe the baby even if you're not at home. Halo+ comes with several pre-installed lullabies as well as ten baby-appropriate audiobooks you may play every night as bedtime stories. More of both can be downloaded through the app.
The Hubble for Smart Nursery app is chock-full of informative tabs. It lets you monitor the baby's activities and surroundings since the Halo+ has sensors that detect temperature, motion, and sound. You can set it up to send notifications if the baby moves or starts to cry and gets alerts if the temperature gets out of your defined boundaries.
The app also gives you access to an online repository of lullabies and stories. A useful sleep diary catalogs the baby's sleep patterns and offers insight on how to improve them. The Aurora Baby Tracker is also part of the experience. It's a utility that tracks your baby's development cycle based on inputs like feeding times and height measurement.
What We Didn't Like
The Halo+ doesn't let you download or stream your own music choices, so you'll have to make do with Hubble's audiobook and lullaby library. Advanced features like the sleep diary and several days' worth of video storage require a monthly subscription on top of the Halo+'s already considerable price.
Tech Specs
Two-way audio: Yes
Prerecorded lullabies: Yes
White noise: No
Sensors: Motion, sound, temperature
Night light: Yes
Camera: Yes
Camera resolution: 1080p
The Pros
Versatile and comprehensive system for soothing and monitoring
Quality speaker plays lullabies and bedtime stories
Excellent video quality
Intuitive app with lots of features
The Cons
Doesn't support custom music streaming
Advanced features require a monthly subscription
2. Best Value – Hatch Rest+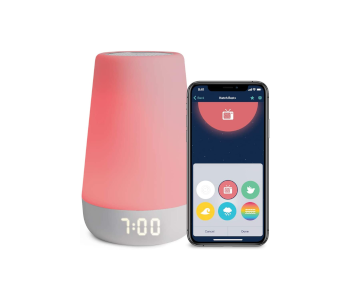 View on Amazon
Editor's Rating: 4.6/5
Most babies find it difficult to sleep without a soothing environment, which is why a sound machine is a blessing for children and parents alike. The Hatch Rest+ is one, but it's also a two-way speaker, a night light, and an Alexa-enabled device. It grows with your kids and is fun to use. It's also a great value since you pay the upfront cost and don't have to worry about subscription plans.
You should also consider the original Hatch Baby Rest Sound Machine if you don't mind ditching the battery and intercom for a reliable device that's $40 cheaper.
Overview of Features
The Hatch Rest+ is the sleekest, most modern-looking gadget on review. Its fun cylinder shape goes great with any nursery décor, and you can even put a range of coverlets on it to further customize the device. There's a clock on the front for older kids and you to keep track of time, while brightness and loudness controls are in the back.
Tapping the Hatch Rest+'s top activates the sound machine and night light. The sound machine e plays different kinds of white noise like TV static or ambient forest sounds. Audio quality is excellent as there's no hissing or static, just clear recordings or a crisp- two-way line of communication. You get access to several lullabies from the app, and their playback sounds fine too.
Setting the Hatch rest+ up is straightforward. You need to plug it in, download the app, and you're good to go once you pair it with your phone and fill out some basic info. The speaker has a long-lasting rechargeable battery, so you can place it next to your kids if they fall asleep on the couch or take it with you on camping trips.
The app is intuitive and designed for maximum convenience. It allows you to choose among several color presets or select one of 16 million colors. You can also set up favorite white noise & light combinations your child can toggle by tapping the top. The Hatch Rest+ is an excellent solution for getting your child accustomed to regular bedtimes. You can set up a schedule along with alarms and teach the child that it's OK to get out of bed only when the light turns green, for example.
The device even works with Amazon Alexa! Download the required skill, and you can ask Alexa to turn the Hatch rest+ on or off, change the night light color, or toggle the white noise.
What's Bad About It?
Loudness for the various white noises isn't uniform. For instance, the TV sounds noticeably louder than the forest even though they're set to the same volume. Using the intercom doesn't stop or mute the white noise. That makes communicating with your child unnecessarily hard if the white noise feature is on.
Tech Specs
Two-way audio: Yes
Prerecorded lullabies: Yes
White noise: Yes
Sensors: None
Night light: Yes
Camera: No
The Pros
Great value for the money
Sound machine, clock, night light, and intercom in one
Time-to-rise function helps teach kids about consistent bedtimes
Has long-lasting battery
The Cons
Intercom is ineffective if the sound machine is on
White noise options have different volumes
3. iBaby Care M7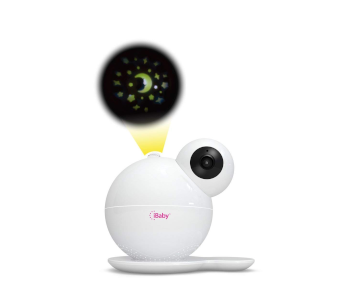 View on Amazon
Editor's Rating: 4.4/5
Your baby needs a healthy environment to thrive, and knowing when it's time to do something about it is invaluable. That's the idea behind the iBaby Care M7, another multi-use baby care system specializing in supplying you with lots of readouts on the condition of the nursery. It has an array of useful sensors, a good camera, and a two-way speaker you can use to stream thousands of songs, lullabies, and children's books.
Overview of Features
The Care M7 is a small device that looks like someone stuck two spheres together and placed them on a wide base. The smaller sphere contains the camera while the bigger one is home to all the sensors and a projector that displays the moon and stars onto the nursery's ceiling. The device uses mains power for uninterrupted uptime and connects to your phone through Wi-Fi.
A comprehensive sensor array is the Care M7's unique selling point. It has the basics like motion & sound sensors and corresponding notification options in the app. However, the Care M7 also lets you keep track of the room's temperature, humidity, and air quality levels. Its detection methods are so accurate that it can sense when the baby needs a diaper change by the drop in air quality.
The camera is of average quality for a 1080p device and shows a bright, detailed view of the baby and its surroundings. It's easy to register the baby's breathing once it's asleep during the daytime and night alike thanks to infrared LEDs that provide illumination for the camera without lighting up the room.
The app is simple to use and offers a wealth of information. You can record pictures or videos and watch them in a timeline, switch to the camera's live view, and check the nursery's status at a glance. The app offers diaper change and feeding time alerts, but the former is on a fixed schedule and not tied to air quality results. The two-way intercom lets you talk to the baby or choose from an extensive library of white noise, songs, and stories to keep the little one entertained.
Are There Drawbacks?
The Care M7 is not a dedicated speaker and has worse audio quality than our other premium picks. This is especially evident when you're using the intercom feature since there's audible static if you turn the volume up. Earlier this year, iBaby was the subject of an exposé that shed light on the company's questionable security and easier with which unscrupulous types could hack users' video feeds. These issues have since been addressed, but it's a concern still worth noting.
Tech Specs
Two-way audio: Yes
Prerecorded lullabies: Yes
White noise: No
Sensors: air quality, humidity, temperature, sound, motion
Night light: Yes
Camera: Yes
Camera resolution: 1080p
The Pros
Has air quality and other sensors
Solid camera
Vast library of audio resources
Feeding and diaper change alerts
The Cons
Possible security concerns
Low audio quality when using the intercom,
4. Lollipop Baby Camera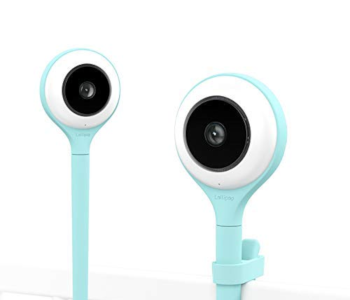 View on Amazon
Editor's Rating: 4.4/5
Parents need peace & quiet just as much as babies, so having a gadget that distinguishes a child's crying from other sounds is a big relief. The Lollipop Baby Camera is just such a device, plus a monitor, white noise machine, and intercom. It's effortless to set up and respects your privacy by letting you keep the feed on your local Wi-Fi network.
Overview of Features
The Lollipop Baby Camera is the smartest gadget on review in terms of design and flexibility. It has a bulbous end with the camera and a long silicone "tail" that twists and bends for easier positioning. You can coil the tail around the crib's bars or form a base with it so the Lollipop Baby Camera can stand on a table. A white wall mount that looks like a branch is included and expands your mounting options even further. Power is the only limiting factor since the device needs to be plugged in.
The camera records your child at 720p and is fixed in place after you've secured it. Therefore, video quality is lower than on the gadgets we've reviewed so far but still good enough to keep a close eye on the child at all hours of the day. You can save video clips or snapshots locally to your phone or view them from Lollipop's cloud. How much is stored depends on your subscription plan, but you can use the Lollipop Baby Camera without opting for one.
The Lollipop Baby Camera's speaker is sophisticated enough to distinguish a baby's sustained crying from other noises. It will then send an alert for you to react either by going to see the baby or calming it down through the speaker. You have a choice of classical music, lullabies, and white noise like the sound of a vacuum cleaner. The Lollipop Baby Camera can monitor air quality, humidity, and temperature, but you'll need a separate sensor or get the bundle for that.
We like the Lollipop app's simple, user-friendly interface. The home screen shows a snapshot of the nursery along with an event calendar that keeps track of detected crying. Icons on the bottom of the screen take you to tabs for live view monitoring, the intercom, and sound playback. You choose whom you want to share the feed with by limiting it to your local Wi-Fi and having family members use security codes once they've downloaded the app.
What We Didn't Like
The Lollipop Baby Camera has an audio-only mode you can switch to when you don't need a video feed. It needs to be refreshed every ten minutes or it will shut down, which is a needless nuisance. The app suffers from connection issues, and Lollipop's customer support is slow to respond to inquiries.
Tech Specs
Two-way audio: Yes
Prerecorded lullabies: Yes
White noise: No
Sensors: sound is native while air quality, humidity, motion, and temperature require separate sensor
Night light: Yes
Camera: Yes
Camera resolution: 720p
The Pros
Easy to set up anywhere due to flexible shape
Doesn't need to be connected to the cloud to work
Accurate crying detection
Good audio quality
The Cons
Connection issues
Audio monitoring isn't continuous
5. Zazu Kids Pam the Penguin Sleep Trainer and Night Light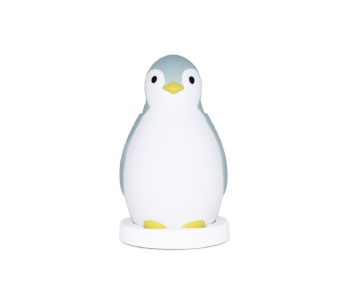 View on Amazon
Editor's Rating: 4/5
Does your toddler regularly wake up at five in the morning, ready to seize the day while you're still in dreamland? You need to start teaching him or her about bedtimes and patience, and the smart speaker from Zazu Kids is here to help. Meet Pam, a cute penguin that teaches children when it's OK to wake up intuitively.
Overview of Features
Pam is a penguin-shaped night light and speaker combo that comes with a sturdy stand. It has a clock on the base parents and older kids can turn over when they aren't sure what time it is. There are dim and bright settings to choose from, the former being perfect for checking up on the baby with as little fuss as possible.
You can set Pam to one of several colors or switch on the sleep schedule timer. Doing so is easy and only involves setting the alarm. Pam will glow a soothing red during the night and switch to amber when there's half an hour of sleep time left. The child can then get up and start the day once the light turns green. It takes some patience and training, but the concept is simple enough for small children to master eventually.
Pam is also a speaker with decent sound quality that connects to your phone via Bluetooth. Zazu Kids doesn't have a dedicated app, but they do have several Spotify playlists you can tune into for fun songs, stories, and a selection of white noise sounds. Not having a dedicated app is a plus in some situations since you can arrange your own playlists, use dedicated white noise apps, etc.
The last thing of note about Pam is the impressive battery. Pam will keep your little one entertained or asleep for a week before needing to recharge.
Are There Drawbacks?
You'll want to keep Pam out of the reach of curious little fingers since the build quality isn't the best, and one hard throw against the wall could be fatal. Zazu needs better quality control since malfunctioning LEDs are a regular complaint. It's usually the red one, which is integral to Pam's sleep training features. You can receive a replacement if Pam is still under warranty, though.
Tech Specs
Two-way audio: No
Prerecorded lullabies: No
White noise: No
Sensors: None
Night light: Yes
Camera: No
The Pros
Provides effective sleep training through color-changing LEDs
Clear audio
Long-lasting battery
Easy setup
The Cons
LEDs prone to failing
Mediocre build quality
6. Best Budget Option – WavHello SoundBub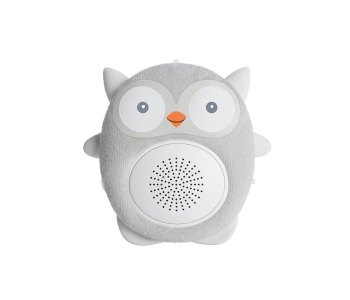 View on Amazon
Editor's Rating: 4.2/5
The smart baby speakers we've reviewed so far all offer a multitude of functions and have a price that reflects this. What if you want a no-frills, effective way of entertaining or putting your kid to sleep? The SoundBub by WavHello is what you're after since it's a Bluetooth speaker and sound machine combo with no unnecessary features. You can place it anywhere, it's fun to play with, and the app brings you and your family closer to the child through prerecorded messages.
Overview of Features
The SoundBub wins our cuteness award since it's the cuddliest speaker on review kids can and will want to play with. It comes shaped like either an owl, bear, or rabbit and has a stand that doubles as a hook you can attach to the crib or a stroller. You activate it by pressing a large belly button that switches on the white noise machine. It toggles between regular white noise, rain, and a babbling brook.
There's a timer on the SoundBub's side you can set to work for 30, 60, or 90 minutes. It's possible to leave the SoundBub on continuously, in which case it will stop working once the rechargeable battery runs out of power.
Toggling a dial on the SoundBub switches from sound machine to Bluetooth speaker mode and connects the device to your smartphone. It's powered by VoiceShare, an app that focuses more on fostering a connection to your baby than monitoring or alerts. You can use the app to record yourself or a family member singing, telling stories, or leaving silly messages.
We particularly enjoyed the Story Maker tab. It presents you with four images of random things like snails or bicycles and prompts you to tie them all together in a story. That will give your creativity the kick it needs while providing the baby with unique stories the whole family will treasure. You can always compile a list of appropriate songs and stream them through the app as well.
What's Bad About It?
The SoundBub has a bright LED that stays on as long as it's running. The light can be very distracting and keep the baby from falling asleep. The battery suffers from quality control issues. Some units start losing their charge quickly while others stop working even though the low battery indicator isn't active.
Tech Specs
Two-way audio: No
Prerecorded lullabies: No
White noise: Yes
Sensors: None
Night light: No
Camera: No
The Pros
Noise machine and quality speaker in one
Easy to prop up or transport
Fun app with activities for grownups
Seamless Bluetooth streaming
The Cons
Unreliable battery
Bright LED is distracting in a dark room