6 Best Smart Basketballs & Basketball Accessories of 2019
3D Insider is ad supported and earns money from clicks and other ways.
In basketball, if you want to bring your A-game, you'd better start keeping up with the times. It's not just training regimes and strategy that change though – with the arrival of smart training accessories players of all skill levels are able to learn more about their performance and work on their weaknesses. Whether you've got a rusty jump shot or your dribbling needs some serious work, there's a smart basketball or another high-tech tool on offer that is certain to help.
We've put six different products which promise to bring your game to the next level through their paces. They're no substitute for buckets of sweat and countless hours spent under the hoop, but these smart basketballs and associated gadgets have proven themselves on the court. Start using some of them now to polish your skills, outwit your opponents, and land that perfect shot a lot more frequently.
Budget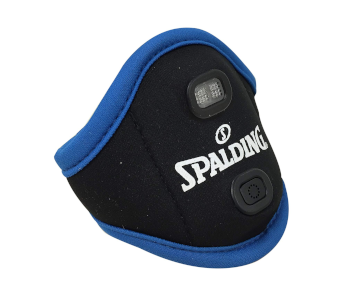 Spalding Smart Shot
4.5/5.0
Type: Armband
Helps you improve: Shooting accuracy
Helps build muscle memory and has accurate cues.
Check Amazon
Best Value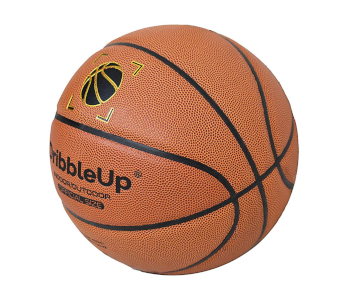 DribbleUp Smart Basketball
4.5/5.0
Type: Basketball
Helps you improve: Dribbling and crossovers
Excellent build quality and great for dribbling practice.
Check Amazon
Top Pick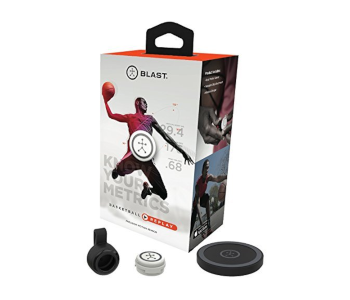 Blast Basketball
4.6/5.0
Type: Wearable tracker
Helps you improve: Close-range shots
Provides lots of useful data and doesn't hinder movement.
Check Amazon
Smart Basketballs & Basketball Accessories Comparison Table
1. Best Overall – Blast Basketball Jump Shot, Layup and Dunk Analyzer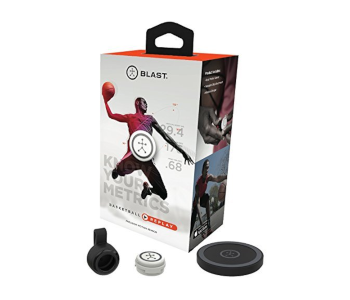 View on Amazon
Editor's Rating: 4.6/5
Knowledge is power, and the more you can quantify your performance, the faster you can improve. Blast is known for creating devices based on advanced motion sensor technology which help baseball players, golfers, and other athletes analyze their plays and address their shortcomings. The tracker specifically designed for basketball players is unobtrusive and sensitive enough to give you real-time information on your movement, positioning, and effectiveness in performing various kinds of close-range shots.
Become Better By Knowing More
The Basketball Analyzer is a small, round device which comes with a clip that fastens to the back of your shorts. Once fastened, you need to pair the tracker with an iOS device over Bluetooth. Also included is a portable wireless charger that plugs into a USB port.
The tracker works by continuously monitoring and recording the changes in your position. Every time you accelerate, jump to shoot the tracker will register the type and intensity of your movement and send the data to the app. Your coach can either look at the data in real time, or it can be saved after every training session for later analysis. The starts measured are rotation, hangtime, jump acceleration, and vertical height reached.
Data gathered for each tracked statistic is laid out in intuitive graphs which show individual tries throughout the day as well as an overview of daily averages for as far back as you started recording, giving you a real sense of progression in the long run. The app also lets you record your plays with real-time data overlays. If you want to share your progress or just show off on social media, the clips can be easily uploaded to various sites.
What We Didn't Like
Blast's Basketball Analyzer is a fine coaching tool, but it only works with iOS devices with no current plans existing for an Android version of the app. The automatic video editing tool creates cuts based on your activity levels. This can make for a lot of unusable or poorly edited clips.

The Pros
Provides lots of useful data
Doesn't hinder movement
Has informative app
The Cons
No Android app
Video clip feature is hit & miss
2. Best Value – DribbleUp Smart Basketball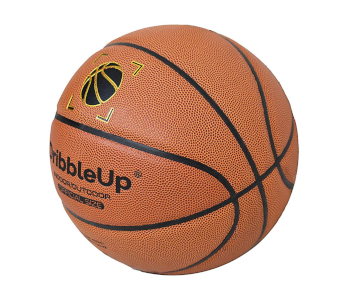 View on Amazon
Editor's Rating: 4.5/5
Players who focus on making shots and nothing else often find themselves with nothing to shoot with as their dribbling skills aren't up to snuff. Two Brooklyn brothers realized that in order to score you need a solid foundation and have developed the DribbleUp as an affordable alternative to expensive coaching sessions. An excellent ball in its own right, DribbleUp comes with smart features and training regimes which will make you an unstoppable force.
Dribbling Your Way to Success
Upon inspection, you couldn't tell the difference between DribbleUp and an ordinary regulation-size basketball. Its texture has a fine grip and playing on any kind of surface feels right in spite of its microfiber outer layer that's a bit softer than a regulation ball. Unlike the Wilson X which has built-in sensors and batteries, DribbleUp doesn't need power. Rather, it relies on an advanced app and your phone's front camera to help you master dribbling and crossovers
The ball has a unique texture pattern that allows the app to track it and not confuse DribbleUp with other basketballs. Pairing involves facing the DribbleUp logo towards the camera until a blue outline appears. This grants you access to various drills that improve different aspects of ball control. Each drill is made up of multiple stationary exercises. You are shown a video of how the exercise is performed and then need to do as many as you can correctly in 30-second bursts.
There are three difficulty levels for each drill. The exercises follow one another without pause, forcing you to think on your feet and handle the ball more efficiently. When a drill is over, you get a general grade and grades for each exercise as well as info on your performance. Various training regimes are the app's main focus, but there's a social aspect to DribbleUp too. You can invite friends to install the app and compete against them.
What Should Be Improved?
Dependence on a smartphone that's fixed in place means that DribbleUp will probably never support drills that improve shooting. As the phone is placed on a provided plastic rest at ground level, the ball's smart features aren't as accessible to beginners who could accidentally damage the phone.

The Pros
Great for dribbling practice
Well-designed drills & challenges
Excellent build quality
The Cons
Doesn't help you improve shooting or passing
Smart features aren't beginner-friendly
3. ShotTracker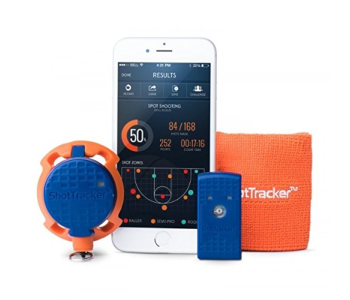 View on Amazon
Editor's Rating: 4.2/5
ShotTracker is a set of sensors designed to measure your shooting accuracy and give concrete insights on what to improve via an expansive app. It consists of a sensor which straps to your arm and another one that goes onto the net. This leads to increased accuracy and lets you concentrate on making shots count.
Drills, and Camps, and Challenges – Oh My!
Setting the ShotTracker up takes less than five minutes, provided you've got a ladder at hand with which to reach the net. Both sensors need to be paired with an Android or iOS device to work properly. The sensor that attaches to your arm is fastened by a wristband and light enough to not affect your performance.
The app is ShotTracker's greatest asset as it makes shooting practice more fun and gives you guidance. Its basic mode shows how many shots you've taken and made, how many points you scored during a given time, and the shot percentage. You'll probably soon get tired of just free-throws and shooting from the 3-point line though.
That's why ShotTracker's app has a host of challenges and drills. You can choose which position you want to play, which kind of shot to train, and your preferred location on the court. Based on that, the app will give you exercise routines and goals to work on to improve. A training video is associated with each type of shot so you know what to focus on and what form to maintain. Occasionally there are also live challenges and camps you can participate in to compete with other users and learn from professional players.
Are There Drawbacks?
ShotTracker doesn't track your actual position on the court, meaning that you'll have to follow its instructions for each type of shot or else the sensors won't respond accurately. Since there's a net sensor to set up, ShotTracker isn't a good option for public outdoor courts without access to ladders.

The Pros
Accurate sensors
Easy setup
Lots of exercises and challenges to work on
The Cons
No court positioning awareness
Suitable for home use and indoor courts only
4. Wilson X Connected Smart Basketball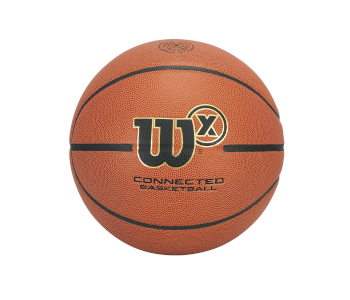 View on Amazon
Editor's Rating: 4/5
You can't do your best out on the court if you're mentally keeping score all the time. By delegating this to the Wilson X smart basketball, you can relax, focus on your form, and improve shot accuracy more quickly. The ball packs a lot of tech, is great to play with, and has a good app. Is it worth spending almost $200 on though?
Leave Scorekeeping to Wilson X
This basketball is made of high-quality leather and is available in either regulation or intermediate size, the latter being both smaller and much cheaper. Its performance is on par with other well-made balls – the bounce is good, the texture gives you a good grip, and the ball doesn't deform with use. Its battery will last for more than 100,000 shots which ought to be enough to see noticeable improvements.
What makes the Wilson X special is its ability to connect to your smartphone and help improve your point averages by introducing training sessions and challenging games. To use it effectively, the hoop you're playing under needs to be ten feet high. Having a net & backboard is also advisable for more accurate results. Before you can start training, you need to pair the Wilson X by giving it a spin and throwing it in the air at least ten feet. Once it comes down and the app beeps, you can register an account and use the ball as you would any regular basketball.
The app has a simple, effective layout and offers four training modes. The two more relaxed modes let you practice free-throws and shooting from anywhere on the court as long as it's at least seven feet away from the hoop. Buzzer Beater has a countdown timer that you add seconds to by scoring and is a dynamic way of training while under pressure. Game Time simulates a real game complete with cheering crowds and commentary.
What's Bad About It?
Shot tracking is sometimes inaccurate. While the Wilson X will never register a miss as a valid shot, the opposite sometimes does happen. Shot accuracy is the only thing this ball helps you with and it doesn't provide much concrete info on what exactly you should be doing to increase those percentages. Lastly, you need to keep your phone close and use earbuds to hear the varying sounds the app makes.

The Pros
Quality make
Excellent bounce
Useful and diverse games
The Cons
Can count hits as misses
Only improves shooting skills
Phone needs to be by your side during play
5. Vert Wearable Jump Monitor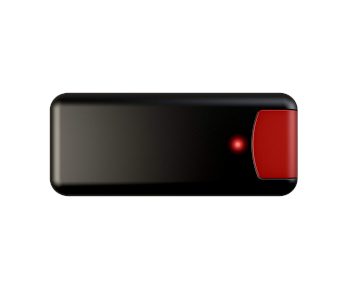 View on Amazon
Editor's Rating: 3.6/5
If you want to dunk like LeBron or give Michael Jordan a run for his money when air time is concerned, you need to learn how to jump. That's the sole purpose of the Vert Jump Monitor, a tracker that monitors every possible aspect of your jumps and was even endorsed by the USA's Olympic volleyball team during the Olympic Games in Rio.
Improve Your Game One Jump at a Time
Vert is a specialized wearable fitness tracker that either clips onto the back of your shorts or is worn as a belt. Either way, it won't interfere with your movements. It comes with a thorough app, but you can also look up the data on your last jump from the tracker itself as it is displayed in bold numbers.
Simplicity and a wealth of information are the app's main features. A clean overview shows how many times you've jumped, what your highest and average jumps were during a session and the height of the latest jump. It even shows how the last jump compares to your best one in terms of percentages so you're motivated to keep improving.
There's also a jump rope training mode that measures how many times you can jump over the rope in a given time. Gathered data can be saved, exported, and shared with friends online
Are There Drawbacks?
Vert will definitely help you improve jump height, but the tracker doesn't provide any info specific to basketball. Even worse is that all of the app's features used to be available for free, but now you're charged a hefty $8/month if you wish to access them all. Since the device itself costs more than $100, this gives it very poor value.

The Pros
Accurate
Unobtrusive
Lots of jump metrics
The Cons
Measures jumping only
Requires high monthly subscription
6. Best Budget Option – Spalding Smart Shot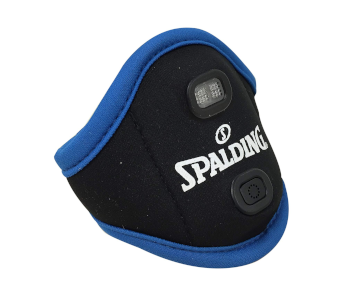 View on Amazon
Editor's Rating: 4.5/5
Developing correct muscle memory is the key to consistently landing shots no matter where you are on the court. While most of the products we've talked about give you data to interpret and illuminate weaknesses you should focus on, only Spalding's Smart Shot was made to correct your posture as you're shooting. It provides immediate feedback and reinforces good habits that will become second nature with its use.
Develop Muscle Memory the Right Way
Smart Shot is low-tech compared to other training tools we've tested. It's a pad that straps to your arm just under the elbow and is equipped with two kinds of alarms. Once your hand is in the proper throwing position, either a light will come on or a beep will be heard. Smart Shot is suitable for both right-handed and left-handed players. When used with the visual cue, it needs to be adjusted towards your shoulder so you can see the light.
The best thing about the Smart Shot is how natural using it feels. It takes a few tries to get used to the strap's feel on your skin and the alarm it makes, but once you get into the groove you'll start shooting as soon as the cue prompts you to with increasing accuracy.
What We Didn't Like
There isn't much to complain about as the Smart Shot does what it's supposed to when used properly. After you've been practicing for a while your arms get sweaty and Smart Shot may start to move, so you should be wearing a sweatband underneath to keep it in place.

The Pros
Helps build muscle memory
Accurate cues
Affordable
The Cons
Can start to move around as your arm gets sweaty