5 Best Smart Beds and Mattresses of 2019
3D Insider is ad supported and earns money from clicks and other ways.
A third of your life should be spent in restful slumber, and that's hardly possible if you've got a lumpy mattress set atop a creaking base. A bed is one of the most important long-term life investments you'll ever make, so why not go all in and invest in one that's both comfortable and can improve your health?
Smart mattresses and beds are highly customizable, comfortable, and connected. They can analyze your sleeping patterns and come up with steps you can follow to rest more easily. Some of them will charge all of your phones and tablets while you're resting in a position that promotes better circulation. Others have separate firmness settings so two people can enjoy a custom-made night's sleep. There's even a smart bassinet designed to simulate the womb and give your infant the best possible start in life.
We've researched all of them and you can read about the results in this comprehensive guide. Whether you'd give a kingdom for a bed you can fall asleep in quickly or want to be proactive and tackle sleep-related health issues with the help of science, there's one among them with your name on it.
Budget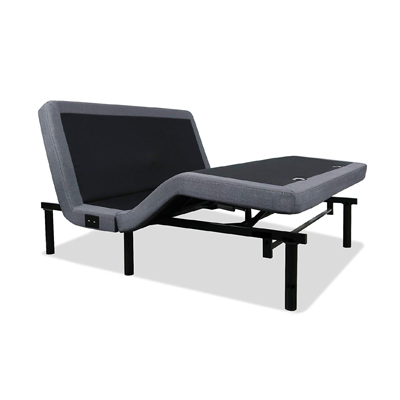 iDealBed 4i
4.0/5.0
Type: Base
Customizable massage
Affordable, serves as USB charging station.
Check Amazon
Best Value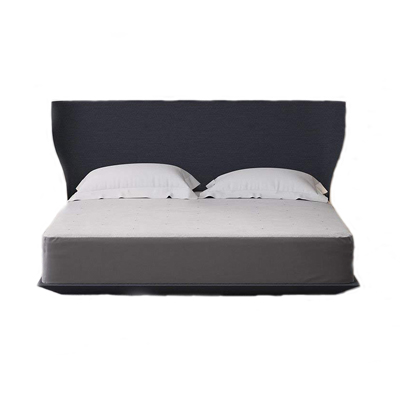 Eight Sleep Saturn+
4.6/5.0
Type: Mattress
Heated smart sleep tracking cover
Good edge support, and warming feature.
Check Amazon
Top Pick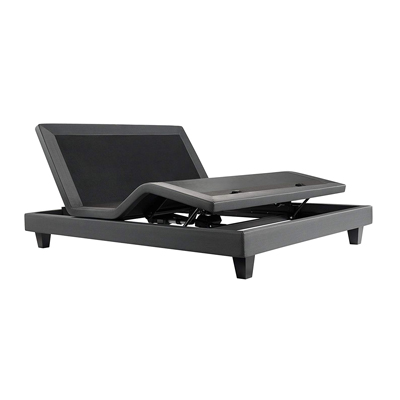 Beautyrest Smart Motion 3.0
4.7/5.0
Type: Base
Portable sleep tracker
Many adjustable positions, accurate sleep tracker.
Check Amazon
5 Best Smart Beds Comparison Table
1. Beautyrest Smart Motion 3.0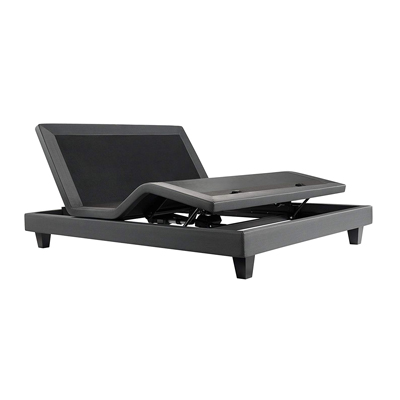 View on Amazon
Editor's Rating: 4.7/5.0
Each of us has a unique sleeping pattern. That's fine if you sleep alone, but couples may find it hard to adjust to one another's sleep positions and habits. There's no need to make compromises neither of you are satisfied with if you purchase the Beautyrest Smart Motion 3.0 base. It offers many positioning presets for your feet and head, has six massage settings, and each side can be adjusted individually if you go for the split king variant. On top of that, the base comes with a smart sleep tracker.
Your Sleep, Your Way
The Smart Motion 3.0 is a heavy-duty base which comes fully assembled and can be set up in minutes once you manage to get it through the bedroom door. It has three height presets and a headboard can be attached to it with the accompanying brackets. There's a remote (two if you go for the double king) that slides into a magnetic holder on the base's side for easier placement. Since the base needs to be plugged in and will take up an outlet, it's handy that it has 4USB ports.
The level of customization you have over the base's positioning is excellent! Head and leg spaces can be adjusted for comfort or therapeutic effects. For example, the bottom part of the base can be gently elevated to increase blood flow to your legs and alleviate pain caused by poor circulation, or you can do the same to the upper part to snore less. Each setting can be stored to one of three buttons on the remote. The base adjusts itself quickly and isn't uncomfortably loud while doing so. The massage feature is great for relaxing after a stressful day, although the base starts to shake a lot on higher settings.
Sleep tracking is handled by a device called the Sleeptracker Monitor. It is a portable, foam-covered sensor you place between the base and the mattress in line with your pillow. The Monitor tracks motion, heart rate, and breaths per minute to determine which sleep stage you're in and feeds the data to the Sleeptracker app.
You can review each night's sleep results complete with a breakdown of all three phases and the times spent in each along with info on your resting heart rate. The app uses these results as the basis for general daily sleep tips. Sleep tracking results can be reviewed via voice commands too if you install an Amazon Alexa skill.
What's Bad About It?
You get a single Sleeptracker Monitor for free and will have to pay for a second one if you want your partner to benefit from it too. The most powerful massage settings are noisy and rattle the base quite a bit.

Tech Specs
Type: Base
Special feature: Portable sleep tracker
The Pros
Many adjustable positions
Easy to set up
Larger versions have individually controlled sides
Accurate sleep tracker
Excellent value for the money
The Cons
Some massage settings are loud and vibrate too much
Comes with only one sleep tracker regardless of size
2. Eight Sleep Saturn+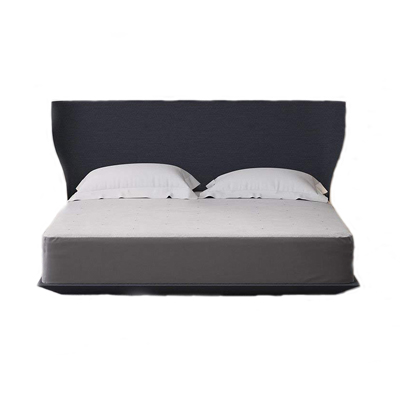 View on Amazon
Editor's Rating: 4.6/5.0
The Saturn+ is a comfortable all-foam mattress of medium firmness which comes with a smart cover. It would be an excellent purchase even without smart features as you're paying a very reasonable price for solid construction, good heat dissipation, and minimal movement transfer. Its smarts are the icing on the cake and help you experience even better sleep thanks to stat tracking & tips based on your last sleeping session.
Smart Slumber at an Unbeatable Price
This is an all-foam mattress comprised of three layers. The top-most layer is two inches thick, provides bounce, and helps with heat dissipation. It's not the coolest mattress around, but even warm sleepers shouldn't wake up sweaty. The middle layer has the same thickness. It is more compact and designed to conform to your body's contours. It along with the base layer give the Saturn+ a medium hardness which is ideal for back or stomach sleepers.
There are no coils, hence motion transfer is minimal. Two people can sleep together comfortably even if one tends to toss and turn a lot. Sleepers who favor the edge of the bed will find that it is as robust and supportive as the middle. Eight Sleep gives customers a generous 100-day sleep period in which they can fully experience the Saturn+. Returns within that period are hassle-free. If you enjoy sleeping on the mattress, you can look forward to a 10-year warranty as well.
So how is it smart then? The smarts aren't part of the actual mattress. Rather, they're built into a cover which envelops it. The cover contains movement and temperature sensors, a heart rate monitor, and heating elements. A warm bed will help you fall asleep faster so there's an option of preheating the mattress until a target temperature is reached.
The app looks clean and has a pleasant dark blue night theme. Its segments are organized to show you pertinent sleep information with a few swipes and taps. Once you've been sleeping on the Saturn+ for a few nights, the app will display your sleeping patterns and a score that shows your overall sleep quality. Scores can be tracked over periods of 7 to 30 days. An alarm can be set that takes your sleep phases into account. It goes off when you leave deep sleep to wake you up more naturally. The app's newest addition is a sleep coach. Each morning you get sleep tips based on last night's data so you can get a better night's rest next time
What We Didn't Like
This is a well-rounded mattress so finding something to complain about wasn't easy. The Saturn + may not be the best mattress for side sleepers since it is designed for support rather than sinking.

Tech Specs
Type: Mattress
Special feature: Heated smart sleep tracking cover
The Pros
Adapts itself to your body well
Good edge support
Comfortable and firm
Warming feature
App offers insight into and helps correct sleep patterns
The Cons
May be too firm for back sleepers
3. SNOO Smart Sleeper
View on Amazon
Editor's Rating: 4.3/5.0
If there's anything new parents are desperate for, it's a good night's sleep. The Snoo Smart Sleeper is a bassinet designed to keep your baby safe and comfort it with white noise once the little one gets fussy. It's a godsend as it gives parents precious extra minutes to take care of other things instead of hushing the baby back to sleep. The Snoo won't overdo it though, so you'll still be able to interact with the infant normally come feeding or changing time.
More Sleep for You and Your Newborn
The bassinet looks beautiful and is designed to protect your baby while it sleeps with a swaddle that's held in place by Velcro straps. This ensures that the child's arms are secured to its sides and prevents it from rolling over while it is still too weak to return to a back sleeping position. Four elegant legs keep the bassinet at a height of 32 inches, or you can order shorter ones instead to have it in line with your bed.
The Snoo works by constantly simulating womb-like conditions with quiet white noise and gentle rocking motions. It has microphones and motion sensors that measure how fussy your baby is. If it gets restless and is about to wake up, the Snoo will increase rocking and white noise intensity. This is often enough to put the baby back to sleep.
Provided the baby is still squirming and crying after three minutes, you get a phone notification and should go see to its needs. The bassinet is designed for infants up to six months old and can gradually get them used to sleeping in a real bed by turning soothing off when the baby doesn't need it.
Snoo's app is minimalistic yet contains everything on your baby's sleep patterns. It pairs with the bassinet through Wi-Fi allowing you to check up on the baby from anywhere. Each day you're given an overview of how the baby slept – the longest continuous sleeping time, how many times it napped, how many times you took it out of the Snoo etc. This information can also be viewed on a weekly basis. Other features include notifications when the baby is restless, remote comforting level adjustment, and toggling of the weening mode.
What We Didn't Like
More than $1,000 seems like an exorbitant amount for a bassinet you'll only be using for a few months, even if you plan on having more children in the future. At almost 40 pounds, the Snoo is heavy and can't be easily moved since it doesn't have wheels.

Tech Specs
Type: Bassinet
Special feature: Soothing motions and sounds
The Pros
Helps infants sleep longer
Customizable soothing controls
Very secure
Informative app
Nice design
The Cons
Very expensive
Hard to move
4. iDealBed 4i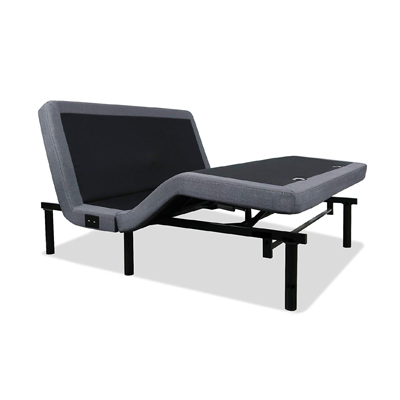 View on Amazon
Editor's Rating: 4.0/5.0
The iDealBed 4i is a responsive adjustable base which won't set you back by much, but which has a number of premium features that elevate it above regular bases in the same price range. It is built with a modern lifestyle in mind, sporting four USB ports and an under-bed night light. Add a customizable remote and quiet operation, and you've got a bed that's punching way above its weight class.
The Ideal Affordable Sleep Solution
iDealBed is actually produced by Leggett & Platt, a renowned global manufacturer of motor-powered furniture. The iDealBed's fixed components and two motors are of the same quality as products with the Leggett & Platt label but are more reasonably priced. You can tell that the motors are of superior quality when trying out different base positions as any adjustments are done quickly and noiselessly.
The base comes semi-assembled for easier transportation. Its six legs can be adjusted to three heights for a maximum of 11 inches. You also get a large remote with three presets – Flat, Zero-G, and Anti-snore. Two more custom presets can be saved onto dedicated buttons. The leg area can be adjusted to an angle of 45 degrees, while the head area can go up as far as 70 degrees
Customizable massage settings are another of the iDealBed's premium features. There are three intensity settings, each of which can be set separately for your feet and head. Instead of just vibrating, the massage can be set to pulse mode if you need a kick in the morning or a gentler wave mode which rolls and relaxes you from top to bottom. Massages can be controlled manually or set to end automatically after 15 or 30 minutes.
Are There Drawbacks?
The iDealBed4 isn't a wall hugger, meaning that you'll be moved to the front when the head area is adjusted and won't have access to your nightstand. The actuators which raise and lower the base's various parts aren't as well made as the rest of the bed and might break with extended use.

Tech Specs
Type: Base
Special feature: Customizable massage
The Pros
Highly customizable massage options
Under-bed night light
Serves as USB charging station
Affordable
The Cons
Isn't a wall hugger
Adjustment actuators are prone to breaking
5. Sleep Number 360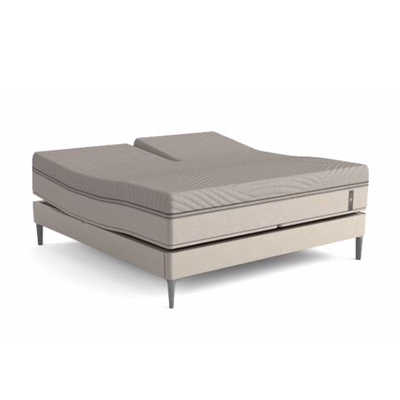 View on Amazon
Editor's Rating: 3.8/5.0
Firmness is a bed's most important feature. Get it wrong, and you're setting yourself up for years of frustration. Sleep Number's 360 is a series of smart mattresses whose firmness can be adjusted with the SleepIQ app. The company also sells adjustable bases and mattress pads, allowing you to create a custom-made bed both you and your partner will enjoy using. The plethora of options come at a price you might find hard to swallow though.
Build Your Own Smart Bed
You can choose which type and size of mattress you want along with bedding, pillows, and accessories from the Sleep Number site. These are then shipped and set up in your home free of charge. The only thing you need to do is install the app on your Android or iOS phone to get started.
The mattresses are split into three tiers – Classic, Performance, and Innovation. All three come with manual and automatic adjustable firmness settings for both sides of the mattress. Classic models are thinnest and one of them lacks a comfort layer. Performance models come with an advanced comfort layer which molds itself to your body. Innovation is the most expensive model and has an additional temperature regulation layer.
Once the mattress is installed and paired, it's time to determine your sleep number. Air pumps inflate the mattress up completely the first time, which corresponds to a sleep number of 100. The mattress then gradually deflates until you settle on a comfortable setting. Multiple values can be saved and switched between until you find the perfect fit. Better yet, firmness can be adjusted separately for either side.
The SleepIQ app is neatly organized into five sections. Sleep displays last night's SleepIQ score and shows you how much time was spent in each sleep phase. Swiping to Insights opens a long-term graph of your sleep stats. Bed Control and Settings let you fiddle with the firmness and temperature controls if you also bought a heating pad, and Feed shows sleeping tips or related articles that are refreshed regularly.
Are There Drawbacks?
Even the c2, Sleep Number's most affordable mattress, is considerably more expensive than "dumb" models with the same thickness and comfort. The price rises drastically if you also want a base and heating pads. The data the mattress collects is just aggregated in the app. Apart from the vague SleepIQ score and heart rate, there's nothing to place these numbers in some kind of context. The sleeping tips you get are also general and don't correspond with last night's results.

Tech Specs
Type: Mattress
Special feature: Adjustable firmness
The Pros
Wide array of mattresses and accessories to choose from
Adjustable firmness for both sides
Well-organized app
The Cons
Very expensive
Gathered sleep data lacks context