5 Best Smart Bike Locks of 2019
3D Insider is ad supported and earns money from clicks and other ways.
Bikes let us explore the world and get to work on time while drivers are stuck in traffic. Riding one is a healthy habit anyone can cultivate. They're also easy to steal – anyone with a pair of bolt cutters and unobserved access is able to snatch it in no time. While a reliable bike lock will keep thieves at bay, a smart one is even better!
Smart bike locks combine the heavy-duty construction of standard models with the convenience of smartphone control. Such a lock isn't only tough to crack, it can also come with a blaring alarm, be locked or unlocked from afar, and send push notifications that alert you if it's being tampered with wherever you are.
Like their classic counterparts, smart locks are diverse when it comes to build, shape, and pricing options. That's why we've done the work and present the five best smart locks you can currently buy in one place. Some unlock automatically as you approach or through a fingerprint scan. Others feature access logs and let you share the bike without worrying about its security.
Budget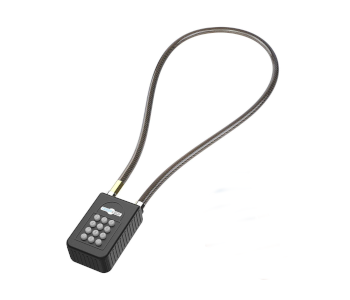 TURBOLOCK TL-400
4.1/5.0
Type: Chain lock
Special feature: Numeric keypad
Affordable, has a detailed use log and works well without the app.
Check Amazon
Best Value
Nulock Keyless Bluetooth Lock
4.5/5.0
Type: Cable or chain lock
Special feature: Loud alarm siren
Loud alarm, thick braided cable and an intuitive app.
Check Amazon
Top Pick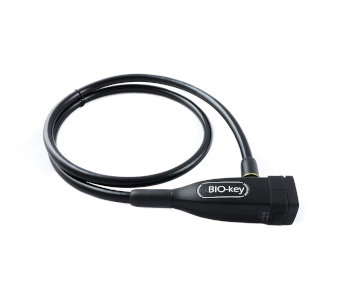 TouchLock Bike Pro
4.8/5.0
Type: Cable lock
Special feature: Fingerprint scanner
Has two ways of unlocking.
Check Amazon
Smart Bike Locks Comparison Table
1. Best Overall – TouchLock Bike Pro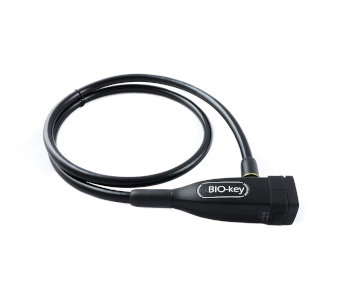 View on Amazon
Editor's Rating: 4.8/5
Many smart bike locks are advertised as being easily controlled with a smartphone. These may get misplaced or stolen though, leaving you with a lock with no access and a grounded bike. Bio-Key, the maker of the TouchLock Bike Pro, is a manufacturer specializing in producing fingerprint-enabled locks of all kinds. This bike lock is their newest and most advanced model – although it has an advanced app, its intuitive keyless approach lets you access your bike quickly even without a phone. TouchLock has already achieved considerable success in Japan and will surely conquer the American Market as well now that it's finally available.
Unlock Your Bike with the Touch of a Finger
The TouchLock Bike Pro is a little larger than a standard lock because of the electronics inside. The Pro is the premium version as it features both a fingerprint scanner and Bluetooth connectivity. A 3-foot braided steel cable wraps around your bike and an immovable object with ease, sliding into place with a click and a beep that tells you the lock is secure. Its smart features are powered by a small battery which takes only half an hour to recharge but can last 6 months!
The onboard fingerprint scanner has a sophisticated capacitive sensor that's able to detect the distinctive valleys & ridges of your finger almost instantly. The entire lock is weatherproof and the fingerprint sensor has no trouble identifying a supported print even if the finger is wet or greasy.
TouchLock Bike Pro comes with a slick companion app. Pairing with the app for the first time is easy and involves pressing a button on the lock when prompted followed by entering an admin passcode. The app lets you lock the TouchLock Bike Pro with a swipe. You can unlock it either by entering an 8-digit code or by using your phone's own fingerprint sensor if it has one. Unlocking via fingerprint can be set as the default option, speeding up the process even more.
The lock supports a maximum of 20 users. The administrator can add new fingerprints or passcodes, or revoke them. This is great if you want to grant temporary bike access to friends or family members.
Are There Drawbacks?
The TouchLock Bike Pro's only drawback is the lack of an alarm siren. Locking or unlocking is followed by a loud beep which might be enough to dissuade a thief from trying his luck, but a dedicated alarm would have been preferable.

The Pros
Two ways of unlocking
Excellent fingerprint sensor
Supports multiple users
Strong steel cable
2. Best Value – Nulock Keyless Bluetooth Bike Lock
View on Amazon
Editor's Rating: 4.5/5
The Nulock keyless smart lock is what you get when grade-A materials, an effective alarm siren, and a practical app combine to form one of the most trustworthy bike security systems out there. It is water- and corrosion-resistant, comes with one of three wire or chain variants, and is reasonably priced to boot! It's the smart bike lock to get if you want to make thieves think twice and send them running if they're stupid enough to trigger its alarm.
The Comprehensive Bike Security Package
In the box, you get a lock, a useful carrying pouch, an instruction manual along with your first passcode, and a sturdy chain or cable. There are three options – braided cables measuring 31 or 47 inches in length or a 31-inch chain. The cables are the better choice as they're made from 7 braids, each made up of 19 strands. This offers exceptional cutting resistance and durability. The cables are enclosed in a PVC casing which protects them from rusting and makes finding a good purchase when cutting harder.
The lock is water-resistant and will hold up fine in the rain. You could use it as a long-term outdoor solution on a gate without trouble. It is powered by 3 AAA batteries. With daily use, there's enough juice for a set to last 8 months. This will diminish if the alarm is ever tripped as the Nulock's siren wails at a respectable 110dB.
The only way to open the Nulock is with a Bluetooth-enabled smartphone. When you run the app and the lock is in range, you'll be prompted to enter the passcode from the box. This will disengage the alarm and let you unlock the Nulock by pressing a red button on its side. There's another button on the front to rearm the alarm.
The app is simple to use and its barebones design makes it easy to reach the action you need. You can set the Nulock to rearm itself after a set time, change its passcode and name if you own more than one, and configure push notifications. These can be sent to you whenever someone tries to tamper with the lock.
What We Didn't Like
The alarm can be overly sensitive and turn on without anything triggering it. This is a rare occurrence and may never happen to you, but it is frustrating to have to deal with if it does.

The Pros
Excellent value for the money
Loud alarm
Thick braided cable
Intuitive app
The Cons
Occasional false alarms
3. Linka Smart Lock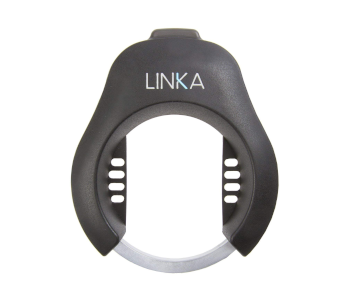 View on Amazon
Editor's Rating: 4.4/5
Solid steel bars and heavy-duty cables are great for bike protection, but sometimes you just don't want to fiddle with keys, locks, or lamp posts. The Linka lock is designed to keep your bike safe during those few minutes you spend at a store or another quick stop without an immovable object to secure it. Linka's use is streamlined and requires barely any involvement on your end. Combine this set & forget approach with Linka's excellent build quality and app, and you get an innovative, hassle-free bike security solution.
The Strongest Bike Security Link
Unlike locks which tether your bike to a rack or other immovable object, Linka attaches to the frame above the back wheel and locks it in place, preventing thieves from riding away with your bike. It has a 9mm-thick strap of hardened steel that's very tough to get through and impossible to tamper with without setting off the 110dB alarm. The included batteries last for 16 months of regular use.
So, how does it work? The Linka lock is fixed in place on your bike. When you want to lock it, you either do so in the app or press a button on the lock that slides out the shackle. You're free to run your errands etc. and when you come back into Bluetooth range, Linka unlocks automatically! You don't need to bring your phone though as Linka will also unlock if you enter a 4-digit code through a series of presses on the unlock button.
Linka's app combines lock control with features that raise your security awareness. The dashboard shows a picture of your Linka lock that indicates its status and battery life. Existing locks can be renamed and more can be added in the settings menu. The app also features a bike theft map of the current area. The map relies on aggregated theft data to display safe and dangerous areas to leave your bike in and can suggest a more secure spot as well.
What's Bad About It?
While the Linka will prevent someone from riding away with the bike, there's nothing to stop them from loading it onto a truck and driving off. Linka comes with an accelerometer which can detect movement and trigger the alarm, but this may not be good enough. It is also among the priciest smart lock options.

The Pros
Great for short-term bike security
Unlocks automatically as you approach
Loud alarm
Bike theft map
The Cons
Expensive
Might not stop determined thieves
4. Lattis Ellipse Keyless Smart Bike Lock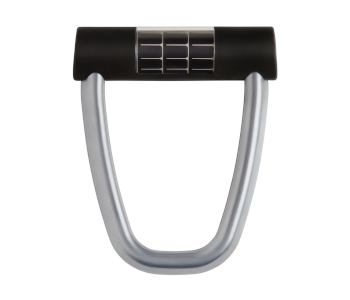 View on Amazon
Editor's Rating: 3.7/5
The Lattis Eclipse is a crowdfunded smart bike lock that promises high-tech security and keyless convenience. There's a lot going for it – the different charging modes, hardened steel shackle, and simple app all make a good case for this expensive lock. The Ellipse has a few design problems however which should prompt you to think twice before deciding to get it.
Excellent Idea, Less Than Stellar Execution
This lock inspires confidence when you first see it. The shackle is flattened for harder cutting, the base feels heavy & sturdy, and the touch interface is easy to grasp. Unlike most models we've tested which run on disposable batteries, the Lattis Ellipse has a battery that can be recharged either through a USB port or through the small solar panels next to it. This ensures that the battery always has some charge left even if you were negligent.
You lock the Lattice Ellipse by inserting the shackle into its base and tapping the lock button in the Android or iOS app. It can be unlocked in the same way or you can press four touch-operated arrow buttons in sequence. There's also auto locking & unlocking which (dis)engages the lock after a few seconds. A loud beep will inform you if anyone tries to touch the lock when it's active.
You're able to control as many Ellipse locks as you want with the app. Its dashboard has a prominent blue button used to lock or unlock the bike with a slight delay. Emergency response notifications are its most interesting feature however. Like the Linka lock, Ellipse has a built-in accelerometer. It is used to detect an abrupt decrease in speed which is interpreted as a crash. In the event of one, the app will send a notification to a specified contact informing them that you might have been injured and providing a snapshot of your location on a map.
Are There Drawbacks?
Ellipse's biggest design flaw is not being able to lock it with the touch arrows. You have to hold the lock together in one hand and your phone in the other which can be very clunky and frustrating. Automatic locking isn't reliable either as the ellipse can experience difficulties in detecting your phone's Bluetooth. On top of all that, the Ellipse is also the most expensive lock on our list.

The Pros
Rechargeable battery
Sturdy shackle
Accident notifications
The Cons
Expensive
Locking isn't intuitive
Connection issues
5. Best Budget Option – TURBOLOCK TL-400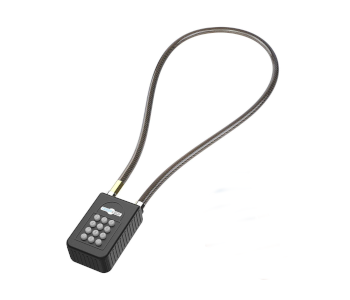 View on Amazon
Editor's Rating: 4.1/5
Sharing your bike with others isn't easy if you also have security in mind. At best, traditional bike locks come with two keys, and even many smart locks can be controlled only from one phone. That's where the inexpensive Tl-400 from Turbolock shines – it has an excellent app that lets you set up multiple users, monitor their activity, and even issue temporary codes for short-term lending.
Sharing is Caring
The TL-400 is a robust lock with a prominent numbered keypad. It secures your bike with a 30-inch steel alloy chain wrapped in a protective PVC outer layer. Its IP rating is 65, meaning that the lock can get wet & muddy without sustaining damage to its internal components. This is another model that comes with a rechargeable battery. While recharging it takes a few hours, a charge can last 8 or 9 months.
You can use the TL-400 as a standard keypad lock by lighting up the keyboard, putting in a 6-digit administrator code, and hitting the unlock button. To make sure that you locked it correctly, the TL-400 lets out a beep when locked or a different one if the chain isn't properly in place. To get the most use out of it though, you'll want to install the free Turbolock app.
The app is Turbolock's administrative and command center. From it you can operate the lock, change passwords, and assign new ones. An admin can grant permanent access to as many users as needed. There's also the ability to issue temporary access to people who don't have the app through e-keys. These are 10-digit keys that last for a limited time you can either write down or send to someone via email. Finally, there's a user log where means and times of access are cataloged.
What We Didn't Like
Like our overall winner, this lock doesn't have an alarm. It will also sometimes fail to register a password as being correct. The lock will go through the unlocking motion and stop mid-way. Re-entering the access code will resolve this, but can get annoying if the glitches start happening more frequently.

The Pros
Affordable
Excellent user administration options
Detailed use log
Works well without the app
The Cons
No alarm
Doesn't always register unlock codes