What are Smart Blinds and Curtains and Why Every Home Should Have Them
3D Insider is ad supported and earns money from clicks, commissions from sales, and other ways.
Smart devices have already proven themselves when it comes to improved automation, safety, and ambiance of the 21st century home. With things like temperature control and video surveillance are taken care of, the most substantial and arguably coolest thing you can upgrade in your home is light regulation. Smart bulbs are great for setting the mood and lighting the house up at night but come daytime you still have to walk all the way to the blinds and raise / lower them manually one by one.
Or you had to before the advent of smart blinds and curtains! They allow you to finely adjust the amount of light that enters your home at any moment through voice activation or a mobile app. You can set them up to be closed at peak hours to keep the house cooler and the AC bills down. They can even be used together with other smart devices as an effective addition to your security system. Best of all, while there are many expensive bespoke options out there, smart blinds automation kits start out at just over $100 per window.
How Do Smart Blinds and Curtains Work?
All smart blinds are motorized. This means that there's no longer a cord to get tangled or be in your way and the raising / lowering is fully automated. The motor that powers them is located within the blinds' housing and doesn't detract from their overall appeal. The blinds can either be powered via batteries or hardwired.
Battery-powered variants come with a wand containing a set of batteries that are connected to the motor. The batteries vary between manufacturers but expect them to last at least a year. Some models rely on single-use batteries while others include proprietary Li-ion batteries as part of the package. Solar chargers are also available and provide the cleanest and least complicated source of power.
Hardwired blinds come with a cable that either hooks up to an adapter or can be plugged in directly. They're a little trickier since you'll need access to an outlet. On the other hand, there's no need to worry about batteries and the power consumption is negligible.
Smart blinds' remote controls operate on a radio frequency and can adjust the blinds from anywhere within the house. Smartphone and voice activation requires a hub that connects to your Wi-Fi network via Ethernet cable. Some manufacturers sell these separately, so keep that in mind when shopping.
Smart curtains are powered by a single motor, or two if the width of the window requires them to be double-sided. Since the motor has to be able to handle heavy drapes, hardwired models are the norm. The curtains can be opened and closed fully or in increments via remote control or voice command. You can also still move them the old-fashioned way if you like.
Are Smart Blinds and Curtains Easy to Install?
The type of smart blinds install depends on the kind you buy. If you're going for a retrofit, i.e. are buying a kit that turns regular blinds into smart ones by adding a motor, the installation is easy. The old tilting mechanism will need to be removed and the motor inserted along with a battery pack. These are then lined up and connected with the blinds' barrels by your old tilt rod.
Installing smart blinds from scratch is a little more involved, and should be done by a pro if you aren't the DIY type. First, you measure the window frame and mark the spots where the mounting brackets are going to be. Once the brackets are installed, the headrail can be mounted to them. Then all that's left is to insert the batteries or to connect the blinds to a nearby outlet.
Smart curtain systems are designed to work with your existing curtains or drapes but require you to mount some ceiling brackets and hook a new motorized track onto them. Since the manufacturer doesn't know the exact width of your setup, the track is usually longer than necessary. You'll need to use a hacksaw to shorten it before installation. After that, you just attach your curtains onto the supplied hooks and enjoy.
What are the Benefits?
Outfitting your home with smart blinds is a great long-term investment! Here are just a few of their advantages:
Child & Pet Safety
Children and pets have a habit of playing with things they aren't supposed to, and blinds are pretty high up on the list. By getting rid of the cord you're eliminating a major choking hazard and preventing repair costs associated with cord replacement and stuck blinds.
Superior Control
There's nothing like waking up to a glorious dawn being revealed to you by slow-raising smart blinds! You can set daily or weekly schedules, and some models even come with light sensors that can adjust the blinds based on the weather conditions outside. You can install the blinds on skylights or other hard to reach windows and control them just as easily as regular ones.
Smart home integration allows you to control specific groups of blinds at once, e.g. those in your kitchen, or pair them with other connected devices. You can create scenarios for different activities or rooms in the house and have the blinds be a part of them. One command is enough to turn the thermostat up, the lights low, and the blinds all the way down for a perfect movie night atmosphere.
Enhanced Security
Creative use of smart blinds can turn them into an integral part of your security system. If you're away, they can be periodically raised or lowered to give potential thieves the illusion that someone's still home. Depending on scheduling and the sophistication of the rest of your smart gadgets, the blinds can move at a given time of day or when a motion sensor / camera is triggered. You can also receive notifications of their activity if the feature is supported in the blinds' app, or if they are compatible with IFTTT.
Hands-free Operation
Anyone can use smart blinds that are compatible with Amazon Alexa, Apple HomeKit, or Google Assistant. Once you've set them up, the blinds can respond to commands from anywhere, provided there's a device nearby like Amazon's Echo to pick up what you're saying. This will come in especially handy for physically impaired people and the elderly.
How About Smart Curtains?
When purchasing a smart curtains upgrade kit, you only get the motorized track. This means that your décor remains the same while your curtains' functionality is greatly increased. Along with all the advantages listed for smart blinds, curtains have an edge over Venetian blinds as some kits don't support automatic raising and lowering of the blinds, so you're always left with thin, but noticeable lines in front of the window. Smart curtains, on the other hand, move completely, giving you an unaltered view of your home's surroundings whenever you open them.
Are There Drawbacks?
There's one considerable drawback to consider – both smart blinds and curtains cost a lot. The kits themselves plus a bridge and the services of a professional can add up, and the cost increases with each new window you want covered. While we believe that either option is worth the investment, people with larger homes may find the overall cost to be a major downside.
Which Smart Blinds and Curtains to Consider?
As mentioned above, you can buy new smart blinds, or upgrade existing "dumb" ones. Lutron's Serena Shades and MySmartBlinds are currently the best options for each type of investment. Smart curtains all work on the same principle, with models from Curtain Call and Erod serving as great examples.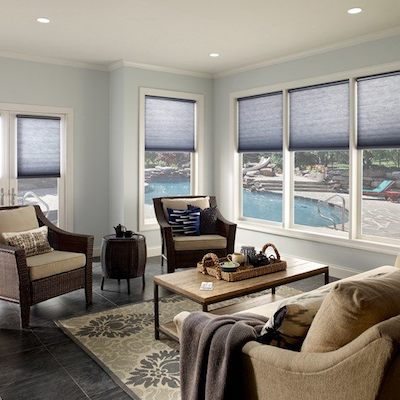 Lutron might already be familiar to you if you've spruced your home up with smart lights or dimmers. Alongside these, they're also selling custom-made smart blinds that offer the best home integration, comparatively easy installation, and overall most value today.
The buying process involves either picking a model with predetermined dimensions or designing your own. Once the blinds are shipped, you can physically install them in about half an hour with basic tools like a power drill, screwdriver, and some measuring tape. Once installed, the housing never needs to be removed again as it features a tilting mechanism. Whenever batteries need replacing, you just tilt it forward and release a switch to get to them. Regular batteries are used, but Lutron claims that their lifespan is 2 – 4 years.
A few minutes of pairing your smartphone and the blinds' optional remotes later, and you're all set. In the app, you can control the current position, set up a daily / weekly schedule, or let the shades adjust themselves in line with the movement of the sun. Scenes can also be created in tandem with other Lutron products to set the perfect mood.
Initially, Serena Shades were compatible with Apple's HomeKit, and they now support Alexa and the Google Assistant as well. Communicating with said assistants is possible only after installing the Lutron hub, which you'll have to buy separately. Once you do though, you'll be able to take advantage of more advanced features like geofencing and more elaborate scenes involving smart thermostats, doorbells, and more.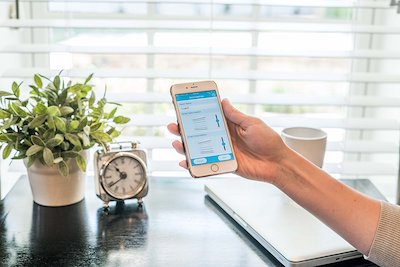 If you already have Venetian blinds that are due for an upgrade, getting the MySmartBlinds automation kit is the cheapest and best way to do so. There's no voice activation and the kit isn't compatible with some types of blinds, but the comprehensive app and remote control make it a practical upgrade.
Installation is even easier than Serena's – you have to make a few adjustments to the existing tilting mechanism and insert the motor into your blinds' headrail. Batteries are charged via USB port, and there's an optional solar panel you can buy to get rid of cables altogether. All in all, the installation and pairing process takes about 15 minutes, and are accompanied by straightforward instructions.
After calibration is complete, you can start using the app and wall-mountable remote control (sold separately). Other than standard scheduling options, the app has an interesting power-saving feature which raises or lowers the blinds according to a temperature threshold. If you get the remote, you can assign control of up to five blinds to it and operate them in groups or separately.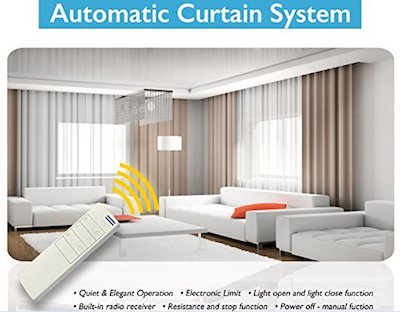 The Curtain Call smart curtains installation kit is one of the easiest and most high-quality ones you can buy today. It features solidly-made components, an exceptionally quiet motor, and the ability to connect to Alexa through 3rd party hubs.
Installing the rail is simple, the only challenging part is cutting it to the right length, nothing a DIY-er can't do. Before mounting the rail, you install a couple of brackets which tilt at a 45-degree angle for easier rail placement and snap into place afterward. At a little over 30 dB, the motor is practically noiseless, and since the curtains themselves hide it, you'll not even know it's there.
You can control the system either via the included remote or by hooking a hub up to the register jack, which enables voice commands through Amazon Alexa.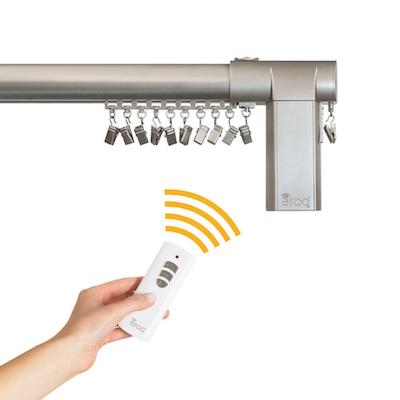 Erod's Motorized rod kit lets you control your heavy drapes remotely. It's easy to install and set up, requiring little technical expertise and no sawing since the rod is telescopic and extends as far as 144 inches, enough to span a good-sized room entirely.
Its weight capacity is 25 pounds, meaning that the strong nickel construction can support even heavier drapes made from silk. You attach the curtains to the curtain rings via clips or can choose to go with pin hooks instead. They open up from the center, and which side you place the motor on doesn't matter since its movement can be reversed. The motor comes with a 12-foot extension cord, but can also be upgraded with a battery pack if an outlet isn't available.
This smart curtains model doesn't support voice commands. However, there's a responsive remote that can gradually open or close the curtains and can be stopped at any moment.
Conclusion
Purchasing smart blinds or curtains is one of the most impactful ways in which you can let your smart home take shape. While the initial investment might be off-putting, it's important to consider all of their benefits. They reduce bills, keep suspicious characters guessing, and add a touch of indulgent luxury to your living space. As this young home automation niche continues to grow, even more, integration options and smarter uses are sure to become available. Whether you're eager to get some today or want to wait until the market matures a bit, smart blinds and curtains should definitely find themselves on your smart home improvement list.