6 Best Smart Blood Pressure Monitors of 2019
3D Insider is ad supported and earns money from clicks and other ways.
Heart disease, stroke, and diabetes are among the seven leading causes of death in the US. High blood pressure is a sign of all three and can luckily be spotted before a serious illness has developed. Measuring your blood pressure and taking preventative steps can have a tremendous impact on your life's quality and expectancy, so you'll want the smartest, most accurate blood pressure monitor to do the job.
Smart blood pressure monitors (BPMs) act just like regular ones – they measure your heart rate, systolic, and diastolic pressure and display the results on a screen. Ordinarily, you'd have to write the result down and consult your physician to interpret their meaning. Thanks to their companion apps, smart BPMs do the remembering for you. What's more, their apps can store the results for years, organize them in a way that's easier to interpret, and prepare reports which your doctor will find useful when observing trends and deciding on treatments.
Budget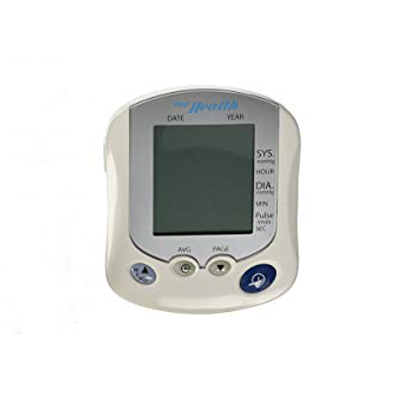 Pyle Portable Automatic
3.9/5.0
Placement upper arm
4 users supported
Most features are accessible without the app. Built-in alarm.
Check Amazon
Best Value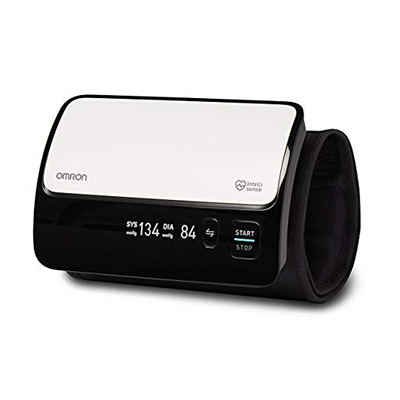 Omron EVOLV
4.6/5.0
Placement upper arm
Unlimited users
Wireless and highly portable. Comfortable even when inflated.
Check Amazon
Top Pick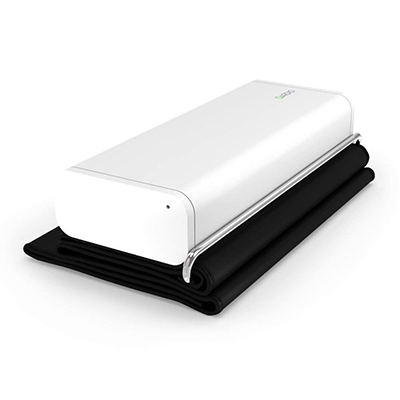 QardioArm Wireless
4.8/5.0
Placement upper arm
Unlimited users
Gathered data can be stored, shared, and exported.
Check Amazon
Below are the six best smart blood pressure monitors available today. Some attach to the wrist. Some have extensive support for AI assistants or third party apps. Regardless of which monitor you end up choosing, any one of them will keep tabs on your cardiovascular health and help you take the proper steps to keep it in good order.
What to Look for in a Smart Blood Pressure Monitor
Type
Data Presentation
Memory and User Support
10 Best Bluetooth Earbuds Comparison Table
1. QardioArm Wireless Blood Pressure Monitor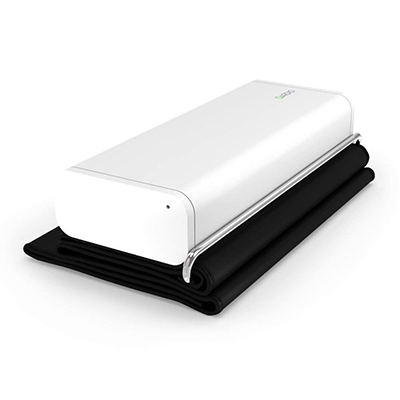 View on Amazon
Editor's Rating: 4.8/5.0
You may be diligently taking your blood pressure multiple times per week, but do you actually know what the displayed numbers mean? QardioArm is a state of the art blood pressure monitor whose fantastic companion app displays all the info you need to understand its readings and take steps to improve them. It has no pesky wires, can be used effortlessly, and has a proven track record of delivering consistent results.
Elegant Simplicity Meets Life-saving Smarts
The QardioArm boasts an impressive design. The device itself is just a rounded box with a seamless opening for four AAA batteries which power it. The cuff has multiple hooks and catches so it can be quickly adapted to arms of different sizes. There's no physical interface – as soon as you unfurl the cuff, the QardioArm is turned on and ready for action. You can even get it in a few different colors.
You control everything about this BPM through its intuitive app. Once paired, it will greet you with a simple home screen that features an over-sized green start button. Pressing it starts the measuring which is over in less than half a minute. Results include systolic & diastolic pressure along with your heart rate. If the displayed numbers mean nothing to you, swiping to the right brings up a colorful graph which precisely places the current result into an easy to understand context.
Stored data can be viewed either as a series of events or visualized with a chart and broken up into days, weeks etc. You can set up daily or weekly measuring reminders and share the results of each with your friends or doctor. The app connects to your GPS so you can save the location of a reading. This may come in handy if you're interested in how your blood pressure behaves during stressful times at work, when you're on vacation and so on.
The QardioArm features support for Apple Health and HomeKit. This means that the data it gathers can be integrated into the Health app and shown alongside other factors like your weight or burned calories and help the app display tailored advice.
What's Bad About It?
The QardioArm's most high-tech feature is also its greatest potential drawback – it is worthless without a smartphone. Multiple users can download the app and access the same unit, but elderly family members might not want to have to depend on an app to do something as vital as taking their blood pressure. You occasionally won't be able to use the device even if you're tech-savvy as Bluetooth pairing can be spotty.

Tech Specs
Dimensions: 2.7 x 1.5 x 5.5 in
Placement: Upper arm
Works with: Apple Health, Apple HomeKit
Readings stored: 0 (unlimited in app)
Supported users: Unlimited
The Pros
Very easy to use
Clever design
Comprehensive app
Gathered data can be stored, shared, and exported
Works well with other Apple—compatible health devices
The Cons
Needs an app to function
Spotty Bluetooth connection
2. Omron EVOLV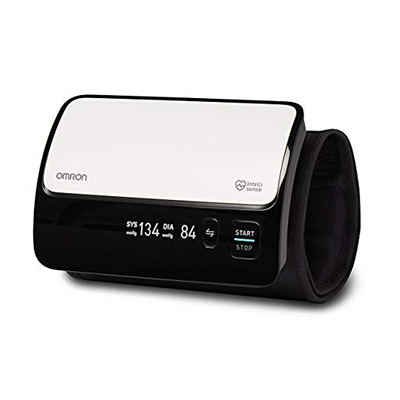 View on Amazon
Editor's Rating: 4.6/5.0
Traditional blood pressure monitors come with lots of tangled wires which complicate measuring and can lead to frustration when you're trying to secure the monitor onto your arm. Omron's solution is a sleek, portable, and smart upper arm BPM which can be placed in seconds and deliver accurate results every time. It checks for heartbeat irregularities, has a useful app, and can even be controlled through Alexa. On top of everything else, its price is reasonable too!
Wires Be Gone
The EVOLV has a clean, minimalistic design. A black & white box housing the electronics spans its cuff's width and has a clear LED interface. The displayed readings are big enough for people with vision problems to distinguish and can be seen regardless of lighting. It is powered by four AAA batteries and comes with a soft carrying case. Wearing it feels very natural and comfortable, even when the cuff gets tight during measuring.
Shown measurements include both systolic and diastolic blood pressures as well as your heart rate. The Evolv will also notify you if it detects an irregular heartbeat. To ensure the consistency and reliability of its readings, the Evolv warns you if it detects arm movement or when the cuff isn't tight enough. It produces the whirring sound electric BPMs make while measuring, but the noise is subdued and reassuring rather than annoying.
While the Evolv is an exemplary blood pressure monitor on its own, Omron's app gives it even more value. The app serves as a repository of past measurement data. In it, you can look up the most recent readings, track historical data, and export it to a .CSV file you can pass along to a physician. The Evolv supports multiple users so each family member can install the app on their phone and keep a private record.
Amazon's Alexa is supported as well. You can ask her to report on the Evolv's latest readings, tell you when an irregular heartbeat was detected, or let her give you a rundown of readings you took during specific months.
What We Didn't Like
The Evolv needs to be in close proximity to a smartphone when transferring data as it connects via Bluetooth. Only the last reading is saved on the device itself, so if you don't sync regularly, you may accidentally overwrite important results. Omron's Connect app got an overhaul earlier this year which impacted some of its functionality. Now you're subjected to incessant ads for other Omron products within the app.

Tech Specs
Dimensions: 2.5 x 3.5 x 7.2 in
Placement: Upper arm
Works with: Amazon Alexa
Readings stored: 1 (unlimited in app)
Supported users: Unlimited
The Pros
Wireless and highly portable
Comfortable even when inflated
Accurate readings
Informative app
The Cons
Saves only the last reading internally
New version of the app is riddled with advertisements
3. MOCACuff Automatic Blood Pressure Monitor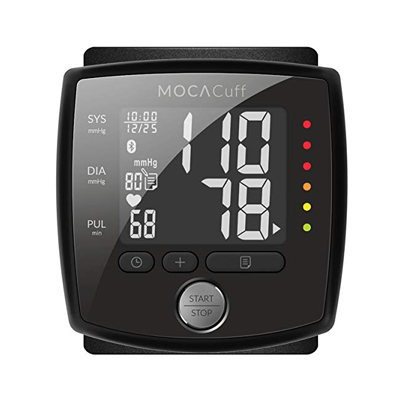 View on Amazon
Editor's Rating: 4.5/5.0
Blood pressure monitors worn on one's wrist have a bad rap because some poorly-made models display inaccurate readings, especially when measuring the blood pressure of older people. If you want the convenience of such a BPM along with reliability and lots of smart features, the MOCACuff is the monitor for you. It's much easier to set up than even wireless upper arm BPMs, has a bright display with intuitive indicators, and an app which actually tells you how to lower your blood pressure.
Wearing Your Heart on Your Sleeve
The MOCACuff is a wearable device which looks like a hybrid between a BPM and a fitness tracker. It has a comfortable wrist strap that adjusts to a wide range of wrist girths and can be tucked away to not interfere with measuring. The monitor is powered by two AA batteries and has a black & white LCD display complete with large numbers. On the right, there are six colored dots ranging from green to red. When the results are in, a small arrow appears next to one of them to give you a quick visual cue on how healthy your blood pressure is.
It is essential to position your arm in a certain way and close to the heart for a wearable BPM to work correctly. MOCACuff's app provides a detailed tutorial on proper arm positioning and guides you through the process. While taking your blood pressure involves a single button press, sometimes an error can occur. Each one is cataloged and comes with a detailed explanation on what you can do to fix it. Usually it's a matter of moving too much, but after a few tries you can expect the results to be consistent with other monitors and the error messages to disappear.
Syncing the monitor with the Mocacare app takes a few seconds and involves giving it phone and location access. Once the MOCACuff is recognized, any readings you did before will be uploaded into the app's database along with their time and date. The data is presented in graph form and can be viewed in the span of a day all the way up to a year.
Readings are usefully color coded – systolic and diastolic pressures are represented by red & blue lines respectively which get lighter the lower the pressure is. Your heart rate is also shown in this way, the difference being that a low pulse is graphed in green which transitions to yellow and red as the pulse increases.
The MOCACuff is FDA-approved and its app contains info compiled by the American Heart Association. Each result is color-coded and accompanied by a concrete piece of advice like exercising for 30 more minutes daily or adjusting one's diet to include more heart-friendly ingredients. This gives you both more motivation to improve and real steps to take to do so.
Are There Drawbacks?
While otherwise great, the app can only track a single person's stats. You also need to have your phone nearby and the app open on it to sync with the MOCACuff. While measuring, you need to be very still and not talk because even slight movements can cause the monitor to display an error message instead of a result.

Tech Specs
Dimensions: 2.8 x 2.8 x 2.4 in
Placement: Wrist
Works with: N/A
Readings stored: 99
Supported users: 1
The Pros
Easy setup
Big bright display
Quickly and painlessly connects to app
Gathered data is well-presented
App displays useful health tips
The Cons
Supports a single user
Prone to error messages due to high sensitivity
4. Welch Allyn Home 1700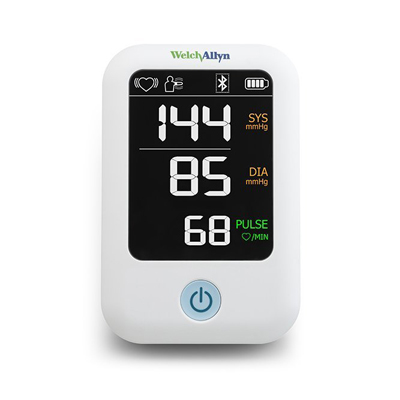 View on Amazon
Editor's Rating: 4.5/5.0
A blood pressure monitor is only good if it offers reliable and repeatable results. These are the primary focus of Welch Allyn, America's leading supplier of medical-grade blood pressure monitors. Now they're bringing their accuracy and expertise to the home BPM market as well with the Home 1700 series.
The Most Accurate Smart BPM
Welch Allyn's Home 1700 looks like most contemporary upper arm BPMs. It comes with a standard cuff meant for people whose arms are between 8.75 and 16.5 inches in girth. A smaller and an extra-large version can be ordered too. The cuff is attached via a rubber hose to a separate unit which displays the results and houses the motor. It has a single on button which turns the monitor on and shuts it off once you're done.
Ordinary BPMs can take more than 40 seconds to measure. The Home 1700 has Sure BP technology which lets it deliver accurate results in twenty seconds or less. This decreases the margin for error as you're likely to move less. While active, the motor whirs up and winds down, suggesting that it is performing multiple measurements to make sure that the findings are accurate. The results are displayed in huge white numbers on a black background.
The Welch Allyn Home app is nothing special, but it is clearly laid out and visualizes the data nicely. If you've got a Welch Allyn scale, heart rate and blood pressure data will be synced with your weight and BMI. Results can also be put in manually. Historical data is laid out in easy to read point graphs and can be exported.
Are There Drawbacks?
This BPM weighs a full pound and has a cord, making it less portable than our first two picks. Its app supports only one user. Finally, the physical device can store up to 99 readings, but there's no way of viewing them before syncing with the app.

Tech Specs
Dimensions: 2.6 x 3.7 x 5.6 in
Placement: Upper arm
Works with: N/A
Readings stored: 99
Supported users: 1
The Pros
Produces very accurate readings
Large display
Quick measuring
Straightforward companion app
The Cons
Heavy
Doesn't support multiple users
Stored data can't be reviewed without connecting to app
5. Omron 7 Series Bluetooth Wireless Wrist Blood Pressure Monitor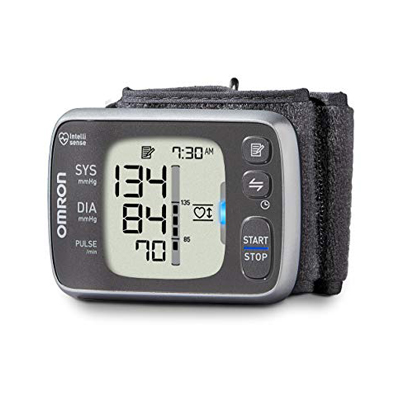 View on Amazon
Editor's Rating: 4.2/5.0
Modern wrist blood pressure monitors are as accurate as models that go on your upper arm. Even so, using them effectively requires correct positioning and some patience. Omron's 7 series forgoes in-depth tutorials and videos on how to position it in favor of guiding lights that make sure you'll get the correct reading each time. It's a pricier alternative to the MOCACuff which will surely find an audience due to its intuitive handling and 3rd-party support.
No More Error Messages or Suspicious Readings
Omron's blood pressure monitors are renowned for their clean design, and this one is no different. The plastic monitor unit has a big screen with prominent black numbers for systolic and diastolic pressure readings along with somewhat smaller ones for the date & time and pulse. To the right of the display, there are buttons for power, memory, and page selection along with a series of lights.
These lights are part of Omron's Heart Zone Guidance system which helps you position your arm the right way. They'll glow orange if it needs to be raised or lowered and blue when your arm is in the optimum position. Pressing the start button automatically inflates the strap and performs a quick measuring. If you want to make sure that the readings are accurate, you can perform a series of three in under ten minutes and the 7 series will save only the average result.
The app isn't rich in features, but it keeps a good account of past readings. You can attach notes to each saved reading for future reference as well as share the data. Syncing the app with Apple Health allows you to put the readings into perspective by adding them to other vital stats. Like Omron's Evolv, the 7 series also supports Alexa who can either remind you of a result or instruct you on how to place the blood pressure monitor with a voice command.
What We Didn't Like
This is yet another BPM without support for multiple users. It can save 100 readings and will sync them with the app quickly, but there's no way of deleting them. This may skew your overall history whenever you accidentally place your arm the wrong way. You'll need to make sure that you've transferred everything onto the app before the batteries run out as both the date & time settings and past readings will be erased when you replace the batteries.

Tech Specs
Dimensions: 3.5 x 2.8 x 4.5 in
Placement: Wrist
Works with: Amazon Alexa, Apple Health
Readings stored: 100
Supported users: 1
The Pros
Helps position your arm correctly
Notes can be taken inside the app
Good 3rd-party integration
The Cons
Supports a single user
Readings can't be deleted
Replacing the batteries erases all saved data
6. Pyle Portable Automatic Blood Pressure Tracker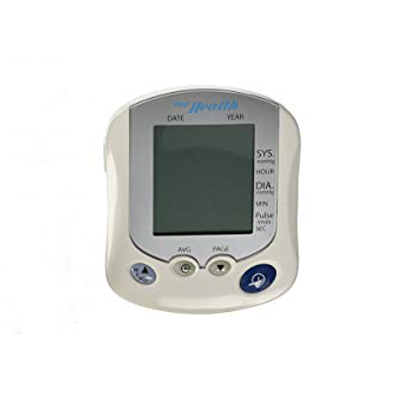 View on Amazon
Editor's Rating: 3.9/5.0
Pyle is best known for producing excellent home and car audio systems but is branching out into the home health device market as well. The Pyle blood pressure monitor syncs with the company's connected thermometer and scale to produce a comprehensive overview of your bodily stats over time. It's also a versatile device in its own right and features a display that won't have you reaching for a smartphone each time you use it.
Smart Yet Self-Sufficient
The versatile display is this blood pressure monitor's highlight. It can display the current date and time which are recorded along with blood pressure and pulse readings. The device can store and display 99 readings for four users each. Saving time data allows you to access weekly or monthly averages without needing to pair the BPM with its app. There's also a built-in alarm that will beep when it's time to take your blood pressure again. Four AA batteries are used to power it, or you can hook it up to an adapter instead.
The Pyle Health app has a colorful interface that's easy to navigate. It supports four people per device and each person's profile contains information on their blood pressure and heart rate as well as weight, BMI, and temperature if you're using other Pyle Health devices. Historical data is available either in graphs or in a calendar view which lets you quickly jump to any previous date and see the results for that day. Finally, an information section contains articles on correct blood pressure measuring and other assorted health tips which are updated regularly.
What's Bad About It?
This blood pressure monitor is poorly calibrated and displays results that are consistent but inaccurate. Rather than producing readings that are all over the place, Pyle's BPM keeps showing blood pressure levels that are on average 30 points higher than readings from other models. One could learn to live with this, but guests or family members who aren't aware of said quirk may become alarmed.

Tech Specs
Dimensions: 4.1 x 5.4 x 6 in
Placement: Upper arm
Works with: Other Pyle Health devices
Readings stored: 396 (99 for 4 users)
Supported users: 4
The Pros
Most features are accessible without the app
Built-in alarm
App is easy to navigate
The Cons
Calibration is off by a considerable margin