6 Best Smart Coffee Makers in 2019
3D Insider is ad supported and earns money from clicks, commissions from sales, and other ways.
Imagine a world where the irresistible smell of coffee starts filling your home almost as soon as you've woken up! You don't need to have servants or a family member to wake up earlier and make the coffee. Even fiddling around with the coffee maker's alarm settings the night before is a thing of the past now as coffee makers, like so many appliances these days, are getting smarter!
Although there aren't that many smart coffee makers out yet, the niche is certain to explode as more and more people begin to appreciate the convenience they offer. Not only can smart coffee makers create coffee concoctions as flavorful as ordinary ones', but the degree of control and customizability they give in crating the perfect cup is simply unmatched. Better yet, you can do all the tinkering, scheduling, and planning without ever leaving your bed. For the ultimate in luxurious convenience, some models even let you control them remotely via your favorite smart assistant.
We've put together a list of the six best smart coffee makers you can buy in 2019. Whether you just want a regular cup of black or the ability to choose between numerous coffee drinks whose names are hard to pronounce, our smart coffee maker round-up is sure to contain a model that has all the features you find essential.
Budget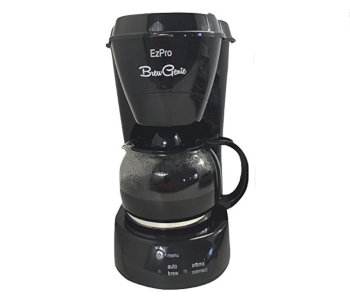 Brewgenie Smart Coffee Maker
3.8/5.0
Type: Drip coffee maker
No. of cup sizes: Variable
Very affordable, plus easy to use and clean.
Check Amazon
Best Value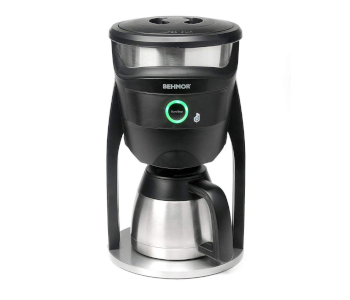 Behmor Connected Coffee Maker
4.5/5.0
Type: Drip coffee maker
No. of cup sizes: 2
Has a pleasant design and makes very good drip coffee.
Check Amazon
Top Pick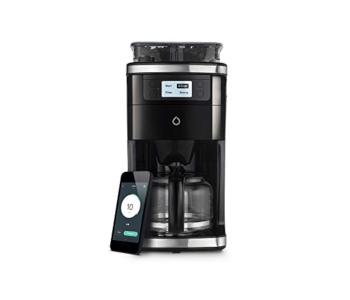 Smarter Coffee 2nd Generation
4.7/5.0
Type: Drip coffee maker + grinder
No. of cup sizes: 12
Has a built-in coffee grinder and autobrew feature.
Check Amazon
What to Look For in a Smart Coffee Maker
Grounds vs. Pods
App
Smart Home Integration
Smart Coffee Makers Comparison Table
#1 Best Overall – Smarter Coffee 2nd Generation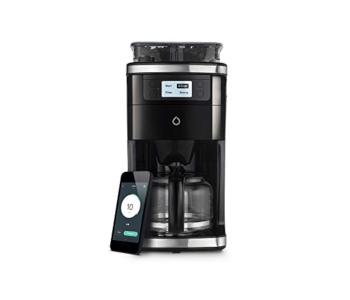 View on Amazon
Editor's Rating: 4.7/5
As any coffee connoisseur will tell you, grinding the beans yourself is the only way of getting the most out of them. Having a powerful grinder as part of a coffee maker is nothing new, but telling it to start whirring away just as you're about to wake up sure is! Smarter Coffee produces excellent, freshly-ground coffee, and integrates completely into the modern smart home in a variety of ways. True to its name, it's the smartest coffee maker whose brew we've had the pleasure of sampling.
Smarter Coffee for a Smarter Home
Smarter Coffee is a good-looking machine! From the unobtrusive hopper through its intuitive display to the tasteful carafe, the entire machine looks like it could successfully blend into any modern home décor. You can even adjust the front panel's colors by switching the black plastic with either red or white that you get free of charge.
Manually controlling the coffee maker is easy thanks to four buttons and a light-up display. You can start/stop the machine, make up to 12 cups, and choose whether you're using pre-ground beans or grind your own. The grinder itself is both powerful and well-designed. The grounds' coarseness can be adjusted with the help of a dial and you don't need to push the beans down at all.
The Smarter Coffee makes a tasteful cup of Joe thanks to multiple strength, size, and ground coarseness settings. What you'll really be buying it for is the convenience it brings though. Smarter Coffee integrates with Alexa and the Google assistant, allowing you to brew coffee with a single voice command. More importantly, there's IFTTT support so you can start brewing as soon as your smart lock disengages, or as part of a morning scene along with raising blinds and daytime temperature adjustments.
The app controls all the aspects of the Smarter Coffee's operation and even has geofencing in form of Autobrew which kicks in once you've entered the house and have lingered inside for at least 2 minutes.
What We Didn't Like
This coffee maker is great when you want to drink the brew straight away. It keeps the coffee hot for only 40 minutes though. Other than that, the various strength settings produce different and sometimes unexpected results (e.g. coffee that tastes more bitter on the "strong" setting), so you'll need to experiment a bit before finding the formula that works for you.


Tech Specs
Dimensions: 10.5 x 16.7 x 8.1 in.
Reservoir size: 51 oz.
Type: Drip coffee maker
No. of cup sizes: 12
Compatible with: Amazon Alexa, Google Assistant, IFTTT
The Pros
Built-in coffee grinder
Intuitive controls
Great smart home integration
Autobrew feature
Color customization
The Cons
Can't keep the coffee hot for longer time periods
Finding your preferred settings takes some experimentation
#2 Best Value – Behmor Connected Coffee Maker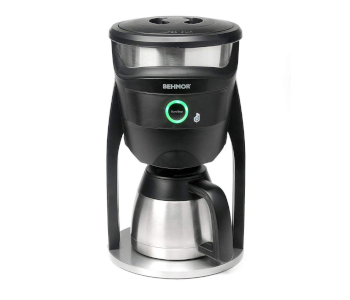 View on Amazon
Editor's Rating: 4.5/5
Behmor's Brazen Plus was an outstanding coffee maker. So outstanding in fact that it became SCAA-approved, a feat not many consumer-grade drip coffee makers can match. It had its share of drawbacks though, a terribly small & unwieldy analog interface being the worst offender. The Connected Coffee Maker has everything that made its predecessor great, plus a touch of smarts that gives you a much finer degree of control.
Great-tasting Coffee that's Easy to Make
The Connected Coffee Maker looks exactly like the Brazen Plus, meaning that it has a nice stainless steel finish and hourglass look that's both minimalistic and pleasing to look at. Gone are the numerous buttons and the LCD screen however, and all that's left in their place is a handy LED ring that smartly changes colors based on the coffee maker's current operation.
The reservoir holds 40 ounces and you have the option of brewing either 6 or 8 cups of coffee at once. The app is instrumental as it guides you through the whole process. In the "Brew" section, you get to specify the kind of grounds you'll be using, their roast, and the Behmor Connected will choose the appropriate settings for you. There are also some pre-loaded recipes to try. More experienced users can use the "Craft" function to set brewing temperatures, pre-soaking, and brewing times manually.
The coffee that this machine makes tastes fantastic! Since the pre-soak and brewing timers are so nuanced, the risk of too much or too little flavor extraction is minimal, and you're left with an almost perfect brew every time. As the carafe is well- insulated, expect it to keep the coffee piping hot for up to four hours. Impressive!
What's Bad About It?
We appreciate Spartan app design, but not when it comes at the cost of features. For instance, you can't tell the Behmor Connected to brew less than 6 cups or more than 8. There's neither a scheduling option, nor the option to access the app through multiple devices and set up different user preferences. Since the water inside the reservoir needs to be pre-heated each time you brew, as much as 10 minutes can pass before you can actually enjoy some coffee.


Tech Specs
Dimensions: 12 x 16 x 10.3 in.
Reservoir size: 40 oz.
Type: Drip coffee maker
No. of cup sizes: 2
Compatible with: Amazon Alexa
The Pros
Intuitive, easy to control app
Makes very good drip coffee
Adjustable pre-soak
Pleasant design
The Cons
App lacks some fundamental features
Coffee-making process takes a long time
#3 Saeco GranBaristo Avanti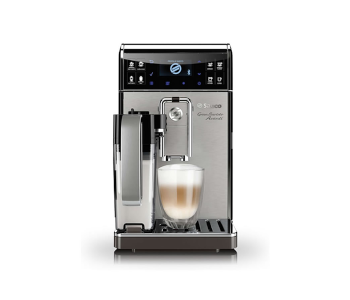 View on Amazon
Editor's Rating: 4.5/5
There are coffee lovers, and then there are people who approach their daily cup(s) with almost religious fervor. If you're the kind of person who won't bat an eyelash at spending several thousand dollars on a flawless coffee machine that also happens to have a fantastic app, then the GranBaristo Avanti is THE model to get. It boasts superior brewing and grinding capabilities, supports a multitude of drinks, and looks absolutely stunning.
The King of Smart Coffee
There's no mistaking the Avanti for a run-of-the-mill coffee maker! Its stainless steel finish and black touchscreen interface are as elegant as any we've seen. Even the app is as aesthetically pleasing as it is functional. Looks aside, the Avanti is an incredibly versatile machine. Think grinder, drip coffee maker, espresso machine, and milk frother all in one. It's also very easy to clean as the milk carafe, various nozzles, and other moving parts easily detach to be cleaned separately.
The manual controls let you make eight different beverages ranging from strong American-style coffee to creamy macchiatos, and will do in a pinch. To experience its full potential you'll need to use the free app. There you can tweak the existing drinks by adjusting their temperature, taste, and even the strength of their aroma. Additional beverages like red eye and Ristretto are also available. The app will alert you when it's time to de-scale and clean the Avanti and can help you speed the process up with detailed visual instructions.
The drinks the Avanti creates taste amazing! The built-in Inteza+ filter makes sure that only pure water is used, and the coffee never tastes burnt or has even a hint of bitterness. The built-in frother makes fluffy, creamy foam that's a delight to drink, and isn't even stingy with it. Meanwhile, the grinder measures out just enough beans for each recipe. While you can tinker with the settings extensively, we found that the Avanti did an excellent job on its own most of the time.
What Are the Drawbacks?
There's only one drawback, and it's a doozy. The Avanti is an expensive machine. It costs ten times as much as most of the coffee makers in the guide or more. It makes a fantastic cup of coffee, no doubt about it, but unless you've got money to spend or a serious coffee addiction to fuel, it's the kind of device most of us only dream of getting.


Tech Specs
Dimensions: 18.1 x 8.1 x 14.2 in.
Reservoir size: 57.5 oz.
Type: All-in-one
No. of cup sizes: 8+
Compatible with: N/A
The Pros
Superior coffee taste
Makes many different beverages
Has integrated grinder and milk frother
Easy to maintain
Excellent app
The Cons
Prohibitively expensive
Works only with Bluetooth
#4 Illy Y5 Espresso & Coffee Machine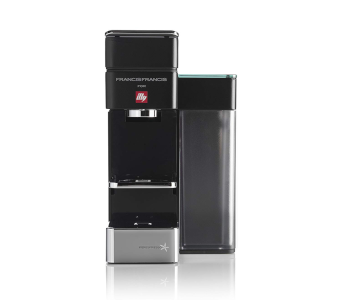 View on Amazon
Editor's Rating: 4.3/5
Counter space is at a premium for some of us. This should never get in the way of good coffee though, as demonstrated by Illy's Y5 all-in-one espresso and drip coffee maker. Small enough to fit inside the tiniest of kitchens, it still manages to produce satisfying Illy coffee with minimal hassle. Add a decent app to its list of features, and you get a versatile (if somewhat expensive) coffee maker you should embrace.
As Smart as It is Small
The Y5 has one of the smallest footprints we've ever encountered on a coffee maker and is short to boot. You'll have to get creative if you have larger cups and maybe even remove the drip tray altogether, but that's nothing compared to the overall space you'll be saving. Its appearance is as minimalistic as it gets – there are no screens or design frills, just two buttons on top that make the Y5 brew either drip coffee or espresso.
Making either type of coffee involves placing the pod in the appropriate slot, pressing down on it, and pushing the corresponding button. You can let the Y5 set the amount of water used automatically, or you can hold either button to manually select how much coffee will be made, up to a double-espresso. The reservoir is located off to the side and clearly visible so you'll always know when a refill is due. The Y5 also stores up to ten used-up coffee pods.
The MyIlly app lets you control the coffee maker remotely, adjust brew strength, volume, and temperature, as well as schedule working times. It's not nearly as nuanced as the Avanti's app, but it does give you more control than having no settings at all would. You can set automatic replenishment off of Amazon here too – once the app detects you're running low on pods it will automatically order more.
What Should Be Improved?
Unfortunately, the Y5 only works with proprietary Illy coffee pods. The pods themselves hold a generous amount of high-quality coffee and can be recycled, but this limits you to a much smaller selection. The Y5 enters energy saving mode half an hour after being used. Waking it up from that state takes anywhere from 3 to 5 minutes, prolonging the otherwise quick coffee-making process.


Tech Specs
Dimensions: 5.8 x 11.2 x 9.6 in.
Reservoir size: 30 oz.
Type: Drip coffee + espresso maker
No. of cup sizes: Variable
Compatible with: N/A
The Pros
Very small footprint
Makes great-tasting Illy coffee
Customizable cup sizes
Brews quickly when ready
Automatic pod replenishment
The Cons
Limited to using Illy brand pods only
Warmup takes a long time
#5 De'Longhi Nespresso Expert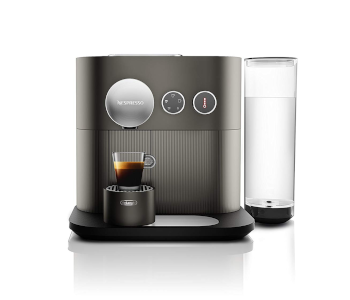 View on Amazon
Editor's Rating: 4/5
Do you love the fragrant taste of espresso, but can't be bothered to grind your own beans each morning? Looks like you need some Nespresso pods as well as a capable coffee maker that can make use of them. De'Longhi's Nespresso Expert ways designed to make flavorful coffee in as little time and with as little hassle as possible. Plug it in, pair it with your smartphone, and get ready for some mighty fine brew!
The Willful Espresso Maker
While it won't be winning any design awards, the Nespresso Expert is a functional and straightforward device you'll intuitively know how to use straight away. It has a top slot you put various Nespresso pods into and a couple of dials at the front. These let you select one of four standard espresso sizes and adjust the brewing temperature. If you don't mind spending a little extra, you can get a version of the Expert that's bundled with an Aerochino milk frother. This allows you to top every cup off with delicious milk foam that's either hot or cold.
Nespresso offers a wide variety of cups with different blends and flavors. The coffee's overall taste is good – it may not be up to snuff if you ask a coffee snob friend of yours, but any Nespresso cup brewed with the Expert ought to kickstart anyone else's day just right.
The Nespresso app is the Expert's powerful companion. It offers an all-encompassing list of features like scheduling, quick access to favorite blends, and volume adjustment for each of the four cup sizes. From here you can also keep track of & order additional pods, browse the Nespresso selection with associated recipe recommendations, and even get alerts that tell you it's time to clean the espresso maker.
Are There Drawbacks?
You can get some decent espresso from this machine… while it is in working order. The trouble with this particular model is that the manufacturing process seems to be inconsistent – some units turn out fine while others can be defective. If you're lucky and get the former it's all smooth sailing. If not, you may end up dealing with water spatter and underutilized Nespresso pods.


Tech Specs
Dimensions: 15 x 8.8 x 11.3 in.
Reservoir size: 38 oz.
Type: Espresso maker
No. of cup sizes: 4
Compatible with: N/A
The Pros
Easy to operate
Manual cup size & temperature adjustment
Comprehensive app
The Cons
Prone to all kinds of malfunctions
#6 Best Budget Option – Brewgenie Smart Coffee Maker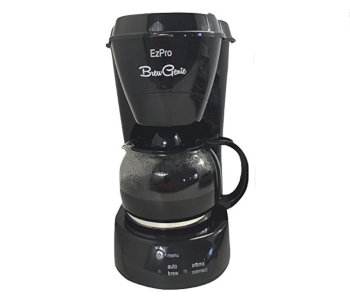 View on Amazon
Editor's Rating: 3.8/5
You might have been eyeing smart coffee makers, but backed away at the last second because their prices are generally high. There's no need to hesitate any longer as the Brewgenie is here. It was designed to appeal to the budget-conscious buyer who'd still like to enjoy a satisfying cup with just a few swipes. This coffee maker is a basic model and has a few quirks you'll need to learn to live with. Then again, the price and the coffee the Brewgenie makes are more than fair. Isn't that all that matters?
The Smart Coffee Maker Anyone Can Afford
Apart from the Brewgenie name and a few buttons, there's not much to distinguish this model from similar non-connected ones. The matte black finish is nice though, and the space it takes up is almost as small as that of the Y5. The 40 oz. tank has enough capacity for eight cups of your favorite pre-ground coffee while the carafe can keep it warm for you up to two hours.
The app is the Brewgenie's main draw. It doesn't look particularly pretty, but all the major features are there. You can set up to four different schedules per week, keep track of the amount of coffee you still have left, and control the brewing process by adjusting the temperature as well as the strength of the coffee's aroma. The Brewgenie is a safe machine which won't start brewing if the reservoir is empty, and will even notify you to fill it up through the app.
What Could Have Been Better?
The single thing that makes this coffee maker stand out from ones that cost half as much is its connection capabilities. It's neither a bad coffee maker nor a particularly good one. Sadly, that one stand-out feature is spotty. The Bluetooth link the Brewgenie establishes with your smartphone is weak and prone to breaking. Whenever you lose connection you have to pair it with the phone again, adding to the frustration.


Tech Specs
Dimensions: .6 x 9.2 x 12.2 in.
Reservoir size: 40.6 oz.
Type: Drip coffee maker
No. of cup sizes: Variable
Compatible with: N/A
The Pros
Very affordable
Easy to use & clean
Won't brew with empty reservoir
Scheduling & decent brewing control via app
The Cons
App is poorly designed
Suffers from lots of connection issues
Performs as good as much cheaper "dumb" models