5 Best Smart Dishwashers of 2019
3D Insider is ad supported and earns money from clicks, commissions from sales, and other ways.
Dishwashers help immensely with one of the most boring household chores. Instead of spending hours in front of the sink with dishwashing detergent in one wrinkled hand and a scouring brush in the other, you can tap a few buttons and relax as your dishwasher does all the work. There's still more room for improvement, so consider investing in a smart dishwasher.
Smart dishwashers clean your pots, cutlery, and cups as thoroughly as regular ones, but come with the added benefit of wireless connectivity. Through their sophisticated smartphone apps, you can check on their progress from anywhere, get notified whenever a load is done, or find out about and troubleshoot a leak immediately. Some will even let you do all of this with voice commands!
Below you'll find reviews of the five best smart dishwashers available today. Connecting to a mobile app is a premium feature present only on quality dishwashers, so it doesn't come as a surprise that each model we've reviewed received high marks for its cleaning efficiency. Even so, there were enough differences in performance, ease of use, price, and smart functionality to make a few stand out among the rest.
Budget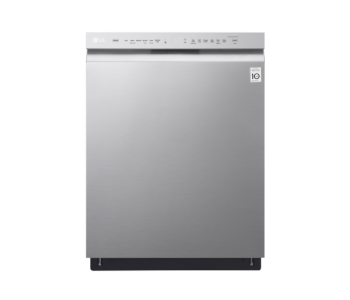 LG LDF5545ST
4.2/5.0
Cycles: 9
Decibel rating: 48
It shares many premium features with more expensive models.
Check HomeDepot
Best Value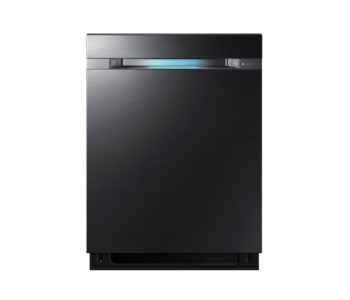 Samsung DW80M9960UG
4.5/5.0
Cycles: 7
Decibel rating: 38
This is very quiet, can separately wash two areas, and looks nice.
Check HomeDepot
Top Pick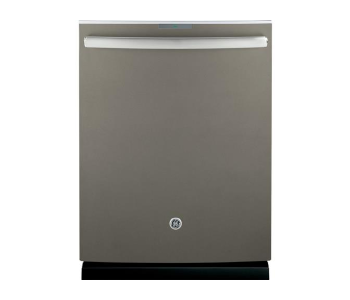 GE PDT855SMJES
4.7/5.0
Cycles: 7
Decibel rating: 40
Can wash a single rack, dries dishes, sophisticated look.
Check HomeDepot
Smart Dishwashers Comparison Table
1. Best Overall – GE PDT855SMJES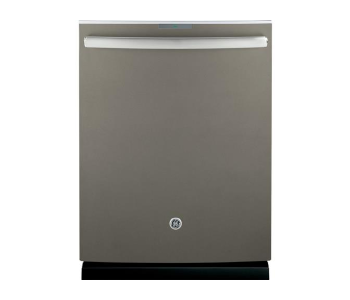 View on HomeDepot
Editor's Rating: 4.7/5
Are you often in a hurry and just haphazardly put your dishes and silverware into the dishwasher? Ordinarily, that will lead to poorly washed utensils and leave food on the dishes. GE's PDT855SMJES is designed to deliver fantastic results no matter how the dishes inside are placed. It features 140 powerful jets which can target silverware and bottles in particular. It can also dry the dishes, has a quick wash setting, and can be monitored remotely from your phone.
A Premium Dishwasher for Busy Families
The PDT855SMJES comes in a variety of finishes from black, burnished steel, and metallic. There's a version that supports paneling, in case you want it to blend seamlessly into your kitchen. Its luxurious front is minimalistic, with only a GE logo and large handle to break up the uniform design. All of the dishwasher's controls are cleverly concealed on the top and out of sight when the door isn't open. Above them is a small LED screen that lets you know the dishwasher is on and how much longer it needs to complete a cycle.
The control interface is made of surprisingly few buttons with each having two or more functions. There are various cycles to choose from like Normal, Heavy-duty for hardcore stains, or Eco which saves both water and energy. We particularly like the Express cycle which gets moderately dirty dishes clean in 30 minutes! The PDT855SMJES can also pre-soak the dishes and dry them afterwards. If you don't want to start a cycle right away, a delay timer can do it for you in 1-12 hours.
The spacious interior is made up of a stainless steel tub, two adjustable racks, and a top rack which slides outward. There's a dedicated area for a three-part silverware basket on the bottom rack which sits on top of special silverware deep clean jets. These spray the cutlery from the bottom, delivering powerful bursts of water that gets rid of grease and food rests no matter how the utensils are placed. The bottom two racks can also be washed individually so you can load just one of them up and save both water and detergent.
GE's Kitchen app lets you monitor the dishwasher from your smartphone, but its functionality is basic. You can't control the dishwasher through it. Rather, the app shows which cycle is active and the remaining time. It can notify you when the cycle is complete or when it's time to buy more pods. Its most useful feature is status monitoring. This will alert you when filters need to be replaced and shut the dishwasher down if a leak is detected.
Are There Drawbacks?
Apart from the lackluster app, the PDT855SMJES's only other drawback is its steep price. It costs more than twice as much as our budget pick. Even though its cleaning capabilities are outstanding, such a huge price difference may be a deal breaker for many.
Tech Specs
Dimensions: 24 x 34 x 23.8 in
Cycles: 7
Racks: 3
Decibel rating: 40dB
The Pros
Thoroughly cleans all manner of dishes
Can wash a single rack
Express mode
Dries dishes
Sophisticated look
The Cons
Very expensive
App only has basic functionality
2. Best Value – Samsung DW80M9960UG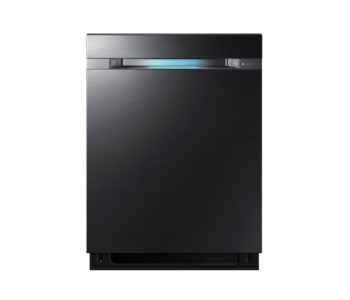 View on HomeDepot
Editor's Rating: 4.5/5
Samsung is a world-renowned electronics manufacturer prized for blending quality with constant innovation. You'd think that there wasn't much left to innovate in modern dishwashers, yet the DW80M9960UG demonstrates that there's always room for improvement. It features a unique WaterWall washing technology, has the ability to wash two sets of dishes differently at the same time, and pairs with a simple yet functional smartphone app.
Versatility Meets Innovation for Sparkling Results
This is both the most advanced and most beautiful dishwasher on our list! It comes in a sophisticated black stainless steel finish that's resistant to scratching and fingerprints. The controls are touch-operated and located on top of the door for easier access. A soft blue LED lights up once you start a wash. This adds a nice touch and is also a practical solution to let you know the dishwasher is running as its loudness is rated at a whisper-quiet 38dB. When it's done, the dishwasher's door will open slightly to let out the remaining moisture.
The DW80M9960UG's interior is split up into three racks. The bottom two racks can be adjusted in various ways to accommodate either large pots & pans or a complete 15-piece table setting. The topmost rack slides out and is meant for utensils. It has a tray you can take out to sort the smaller pieces out faster.
WaterWall is this dishwasher's most innovative feature and refers to the way its water jets are configured. There are sets of jets at the top and the bottom which spray a wall of water and move as the wash cycle progresses, thoroughly covering the entire interior. This results in spotless dishes without missed areas. Thanks to Zone Control, the force of the jets can be controlled separately for the dishwasher's left and right sides. This allows you to place pots which need a good scouring on one end and delicate china on the other and still wash them together.
The dishwasher easily connects to the Samsung Smart Home app with the press of a button. From there, you can access any of its program settings, check the current status of a wash cycle, or program a delayed start. The app also offers tips on resolving common dishwasher problems and lets you get in touch with Samsung support.
What We Didn't Like
This model is known to occasionally stop working because of false leak detection. A Samsung technician can replace the faulty component, but this may end up being equally frustrating as Samsung's customer support is slow to respond.
Tech Specs
Dimensions: 25 x 33.9 x 23.9 in
Cycles: 7
Racks: 3
Decibel rating: 38dB
The Pros
WaterWall technology
Door opens automatically after each wash
Very quiet
Can separately wash two areas
Looks nice
The Cons
Faulty leak detection
Lackluster customer support
3. LG LDT7797BD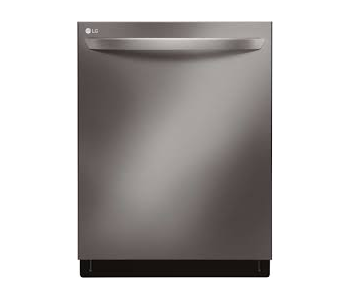 View on HomeDepot
Editor's Rating: 4.4/5
Loading the dishwasher after a quiet family meal is straightforward but may be frustrating if there are lots of dishes to wash. Instead of puzzling over how you're going to fit that pan in when glasses and plates are already taking up space, get LG's LDT7797BD. This stylish dishwasher has fully adjustable racks which you can customize to accommodate dishes of varying sizes. Its app is also among the better ones we've seen, giving you access to custom cycles and in-depth remote control.
Flexible Racks, Fewer Headaches
This is the most sparsely designed dishwasher on our list. Its thick handle is the only prominent item on the door which is available in black, ordinary stainless steel, or matte black. Its fingerprint resistance is superb! Like the two models we've reviewed above, the controls on this one are on top of the door. It doesn't have an on indicator though, so you'll need to glance up at the door to see which settings are active and how much longer the cycle will take.
The best thing about the LDT7797BD is its customizable EasyRack system. Usually, only the height of the racks can be set, but this model also has adjustable tines and stemware racks as indicated by blue brackets. These let you quickly make more room for bigger pots and bring individual tines back up when it's time to wash plates. A three-part silverware basket can be removed altogether while the top rack's height can be adjusted to accommodate not just bigger utensils but cups as well.
All the dishes you managed to fit into the LDT7797B are intensely washed from all sides thanks to LG's QuadWash technology. This water jet setup consists of four arms which pass over the dishes while rotating and get into every nook. Delicate and rough dishes can be washed together if Dual Zone is active. This setting applies more water pressure to the lower rack while being gentle on the upper one. You can even select Half Wash to use only one rack and save energy.
This is a Wi-Fi connected device which uses LG's SmartThinq app. All of LG's smart appliances are controlled from the same app, so you'll need to choose your dishwasher from a list before pairing. From it, you can check on the status of a running cycle, download additional cycles not present in the dishwasher, and send diagnostics data to LG's customer service department. The dishwasher has a self-cleaning function which the app will remind you to use from time to time as well.
What's Bad About It?
The tines are easy to prop up or fold, but may not remain in the upright position since there's nothing to hold them in place. Even though there are a few custom cycles to download via the app, you can only use one at a time.
Tech Specs
Dimensions: 24.6 x 33.6 x 23.7 in
Cycles: 9
Racks: 3
Decibel rating: 44dB
The Pros
Customizable racks
Versatile app
Cleans different dishes well
The Cons
Limited to one downloaded cycle at a time
Nothing holds flippable tines in place
4. Bosch SHEM78WH5N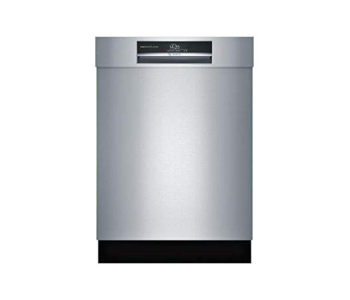 View on HomeDepot
Editor's Rating: 4.2/5
Remembering to refill the dishwasher's cleaning pods or rinse aid dispenser is a bother, so why not have the dishwasher itself remind you? Bosch's 800 Series SHEM78WH5N is a smart dishwasher which keeps track of and adjusts pod & rinse aid consumption to produce clean, dry dishes and save you money on refills. It also has a load sensor that automatically adjusts the amount of water needed for washing and rinsing based on the weight of washed dishes.
A Dishwasher That's Smart and Economical
Bosch has its own dishwasher design philosophy that's compatible with modern kitchen interiors yet unique. A recessed handle is built into the stainless steel door instead of prominent handles that bulge outward on similar premium models. On top of it there's a digital TFT display that shows which program is running and the time when it will be finished. The screen can also remind you to add more salt or rinse aid when it's time. The dishwasher's controls are laid out evenly on top of the door and touch-operated.
The SHEM78WH5N has a roomy interior that can accommodate 16 place settings. Some of the tines are adjustable and make room for larger pots with a single motion. The height of all three racks can be adjusted for a total of 9 positions. In addition, the smallest rack can be angled to have more room for larger cups or cereal bowls at its front.
This is the only dishwasher on our list which can be voice-controlled through Amazon Alexa. Once you've added the Home Connect skill, Alexa will be able to start the dishwasher on any of its presets, tell you when a cycle will end, and stop the dishwasher altogether. You can expect similar functionality from the Home Connect app. On top of that, the app is compatible with Amazon Dash and will automatically order more pods and rinse aid when needed if you've turned on this option.
What We Didn't Like
Remote operation of this dishwasher is limited by Bosch's strange user experience decisions. To enable remote controls, you need to press the Remote Start button. This has to be done after each cycle, meaning that you can't start another one remotely if you aren't at home. It's also one of the more expensive dishwashers we've tested.
Tech Specs
Dimensions: 22.4 x 34.1 x 23.6 in
Cycles: 8
Racks: 3
Decibel rating: 42dB
The Pros
Conserves water and pods
Has useful multicolor TFT display
Works with Amazon Alexa
The Cons
Expensive
Remote control needs to be reactivated after every wash
5. Best Budget Option – LG LDF5545ST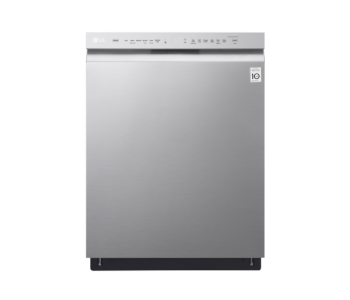 View on HomeDepot
Editor's Rating: 4.2/5
Spending less on a dishwasher usually means having to pre-rinse the dishes or scrape food off manually. LG's LDF5545ST is an affordable dishwasher which won't leave you hanging as it comes with many of the LDT7797BD's premium features, most notably QuadWash. This innovative water jet setup lets it tackle even the toughest stains unassisted. Add SmartThinq into the mix and you've got a dishwasher whose value is as fantastic as its performance.
The King of Mid-range Dishwashers
LG had to cut some corners to lower the LDF5545ST's price, and we're glad this mostly comes down to aesthetics. It's still a good-looking dishwasher with stainless steel doors and a recessed handle, but the controls are placed on the front. This makes them and the timer visible yet more easily accessible. Since this gave LG's designers ample room to work with, each control is clearly labeled.
This model doesn't have a top rack. The two racks it does have are easy to reconfigure though, and there's a dedicated silverware basket so cleaning utensils isn't a problem. QuadWash remains as powerful as it is on the LDT7797BD – you can expect dishes that have been thoroughly washed from all sides with minimal residue. Dual Zone and Half Wash are available as well, placing this model above its weight class in terms of features.
At 48dB, this is the "loudest" model on the list. Even so, it's unobtrusive and you can carry a conversation on naturally while it's running. You can choose between 7 cycles, download a custom cycle through SmartThinq, and periodically engage the LDF5545ST's self-clean mode. The dishwasher does a poor job of drying on its default settings. Luckily, turning on Extra Dry will get rid of any streaks on your glasses and dry the remaining dishes completely.
The LDF5545ST is compatible with SmartThinq. Using it is almost identical to what we've described when reviewing LG's more expensive model. The major difference is that this dishwasher doesn't have Wi-Fi. Instead, it uses Near Field Communication (NFC) to communicate with smartphones. You'll need to tap the dishwasher with your phone to download custom cycles, check in on its current load etc.
Are There Drawbacks?
Neither rack has a dedicated stemware compartment and there's not enough room for taller glasses in the upper one. There's a small recess near the filter where water tends to accumulate. This can start to smell after a while, so you'll need to keep the filter clean and dry.
Tech Specs
Dimensions: 24.6 x 33.3 x 23.8 in
Cycles: 9
Racks: 2
Decibel rating: 48dB
The Pros
Very good cleaning performance
Shares many premium features with more expensive models
Excellent value for the money
The Cons
No 3rd rack or place to put stemware
Dishes remain wet if Extra Dry isn't on
Can start to smell if filter isn't maintained