6 Best Smart Earbuds of 2019
3D Insider is ad supported and earns money from clicks, commissions from sales, and other ways.
No one wants to get tangled up in wires while working out to a heart-pumping playlist. That's why they first came out, wireless earbuds proved to be a success. Now that the market has matured, manufacturers are stepping their game up and introducing models with smart features into their earbud lineups.
These smart earbuds combine wireless listening with useful tools like heart monitors, fitness trackers, or voice assistants. They give you the freedom of enjoying music everywhere and without distraction but quickly let you tune back into the real world when needed. They have long-lasting batteries, resist sweat & dust, and fit comfortably inside your ear.
These are the six best smart earphones you can buy today. They're all high-quality gadgets, so each one is a good choice. Still, every pair also has unique features which make it stand out either because of how good it sounds, how easy it is to operate with touch alone, or what it can do to help improve your fitness. Choose the right smart earbuds for you and forever transform the way you listen to music on the go.
Budget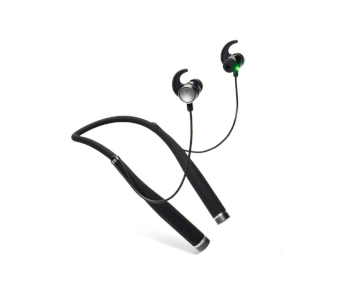 VI Sense Wireless Headphones
4.1/5.0
Battery life (hours): 6
Water resistant: Yes
Excellent virtual trainer, comfortable fit, and reasonable price.
Check Amazon
Best Value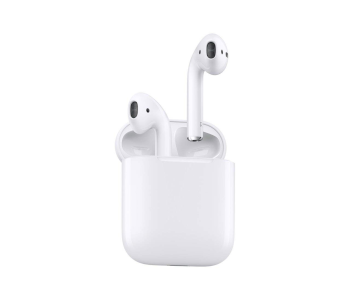 Apple AirPods
4.7/5.0
Battery life (hours): 24
Water resistant: No
This has intuitive controls and pairs easily with other Apple products.
Check Amazon
Top Pick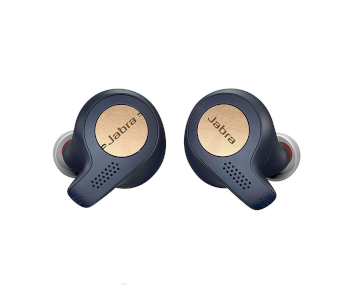 Jabra Elite Active 65t
4.9/5.0
Battery life (hours): 15
Water resistant: Yes
Great companion app, HearThrough and equalizer features.
Check Amazon
Smart Earbuds Comparison Table
1. Best Overall – Jabra Elite Active 65t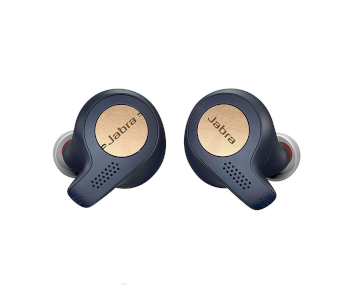 View on Amazon
Editor's Rating: 4.9/5
The problem with many completely wireless earbuds is that they aren't suitable for intense workouts. On one hand, their noise-canceling tips won't let you hear oncoming traffic while you jog. On the other, they'll become an expensive piece of dead electronics if sweat gets inside them. Enter Jabra's Elite Active 65t, an upgraded version of their already excellent Elite 65t which boasts a water-resistant rating of IP6 and a long-lasting battery. The earbuds fit tightly, have amazing sound quality considering they're wireless, and come with a comprehensive app.
Overview of Features
The 65t's are stylish wireless earbuds available in either blue with copper trim or black trimmed with titanium. Unlike AirPods, they're unobtrusive. Someone would have to look really hard to notice you're wearing them, and even then they might not catch the subtle signs of quality like a small protruding tip or the Jabra logo.
These earbuds fit perfectly and will NOT budge! The trick is to pick one of three silicone inserts which fits your ear the best, insert the earbuds, and give them a forward twist. Now they're securely in place and won't fall out even if someone bumps into you on a crowded train ride!
You charge the earbuds by placing them inside a small yet robust carrying case that doubles as a charger. They last for five hours when full. Better yet, the carrying case itself acts as a power bank and can store enough power to fully charge the earbuds two more times. This gives you fifteen hours of play time before you have to reach for the USB charger.
The sound quality is outstanding! Whether you're working out to songs with killer baselines or listening to an audiobook while commuting to work, the sound is bright and adequately punchy. If the default presets aren't to your liking, you can use the equalizer found in the Jabra Sound+ app to adjust the way treble and bass sound. HearThrough is another essential feature that comes in handy during workouts. Activating it allows ambient sounds to pass through the otherwise noise-canceling earbuds.
The app has Active mode that lets you track workout data like distance traveled and calories burned since the 65ts have a built-in accelerometer. It also lets you activate your phone's AI assistant through the earbuds, be that Alexa, Siri, or Google Assistant. Its layout is well thought-out and simplistic, letting you access any important settings without distracting you from working out or chilling.
What We Didn't Like
For safety reasons, the app doesn't let you turn HearThrough off while you're in Active mode. This means you can't fully immerse yourself in music and track your stats even if the environment you're running in is entirely safe. If you remove the right earbud, whatever was playing will automatically pause. While this is a cool feature, it means you can only remove the left bud if you want to listen with one ear.

Tech Specs
Battery life: 15 hours
Water-resistant: Yes
Warranty: 1 year on parts, 2 years on water & dust damage
The Pros
Excellent sound quality
Stay securely in place no matter what
Great companion app
HearThrough and equalizer features
The Cons
Listening through single earbud is limited to the right one
HearThrough can't be turned off in Active mode
2. Best Value – Apple AirPods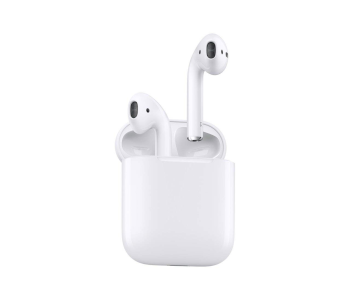 Amazon
Editor's Rating: 4.7/5
Apple's AirPods are responsible for ushering in the age of truly wireless earbuds. Three years later, and they're still holding their own! AirPods aren't just a status symbol – they're a cleverly designed piece of audio tech that's great for everything from listening to music through taking phone calls to augmenting your hearing. They feature the most straightforward setup process ever, hours of listening without needing a recharge, and a reasonable price! Even if you aren't a fan of Apple, the AirPods are worth it because of quality alone.
Overview of Features
Who'd think that the way wireless earbuds look could spark a controversy? Love it or hate it, the AirPods are glaringly white and have sticks that dangle from them. Their look isn't everyone's cup of tea, but the AirPods are nothing if not unmistakable. They're also comfortable and easy to adjust. You control the AirPods by tapping or pressing down on them. A short tap on either one will summon Siri while double-tapping answers a call. Double-tapping can be customized through the app to be used for other actions as well.
One of the AirPods' main selling points is their exceptional battery life. They come inside a rounded white case which fills them up four times without needing a charge itself. The buds work for 5 hours per charge, which rises to a whopping 24 hours if you also use the case. The best part about charging the AirPods is that it's done quickly. Place them inside the case, and they'll run for 3 hours after just 15 minutes! You can find out how much juice is left both in the AirPods and the case by holding it close to an iPhone with the lid open.
The sound quality of the AirPods is on par with what you're used to from Apple's standard earbuds. They excel in delivering clear mids and accentuated highs. The base isn't the best we've heard, but it doesn't fall flat either. Voice communication is where the AirPods truly shine, delivering natural sounding voices in high fidelity.
We love how practical the AirPods are. Pairing them to your iPhone involves merely selecting them from a list! Dong so with non-Apple devices takes longer but is possible. Practicality extends to battery saving too. Removing one bud will pause your music while doing so with both stops it altogether. You can still use a single bud even if the other one ran out of juice!
What's Bad About It?
The AirPods aren't noise-cancelling headphones. You'll be able to hear the world around you to a degree whether it's nearby traffic or people speaking in an adjacent room. They also aren't suitable for strenuous workouts since they aren't water-resistant.

Tech Specs
Battery life: 24 hours
Water-resistant: No
Warranty: 1 year
The Pros
Excellent value for the money
Exceptional battery life
Intuitive controls
Pairs easily with other Apple products
The Cons
Not water-resistant
No noise-canceling
3. Bragi – The Dash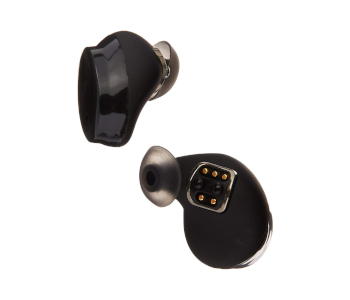 View on Amazon
Editor's Rating: 4.6/5
Bragi's Dash is the world's first hearable – it combines the features of wearable fitness trackers with truly wireless earbuds to give you a seamless, hands-free exercise experience. The earbuds look stylish, have a unique aural user interface, and come with an app specifically tailored to monitor three activities – running, cycling, and swimming. The only thing preventing us from putting the Dash higher on the list is its steep price. If you don't mind paying extra for the advanced fitness tracking though, they're a great investment.
Overview of Features
Bragi shares Jabra's design philosophy when it comes to comfort and a simple yet sophisticated look. Dash earbuds come with three silicone attachments which mold themselves to your ear to ensure a perfect fit. They aren't wholly noise-canceling on their own, but you can enable that feature with a button press. The buds arrive in a stylish carrying case and are magnetically attached to it during charging. A set of LEDs tells you if they're full, have some charge, or need recharging by glowing blue, green, or red respectively.
The lack of a visual interface is Dash's most intriguing feature. You can monitor workouts without bringing your phone just by tapping on or swiping over each earbud! The Dash has a 4GB of built-in memory so you can take your song library wherever you are without relying on Bluetooth. You select the workout you want monitored by pressing and holding the left earbud and then cycling through the options by tapping it.
Once you're done and the workout begins, you control playback options by performing the same actions on the right earbud. A pleasant-sounding female voice will chime in every five minutes to let you know how you're doing. You can tap the left bud at any time to hear the report sooner.
The Dash mobile app serves as the command center for your fitness activities. Here's where you get to look up detailed stats on your workouts – how long you've been at it, your heart rate, how many calories you've burned, or how many lengths you've swum. The app also contains an equalizer and instructions on how to use the dash's aural interface.
Are There Drawbacks?
Apart from the price, there are two. The earbuds' battery life is low. One charge lasts for only three hours. The overall battery life is the same as that of the Elite Action 65t because the case can recharge the earbuds five times. Workout data isn't sorted unless the buds are synced with your phone. This means it's gone unless you get to your phone before stopping the tracker, which is contrary to the "no phone required" philosophy at the Dash's core.

Tech Specs
Battery life: 15 hours
Water-resistant: Yes
Warranty: 1 year
The Pros
No visual interface
Can track workouts and play music without phone
Intuitive battery level indicator
App keeps track of many different fitness stats
The Cons
Short battery life
Workout data isn't saved when not synced with a phone
4. Nuheara IQBUDS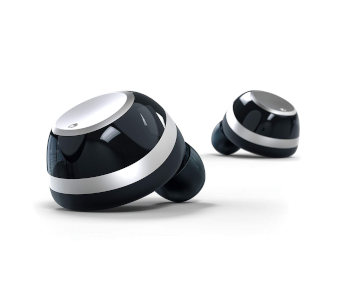 View on Amazon
Editor's Rating: 4.5/5
The smart earbuds we've discussed so far all had a means of letting you tune into your environment. However, none of them let you control that experience. Nuheara's IQbuds feature the most in-depth customization options when it comes to hearing the outside world. They can also augment your hearing so you can understand murmured conversation or subtle nuances in music better. They're the perfect choice if you want to listen to music or podcasts throughout the day and still be able to maintain a conversation.
Overview of Features
The IQbuds are the most understated earbuds we've reviewed design-wise. Their light gray & black finish looks good but won't turn heads. The buds are small and light, so you might have a hard time if one falls out in a public place. This shouldn't happen though as Nuheara generously provides 8 pairs of inserts. There are four oval and four circular ones ranging from small to extra-large in size. Finding your ideal pair isn't difficult, and the IQbuds stay inside your hearing canal tightly when paired with them.
The best thing about the IQbuds is the way they let you customize how you hear things other than music through the World feature. You can switch them from being completely noise-canceling to being able to clearly understand a waiter asking for your order with a single command. This is thanks to a touch-activated microphone whose sensitivity you can adjust through the IQbuds app. There you get to play with equalizer settings and decide how much treble or base you want for both music and outside sounds.
Control customization is what we love about the app the most though. Either bud is controlled with swipes, long & short presses, or a series of presses. You choose what each of these actions does through the app! This means you can start playback with a tap on the right bud or activate Siri with a long press on the left, and quickly rearrange the controls if you aren't satisfied.
The IQbuds excel at reproducing any kind of music. You'll easily find the balance for your favorite genre whether it's orchestral music or contemporary hip-hop. Playback keeps the buds' distance from your phone in mind. The music will pause If you stray out of the 30-foot Bluetooth range, allowing you to get closer without literally missing a beat.
What We Didn't Like
These earbuds have a sensitive touch sensor. It's easy to inadvertently trigger a command when you just want to adjust them in your ear, and handling the buds without triggering the sensor is something you'll need to learn. The microphone is overly sensitive in picking up wind noise. You'll have a hard time concentrating on music if you keep the World feature on, and phone calls in these conditions are impossible.

Tech Specs
Battery life: 15 hours
Water-resistant: Yes
Warranty: 1 year
The Pros
Precise outside sound control
Long battery life
Control customization
Great all-around sound quality
The Cons
Sensitive touch sensors
Unusable in windy conditions
5. Samsung Gear IconX (2018 Edition)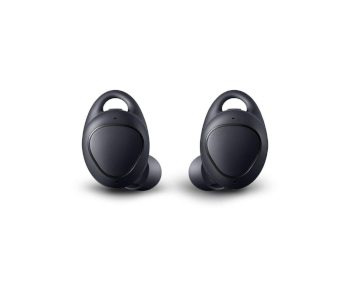 View on Amazon
Editor's Rating: 4.3/5
The original Samsung Gear IconX was a solid pair of smart earbuds, but its extremely short battery life kept it from being a serious competitor to the likes of Apple's AirPods. The 2018 version addresses this issue and brings a host of updates including a virtual coach and the ability to wirelessly transfer songs from your phone to the earbuds. Getting the IconX is a no-brainer for Samsung Galaxy users, and everyone else will benefit from a good set of wireless earbuds with local storage at a reasonable price.
Overview of Features
Samsung went for function rather than form when designing the IconX buds. They aren't ugly, but their appearance isn't anything special either, unless you count the garish pink color option. On the other hand, the buds fit perfectly inside your ear and will not budge. Included are sets of three wings and tips which conform themselves to your ears and make sure that the buds stay snugly in place.
Battery life has been addressed by amping up the power of both the IconX and the carrying case. Their internal power reserve went from a measly 90 minutes to 5 hours, 7 if you listen to MP3s from the buds' 4GB drive instead of streaming it through Bluetooth. The case can bring them up to a full charge for 10 hours in total. You can't see how much power is left in the case, but each bud has its own battery indicator on the Samsung Gear app.
The IconX's fitness tracking capabilities are a mix of what's offered by Bragi and Vi, although the execution isn't as good. You get a workout planning and fitness tracking tool which measures calories, traveled distances, etc. There's also the virtual coach who tells you what to do next or how long to run. He'll even prompt you to slow down to keep in line with the set routine.
The app lets you configure how the buds sound through an equalizer. There are five settings including, dynamic, bass boost, and clear. You'll want to use bass boost on tracks where the base needs to be punchy for the full effect, but dynamic works best for everything else. You can also turn on Voice Focus, a feature which brings voices to the forefront without messing with song volume. It works, but voices sound strange before you get used to them. Finally, the app facilitates wireless song transfer to the IconX. This only works for Samsung Galaxy phones though.
What's Bad About It?
This is another pair of earbuds with a trigger-happy sensor. Even movement like head bobbing or chewing can fool the accelerometer into thinking that you've taken the earbuds out. This will pause your music and can lead to constant interruptions. Adjusting the volume through touch is a hassle too. You have to slide up or down the bud for the movement to be registered as volume control. This gets interpreted as tapping rather than sliding more often than not though, making you accidentally pause music or stop calls.

Tech Specs
Battery life: 10 hours
Water-resistant: Yes
Warranty: 1 year
The Pros
Onboard music storage
Fits comfortably in any ear
Useful equalizer presets
Capable fitness tracking
The Cons
Sudden head motions may pause playback
Volume is hard to adjust through touch
6. Best Budget Option – VI Sense Wireless Headphones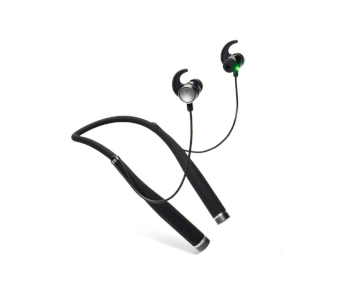 View on Amazon
Editor's Rating: 4.1/5
Keeping motivation up is key to achieving your fitness goals. For some of us, this involves watching a series of numbers on our phones which get bigger as training progresses. If you're the type that thrives on fitness stats, the Vi Sense wireless headphone set is the right choice! It has an advanced AI coach who'll be with you every step of the way. There's also the fact that they're the least expensive on our list while not lagging behind the competition in terms of sound quality.
Overview of Features
While Vi's connection to your phone is wireless, the earphones themselves are not, at least not entirely. They're attached to a collar you place around your neck and use to control volume and playback. The collar also houses a microphone used to talk to others or Vi, your confident AI coach. These earphones don't come with a rechargeable case. Rather, you charge them through a MicroUSB cable that connects to the right earphone. A full charge lasts six hours.
Vi Sense are truly smart earphones – it takes two hours of running, walking, or cycling for Vi to learn your patterns and assess your capabilities. After that, you're presented with personalized training programs and ways to improve your results. The coach is much more responsive than IconX's. She'll warn you if you're pushing yourself too hard and encourage you to try harder if you aren't doing your best. The engineers that designed her did a fantastic job with simulating a human voice as Vi sounds better than Alexa and assistants like her.
The coach is also adaptive. She'll give you frequent tips as you're first starting out and settle into less frequent updates and bouts of encouragement when you establish a routine. You can always change the amount of feedback you get as well as your fitness goals. These are varied and include increasing the distance you can travel, your step count per minute, overall endurance, and so on.
Sound quality is good, but there's nothing noteworthy about it. Noise cancelation does an excellent job of eliminating the sound of your feet pounding on the pavement. Song clarity and vibrancy are decent. Lows fall short though so you might want to look for alternatives if your workout music is base-heavy.
Are There Drawbacks?
Vi relies heavily on the V Trainer app to pool data, receive updates, and plan your workouts. Using the app is free for the first year. After that, you have to pay a $10/month subscription fee. You communicate with Vi through the microphone. While the experience is fun and interactive when it works, the mic cuts out often, and Vi won't respond.

Tech Specs
Battery life: 6 hours
Water-resistant: Yes
Warranty: 1 year
The Pros
Excellent virtual trainer
Motivates you to reach your fitness goals
Comfortable fit
Reasonable price
The Cons
Requires monthly subscription after the first year
Low-quality microphone