6 Best Smart Ceiling Fans & Fan Controllers of 2019
3D Insider is ad supported and earns money from clicks and other ways.
Smart thermostats like the Ecobee4 or the Nest Learning Thermostat have already made clear how bringing smart tech into your home can make quite a dent in the monthly power bill. If you want to save even more while keeping your living space well-ventilated, switching to smart ceiling fans is the next step to take.
Smart ceiling fans can work in tandem with your thermostat to help gradually adjust the temperature and ease the strain on your HVAC system. They also turn your smartphone into a versatile remote. There are two options when outfitting your home with smart ceiling fans – you can either buy a state of the art model or ramp your old fan's IQ up by pairing it with a smart fan controller.
In this guide, we're taking a look at the best of both options. We've reviewed three fans and three controllers and have outlined what makes each worth getting. By the time you're finished, you'll likely become a fan of at least one of them.
Budget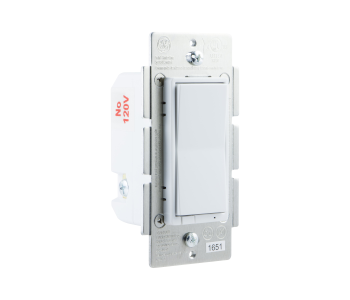 GE Z-Wave Plus Fan Control
4.0/5.0
Type: Controller
Compatible with: Amazon Alexa, Google Assistant
Affordable and supports wide variety of smart hubs.
Check Amazon
Best Value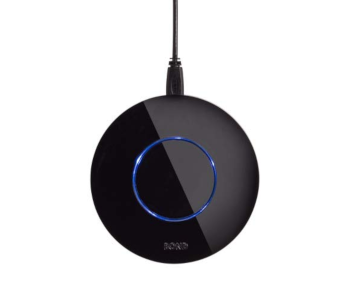 Bond Ceiling Fan Controller
4.5/5.0
Type: Controller
Compatible with: Amazon Alexa, Google Assistant, IFTTT
Supports IFTTT, can control 6 fans or fireplaces.
Check Amazon
Top Pick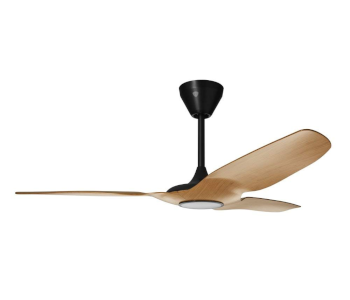 Haiku Home L Series
4.8/5.0
Type: Fan
Compatible with: Amazon Alexa, Ecobee, Nest
Looks beautiful, exceptionally quiet, and energy-efficient.
Check Amazon
What to Look for in Smart Ceiling Fans & Fan Controllers?
Prior Requirements
Ease of Installation
Smart Features
Smart Ceiling Fans & Fan Controllers Comparison Table
| Make and Model | Rating | Type | Compatible with | Price |
| --- | --- | --- | --- | --- |
| Haiku Home L Series | 4.8 | Fan | Amazon Alexa, Ecobee, Nest | Check Price |
| Bond Ceiling Fan Controller | 4.5 | Controller | Amazon Alexa, Google Assistant, IFTTT | Check Price |
| Gardinier Smart Ceiling Fan | 4.2 | Fan | Amazon Alexa, Wink | Check Price |
| Hunter Symphony | 4.0 | Fan | Amazon Alexa, Apple HomeKit | Check Price |
| Insteon FanLinc | 3.7 | Controller | Amazon Alexa, Google Assistant, Insteon hub | Check Price |
| GE Z-Wave Plus Smart Fan Speed Control | 4.0 | Controller | Amazon Alexa, Google Assistant, Samsung SmartThings, Wink | Check Price |
1. Best Overall – Haiku Home L Series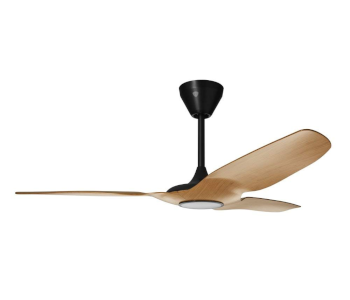 View on Amazon
Editor's Rating: 4.8/5
The Haiku Home L series is a beautiful smart ceiling fan that blends cutting-edge aerodynamic design with the latest in smart home integration. One can scarcely compare it to a "dumb" model since the L Series offers more energy savings, nigh silent operation, and the ability to connect to your smart thermostat to help keep the room at an optimal temperature. Steep cost reflects the fan's high standards of quality and we believe that it is more than justified in this case.
Listening to Air
The Haiku Home brand has won numerous design & innovation designs and it's easy to see why once you've assembled the L Series. It is a surprisingly light fan, doesn't have a bulky profile, and it demands attention with the extraordinary shape of its airfoils. Installing it isn't particularly challenging if you've got some DIY experience as there's an in-depth installation booklet that ships with it which explains every step of the process and provides pictures.
We were amazed at how quiet the fan is when we first used it! Unless you mean to crank it up to the highest of its 7 settings, moving air is the only thing you'll hear while the L Series is active. This is thanks to a patented motor design and precision engineered airfoils. The manufacturer doesn't refer to them as simply blades because they are inspired by airplane wing designs. Expect the airfoils to produce a stronger breeze while being more energy-efficient than the competition.
How is it smart though? Along with the fan, you get a Wi-Fi module which connects to your home network. Once you download the iOS or Android app, you can control the fan's speed remotely, set schedules, or set its LED light to one of 16 brightness settings. On its own, the app provides basic features in a neatly-organized and basic way. Alexa is also enabled so you can adjust the fan speed and dim the lights with a voice command.
The fan comes into its own if you pair it with a smart thermostat from either Nest or Ecobee. With access to current temperature data, the L Series can be set to automatically turn faster or slower to reach a target value. The thermostats' geofencing features allow the fan to turn itself off when you leave the room, further conserving energy. In winter, the fan will rotate slowly and push warmer air towards the bottom, making the room temperate faster.
What We Didn't Like
Big Ass Solutions (yes, that's the manufacturer's actual name) was on the right track when it decided to include smart thermostat support. Now all that's left to make this a truly versatile smart home device is IFTTT integration.

Tech Specs
Type: Fan
Compatible with: Amazon Alexa, Ecobee, Nest
Speed settings: 7
Brightness settings: 16
The Pros
Exceptionally quiet and energy-efficient
Relatively easy to install
Works well with smart thermostats
Looks beautiful
The Cons
No IFTTT support
2. Best Value – Bond Ceiling Fan Controller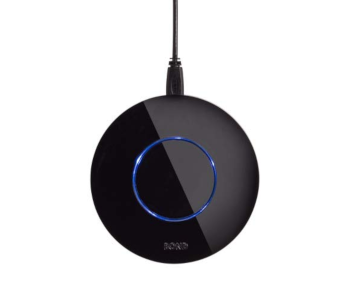 View on Amazon
Editor's Rating: 4.5/5
Smart ceiling fans may be far superior to the regular kind, but that doesn't mean that traditional fans are out of the race! If you're happy with the way your old fan performs and want to make it part of a smart home, the most effective way to do so is to get the Bond smart ceiling controller. This puck-like device will pair with your remote and Wi-Fi network to grant you seamless access to the fan's controls either through a smartphone or virtual assistant.
Smartening Up Your Old Fan
The Bond works by recognizing and emitting your existing remote's IR or radio signals and needs to be placed so that there's a clear line of sight between it and the fan. Setup involves connecting to your Wi-Fi network and downloading the app. There you'll receive step-by-step instructions on connecting to various types of fan remotes. When the link between your old remote and the Bond is established, you'll need to pair each of the remote's buttons to the corresponding button in the app.
The pairing process may be a bit tedious, but it's all worth it in the end as now your phone acts as a remote from anywhere. Bond supports voice commands from either Alexa or the Google Assistant and responds to them promptly. Depending on the remote's features, you can control the fan and its lights, adjust speed settings, set up schedules, and more.
IFTTT support adds a deeper layer of control as this allows you to integrate the fan into existing scenes or set up conditions for its use. For example, your fan can now be turned off once the lights are out, start spinning faster when a motion sensor detects someone's presence, or slow down once a given temperature has been reached.
A single Bond can control six ceiling fans. Support for fireplaces has been enabled recently while garage door and air conditioning control should be available soon. Once all of these promises are realized, you can expect to get even more use out of it.
Are There Drawbacks?
The Bond's only serious drawback is that it has to have a remote control to emulate, so if you've lost yours or only have wall controls, you're out of luck. When pairing Bond with a remote, you aren't asked to choose from a list of specific fan models – Bond attempts to recognize the model automatically. Sometimes this can lead to poor command recognition or cause some of the remote's controls to not work.

Tech Specs
Type: Fan controller
Compatible with: Amazon Alexa, Google Assistant, IFTTT
The Pros
Can control 6 fans or fireplaces
Supports IFTTT
Responds well to voice commands
Good value for the money
The Cons
Needs remote in order to work
Can experience pairing issues
3. Gardinier Smart Ceiling Fan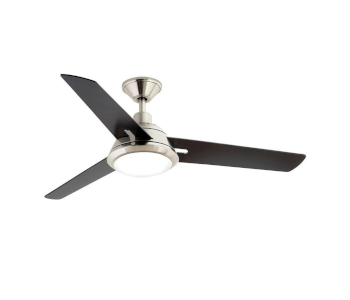 View on HomeDepot
Editor's Rating: 4.2/5
The Gardinier smart fan is proof that a ceiling fan with advanced smart features doesn't necessarily need to cost an arm and a leg. It combines a contemporary look with a decent variety of both light & fan speed controls. You'll need to invest in a Wink hub to make use of its smarts, but the added versatility turn the additional cost into a smart investment.
A Good Smart Fan with a Great Remote
Unlike other smart fans which come with either a single mounting option or a couple of adjustable rods to choose from, the Gardinier can be installed either vertically or on a slope with the appropriate mount. This makes it great for attics, arches, and other places where a regular mount just wouldn't fit. Its brushed nickel base and dark plywood blades combine into an aesthetically pleasing whole and give the fan a refined modern look.
Pairing the Gardinier fan with a Wink hub adds access to remote control from your smartphone. You can assign the fan to a room and control it along with the smart lights, blinds etc. IFTTT is not supported, butt Wink's Robots feature lets you program simple routines for the fan. You can set it to turn on at a specific time to fool thieves into thinking you're home, bring its speed in line with your sleeping schedule or temperature preferences, and more.
Even if some family members aren't impressed with smart gadgets, they'll still be able to get a lot out of the Gardinier fan since its intuitive remote gives you control over everything except Robots. With it you can reverse the blades, dim the lights, and adjust the fan speed. There's also a variable speed mode that randomly switches between the fan's four speeds to simulate a natural breeze.
What's Bad About It?
This fan was designed for larger rooms, meaning you'll want to keep it on lower settings if your bedroom or living room is smaller than 18 by 18 feet. The problem with this is that the light it comes with isn't bright enough to illuminate a room of that size. Installation is a little tricky as well. The antenna which connects to the Wink barely fits inside its housing and care needs to be taken not to damage it during the process.

Tech Specs
Type: Fan
Compatible with: Amazon Alexa, Wink
Speed settings: 4
Brightness settings: 10
The Pros
Good build and aesthetics
Powerful air output
Works with wink
Responsive remote
The Cons
Challenging installation
Light isn't bright enough for larger rooms
4. Hunter Symphony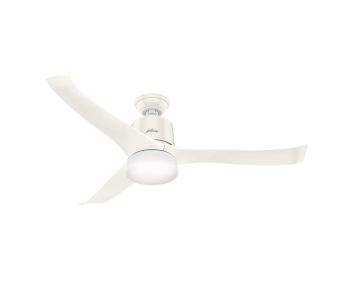 View on Amazon
Editor's Rating: 4/5
If Apple HomeKit is at the foundation of your smart home setup, it's natural that you'd want a smart fan with native support for it. Since not having any is one of the L Series' only minor flaws, you can turn to Hunter, a prominent manufacturer of ceiling fans who's come out with smart models of its own. The Symphony is the best in their lineup – it features seamless HomeKit integration, runs quietly, and you could buy two of them for the price of a Haiku Home fan.
A Fresh & Temperate Apple Home
While not quite as elegant as the L Series, Symphony is nevertheless a modern-looking fan and a definite visual upgrade when compared to traditional models. It is available in three colors and features a prominent light fixture which holds two powerful LED bulbs. Installation is on par with that of an ordinary fan and requires you to connect the corresponding wires and mount the fan. After that, you can attach the blades and screw in the bulbs. All of this should take an hour, less if you ask a friend for help.
You don't need to use the fan's smart features at all as it comes with a classic remote. This can be mounted on a wall and has controls that adjust the fan speed and dim the lights so that the less tech-savvy members of your household won't need to adjust.
Pairing the Symphony with HomeKit is quick & easy. It shows up as both a fan and a dimmable light in the app so each function can be controlled separately or added to a scene. There's a separate Hunter app which lets you tweak some of its finer features like the type of beep response that's heard when settings are changed, but it is poorly designed and not as intuitive as HomeKit for everyday use.
What's Bad About It?
There's nothing bad about the Symphony itself – it is well-made, balanced, and quiet. On the other hand, the app is just awful. Apple users have HomeKit to fall back on, but if you intend to use it with an Android phone and Alexa, you're in for a bad time. To access the app, you need to create an account and verify it by email. This wouldn't be frustrating if the registration links in the email worked consistently. The confirmation site can only be accessed intermittently. Even when you do manage to sign up, adjusting features within the app doesn't do anything half the time.

Tech Specs
Type: Fan
Compatible with: Amazon Alexa, Apple HomeKit
Speed settings: 4
Brightness settings: 10
The Pros
Quality build
Quiet operation
Comes with remote
Excellent HomeKit integration
5. Insteon FanLinc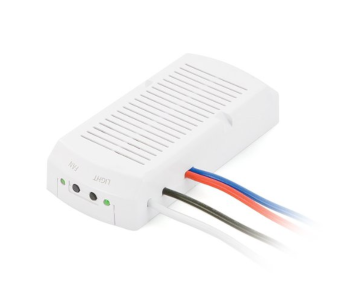 View on Amazon
Editor's Rating: 3.7/5
Wall switches can be wired confusingly and remotes can be lost. What can you do to control your ceiling fan from afar then without having to fiddle with your home's wiring? If you've already invested in an Insteon smart hub, FanLinc is the answer! This device was designed to be installed inside your fan's canopy and provide wireless control through the powerful Insteon app.
Going Smart Without Switches or Remotes
FanLinc is a small device which bypasses the wiring in your home altogether and plugs directly into the fan. The install requires some knowledge of electrical wiring as you'll need to locate the light, fan, and ground wires. The device is 4.6 inches tall, 2 inches wide, and 0.9 inches deep, so make sure that there's enough room for it to fit inside the canopy.
With that out of the way, you can access fan and light control settings through the Insteon app. Three speeds and a range of dimming options are supported. The app is a powerful tool for connecting your fan with other smart devices like sensors, thermostats, and plugs to change its behavior whenever a device is activated. Alexa and Google Assistant work well too and respond to voice commands without a hitch.
What Should Be Improved?
The reason why FanLinc is so low on the list is that it's prone to malfunctioning. Specifically, it will work fine for a few months and then a speed setting or two will start to fail. Insteon does cover the FanLinc with a 2-year warranty, but it isn't out of the ordinary for one to become defective earlier than that.

Tech Specs
Type: Fan controller
Compatible with: Amazon Alexa, Google Assistant, Insteon hub
The Pros
No switches or remotes required
Responds well to verbal commands
The Cons
May not fit inside every ceiling fan
Can stop working after a while
6. Best Budget Option – GE Z-Wave Plus Smart Fan Speed Control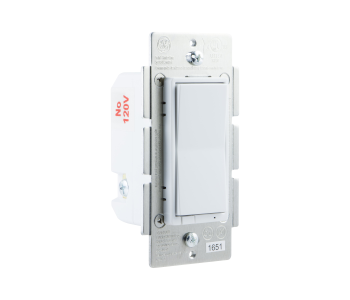 View on Amazon
Editor's Rating: 4/5
Bond works flawlessly with remote-controlled ceiling fans, but what if yours only has a switch? Never fear, there's a solution for that too – the versatile and quite affordable Z-Wave Plus by GE. It's a stylish switch which replaces your old one and grants you instant control over the fan. It can be used as a responsive traditional switch or paired with a plethora of smart hubs which support Z-wave and accessed remotely.
The Best & Most Affordable Smart Fan Switch
As it is in essence an advanced wall switch, anyone who's dealt with a regular one before shouldn't find the Z-Wave Plus hard to install. There are a few things to keep in mind though. It requires a neutral wire which some very old houses may not have, so make sure yours does. You can use the switch four three-way wiring configurations and up with separate add-on switches.
If you're comfortable with all of the above, you'll love the Z-Wave Plus and its straightforward controls. The wall switch lets you turn the fan on/off and set three speeds. It's made in the decora style and comes with two paddles in either white or tan so it should fit your room's furnishings well. The only thing that reveals there's more about the switch than meets the eye is a small LED that blinks at different intervals based on the current speed.
The Plus in the switch's name marks an upgrade from a previous model, the major difference being the more recent version's much better Z-wave range. This lets you install the switch farther away from your smart home hub without garbling the signal. Speaking of which, GE has made sure that the switch supports a large number of Z-wave hubs. Well-known manufacturers as well as others like Iris, Nexia, or Trane are supported, as are Google Assistant and Alexa.
What We Didn't Like
The Z-Wave Plus lacks light controls, making it only partially successful as a smart ceiling fan controller. Other than that, it's rather bulky and may prove to be challenging to fit inside some holes.

Tech Specs
Type: Fan controller
Compatible with: Amazon Alexa, Google Assistant, Samsung SmartThings, Wink & more
The Pros
Supports wide variety of smart hubs
Useful LED indicator light
Instantaneous fan control
Affordable
The Cons
Doesn't control lights
Tricky installation