6 Best Smart Heaters of 2019
3D Insider is ad supported and earns money from clicks, commissions from sales, and other ways.
Is your HVAC system struggling to keep up with the bitter chill of winter? Or maybe it's performing just fine but your power bills are frightfully high? Whatever your heating problems may be, investing thousands of dollars into a new house-wide system isn't necessary when you can start saving while only heating parts of your home with smart heaters.
Smart heaters are portable, extremely safe, and effective at warming rooms of any size. They also come with sophisticated power-saving features and can be controlled remotely with your smartphone.
Below are six of the best smart heaters on the market today. Even though they have different designs and unique capabilities, each is able to keep cold at bay safely and efficiently. Pick one which corresponds to your heating needs and gives winter the cold shoulder.
Budget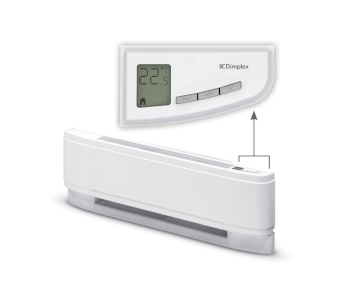 DIMPLEX NORTH AMERICA
4.1/5.0
Max. Heating power (watts): 500
Type: Baseboard
Single unit puts out as much heat as more powerful mobile heaters.
Check HomeDepot
Best Value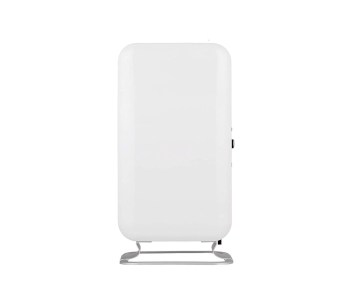 Mill AB-H1500WF
4.6/5.0
Max. Heating power (watts): 1,500
Type: Oil-filled
Has thermostat that keeps it from exceeding target temperatures.
Check Amazon
Top Pick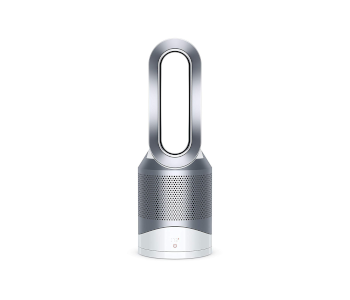 Dyson Pure Hot Cool Link
4.8/5.0
Max. Heating power (watts): 1,575
Type: Bladeless
Three devices in one, innovative design, and quiet operation.
Check Amazon
What to Look for in a Smart Heater
Safety
Heater Type
Energy Efficiency
App & Voice activation
Smart Heaters Comparison Table
1. Best Overall – Dyson Pure Hot Cool Link Air Purifier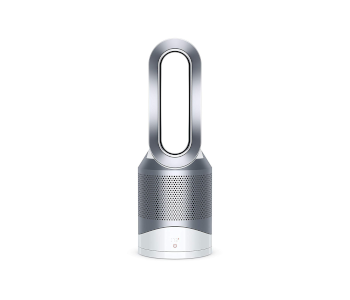 View on Amazon
Editor's Rating: 4.8/5
Dyson has impressed us with its futuristic, bladeless fan designs before. The threefold functionality of the Pure Hot Cool Link air purifier overshadows previous models. It keeps you cool in summer, is an equally capable heater, and the built-in filtration system ensures that your home is healthy and temperate.
The Most Versatile Smart Heater
This heater's peculiar shape is both a result of the latest advances in fan technology and a captivating conversation piece. The bladeless construction and large open hole allow the heater to generate and amplify the airflow while remaining quiet. You can have a conversation in the same room even while it's running at the fastest speed. Physical controls are limited to a button that powers the heater on and facilitates pairing. You do get a handy remote though that attaches to the heater with a magnetic strip.
Air can be blown out of the heater either in a concentrated or diffuse manner. The former is great when you wish to warm part of the room sooner or direct a blast of cold air at yourself in the summer. The latter ensures that the room will heat up evenly. With the heating element on and the fan at full speed, the heater delivers more than 1,500 watts of power.
The advanced HEPA filter is worth mentioning separately as Dyson claims that it is designed to get rid of more than 99 percent of harmful airborne particles. It is cylindrical in shape and located at the unit's base. You can set the filter to work alongside the fan or use it separately for regular air quality maintenance regardless of temperature.
Dyson's accompanying app has a clean design and a plethora of features. Along with controls for heating, fan speed, and timer settings, it shows you a comprehensive overview of your home's current and past air quality. This includes temperature, humidity, and air quality. If the air quality drops below a certain point, the air purifier can be turned on automatically. Support for Amazon Alexa voice commands has recently been enabled as well.
What We Didn't like
The Pure Hot Cold Link is an expensive hybrid device that performs well in all three modes. The filter lasts for a year with frequent use and needs to be replaced, adding to the cost. While Apple users shouldn't have any connectivity issues, the same can't be said for people who prefer Android as the app is buggy. Dyson is aware of the issue, so hopefully it will be addressed soon.


Tech Specs
Dimensions: 24.9 x 8.7 x 6 in
Heater Type: Bladeless
Maximum heating power: 1,575 watts
No. of settings: 12 (10 fan settings, heating, and filtration)
The Pros
Three devices in one
Innovative design
Two air circulation modes
Quiet operation
Excellent app
The Cons
High initial cost compounded with later filter replacements
Android app is buggy and unstable
2. Best Value – Mill AB-H1500WF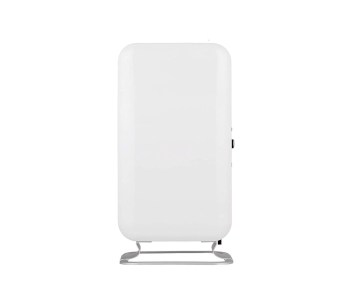 View on Amazon
Editor's Rating: 4.6/5
Oil-filled radiators are the best solution when you need a reliable source of localized heat. They're almost completely silent, don't dry the air out, and are among the safest heaters available. Mill's AB-H1500WF offers all the advantages of conventional oil-filled models while living up to 21st century standards by being powered by a fantastic app.
An Oil-filled Heater for the Modern Home
The AB-H1500WF looks nothing like classic oil-filled heaters. Instead of ribs it has a rounded cube-shaped surface along with perforations on the top and bottom. Air comes into contact with the oil-heated surface of the heater and warms up in no time. Since the heater's sides are solid, they radiate heat sideways before it travels upwards, making the immediate space around the AB-H1500WF cozy right away. It isn't as portable as some other reviewed heaters, but the AB-H1500WF does come with sturdy aluminum legs.
You can set the heater to one of three settings and adjust each one more precisely with a dial. The front houses buttons for heating, timer settings, and temperature memory. The AB-H1500WF has a thermostat and displays the current temperature on a small LCD screen. When the target temperature is reached, the heater stops working. To conserve power when you're airing the room out, the AB-H1500WF comes with open window mode. If the temperature drops suddenly in a brief period of time, the heater will register this as an open window and stop working until the temperature is stable again.
Although the AB-H1500WF performs well alone, installing the Millheat app unlocks its complete potential. The app allows you to control groups of heaters based on the room they're in or get readings from each one separately. Adjusting target temperatures and timer duration is easy, as is setting weekly schedules based on your activities. You can set the AB-H1500WF to stop working or conserve power while you're asleep or away and maintain a specified temperature while you're home. If you plan this out carefully, you won't need to touch the heater's controls until it's warm enough to unplug it!
What's Bad About It?
Unlike heater models which blow hot air out into the room and make an immediate difference, it takes the AB-H1500WF some time to start having an effect on overall room temperature. Moving it is impractical as well since the heater is heavy, has no wheels to help you move it along, and needs to be stationary for at least half an hour before use so the oil can settle.


Tech Specs
Dimensions: 25.8 x 13.5 x 5.9 in
Heater Type: Oil-filled
Maximum heating power: 1,500 watts
No. of settings: 3
The Pros
Has thermostat that keeps it from exceeding target temperatures
Open window mode
Excellent app
The Cons
Takes a while to heat an entire room
Hard to transport
3. Crane USA Smart Ceramic Tower Heater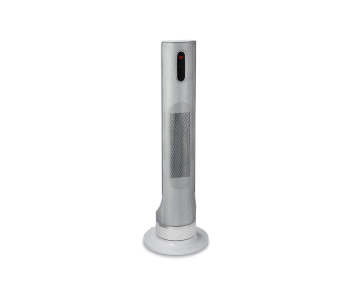 View on Amazon
Editor's Rating: 4.5/5
Tower heaters are the newest trend when it comes to combining great heat output with portability and efficiency. Crane's smart tower heater can function as a cooling fan in summer, has two additional heating settings, and a handy app which lets you control it from anywhere. It's a stylish piece of modern technology that will make your home warmer and look cooler.
The Modern-day Space Heater
Even without an app and Wi-Fi connectivity, this smart tower heater would have a leg up on its competition. Unlike traditional heaters, it is tall rather than bulky and has a much smaller footprint. You can place it in a corner and activate its oscillation feature to spread warm air throughout an entire room quickly. It weighs under 10 pounds and has a handle in the back which make relocation easy. The fan is stable in spite of its shape. Even if it does tip over, built-in security measures will turn the ceramic heating element off to prevent accidents.
The heater has three settings as well as a timer. The first setting turns it into a fan as only air is circulated without added heat. It is far more effective than a traditional pedestal model as its vertical shape allows for greater airflow with little to no noise. The other two settings put out 750 and 1,500 watts of heating power respectively. 750 watts should do to heat a bathroom or smaller children's bedroom while 1,500 is enough for a living room.
The best thing about this heater is that the ability to control all of its settings either on the unit itself or from the Crane app. Apart from being able to access and override timer or heating settings remotely, you can use the app to schedule activation at certain times of the day or check the heater's current status. Regularly updated health & wellness articles as well as a FAQ and troubleshooting guide are a nice bonus.
What's Bad About It?
This heater's smart functionality is limited to its app, meaning there's no support for Alexa or smart home hubs. The app also sometimes has trouble recognizing the heater and may not respond to your commands.


Tech Specs
Dimensions: 38 x 12 x 12 in
Heater Type: Tower
Maximum heating power: 1,500 watts
No. of settings: 3
The Pros
Can act as a fan in summer
Takes up little space
Stylish design
Can be controlled via app
The Cons
No smart home integration options
Has trouble connecting to its app
4. Crane 1,500-Watt Infrared Smart Heater
Home Depot
Editor's Rating: 4.2/5
When temperatures start dipping below the thirties, homeowners need to keep a close eye on their piping. Frozen pipes can cause thousands in damage, so timely prevention is key! Crane has the answer for this serious problem as well – an infrared heater that keeps the water in your pipes from freezing no matter how cold it gets outside. It's a safe, quiet, and connected device you'll love using in your basement as well as your living room.
No More Frozen Pipes
This model resembles its traditional counterparts the most. It's far from ugly though – the two-toned color scheme, rounded corners, and prominent grille give this smart heater personality. It won't look out of place in a modern home but won't clash with your grandparents' furnishings either.
Operating at a maximum power of 1,500 watts, this heater can keep a mid-sized room warm with little effort. The "low" setting maintains a constant temperature while cranking the heater up to "high" will warm the room up faster at the expense of more energy. You can monitor the temperature and set the timer to eight hours in one-hour increments on the heater's blue LCD screen.
This is one of the safest smart heaters. On one hand, there's the anti-freeze function which responds to dips in temperature and maintains an environment that's warm enough to prevent pipes from freezing with excellent efficiency. On the other, it has a child lock, will turn itself off if it ever overheats, and can be touched safely even when it has been on the high setting for a while.
What We Didn't Like
Crane's infrared smart heater comes with the same app as its tower heater cousin. You can, therefore, expect frequent disconnects and pairing problems.


Tech Specs
Dimensions: 15 x 14.2 x 13.1 in
Heater Type: Infrared
Maximum heating power: 1,500 watts
No. of settings: 2
The Pros
Safe to use
Anti-freeze feature
Efficient temperature regulation
The Cons
App suffers from serious connection issues
5. Honeywell HZ-980 MyEnergySmart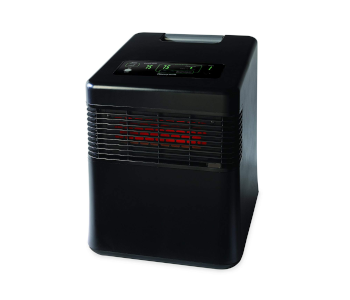 View on Amazon
Editor's Rating: 3.6/5
Heating is by far the largest and most expensive factor in any household's energy bill. To lower your bill you could either suffer in the cold or buy a heater like the Honeywell's HZ-980 which regulates output with a built-in thermostat. It also shows how much electricity it has spent since it was turned on, letting you precisely tailor its performance to your energy budget.
The Smart Way to Keep Warm & Save on Power Bills
The HZ-980 is an infrared model which generates heat by warming up six quartz elements inside a metal casing and blowing the hot air through a grate at one of three speeds. At 18 pounds it isn't the most lightweight heater on our list, but as it has wheels and a handle, transporting the HZ-980 is simple. It comes with a 6-foot cord and remote control for greater convenience.
On top, you'll find the HZ-980's touchscreen LCD display. It features a thermostat which shows both current and target temperatures. Desired temperatures can be set in one-degree increments or saved by pressing one of two MyTemp buttons so that you can quickly switch back to your favorite settings after someone else uses the heater. There's also an automatic shutoff timer with eight presets.
Honeywell places special emphasis on its MyEnergySmart technology, promising energy savings of up to 35 percent. Thanks to the HZ-980's precise thermostat, heating is engaged only until the target temperature is reached. How long this takes depends on the room's starting temperature and the setting you choose, but the most economical use of energy is always in effect.
Are There Drawbacks?
At 6 feet, the cord is short and limits the HZ-980's placement options. The bigger problem is a heating unit that's prone to malfunction. After a few months the HZ-980 might stop working, forcing you to either take advantage of the 3-year warranty or get a replacement.


Tech Specs
Dimensions: 18.1 x 15.8 x 18.5 in
Heater Type: Infrared
Maximum heating power: 1,500 watts
No. of settings: 3
The Pros
Energy-efficient
Has accurate thermostat
Preferred temperatures can be saved
Responsive touchscreen controls
Portable
The Cons
Short power cord
Heating element can stop working
6. Best Budget Option – DIMPLEX NORTH AMERICA PC2005W31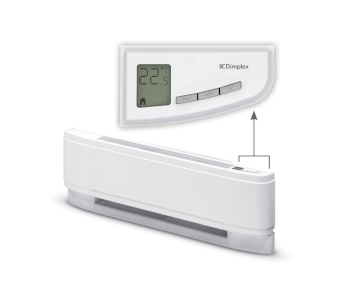 Home Depot
Editor's Rating: 4.1/5
Are you heating your home with electric baseboard heaters? If so, chances are they're ancient, totally inefficient, and far too long. When renovation time inevitably comes, consider replacing your outdated baseboard heaters with a smarter alternative. Diplex produces state of the art models like the PC2005W31 which are cost-effective, easy to install, and can all be operated from a wireless wall controller.
Control & Design Your Own Heating
One of the biggest drawbacks of baseboard heaters is their length. Installing one usually means that you have to adjust your floor plan and can't implement some design ideas since furniture and other items shouldn't be placed next to them. The PC2005W31 is smaller than average, letting you place it in bathrooms or next to bulkier items that would otherwise obstruct a normal baseboard heater.
The smaller size doesn't mean that you're getting ineffective heaters though – each one has a power of 500 watts and is designed for minimal heat loss. Generated heat rises upwards and engulfs the whole room quickly. Installing the PC2005W31 is straightforward. You get a set of screws which secure it to the wall and can also get an optional divider which ensures that the heater is placed sufficiently far away from the wall.
This heater doesn't have an app, but it can be controlled with a wall-mounted wireless controller. The controller lets you regulate the temperature of your entire house from a central spot. Individual baseboard heaters can be grouped together into four zones and controlled as a whole. Even if you don't get the wireless controller, each heater has its own thermostat which keeps the temperature constant while saving energy.
What Could Be Improved?
To get multiple of these baseboard heaters to work together, you'll need to get a wireless control unit which is sold separately. The screws the heater comes with are of inferior quality and should be replaced with more reliable ones.


Tech Specs
Dimensions: 18.1 x 15.8 x 18.5 in
Heater Type: Baseboard
Maximum heating power: 500 watts
No. of settings: Not specified
The Pros
Smaller than regular baseboard heaters yet equally powerful
Single unit puts out as much heat as more powerful mobile heaters
Can be grouped and controlled wirelessly
Great value for the money
The Cons
Wireless controller sold separately
Comes with low-quality screws