6 Best Smart Bicycle & Motorcycle Helmets of 2019
Statistics show that driving cars is becoming increasingly safer and the numbers are bound to improve even more once self-driving vehicles become the norm. Can we say the same about motorcycles and bicycles though? After all, riders are more exposed to perils of the road and don't have much in the way of protection. A smart helmet can keep you safer.
Smart helmets are as comfortable and dependable as their ordinary counterparts. There's no comparison between them when it comes to safety and versatility however. Smart helmets make you more visible in traffic, let you communicate with fellow riders, and can notify loved ones if you suffer an accident. They're also a convenient and hands-free way of taking calls and listening to music safely on the road.
Below you can find our selection of smart bicycle and motorcycle helmets. The first few reviews are for bicycles and motorcycle helmets are further down the page. Each helmet was built to exacting safety standards and would be worth getting even without smart features. There's a smart helmet for everyone, whether you want to increase your visibility or awareness of your surroundings.
Budget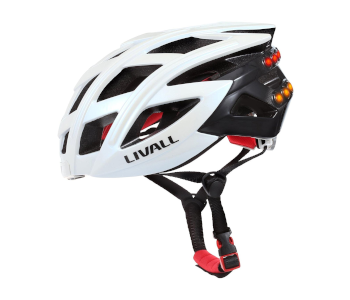 LIVALL BH60
4.7/5.0
Helmet type: Bicycle
Special feature: SOS mode
This can communicate with other BH60 helmets.
Check Amazon
Best Value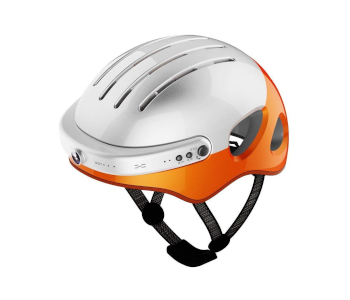 Airwheel C5 Intelligent Helmet
4.3/5.0
Helmet type: Multipurpose
Special feature: Action camera
This comes with an SD card and usable for multiple sports.
Check Amazon
Top Pick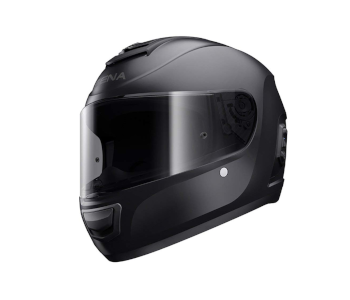 Sena Momentum
4.5/5.0
Helmet type: Motorcycle
Special feature: Intercom system
Has an excellent intercom system and outstanding battery life.
Check Amazon
Smart Bicycle & Motorcycle Helmets Comparison Table
1. Best Smart Bicycle Helmet – LIVALL BH60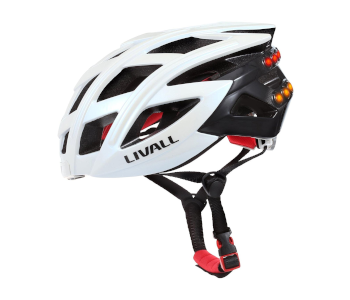 View on Amazon
Editor's Rating: 4.7/5
It wouldn't be much of a stretch to call Livall's BH60 a marvel of modern ingenuity. This surprisingly lightweight helmet manages to pack an impressive array of features into a standard frame without feeling awkward or cumbersome. With it you can enjoy a safer, more fun ride and even communicate with nearby cyclists. The helmet has recently been discounted as well, adding to its value even more.
The Smartest Bicycle Helmet Around
You'd think that the creators of a helmet which features LED turn signals, built-in speakers, and SOS functionality would need to compromise heavily on comfort and ventilation, but thankfully that's not the case. The BH60 looks and behaves like an ordinary helmet. It's made of a hard outer shell padded with standard EPS foam and weighs 0.6 pounds. Couple that with a pleasing aesthetic and well-placed ventilation holes and you've got a helmet that's smart, safe, and cool in both senses of the word.
Safety comes first for Livall so it's no wonder the BH60 has advanced safety features. There's a top strip of LEDs that aren't noticeable when off but light up brightly once you press a button on a controller that attaches to your bike's handlebar. Underneath are two sets of side lights which can either glow red or orange and have full turn signal functionality. SOS mode could save your life if you have an accident. The helmet detects sudden stops and interprets them as potential crashes. As long as you don't move or cancel the SOS state within 90 seconds, the BH60 will inform up to three contacts of your potential accident by text message.
You can connect your phone with the BH60's built-in speaker and microphone through Bluetooth. Once synced, you can use the controller on your handlebar to listen to music, send & receive calls, and activate your phone's GPS. You can also connect to nearby BH60 owners and talk to them on a dedicated channel. The speakers direct high-quality sound towards your ears. The mic has been designed to withstand strong winds so you'll be able to make yourself understood even in less than ideal riding conditions.
What We Didn't Like
The LEDs on the helmet are fantastic and work well at night. They aren't bright enough to make a difference on a sunny day though. The helmet needs to be recharged after eight hours of use. It also puts a lot of strain on your phone's battery as well so you'll want to have both fully charged before riding.

Tech Specs
Type: Bicycle helmet
Weight: 0.6 lb.
Size: M
No. of vents: 24
Battery life: 7-8 hours
The Pros
Lightweight & ventilated
Useful LED lights
SOS mode
Excellent smartphone interaction
Can communicate with other BH60 helmets
The Cons
LEDs aren't visible during the day
Takes a toll on your smartphone's battery
2. Coros OMNI Smart Cycling Helmet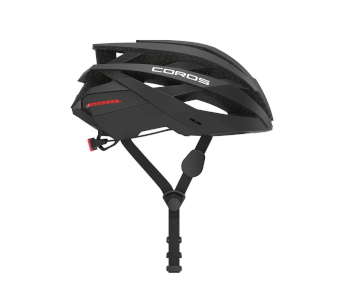 View on Amazon
Editor's Rating: 4.5/5
Listening to music can make your ride more enjoyable, but tuning the world out completely can be dangerous. Fortunately, the Coros Omni comes with an innovative sound conducting technology to keep you safe. The Omni comes with a set of LEDs and features a fitness-oriented app to boot so you can better quantify your rides.
Bone-chilling Audio
The Omni and BH60 both come with a great design. The Omni is marginally heavier and has fewer air vents, but it is well-balanced and the placement of the vents is well thought out. While the BH60 comes in only one size, you can choose an Omni in either medium or large and can pick from four colors. The LED lights on the helmet can be turned on or off manually or activated automatically with an integrated light sensor when it gets dark enough. There's no turn signal functionality though.
Safe sound reproduction is Omni's standout feature. The speakers are placed on each side of the chin strap and press up against your face rather than your ears. The sound they emit is conducted through your jawbone and perfectly audible, leaving your ears free to listen to traffic. You can answer calls too since a wind-resistant mic is built into the helmet's side. The lights, speakers, and mic are controlled through a strap-on remote which has clearly labeled buttons that are easy to tell apart without looking.
The Coros Omni comes with a versatile app which lets you customize your riding experience. It can also give you feedback on the go. It logs your rides showing the route, distance traveled, number of calories you burned, and more. Voice navigation is a useful feature that steers you turn by turn on a predetermined route. It can also be set to give you voice updates once you've passed a certain distance or burned a set number of calories. The app also updates the helmet's built-in firmware and can send out crash notifications in the event of an accident.
What's Bad About It?
The LEDs blink in a continuous pattern. Since two seconds pass between blinks, there's a chance that an oncoming driver may not see you in time. The farther you place the speakers from your ears, the harder it is to hear them. The speakers also tend to get hot if you leave them on for hours.

Tech Specs
Type: Bicycle helmet
Weight: 0.75 lb.
Size: M, L
No. of vents: 18
Battery life: 8+ hours
The Pros
Unobtrusive speakers
Excellent remote control
App has voice navigation and fitness tracking
Comes in two sizes
The Cons
LED blinking pattern can't be changed
Speakers get hot with prolonged use
3. Lumos Smart Bike Helmet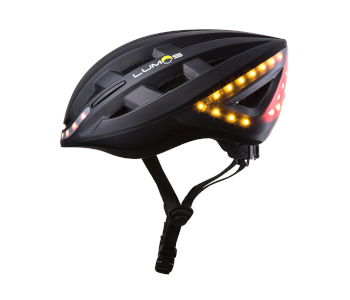 View on Amazon
Editor's Rating: 4.1/5
Riding at night is dangerous, even with light strips and a powerful headlight. If you depend on these alone, drivers might not see your signal and react in time. Lumos was specifically designed to increase your safety and visibility in nighttime conditions and is equipped with an array of strong LEDs that respond quickly whether you're breaking or turning. It may not have speakers and fancy app features, but its award-winning design and potentially life-saving light setup are reason enough to get one.
More Visibility, Fewer Accidents
Lumos is the heaviest smart bicycle helmet we've tested, yet its padded interior and aerodynamic design counterbalance the weight and make it enjoyable to wear. In spite of having so many LEDs, the Lumos was designed with breathability in mind and has 22 well-placed vents. There's only one size at the moment, but it should fit most people comfortably.
As the name suggests, Lumos is all about the lights! There are a series of lights strategically positioned on the front, back, and each side. When all of them are on, your visibility at night is increased dramatically. The color scheme corresponds to standard car light setups, so you've got bright white lights in front and both orange and red ones in the back. There's a built-in accelerometer which can detect a sudden decrease in speed which prompts the orange turn signal lights to start glowing bright red. All of this helps other traffic participants to react more naturally to changes in your position.
You control the lights through a wireless remote which comes with multiple straps so it can be secured to any handlebars. Pressing either of its two buttons causes the orange LEDs to blink like turn signals. If you've got an Apple Watch, you can download the Lumos app for it and make turn signals by gesturing with your watch hand. An Android and iOS app lets you track rides, check battery status, and more.
Are There Drawbacks?
You'll want to get the Lumos if you commute to work or bike a lot at night. During the day, it is nothing more than a good-quality bicycle helmet since the LEDs aren't visible. The LEDs are not powerful enough to act as headlight substitutes since they're too high to illuminate the road. Lastly, the battery is only good for 5-6 hours before needing a recharge and doesn't indicate its current charge unless you've installed the app.

Tech Specs
Type: Bicycle helmet
Weight: 1 lb.
Size: M
No. of vents: 22
Battery life: 5-6 hours
The Pros
Increases your visibility at night
Side LEDs act as turn signals
Automatic break recognition
The Cons
Lights are useless in daylight
Short battery life
4. Best Motorcycle Helmet – Sena Momentum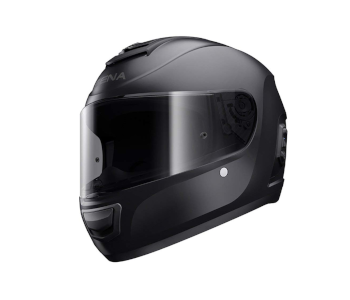 View on Amazon
Editor's Rating: 4.5/5
A good intercom system is indispensable for any coordinated biking effort, and no one makes them quite like Sena. It made perfect sense for them to build a helmet around their advanced communications hardware. The Momentum is Sena's first take on smart helmet design. Even though the Momentum does have some quirks, its communication features and excellent sound quality assure it the top spot on the motorcycle helmet portion of our list.
Hello Sena, Turn the Volume Up!
The Momentum is a sophisticated-looking motorcycle helmet which covers the entire face and has a snug fit that doesn't become uncomfortable no matter how long you ride. At 3.9 pounds, it sits in the middle as far as motorcycle helmet weight goes. There's a size for everyone from extra small to extra extra large. The helmet is available in a glossy white or matte black finish.
The Sena 20S intercom system consists of a pair of Bluetooth speakers, a mic that's part of the chin bar, and an FM radio. When connected to your smartphone, the Momentum can reproduce music, make calls, or read out GPS data. You can access these features either by pressing a series of three buttons located on the helmet or through voice commands. The buttons all have a different feel so you don't have to concentrate on finding the right one. As for voice activation, just say "Hello Sena" and speak a supported command.
The speakers' audio quality is excellent. The helmet's noise-cancellation allows you to concentrate on your jams or chatter from other riders. If you need to get a better idea of your surroundings, there's an option to quickly toggle ambient noise amplification as well. The mic also has built-in noise cancellation and allows for clear communication regardless of current speed.
Sena had to design a powerful battery to keep all of the Momentum's features powered up, and the one that made it into the final product is fantastic. After 2 hours of charging it has enough juice to keep the intercom system going for 20 hours, or let you listen to music for five more.
What We Didn't Like
While the Momentum's smart features are way above average, the same can't be said for its overall construction. There's no single thing wrong with it. Rather, many small flaws like misaligned decals, a visor that won't stay up, or a chin strap that keeps slipping all the time add up and may frustrate you. These annoyances are far from deal-breaking but will need to be addressed in upcoming versions of the helmet.

Tech Specs
Type: Motorcycle helmet
Weight: 3.9 lb.
Size: XS – XXL
Battery life: 20-25 hours
The Pros
Excellent intercom system
Well-balanced
Voice control
Outstanding battery life
The Cons
Lots of tiny flaws in the fit & finish
5. Reevu MSX1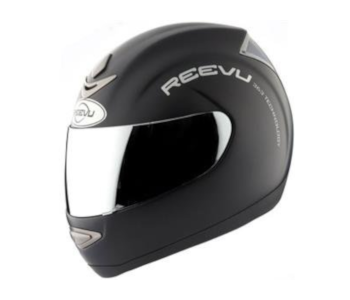 View on Amazon
Editor's Rating: 4.2/5
One of the most dangerous aspects of motorcycle riding is severely limited visibility. Not only is your frontal vision impaired by the helmet you're wearing, but there's no rearview mirror to tell what's behind you. Constantly checking the side mirrors makes you lose focus on the road ahead, which is why Reevu came up with the idea of including an ingenious rearview mirror inside a well-made helmet.
Possibly the Greatest Development in Bike-riding Safety
The MSY1 is a beautifully designed helmet. It comes in three colors, each of which has a generous clearcoat finish that protects the helmet's exterior. It is constructed from a combination of Kevlar and carbon fiber that can take a beating and keep your head in one piece. The padding is comfortable and can be custom-ordered to fit your face better. The MSX1 also has a hardy face plate which can be lifted in seven increments the first of which is great for de-fogging. A weight of 4 pounds and sizes ranging from XS to XXL put it on par with Sena's Momentum.
So how does the rearview mirror work? The back of the helmet has a small slit that light can travel through. The image is then reflected through a series of carefully-placed mirrors and projected onto a mirror surface just above the face shield. This mirror fills up the central upper part of your view and can be adjusted or tilted for a better overview. It doesn't get in the way, yet all it takes is a quick glance up to use it. Keep in mind that the image you get is tinted and darker than a standard mirror. This is to prevent blinding from headlights.
What's Bad About It?
Incorporating the rearview mirror into your driving routine might take some time. You'll have to replace looking left and right with quick glances upwards and figure out how often to do this so you don't spend too much time looking behind you and neglect the road ahead. The helmet's designers had to make its air vents smaller in order to fit the rearview mirror system inside of it, meaning that you might become hot and stifled after a long while.

Tech Specs
Type: Motorcycle helmet
Weight: 3.9 lb.
Size: XS – XXL
The Pros
Integrated rearview mirror
Adjustable face plate
Excellent build
The Cons
Rearview mirror takes getting used to
Poor ventilation
6. Best Value – Airwheel C5 Intelligent Helmet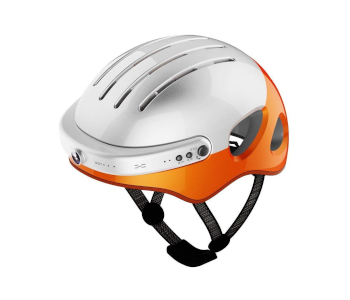 View on Amazon
Editor's Rating: 4.3/5
Do you ever wish that you could capture the beautiful landscapes you ride across or the challenging forest trails you conquer on camera? You could get an action camera like the Hero 6 Black for this, or kill two birds with one stone and buy the Airwheel C5 – a capable helmet and action camera in a single package.
Record & Relive All Your Favorite Cycling Moments
The C5 is a multipurpose helmet because its design isn't specific to cycling. It is rounder and has differently-placed air vents than other models in this guide. Rather than hindering it, this universal design allows you to wear the C5 while skateboarding, snowboarding, or skiing and be protected equally. Currently you can only get it in size L, but there's an adjustable strap at the C5's back which accommodates different head circumferences.
The C5 comes with a high-resolution, 2304 x 1256 pixel camera, trailing behind 4K action camera but displaying better performance and clarity than FullHD models. You can start recording right away with the included 16GB SD card. The video is crisp, has adequate color balance, and the quality doesn't visibly degrade at night. Standard action cam batteries are good for an hour or two of shooting. The one the C5 comes with allows you to keep rolling for three hours straight.
Rather than relying on a remote, the C5 is controlled via buttons positioned at either side of the camera. These let you start and stop recording, adjust the volume, and shuffle through tracks. The helmet connects to your smartphone either through Bluetooth or Wi-Fi. The Bluetooth connection is used for audio playback and call handling, while Wi-Fi is needed if you want to control the camera through Airwheel's app.
Are There Drawbacks?
Since there's no remote, controlling the C5's various functions through the helmet itself will leave you with only one hand on the handlebars and increases the chance of an accident. The built-in microphone wasn't built with the wind in mind. Listening to music and calls works well, but callers may have trouble understanding you if you're on the move.

Tech Specs
Type: Multipurpose helmet
Weight: 0.98 lb.
Size: L
No. of vents: 19
Battery life: 3 hours
The Pros
Usable for multiple sports
Has high-quality video camera
Long battery life (for an action cam)
Comes with SD card
The Cons
Helmet controls risk danger of an accident
Bad microphone quality