6 Best Smart Kettles of 2019
3D Insider is ad supported and earns money from clicks, commissions from sales, and other ways.
If you wanted to make one in the old days, you had to put a kettle on the stove, wait for it to boil, and then figure out what the best temperature for your favorite tea was. Thanks to the arrival of smart kettles, you can not only heat the water to perfection but do so from anywhere in your home with a cellphone!
Smart kettles can heat water to a preset temperature in a matter of minutes. Some let you choose the temperature down to the degree while others have fixed temperatures for baby bottle warming through green tea to French press coffee. All of them will keep the water warm for you once the optimum temperature is reached. The most sophisticated models can even be operated through Amazon Alexa or incorporated into your smart home's morning routine through IFTTT.
These are the six best smart kettles you can purchase today. They have different capacities and price points, but all of them are full of features that ensure you'll have hot water at the ready whenever you need it. So, ditch the old kettle and make your mornings more enjoyable with a smart one!
Budget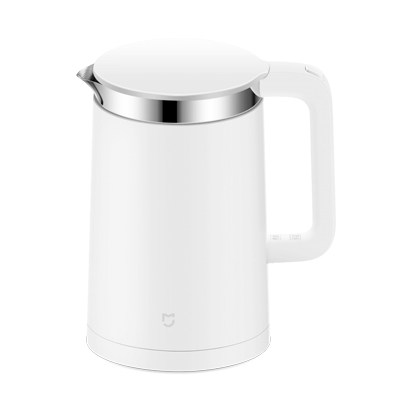 Xiaomi Mi Smart Electric Kettle
4.1/5.0
Weight: 2.7 pounds
Capacity: 1.5L
Keep warm time: 12 hours
Quick heat up time, keeps water warm long, and excellent value for the money.
Check Amazon
Best Value
AIMOX Smart Wifi Electric Kettle
4.3/5.0
Weight: 2.8 pounds
Capacity: 1.8L
Keep warm time: 30 minutes
Affordable, ergonomic handle and good control layout and LCD screen.
Check Amazon
Top Pick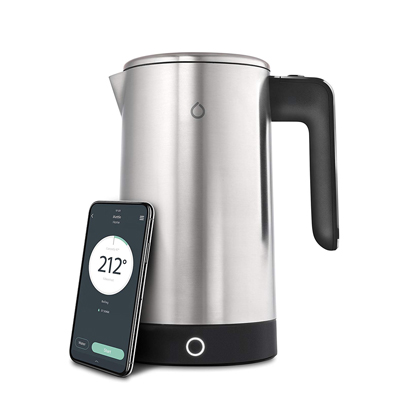 Smarter iKettle 3rd Generation
4.8/5.0
Weight: 3.5 pounds
Capacity: 1.8L
Keep warm time: 40 minutes
Incremental temperature adjustment and it has geofencing and timer.
Check Amazon
6 Best Smart Kettles Comparison Table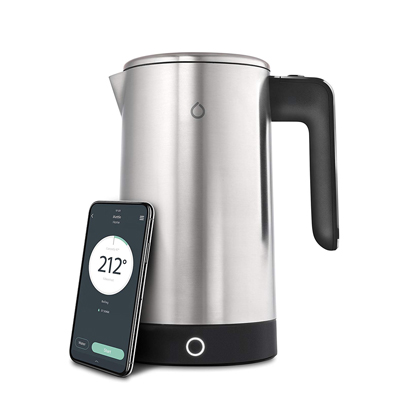 View on Amazon
Editor's Rating: 4.8/5.0
The worst thing about traditional kettles is that they lack temperature controls or are limited to only 2-3 presets that are many degrees apart. This changes with the iKettle, a smart kettle that lets you choose precisely which temperature you want the water to be in two-degree increments! It is the kettle with the most intuitive and functional app while also featuring support for both Amazon Alexa and IFTTT. If you want to automate every aspect of your morning routine, this kettle is a must.
Overview of Features
The iKettle has a capacity of 1.8 liters and is designed in a minimalistic yet pleasing way. There are no physical controls on the body – you can only use a button to open the lid and turn the iKettle on by pressing a button on its base. Turning it on this way will heat the water up to a temperature you have to specify within the app. Other interesting physical features include a small basket you can put tea leaves into and a blue plastic gauge which indicates the maximum water level.
Pairing the iKettle with your phone is a smooth experience, provided you use 2.4GHz Wi-Fi. First, you need to make sure that your phone is connected to 2.4GHZ Wi-Fi. Then, you turn the iKettle's base over and place the phone on top. The pairing process is complete after a series of lights flashes. Now you're free to download the app and begin brewing!
Ikettle's app is an excellent example of functional and intuitive design. The home screen features a prominent dial with precise temperature information in its middle. Placing your finger on the edge and sliding it along the circle will increase or decrease the temperature as well as the time the iKettle will keep the water warm if you switch to keep warm mode. Temperatures range from 68 to 212 degrees Fahrenheit. This means you can use the iKettle to brew various kinds of teas or even warm up your baby's milk bottle!
The app also lets you set heating times. In good morning mode, you can specify a time when you wake up and have the iKettle greet you with steaming water. Then there's the geofencing option which turns the kettle on once your phone is within range so you can make some tea as soon as you get home from work. Of course, you'll have to remember to fill the iKettle with water. That's when the water level meter comes in – go to the appropriate screen in the app, and you'll see an approximation of how much water is left.
What We Didn't Like
The iKettle's biggest shortcoming is that you can't control any of its advanced settings manually. The on/off button works if you use a single temperature setting frequently, but you'll have to reach for the phone if you want to do anything else.


Tech Specs
Dimensions: 8.3 x 10.8 x 6.1 in
Weight: 3.5 pounds
Capacity: 1.8L
Temperature range: 64°F – 212°F
No. of temperature presets: Adjustable in 2-degree increments
Keep warm time: 40 minutes
The Pros
Incremental temperature adjustment
Outstanding companion app
Can be triggered by other smart devices through IFTTT
Has geofencing and timer
The Cons
Works only with 2.4Ghz Wi-Fi
Very limited manual usability
View on Amazon
Editor's Rating: 4.3/5.0
Are the iKettle and EKG+ too expensive for you? If you don't mind giving up their advanced features in favor of a better deal, the smart electric kettle from Aimox should be your next choice. It is elegantly designed, has an app that's simple to use, and can boil 1.7L of water for all your hot beverage needs. There are things about it you'll need to get used to, but this smart kettle is as dependable as it is affordable.
Overview of Features
The smart kettle from Aimox looks like a traditional kettle with its stainless steel exterior and pleasant curves. It has a non-slip handle coated in plastic which you can grip surely even when the water inside is boiling. Unlike the iKettle, all of its settings can be accessed by pressing one of the silver buttons placed along the base. There's also a bright blue LCD display in the middle which shows you the current temperature on the left and the target temperature on the right in easy to read numbers.
Getting this smart kettle to pair with your Wi-Fi can be tricky. You'll need to place the kettle in pairing mode and download its app to your Android or iOS phone. Then you need to connect to the Kettle's Wi-Fi, put your own Wi-Fi's username & password into the home mode section of the app, and reconnect the phone to your Wi-Fi. It is a convoluted process, but you have to do it only once, and the kettle will remain connected without fail.
The app's design is basic. Everything is located on a single screen and is both easily understood and in reach. On top, there's the power button used to turn the kettle on remotely. Then there's the temperature selection dial. You use this to select one of four temperatures –149, 176, 203, and 212 degrees Fahrenheit. The temperatures are in degrees Celsius though, and it may take you some time to adjust. Finally, there's the keep warm function. This will keep the water at a specified temperature for 30 minutes once it has been reached.
What's Bad About It?
This kettle heats water up slowly. It can take twice as long to boil as other models, so you'll want to turn it on earlier. You get minimal instructions on using the kettle. Both they and the app are written in poor English. This might cause you problems until you experiment and see what each control does.


Tech Specs
Dimensions: 9.7 x 6.3 x 8.6 In
Weight: 2.8 pounds
Capacity: 1.8L
Temperature range: 149°F – 212°F
No. of temperature presets: 4
Keep warm time: 30 minutes
The Pros
Affordable
Ergonomic handle
Responsive app
Good control layout and LCD screen
The Cons
Slow heating time
Manual and app suffer from bad translation
View on Amazon
Editor's Rating: 4.6/5.0
The EKG+ is what you get when you merge the finest electric pour over kettle with the practicality of a smartphone app. It is by far the best-designed product on our list, heats up water quickly, and is easy to pour. Its steep price tag may be off-putting to regular coffee and tea drinkers, but if you can't start your day without the perfectly brewed cup, you'll know you made the right call as you take the first sip.
Overview of Features
The EKG+ is simply beautiful!Its slender spout, small handle, and burnished black finish make it look equally at home in your kitchen or in a modern industrial art gallery. It's not just for show either – the EG+'s shape and materials have been carefully chosen to decrease heating times and deliver the perfect slow pour. The controls are also as minimalistic as it gets since there are only two small toggles at the side of its base and the main button which also acts as a knob.
The control scheme for the EKG+ is ingenious. You press the main button to turn it on and then twist it until you reach the desired temperature. The first toggle shifts between Celsius and Fahrenheit on the base's small display. The second one toggles hold mode on and off. When hold mode is active, the EKG+ will keep the water at a constant temperature for 60 minutes. When it isn't, the temperature will be kept for 5 minutes and the EKG+will shut itself off after 15 more for safety reasons. You can also set a brew stopwatch by pressing and holding down the main button and pressing it again when you're done.
The companion app connects your phone with the EKG+ via Bluetooth. Like the kettle itself, the app is beautifully designed and functional. Its home screen shows the current temperature and lets you set the temperature by tapping smaller plus and minus buttons on each side of the central indicator. If you aren't sure which temperature to pick, there are presets for teas and coffees to guide you. If you activate hold mode, the app will keep track of temperature drops and the EKG+ will occasionally turn its heater on to compensate.
Are There Drawbacks?
There is one potentially dangerous flaw in the design of the handle. It is connected to the kettle's body with an uninsulated metal ring. This gets hot quickly and may burn you if you overextend your thumb. Other than that, the EKG+ is slow to pour due to its slender spout. This is fine when you're going for a stellar pour over but takes too long when you're in a hurry.


Tech Specs
Dimensions: 11.5 x 6.8 x 8 In
Weight: 2.6 pounds
Capacity: 0.9L
Temperature range: 105°F – 212°F
No. of temperature presets: Adjustable in 1-degree increments
Keep warm time: 60 minutes
The Pros
Fantastic design
Intuitive interface
Great companion app
Long keep warm mode
The Cons
Handle can cause burns if held incorrectly
Slow pour
Expensive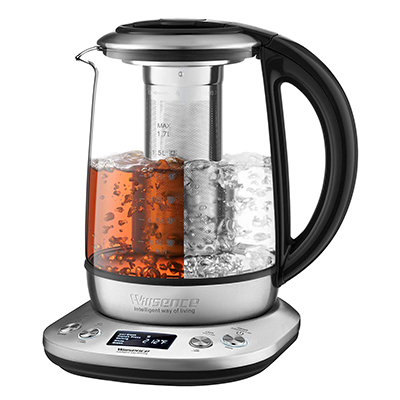 View on Amazon
Editor's Rating: 4.4/5.0
Smart kettles may save time, but most of them only boil water – you still have to prepare the tea or coffee into cups and then mix it with the water. This tea kettle from Willsence Electric has an infuser in which you can place the tea and have it ready to be served as soon as the heating stops! It also has a comprehensive control scheme, an excellent LCD screen, and the ability to schedule operation a day in advance.
Overview of Features
Willsence Electric's tea kettle is reminiscent of a coffee maker, especially if you get the version with a glass pitcher instead of the stainless steel variant. This way you get to watch as the water heats up and gets infused with whatever tea you placed inside the infusion basket. This has a porous mesh which lets the leaves thoroughly infuse the water without making a mess. The kettle has a beefy plastic handle which helps with pouring and doesn't slip.
The best thing about this kettle are its controls. They follow a pleasant pattern where two buttons are on each side of the central display. Each button has two functions activated either with a short or a long press. The power button is also used to set one of ten programs. The keep warm button doubles as an autostart. Depending on the mode, the two middle buttons are used to adjust the temperature or program the timer when pressed quickly or mute and lock the device if pressed for 3 seconds.
There are 10 programs which adjust the tea's steeping time. Combining them with 6 temperature settings lets you create the ideal conditions for 180 teas and coffees. There's a programmable timer which turns the kettle on sometime within the next 24 hours. If you have children, you'll be glad that there are also a child lock and mute button in place so your little one doesn't hurt herself or get scared once the water is ready.
What We Didn't Like
The kettle doesn't have a clock. This means that you can only adjust the timer to turn it on X hours and minutes from the current time. The infuser screws into the lid and has to be taken out if you want to avoid over-steeping. Since it is still hot, you'll need to be careful when removing it.


Tech Specs
Dimensions: 4.7 x 7.8 x 8.3 In
Weight: 5.3 pounds
Capacity: 1.7L
Temperature range: 110°F – 212°F
No. of temperature presets: 6
Keep warm time: 60 minutes
The Pros
Can prepare tea
Lots of presets
24-hour timer
Hefty ergonomic handle
The Cons
Programming the timer can be confusing
Removing the infuser while hot is dangerous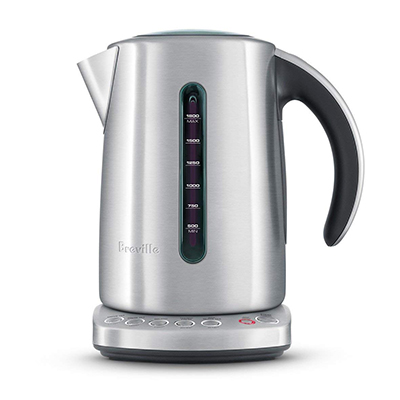 View on Amazon
Editor's Rating: 4.3/5.0
Being able to choose an exact water temperature is great, but what if you want to have the perfect cup of tea without the guesswork? Breville's BKE820XL offers five preset temperatures and tells you which is ideally suited for different kinds of tea or even French press coffee. It has a large capacity, is effortless to use, and the kettle can be removed from its base. It's the ideal blend of smarts and sophistication for the modern kitchen.
Overview of Features
The BKE820XL is a stylish electric kettle with an inspired design full of detail. The first thing you'll notice about it is the water level indicator that takes up its left side. It clearly shows how much water there is and has markings for every 250ml between the minimum of 500ml and the maximum of 1,800mL. The kettle part is wireless and detachable so you can pour wherever you like without having to disconnect the power cord.
Its base contains seven buttons – five on the left for temperature control and two on the right that handle its keep warm mode and power. The power button has a red LED outline while the temperature selection buttons have white ones so you always know when the BKE820XL is on and which temperature is used. The temperature buttons are labeled with degrees as well as the teas each preset works for best.
Fast heating times are another of the BKE820XL's advantages. Its 1,500-watt heating element brings a full 1.8l of water to boil in less than five minutes. When the target temperature is reached, the BKE820XL beeps loudly to let you know. There are effective security measures in place too. If the water level in the kettle is lower than the 500ml mark, a dry operation prevention system will shut the BKE820XL off automatically.
What's Bad About It?
The BKE820XL's has a keep warm function, but it only maintains the temperature for 20 minutes. A more concerning problem has to do with moisture buildup. Each time you brew, moisture gets between the kettle and the base. This can cause the BKE820XL's electrical components to malfunction with use. You'll need to wipe off the moisture with a cloth, but this isn't entirely effective since you need to wait for everything to cool off first.


Tech Specs
Dimensions: 7.5 x 9.5 x 11 In
Weight: 4.8 pounds
Capacity: 1.8L
Temperature range: 175°F – 212°F
No. of temperature presets: 5
Keep warm time: 20 minutes
The Pros
Temperature settings tailored to specific teas
Removable kettle
Stylish design and interface
Great safety features
The Cons
Keeps water warm for a short time
Needs to be wiped between uses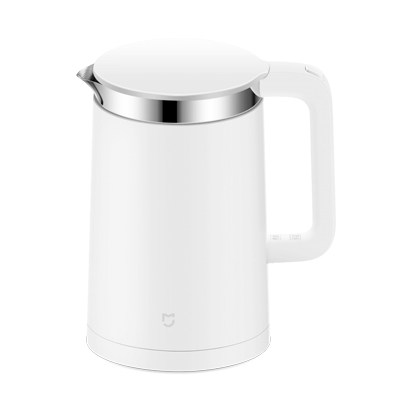 View on Amazon
Editor's Rating: 4.1/5.0
Our last smart kettle comes from Xiaomi, the Chinese smartphone manufacturer who's expanding and offering sophisticated yet affordable smart gadgets as well. If their smart electric kettle is any indication, they're on the right track. The kettle boasts the longest keep warm time we've seen, has a straightforward app, and can boil 1.5 liters of water in under 5 minutes. Impressive considering you won't even have to pay $60 for it.
Overview of Features
Out of all the models we've reviewed, Xiaomi's smart kettle is the plainest looking. Cost ways cut on appearance and the result is a matte white plastic finish with just a stainless steel trim to keep it from being boring. It's how the kettle operates that makes it worth your attention though. There are no buttons to press, only two touch-sensitive ones on the inside of its handle. One serves as the power button while the other starts and stops the keep warm mode.
The kettle performs well whether you use the app or not. It has a host of security features like extra space after the safety line so that water doesn't boil over and a lid which opens 45 degrees to let the steam escape first. Water is kept warm for 12 hours so you can start the kettle before you go to work and arrive home to steaming hot tea.
The Mi Home app pairs with your smartphone through Bluetooth. Pairing involves scanning a QR code you get inside the manual and selecting the kettle when it pops up. You can use the app to set the kettle to one of three temperature presets or enter a custom value. The current water temperature is shown and updated as the kettle is working. You can also set the keep warm mode from 1 to 12 hours with a slider.
Are There Drawbacks?
The app is only partially translated into English. Temperature and keep warm timer selection are fine, but the confirmation boxes and settings screens are in Chinese. The power cord is very short. At 16 inches, it is barely enough to distance the kettle from an outlet. You'll likely have to buy an extension cord to use the kettle effectively.


Tech Specs
Dimensions: 7.9 x 5.5 x 9.2 In
Weight: 2.7 pounds
Capacity: 1.5L
Temperature range: 104°F – 194°F
No. of temperature presets: Adjustable in 1-degree increments
Keep warm time: 12 hours
The Pros
Quick heat up time
Keeps water warm long
Good companion app
Excellent value for the money
The Cons
App is only partially translated
Short power cord