6 Best Smart Key Finders of 2019
3D Insider is ad supported and earns money from clicks, commissions from sales, and other ways.
All of us lose our keys from time to time. To make things worse, this usually happens when we're already late for school or work and don't have time to search for them. While a surefire way to never lose your keys hasn't been invented yet, you can drastically decrease the time it takes you to find them if you buy a smart key finder.
Smart key finders are lightweight devices that attach to your keychain, purse, etc. They communicate with your phone via Bluetooth and have ear-piercing alarms which make locating lost keys a snap. They can also help you find a misplaced phone, send notifications when they're about to leave Bluetooth range, and some can even be controlled with voice commands through Amazon Alexa.
Below are the six best smart key finders on the market today. They're all stylish, dependable, and not too expensive. Still, there are differences between them in maximum range, battery life, and the features accessible from their apps. Choose the one you find the most appealing and never waste time on tracking down your keys again!
Budget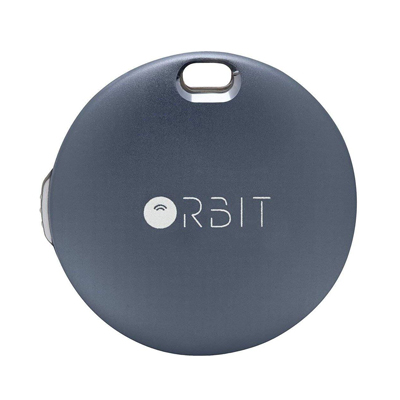 Orbit Bluetooth Key Finder
4.4/5.0
Loudness: 90
Bluetooth range: 100 feet
Battery life: 6 months
Water resistant, conserves power, responsive geofencing alerts.
Check Amazon
Best Value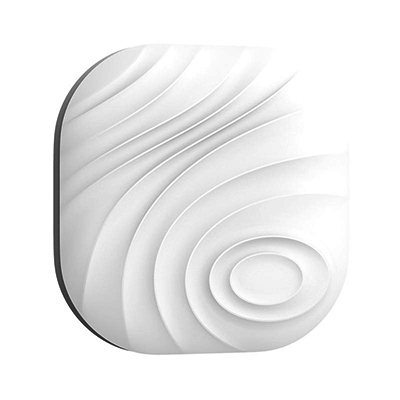 Luxsure Smart Anti-Lost Tracker
4.3/5.0
Loudness: 90
Bluetooth range: 60 feet
Battery life: 10 months
Affordable, easy to set up and use, supports unlimited sharing.
Check Amazon
Top Pick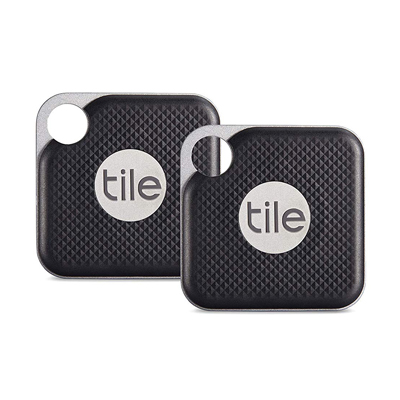 Tile Pro
4.6/5.0
Loudness: 100
Bluetooth range: 300 feet
Battery life: 1 year
Great companion app, other users can help find your keys.
Check Amazon
6 Best Smart Key Finders Comparison Table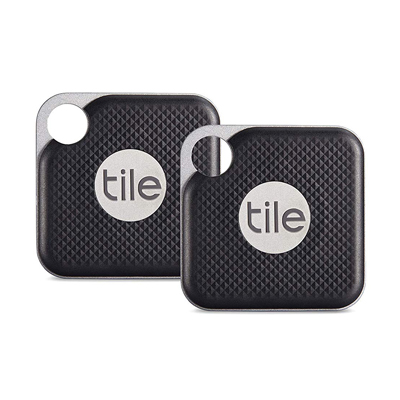 View on Amazon
Editor's Rating: 4.6/5.0
Tile is one of the best-known names when it comes to smart key finders. Their original Mate and Slim models achieved great success, but they also had a fatal flaw – non-replaceable batteries. Tile has thankfully corrected the mistake and added the Tile Pro to their newest lineup. This key finder is three times louder than models in the previous generation, has an easily replaceable battery, and an excellent companion app with a different take on item location.
Overview of Features
The Tile Pro is a rounded rectangular pendant you can attach to your keys or luggage. It is thicker than the original Tile Mate because room needed to be made for a removable battery which you can reach through a sliding cover. The battery used is CR2032, a coin cell model available everywhere. A single battery can last for a year but will give out faster if you use the Pro's loud siren frequently.
You'll need to download the Tile app and register an account to use the key finder. Tile allows you to share the account with another person which comes in handy if you have only one set of car keys or want to lend someone your luggage. Amazon Alexa is supported too, just ask her where your keys are, and she'll help!
The Tile App keeps track of where your keys were last seen and will inform you that you're near them once you're in range. Extended Bluetooth range is another of the Pro's improved features. Now your keys will be detected in a radius of 300 feet. When you're close enough, you can activate the Pro's siren to pinpoint its location. Tile Pro is also usable as a cellphone finder – pressing on a button on its back will cause your phone to ring even if you've muted it.
All of this is great if you have a vague idea where your keys are, but Tile Pro really shines when it comes to locating them with the help of others. There's the option of having other Tile app users help in the search. Nearby users are notified that the Pro is missing and the app will transmit its location anonymously when they come into range of your keys!
Apart from battery replacements, Tile is now a one-time purchase. However, you can also invest in Tile's Premium service for extra benefits. $3/month or $30/year gets you unlimited sharing, automatic battery replacement, better customer care, and an extended warranty.
What We Didn't Like
The button that causes your phone to ring out is too easy to press accidentally. This may result in your phone ringing at inappropriate times. Smart Alerts are a Premium feature which doesn't work as intended. In theory, they should alert you if you've left your home without taking whatever is attached to the Tile Pro. The alerts arrive more than 5 minutes later and don't take over the phone like the location feature does, so you're likely to miss them altogether.


Tech Specs
Dimensions: 0.3 x 1.6 x 1.6 in
Bluetooth range: 300 feet
Loudness: 100dB
The Pros
Replaceable battery
Great companion app
Other users can help find your keys
Fairly-priced and useful premium service
The Cons
Find my phone button is too easy to press
Smart alerts need more work to be viable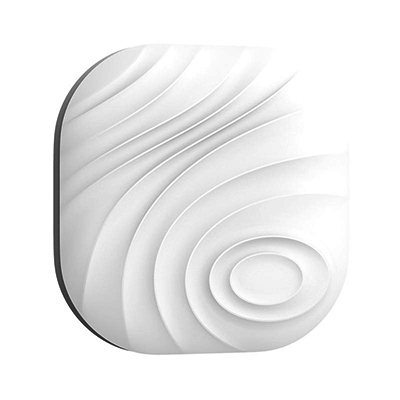 View on Amazon
Editor's Rating: 4.3/5.0
The Smart Anti-Lost Tracker from Luxsure shares many advanced features with the Tile Pro. It has two-way key and cellphone detection, a rechargeable battery, and a user-friendly app which makes finding your lost keys a breeze. You even get an equivalent of the smart alerts feature for free. This is a more affordable alternative we're happy to recommend to people who keep losing their keys around the house and want a reliable way of finding them.
Overview of Features
This is the most elegant-looking smart key finder on our list. It's a featherweight white pendant with a subtle button and indicator light inside a beautiful abstract design. It's not slim enough to fit inside your wallet, but the pendant is easy to put on your keyring, attach to your purse, or stick to a remote. It runs on a replaceable battery the manufacturer claims lasts for 10 months.
The tracker has two modes you switch between by pressing either its button or using the app. Anti-lost mode will cause the tracker to beep when it exits communication range. It will keep beeping for a while and then automatically record its last known location on a map. This is useful if you're trying to find either your keys or your phone when you go out. Find it mode sets the phone off when you're near the tracker and works best when you know where to look but can't find your keys.
The app sports a functional design and is easy to use. Luxsure lets you share your tracker with as many people as you like by giving them a QR code to scan with their phone. This will increase the effectiveness of your search, as will enlisting the help of other Smart Anti-Lost Tracker users in your area.
What's Bad About It?
The tracker's volume is low which makes us question the reported 90dB rating. You'll need to be right on top of your keys if they fell between sofa cushions to hear the alarm. This makes the tracker less suitable for outdoor location and senior citizens who are hard of hearing. It also has a short Bluetooth range of 60 feet which is further decreased by walls and other large obstacles.


Tech Specs
Dimensions: 0.1 x 1.5 x 1.5 in
Bluetooth range: 60 feet
Loudness: 90dB
The Pros
Elegant design
Supports unlimited sharing
Easy to set up and use
Affordable
The Cons
Alarm is too quiet
Short Bluetooth range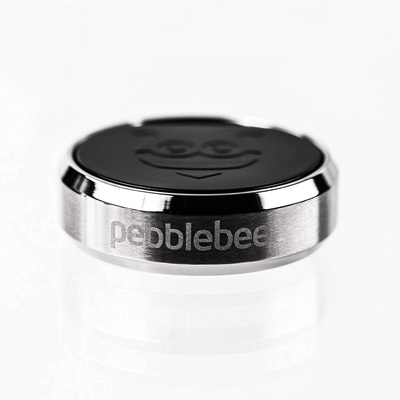 View on Amazon
Editor's Rating: 4.4/5.0
Pebblebee achieved modest success with their Honey Key Tracker, but its plastic body and unusable LED light were holding it back. The new & improved Pebblebee Key Finder is made from stainless steel, has a brighter light, and a piercing alarm you'll be able to hear in a crowded street. Amazon Alexa is also supported, and geofencing works like a charm.
Overview of Features
The Pebblebee Key finder is a stainless steel pendant that comes in two color choices – gunmetal black and rose gold. You also get a key ring to easily attach it to the rest of your keys or a purse. For such a small item, the Key Finder boasts both a loud alarm and a bright LED. While the LED light won't help if you're outdoors, it isn't hard to spot in the darkness. The alarm is both loud and easy to distinguish from other noises which will make finding your keysquicker.
The Pebblebee Finder app is built with simplicity and the user in mind. It supports 10 Finders which you can rename and track individually. Pressing the "Find" button will make the pendant beep and bring up a circle on your phone. The fuller this circle is, the closer you are to the Key Finder. You can also locate your phone by pressing a button on the pendant. The phone's response is customizable – you can set the ringtone to be used, its volume, and whether or not the phone will vibrate.
We like how the Pebblebee Key finder handles geofencing. There are two geofencing settings – one tells you when the phone is about to leave the maximum 200-foot range from the keys and works right away. The other kicks in when the max distance is exceeded and is slower to send an alert. Since having geofencing off can cause false positives, you get to designate safe zones in which the alarms won't be active.
There are two more features of note, the first of which is Alexa support. Installing the "Find My Phone and Keys" skill lets you do exactly what its name says with a voice command. The Finder's other useful feature is remote camera control. This turns its button into a remote shutter which makes taking pictures with your phone more convenient. You'll have to temporarily turn off tracking for this to work though.
What We Didn't Like
When you press the "Find" button, there's no way of turning the beeping off other than exiting the app or pressing the Finder's physical button. The app works well on iOS, but its Android version is glitchy and prone to freezing.


Tech Specs
Dimensions: 0.3 x 1.2 x 1.2 in
Bluetooth range: 200 feet
Loudness: 90dB
The Pros
Sturdy build
Loud alarm
Customizable geofencing options
Good Alexa integration
The Cons
Beeping can't be turned off from within the app
Android version of the app is buggy and unstable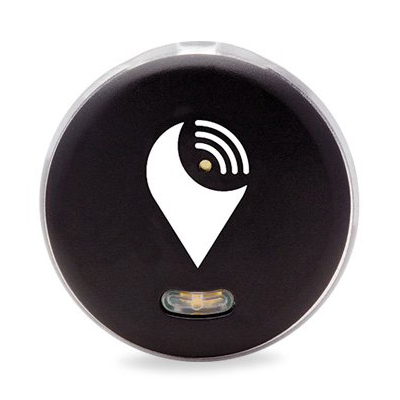 View on Amazon
Editor's Rating: 4.1/5.0
Next, we have another redesign of an older smart key finder, this time by TrackR. The TrackR Bravo was a model notable for its Wi-Fi geofencing and two-way location features. The Pixel is a smaller & upgraded model with a bright LED light ring, a louder alarm, and better range. It's worth considering if you're looking for an affordable alternative to the Tile Pro which takes up even less space.
Overview of Features
The Pixel is a small, disc-shaped key finder that's thin enough to also be kept inside your wallet. You can get it in one of four colors. Each Pixel comes with a blue LED ring which lights up when you're searching for it. The ring gives off a lot of light, making it easier to locate the Pixel even during the day if you're looking indoors. The battery is replaceable and lass 12 months.
Connecting the Pixel to your phone involves turning its Bluetooth on, pressing the Pixel's button, and waiting for the all clear. You can connect multiple Pixels to multiple phones in this way. The pairing process might need to be attempted several times, but you'll establish a connection eventually.
Tracking either the Pixel or your phone works exactly the same as it does with other trackers we've tested. What makes it stand out though are Wi-Fi safe zones and a more in-depth location history. You can configure the Pixel not to sound a geofencing alarm when your phone is in the range of a specific Wi-Fi network like ones in your home or at work. Unlike other trackers that just tell you the key finder's last-known location, the Pixel app remembers a couple of them. This allows you to retrace your steps and narrow down the search.
What We Didn't Like
TrackR states that the Pixel's range is 100 feet. This is both an overestimate and is inconsistent. You might get a Pixel which works flawlessly at 65 feet or one that struggles to reach 40. Prepare for a struggle once it's time to remove the batteries. Doing so involves pressing the Pixel onto a hard surface and then rotating it. There's nothing to tell you whether you've twisted it enough or not, so determining if you can separate the Pixel's halves without damaging it is tricky.


Tech Specs
Dimensions: 0.2 x 1 x 1 in
Bluetooth range: 100 feet
Loudness: 90dB
The Pros
Sturdy build
Loud alarm
Customizable geofencing options
Good Alexa integration
The Cons
Beeping can't be turned off from within the app
Android version of the app is buggy and unstable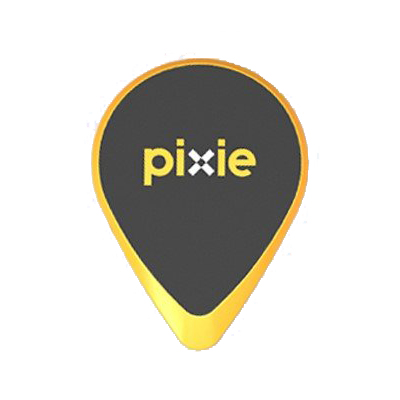 View on Amazon
Editor's Rating: 3.7/5.0
The problem with most smart key trackers is that they'll only sound an alarm. This works most of the time but is useless if your keys are under a pillow or any other surface that muffles sound. The Pixie Tracker is different since it communicates its precise location to your iPhone, getting rid of the guesswork and letting you find the keys much faster in the right circumstances. It has an original companion app, is effortless to use, and you get two sets of trackers for less than $20.
Overview of Features
The Pixie tracker is made up of two teardrop-shaped tags. One tag sticks to your iPhone while you insert the other into a key fob and attach that to your keychain. The trackers are available in 2- and 4- packs as well as with a special iPhone case which ensures that a tracker is always next to the phone. The trackers are waterproof and house tiny batteries which last for a year. They aren't replaceable though, so you'll need to buy a new tracker instead.
The two halves of a tracker pair communicate with each other through Bluetooth at a maximum distance of 150 feet. Locating your lost keys starts with a slow 360-degree scan of the area. A trail of pixie dust appears on the phone and guides you closer once the Pixie Tracker finds the general direction of its missing counterpart, The dust is replaced by a beeping detector when you're inside a 5-foot radius from the keys which beeps faster and louder the closer you are to them.
Are There Drawbacks?
Pixie Trackers work exclusively with iOS devices, so Android users are out of luck. The Pixie way of finding things can be convoluted. Not adding any audio cues was a bad idea since relying on proximity detection alone might not be good enough if the keys aren't visible.


Tech Specs
Dimensions: 0.1 x 1.9 x 1.4in
Bluetooth range: 200 feet
Loudness: N/A
The Pros
Base package lets you track three things at once
Unique key location method
Lightweight and waterproof trackers
Easy setup
The Cons
Having audio cues as a complementary aid would have been better
Doesn't work with Android devices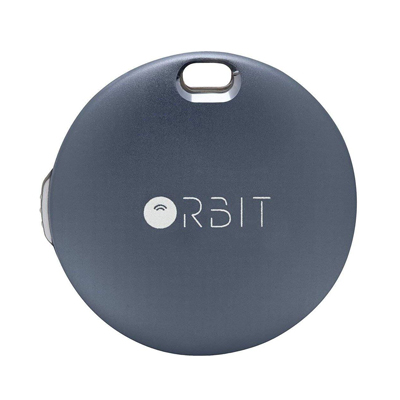 View on Amazon
Editor's Rating: 4.4/5.0
The last smart key finder we'll be looking at is made by Orbit. It costs just $10, but don't think it lags behind the competition! In fact, it is among the better-designed and smallest of the bunch. Also noteworthy are its geofencing and safe zone features. This key finder manages to outclass competitors that are twice as expensive or more and gets a definite recommendation for everyone, not just people hoping to save a buck.
Overview of Features
Orbit's key finder has an elegant design which also proves to be functional once you start using it. With a diameter of 1.3 inches, it is the smallest key finder on review. It's not the thinnest though, thanks to space for its rechargeable battery and a hard aluminum exterior. The key finer is well built and splashproof, so you'll be able to find your keys even if they're left out in the rain. At 6 months, its battery has a shorter lifespan than others we've tested.
This model gets many things right when it comes to the nuances of key and phone location. For instance, it takes two deliberate presses on the key located on its side to make your phone ring which eliminates accidental triggering. Pressing the button correctly will activate the phone's chime, vibration, and flashlight. When you're looking for keys, pressing the "Find Orbit" button will cause the finder to play a sound three times. You can repeat the process if needed and get to conserve the battery as a bonus.
The Orbit app lets you set up safe zones in which the geofencing option isn't active. Speaking of which, this is the model with the most accurate & sensitive geofencing feature yet. You'll get prompt notifications whenever the key finder is about to leave the phone's range.
Are There Drawbacks?
This is another model whose specified and actual loudness don't match. It is quieter than the advertised 90dB. The alarm works well indoors and when nothing is obstructing it. Results aren't as good if you're two ways away or something is on top of your keys. It is hard to reestablish a connection with the Orbit once it is lost. You'll need to be in close range for it to pair with your phone again, which might defeat its purpose.


Tech Specs
Dimensions: 0.4 x 0.8 x 0.8 in
Bluetooth range: 100 feet
Loudness: 90dB
The Pros
Excellent value for the money
Water resistant
Conserves power
Responsive geofencing alerts
The Cons
Alarm is quieter than advertised
Has trouble reestablishing connection to your phone when lost