12 Best Appliances & Gadgets for Your Smart Kitchen
3D Insider is ad supported and earns money from clicks, commissions from sales, and other ways.
No single room has been so thoroughly transformed with the arrival of home automation as the kitchen. Every appliance from the fridge down to your blender now has a smart alternative that will make spending time in the kitchen more productive and less of a chore.
Smart kitchen appliances & gadgets have mobile apps that let you control them remotely and provide useful info on their operation you can bring up anywhere. They help you experiment with new recipes, make sure you always have coffee when you need it, or remind you to pick up bananas on your way home. Some can be controlled with voice commands or even connect to other smart devices and become part of your established scenes.
Here are twelve kinds of smart kitchen appliances & gadgets that will transform the way you think about food, cooking, and cleanup. They vary in size, price, and function, but all of them are much more useful than the non-smart versions you've been using so far. Whether you'd just like to dip your toes into the internet of things phenomenon with a smart plug or want to go all out and get a smart fridge, these are the best choices for a 21st-century kitchen.
Smart Kitchen Appliances & Gadgets by Order: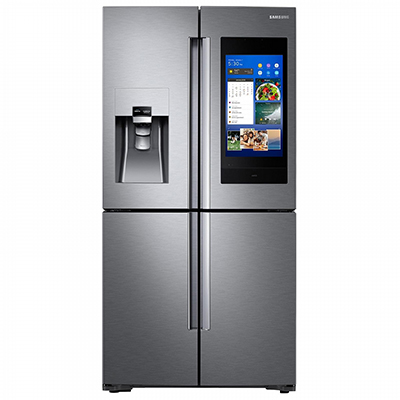 View on Homedepot
Samsung's 3rd-generation Family Hub line of refrigerators combines innovative design with a slew of smart features and a prominent 21-inch tablet that's embedded into its right door. The Family Hub excels as a refrigerator – it has nuanced thermostat controls, a self-contained ice maker & water dispenser, and shelves you can adjust on the fly without removing their contents. Its smart features put the Family Hub in a class of its own though.
The responsive touchscreen gives you access to the internet as well as popular apps and ones used for fridge control. You can watch YouTube videos, listen to your favorite radio stations, or get weather & traffic updates while sipping your morning coffee. There's also a shopping list app which lets you add and pay for ingredients delivered to your doorstep.
The Family Hub comes with Bixby, Samsung's proprietary virtual assistant. While it isn't as robust as Google Home or as witty as Alexa, Bixby does an excellent job of accessing news and managing your calendar.
The fridge has a companion app through which you receive notifications on its status and can regulate the thermostat. The Family Hub is equipped with three cameras, each keeping an eye on one if its main shelves. You're able to access their live feed from the app, which comes in handy when you're grocery shopping and want to make sure you didn't forget anything.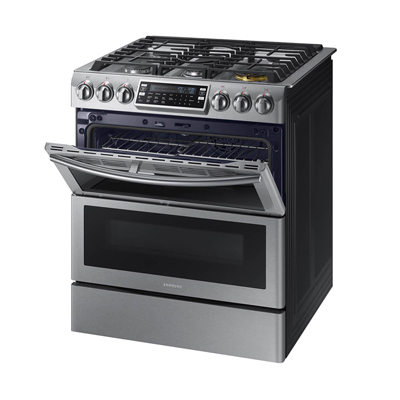 View on Amazon
Like the Family Hub, Samsung's stove isn't smart just because it has a companion app. Its main appeal is the Flex Duo oven system which transforms a single oven cavity into two completely separate ovens. You can cook fish in one and bake an apple pie in the other, and both will keep their original taste & smell. The stove has three racks that are insertable into seven rack positions and five burners with distinct uses ranging from everyday cooking through grilling to easily bringing large pots to boil.
The stove has separate controls for each oven and burner. Its control panel has an extensive list of programs and features which aren't hard to master, and each dial is illuminated with a blue LEDs you can tell at a glance when one is active. If you're into healthy eating, the Flex Duo offers specialty programs for cooking fish filets, grilling chicken, or creating natural snacks by dehydrating fruit.
You control the stove through Samsung's Smart Home app. Once it is recognized and added to the list of devices, you have access to all of its programs and temperature settings. You'll have to turn the stove on and set its timer manually, but you can keep track of and adjust the temperature and see a countdown timer that tells you when the meal will be finished.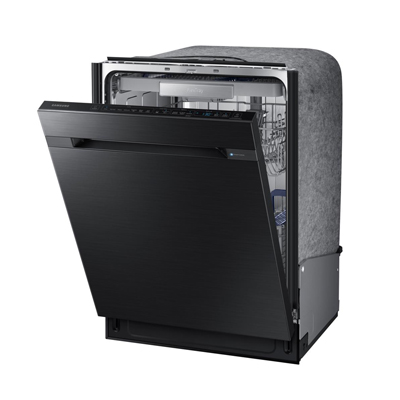 View on Homedepot
Dishwashers are already a considerable step up from a dishrag, yet Samsung takes this even further with their elegant and technologically advanced smart dishwasher. It has a minimalistic design crowned by an intuitive touch interface on top of the door. Open it up, and you'll see three racks, two of which can be adjusted in size when you're dealing with large pots. The third one is meant for utensils which will be thoroughly cleaned even if placed haphazardly.
This is thanks to Water wall, a patented cleaning pattern that consists of strong water jets that spray the dishes from the top and the bottom while moving from front to back during the cycle. The dishwasher also has Zone Control. This feature lets you specify different water intensities for each side so you can wash a delicate table setting together with heavy-duty pans.
This is another appliance that uses Samsung Smart Home. The app shows you which cycle is currently active and when it will end. You can pre-program a cycle 12 hours in advance too. It also offers troubleshooting tips and a list of authorized Samsung professionals in case something goes wrong.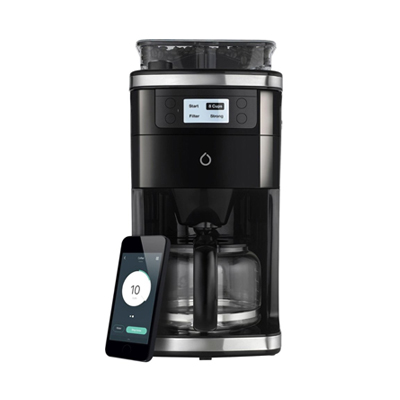 View on Bestbuy
What's better than a steaming cup of coffee in the morning? A cup you didn't even need to get up to make! The second generation Smarter Coffee is a coffee machine and grinder combo that integrates into any smart environment thanks to support for IFTTT as well as Alexa and Google Assistant.
Being able to say "Alexa, make some coffee!" and hear the machine spring to life is impressive, but Smarter Coffee's real potential becomes clear once you connect it with other smart devices. Starting a fresh pot when you open a smart lock or as part of an efficient morning scene saves time and gives you an energy boost when you need it the most.
Smarter coffee gives you a lot of choices in making the perfect brew, all of which are accessible from its app. You can use pre-ground coffee or grind the beans yourself, in which case you get to choose their coarseness. Other customizable options include the strength of the brew, how many cups should be made, and how long they will be kept warm. Smarter Coffee makes up to 12 cups and can keep them warm for 40 minutes.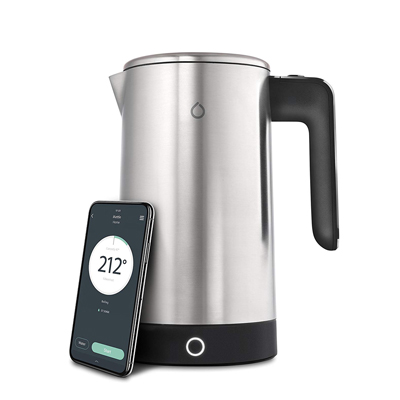 View on Amazon
Smarter also has a fantastic appliance for tea lovers, the 3rd-generation iKettle. It heats water up quickly to a temperature of your choosing and won't let it cool off for another 40 minutes. If you use the same temperature often, there's a button on the iKettle you can push and it will warm water up to your liking. Most of the kettle's aspects are controlled through the app though.
Like the 2nd-gen Coffee, the iKettle's app is crammed with features presented intuitively. Dials let you adjust the temperature in 2-degree increments and specify the keep warm time. You can program a timer to turn the kettle on within the next 24 hours or use geofencing to activate it once your phone is in range. If you like to use voice commands instead, you can turn the iKettle on or off and find out the water temperature through Alexa.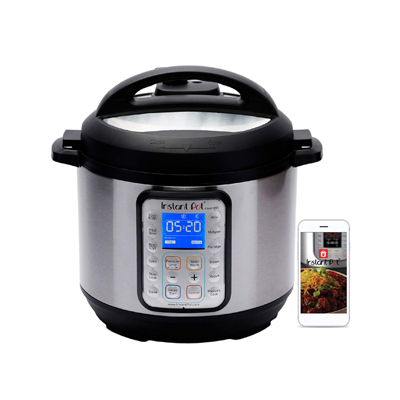 View on Amazon
The Instant Pot Smart is a versatile pressure cooker that has 14 programs. It lets you make everything from soups through rice &porridge to meat stew. There's even an option for home-made yogurt! The cooker's inner pot holds six quarts and is dishwasher safe. Safety is a top priority in general – the Instant Pot Smart has a safety valve that releases pressure if it gets too high as well as redundancies which kick in if that valve fails.
The pot's Wi-Fi app has a basic design but lets you control every aspect of a cook. Through it, you can set which program to use along with individual programs' temperature and pressure settings. Unlike Samsung's smart stove, the Instant Pot Smart can be turned on remotely. There's a delay timer that activates the pot up to 24 hours after it is set along with a separate keep warm timer used to keep the food at a constant 160 degrees Fahrenheit until you're ready to eat.
The app has a social component too. It offers a wide selection of both pre-programmed and user-made recipes. You can contribute by adding your own pressure cooker recipes along with step-by-step instructions and photos of your creations.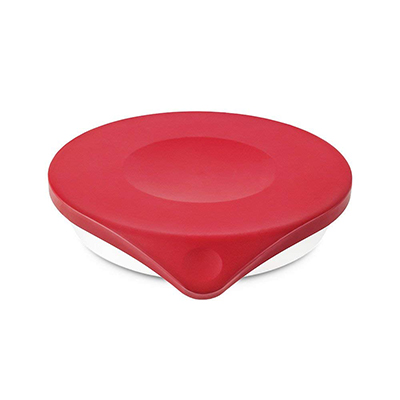 View on Amazon
Precisely following a recipe is the quickest way to tasty results, and the Drop smart connected scale is designed to make the process as streamlined and intuitive as possible. It consists of a plastic base and a heat-resistant silicone top which is easy to wipe from left-over ingredient stains. The scale measures weight with excellent accuracy either in grams or ounces and has a maximum capacity of 13 pounds. It also has a built-in thermometer.
While the Drop is as simple as it gets, its app is anything but. Its biggest draw is a huge recipe library you can search through based on the type of food, ingredients you have, or how difficult a recipe is. Once you've made your choice, the app offers step-by-step instructions that cover everything from putting a mixing bowl onto the Drop through dough proofing to temperature and timer instructions for your oven.
The experience is interactive –the steps that involve weighing ingredients show a bar that fills up as you're adding the requested ingredient. When you've added enough, a check mark appears and you can go to the next step. Another useful feature is recipe rescaling based on the quantity of ingredients you have and how much food you want to make. Don't have enough strawberries for a tart? Weigh the ones you do have, and the Drop will figure the other ingredient measurements out for you. There's also an ingredient replacement feature that suggests alternate ingredients you can use instead of ones you don't have.
8. Smart Grocery Replacement – GeniCan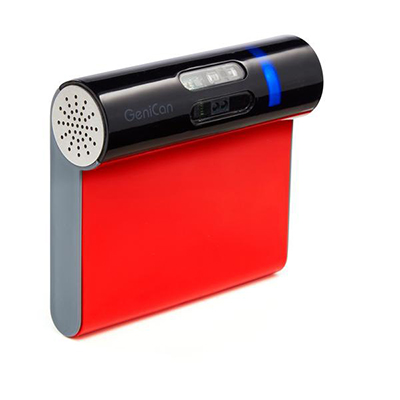 View on GeniCan
How often do you throw away a milk bottle without remembering to buy a new one? That becomes a thing of the past if you buy the GeniCan, a barcode scanner which attaches to the back or side of your trashcan. When you're about to throw something away, you can scan its barcode first. This will add the product to GeniCan's virtual shopping list that's viewable on your phone. Fruit, vegetables, and other items that don't have a barcode can also be ordered, but you'll need to add them to the list manually by saying their name.
You can go over the list and remove any unwanted items from it before committing to an order. Amazon Prime users also take advantage of their Dash automatic replenishment service. Things on the list that are part of the Dash program are automatically ordered and arrive shortly thanks to Prime.
9. Smart Meat Thermometer – Meater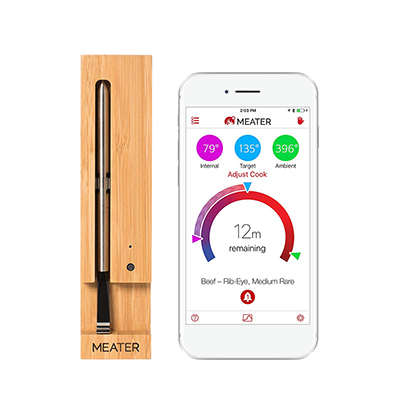 View on Amazon
You need to know what the internal temperature of a piece of meat is to cook it to perfection. The Meater is a smart meat thermometer that tells you this, but it and its companion app can do much more. There are two probes on the Meater – one measures the meat's internal temperature while the other lets you know the actual temperature inside your oven. The Meater is battery-powered and can be recharged from its stylish box.
The Meater's app gives you info about the two current temperatures along with a countdown timer and the target temperature based on what meat you're cooking. There are dozens of meat dishes to choose from, each with its target temperature and duration. Some recipes contain additional information on meal prep like how long you should let the meat breathe once it's cooked. You can create your own templates too and save them for later use.
There's a Meater skill for Amazon Alexa. Installing it teaches Alexa to tell you the current internal temperature of the meat and how much time is left before it is done.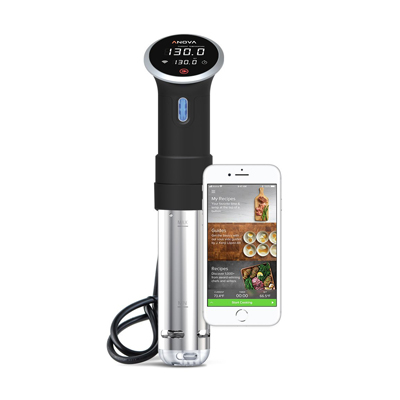 View on Amazon
Sous vide is a cooking process where meat and spices are sealed in a vacuum bag and then left to cook in water at low temperatures for a long while. The result is meat so tender you can cut it with a fork, and Anova's Sous Vide Precision Cooker is the smart way of preparing it. All you need is a deep enough pot, some water, and the right recipe.
The Precision cooker has a heater & fan at the bottom which keep the water at a constant temperature. You control the duration and temperature either manually by twisting a dial on the top or through the in-depth companion app. Foodies new to sous vide will find the app useful and intuitive since it contains precise time & temperature settings for a wide variety of meats. The recipes are taken from Serious Eats and endorsed by a handful of celebrity chefs, so you know they're legit.
Another good thing about the app is that it lets you customize the cooking process if you know what you're doing. You get to select the kind of meat you're cooking, how thick it is, and how well you want it done. Once the sous vide part of your cook is over, the app also offers suggestions on what to do next. These include instructions on searing and grilling the meat to give it more character.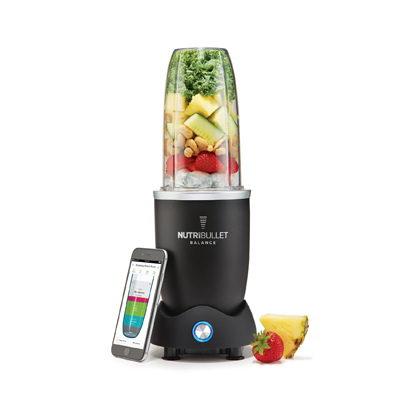 View on Amazon
Many blenders promise to make healthy beverages for your nutritional needs, but the NutriBullet Balance is the only one that helps you stick to a diet. It's a powerful blender with a built-in smart scale similar to Drop. The major difference is that the Balance also has a fantastic app centered on counting calories and tailoring your meal plan to your weight goals.
As a blender, the NutriBullet Balance is among the best. It quickly crushes ice, makes peanut butter, and produces smoothies without a hint of chunkiness. Its bullet-shaped cups hold 32 ounces and have lids which turn them into drinking containers. A single cup is enough for a healthy meal for two people.
The Balance app offers a wealth of information on the nutritive properties of hundreds of ingredients including their caloric value and carb, fat, or sugar content. Couple that information with the smart scale, and creating a strictly-regulated meal plan becomes a breeze. There are lots of smoothie and protein shake recipes to follow along with, or you can create your own.
Recreating recipes involves following step-by-step instructions. Each time you add an ingredient, it is weighed and its nutrition facts are added to the drink's stats. Provided you only eat food prepared in the NutriBullet Balance, you have access to a complete overview of your daily or weekly caloric intake broken down into more detailed stats on consumed fiber, fat, protein, etc. Creating your own recipe is done by adding the desired amount of an ingredient and saving it to the ingredient list. Your healthy creation can then be saved and exported.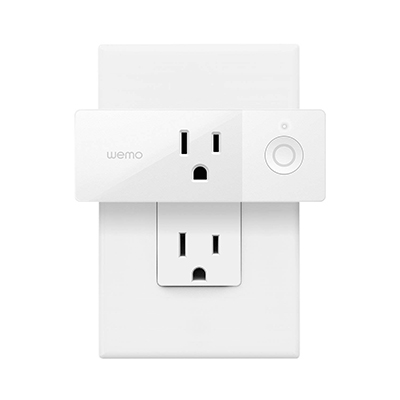 View on Amazon
All the smart additions to your kitchen we've talked about so far replace their "dumb" counterparts. What if you've recently invested in a high-quality blender or stove and shudder at more expenses though? That's where the WeMo Mini Smart Plug comes in. It's the most accessible and most intuitive smart gadget and a great first stepping stone to more advanced automation.
The plug's main appeal is its ability to turn any plugged-in appliance smart by letting you control when it gets supplied with power WeMo Mini has many applications throughout the home but is particularly useful in the kitchen. There you can use it to start an electric kettle the moment you get home or keep the oven off when the kids are alone.
Unlike other models, the WeMo Mini Plug takes up little space and won't obstruct an adjacent outlet. It pairs to your phone through Wi-Fi, so you get to monitor and control it from anywhere. The app lets you configure what the plug's trigger is. It can be set to work at fixed times, after sunrise or sunset, or if triggered by a motion sensor. Best of all, the plug is easy to control through Alexa, Google Home, or Siri which means you don't even need to use the app once its initial setup is complete.