6 Best Smart Leak Detectors of 2019
3D Insider is ad supported and earns money from clicks, commissions from sales, and other ways.
While fire is every homeowner's worst nightmare, water damage comes in at a close second and is far more common. A burst pipe or faulty boiler can cause thousands of dollars in repairs & replacements. Ensuring that this doesn't happen by purchasing a smart leak detector won't even cost you $100 in most cases.
Smart leak detectors are small sensors you place on the floor of your basement, kitchen, or any room you want to protect from flooding. As soon as their probes get wet they will alert you of danger with lights, sirens, and messages. They can reach you wherever you are and interact with other devices to ensure that both your family and emergency services are alerted. Since they're inexpensive and versatile, leak detectors are indispensable monitoring tools for your house as well as cabins or vacation homes.
Which smart leak detector should you get though? There are many to pick from, so we've made it easier by testing and showcasing the six best ones. Whether you need a leak detector that will shut off your water main or one that will alert even the neighbors thanks to a loud siren, there's a model among them you can count on to prevent a puddle from becoming a major problem.
Budget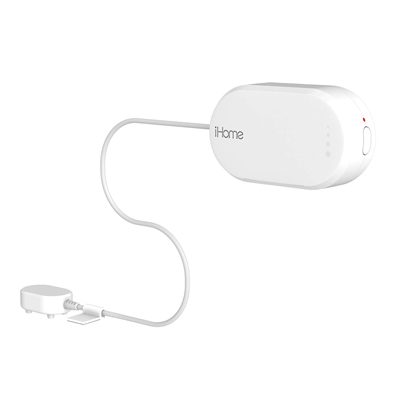 iHome iSB02 Dual
3.9/5.0
Moisture
iHome Smart Plug, IFTTT
Affordable, has two probes and supports IFTTT.
Check Amazon
Best Value
Zircon Leak Alert WiFi
4.4/5.0
Moisture
Effortless setup
Sensitive leak detection and intuitive web interface.
Check Amazon
Top Pick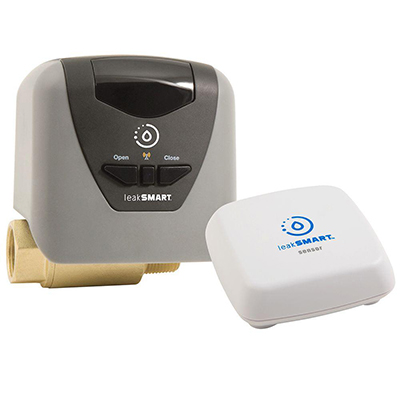 LeakSmart Detection Kit
4.7/5.0
Moisture, temperature
IFTTT, nest
Excellent 3rd-party smart device compatibility.
Check Homedept
What to Look for in Smart Leak Detectors
Sensors
Power Source
Range
Notifications
3rd-Party Support
6 Best Smart Leak Detectors Comparison Table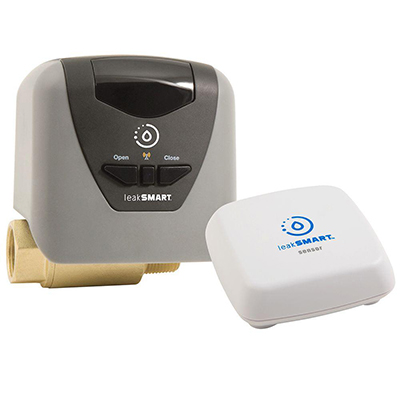 View on Homedept
Editor's Rating: 4.7/5.0
Getting notified as soon as a leak happens is great, but that's the only thing most leak detectors can do. If you purchase the water leak detection kit from LeakSmart, you'll also be able to shut the water off remotely. The kit is easy to install, pairs with multiple smart home hubs, and has backup battery power so a leak can be dealt with even if the power is out. It's by far the most expensive leak detector on the list, but the included shut-off valve more than justifies the price.
Stop Leaking Water in Its Tracks
This leak prevention kit consists of a leak sensor and shut-off valve. If you don't have a smart home hub like Lowe's Iris or the Wink Hub 2, there's also a version of the bundle that includes LeakSmart's own hub. The sensor is powered by two AAA batteries while the valve relies on an AC adapter for normal operation and has four AAA batteries as backup.
While you should have a licensed plumber do the job, installing the shut-off valve is easy. It is a unit that has a power source, motorized shut-off switch, and reliable connection to the sensor in one. Once a leak is detected, it will automatically shut the water off until you've addressed the problem.
The sensor is small and rectangular in shape. It can be placed anywhere near pipes or water sources and it will register leaks as soon as they happen. A signal is then sent to the valve and five seconds later the water will stop flowing. The sensor also causes the hub to sound an alarm. How load it is and whether or not it will be followed up by an automated phone call depends on the hub you're using.
LeakSmart's system is also excellent at pairing with other smart devices. It supports IFTTT and Wink's Robots, meaning you can accompany its alarm with blinking lights or a push notification. The sensor detects temperature as well as moisture. It officially supports Nest and can help the Learning Thermostat maintain an optimum temperature. Even if you don't pair it with anything, the LeakSmart app sends out alerts via email or SMS, can contact emergency services, and is useful in keeping track of the sensor's battery level.
What We Didn't Like
The sensor doesn't have a detection cable. Since it is one of the biggest on the list, it may not fit under appliances or sinks where it would be most effective. LeakSmart's proprietary hub is prone to connection issues, so you're better off going with a better-known one instead
Tech Specs
Dimensions: 6.5 x 1.2 x 3.1 in
Sensors: Moisture, temperature
Works with: IFTTT, nest
The Pros
Can shut the water off
Easy to install
Reliable leak detection
Excellent 3rd-party smart device compatibility
The Cons
Doesn't have a detection cable
Hub prone to connection issues
View on Amazon
Editor's Rating: 4.4/5.0
Even though leak detectors like the one from LeakSmart connect to lots of other devices, a detector can be smart, effective, and as simple as it gets at the same time. Zircon's Leak Alert WiFi is such a model – it has a loud local alarm, is effortless to set up, and can notify you of a leak in different ways. This is a very sensitive and accurate unit with the added benefit of being affordable. Grab a few, set them up throughout your home, and never worry about leaks again!
Simple to Use, Effective at Leak Detection
The Leak Alert is a transparent leak sensor which is ready for work straight out of the box. The only thing you need to do is remove a piece of tape so the battery can power it on and you're done! The sensor reacts to the slightest amount of moisture with flashing red lights and a loud 105dB alarm. A full battery can keep the alarm going for 8 hours. The device is waterproof and can float.
The effective local alarm is augmented by the Leak Alert's built-in Wi-Fi. You only need a computer or smartphone to connect to it – no hub required. The web-based interface takes you through a 4-step setup process. Everything is clearly laid out and easy to understand. Keep in mind though that the initial setup should be done within three minutes as the connection will time out.
After you've entered the detector's IP address into a browser, you're prompted to choose a language and name the device. The interface lets you control multiple devices so it's easier to pinpoint the leak's origin. Emergency notifications will be sent to five entered email addresses, or you can enter a phone number and get alerted via text message
What's Bad About It?
This detector's Wi-Fi is whimsical. It will work normally in one corner of the room and have trouble connecting to your network in another, so placement is important. The battery the device comes with isn't always at full charge. There are no low battery notifications either, so you'll want to check up on the detector every week and have a spare CR123A battery at hand.

Tech Specs
Dimensions: 4.3 x 2.4 x 1.4 in
Sensors: Moisture
Works with: N/A
The Pros
Excellent value for the money
Effortless setup
Sensitive leak detection
Intuitive web interface
The Cons
Spotty Wi-Fi connection
No low battery alerts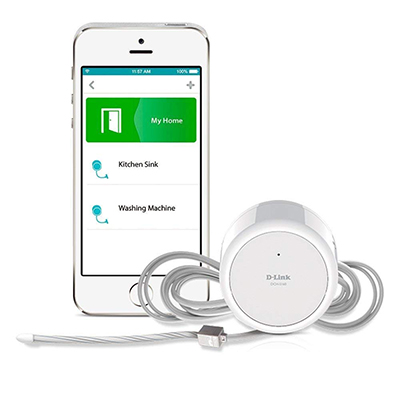 View on Amazon
Editor's Rating: 4.2/5.0
Many leak detectors will only sound when their tiny probes get wet. If you don't place them correctly, a lot of water damage can occur before one is triggered. The D-Link DCH-S160 comes with a sensitive water detection cable which covers a much larger area. It also draws power from a standard outlet so you won't need to worry about battery replacement. Finally, the detector works well with D-Link's other products and connects to many more through IFTTT.
The AC-powered Leak Detector
This puck-shaped device plugs into a standard two-pronged outlet. When on, the DCH-S160 is lit by a color-changing LED. Green indicates all is well and turns red when a leak is detected. A 3.2-foot extension cable connects to the detector on one end and to a 1.6-foot detection cable on the other. The detection cable can then be placed underneath washing machines, dishwashers etc. or secured to the wall with clips.
Connecting the DCH-S160 to your home network involves downloading the Mydlink app and scanning a QR code on the detector. Then you either press the WPS button on it and your router if it has one, or enter a numerical code if it doesn't. The detector will be listed under a list of D-Link devices which include smart plugs, sirens, and more.
The app is clearly organized and lets you set up rules that involve the DCH-S160 and other products you've purchased. This comes in handy when you want to augment its alarm with the siren or turn off a sump pump that's connected to a D-Link smart plug. It also features an event log that tracks the time & date when the detector was triggered. Standard notification options can be configured too and work as intended.
Are There Drawbacks?
The DCH-S160's obvious drawback is its reliance on electricity. Although the chances of a power outage and leak happening at the same time are slim, not being able to receive notifications until power is restored is cause for concern. At 70dB, the DCH-S160's siren is very quiet and you might not hear it in the next room, let alone on the upper floor.

Tech Specs
Dimensions: 2.5 x 2.5 x 2.1 in
Detection cable length: 1,6 feet
Sensors: Moisture
Works with: IFTTT, other D-link products
The Pros
No batteries required
Comes with long detection cable
Excellent app with detection logs
Synergizes well with D-Link's other products
The Cons
Becomes useless during a power outage
Quiet built-in siren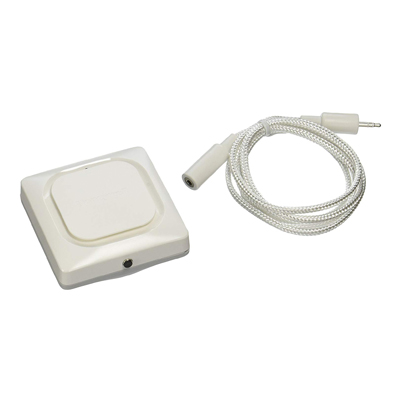 View on Amazon
Editor's Rating: 4.1/5.0
Most leaks happen in the basement since that's where the majority of our water-using appliances are. The basement is also the place in one's home where pipes are most susceptible to freezing. You don't need to buy a freezing and leak detector separately if you go for Honeywell's Lyric. This detector sports an impressive array of sensors, doesn't rely on a hub to maintain its Wi-Fi connection, and has a loud siren you're sure to hear upstairs.
Leak & Freeze Protection in One
The Lyric is an unassuming white-gray box that sits on the floor and detects moisture as well as ambient humidity and temperature. It connects to a 4-foot included sensor cable which increases the coverage. Further cables can be purchased separately and linked for even greater reach. The detector is powered by two AAA batteries that last from one to three years depending on how often the siren is activated and how many daily reports it sends to your smartphone.
This model pairs to your phone through Bluetooth until you put in your Wi-Fi's credentials. No further input is required to receive push notifications once you're done with the initial setup. However, you can adjust the frequency and triggers for these notifications. The most notable ones are temperature and humidity thresholds – once set values for either are crossed, you'll get a specialized notification.
This detector connects only to the Honeywell Lyric Thermostat. While we wish that future versions get support for IFTTT, acting as another temperature sensor for the thermostat to base its control off of increases its usefulness past a single specific task.
What We Didn't Like
Absurdly, the Lyric leak detector isn't waterproof. It's a good thing you get such a long detection cable with it since submerging the device in water may ruin its electronics. Its water and temperature detection are on point, but it takes a minute or more for an alert on your phone to appear once there's a problem.

Tech Specs
Dimensions: 3.1 x 3.1 x 1.3 in
Detection cable length: 4 feet
Sensors: Moisture, humidity, temperature
Works with: Honeywell Lyric Thermostat
The Pros
Long extendable detection cord
Doesn't need a hub
Long battery life
Customizable notifications
The Cons
Isn't waterproof
Notifications are sent with a small delay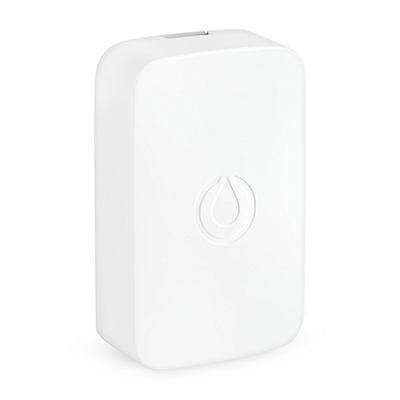 View on Amazon
Editor's Rating: 3.8/5.0
SmartThings is one of the best home automation solutions since it incorporates a wide array of devices. This system works flawlessly and lets you accomplish much with a few commands from a single app. If you've already invested into the SmartThings hub or plan on doing so, Samsung's water leak sensor is a logical and smart purchase. The sensor is affordable, small, and fits perfectly into the SmartThings ecosystem.
The Best Leak Detector for SmartThings Users
This is one of the smallest sensors we've tested and can fit into nooks & crannies too big for other models without detection cables.It is essentially a white box with two probes on its bottom. When there's water between them, it will cause the sensor to send out a warning to your smartphone.It comes with a CR2 battery that lasts two to three years. Since there's no alarm on the sensor itself, you won't need to replace it more frequently
Samsung intentionally designed their sensor to be as barebones as possible – it only detects moisture & temperature and doesn't have any kind of onboard alert. You're encouraged to set it up as a trigger instead. That way a connected siren, speaker, or light can be turned on if water is detected.
It's easy to set up more elaborate scenarios where multiple devices are activated and a text message is sent to your phone at the same time. If you have a smart speaker that supports either Amazon Alexa or Google Home, you can access the sensor's temperature readings with a voice command.
Are There Drawbacks?
Getting this sensor only makes sense if SmartThings is your home automation hub of choice. It pairs with the hub through Zigbee and may lose the connection. Reestablishing it requires you to reset the sensor and the connection loss won't always register in the app.

Tech Specs
Dimensions: 2.3 x 1.5 x 0.9 in
Detection cable length: –
Sensors: Moisture, temperature
Works with: Samsung SmartThings, IFTTT
The Pros
Small profile
Reliable leak detection
Works with wide variety of 3rd-party devices
The Cons
Requires SmartThings to work
Requires manual reset and won't report when connection breaks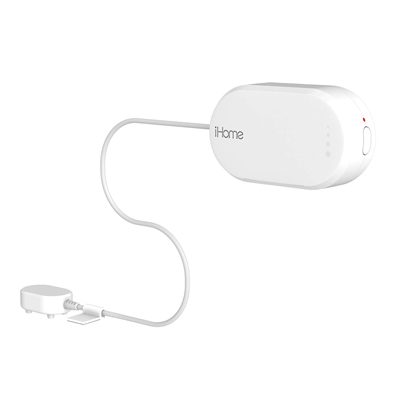 View on Amazon
Editor's Rating: 3.9/5.0
It's hard to believe you can buy a comprehensive leak detection package for less than $30, but the ISB02 is proof that you don't have to spend much and still get a competent smart leak detector. iHome's iSB02 is as sensitive as any other product on the list, comes with a cable, and even supports IFTTT!
A Fantastic Mix of Quality and Affordability
The iSB02 features two probes. One is located in the detector. The other is on the tip of a 6-foot long extension cable. The cable itself can't detect leaks but lets the probe reach otherwise inaccessible places without endangering the main unit. Two AA batteries are needed to power the iSB02 and last 3 years. Detection is accurate and quick – it takes a second to trigger an LED and the built-in alarm and ten more for a notification to be sent. The siren is slightly quieter than the Leak Alert's at 100dB.
iHome's leak detector is compatible with their Smart Plug, which is best used on pumps, boilers, and appliances placed near water sources and will shut them off when the iSB02 is triggered. Both are controlled from a basic app which stores alarm logs, shows the battery status, and lets you set up rules. IFTTT is supported as well.
Are There Drawbacks?
This is another model that isn't waterproof. Its Wi-Fi connection is unreliable too, as is iHome's tech support which frequently fails to answer calls and email inquiries.

Tech Specs
Weight: 1.8 x 1.2 x 3.1in
Battery Life: 6 feet
Waterproof: Moisture
Warranty: IFTTT, iHome Smart Plug
The Pros
Affordable
Has two probes
supports IFTTT
The Cons
Isn't waterproof
Connection issues
Poor tech support