6 Best Smart Light Strips of 2019
3D Insider is ad supported and earns money from clicks, commissions from sales, and other ways.
Light bulbs are among the first gadgets most smart home novices buy. Even though they're functional and showcase the benefits of interconnectedness well, smart bulbs don't do much to enhance a room's atmosphere, especially if they aren't RGB. You should invest in some smart light strips instead if you want to bring out your inner tech-savvy interior designer.
Smart Light strips are long circuit boards studded with equally-spaced LED lights. These lights are capable of producing 16 million colors and thousands of shades of white! Installing a light strip is easy since you only need to plug it in and stick it on a flat surface. The smart in their name comes into play when connecting the strips to your smart home environment. Doing so enables you to set the stage for an unforgettable date, turn the light on if a motion sensor catches an intruder, or even save a life if you set a smoke detector as one of their triggers.
Here are the six best smart light strips available today. They may look similar at first glance, but the strips vary in price, brightness, length, and a myriad of other factors. Check out their reviews, weigh the pro & cons, and pick the smart light strip that will totally transform your home for the better.
Budget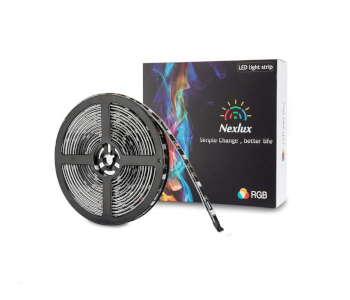 Nexlux Led Light Strip
4.2/5.0
Brightness: Not specified
Requires hub: No
Affordable yet has many smart features.
Check Amazon
Best Value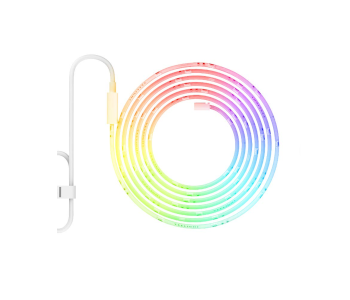 Yeelight Smart Wi-Fi LED Light Strip
4.4/5.0
Brightness: 150 lumens
Requires hub: No
Has a sturdy build and good adhesive tape.
Check Amazon
Top Pick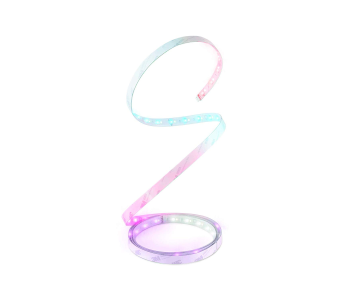 LIFX Z
4.7/5.0
Brightness: 1,400 lumens
Requires hub: No
Extensive support for 3rd-party smart products.
Check Amazon
Smart Light Strips Comparison Table
1. Best Overall – LIFX Z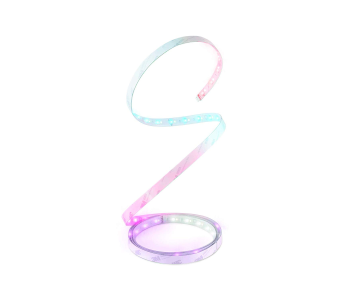 View on Amazon
Editor's Rating: 4.7/5
Light strips are a novel and fun way to accentuate a room's décor, but most of them have one considerable drawback – they can display only one color at a time. The LIFX Z gets rid of that problem by being split up into multiple color zones which you get to customize individually! It's also easy to install and comes with an intuitive app that lets you choose among numerous presets & visualization options. Best of all, it supports all major smart home environments and doesn't need a hub to work!
Overview of Features
The LIFX Z is a 6-foot long smart light strip that easily attaches to flat surfaces using adhesive tape. It has equally-spaced sets of two LEDs and ends with a power cable on one side and a connector on the other. You can buy additional strips to increase its maximum length to 33 feet. Unlike its main competitor Phillips Hue, LIFX Z connects to your home network via 2.4 GHz Wi-Fi, so you won't need to free up an Ethernet port for another hub.
The best thing about this light strip are its multiple zones and the in-depth customization options they bring. The strip is divided into 8 zones, each of which can be set to its own color. The LIFX app is the Z's control center and lets you create everything from a simple monotone ambient color to various multicolor setups complete with visualization variants like simulated candle flickering and colors that change to the beat of your music.
The app's dashboard features a large central circular button with an on/off section, a color wheel, and a button for adjusting the strip's brightness. You can also let the strip glow white and choose between color temperatures for the perfect shade. The Themes section is where you get to assign colors to zones by choosing from a handy palette. You can also select a pre-made theme. These themes are classified by the mood you wish to express and include ambiances like mellow, energetic, or soothing.
Excellent smart home integration is another point in the Z's favor. It supports voice commands through Amazon Alexa or the Google Assistant, connects to other smart devices through IFTTT, and even has HomeKit support which wasn't there at launch.
What We Didn't Like
While the lights themselves are top quality, the adhesive tape isn't. It might dry up quickly and refuse to stick after that. You can't use color zones in music visualization mode – the strip glows in one shifting color instead.
Tech Specs
Dimensions: 78.7 x 0.5 x 0.1 in
Max length: 33 feet
Brightness: 1,400 lumens
Requires hub: No
The Pros
Has customizable color zones
Extensive support for 3rd-party smart products
Intuitive app
Good color fidelity
The Cons
Poor adhesive tape
Zones aren't supported when visualizing music
2. Best Value – Yeelight Smart Wi-Fi LED Light Strip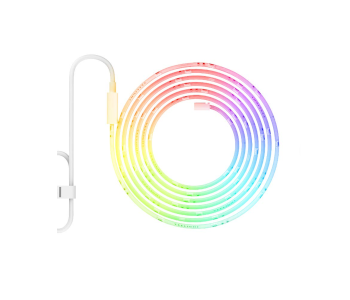 View on Amazon
Editor's Rating: 4.4/5
Yeelight is a series of smart lighting products produced by Chinese electronics giant Xiaomi. Their smart LED light strip combines ease of use, sturdy materials, and 16 million bright colors into a visually appealing yet affordable package. Like the LIFX Z, this light strip requires no hub and can become part of all major smart home ecosystems except HomeKit.
Overview of Features
The Yeelight strip is well made in spite of being so affordable. It has an IP rating of 65, so it won't malfunction if an enthusiastic party guest accidentally spills something on it. The strip is 6.5 feet long and can be extended to 33 feet through 3.5-foot add-ons. You can also cut the strip at pre-defined points if its whole length is impractical for your projects.
You control Yeelight's strip either through the Yeelight app or a remote. The remote has only one button. Pressing it briefly turns the strip on or off while holding it down cycles between a few preset colors. While the Yeelight lacks LIFX's color zoning, the options it does offer allow you to customize its single color to a fine degree.
You'll want to pair the strip with your phone through Wi-Fi for greater control. Scheduling is the app's most useful feature – it lets you specify when the light should turn on and off as well as the brightness and color for each instance.
There are four customization tabs in the app. Recommend offers preset configurations for different occasions like a birthday party, dinner date, or movie night. White allows you to set the light's white color temperature. Color presents you with 16 million colors to choose from. Finally, the Flow tab is where you set color transitions, how long a single color should remain active, and its brightness. Favorite settings can be saved and recalled for later use.
What's Bad About It?
Yeelight's strip can sync to music, but its own app doesn't support this, forcing you to open a separate one. The strip is made from sturdy plastic and is tough to cut, so you'll need to take care not to damage its electronics if you need to cut it into smaller pieces.
Tech Specs
Dimensions: 78 x 0.4 x 0.1 in
Max length: 33 feet
Brightness: 150 lumens
Requires hub: No
The Pros
Excellent value for the money
Sturdy build and good adhesive tape
Simple responsive remote
App offers in-depth scheduling and color customization
The Cons
Tough to cut
Music visualization requires separate app
3. Philips Hue WCA Plus Lightstrip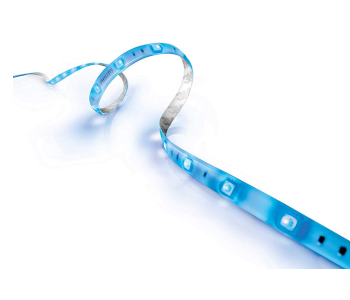 View on Amazon
Editor's Rating: 4.6/5
Phillips Hue bulbs are the best-known smart lightbulbs in the world. They're praised for their excellent brightness and color fidelity, and the Hue app is among the most versatile. The Lightstrip Plus fits seamlessly into Hue's ecosystem while playing nicely with both AI assistants and other smart home environments like HomeKit or Nest. It's more expensive than the competition, but the price difference is well worth it.
Overview of Features
At first glance, the Lightstrip Plus looks like any other strip, albeit thicker. A closer look reveals that it has sets of three LEDs instead of two at each interval. This allows for a brighter glow and more precise color calibration. At 1,600 lumens, the Lightstrip Plus is as bright as two 60-watt incandescent bulbs! That's why it's powered by a beefy AC adapter that connects to the strip's power block. There are 8 feet of wire between the block and the start of the strip, so positioning it isn't a problem.
The Lightstrip Plus needs the Phillips Hue Hub to work. While this is another considerable purchase if you don't already have one, the upside is that the strip is more responsive than ones connected through Wi-Fi. Competing light strips can take several seconds to respond to commands while the Lightstrip Plus does so almost instantly.
You control the Lightstrip Plus from the Hue app. Its pairing process is among the simplest we've seen as the strip is recognized as soon as you turn it on and added to a list of lights. You can control its settings individually or add it to existing rooms and play around with settings that affect the ambiance of an entire room.
The Hue app is hands-down the best companion app we've tested! It has a plethora of options but never feels overwhelming. There's your standard color and white temperature configuration, mood presets, and timers. What sets the Hue app apart from others is the way it lets you interact with the strip.
For example, you can set it to Away mode and have the strip turn on once you get home. Sleep assist gradually dims the strip when it's time to fall asleep and brightens it to help you get up naturally. There's also a color picker that uses a palette based on your photos, the ability to set an alarm that turns the strip on at the right time, and much more.
Are There Drawbacks?
The Lightstrip Plus is expensive if you don't have the hub yet. The AC adapter produces a whining noise that varies in loudness based on the current color. This isn't a concern during the day but might get annoying if you're sleeping or relaxing in a room with the strip on.
Tech Specs
Dimensions: 78.7 x 0.6 x 0.2 in
Max length: 32 feet
Brightness: 1,600 lumens
Requires hub: Yes
The Pros
Bright and vibrant colors
Easy to install & pair
Fantastic companion app
Great 3rd-party support
The Cons
Expensive if you also need the hub
AC adapter has annoying whine
4. Koogeek Dimmable Smart LED Light Strip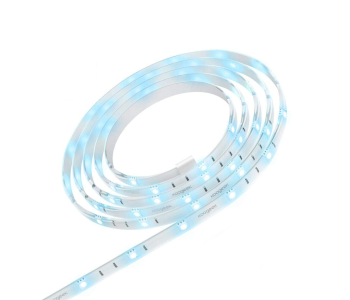 View on Amazon
Editor's Rating: 4.2/5
Do you want a no-fuss, no-frills light strip to bring out the best in your media room or child's bedroom? In that case, the Smart LED Light Strip from Koogeek is a cost-effective solution. The strip is easy to pair with iOS & Android device, can be controlled using your voice, and has a simple companion app anyone can use to set the perfect mood.
Overview of Features
This is another white, flexible strip that's 6.5 feet long and can be cut at intervals to become shorter. What makes Koogeek's strip different from others is that it is powered by a USB cable. This means you don't have to rely on the room's outlet placement and can connect it to a computer or TV instead. You can plug it into an outlet too, but you'll need to purchase an adapter separately.
The strip's brightness is 500 lumens. This is dimmer than the likes of Phillis and LIFX but still bright enough to give flair to your space yet not take away from a movie or computer display. Connecting the strip involves making sure your router is set to 2.4GHz Wi-Fi, downloading the app, and following instructions. You'll also want the owner's manual within reach if you're connecting the strip to HomeKit as this contains the QR code you'll need.
The Koogeek Home app is colorful and easy to navigate but average in terms of features. You can change the brightness and hue, set the strip to a color present in a photo, or incorporate the strip into a smart home scene. Koogeek makes other smart products like plugs and wireless sensors. These can be assigned to the same room as the strip, and their activation can serve as its trigger.
What's Bad About It?
This strip isn't extendable, so you'll have to buy multiple if you want better illumination. Koogeek advertises the strip as being compatible with Amazon Alexa. However, the Koogeek skill is poorly programmed, causing Alexa to not respond to commands even after multiple prompts.
Tech Specs
Dimensions: 78.7 x 0.4 x 0.1 in
Max length: 6.5 feet
Brightness: 500 lumens
Requires hub: No
The Pros
Attractive price
Simple app
Can be powered through USB
The Cons
Can't be extended
Poor Alexa support
5. SYLVANIA SMART+ Light Strip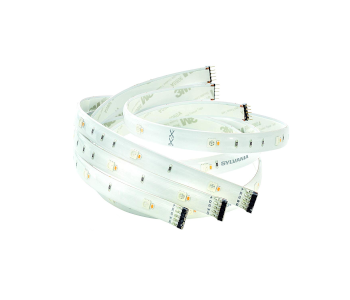 View on Amazon
Editor's Rating: 4/5
The trouble with most light strips is that their starter kit contains just one strip. This means you either have to spend more money on extensions or end up with unusable pieces of strip if the original is too long. Sylvania's Smart+ Light Strip offers an elegant solution – its starter kit consists of three 24-inch sections that seamlessly connect to each other. The strip is less expensive than its leading competitors, needs no hub to work, and has a basic app for light & color management.
Overview of Features
The Sylvania Smart+ strip starter pack consists of three smaller strips that connect to each other via pins. The strips can be cut even though they're smaller than usual, ensuring that you get the perfect fit. Expansion is also possible if you purchase two-packs of additional strips. The maximum length of a fully upgraded strip is 20 feet per power adapter. The 3M tape that lets the strips adhere to your walls and cabinets is worth mentioning separately since it does an excellent job and won't peel off after months of use.
Sylvania sells multiple versions of its light strips. The version on review is best as an entry-level smart light since it works via Bluetooth and doesn't need a hub. Alternatively, you can purchase a ZigBee version of the strip if you already have a compatible smart hub like Samsung SmartThings or Wink. This version is quicker to respond than the one on review but doesn't support HomeKit.
Apple users will be delighted that they don't need to install another app as the Sylvania Smart+ works with the Home app after a painless pairing. The Home app's interface is unremarkable, but actions like color selection and brightness changes are straightforward. Once recognized, the strip can also be named, classified as part of a room, and used in scene creation.
There's a separate Sylvania Smart Home app for Android users. It features a simple dashboard that shows the rooms you've created, connected Sylvania lights, and icons for color & brightness management. You change the color and white temperature through two diamond-shaped color pickers. Each is accompanied by a brightness slider and on/off icons. Lastly, the app lets you interact with Alexa and the Google Assistant to control the light strip with your voice.
What's Bad About It?
The pins that connect separate segments are flimsy and bend easily. You'll need to be careful not to damage them when expanding the light. The claim that this light strip isn't dependant on a hub is only partially true. The strip connects to your phone via Bluetooth and needs to stay connected to work. This means that you can use the strip only while the phone is in range and with Bluetooth on.
Tech Specs
Dimensions: 72 x 0.4 x 0.1 in
Max length: 16.4 feet
Brightness: 350 lumens
Requires hub: Yes (your phone acts as the hub)
The Pros
Starter kit contains three smaller strips instead of single large one
Easy to expand and shorten
Good adhesive tape
Simple to pair
The Cons
Needs phone with active Bluetooth to work
Connector pins easily bend out of shape
6. Best Budget Option – Nexlux Led Light Strip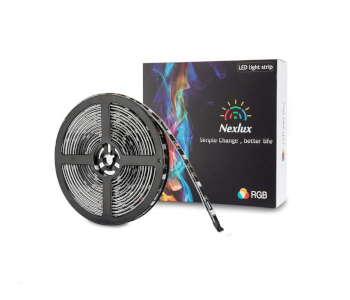 View on Amazon
Editor's Rating: 4.2/5
The last light strip on review is made by Nexlux. It's an excellent choice for the entire family as the strip comes with a remote control anyone can play around with while also responding to your phone or voice. There's no better option if you're looking for an affordable light strip that doesn't skimp out on smart functionality.
Overview of Features
The Nexlux light strip stands out from the competition due to how long it is. You get 16.4 feet to put up as you wish & decorate long hallways or stairs. The downside is that the initial length can't be expanded, but buying a 2nd strip is an economical solution to that problem. The strip comes with a power adapter that plugs into a network controller. The controller ensures a constant wireless connection to your router and enables remote control through the Magic Home app wherever you are.
The physical remote is handy for controlling the strip's basic functions. You can use it to turn the light on and off, adjust its brightness, or set it to one of 16 preset colors including white. There are also buttons for lighting mode selection that make the strip strobe, flash, or fade slowly. It's the perfect solution for small kids and older family members who don't like to use smartphones.
People who do use smartphones will find that the Magic Home app has a lot to offer in terms of customization and settings. It unlocks the full 16 million color palette as well as more advanced color changes that involve multiple colors. You can use the app to set individual alarms for each day of the week and wake up to the color of your choice. Setting a timer is an option too, as is managing & grouping multiple lights.
Are There Drawbacks?
The remote is a fine means of control when it works. It sometimes takes multiple tries to register a button press. The strip has trouble portraying some colors accurately, the worst offenders being purple and white at lower color temperatures.
Tech Specs
Dimensions: 197 x 0.4 x 0.1 in
Max length: 16.4 feet
Brightness: Not specified
Requires hub: No
The Pros
Affordable yet has many smart features
Versatile physical remote
Longer than other strips
App has useful scheduling and alarm options
The Cons
Inaccurate representation of some colors
Remote needs multiple presses to respond