Smart Lock Cyber Monday 2019 Deals
3D Insider is ad supported and earns money from clicks, commissions from sales, and other ways.
A smart lock is the safest and most convenient way to guard your home from would-be intruders. You can open one while carrying groceries, always know who used the door, and connect it to other smart devices for an impenetrable defense. Cyber Monday is when you'll find the best smart lock prices. Check out our favorites.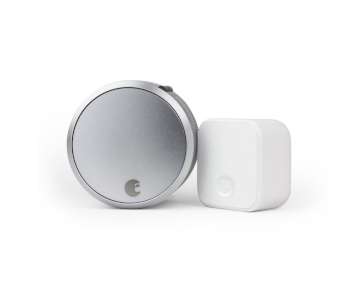 August Smart Lock Pro + Connect Wi-Fi Bridge Bundle
Original Price: $279.99
Cyber Monday Price: $196.99
The Pro version of August's smart lock has everything you need to secure your home as well as monitor it from anywhere in the world. It's a cylindrical gadget that replaces the old thumb turn on your deadbolt. The installation is effortless since the internal mechanism is left intact. All you do is hook up the smart lock, insert some AAs, and create an account in August's intuitive app.
You can open the lock with a physical key or with your phone. The latter is accomplished either by pressing the giant button that greets you on the home screen or by turning geofencing on. That will engage the lock once you leave its Bluetooth range and vice versa. Normally, the Smart Lock Pro is limited to Bluetooth, but the included adapter connects to Wi-Fi and lets you monitor or use it whether you're upstairs or in another city.
You're the primary user, but it's easy to give permission to others too. The app sends the information via text or email, detailing how to download it and get started. You can grant owner status to family members. Friends and service people you only want to be able to enter and exit at certain times get guest status.
The Smart Lock Pro works together with the August Doorbell camera, allowing you to let someone in by tapping an additional icon on its live feed. Control through Siri, Alexa, and Google Assistant is available too, as is connecting to other smart home devices.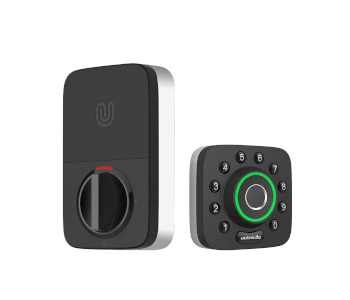 ULTRALOQ U-Bolt Pro
Original Price: $239.99
Cyber Monday Price: $189.99
Ultraloq's smart deadbolt lets you enter in six different ways. There's automatic unlocking once you're in Bluetooth range, an accurate biometric fingerprint scanner, access through the app via phone shake, and by entering a PIN. If all else fails, there's still the classic physical key. Unlike other locks, the Ultraloq hides its keyhole behind the front panel, so burglars won't even know it's there.
Installing the U-Bolt Pro is straightforward and doesn't require alterations to your existing deadbolt assembly. The deadbolt is battery-powered and can be opened by supplying power through a MiniUSB port if all else fails.
It's rectangular with a responsive fingerprint sensor in the middle and a row of numbers above it. The sensor recognizes two sets of fingerprints for 60 different users. It doesn't matter from which angle you press the reader as even partial prints are accepted. You can enter PINs of varying lengths and add as many random numbers before or after to confuse onlookers.
The U-Bolt Pro's companion app is straightforward yet lets you control access and gives a good insight into user behavior. Use it to assign and delete temporary PINs or browse the detailed history section. That's where you'll find a comprehensive list of activities, including which user accessed the lock at a given time and by what means.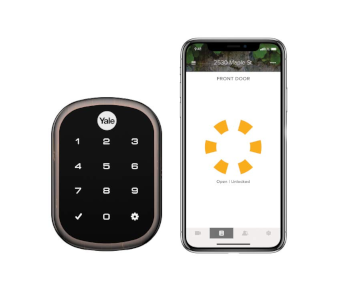 Yale Assure Lock SL
Original Price: $222.49
Cyber Monday Price: $209.99
If you're looking for a lock that has no physical key support, the Yale Assure Lock is an excellent choice. It relies only on your memory or your phone's proximity for opening, so there's no fear of it being picked. The lock also takes advantage of August's excellent app for better smart home integration.
The Yale Assure Lock is a large keypad with bright, clearly visible numbers that comes in one of three tasteful finishes. It conserves its batteries when not in use and springs to life once you touch it. You then have a limited time to enter the right code before it returns to dormancy.
The lock comes with a DoorSense sensor that you install on the side of the door across from it. DoorSense prevents tampering by detecting whether or not the door is closed. This is handy if you fear someone might engage the lock but keep the door ajar.
The app is the same as August's, so you can look forward to easy unlocking controls, a comprehensive history, and in-depth scheduling options for each day of the week. Unlocking via voice through one of the three most popular assistants is also an option. Finally, the Yale Assure Lock can be incorporated into home automation routines.
Other noteworthy smart lock deals: