6 Best Smart Meat Thermometers of 2019
3D Insider is ad supported and earns money from clicks and other ways.
Many weekend grill masters put choice cuts of meat on their BBQ and then ruin what could have been a prime medium rare steak because they played it by ear. If you have a meat thermometer to signal when the meat has reached an ideal internal temperature, the results are sure to be consistently mouth-watering every time.
There's a big problem with standard meat thermometers though – you have to be close by to keep an eye on them. You're left with two unpopular choices: either you stay glued to the grill and miss out on all the fun or you hop from one place to another and potentially ruin the meal. Luckily, there's also a third option now – smart meat thermometers!
These modern gadgets are as accurate as the "dumb" meat thermometer you're used to but have apps which notify you when the meat is ready even if you're at the other end of the yard. Here are the best smart meat thermometers of 2019. Some of them support a multitude of probes while others let you micromanage temperatures & cooking times. Whichever model you invest in, it's sure to elevate your cooking prowess to new heights, making you the envy of friends and neighbors alike!
Budget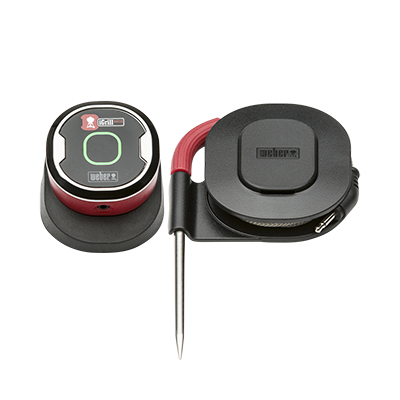 Weber iGrill Mini
4.3/5.0
No. of probes: 2
Temp range: 22℉ – 572℉
LED ring is great for quick monitoring and small form factor.
Check Amazon
Best Value
Inkbird IBT-4XS
4.7/5.0
No. of probes: 4
Temp range: 32℉ – 572℉
App can save custom settings and excellent Bluetooth ranges.
Check Amazon
Top Pick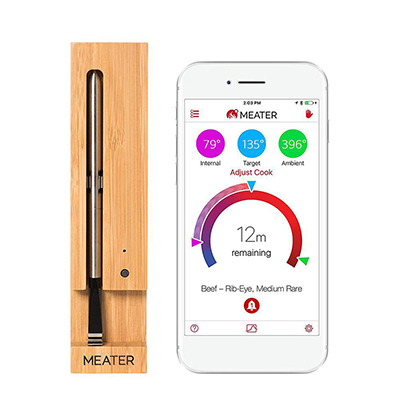 Meater
4.8/5.0
No. of probes: 2
Temp range: 14℉ – 527℉
Accurately measures internal and ambient temperatures.
Check Amazon
What to Look for in a Smart Meat Thermometer
Temperature Range and Accuracy
Probes & Probe Durability
App & Bluetooth range
6 Best Smart Meat Thermometers Comparison Table
1. Best Overall: Meater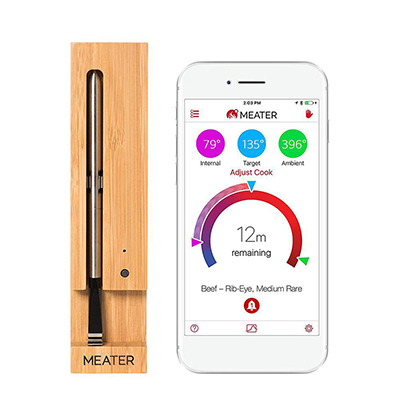 View on Amazon
Editor's Rating: 4.8/5.0
Ordinary meat probes will tell you what the temperature inside that sirloin steak is, but not much else. If you aren't an experienced cook, you won't know when to take it off the grill or what the correct oven temperature is. Even if you are, the Meater is a smart meat thermometer which helps you micromanage each cook down to the smallest monitoring details. It is beautifully designed, can be used in any manner of cooking processes, and has a fantastic app that's useful for far more than temperature monitoring.
Cook Every Meat Dish to Perfection
The Meater is one of the best-looking meat thermometers we've tested. It looks like a stainless steel pen with one black end and a notch that tells you up to which point it needs to be inserted. You get a beautiful bamboo box to store it in which also acts as the Meater's charging station. Whenever you put the thermometer into it, an LED will light up to show whether there's enough charge remaining. If the light stays dark, you'll need to recharge its AAA battery. One charge lasts for 24 hours and the Meater can be recharged 100 times.
There are two sensors inside the Meater. One is located at its tip and is used to measure the meat's internal temperature. The other is located on the other end and shows the ambient cooking temperature. You pair the Meater to a smartphone or tablet through Bluetooth. While the device you pair it with needs to be within Bluetooth range, you can run the app on a different one and monitor cooking remotely through Wi-Fi.
The app is versatile. Basic use involves monitoring the meat's internal and target temperatures manually. There's a great degree of customization too – you can select which type of meat to cook, its weight, and the doneness you want. The app will then suggest optimum cooking and target temperatures, tell you how much longer the meat needs to be cooked, and even specify how long you should let it breathe afterward. These settings can be grouped and saved as favorites. As if that weren't enough, the app also contains step-by-step recipes for various meat dishes as well as in-depth tutorials on using both it and the thermometer.
Meater's smarts don't end with the app as it can be controlled with voice commands through Amazon Alexa! Installing the Meater skill will let Alexa tell you the meat's current internal temperature, what the remaining cooking time is, or a general status update on your cook.
What We Didn't Like
While we love Meater's app, it's the only way to check up on a meal. The Meater doesn't have any display you could check at a glance which forces you to have a phone or tablet out during the cook. The standard Bluetooth range is 30 feet, but the Meater sometimes won't connect even at 15. You'll need to keep a smartphone very close by to maintain the connection.

Tech Specs
Dimensions: 6.2 x 1.5 x 1.1 in
No. of probes: 2
Temperature range: 14℉ – 212℉ for internal probe 14℉ – 527℉ for external probe
The Pros
Accurately measures internal and ambient temperatures
Elegant design
Has rechargeable battery
Exceptional app
The Cons
Temperature can only be monitored through app
Very short Bluetooth range
View on Amazon
Editor's Rating: 4.7/5.0
Do you like to prepare feasts and often have several meat dishes running at the same time? In that case, you need a reliable meat thermometer that has enough probes to keep track of everything simultaneously. The Inkbird IBT-4XS comes with four probes each with its own power cable. It boasts accurate results, pairs effortlessly with the BBQ GO app, and is designed for ease of use whether you're grilling, baking, or frying.
The Smart Way of Cooking up a Storm
The Inkbird IBT-4XS consists of two main parts – the main monitoring unit and four connected probes. It has a clear and large display whose red LEDs are easily visible even in bright sunlight. There's also a handy feature that lets you flip the readings 180 degrees for easier viewing regardless of its position. The monitor is powered by a built-in 1,000 mAh Li-ion battery that charges via an included micro USB cable and lasts a whopping 60 hours!
The four probes attach to the Inkbird IBT-4XS through 4.5-foot long cables that come neatly coiled in the package. All four can be monitored at once and two clip together to monitor both the meat and the grill on which it is cooked. They measure temperature with an accuracy of ±2 degrees Fahrenheit. Their readings are cycled through on the Inkbird IBT-4XS's screen automatically.
Pairing the thermometer with its app is straightforward – you need to install the BBQ GO app, turn the Inkbird IBT-4XS on, and that's it! They establish a connection via Bluetooth, but the range is an exceptional 150 feet so you can hop into the kitchen and work on other dishes without losing connection.
The app isn't as comprehensive as the Meater's, but it still offers everything you need to cook delicious meat with presets and custom settings. You can choose which meat is cooking and the level of doneness for it. The phone will vibrate and beep once the meat is done. You can also set custom cooking times and temperature ranges, and the app will alert you as soon as they're reached.
What's Bad About It?
This meat thermometer doesn't come with an ambient probe. One would be useful for cooking in an oven. The accompanying manual is brief and covers only the basics, so you're on your own if you need to figure out advanced settings like toggling between Celsius and Fahrenheit which can only be done from the app.

Tech Specs
Dimensions: 3.3 x 3.3 x 1 in
No. of probes: 4
Temperature range: 32℉ – 572℉
The Pros
Bright, readable screen
Long-lasting rechargeable battery
App can save custom settings
Excellent Bluetooth ranges
The Cons
No ambient temperature probe included
Manual isn't of much use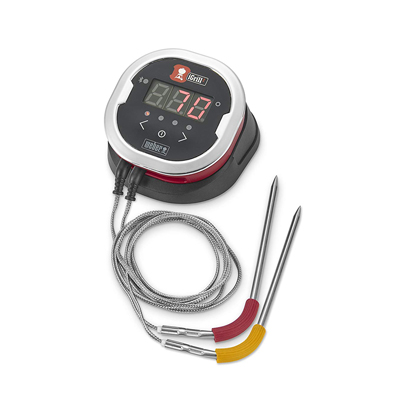 View on Amazon
Editor's Rating: 4.4/5.0
Cooking is as much of a science as it is art. Careful monitoring of your cooks & bakes is a surefire recipe for consistent results, and that's what the Weber iGrill 2 is here to provide. This meat thermometer accommodates four probes, has an informative app featuring detailed graphs of the cooking process, and can be upgraded with additional accessories. It's a bit expensive, but well worth it if accuracy and data on the meals you cook are important to you.
The Formula to a Great Meal
Appearance-wise the iGrill 2 is similar to a traditional meat thermometer. Its rounded plastic body houses a big display, an on/off button, and two arrows which cycle through each attached probe. Unlike our top two picks, the iGrill 2 is powered by two long-lasting AA batteries. There's a magnetic strip on the iGrill 2's back so you can secure it to the grill shelf.
The basic package includes two meat probes even though there's room for four. Additional internal and ambient temperature probes can be purchased separately. Each probe is color-coded and made from stainless steel. They're thin and will fit into smaller cuts or fish with ease. The probes are also among the most accurate we've tested, aligning perfectly with other meat and grill lid thermometers to within a degree.
The app lets you choose among different meats and cooking preferences. There's no need to keep checking on the meat as an alarm sounds once the target or custom internal temperature is reached. Each probe can be labeled and colored to correspond to its actual color. This is especially useful if you're cooking two different kinds of meat at the same time or are dealing with a larger cut whose core and outer temperatures need to be monitored separately.
While you're waiting, you can monitor the progress in graph form. The graph displays temperature over time and you're able to tag it so that the app notifies you during the halfway point when the meat is almost ready etc. You also get access to a host of delicious recipes as well as a social platform that connects iGrill's owners and allows them to share their expertise.
Are There Drawbacks?
The iGrill 2 is expensive and can get even more so if you decide you need the ambient temperature probe too. There's a bug which affects a small portion of models where phantom readings will show up for probe slots which aren't in use. Weber knows about the problem and covers it with the warranty, but waiting for a replacement is annoying nevertheless.

Tech Specs
Dimensions: 3.2 x 2.2 x 2.2 in
No. of probes: 2 (supports 4)
Temperature range: 22℉ – 572℉
The Pros
Accurate and consistent readings
Thin, color-coded probes
Real-time cooking graph
App is full of useful tips & resources
The Cons
Expensive
Can display readings for empty probe slots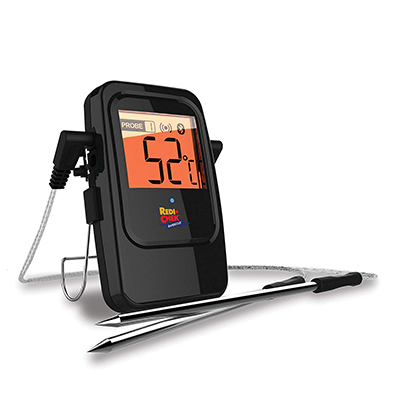 View on Amazon
Editor's Rating: 4.1/5.0
None of the smart meat thermometers reviewed so far would fare well in the rain or a humid kitchen. Maverick's ET-735 has a water-resistant base unit as well as waterproof probes you can use to heat up some tea to just the right temperature. The thermometer has a robust build, supports four probes and is accompanied by a comprehensive app both BBQ and cooking enthusiasts will find useful
Grill Tasty Steaks Regardless of the Weather
The first thing of note about the ET-735 is its rugged appearance. The thermometer has an old-school display that boasts excellent visibility whether it's cloudy or sunny outside. Heavy-duty plastic protects the screen from scratches. Unused probe slots and the battery compartment are sealed off and won't be affected if it starts raining while you're out barbecuing. Two AA batteries power the ET-735 through five days of use.
Probe quality is excellent – you get two stout stainless steel probes capable of picking up subtle as well as quick changes in temperature and relaying the information to the base unit instantly. If you've previously bought a different ET-7xx model, you can use the ones that came with it as well for a total of four simultaneous probes. The big screen and responsive probes make this a great stand-alone thermometer, but its more advanced features do require the app.
Maverick's mobile app takes advantage of 4th-gen Bluetooth and will maintain a connection to the thermometer as far as 100 feet away. There are two main modes you can use it in – BBQ and food. BBQ mode lets you set a timer and temperature range and will alert you if the meat gets too hot or cold while grilling. Food mode is the standard choose the meat and flavor setup already seen with other reviewed models. Both accompany the cooking process with temperature over time graphs.
The ET-735 stands out because of its in-depth alarm customization options. There's the standard beeping & buzzing when the food is done, but there's a programmable countdown alarm for each of the four probes as well. Alternately, four stopwatches can be set at the same time too.
What's Bad About It?
This model has a single significant drawback – the app won't stay connected to it. The connection is simply unreliable regardless of range. This might cause you headaches down the line as you may miss the ideal time to stop grilling and overcook the meat.

Tech Specs
Dimensions: 0.8 x 2.5 x 4 in
No. of probes: 2 (supports 4)
Temperature range: -4℉ – 572℉
The Pros
Sturdy build
Water-resistant
Sophisticated timer settings
The Cons
App is prone to connection loss.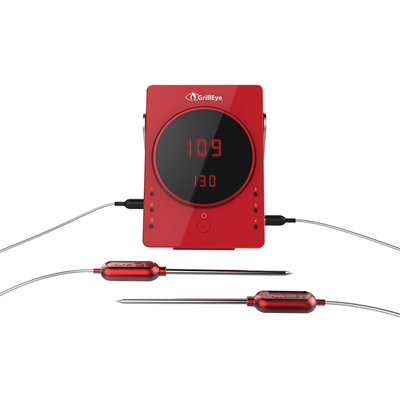 View on Amazon
Editor's Rating: 3.9/5.0
Do you usually cook smaller meals but want a meat thermometer that can support more probes in the future? The GrillEye is such a model – you get two probes with it and may connect up to four more. Best of all, the thermometer supports probes manufactured by others so you can make use of any you got with a previous "dumb" thermometer! Add a wide temperature range and a functional app, and you've got everything you need to create meals worthy of a Michelin star.
Keep a GrillEye on Your Meat
Everything about this thermometer, from the design of the base unit to the app, is made with simplicity and functionality in mind. The GrillEye is a red rectangular gadget that's propped up for a better viewing angle. It has three probe connectors on each side that have bulbs which light up when a probe is active. The central circular display shows the current and target internal temperatures in red and automatically cycles through connected probes.
The two AA batteries you get with it last for 60 hours of continuous use. Like with the iGrill 2, you only get two probes and will need to pay for or scrounge up more if these aren't enough. The probes you do get are long and thicker than standard-sized ones. They also have an impressive range that reaches arctic temperatures on one extreme and the maximum for most ovens on the other. You could theoretically use the probes to check whether frozen meat is stored properly, which is something no other reviewed thermometer can claim.
GrillEye's app is sparsely designed, with pertinent info on current and target temperature taking up all of your attention. Custom settings and meat-specific presets are available, and you can save the former as well as tweak the latter if you find them too rigid. Notifications can be set up for each probe once the target temperature or a predefined temperature range is reached. There's also a general alarm that ranges from a second to four hours that will sound regardless of other parameters once set.
What We Didn't Like
GrillEye's probes have a higher margin of error than others we've tested. The difference between their readings and the actual temperature can be as far off as 10 degrees Fahrenheit. There's also no way of changing the alarm sound. This can be a problem since the sound is high-pitched and annoying. Lastly, the display isn't bright enough to be of use on a sunny day.

Tech Specs
Dimensions: 5 x 1 x 3.75 in
No. of probes: 2 (supports 6)
Temperature range: -122℉ – 572℉
The Pros
Wide temperature range
Supports probes by different manufacturers
App is functional and well organized
The Cons
Inconsistent readings
Screen becomes useless in sunlight
Shrill alarm sound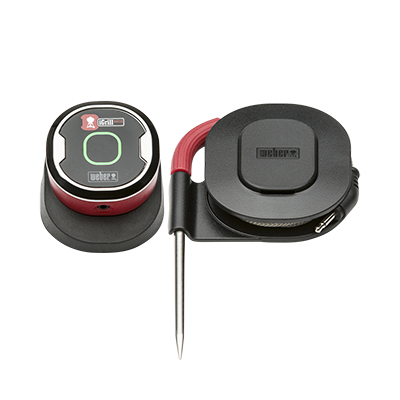 View on Amazon
Editor's Rating: 4.3/5.0
Mostly cooking one meat dish at a time means that you can make do with a single probe and get an adequate meat thermometer at bargain prices. The iGrill Mini is a slimmed-down, more compact version of the iGrill 2 which costs much less without compromising on quality. It takes accurate readings, is a breeze to use, and offers outstanding value for the money!
Smartly-Cooked Meat at a Great Price
The iGrill Mini lives up to its name as it's by far the smallest meat thermometer on review. This along with a magnet at its back adds to its portability. A magnetized mounting disc you can screw in anywhere is included as well. The Mini is powered by a coin cell battery that needs replacing after a respectable 150 hours.
This model doesn't have a screen, but it isn't completely reliant on its app either when you need to check in on the cook. There's a power button at its center surrounded by an LED ring. The ring glows green when cooking starts and then transitions through yellow & orange to red when the meat is ready. The single probe is suited for ovens, grills, and smokers alike. It comes with a 4-foot cable and a handy travel case for separate storage.
The mini uses the same app as the iGrill 2. This means that you can take advantage of the real-time graph, choose between pre-programmed and custom temperature & cook duration settings, and even share photos of your latest creation with other foodies. Pairing over Bluetooth remains a quick & easy experience too.
Are There Drawbacks?
The probe you get with the iGrill Mini is short. It is long enough for steaks or smaller roasts, but may not reach all the way to a Thanksgiving turkey's core. This is another model with spotty Bluetooth connectivity. It will work well when unobstructed but experiences problems when there's no line of sight between it and your phone.

Tech Specs
Dimensions: 2 x 1.75 x 1 in
No. of probes: 2 (supports 4)
Temperature range: -22℉ – 572℉
The Pros
Excellent value for the money
Small form factor
LED ring is great for quick monitoring
The Cons
Bluetooth connection is easily interrupted
Short probe