6 Best Smart Mirrors of 2019
3D Insider is ad supported and earns money from clicks, commissions from sales, and other ways.
Smart mirrors combine the age-old practice of making oneself presentable with modern distractions and scientific advances. Whether it's something as simple as getting the lighting just right or as jaw-dropping as introducing a unique smart TV into your home, smart mirrors brim with features every family member will find useful.
The best smart mirrors come in different sizes and each model we've tested has at least one special feature which helps it stand out from the rest. Picking the right one isn't a straightforward task with models as diverse as these, so we've made it easier on you with our thorough reviews.
Budget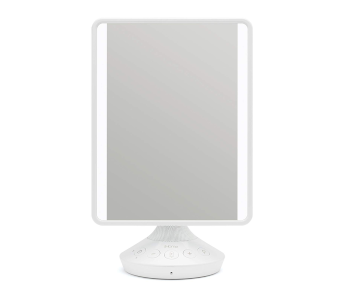 iHome Reflect iCVBT2
4.5/5.0
Mirror type: Portable vanity
Dimensions: 8 x 5 x 6 in
Has built-in microphone and Bluetooth speakers.
Check Amazon
Best Value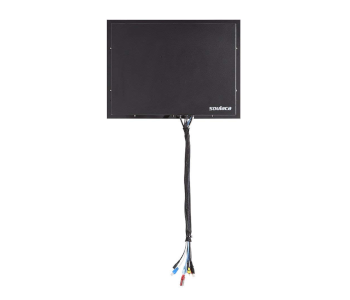 Soulaca 22inch Frameless
4.5/5.0
Mirror type: Bathroom TV
Dimensions: 21.8 x 1.9 x 17.6 in
Has internet access and supports various streaming services.
Check Amazon
Top Pick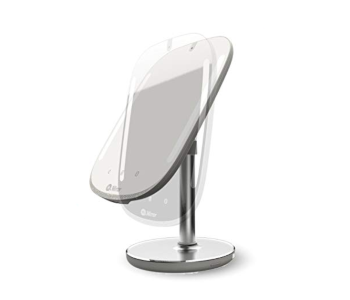 HiMirror Mini
4.8/5.0
Mirror type: Portable vanity
Dimensions: 13.3 x 9.5 x 6.7 in
Well-designed interface complete with good app selection.
Check Amazon
Smart Mirrors Comparison Table
1. Best Overall – HiMirror Mini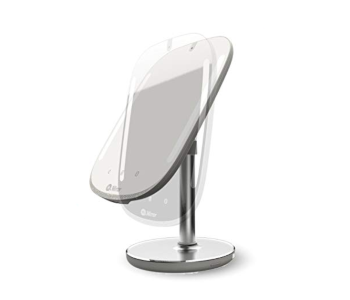 View on Amazon
Editor's Rating: 4.8/5
Are you self-conscious about the condition of your skin and would like to improve it? The HiMirror Mini is a smart portable vanity mirror which analyzes your skin and gives it a score. It also tracks how your skin changes over time so you can judge the effectiveness of your skincare products or make adjustments to your diet. There's also a pair of dimmable LED lights as well as support for Amazon Alexa.
Are You the Fairest of Them All?
The HiMirror Mini has almost all the advantages of a tablet – it sports a responsive touchscreen, a USB port, and comes with an intuitive interface. Turning it on and tapping a few icons on the mirror surface will bring up Facebook, Instagram, or YouTube. The home screen also shows useful information like the current weather which is expandable to include a forecast, articles related to makeup & fitness, and news stories you can read while getting ready for a date.
The mirror's biggest selling point is the Skin Analyzer. You have to bring your face close to the HiMirror Mini and hold it in position for three seconds. A picture of your face is taken and analyzed. You're given a score based on the amount of red or dark spots and lines that show up, the presence of dark circles and wrinkles etc. Then you can set and track goals to improve the areas of your skin that are lacking. This works best if you also use the SkinSafe app. In it, you can scan barcodes of skincare products you use, keep track of your supply and order more, or find out if the products contain any harmful components.
Amazon's Alexa is part of the HiMirror experience too. You get all the functionality of an Echo, meaning that Alexa can control your other smart gadgets, create reminders, or read the weather report out loud all from your bathroom.
What's Bad About It?
The mirror doesn't have a flip side with magnification, relying on the camera's digital zoom instead. Its side LEDs won't work unless all the apps are turned off, so you'll either have to make the ambient light brighter or make due with the mirror's slightly tinted, darker surface.


The Pros
Useful skin analysis tool
Well-designed interface complete with good app selection
Supports Amazon Alexa
The Cons
Lights don't work if an app is running
No analog magnification
2. Best Value – Soulaca 22inch Frameless Smart Waterproof Magic Mirror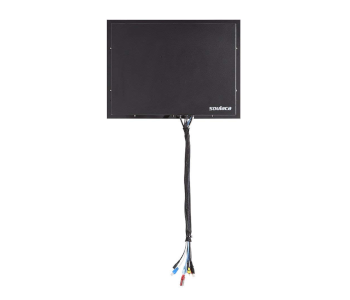 View on Amazon
Editor's Rating: 4.5/5
Some people can't stand to be separated from their smartphone, not even in the bathroom. You could keep bringing yours in there and risk permanent water damage each time, or get a waterproof mirror TV from Soulaca. This ingenious device looks like an ordinary mirror but is actually a fully functional TV complete with internet access. If you never want to miss your soaps while soaping up again, this pricey smart mirror is worth every penny.
The interactive Way to Start Your Day
This smart mirror harbors a 22-inch HD ready TV protected with a waterproof screen rated at IP66. Its installation should be carried out by an expert. You can set the mirror TV up in your shower, close to the bathtub, or anywhere else in the bathroom as only the solid glass front is exposed to the room's environment.
Picture quality is above average for such a hybrid device. The reflective surface has no bearing on the TV's output. Images are clear and sharp while the 8ms response time is easy on the eyes. Its speakers are waterproof too and put out a rich sound that only gets muffled if you're running the shower at full spray.
Connectivity includes USB and HDMI ports as well as Wi-Fi for wireless speaker connection. The TV has 1GB of RAM memory and 8GB of storage. Android version 4.2.2 comes pre-installed, allowing you to download apps, access the internet etc. Streaming services like Netflix or Apple TV can be accessed from it as well.
What We Didn't Like
Although picture quality is great, the brightness is not. You'll have trouble watching in a brightly lit bathroom and will need to find a balance so that there's enough light for your morning routine but not too much to outshine the TV. There's no way of updating the pre-installed Android version, so the TV's smarts might become obsolete once it is no longer supported.


The Pros
Acts as both mirror and smart TV
Excellent picture quality
Has internet access and supports various streaming services
The Cons
Can be hard to see in bright environments
Internal Android version can't be updated
3. Best Budget Option – iHome Reflect iCVBT2 Adjustable Vanity Mirror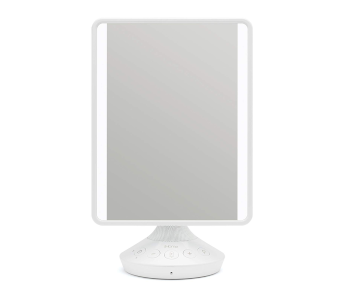 View on Amazon
Editor's Rating: 4.5/5
Some people use the time in their bathroom to de-stress and get away from it all. Others multitask and juggle conversations, phone calls, or news updates with their routine. If you're like the latter, you'll love the iHome Reflect iCVBT2. It's a smart mirror that can do the same basic things as your smartphone, charge up your gadgets, and make you look your best with its sunlight-simulating LEDs. Best of all, it comes at a fraction of the price of other entries in the guide!
The Multi-talented Smart Vanity Mirror
Design-wise, the iCVBT2 is a successful blend of simplicity and function. The mirror surface is 8 x 5 inches and flanked by two bright LEDs. All of this sits on an elegant plastic base available either in white or black which houses the mirror's control buttons and a USB charging port.
The iCVBT2's LEDs have a color range index (CRI) of 90, meaning that they simulate sunlight almost perfectly and any look you create in front of the mirror will be equally stunning in natural light. Their brightness is adjustable as well.
You can stream music from your phone through the built-in Bluetooth speaker. The iCVBT2 also has a microphone. Pressing the microphone button on its base will switch a connected phone to speakerphone mode, allowing you to have a conversation and work on your look at the same time. This also lets you access the Google Assistant or Siri and have them bring you up to speed on the latest news & weather, your local theater's screening schedule, and more.
What's Bad About It?
This is another mirror which would benefit from a magnified flip side. The speakers have low audio quality and are quiet even on the loudest setting. Similarly, the lights may not be bright enough to be used on their own.


The Pros
Affordable
Has built-in microphone and Bluetooth speakers
LEDs emit natural-looking light
Elegant design
The Cons
Only 1x magnification
Speakers
4. ReignCharm Hollywood Vanity Mirror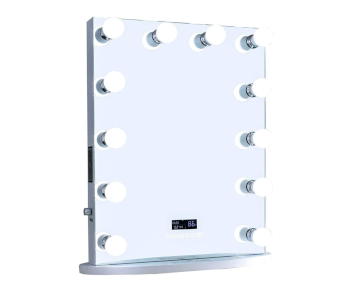 View on Amazon
Editor's Rating: 4.3/5
You want to look your best when stepping out, and to do that you need a mirror with adjustable lights. The Hollywood-style vanity mirror from ReignCharm has twelve LEDs whose brightness you can precisely adjust by turning a knob. It also packs two Bluetooth speakers and has a small LED touchscreen interface. If you want a mirror that will not only help you get ready but also pump you up for the challenges ahead, this is the one to get!
The Perfect Blend of Style and Sound
This mirror adds a touch of glamour to your bathroom with its 12 prominent Hollywood-style lightbulbs. Since they're all LED bulbs, they won't get hot, even during an extended makeup session. A knob on the mirror's left side allows you to simulate any kind of lighting conditions with a twist and a satisfying "click". The mirror can either be wall-mounted with the included bracket or stand on its own. It will take up an outlet but gives you two additional outlets and two USB ports in return.
There's a Bluetooth speaker on each side. Their quality is above average – the sound that comes out of them is rich when you're listening to base-heavy music while highs sound crisp and don't devolve to shrills as the volume goes up. Pairing the speakers with your smartphone is a cinch and charging it while the music is playing will quickly become second nature.
These more advanced features are controlled via a small blue LED interface located on the mirror's bottom. The interface displays the time and day as well as the current room temperature. Underneath it are touch-operated controls used to adjust the volume, pair the speakers, and power on the interface.
Are There Drawbacks?
There are incidents of the lights or speakers not working, but these are rare and easily dealt with thanks to ReignCharm's capable customer service department. Slow interface shutdowns are a more frequent drawback – sometimes you'll have to wait half a minute or more for the mirror to shut itself off, which can be annoying.


The Pros
Quality Bluetooth speakers
Dimmable LEDs that are cool to the touch
Has additional USB ports and outlets
Intuitive interface
The Cons
Can take a long while to turn itself off
5. Simplehuman Sensor Mirror Pro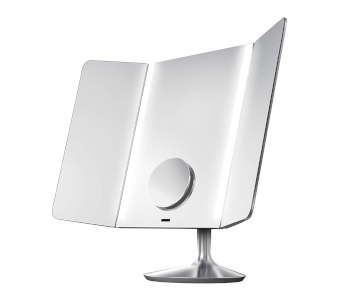 View on Amazon
Editor's Rating: 4.2/5
Did you know that even the most carefully applied makeup can make you look less than perfect in the right, or rather wrong, light? A look that makes jaws drop at a candlelight dinner may not be a good fit for the cold fluorescent lighting of your office. Simplehuman's Sensor Mirror Pro can help by simulating any lighting environment thanks to its adjustable LEDs and a powerful app.
The Ideal Look for Any Occasion
The Sensor Mirror Pro is one of the most elegant mirrors we've tested thanks to its stainless steel base and highly-polished threefold mirror surfaces. It is battery-powered and only requires a cord to be charged up every three weeks via USB. At 8 pounds it isn't the most portable mirror on offer, but it's nice to know that you can rely on it on an extended trip.
This is an updated model which addresses the original's greatest flaw – a lack of magnification. Now there's a smaller mirror with 10x magnification at its center which makes applying mascara and other products that require a delicate touch much easier.
So, how does light adjustment work? You first need to install the Simplehuman app and take a picture of the room whose lighting needs to be matched. The mirror comes with two Tru-lux LED lights which simulate sunlight in their default setting with a brightness of 600 lux and a CRI of 90. When you pair the mirror with its app, the LEDs change their brightness and color temperature to correspond to the picture. They'll also automatically turn on when you approach the mirror and shut off once you're done.
What We Didn't Like
The automatic on/off sensors are a nice idea but don't work well in practice. The lights will turn off if you don't move for five seconds, which can be annoying if you're looking at the results of your work but aren't done yet. The battery starts out with a 3-week charge but won't hold it for long. You'll quickly find yourself having to recharge it every two weeks or even weekly. Finally, the mirror is expensive.


The Pros
Simulates any light condition
Beautiful design
Portable
The Cons
Expensive
No manual on/off switch
Battery becomes weaker after a short while
6. Naked Labs Body Scanner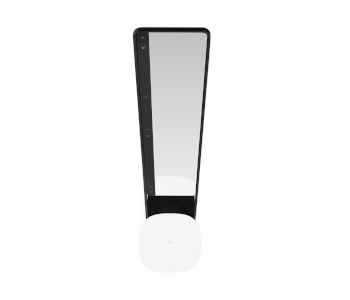 NakedLabs
Editor's Rating: 4.3/5
The Naked Labs Body Scanner is a smart mirror in a class of its own, partially because it is unique, and partially due to how technologically advanced it is. The mirror is equipped with sophisticated 3D cameras which map your entire body with exceptional accuracy, giving valuable biometric information and providing an accurate means of tracking even subtle changes over time. This cutting-edge technology has the potential to fundamentally change how we view fashion, fitness, and health.
The Future of Smart Mirrors & Possibly Much More
There's little to distinguish the Naked from other classy full-length mirrors. It has a sleek design that complements the modern home and won't look out of place in your bedroom or gym. The mirror shouldn't be kept in the bathroom since its electronic components are sensitive to humidity.
Along with the Naked you get a smart scale. The scale needs to be positioned in front of the mirror which projects a laser beam to help you with placement. Scanning involves undressing down to your underclothes, stepping onto the scale, and waiting until it rotates a full 360 degrees so the cameras can capture a complete image. Gathered data is anonymously sent to the company's servers and returned as an accurate 3D model of your body viewable from an Android or iOS smartphone.
Naked tracks 10 body part circumferences including the chest, abdomen, head, and extremities. It notes changes in your body mass index as well as the percentage of lean & fat mass. As the scans are accurate to within a tenth of an inch, even slight changes indicative of either progress from your training or the possible onset of a disease can be identified in time. Your stats are viewable in graph form and images from different scans can be compared side by side as well.
Are There Drawbacks?
The body scanner's exorbitant price is currently its worst drawback, but this is likely to change once Naked Labs can satisfy a bigger demand and gets some healthy competition. One mirror supports six profiles. Scans that aren't associated with an account can be performed too, but they can't be stored or compared.


The Pros
Accurately tracks changes to your body
Comes with a useful scale
Creates 3D models of your figure
The Cons
Very expensive
Supports limited number of accounts
Can get damaged by humidity