6 Best Smart Night Lights of 2019
3D Insider is ad supported and earns money from clicks, commissions from sales, and other ways.
Do you still remember your first night light, that tiny glow that helped you fall asleep or sneak in a cookie after mom & dad went off to bed? Night lights are still a thing, but modern ones are a far cry from the incandescent bulbs that protected your childhood bedrooms and hallways. We already covered the best motion sensor night lights, so now it's time to present the smartest ones too.
Smart night lights are connected devices whose glow and behavior can be controlled remotely via smartphone apps. You're able to adjust their brightness, pick from literally millions of colors, and set schedules for them so that power isn't wasted. Some smart night lights have motion sensors while others can be activated by spoken commands or in response to triggers from 3rd-party gadgets. One can even notify you of fire or carbon monoxide alarms and potentially save your property as well as your life.
Here are the six best smart night lights you can get today. Some will find their place in children's rooms while others ensure everyone can get around the house safely at night. Pick one that suits your preferences to stop worrying about monsters under the bed and stubbed toes!
Budget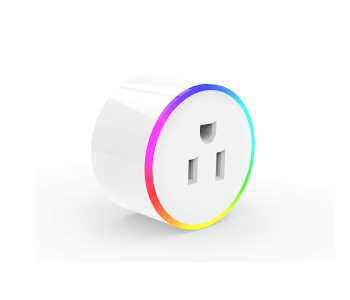 eeQiu Mini Smart Socket
4.1/5.0
Dimensions: 2.1 x 2.1 x 2.3 in.
Power source: AC power
Controls plugged-in devices on a schedule.
Check Amazon
Best Value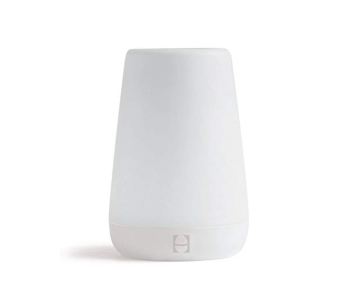 Hatch Baby Rest
4.7/5.0
Dimensions: 4.0 x 4.0 x 6.2 in.
Power source: AC power
Night light and sound machine in one.
Check Amazon
Top Pick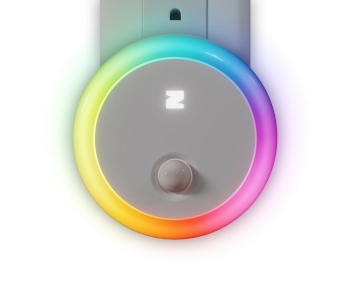 Zing Intelligent Light
4.9/5.0
Dimensions: 3.5 x 3.5 x 1.5 in.
Power source: AC power, rechargeable battery
Can be controlled and monitored through Wi-Fi.
Check HomeDepot
Smart Night Lights Comparison Table
1. Best Overall – Zing Intelligent Light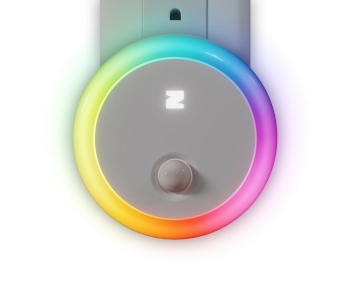 View on HomeDepot
Editor's Rating: 4.9/5
The Zing Intelligent Light is proof of how a simple concept like a night light can be refined and upgraded to offer so much more than a path to your bathroom at night. It has segments that glow individually in millions of colors, can alert you to movement or a power outage, and even acts as a stylish clock! It's the most versatile and smartest night light in existence. Best of all, the Zing Intelligent Light costs less than most competitors.
Overview of Features
At first glance, there's not much going on with this night light. It has a gray plastic exterior and an LED light ring like many other contemporary night lights. Turn it onthough, and you'll notice that the ring is both segmented and colorful. You can set the color for each segment in the app, making the night light truly your own. It's best to keep the Zing plugged in, but you can use it anywhere for four hours thanks to a rechargeable battery too!
This night light has multiple sensors. Motion sensors activate it when you're within range while the temperature sensors let you see how hot or cold the light's surroundings are in the app. Power loss sensors are useful because they send notifications to your phone when the power is out as well as when it gets restored. Zing operates on battery power in the meantime.
While a single Zing is a fine investment, its full potential is revealed when you purchase more and enable intelligent pathing. Each Zing light will initially come on when you're within sensor range. However, as you establish a pattern in the next couple of days, all the lights in your path will start to glow simultaneously, leading you to your destination more efficiently.
Zing synergizes with your phone to provide visual cues for text messages and other information. From its app, you can set color schemes for different notification sources. For example, the night light can glow blue if you're getting a Skype call or green when you get a message through WhatsApp!
The app is a pleasure to use in general. It has a blue-white color scheme and a logical layout that helps you find relevant settings quickly. In it, you can create custom light patterns and choose between different glowing modes like "low glow" which limits brightness or "clock" which simulates an analog clock. There's "blue light reduction" mode which limits how much blue light the Zing emits and helps you sleep better if the light is in your room. You also get access to a motion sensor event history and can adjust the sensor's sensitivity and active times. Finally, you can connect the Zing to the company's cloud service and control it remotely through Wi-Fi.
What's Bad About It?
The Zing Intelligent Light is big for a night light, so much so that it obstructs the second outlet no matter which one you plug it into. It comes with a temperature sensor which isn't as accurate as thermometers or standalone smart sensors.
Tech Specs
Dimensions: 3.5 x 3.5 x 1.5 in.
Sensors: Motion, temperature, power outage
Power source: AC power, rechargeable battery
The Pros
Multi-segmented LED ring
Power outage sensors
Fantastic app with in-depth customization options
Can be controlled and monitored through Wi-Fi
The Cons
Obstructs second outlet
Inaccurate temperature sensor
2. Best Value – Hatch Baby Rest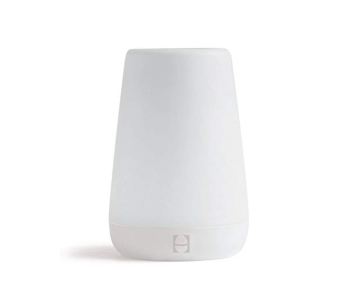 View on Amazon
Editor's Rating: 4.7/5
Putting the baby to sleep is one of the biggest challenges new parents have to face. The Baby Rest by Hatch is a smart night light that provides them with an edge – it's a cleverly designed combination of soothing light and white noise machine. You can use it to lull the baby to sleep, get toddlers accustomed to the concept of a fixed wake-up time, or structure the child's day around its lights and songs.
Overview of Features
The Baby Rest is a tulip-shaped night light you place next to the baby's crib on a flat surface. Its sides emit light in millions of colors while a speaker at the top plays either white noise like crashing waves and TV static or lullabies that sound like they come from a traditional music box. The Baby Rest needs to be plugged in but comes with a long cord and weighs just 13 ounces, so it's easy to take with you on a trip.
You control the Baby Rest by manipulating a metal ring around the speaker. Touching it turns on the device while holding your fingers down turns it off. Tapping the ring switches between six sound and light combos you can pre-program in the app. There's also a more advanced set of controls on the Baby Rest's bottom that lets you do everything the ring does plus pausing a song along with volume and brightness adjustments.
While physical controls are handy, the Baby Rest comes into its own when you control it through the app. This acts as a remote and lets you turn the light or sound machine on, cycle through colors, etc. The remote function is useful for when you hear the baby stirring and want to try to soothe it without getting out of bed. Schedules are a more powerful tool, however. They help you plan the baby's day by associating different times of day with light and sound clues. For example, you can tell the baby it's nap time with green light and one song or time to nurse with yellow light and another.
The number of events you can set up throughout the day is unlimited, and a different volume, color, or brightness level can be programmed for each. The Baby Rest's max volume is high, so the child won't have any trouble hearing it during the day over other household noises. There's also a special sound that tells older kids It's OK to get out of bed and out of their rooms in the morning.
What We Didn't Like
The Baby Rest doesn't have a motion sensor. This would be useful to turn the night light off when the baby falls asleep and only turn it back on when it awakes, or you enter the room. Manual volume and brightness controls are placed awkwardly. You have to pick the Baby Rest up since they're on the bottom, meaning there's little light to show you which buttons are where. That means you either have to adjust the settings via phone which might not be nearby or turn the main light on and risk waking the baby.
Tech Specs
Dimensions: 4 x 4 x 6.2 in.
Sensors: None
Power source: AC power
The Pros
Night light and sound machine in one
Intuitive basic controls
Powerful app with in-depth scheduling options
Good quality speaker
The Cons
Awkward physical control placement
No motion sensors
3. Leeo Smart Alert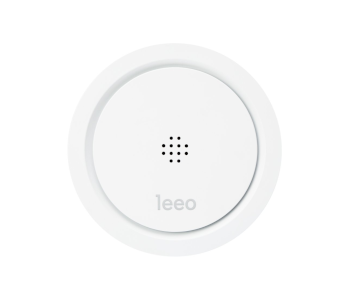 View on Amazon
Editor's Rating: 4.5/5
So far, we've mentioned night lights that help you get around the house and put babies to sleep, but there's one light that might end up saving your life! The Leeo Smart Alert is a night light with a built-in microphone which can recognize the sound of smoke & CO detectors as well as leak monitors. It has an alarm system that grows progressively more serious and can inform your contacts in case of emergency.
Overview of Features
The Leeo Smart Alert is bulky for a night light, understandable since there needed to be enough room for a microphone. You'll have to sacrifice the second outlet as it will be obstructed, but this is a small inconvenience given the Leeo's usefulness.
Setting the Leeo up starts by downloading the app and pairing the night light to your Wi-Fi. The second phase involves listening for your alarms – you have to turn on all the alarms in a 75-foot radius and wait for the Leeo to give the go-ahead after reacting to each one. Leeo is excellent at recognizing alerts from hundreds of devices made by different manufacturers, so you don't need to worry about replacing your smoke or CO detector to be compatible with it.
The tiered alert system kicks in once an alarm goes off. First, you get a phone notification that the Leeo detected something. If you don't dismiss this notification, you get an automated call that plays back a short recording of the incident and tells you what to do. You can store five contacts to be notified too, and they get notified of the alert too if you ignore the first phone call. In short, Leeo's alarms are almost impossible to ignore.
Leeo Smart Alert works well as a night light too. Its default is a continuous glow when the light sensor detects enough ambient brightness. You can turn the night light function on or off altogether from the app. Other night light commands are limited to choosing a color and brightness.
This night light also supports home automation through IFTTT. Different IFTTT recipes let you use its alarm function as a trigger for other devices like smart lights, plugs, or thermostats.
Are There Drawbacks?
The Leeo doesn't have battery backup. A severe fire could cause a power outage, leaving you with no way to receive a notification. You'll need to get multiple Leeo devices if you live in a large home since one might not be close enough to hear every alarm in it.
Tech Specs
Dimensions: 3.5 x 3.5 x 2 in.
Sensors: Light, temperature, humidity
Power source: AC power
The Pros
Reacts to sounds of smoke, CO, and water leak detectors
Tiered alarms make sure that you or a contact receive alerts
Turns on automatically in low light
Easy to choose color and brightness
The Cons
Has no battery
One isn't enough for larger homes
4. BleepBleeps Suzy Snooze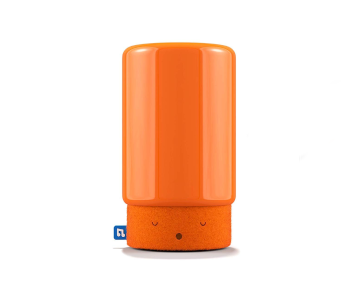 View on Amazon
Editor's Rating: 4.4/5
Parenting is expensive! As if diapers and toys weren't costly enough, babies need night lights and noise machines to fall asleep better. On the other hand, a baby monitor is essential for parents who want to keep track of their child from elsewhere in the home. That's where BleepBleeps' Suzy Snooze comes in – it's a baby monitor, night light, and music player all in one! Suzy Snooze is fun to use and has the right combination of light & sound to make bedtime more carefree for you and your child.
Overview of Features
Suzy Snooze is a bright orange cylinder with a face on its bottom part and a large upper part known as the magic hat. Pressing down on the hat lowers it, makes it glow, and starts playing music. The tune was composed specifically to lull babies to sleep, and its duration can be set from the app. Once the music stops playing, the light dims and Suzy Snooze turns into a standard night light. Its app was recently updated to include a white noise generator, so you can switch to that when the baby falls asleep.
Rotating the hat increases or decreases the brightness. The light emits only an orange color, but this was carefully chosen not to hurt the eyes if the baby wakes up and is free from blue light to help the child sleep better. The night light glows until you press down on its hat again or the wake-up timer expires. This is to teach the child when it can leave the room and is intended for older toddlers.
The Suzy Snooze app lets you use the device as a baby monitor. You only get audio, but the microphone's quality is superb, as is the speaker's. You can adjust song duration, brightness, and activation times with a few taps. You also get access to a baby crying alert and a chart that shows how restless the baby is during the night. This is an excellent tool for keeping track of the child's sleeping schedule and analyzing sleep patterns.
What We Didn't Like
Suzy Snooze can be accessed from anywhere through Wi-Fi. Surprisingly, you need to have Bluetooth on each time you use the app regardless of range, which can be bothersome to remember. Continuous app updates have done much to fix irritating bugs, but there are still intermittent connectivity issues that need to be addressed.
Tech Specs
Dimensions: 3.2 x 3.2 x 6 in.
Sensors: None
Power source: AC power
The Pros
Three baby-soothing gadgets in one
Soft glow and lullaby ensure longer restful sleep
App has crying alerts and a sleep history
Time-to-wake alarm
The Cons
Connectivity issues
App needs Bluetooth to be on to work
5. Aumi Smart Nightlight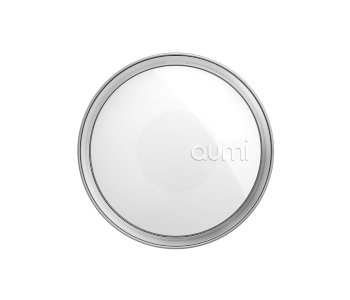 View on Amazon
Editor's Rating: 4.2/5
A smart gadget doesn't need to reinvent the wheel to be among the best – it just needs to be intuitive, responsive, and bring value to your life. The Aumi Smart Nightlight is the perfect example. You can use it anywhere and set up the way you want it to work in moments through the simple companion app. alternately, you can turn on the motion sensor and treat it as a motion-activated night light that helps any family member find their way in the dark.
Overview of Features
The thing we like most about the Aumi light is its intuitive design. The light is puck-shaped, and its surface is a mixture of white plastic and brushed aluminum. You can use the light anywhere since it is battery-powered and comes with adhesive tape. The batteries last for 12 hours. The light can also be plugged in thanks to a pair of retractable prongs that move out of the way when in battery mode. If plugged into the bottom outlet, the light takes up only one spot so another device can be plugged in alongside it.
There are a few different ways of operating the Aumi Nightlight. Rotating the aluminum ring turns the light on and off manually. Another way is to activate the motion sensor in the Aumi app. There you get to specify how long the light will stay on once triggered ranging from 5 seconds to 5 minutes. Finally, you can use a schedule to turn the light on or dim it to a specified percentage in a set amount of time.
The app, in general, is well made and easy to use. It pairs with the light through Bluetooth and can keep track of as many Aumi lights as you need. You can rename each for convenience and play with its motion settings, scheduling options, or color. There are 16 million colors to choose from and they're easy to access from a color wheel.
Different ways of controlling the brightness are another thing we love about the Aumi light. On the one hand, there's standard brightness control in the app. On the other, the light is designed to act as a portable reading lamp too. Its glow is limited to the inner side of the aluminum ring when oriented normally. Turn the Aumi around though, and you'll expose a larger illuminated surface that casts a brighter light.
What's Bad About It?
The Aumi app sometimes has trouble pairing with the light. You'll need to try multiple times before a connection is established, which is annoying if you bought more lights and have to repeat the process for each one. The customer service doesn't provide much help in resolving this or other issues, so you're on your own in figuring out a solution.
Tech Specs
Dimensions: 2.9 x 2.9 x 1.2 in.
Sensors: Motion
Power source: AC power, rechargeable battery
The Pros
Retractable power prongs
Can be used as reading lamp
Good battery life
Simple app
The Cons
Lackluster customer support
Frequent connection issues
6. Best Budget Option – eeQiu Mini Smart Socket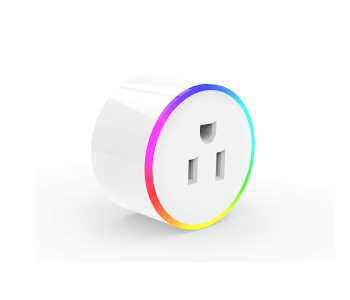 View on Amazon
Editor's Rating: 4.1/5
The last smart night light on review is actually a hybrid product. The Mini Smart Socket is both a night light and a smart plug, making it one of the most versatile devices in the guide. You can use it as a night or ambient light and also regulate the use of any "dumb" device with intuitive scheduling options. The Mini Smart Socket is recognized by Amazon Alexa and the Google Assistant, and it has fantastic 3rd-party compatibility thanks to IFTTT. Best of all, it's so cheap that it's easy to get one for every outlet in your home.
Overview of Features
The Mini Smart Socket is a round white cylinder with an RGB LED ring, a power button for manual control, and holes for standard American power prongs. Its 2.1-inch diameter means you can upgrade both sockets of a dual socket outlet or plug in an appliance that requires constant power alongside the one you want to regulate.
You have to install the Smart Life app for Android or iOS to use the plug and can scan a QR code on its packaging to get a direct link to the app's page. Smart Life is a general purpose home automation app that lets you connect and control various smart devices, including the Mini Smart Socket. After you've connected the plug through Wi-Fi, you get to determine its working schedule. Night light controls include choosing the color from a wheel or picking one of eight scenes along with setting the brightness.
However, the Mini Smart Socket's true power comes from voice activation and automation. Pairing it with Alexa or the Google assistant allows you to turn whatever appliance is plugged into it on or off with a simple voice command. Each plug can be renamed to the name of the device that uses it, so you can say "Alexa, turn on desk lamp," and that's precisely what will happen.
The Mini Smart Plug supports IFTTT but is more versatile in its application than Leeo Smart Alert. Creative use of scheduling and automation through IFTTT lets you turn on a coffee maker when you get home or a light strip when it's time for movie night. Multiple plugs can also be linked into groups and have a single trigger. For example, a security camera's motion detector can trigger Mini Smart Sockets throughout your home and turn on multiple lamps at once.
Are There Drawbacks?
The Smart Life app wasn't designed specifically for this device, so getting them to pair up can be a hassle. The plug's build quality is poor, so you'll need to be careful not to bump into it or pull it out forcefully.
Tech Specs
Dimensions: 2.1 x 2.1 x 2.3 in.
Sensors: None
Power source: AC power
The Pros
Smart plug and night light in one
Controls plugged-in devices on a schedule
LED ring with brightness and color-changing controls
Integrates into your smart home through AI assistants and IFTTT
The Cons
Poor build quality
Initial pairing might need multiple attempts to succeed