6 Best Smart Padlocks in 2019
3D Insider is ad supported and earns money from clicks, commissions from sales, and other ways.
Smart door locks are a cornerstone of home automation and have proven themselves instrumental in making the modern home more secure. Why stop there though? A locker at work, your garden shed, and your travel backpack all hold items both dear and valuable. Shouldn't they be protected in the same sophisticated way?
Smart padlocks answer that question with a resounding yes! They're just as portable as conventional padlocks, but their security is enhanced by removing any lock's most vulnerable part – the key. Now a passcode, smartphone, or even your fingerprint can become the best defense against theft and do away with cumbersome key rings. While they're more expensive than conventional models, smart padlocks offer more security, more access methods, and a better overview of the lock's activity.
Below you'll find the best smart padlocks available today. Some will make even the most persistent criminals give up trying to gain entry while withstanding anything nature can throw at them. Others will help you get through airport security in a snap or let you give dozens of people controlled access. Check out our in-depth reviews and find the smart padlock that'll become key to your peace of mind.
Budget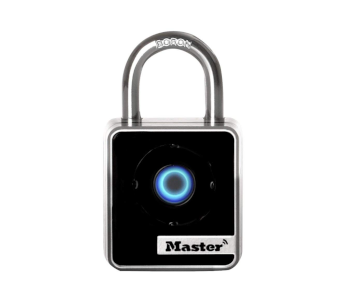 Master Lock 4400D Padlock
4.2/5.0
Use: Indoor only
Battery life: 2 years
This is very secure and resistant to attacks.
Check Amazon
Best Value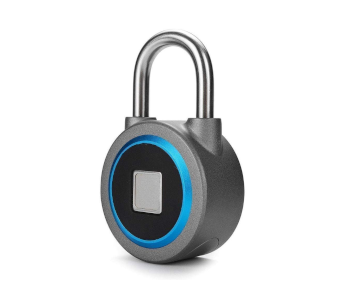 WGCC Fingerprint Padlock
4.3/5.0
Use: Indoor & outdoor
Battery life: 40 days
Can use the same fingerprint to open multiple padlocks.
Check Amazon
Top Pick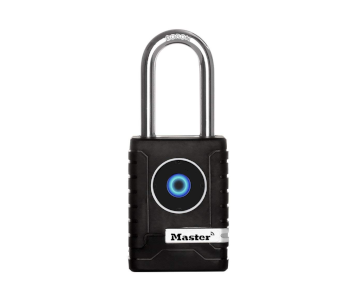 Master Lock 4401DLH Padlock
4.5/5.0
Use: Indoor & outdoor
Battery life: 5 years
Can be jumpstarted and has excellent weather resistance.
Check Amazon
What to Look for in a Smart Padlock?
Purpose
Means of Access
Battery Life
Smart Padlocks Comparison Table
1. Best Overall – Master Lock 4401DLH Padlock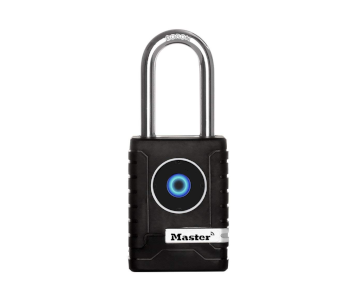 View on Amazon
Editor's Rating: 4.5/5
An impressive build and versatile smart features make this padlock our top pick.
Securing your gates and sheds is as important as having a good lock on your front door. While there may be hefty padlocks out there that will get the job done, none are as advanced or as versatile as Master Lock's 4401DLH outdoor padlock. It's designed to stop all manner of break-in attempts while providing easy entry to people you know and trust. Its ease of use, innovative features, and different means of access make the 4401DLH our top pick and the best smart padlock you can get today.
A Padlock That's as Smart as It is Strong
Judging by its heft and appearance alone, one can see that this is a well-made lock burglars will have a hard time cracking. The exterior is coated in rubber that provides excellent protection from the elements. Boron carbide is used for its body and gives the shackle excellent anti-corrosion properties. The lock's construction prevents bumping and there's no space between the shackle and the body for a shim to be used.
You open the 4401DLH by either entering a combination through its onboard direction pad or by using your smartphone. The latter can do this in two ways – you can either set the lock to Touch mode and have it open as soon as the smartphone is close enough, or use Swipe mode to swipe upwards on the screen to do the same. The lock will remain unlocked for a customizable amount of time before locking itself again, giving you a window of opportunity to open the lock and eliminating the fear of accidentally leaving it unlocked.
The Master Lock Vault eLocks app is the companion you use to operate and customize every aspect of the 4401DLH. This versatile app shows you a history of the lock's activity, allows you to assign temporary access codes to new users, and set the auto relock time. Getting the lock to work with it is simple as you just need to download the app and input the registration code that comes with its instructions.
Are There Drawbacks?
We really wish that the 4401DLH had Wi-Fi connectivity as well. Since it is limited to Bluetooth, you'll always need to be in close proximity to open it. Even then the lock will sometimes have trouble recognizing your phone, resulting in delays. Master Lock claims that the battery can last up to 5 years, but this is drastically reduced if Swipe mode is constantly on. Be prepared to have to switch batteries at least once or twice a year if you're keen on using it.


Tech Specs
Dimensions: 5.4 x 2.3 x 1.2 in
Battery life: Up to 5 years
Unlocked by fingerprint: No
Use: Indoor & outdoor
The Pros
Very well built and tamper-proof
Excellent weather resistance
Can be jumpstarted
Well-designed app
The Cons
Phone needs to be in close proximity to change settings
Battery lasts shorter than specified
2. Best Value – WGCC Fingerprint Padlock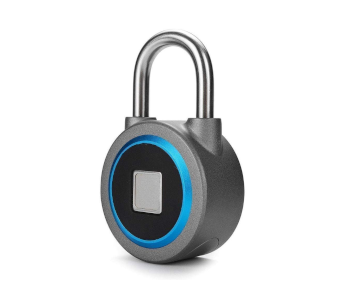 View on Amazon
Editor's Rating: 4.3/5
The fingerprint scanner works well and makes the lock a tough nut to crack.
When you're bone-tired from a brisk workout, the last thing you want to do is fumble around with your locker's key. The get to some clean clothes faster and more securely, you need the fingerprint padlock from WGCC. Since your fingerprint grants entry, there's no need to carry a physical key or remember lengthy passkey combinations. It's the easiest to use lock on the list, requiring only one-time pairing and a touch to open.
A Padlock That Makes You the Key
WGCC's padlock is constructed out of a durable aluminum alloy and has a stainless steel shackle. Its primary use is to secure lockers, trunks and other indoor containers, but since it is water-resistant you can use it outdoors to secure your bike as well. It runs on a rechargeable battery which lasts 40 days with heavy use, so expect to get much more per charge if you use the lock only occasionally.
The fingerprint idea could have gone wrong in so many ways, but we're glad to say that recognition works flawlessly! The setup process involves downloading the app and scanning in your fingerprint. The app takes multiple scans so that the fingerprint will be recognized regardless of how you touch the sensor. 15 fingerprints can be stored and recognized in total.
Once you've successfully registered a fingerprint, you never need to use the app again! Naturally, the app does serve as a failsafe device and allows you to open the padlock when you're in Bluetooth range. You can use the same app and fingerprint to unlock multiple locks, making this model a great option for anyone who'd like to replace their varying old padlocks and associated keys with a much smarter system.
What's Bad About It?
The fingerprint reader may not recognize your finger if it is wet or dirty, so you'll need to wash your hands before each use. The app hasn't been translated into English yet and asks for a lot of permissions for something so straightforward. If you have any trouble with the pairing process, the included instructions won't be of much help as they're written in "English" that's impossible to understand.


Tech Specs
Dimensions: 5 x 3.5 x 1 in
Battery life: 40 days
Unlocked by fingerprint: Yes
Use: Indoor & outdoor
The Pros
Very easy to use
Doesn't require phone after initial setup
Same fingerprint can open multiple padlocks
The Cons
You need clean and dry hands to operate it
Unclear instructions & app in Chinese
3. Dog & Bone LockSmart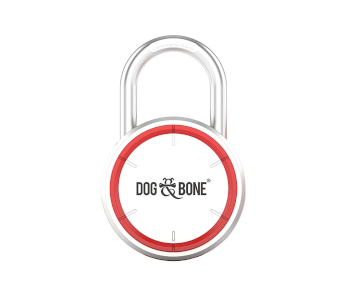 View on Amazon
Editor's Rating: 4.2/5
One of the most valuable applications smart padlocks have is securing documents and other sensitive items in the workplace. That's also the setting with the greatest potential for theft as someone is always coming & going and it's impossible to keep tabs on who used the padlock last. Dog & Bone's LockSmart padlock was designed to be operated by up to 50 people and its app keeps a comprehensive list of everyone's activities. Set a few up in your office or workshop and never wonder who had access to your company's belongings again.
The Stylish Multi-user Smart Lock
Although aesthetics aren't key to determining a padlock's effectiveness, we must admit that this one looks really nice. The burnished trauma alloy body is beefy and resistant to blunt force trauma while the steel shackle is thick and won't break at the first sight of a pair of bolt cutters. Everything is rounded out by the Dog & Bone logo and a rubberized red edge that helps make your grip more comfortable. The lock is fully weatherproof and can be used in extreme weather conditions.
Its main selling point is being able to track the activity of 50 users. You need to register your lock on Dog & Bone's site and can then access the app from any smartphone. Adding more users involves sending them messages with links & instructions for activating the app. When they've installed the app and accepted your invite, they'll be able to look at a picture of your lock and unlock it with a tap on the screen.
Primary users will find the app to be much more functional. When setting up a lock, the app lets you name it so it's easier to distinguish. Through the app, a primary user can manage secondary users' privileges, view activity logs containing the times & IDs of people that accessed the LockSmart, and receive alerts when the battery is low. They also get more unlock features. Apart from tapping an icon, a primary user can activate the LockSmart through their smartphone's fingerprint sensor or a passcode.
What Should Be Improved?
The LockSmart works well when a single person is using it but experiences some hiccups if more people are trying to access it at the same time. For best results, users should operate it one at a time. While secure, the lock is a bit small, meaning you won't be able to use it on some bigger objects like gates or bulky cabinets.


Tech Specs
Dimensions: 2.5 x 1 x 0.3 in
Battery life: Up to 2 years
Unlocked by fingerprint: No
Use: Indoor & outdoor
The Pros
Supports 50 users
Three ways of entry including fingerprint scanner
Excellent battery life
Comprehensive app
The Cons
Issues with simultaneous access by multiple users
Small size
4. eGeeTouch Smart TSA Travel Lock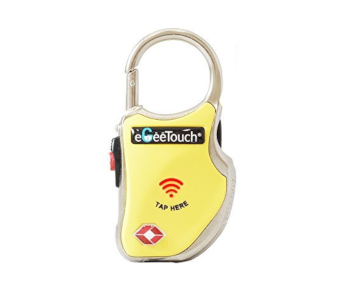 View on Amazon
Editor's Rating: 4/5
A good travel padlock adds extra security to your suitcases and backpacks, but it's useless if it doesn't give TSA agents unrestricted access to your belongings as they'll cut it open during inspection. The eGeeTouch Smart TSA Travel Lock is fully compliant with the TSA's search protocols and will even let you know when someone has been tampering with your belongings. Add its responsive proximity sensor and no-combination opening, and you've got the best smart lock for travel today.
Keeps Your Luggage Safe in a Smart Way
If you're used to the minuscule locks your luggage usually comes with, you'll find that the eGeeTouch is a bit bigger and beefier. It's not just in order to fit the electronics either – the locking mechanism is sophisticated and definitely harder to crack than a simple 3-digit combination. The lock is available in two colors so you can either choose black to make it inconspicuous or go with yellow to let thieves know that they should keep their distance. It's also water-resistant and won't malfunction if you get caught in the rain.
Being TSA-approved means that the lock has a separate hole TSA agents can use to unlock it and return the lock to you in one piece. That's the only "key" the eGeeTouch uses as you open it up by tapping either your smartphone (or smartwatch) or an NFC tag on the designated spot. Each of these devices gets its own unique ID code that's impossible to guess and which you don't need to remember. If your phone ever goes missing, you can disable old IDs from within the app.
Motion sensors are the eGeeTouch's most advanced and useful feature. When activated, they'll send an alert to the app as soon as the distance between your phone and the lock is greater than what you set it to be. This will drain the batteries quicker though. Luckily, the eGeeTouch has a USB port it can be charged through if the batteries die.
What We Didn't Like
The manufacturer claims that the batteries last 2 years. Unfortunately, we found that they drain much faster than that even if the proximity sensors aren't in use. Accessing your items can be a hassle too with this lock. You need to open the app up, pair your phone with the lock, and make sure that the batteries have some charge left in them to be able to unlock it.


Tech Specs
Dimensions: 2.6 x 1.4 x 0.8 in
Battery life: Up to 2 years
Unlocked by fingerprint: No
Use: Luggage
The Pros
TSA-approved
Good for securing luggage
Very affordable considering all of its features
Excellent proximity sensors
The Cons
Batteries drain far too quickly
Opening the lock can be a hassle if you're in a hurry
5. BoxLock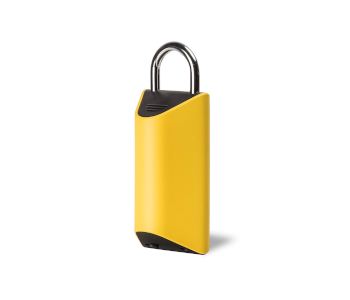 View on Amazon
Editor's Rating: 3.9/5
Packages that stand next to your door for hours are a prime target for porch pilferers. The best way to protect them would be to get a secure delivery box, but that would also mean having to tell the delivery agent where the keys are each time. The BoxLock is a new security solution that keeps your packages out of harm's way while giving the driver one-time access thanks to a smart app. It's the best way of protecting your deliveries and getting notified of their arrival while at work or vacation.
A Smart Padlock for Safe Packages
You can tell from the BoxLock's massive yellow body how sturdy it is. The shackle is thick while the entire lock is weather resistant, permitting use outside. It comes with a rechargeable Li-ion battery which has enough juice in it to last 30 days. On its bottom is a barcode scanner that grants access to delivery agents. Installation is easy as all you need to do is make an account, provide your real name & address, and start using the BoxLock like any other keyless padlock.
So how does it work? The BoxLock is connected to its app and your email provider through Wi-Fi. Each time you order something and get the confirmation email that includes shipping information, this information is saved in the BoxLock app under undelivered packages. When the package arrives, the delivery person needs to scan its barcode with the BoxLock's scanner. If the information matches that already stored in the padlock, it will spring open and allow the delivery person to store your package and relock the container.
The app is functional and easy to navigate. Through it, you can check the BoxLock's status and lock/unlock it manually. It has an overview of undelivered and recently delivered packages as well as the option to input tracking information manually if your email provider isn't supported. You can add multiple users by assigning different barcodes, check the lock's access history, and see the battery's status as well.
What's Bad About It?
The BoxLock doesn't support POP3 email addresses yet, so if you aren't using Gmail or an IMAP address you'll have to manually type in the shipping information each time you want a package placed inside a container secured by the BoxLock. Although it's not the BoxLock's fault, the fact remains that some drivers might not know about it or won't bother using it in the first place.


Tech Specs
Dimensions: 8.5 x 4.2 x 3.5 in
Battery life: 30 days
Unlocked by fingerprint: No
Use: Package container
The Pros
Sturdy and weather-resistant
Gives access only to you and the person delivering a verified package
Powerful app
The Cons
Automatic package tracking doesn't work with some email providers
May not be used by delivery personnel
Expensive
6. Best Budget Option – Master Lock 4400D Padlock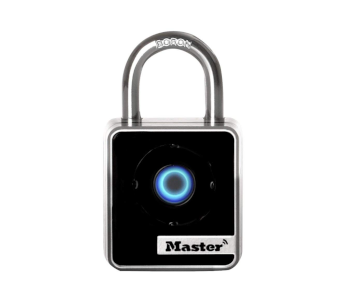 View on Amazon
Editor's Rating: 4.2/5
Almost as capable as the overall winner but more affordable.
Master Lock is the world's foremost padlock manufacturer, so having two of their models on our list comes as no surprise. The 4400D is the slightly smaller yet equally smart version of our overall winner. The major differences that set them apart are the 4400D's lower price and lack of waterproofing, making it suitable exclusively for indoor use. Even so, if you've got a gym locker or file cabinet to secure, the4400D is surpassed only by its more expensive cousin.
The Distinguished Indoor Padlock
Visually this model isn't all that different from the 4401DLH. It's a little smaller and slimmer, but the same quality alloys are used in its construction. The intuitive four-way control pad is there, as is a battery cover located on the lock's bottom. The battery life is shorter, but even if the battery should fail you can touch the contacts on the lock's base with a fresh one to get it working in an emergency.
Although the padlock isn't weather-resistant, its security is in no way compromised. At 0.3 inches thick, its shackle was designed with bolt cutters in mind and will prove to be tough to break. The lock's parts are precision-engineered to fit snugly together so a shim isn't able to penetrate it. Even the battery is tamper-proof since it can only be replaced while the lock is open.
The lock is supported by the same great app. Locker mode is a feature we didn't mention earlier, but which is of particular use with an indoor lock like this one. It acts as a third way of gaining entry along with Touch and Swipe modes. In Locker mode, your cellphone can't be used to activate the lock by touching it. This leaves the analog pad as the only source of entry and is beneficial in business settings where your phone could be misused to tap and access the lock without permission.
What Could Be Better?
This is another model with battery issues. The original battery may sometimes be dead on arrival, and achieving the 2-year mark even when staying away from Swipe mode is practically impossible. The lock also sometimes has trouble syncing with its app. It doesn't download the complete access history from the first try, meaning you might lose out on potentially vital data if something it was supposed to protect goes missing.


Tech Specs
Dimensions: 3.3 x 1.7 x 1.1 in
Battery life: up to 2 years
Unlocked by fingerprint: No
Use: indoor only
The Pros
Very secure and resistant to attacks
Multiple ways of gaining access
Locker mode
The Cons
Battery life issues
Sometimes has trouble syncing with app