6 Best Smart Pens of 2019
3D Insider is ad supported and earns money from clicks, commissions from sales, and other ways.
Even though it's never been easier to get in touch with someone or look up information you need on a smartphone, there's still room in our fast-paced society for good old pen & paper. Using them is still more effective when you need to brainstorm ideas, take notes during class, or jot down the key points your coworker made in a presentation. Notebooks get lost though, and atrocious writing can prevent us from sharing ideas with others. So, is there a way to keep using pen & paper and make them part of the digital world?
The answer is yes, with help from smart pens! These innovative pens use infrared cameras to record every stroke you make and translate it faithfully to a computer or smartphone screen. They do much more though – some turn your hieroglyphs into legible text while others act as voice recorders and capture a lecture verbatim. Their companion apps make it easy to edit, annotate, and share your notes so anyone can benefit from them.
The six smart pens below are the best the market has to offer. They differ by price, whether or not they can record audio, and what features their apps have. Read our hands-on reviews to find one which fits both your budget and your note-taking needs and never be out of the loop again!
Budget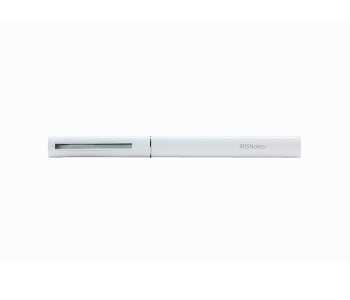 IrisNotes 3 Air
4.1/5.0
Battery life (hours): 8
Records sound?: No
Works with any paper and great for note taking.
Check Amazon
Best Value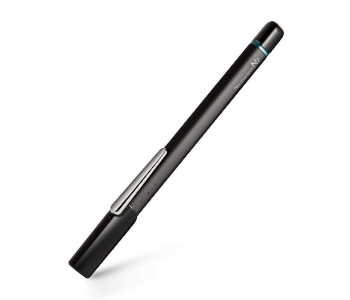 Neo Smartpen N2
4.5/5.0
Battery life (hours): 6
Records sound?: No
Turns handwritten notes into .txt files.
Check Amazon
Top Pick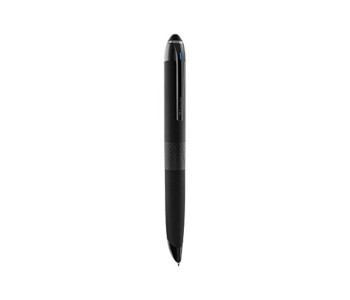 Livescribe 3 Smartpen
4.7/5.0
Battery life (hours): 14
Records sound?: Yes
Records audio through your smart device.
Check Amazon
Smart Pens Comparison Table
1. Best Overall – Livescribe 3 Smartpen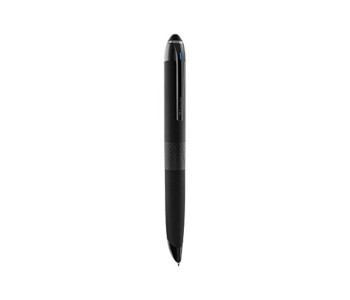 View on Amazon
Editor's Rating: 4.7/5
Digitizing hastily-scrawled notes or beautiful sketches requires absolute precision from your smart pen. The 3rd edition of the Livescribe is the most versatile and advanced when it comes to digitization fidelity and ease of use. The pen is accompanied by a fantastic app and will keep going longer than the competition thanks to excellent battery life and generous ink cartridges. If you require smart pen excellence and aren't put off by a pen that's thicker than usual, the Livescribe 3 is the clear choice
Overview of Features
The 3rd-gen Livescribe is a bulky yet lightweight pen made from matte-black plastic with a sophisticated chrome finish. It takes proprietary carbon-free ink cartridges, and its smarts work only with Livescribe's paper. We're reviewing the barebones version, but there's also a much more expensive Pro version available. The Pro version contains two replacement cartridges along with 100 special pages and a leather-bound folio. You can create additional pages yourself as long as you have a printer that prints at 600 dpi or more!
Setting up the pen requires the installation of the Livescribe+ app for Android or iOS. You're ready to go once you've paired your smartphone or tablet over Bluetooth and completed a registration process that involves giving your credentials and naming the pen. A single Livescribe 3 syncs with four devices so you can share it with others as long as only one instance of the app is running.
The secret to Livescribe's accuracy lies in the design of its accompanying paper. It contains dots scanned by an infrared beam inside the pen which is used to calculate its precise position and changes in position on the page. This translates into fast and accurate digitization which happens in real time. If the Bluetooth connection ever breaks, the pen's activity is stored locally and will be put to paper once it is reestablished.
Each piece of paper is stored as a separate document and can be tagged with the time and date. The sheets also contain icons you tap with the pen to add them to favorites, highlighting notes within a page, and creating to-do lists. Audio recording is also an option. Tapping the corresponding icon on a page will turn your smart device into a voice recorder that can start, pause, and stop recordings.
What We Didn't Like
The 3rd-gen Livescribe's only real drawback is its awkward girth. The pen is crammed with sophisticated electronics which wouldn't fit into a regular-sized one and is awkward to hold at first. You charge the pen via a USB port located on its top. The port is protected with a plastic cap which fits loosely, and it's only a matter of time before you lose it.

Tech Specs
Dimensions: 6.4 x 0.6 x 0.6 in.
Weight: 1.2 oz.
Battery life: 14 hours
Records sound: Yes
The Pros
Outstanding digitization quality
Records audio through your smart device
Intuitive controls accessible through paper
Excellent companion app
The Cons
Wider than regular pens
Cap that protects USB port falls off easily
2. Best Value – Neo Smartpen N2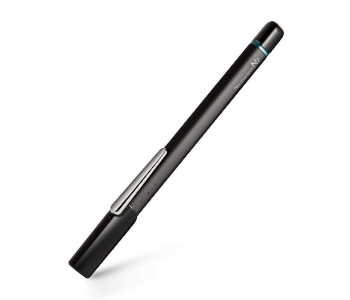 View on Amazon
Editor's Rating: 4.5/5
Do you take a lot of notes you'd like others to read as well? NeoLAB's N2 smart pen takes your handwritten notes and transcribes them into text files, provided they're legible. It's comfortable in hand, has a feature-rich app, and there are many different notebook formats to choose from. The N2 goes toe to toe with the 3rd-gen Livescribe in terms of accuracy and is a worthy alternative.
Overview of Features
Unlike the Livescribe, N2 retains the dimensions of a standard ballpoint pen. It is made from premium-grade aluminum and available in either a black or metallic finish. The pen runs on ordinary D1 cartridges which are easy to replace. You'll need to use proprietary notebooks with it though, but the manufacturer provides instructions on printing out compatible pages in formats like A5, A4, landscape, etc.
You turn the N2 on by removing its cap. The pen will write continuously for six hours and enters standby mode whenever it is idle for 10 seconds. You can simultaneously charge and write with it by using the USB port on its back. Accessories other than the USB cable include a notebook and a D1 replacement cartridge.
The N2 works with proprietary notebooks that not only record its position but have data that tells the Neo Notes app which page and line you're on. The app contains a powerful visual & text editor which allows you to change the color of or underline selected notes and even edit the text if you wish to add something or have made a mistake.
Transcription is its most thought-out features though. The app scans handwritten text and turns it into standard .txt files shareable to your Google Drive. It recognizes hyphens and bullet points which makes your notes look cleaner and more organized.
What's Bad About It?
Syncing and exporting your notes is handled awkwardly. You can send only individual pages to Google Drive while Evernote syncs to an entire notebook and doesn't let you access a single page. While the pen looks like a regular one, its balance is off. It is top-heavy due to electronics placement in its top half which you'll need to get used to when you start using it.

Tech Specs
Dimensions: 6.2 x 0.5 x 0.5 in.
Weight: 0.6 oz.
Battery life: 6 hours
Records sound: No
The Pros
Designed like a regular pen that takes D1 cartridges
Turns handwritten notes into .txt files
Companion app contains powerful editing tools
Great balance of cost and quality
The Cons
Inconsistent syncing options
Balanced towards the top
3. Wacom Bamboo Folio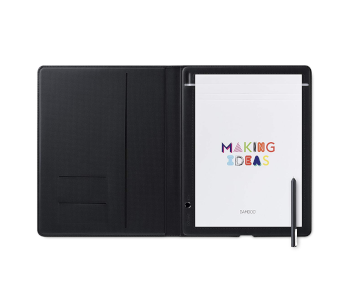 View on Amazon
Editor's Rating: 4.4/5
Wacom's Bamboo folio takes a different approach to digitization. While it does come with a specialty pen, it's the folio that does all the heavy lifting. You can use any type of paper as long as the notebook is thin enough, and the folio stores pages locally to upload them to the cloud when you can take out your smartphone. Add to that an intuitive app which lets you edit what you write, and you've got a recipe for awesome 21-st century note taking.
Overview of Features
The Wacom Bamboo is a luxurious and sturdy folio with a professional look. It is made from polyurethane. The exterior is gray and textured while the interior has stitching throughout and is black. There's space for an A4 notebook to the right and two business card slots to the left. The pen you get with it looks ordinary, a smaller ink cartridge being the only thing that differentiates it from classic pens. It is comfortable to hold and doesn't need batteries. Speaking of which, the folio runs for 8 hours on a full charge.
You use the folio by installing the app and simply writing with the pen onto any notebook that's secured to it. The notebook needs to be thinner than 0.8 inches though or lose it won't work. The Bamboo records each stroke as you're writing. When a page is finished, you need to press the Sync button and it will become available on the cloud. You can sync any number of smartphones, PCs, or tablets to the cloud and your notes will appear on them within seconds. Alternatively, you can turn on live mode and the output on a connected device will be updated in real time.
Other smart writing systems limit you to reviewing notes page by page. Wacom Bamboo records every stroke as you're making it, meaning you can bring up a timeline of notes and watch as they're taking shape! This makes it easier to follow along and remember why you underlined something or added notes in the margins.
Your handwriting and doodles are captured with accuracy and can be edited afterward. This includes erasing, marking, or commenting on text. The most exciting editing aspect, however, is being able to select just part of a page and send it to the cloud or a contact.
Are There Drawbacks?
The bamboo folio supports converting handwriting into text files, but this feature isn't free. You have to pay $3/month to get 50GB of cloud storage and text conversion. You need to install two apps to get the most out of the folio. Its main app, Inkspace, only stores pages in black & white. You'll also need to install an app called Bamboo Paper alongside it if you want to add color. Inkspace files need to be converted to a particular format to be accessible in Bamboo Paper, which adds to the unnecessary clutter.

Tech Specs
Folio Dimensions: 13.3 x 10.5 x 0.8 in.
Weight: 1.8 lbs.
Battery life: 8 hours
Records sound: No
The Pros
Accurately digitizes text and drawings
Works with ordinary paper
Lets you view notes stroke by stroke
Lets you transfer sections of a page
The Cons
Needs two apps to be used fully
Converting handwritten notes to text requires a monthly subscription
4. Livescribe Echo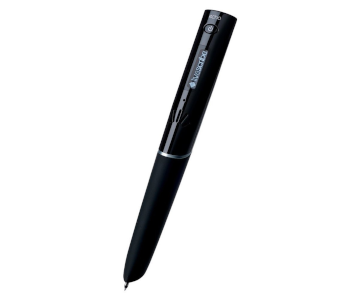 View on Amazon
Editor's Rating: 4.2/5
Before Livescribe impressed us with the Smartpen Pro, there was the Echo. Even though it is getting on in years, the Echo is still a viable smart pen. Its standout feature is recording audio as you're writing without the need of an external smart device. It combines digital note taking with voice recording in a single portable package. Get the Echo and never miss an important detail again!
Overview of Features
The first thing you'll notice about the Echo's design is how bulky it is. We'd count that against it were it not for the slew of electronics the pen is packing. There's a small OLED display, USB and 3.5mm headphone ports, a speaker, and a microphone. Actually, it's a wonder the Echo is this thin! Even so, the pen isn't unwieldy thanks to a rubberized grip. Its battery is equally impressive. If you're only taking notes, it lasts 12 hours. Turning on the audio recorder will cut that time down to 5 hours, which is still respectable considering the drain.
The Pulse works in three modes. It can either take notes, record sound, or do both at the same time. Selecting the last option enables Paper Replay. This mode syncs lines of text with what the audio recorder captured at the time of writing. The recording is then played back when you tap on a word in that line! This is incredibly useful when you want to add broader context to a vague note you jotted down long ago.
Even if you don't write anything, turning Echo's record mode on captures everything that's being said. You can choose between three audio qualities and two microphone settings. The different audio quality levels determine how well the recording sounds and how much space it occupies on the pen's 4GB drive. The microphone can be set to either room or hall depending on the size of your location.
Taking notes is as reliable as using the Livescribe 3. There are no mobile apps since this is an older model, but hooking the Echo up to your laptop or MacBook works just as well. Notes are labeled according to the notebook page they're written on and can be shared through Evernote, Facebook, or Google. The desktop software also allows you to organize notes based on time or keyword searches, playback audio recordings, and receive notes from other users.
What's Bad About It?
The Echo's best feature also causes one of its worst problems. Since the microphone is so close to the paper, its recordings are riddled with the sounds of your scratching pen. This isn't a problem under normal circumstances but can become one when you need to write at a furious pace. The Echo's OLED screen contains useful info like the pen's name, how full it is etc. It will start to go dim with use though.

Tech Specs
Dimensions: 6.2 x 0.8 x 0.5 in.
Weight: 4 oz.
Battery life: 14 hours
Records sound: Yes
The Pros
Records audio along with notes
Desktop app makes sharing, receiving, and organizing content easy
Variable microphone settings
Excellent battery life
The Cons
Records writing sounds, lowering audio quality
OLED display fades with use
5. Moleskine Pen+ Ellipse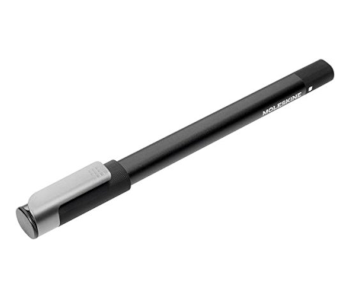 View on Amazon
Editor's Rating: 4/5
Would you like to take all the notes you need without having to keep track of when you last synced your smart pen to its app? Moleskine, the world-renowned manufacturer of notebooks and writing implements, has developed a pen that elegantly solves this annoyance. The Pen+ Ellipse lets you fill out 1,000 sheets of paper before it needs syncing! When you do finally connect it to a phone or tablet, transferring the digitized data takes just seconds.
Overview of Features
The Pen+ Ellipse follows Moleskine's recognizable and classy design. It is made from black aluminum and features a fake fountain pen look which disguises its infrared camera. The pen behaves just like an ordinary one and you won't need an adjustment period to use it naturally. At 4 hours, this is the pen with the shortest battery life on review.
Using the Pen+ Ellipse with or without its app is straightforward. How you'll treat it depends on whether or not the app is on. If it isn't, the Pen+ Ellipse behaves like any other pen while storing everything you write. If the app is on, each stroke is transferred onto the connected device in real time. You can even record audio clips and sync them to the notes for a complete audiovisual learning experience.
The Moleskine app gives you a variety of editing and sharing options. Apart from highlighting and note adding we've seen in other apps, it lets you tag words or phrases and organize pages based on them. This makes it easy to search for specific content and helps with organization. Sharing notes is also done well. You can do so through Google Docs and Evernote, or tap the email icon on the paper to turn what you're writing into a PDF ready to be sent via email.
What We Didn't Like
This pen only works with Moleskine's own line of notebooks. The company doesn't offer printable pages either, so you're stuck with having to buy replacement notebooks which can end up costing you more than the pen if you take notes a lot. The Pen+ Ellipse converts handwriting to text. This feature is unreliable though since it requires impeccable penmanship.

Tech Specs
Folio Dimensions: 6.1 x 0.5 x 0.5 in.
Weight: 1 oz.
Battery life: 4 hours
Records sound: Yes
The Pros
Large internal storage
Notes can be tagged and searched by keywords
Multiple straightforward sharing options
Supports audio recordings that sync to notes
The Cons
Poor battery life
Unreliable text conversion
Works only with proprietary notebooks
6. Best Budget Option – IrisNotes 3 Air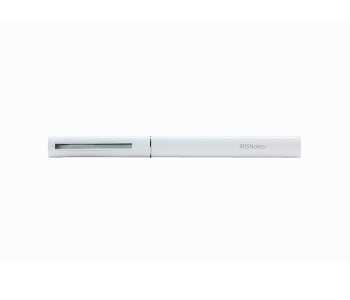 View on Amazon
Editor's Rating: 4.1/5
The most annoying thing about smart pens is that many of them work only with unique notebooks. These can cost more than $20, making what seemed like a reasonable initial investment just the tip of your smart pen expense iceberg. The IrisNotes 3 Air is a smart pen which works with any kind of paper, so its asking price is all you have to pay to use it! The pen is an excellent transcription tool that transmits pen strokes quickly and accurately. It has a few design quirks but offers outstanding value for the money.
Overview of Features
IrisNotes 3 Air consists of two gadgets – a smart pen and a transceiver. The pen is standard in size and weight. It has a white finish and its cap comes off to reveal a black tip. The transceiver is a small device you clip onto a notebook. It syncs with the pen and its app and transmits the strokes the pen makes in real time. The pen's rechargeable battery lasts for 10 hours and fills up in less than two.
The pen and transceiver combo excel at turning handwritten text into shareable and editable notes. Your handwriting doesn't need to be neat either as the IrisNotes 3 is capable of recognizing even sloppy scrawls as text. Its companion program for the PC has a feature that helps with improving your penmanship if your handwriting is so bad even this pen won't recognize it.
The software that comes with the IrisNotes 3 Air takes some getting used to, but once you're comfortable with its layout, you won't have any trouble. The pen stores 100 pages of text internally so you don't need to bring a laptop or turn your smartphone on to sync and digitize your notes! The PC software even lets you turn the pen into a mouse. Drawing our mouse strokes on paper is weird, but it works. So does exporting your files as either PDF documents or JPEG images through the mobile app.
Are There Drawbacks?
IrisNotes 3 Air is a smart pen meant for note taking. It isn't accurate enough to faithfully digitize small and subtle strokes, meaning it isn't a good option if you want to digitize sketches. The pen has a large cap which doesn't fit on top. You'll have to keep an eye on the cap since it's easy to lose.

Tech Specs
Dimensions: 5.9 x 0.6 x 0.6 in.
Weight: 0.7 oz.
Battery life: 10 hours
Records sound: No
The Pros
Excellent value for the money
Works with any paper
Great for note taking
Versatile companion software
The Cons
Not suitable for sketching
Cap doesn't fit the pen's top