6 Best Smart Pet Feeders in 2019
3D Insider is ad supported and earns money from clicks and other ways.
It's been a hectic day at work and you need to stay after hours, but who will feed the dog Rather than spend your working hours in unproductive worry, consider investing in a smart pet feeder and you'll never have to wonder about Fluffy's feeding schedule again.
Unlike regular automatic feeders that dispense a fixed amount of food at certain intervals, smart ones allow you to monitor your pet's food intake, schedule different portions for different parts of the day and even say hello to them via video link. Best of all, you can do this through your smartphone from work, school, or your vacation spot!
Below are the most talked about smart pet feeder models. Each of these will be suitable for cats of any size and most will keep up with dogs too. Whether you need a surefire way of controlling your pooch's delicate diet or a feeder your cat alone can access, the models we've selected all take little time for pets to get used to and perform their feeding duties perfectly.
Budget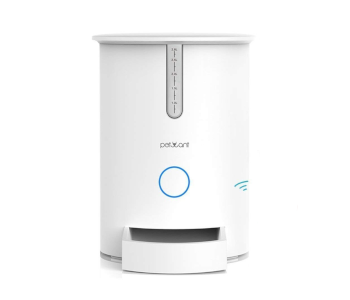 Petdiary Automatic Cat Feeder
3.9/5.0
Capacity (cups): 10
Has camera: No
Variable meal times and portion sizes.
Check Amazon
Best Value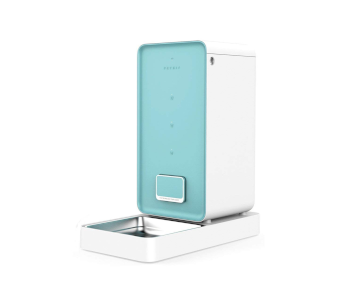 PETKIT Smart Automatic
4.5/5.0
Capacity (cups): 25
Has camera: No
Sensors prevent injuries and ensure smooth operation.
Check Amazon
Top Pick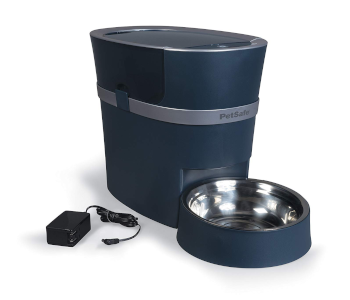 PetSafe Smart Feed
4.7/5.0
Capacity (cups): 24
Has camera: No
Large capacity bowl. Safe & easy to use.
Check Amazon
What to Look for in a Smart Pet Feeder
Portion Control
Food Size & Type
Capacity & Safety
Smart Pet Feeders Comparison Table
#1 Best Overall – PetSafe Smart Feed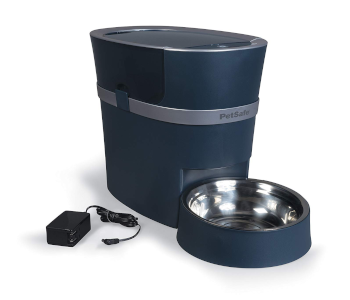 View on Amazon
Editor's Rating: 4.7/5
The trouble with many pet feeders is that their portion sizes tend to be small. That's fine for cats and small dogs, but it means that your golden retriever may go hungry. PetSafe has solved this issue by creating a feeder that has both a large capacity as well as a big bowl for your pet to use. Add to that some pretty comprehensive smart features and the reason why we've chosen this model as the best are clear.
Great for Pets of All Sizes
This smart feeder is one of the biggest ones on the list. Not surprising considering it can hold a respectable 24 cups of food and has room enough for its full-sized bowl to be tucked inside when not in use. The food is dispensed to the bowl via a conveyer belt which you can observe through a see-through hopper. If you get an additional splitter attachment, the PetSafe can feed two pets at the same time or on separate schedules.
The PetSafe was designed with a tamper-proof dispenser so your dog can't get to its internal workings while being fed and get hurt or damage the machine. Equal attention has been given to its smart side too as you get a separate router with it for optimum Wi-Fi signal strength. Even if the Wi-Fi is shut off, PetSafe will still do its job according to the schedule you set.
You control how pets are fed through a well-designed app. First, you have to tell it whether you have a dog or a cat. Then you can proceed to the various options on hand like determining portion sizes, scheduling, and notification overview. The app will let you know exactly how much food it dispenses for any given meal. You can set the feeder to dispense food as many as 12 times per day and determine each portion size individually. For fast eaters, there's also the slow feed function that dispenses the meal over a 15-minute period.
What We Didn't Like
Inside of the feeder, there are a few movable plastic parts that aren't sturdy and can detach themselves when you're adding more food. You can easily put them back, but having to do so can get annoying. This might not be a good device for users with spotty Wi-Fi connections. Each time the feeder loses it you have to go through the initial setup process for some reason.

Tech Specs
Dimensions: 20.3 x 9.4 x 12.6 in
Capacity: 24 cups
Suitable for: Dry food only
Power: Batteries & plug
Max meals dispensed per day: 12
The Pros
Large capacity & bowl
Safe & easy to use
Well-designed app
Slow feeding feature
The Cons
Contain flimsy detachable internal components
Unstable Wi-Fi causes issues
#2 Best Value – PETKIT Smart Automatic Pet Feeder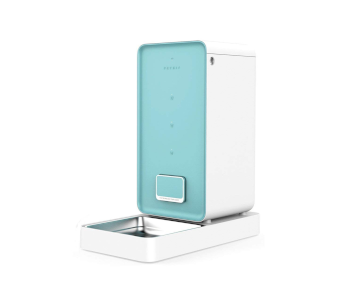 View on Amazon
Editor's Rating: 4.5/5
It's great that you can fill a pet feeder up with pounds of food and not have to do so for a while. Does the food remain fresh though? That's a question you'll never have to ask yourself if you get this pet feeder made by Petkit! It's designed to keep stored food free from moisture or bacteria and has an intuitive app to boot.
Fresh Food for a Happy Pet
The secret to keeping food fresh longer inside Petkit's feeder lies in its twofold design. On one hand, there are silicone rings that seal up the dispenser as well as the upper door, keeping the food from becoming stale or exposed to germs. On the other, there's a dehumidifying agent directly under the door which sucks up all the moisture from inside. The result – food that's always fresh and never sticks to either the dispenser or the bowl.
This feeder is jam-packed with helpful sensors that make it both safer and easier to use. There are infrared sensors that ensure the motor and moving components are operating correctly and aren't clogged by bits of food. Then there's a sensor located near the dispenser door that measures nearby movement. If it detects a curious paw or snout, the sensor will prevent the door from closing and harming the pet. Lastly, a weight sensor measures how much food is left and it can send a notification to the app when it's time to pick up more.
You can precisely schedule meal times and helping sizes inside Petkit's app. If you supply it with information on your pet like its age or size, the app can also help you put together a plan that's tailored to its particular needs. It also acts as a remote control that releases a specified amount of food with a tap if you don't want to bother with scheduling
Are There Drawbacks?
This model suffers from similar connection issues as that from PetSafe. Since practically every action so controlled through the app, the feeder becomes almost useless if the connection should fail. You can still dispense food manually in that case, but if you're far away you may come home to a very hungry pet.

Tech Specs
Dimensions: 20.3 x 9.4 x 12.6 in
Capacity: 25 cups
Suitable for: Dry food only
Power: Batteries & plug
Max meals dispensed per day: 4
The Pros
Keeps food fresh
Custom meal plans
Alerts you when food is low
Sensors prevent injuries and ensure smooth operation
The Cons
Connection issues
#3 JEMPET Petwant SmartFeeder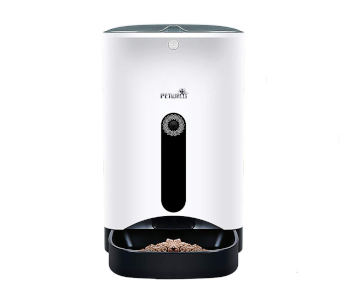 View on Amazon
Editor's Rating: 4.3/5
It's great that you can feed your cat or dog when you're away, but wouldn't being able to interact with them while they're eating be even better? That's the idea behind the Petwant SmartFeeder. It has a built-in camera and two-way speaker so you can keep in touch with your pooch and check up on him during the day from anywhere.
A Feeder and Pet Cam in One
At first, you may find the Petwant's appearance unremarkable. It looks like any other automatic feeder complete with a few essential lights, buttons, and a removable plastic bow. Look a little closer though and you'll see the lens that turns this pet feeder into a bona fide pet security camera! Its 1MP resolution isn't record-breaking, but the 120-degree viewing angle makes it perfect for checking up on a munching pet and its surroundings.
The feeder is also equipped with a mic and speaker so you can talk and listen to your pet, albeit with a short delay. After you set up the app, you get access to a section where you can check out the camera's live feed or take a snapshot and store it on your phone. There's no need to worry about power outages or connection loss as the feeder automatically switches to battery power and remembers the feeding schedule you use.
Scheduling involves setting up to four daily meal times and determining the helpings. The dispenser's opening is suitable for differently-sized kibble, so your pet's favorite kind will probably fit. If you think that your pet deserves a special treat, you can always override the schedule and sneak one in between meals.
What Should Be Improved?
The camera's overall quality is great, but there are no infrared lights to augment it, so the feed is unusable in low light conditions and at night. Stored food can sometimes get stuck and the app will mistakenly inform you that there's none left. You'll have to manually remove the obstruction before the feeder can be used again.

Tech Specs
Dimensions: 9.8 x 11.8 x 15 in
Capacity: 18 cups
Suitable for: Dry food only
Power: Batteries & plug
Max meals dispensed per day: 4
The Pros
Good video & audio quality
Works even when power and internet are out
Versatile app
Easy to clean
The Cons
Camera performs badly in low light
Stuck kibble can trigger low food alerts
#4 Wagz Smart Dog Feeder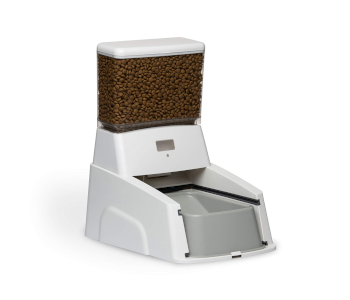 View on Amazon
Editor's Rating: 4.3/5
Sticking to a consistent meal plan is a good idea both for you and your dog. On the other hand, if he doesn't get the same amount of exercise each day, is giving him the same amount of food to eat really a good idea? Wagz seeks to challenge the way automatic feeders work with a feeder & collar combo that tell you exactly how much nutrition the dog needs based on expended energy. While the collar isn't due to come out until later this year, the feeder is ready to rock.
The Smartest Pet Feeder
Wagz stands out from the crowd with its slew of unique features as well as its distinct look. It has a transparent hopper whose capacity you can assess at a glance. Once it runs low, Amazon Dash will replenish the food automatically. Not fond of having to refill your feeder with bags of kibble? Wagz's model is compatible with Welo, a new kind of boxed dog food that can snap onto the feeder instead of the standard hopper and leave no mess for you to clean.
Like the Petwant, this feeder comes with a camera and speaker system. The quality of both is excellent and you can even save video clips of your dog's shenanigans to Wagz's cloud storage system for a monthly fee. Early adopters can get a year's worth of the service for free. You can also use Amazon Alexa to precisely track the dog's consumption habits on a daily, weekly, or monthly basis.
With this smart feeder, you get a tag that can be placed on your dog's collar. Come feeding time, the feeder will play a sound that alerts the dog. If the right dog comes close enough to it, food will be released, otherwise your other pets will have to wait their turn. You can buy additional tags and customize each dog's feeding schedule individually. What you can't buy yet is the smart dog collar though. Once out, it will be able to track the dog's calorie consumption and activity levels to come up with an amazingly accurate & adaptive diet plan.
What Could Be Better?
Even though the video feed, smart features, and Wagz's future plans for this feeder are all impressive, it's by far the most expensive model on the list. If you factor in the monthly subscription and smart collar, the price skyrockets to such an extent that we can only recommend buying into this feeder if you're an avid lover of both dogs and cutting-edge smart technology. Our only other concern is buggy app alerts – sometimes a scheduled feeding will take place but you won't get notified.

Tech Specs
Dimensions: 17.2 x 12.4 x 20.6 in
Capacity: 19 cups
Suitable for: Dry food only
Power: Batteries & plug
Max meals dispensed per day: Not specified
The Pros
Lots of unique smart features
Can dispense food for multiple dogs on different meal plans
Excellent video & audio quality
The Cons
Prohibitively expensive
Alerts don't always work
#5 SureFeed Microchip Pet Feeder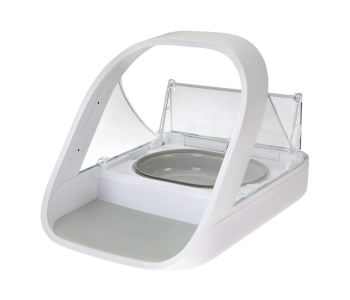 View on Amazon
Editor's Rating: 4.1/5
Do you have multiple cats and one is always trying to steal the others' food? In the past, you needed to keep a constant vigil to ensure that the less domineering cats wouldn't go hungry. Now you can let technology and SureFeed's pet feeder take over! As it is calibrated to respond to only one microchip or RFID collar at a time, it ensures that the correct cat gets to eat while keeping its wet or dry food fresh throughout the day.
No More Extra Meals for Pushy Cats
The Microchip Pet feeder's design is simple, yet quite ingenious. It consists of a mat, hub, and covered food bowl. Each time a cat steps under the hood, a reading of its microchip or collar is taken. If it's the cat you programmed the feeder for, the bowl's cover will be lifted and allow it to eat. You can store up to 32 different microchips or RFID tags so more animals can feed from the same bowl.
Apart from being smart, the design is also clean & safe. The mat will take care of any spillage while the cover opens and closes gently enough not to hurt the cat. The package contains one larger bowl meant for dry food as well as a split bowl for juicier fare. Both the bowls and the mat are easily removable. You'll have to wash them by hand though as they aren't dishwasher-safe.
Once your cat is done with its meal, the bowl closes automatically. The cover has a rubberized seal that keeps the food's smell inside while preventing flies to buzz around it and prolonging its freshness. You can set the delay after which the lid closes from 1 to 3 seconds. Everything is battery-powered so you don't have to worry that an electrical malfunction could hurt your feline friend. The batteries aren't rechargeable, but they should last a while.
What's Bad About It?
The most glaring flaw of the SureFeed Microchip Pet Feeder is its lack of portion control. You can put up to 2.5 cups of food inside, but the cat will determine the pace at which it eats. This forces you to keep an eye on how much it has eaten and be extra careful if the cat needs to follow a diet.

Tech Specs
Dimensions: 12.5 x 9.1 x 7.9 in
Capacity: 2 1/2 cups
Suitable for: Dry and wet food
Power: Batteries
Max meals dispensed per day: N/A
The Pros
Great at allowing food access to specific pets
Easy to clean
Lid keeps smells and flies away
The Cons
No timer
No set portion sizes
Relatively small capacity
#6 Best Budget Option – Petdiary Automatic Cat Feeder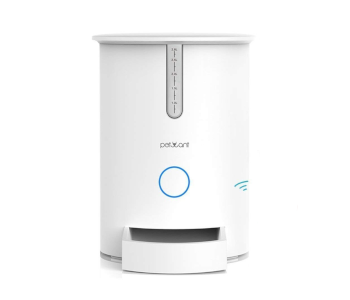 View on Amazon
Editor's Rating: 3.9/5
The last & least expensive pet feeder on our list is manufactured by Petdiary. It's a little on the smaller side at a capacity of just over 10 cups, but is as good as any other when it comes to dividing pet food up into adjustable meals for your cat or small dog to enjoy. If you live in a small apartment and bigger feeders take up too much space, or if you have a smaller pet that doesn't eat much, this is the perfect pet feeder for both of you.
Secure Lid & Stylish Look
Petdiary's feeder is the most elegant-looking one we've tested. The simple cylindrical shape and white color blend in with other smart devices and the feeder takes up little space. Each time it's supposed to feed the cat, the blue ring starts glowing and there's a distinct sound that tells it chow is on the way.
The food is sealed tightly thanks to a twist-on lid that pets will find impossible to pry open. There's a see-through slit complete with measurements so you always know how much food is left. The feeder can dispense up to six meals per day. Each meal can be one of five different sizes.
The app gives you precise control over the pet's meals with timer settings and the ability to adjust portion sizes on the fly. Some feeders come with apps exclusive to one user, but with this one, you can invite a family member or roommate to download it onto their phone and control the feeder / get the same notifications as you.
What Should Be Improved?
The feeder's greatest potential flaw is lack of backup power. You can only plug it into a standard outlet, so if ever there's a longer outage and you're away your pet might go hungry. Another thing to consider is the feeder's complete lack of an analog interface. Everything is controlled with the app, making a good Wi-Fi connection mandatory.

Tech Specs
Dimensions: 8.7 x 8.7 x 10.4in
Capacity: 10 cups
Suitable for: Dry food
Power: plug
Max meals dispensed per day: 6
The Pros
Affordable
Variable meal times and portion sizes
Alerts pets when it's feeding time
Looks nice
The Cons
No backup power
Only controllable with the app