Smart Crock Pots and Pressure Cookers
3D Insider is ad supported and earns money from clicks and other ways.
Smart crock pots and pressure cookers allow you to make food like never before. You can monitor how your food is cooking remotely. Unfortunately, there are not that many models to choose from yet. But let's take a look at what's out there.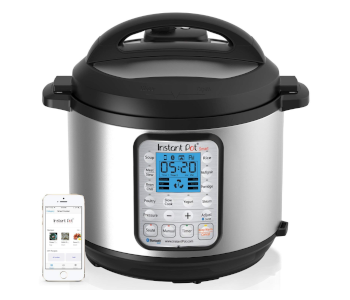 A pressure cooker is a godsend for any family that wishes to enjoy home-cooked meals during the week without someone having to slave away in front of the stove for hours. The Instant Pot Smart is a capable pressure cooker but offers so much more – it has 7 completely different operating modes and 14 programs to make anything from soup through sautéed onions to yogurt. The cooking process is entirely customizable and controllable through the pot's comprehensive app.
The Instant Pot Smart is a great albeit very expensive choice for people who love to cook but dread having to deal with a sink full of dirty pots & pans afterward. It will also appeal to tech enthusiasts who love to have complete control over their gadgets via smartphones as well as people living in smaller apartments where storage space is at a premium.
Build Quality & Accessories
Instant Pot Smart has three main components – the beefy pressure cooker which houses all the electronics and physical interface, a stainless steel insert, and a lid coated in heavy-duty black plastic. The insert has a capacity of 6 quarts and has an aluminum core sandwiched between two layers of stainless steel for better heat distribution. It is also dishwasher-safe. The lid has a large comfortable grip and rests on two lid handles.
Additional accessories include a steaming rack, a 6-oz measuring cup, two silicone mittens, a spoon for serving rice, and a small ladle. You also receive a lengthy manual and recipe booklet to get you started.
Safety Features
Safety is of paramount importance to Instant Pot's designers, as evidenced by numerous built-in features and redundancies. The main release valve is designed to automatically lower the pressure once it reaches 15 psi. If it ever fails, an emergency release kicks in which lowers the pressure by releasing the steam inside the cooker's main compartment.
The lid features a mechanical lock which can't be opened while the pot's contents are under pressure. A series of beeps sounds if you attempt to cook something without sealing the lid properly and the Instant Pot Smart won't start until you align it. There's also a temperature sensor & automatic shutoff which powers the pot off if the internal temperature exceeds safety thresholds.
Features
Versatility is the Instant Pot's greatest asset. You can use it as a regular pressure cooker, rice cooker, slow cooker, or steamer. It can even make yogurt or act as a sauté pan and produce simmered or fried dishes. You can also keep a meal fresh with the timed warmer function.
The 14 programs cover dishes of varying consistency ranging from soup through rice & porridge to more solid foods like poultry. Each program has either a high or low pressure setting and lets you adjust the cooking time in three intervals. Sauté, slow cooker, and keep warm programs also let you specify three temperature settings each. Finally, manual mode grants you control of all three settings.
There are two timer functions – a standard delay timer and the keep warm timer. You can delay a cook for 24 hours in half-hour increments. The Instant Pot Smart takes 20 minutes to reach working pressure which marks the timer's starting point, so setting the starting time earlier to compensate is advised. Keep warm mode starts once a meal is cooked. The timer counts up in this mode and can reach 99 hours.
Interface & App
The Instant Pot's physical interface is clearly labeled, well-organized, and functional. There's a blue-lit LCD screen at its center which shows the timer as well as pressure & program settings. Smaller icons represent the status of its heating element, pressure, or Bluetooth availability. The screen is surrounded by 14 program buttons, each with an indicator light that turns on when it is selected. Underneath them are plus and minus buttons used to adjust settings along with the sauté, manual, timer, and keep warm buttons.
You can access all of the Instant Pot's controls through its companion app. Its interface is a bit dated but structured in an intuitive way. You can monitor a cook in real time as the app displays the remaining time and updates the cooking temperature in 30-second intervals. When running without its app, Instant Pot Smart automatically switches to keep warm mode after it's done cooking. You can disable this from the app to save energy.
Recipes are the app's most useful feature. You get a host of pre-loaded recipes which govern how long food will cook, when and how often temperature and pressure will be adjusted etc. You can import additional recipe scripts suggested by other users or make & share your own. The app allows you to personalize them by adding step-by-step written instructions and pictures of the finished meal.
Overall Performance
The Instant Pot's cooking performance met or exceeded our expectations across the board. Following recipes suggested by its app and trying out some of our own led to great-tasting food in little time. The yogurt maker is of particular note as the end result is creamy and has just the right firmness once cooled. Fans of slow cooking can look forward to pulled pork that melts in your mouth, and the rice prepared in rice cooker mode comes out perfectly too.
Does the Instant Pot Smart Have Drawbacks?
Reliance on Bluetooth instead of Wi-Fi is the Instant Pot's biggest shortcoming. Even though its Bluetooth connection is solid and you'll have no problems fiddling with in-app settings at maximum range, that range is only 30 feet. This partially defeats the purpose of remote-controlled cooking as you can monitor the pot only while you're home. It would have been better to go with Wi-Fi instead so programmed cooks could be started from anywhere.
Final Thoughts
As a pressure cooker with so much going for it, the Instant Pot Smart is definitely a recommended buy. It takes on the work of a small kitchen's worth of pots & pans with exceptional results regardless of what you're making. The question is, does the addition of an app justify the high price? If you're always looking for a worthy addition to your smart home, then yes. Otherwise, it may be a good idea to wait until prices go down and go with the equally impressive Instant Pot Duo instead.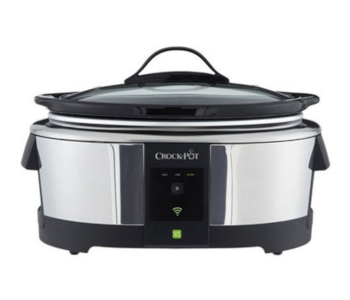 Long cooking times are both part of a slow cooker's charm and the reason why a stew that's been simmering in one tastes so good. There's always that nagging feeling at the back of one's head though, especially if you're away from home. Admit it – you're probably asking yourself whether the food is OK and if it has been cooking properly all this time.
The newest Crock-Pot takes away the guesswork and lets you check in on a meal anytime from anywhere thanks to its Wi-Fi connectivity. It's a capable slow cooker that comes with the intuitive WeMo companion app that lets you schedule, monitor, and cancel cooks remotely. The smart Crock-Pot is more expensive than traditional models, but the peace of mind its advanced features give you is well worth the extra investment.
Build Quality
This smart version of the Crock-Pot differs only slightly from the company's more traditional products. The outer pot is made from mirror finish stainless steel along with a black plastic base & handles with excellent heat isolation. It is oval in shape and has a minimalistic control panel in the middle of one side. The panel sports the Crock-Pot logo and a single button used to control all of its settings. The power cord wraps around the pot making for easier storage when not in use. When the outer pot gets dirty, a damp cloth is all you need to let it sparkle again.
The black inner pot is made from ceramic and holds six quarts. It is easy to pull out and machine-washable. The glass lid lets you monitor the cook and lets excess steam out through a small hole. A sturdy plastic handle sits on top and is ergonomically suited to either hand.
How It Works
The Crock-Pot has become synonymous with the term "slow cooker", but it is, in fact, a special type of said cooker. The outer pot houses heating elements which heat the inner ceramic pot from the bottom and sides. As ceramic is an excellent heat conductor, the food within is cooked evenly.
There are three temperature settings to choose – high, low, and warm. High & low refer to the wattage being used and the cooking temperature. High uses more power and cooks the food faster while low is intended for slow cooks that last six hours or more. The warm feature has to be turned on manually after a meal is cooked and will keep the food at a constant warm temperature that's ideal for serving.
All three settings can be toggled between with the Crock-Pot's single button. An indicator LED lights up for each so you always know what mode is currently active.
Setup & App
Setting up the Crock-Pot's Wi-Fi is straightforward and quick. You need to download the WeMo app for Android or iOS first and follow the instructions. The app will run you through establishing the pot's Wi-Fi hotspot, detecting your home connection, and entering your credentials through a series of screens.
If the name WeMo rings a bell, that's because it's the brand associated with Belkin's line of smart lights, plugs, and switches. All of them are controlled via the same app, so if you already have it installed the Crock-Pot will appear on the list of selectable devices.
The app is logically laid out and very easy to understand for first time users. It's all about timing and managing a cook and provides different ways of doing so. There's a standard timer mode where you pick a specific time when the Crock-Pot should start and how long it should cook for in 15-minute increments. A second screen lets you modify a cook that's already running. Here you can adjust the temperature or extend the cooking time if there's a sudden change of plans.
You can also monitor the cook without changing anything on a separate screen. Here you'll see how long the Crock-Pot has been on, which temperature setting is used, and at what time the meal will be ready. Lastly, the notification screen is used to set and adjust push notifications. One can be sent when the meal is done or in advance. Notifications are also sent whenever there's a power outage.
Are There Drawbacks?
The Crock-Pot itself is a terrific slow cooker and the app works great… when you manage to connect to it. Wi-Fi works well when connecting to the Crock-Pot from the same network. When you're away though, the connection becomes spotty or downright impossible to establish. This is potentially a significant drawback as you may end up losing connection as you're about to check on a pot roast. The app becomes unresponsive when the connection is lost so you can't do anything with it until a connection is reestablished.
Final Verdict
This is truly a Crock-Pot for the 21st century with a presentable look and sophisticated smarts to prove it. Sporadic connection issues aside, the Crock-Pot does a good job of keeping you informed, is easy to use & clean, and is worth the investment if you make a habit of preparing slow-cooked meals for the entire family on a regular basis.