6 Best Smart Rings of 2019
3D Insider is ad supported and earns money from clicks, commissions from sales, and other ways.
Are you tired of the way your Fitbit or smartwatch makes you feel after you've been wearing it the entire day? You might think that there's nothing you can do about that small discomfort if you want to be up to date, but you're wrong. If you purchase a smart ring, all you need to stay in shape and go about your day without having to reach for your wallet is wrapped around your finger!
Smart rings are the latest trend in wearable tech. They're packed with an impressive number of features like fitness trackers, NSC chips, or SOS buttons which fit in a frame that's barely larger than a wedding ring. They connect to your phone and help you attain fitness goals or get a good night's rest. Smart rings can also be used to pay for stuff, open locks, or send messages just by being close to devices that support NFC technology.
These are the six best smart rings you can buy. Those that act as fitness trackers don't have NFC chips, so you'll need to choose which feature is more important to you. Since NFC rings are so cheap, you can even get one of each! Whichever smart feature you prefer, there's a ring for you among our picks.
Budget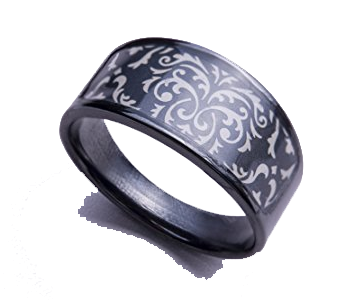 Keydex NFC Multi-Function Ring
3.9/5.0
No. of chips: 1
Type: NFC ring
It can transfer contact information onto NFC phones.
Check Amazon
Best Value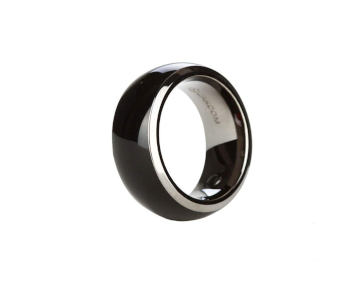 Jakcom R3 NFC Smart Ring
4.5/5.0
No. of chips: 3
Type: NFC ring
This can transmit information and substitute ID cards.
Check Amazon
Top Pick
Motiv Ring
4.7/5.0
No. of chips: –
Type: Fitness tracker
It has an intuitive app that shows lots of useful data.
Check Amazon
Smart Rings Comparison Table
1. Best Overall – Motiv Ring
View on Amazon
Editor's Rating: 4.7/5
Fitness trackers are an indispensable tool for anyone that wants to lead an active and healthy lifestyle. Problem is, they either have to be worn around the wrist or waist and can become uncomfortable. Motiv knows that unrestricted movement is key to a good workout. The solution – scaling down fitness tracker functionality to fit inside a ring. Motiv's smart ring is the most sophisticated one of its kind. It provides accurate metrics and comes with an excellent app!
Overview of Features
Most smart rings are designed with functionality rather than form in mind. The Motiv ring combines both flawlessly and manages to appeal both to techies and jewelry lovers. It is available in rose gold, gray, and black. A multifunctional LED strip is the only outward sign that the ring is more than it seems. The strip changes color depending on the battery status and when the ring is syncing to its app. Best of all, the Motiv ring is waterproof up to 160 feet, meaning you could go scuba diving and still wear it without issues.
The ring tracks your heart rate, how many steps you've taken, the calories you've burned, and your sleep cycle. It does so with admirable accuracy, which is impressive given the limited space for its electronics and battery. Compared to other popular trackers, the Motiv ring does well, with a margin of error of just 5 percent. This gives you a realistic idea of how active you are and will satisfy all but the most rigorous of fitness stats freaks.
The app is the Motiv ring's best feature! It gives you step-by-step instructions on how to sync it to the phone and then opens up to reveal an informative dashboard. Here you can check all of your stats at a glance or tap one of them to get a more detailed overview. Sleep cycles, steps, etc. are stored for a week, and you're given access to graphs that break down your results for each day.
A Li-ion rechargeable battery keeps the ring in action for three days. It takes just an hour and a half to recharge, which can be done through one of two chargers. There's a mini charger you can attach to your keychain so you'll always be able to juice the ring up no matter where you are.
What We Didn't Like
The ring's finish is of poor quality. You'll need to be careful while wearing it as even casually brushing up against a hard surface can leave a mark. Since the heart rate monitor, accelerometer, and other electronics require space, the ring is bulkier than usual. This might bother people with bony or petite hands.

Tech Specs
Material: Titanium
Type: Fitness tracker
Measures: Heart rate, calories burned, steps taken, sleep cycle
Battery life: 3 days
The Pros
Excellent fitness tracking capabilities
Intuitive app that shows lots of useful data
Stylish design
Long-lasting battery with keychain charger
The Cons
Scratches easily
Thicker than normal rings
2. Best Value – Jakcom R3 NFC Smart Ring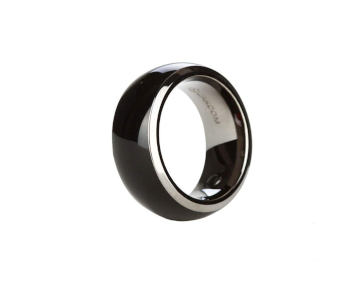 View on Amazon
Editor's Rating: 4.5/5
All the rings on review will either make life easier or help you do something to improve your wellbeing. Only the R3 will actually have a direct impact on your health, however. Due to its composition, the ring is able to positively influence your body and keep the harmful effects of electromagnetic waves at bay. To top it off, the ring also has ID, IC, and NFC capabilities, meaning you can use it to open doors, make payments, or transfer data wirelessly.
Overview of Features
This is the most peculiar ring we've reviewed in terms of its material composition. It is made from a mixture of tungsten and germanium, a rare metal which the manufacturer claims has positive effects on the wearer's health including improved strength & stamina as well as stress relief. There's a small red button on the inside of the ring which emits FIR or Far Infrared Radiation. This radiation counteracts the pervasive electromagnetic fields we're exposed to and ensures long-term health benefits. While these claims are debatable, the ring definitely looks cool.
The R3 is an NFC ring, meaning it communicates with Android and Windows phones through the Near Field Connection protocol. This lets it act as a data transfer device as well as a key. You can turn the R3 into the only means of unlocking your phone, which will come naturally since you'll be wearing it all the time anyway. NFC technology doesn't require batteries, so there's no fuss over having to take the R3 off and charge it all the time.
Apart from the NFC chip, the R3 has ID and IC chips, each capable of storing one piece of information. They're used as substitutes for credit cards, bus passes, or keycards. Copying the data from these devices onto the ring ensures you'll get instant and wireless access to two of your most frequently used cards and lets you transfer information you need to give often like your contact details.
What's Bad About It?
The R3 is heavy for a ring and bulkier than a regular wedding band. You'll want to take it off before lifting something heavy as it can bite into your finger and cause pain if it presses down too much. Getting all of its features to work requires some research. The manual the R3 comes with is confusing and translated poorly, and its app is confusing because of this as well.

Tech Specs
Material: Tungsten, Germanium, volcanic magnets
Type: NFC ring
No. of chips: 3
The Pros
Improves the bearer's health
Can transmit information and substitute ID cards
Excellent value for the money
No batteries required
The Cons
Poorly translated manual and app
Bulky and uncomfortable to wear while lifting heavy objects
3. Oura Ring
Ouraring
Editor's Rating: 4.4/5
A smart ring can give you a scientific and in-depth analysis of your wellbeing while not boring you with too many statistics. The idea behind the Oura ring is that instead of tracking fitness, it follows your activity levels and gives recommendations on how active you should be on a given day. The model on review is the second generation of the ring which boasts a slim design, an intuitive & thorough app, as well as a long-lasting battery.
Overview of Features
The Oura ring is an understated yet beautiful piece of electronic jewelry available in two colors and three subtle design differences. You can choose between silver or black, and pick either a completely round ring or one that's slightly flat on top. There's also a model that's studded with a thin band of diamonds, but that one costs considerably more. Unlike the Motiv ring, Oura is as small as a wedding band and much harder to scratch.
This is an activity tracker, which means that instead of things like calorie counting it tracks your temperature, heart rate, and heart rate variability to determine when and how much you've been active during the day. The Oura also contains by far the most sophisticated sleep tracker we've seen on a smart ring. It gives you a precise breakdown of how much you slept, what portion of that time was spent falling asleep, in the REM phase, and so on.
Gathered activity data is compiled and presented in the form of a readiness score that has a value from 0 to 100. Readiness is the representation of how low your resting heart rate is, how well you slept last night, and how quickly you recover from strenuous activities. A good readiness score means you can tackle more activities, while a bad one is your cue to take it easy for the day. The score is followed up by simple tips or motivational messages that help you assess your state and decide how to make the best of your day.
You can find more about individual factors that affect readiness by navigating through the app's menus. There's a general overview which shows bars for each metric that are either blue, orange, or red depending on your performance. Tapping some of these like the temperature and respiration rate opens up line graphs that track your results for the last 7 days. The system is robust and thorough, so you can always either get a quick update or dive in to find out more.
The ring's battery life is above average. One charge lasts between six and seven days. You can check on the battery's status from inside the app and get notifications when it's running low.
Are There Drawbacks?
The Oura ring's biggest drawback is its price. Its cheapest model costs $100 more than the Motiv ring while being more limited in scope. Once you buy the ring, actually receiving it takes time. You have to wait a couple of weeks to get a sizing kit first to determine a comfortable fit. You then have to wait another two months or more before you get the ring.

Tech Specs
Material: Titanium
Type: Activity tracker
Measures: Heart rate, temperature, recovery rate, sleep balance
Battery life: 6 days
The Pros
Excellent sleep tracking
Activity tracking is as simple or complex as you want it to be
Thin and elegant
Great battery life
The Cons
Expensive
Takes long to arrive
4. Blinq Smart Ring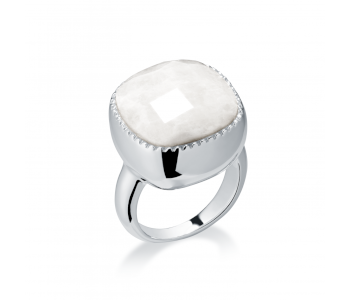 BlinqBlinq
Editor's Rating: 4.4/5
Smart ring manufacturers consider their ring designs carefully, but these are always less important than the tech that powers the rings. Blinq's approach is different – they have created a ring you could wear to any gala and packed it with smart features even their competitors haven't considered. The Blinq ring is a fitness tracker, SOS button, and a source of notifications in one. It's one of the more expensive options out there, but its successful blend of luxury and smarts makes the investment well worth it.
Overview of Features
The Blinq is gorgeous! It looks like a ring you'd find at an upscale jeweler's with the materials to prove it. Currently, you can only buy 925 sterling silver rings on their website, but 14k gold and rose gold are in the works. You also get to choose from a variety of high-grade gemstones including aventurine, jade, or moonstone.
Your first clue that the Blinq is more than a pretty bauble is its jewelry box. The box doubles as a wireless charging station and fills the ring up to work for two days. The second is the Blinq's smart light system. There's an LED which lights the gemstone up in one of multiple colors. You can assign a meaning to each color so it could glow blue when you receive a text message or pink when your partner is calling.
The SOS button is a feature we haven't seen with other smart rings. You need to configure it in the app first by setting the number of taps required for activation and another person's contact information. Once activated, the SOS function sends a distress message to your contact along with your GPS location. As if that wasn't enough, Blinq is also a fitness tracker. It isn't as sophisticated as the Motiv ring, but it does provide you with info on steps taken, calories consumed, and distance traveled.
Like the ring, the Blinq app is beautifully designed. It is more simplistic than other apps we've seen, but in a good way. All options are easy to get to, and you'll master everything from color selection to notification settings the first time you use it. Notification settings are the app's most in-depth feature. You choose what actions the ring should react to and how. These include calls, texts, and status updates from sites like Facebook and Coachella. Once triggered, the ring will either start to glow or pulse. There's also a stealth option that causes it to vibrate.
What We Didn't Like
While the ring itself is fine, its app suffers from two concerning issues. The first is an unstable connection. Bluetooth sometimes takes multiple tries to connect even if the ring is next to the phone. The second, more frustrating issue are daily setting resets. The app allows you to set a daily step goal which always resets after 24 hours. You can't do anything about this until it is fixed in a future update.

Tech Specs
Material: 325 sterling silver, assorted gemstones
Type: Fitness tracker, SOS button
Measures: Steps taken, distance traveled, calories burned
Battery life: 2 days
The Pros
Luxurious and fashionable design
SOS function
Great deal of notification customization options
Wireless charging
The Cons
Connection issues
Daily setting resets
5. ChiTronic Magic Smart Ring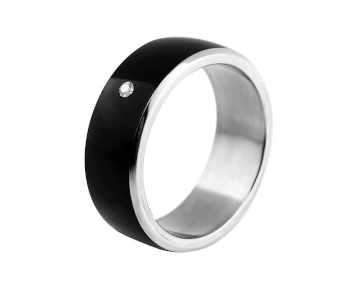 View on Amazon
Editor's Rating: 4.1/5
The ChiTronic Magic Smart ring is another inexpensive NFC ring with a myriad of uses. It lets you control almost every aspect of your smartphone or share bits of information with others wirelessly. This is one of the best-looking NFC rings out there and one of the most versatile too since it has two NFC chips instead of one. It's a great alternative to the R3 if you don't like its appearance or lackluster support.
Overview of Features
ChiTronic's ring follows has a modern, minimalistic design. It is available in two variants – one for men and another for women. Guys get to enjoy a titanium gray inner color with a polished black finish topped off with a tasteful cubic zirconia gem. The women's version is more luxurious, sporting rose gold with a white finish and a Swarovski crystal. Given that it costs less than $25, the Magic Smart Ring is a real looker!
There are two NFC chips on the ring, one underneath the crystal and another on the opposite end. The jewel isn't only decorative – it serves as an orientation point, so you always know how to position the ring when you want to use each chip. The chips can store a limited amount of text information, yet excel at sending emails, contacts, or internet links.
Phone control is another thing the ring performs well. You can use its TiMER app or any other free NFC configuration app to change the way your phone behaves. There's room for three phone actions to be performed per chip. For example, you can program a chip to turn vibration off, mute the phone, and dim the screen when you go to see a movie. Even though the number of commands is limited by how much text the chips can store, their application is limited only by your imagination.
What's Bad About It?
The TiMER app is invasive and sketchy. You won't find it on the Play store and will need to follow a QR link on the packaging to download it instead. The app asks for access to your gallery and location which it has no business doing. You'd be better off by going with an alternative like Tasker.

Tech Specs
Material: Titanium
Type: NFC ring
No. of chips: 2
The Pros
Excellent sleep tracking
Activity tracking is as simple or complex as you want it to be
Thin and elegant
Great battery life
The Cons
Expensive
Takes long to arrive
6. Best Budget Option – Keydex NFC Multi-Function Ring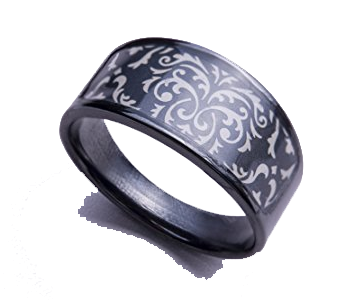 View on Amazon
Editor's Rating: 3.9/5
Wearing most of the rings we've reviewed can be as stressful as it is exciting because of how easily they develop scratches. That's a problem you'll never need to worry about if you get the NFC Multi-Function Ring from Keydex! It's made from scratch-proof zirconia ceramic and available in a variety of styles. The ring acts as a key, a clever means of sharing contact information, and a security tool for your phone. Best of all, it costs only $20, which makes it highly appealing for concerned parents and budget-conscious techies with a good fashion sense.
Overview of Features
The fact that it's ceramic rather than metal is what's most interesting about the ring. Fine or zirconia ceramic has an exceptionally high hardness factor that doesn't trail far behind diamond. This means that you can freely go about your day without fear of scratching the ring! It also presents an alternative for people who get allergic reactions to metal rings. This material allows the manufacturer to make rings in many diverse styles. There are black & white models available with or without a prominent NFC tag. You can also choose ones with a tasteful floral pattern that's either white, blue, or pink.
The NFC chip located inside the ring can be used in many ways. The most obvious and satisfying are to use it as a phone unlocker and a door opener. Downloading an NFC phone unlocking app enables you to use the ring as the only means of gaining access to it. There are also smart locks with NFC capabilities which will accept the ring instead of a key. This makes the ring an excellent gift for young children since they won't need to carry around house keys or remember phone passwords to still be secure.
You can use the ring as a means of exchanging contact information too. Its web app allows you to create business cards complete with your name, email, phone number, and address. Instead of giving out a business card, you can just place the ring close to another person's NFC-enabled Android phone and the information will be transferred over to their contacts list!
Are There Drawbacks?
The ring's sizing is off. There's a difference between the size it is advertised as being and standard American sizes, so you should purchase a ring that's a couple of sizes bigger than you're used to and be prepared to exchange it if that's still too small.

Tech Specs
Material: Zirconia ceramics
Type: NFC ring
No. of chips: 1
The Pros
Highly resistant to scratching
Doesn't cause allergic reactions
Lots of fun patterns to choose from
Transfers contact information onto NFC phones