5 Best Smart Shower Heads in 2019
3D Insider is ad supported and earns money from clicks, commissions from sales, and other ways.
The bathroom is the last bastion of peace & quiet in the beehive of electronic activity that is the modern home. Or at least it was until we've started making our homes smarter. Gadgets like smart toothbrushes and faucets are already part of many tech enthusiasts' bathrooms, with smart shower heads catching up quickly.
Smart shower heads are an emerging niche in the sphere of home automation. Buying one will offer you a great taste of what a smart home is truly capable of since they come with features that directly improve your morning ritual thanks to the latest in technology. Never having to endure freezing water again or listening to the news while showering are worth the relatively small investment alone.
There aren't many smart shower heads on the market yet, and those that are offer only a few features so far. In this guide, we've collected five of the best in terms of reliability and innovation. Read on to explore a diverse selection that suits different needs and budgets well.
Budget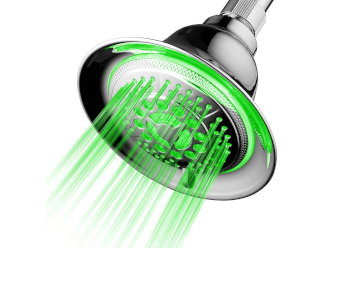 DreamSpa Water Temperature Controlled Color Changing LED
4.1/5.0
Has LED temperature lights: Yes
Has speaker: No
Has 5 stream settings and changes color according to temperature.
Check Amazon
Best Value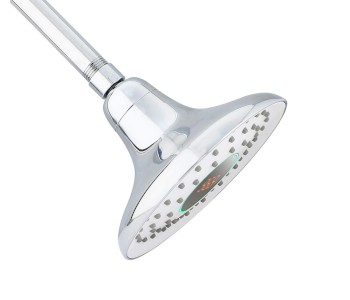 WaterHawk 6″ Smart Rain Shower Head
4.6/5.0
Has LED temperature lights: Yes
Has speaker: No
Easy to install and changes colors according to temperature.
Check Amazon
Top Pick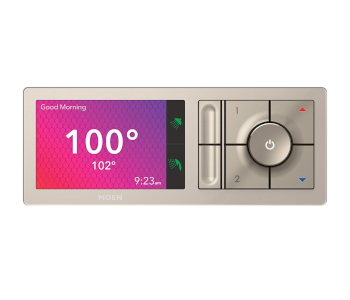 Moen U Shower Connected Bathroom Controller
4.6/5.0
Has LED temperature lights: No
Has speaker: No
Can control shower through app and stores 10 presets.
Check Amazon
What to Look for in a Smart Shower Head
Water Flow
Smart Features
Smart Shower Heads Comparison Table
#1 Best Overall – Moen U Shower Connected Bathroom Controller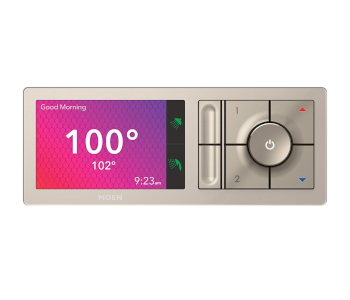 View on Amazon
Editor's Rating: 4.6/5
All the showerheads we'll be reviewing have a few nifty tricks up their sleeves, but none come close to U by Moen in terms of actual smarts. U is a shower monitoring system capable of controlling the water and regulating its temperature through an interface, your voice, or an app. Even though it is priced at the point of being a luxury item, the U is by far the most comprehensive smart shower solution you can get today. If you don't mind spending a bit more for unparalleled shower customization, you absolutely should!
The Smartest Showering Experience
The coolest thing about the U is its ability to detect your preferred water temperature and keep the water warm until you hop into the shower. This is done via a patented water valve that a qualified plumber can integrate into your existing system. The valve checks the temperature 50 times per second and ensures consistency every time. With U's most basic version you get the wall controller and app support. If you want the advanced valve as well, the price goes up considerably.
Even if you don't go for the valve, U can still do much, especially if you make use of its fantastic app. The first thing you'll want to do is create a preset. This consists of your preferred water temperature and a timer which will turn the water off after a specified time. You can save 10 of these presets so each family member can enjoy the shower just the way they like it. You can also have the app send you a notification when the ideal temperature has been reached, or tell it to pause a shower. Once more than five minutes pass, it will cancel the shower altogether to save water.
Support for Amazon Alexa is the newest addition to U's functionality. It is wonderfully convenient to be able to turn the shower on at your favorite preset from another room. Alexa can also set a specific water temperature and turn the shower off completely.
What We Didn't Like
The complete U by Moen experience is several times more expensive than other smart shower solutions in our guide. Its options are many and the utility it brings is evident, but whether you're prepared to pay its high asking price will ultimately be up to you.

Tech Specs
Dimensions: 8.7 x 0.6 x 3.4 in
Has LED temperature lights: Yes
Has built-in speaker: No
The Pros
Can control shower through app
Supports Amazon Alexa and Apple HomeKit
Can keep water warm
Stores 10 presets
The Cons
Very expensive
Complicated installation
#2 Best Value – WaterHawk 6″ Smart Rain Shower Head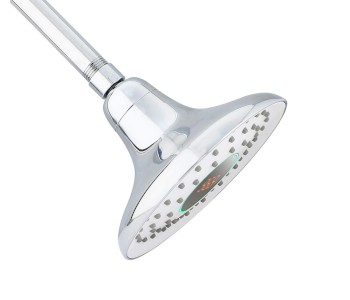 View on Amazon
Editor's Rating: 4.6/5
In a large household, daily showers are the single biggest contributor to water consumption. While you obviously shouldn't neglect your hygiene, a smarter approach to regulating water usage is in order. That's what the WaterHawk is here to help you do! It has a built-in LED display that shows just how much water was spent per shower down to a tenth of a gallon, helping you get a clear picture of the associated costs. The WaterHawk Is already less expensive than most alternatives, and has the potential to pay for itself in water savings alone in no time.
The Eco-friendly Shower Head
The first thing that stands out about the WaterHawk is how heavy the shower head is. This is due to a built-in hydroelectric motor. The motor powers all of the shower head's smart features without wasting electricity, relying solely on the water you use. Don't think that this makes the WaterHawk's installation complicated though. The replacement process is as easy & straightforward as with ordinary models.
A large central screen and LED rim give the WaterHawk an unmistakable look. Once the water is on, the screen lights up to display how many gallons you've used up in real time. Meanwhile, the rim glows in either blue for cold water, green for temperate, or red for hot. If the temperature exceeds 120 degrees Fahrenheit, the ring will start flashing red, prompting you to turn the temperature down and save on electricity bills in the process.
The display shifts between the precise amount of used water and the exact temperature in 5-second intervals. When you turn the WaterHawk off, the data resets itself after ten minutes. Tracking consumption is very intuitive so everyone is able to pitch in and make a difference.
What Should Be Improved?
Although useful, the water tracking feature feels incomplete. Since the amount displayed isn't cumulative you'll have to record it after each shower manually. It would be useful if future versions of the WaterHawk could save & export their readings. The display will work fine in most showers. If your bathroom is sunlit and very bright however, you may have trouble reading it.

Tech Specs
Dimensions: 6 x 6 in
Has LED temperature lights: Yes
Has built-in speaker: No
The Pros
Tracks consumed water
Changes colors according to temperature
Easy to install
Self-powered
The Cons
Usage data resets with every shower
LEDs are too dim for bright bathrooms
#3 Morpilot Rain Shower Head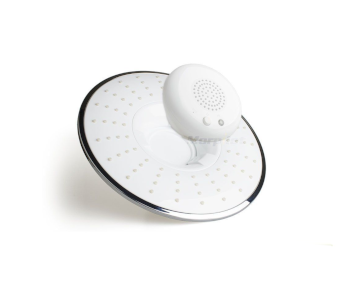 View on EBay
Editor's Rating: 4.4/5
Many of us like to start the morning off with a refreshing shower and some invigorating music. Why not combine the two then and really get yourself psyched up for the day? With the smart shower head from Morpilot, you can! A capable shower head in its own right, the Morpilot features a detachable Bluetooth speaker that lets you listen to your favorite songs or podcasts while washing.
Singing in the Rain
Many rain shower heads suffer from a lack of pressure and showering under them feels like you're standing in a weak spring drizzle. Not so with Morpilot's model! Said to be three times more powerful than conventional rain shower heads, it does indeed put out a powerful, directed spray that gets rid of filth while massaging your entire body.
If you want the blood in your veins to pump even faster, all you need to do is turn on the built-in Bluetooth speaker. This waterproof gadget connects to your smartphone and delivers whatever's on your playlist in crystal-clear quality. The supplied rechargeable battery can last 11 and a half hours per charge, letting you enjoy many a morning shower before running out of juice.
Perhaps even more interesting is the speaker's ability to act as an extension of your phone. It has a two-way microphone and an "answer call" button. If you happen to be in the shower while a call you just have to answer is coming in, you can take it immediately.
Are There Drawbacks?
The Bluetooth speaker is versatile and useful, but it can be temperamental when connecting to your smart device. Sometimes it won't connect at all. Other times the connection is intermittent. Luckily, both issues occur rarely. When they do happen though, it really puts a damper on the whole showering while listening to music experience.

Tech Specs
Dimensions: 8.7 x 8.7 in
Has LED temperature lights: No
Has built-in speaker: Yes
Playback time: 11.5 hours
Power source: Rechargeable battery
The Pros
Strong pressure for a rain shower head
Good Bluetooth speaker
Can answer calls
Long battery life
The Cons
Unreliable Bluetooth connection
#4 KOHLER K-9245-CP Moxie
View on Amazon
Editor's Rating: 4.3/5
When people want a quality bathroom accessory, more often than not they turn to Kohler. The company has a proven track record of producing beautiful & reliable shower heads and the Moxie is no exception. Or rather it is as it comes with a Bluetooth speaker similar to Morpilot's. As a smart shower head, it sits just below that model, but as far as its overall quality is concerned, it's easily the best model we've tested.
Impeccable Design & Powerful Sound
The Moxie is a modern, stylish shower head that's bound to aesthetically enrich your bathroom. It is oval in shape and finished with white silicone. The speaker is made from the same silicone and efficiently snaps into place thanks to a small magnet.
The shower head performs as well as other Kohler models. Its 60 nozzles are set at an angle and concentrate water in a way that directs the spray and improves its pressure. There are versions of the Moxie with an output of either 2 or 2.5 gallons per minute, allowing you to experience either relaxing or invigorating showers depending on your preference.
The Bluetooth speaker boasts excellent audio quality. Music you listen to can clearly be heard over the spray and doesn't sound at all distorted or tinny at higher sound levels. The connection has proven to be stronger and more reliable than its rival's, ensuring uninterrupted streaming.
What Should Be Improved?
The speaker can play 7 hours of music per charge, considerably less than Morpilot's model. It's also not that great for listening to podcasts or radio shows as the shower head's spray tends to garble the voices regardless of volume. Lastly, there's no option to answer incoming calls, which is a shame considering that it is priced higher than the competition.

Tech Specs
Dimensions: 5 x 4.2 in
Has LED temperature lights: No
Has built-in speaker: Yes
Playback time: 7 hours
Power source: Rechargeable battery
The Pros
Excellent build quality
Strong spray
Speaker is great for listening to music
The Cons
A bit pricey
Not good for listening to conversations
Can't answer calls
#5 Best Budget Option – DreamSpa Water Temperature Controlled Color Changing LED Shower-Head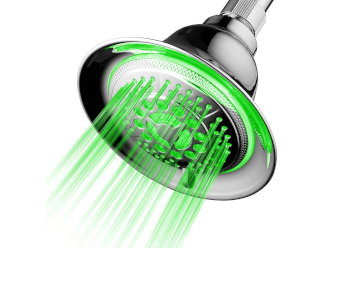 View on Amazon
Editor's Rating: 4.1/5
How many times have you cried out at the shock of ice cold or scalding hot water when turning on the shower? Guessing at the water temperature can be a literal pain, so why not remove the guesswork altogether? That's what the engineers at DreamSpa have done by creating this LED shower head. It changes color based on the temperature, has five jet settings, and comes at a price that can't be beaten.
Bringing the Spa Experience to Your Bathroom
Even though it is less expensive than other shower heads on review, DreamSpa's model is well-made. It twists effortlessly in place and will not leak even after months of use. The chrome its body is made of has even polished to a high sheen and really makes the shower head attractive. The color-changing LEDs work in much the same way as the WaterHawk's ring, albeit with a brighter shine. They're powered by water pressure too, so there are no batteries to worry over or replace.
In addition to customizing the temperature, you can fine-tune the water spray too. Most rain showerheads have a single setting while this one lets you choose among five. We particularly enjoyed the massage setting which delivers a concentrated blast of water that eases tension in your body. A fine mist, regular rain mode, and two water-saving options are available too.
What's Bad About It?
The most annoying thing about the DreamSpa shower head is the noise that its generator eventually starts to make. Some of its internal components loosen up with use, resulting in a high-pitched sound that only gets worse with time and increased water pressure. Speaking of which, the pressure this shower head delivers is on the lower end. Even the massage feature increases it only marginally, so if you're used to getting rid of morning grogginess with a high-pressure shower, you may want to look elsewhere.

Tech Specs
Dimensions: 5 x 5 in
Has LED temperature lights: Yes
Has built-in speaker: No
Power source: Water
The Pros
Affordable
Changes color according to temperature
Five stream settings
The Cons
Motor starts to whine with use
Low water pressure