6 Best Smart Speakers of 2019
3D Insider is ad supported and earns money from clicks and other ways.
It's great to be able to control your smart lights or door locks with the swipe of a finger. Nothing is as satisfying or futuristic as uttering a single command and having the whole house do your bidding though! To do this, you'll need a smart assistant, and the best way to "employ" one is to get a smart speaker.
Amazon's Echo was the original smart speaker which combined reasonable sound quality with the innovative notion of controlling playback with your voice. Its onboard assistant, Alexa, is much more than a glorified disk jockey and continues to gain skills that let her help you plan the day, stay healthy, or get access to current news. The competition never sleeps and we have two other capable assistants, Google Assistant and Siri, to choose from as a result.
Which assistant is the best? Which speaker should you get? We answer these questions and more through a brief info guide and then review the best smart speakers currently available. Choose a favorite to fill your home both with music and the sounds of a chipper assistant that's sure to make your life a whole lot easier.
Budget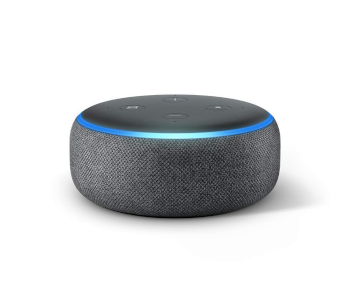 3rd Gen Echo Dot
4.4/5.0
Drivers: Single speaker
Connectivity: 3.5mm jack, Wi-Fi
This is affordable and multiple Dots can be combined for stereo sound.
Check Amazon
Best Value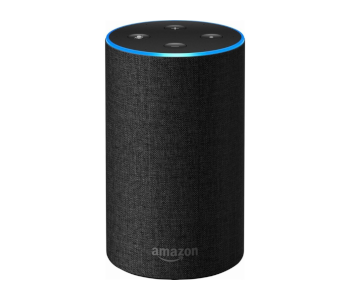 2nd gen Amazon Echo
4.6/5.0
Drivers: Woofer, tweeter
Connectivity: 3.5mm jack, Wi-Fi
Connects to other speakers seamlessly and acts as a smart home hub.
Check Amazon
Top Pick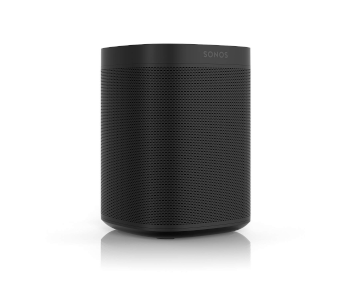 Sonos One
4.7/5.0
Drivers: Mid-woofer, tweeter
Connectivity: 3.5mm jack, Wi-Fi
Excellent sound quality and supports many music streaming services.
Check Amazon
What to Look for in a Smart Speaker
Placement & Portability
Your Smart Environment
Sound Quality
Smart Speakers Comparison Table
| Make and Model | Rating | Drivers | Connectivity | Compatible with | Price |
| --- | --- | --- | --- | --- | --- |
| Sonos One | 4.7 | Mid-woofer, tweeter | 3.5mm jack, Wi-Fi | Amazon Alexa, Google Assistant* | Check Price |
| 2nd Gen Amazon Echo | 4.6 | Woofer, tweeter | 3.5mm jack, Bluetooth, Wi-Fi | Amazon Alexa | Check Price |
| Google Home Max | 4.5 | Dual woofers, dual tweeters | 3.5mm jack, Bluetooth, USB-C, Wi-Fi | Google Assistant | Check Price |
| Apple HomePod | 4.3 | Woofer, seven tweeters | Wi-Fi | Apple Siri | Check Price |
| Ultimate Ears Megablast | 4.1 | Dual tweeters, active drivers, and passive radiators | Bluetooth, Wi-Fi | Amazon Alexa | Check Price |
| 3rd Gen Amazon Echo Dot* | 4.4 | Single speaker | 3.5mm jack, Bluetooth, Wi-Fi | Amazon Alexa | Check Price |
* Coming soon
1. Best Overall – Sonos One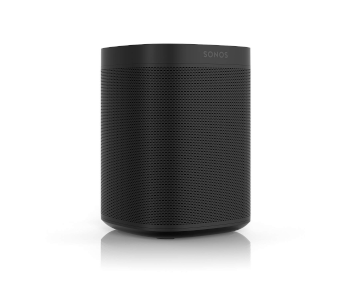 View on Amazon
Editor's Rating: 4.7/5
Sonos caused quite a ripple in the world of wireless speakers when the Play: 1 was released. This speaker managed to impress us with formidable sound quality wrapped up in a small yet beefy package. One is almost identical when appearance and sound quality are concerned, but it has better functionality as Amazon Alexa is natively supported. Since Google Assistant support is coming to the One soon, it has the potential to become not only the best speaker with Alexa support, but by far the smartest speaker of them all.
Smarts Coupled with Great Sound
One is a stout, contemporary speaker that has a lot of weight to it. No surprise given that it packs two D amplifiers and tech like far-field microphones which enable Alexa functionality. It has a responsive touch interface on top for basic operation like play/pause and volume control. The icons for the two volume buttons are identical four dots you wouldn't associate with the function, but one quickly gets used to them.
Sound quality is where the Sonos One excels the most. It produces bright, vibrant mids and a rich base that fills up the entire room. Crystal clarity is apparent even during speech, so you can jump from a playlist of your favorite songs straight into a podcast without noticing a difference in quality. Doing this is easy as One supports most of the world's foremost music streaming services. Its functionality continues to improve as demonstrated by the addition of AirPlay support in July.
You can pair One with other Sonos speakers via a well-organized app. It lets you play the same song in multiple rooms or assign different songs to individual speaker groups. It's also your only means of accessing local music files and arranging them into playlists as Alexa isn't able to access local content.
Alexa integration isn't as seamless as on Amazon's own devices, but searching supported services for specific or general song requests, identifying artists, or controlling your smart home devices with voice commands works well. You can even tell an Echo to broadcast something on the Sonos One and it will do so in seconds.
What We Didn't Like
One's speaker capabilities are superb; it's when you want to integrate it into the Echo ecosystem that things get frustrating. While you can control it through an Echo, you can't group the two together. Similarly, you can't turn two Sonos Ones into a single stereo setup.

Tech Specs
Dimensions: 6.4 x 4.8 x 4.8 in
Drivers: Mid-woofer, tweeter
Connectivity: 3.5mm jack, Wi-Fi
Omnidirectional: No
Compatible with: Amazon Alexa, Google Assistant
The Pros
Excellent sound quality
Supports many music streaming services
Good Alexa integration
Promises to be even more useful in the future
The Cons
Can't be grouped with other smart speakers
2. Best Value – 2nd gen Amazon Echo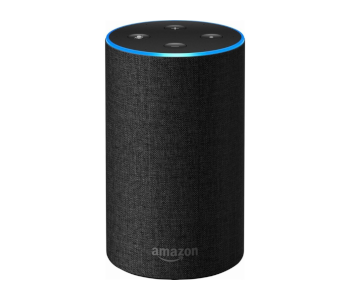 View on Amazon
Editor's Rating: 4.6/5
The original Echo was single-handedly responsible for kicking off the voice-activated speaker revolution. It was a true trailblazer but suffered from a few notable issues like mediocre sound output, uninspired design, and a stilted Alexa that still had a lot to learn. The second generation has improved upon all three points and the new Echo's price has been cut in half. While you can find better-sounding speakers out there, its combination of quality and smarts still makes the 2nd gen Echo a tempting purchase.
Echo Enhanced
If you place the two Echos side by side, you'll notice how the newer one is shorter and a little wider. It also exchanged the plastic perforated exterior for a nice fabric. This makes the new Echo look much more attractive and adds stability. Its physical controls have been revamped too. You don't adjust the volume with the ring anymore – a pair of responsive buttons were put on top in its place along with buttons for play/pause and microphone muting.
Amazon promised to improve the Echo's sometimes tinny and bland sound and managed to do so both with the 2nd gen's new audio hardware and subsequent firmware updates. The bass has been most noticeably improved and finally resonates powerfully in most songs. Mids continue to be muddy at times, but tinny vocals are completely gone.
Echo excels at bringing speakers together. It has both a 3.5mm jack and Bluetooth so you can pair it with nearby speakers and stream content to all of them. An Echo can be combined with any other Amazon speaker to reproduce the same music, relay a message, or execute an Alexa command.
The witty virtual assistant has received a major overhaul and is now quicker to respond, can answer your questions more precisely, and controls a host of smart home devices. Provided you install the appropriate add-ons known as Skills, you can increase her functionality even further.
What's Bad About It?
Buying an Echo is a fantastic idea if you don't already own an original or don't want to spend twice as much on a Sonos One. It's a jack of all trades that has decent sound quality, a good price, and excellent Alexa support. The trouble is, getting one isn't much of an upgrade if you've got the original. If you're interested in Alexa alone the Dot is a far better deal and if sound quality is imperative to you the One or Apple's HomePod are better options as well.

Tech Specs
Dimensions: 5.9 x 3.5 x 3.5 in
Drivers: Woofer, tweeter
Connectivity: 3.5mm jack, Bluetooth, Wi-Fi
Omnidirectional: Yes
Compatible with: Amazon Alexa
The Pros
Improved design and audio performance
Connects to other speakers seamlessly
Acts as a smart home hub
Good balance of price and quality
The Cons
Not worth getting if you already have the original or a Dot
3. Google Home Max
View on WalMart
Editor's Rating: 4.5/5
The trouble with most smart speakers is that sound quality often takes a back seat to smart functionality. You could technically buy a bunch of excellent "dumb" Wi-Fi speakers and pair them with an Echo, or you could invest in a smart speaker which goes toe to toe with competitors in terms of sound quality while supporting arguably the smartest virtual assistant out there. Google Home Max is THE choice if you want superb sound quality augmented by Google Assistant's smarts and don't mind the extra expense
The Elegant Powerhouse
We believe that Google Home Max is the best-designed smart speaker yet! It is massive and heavy as smart speakers go and has a rounded exterior featuring a stylish grille and functional backside. The grille covers up a set of LEDs which indicate the volume. Swipe along its top from left t to right and vice versa to control the volume or tap a central line to play/pause. Placed horizontally, Google Home Max acts as a stereo speaker. If you have two, you can place them vertically and they'll act as mono speakers in tandem. The backside features a toggle for the microphone and a USN-c port for smartphone charging.
Sound quality reflects the high asking price, meaning it is outstanding. Even Sonos One doesn't have a bass that's as smooth or room-filling. Two 0.7-inch tweeters make sure that highs are clear and well-balanced. You can turn the Max all the way up to 11 and still not notice any kind of distortion! A wide variety of standard and lossless audio formats are supported so even picky audiophiles won't need to settle for anything less than perfect.
Max's smarts are handled by the Google Assistant. While Alexa is still firmly in the lead as far as the number of supported 3rd-party smart devices goes, Google Assistant is steadily catching up and can answer questions better as she has the entirety of Google's knowledge at her disposal. She'll hear you over the noise too since the built-in far-field mics are very sensitive and pick commands up regardless of other sounds. You can also use the Max as a speakerphone and broadcast messages to all connected speakers.
What Should Be Improved?
Google Home Max performs inconsistently while streaming. The biggest offender is the stark differences in volume – some tracks on our playlist were much louder than others, forcing us to keep fiddling with volume controls. Along with Apple's HomePod, this is the most expensive speaker on the list and may not be worth it if getting a smart assistant is your main concern.

Tech Specs
Dimensions: 6 x 13.2 x 7.4 in
Drivers: Dual woofers, dual tweeters
Connectivity: 3.5mm jack, Bluetooth, USB-C Wi-Fi
Omnidirectional: No
Compatible with: Google Assistant
The Pros
Intuitive and elegant design
Fantastic sound quality
Has capable smart assistant
Can act as speakerphone
The Cons
Has trouble with inconsistent volume
A bit pricey
4. Apple HomePod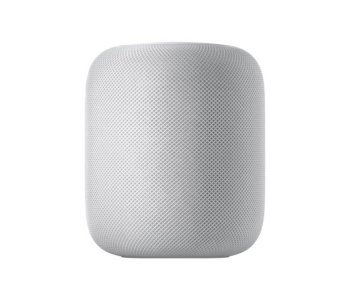 View on WalMart
Editor's Rating: 4.3/5
Apple's HomeKit has been out for ages now, but it took them a long time to follow their smart home service up with a speaker that would make controlling it easier. The HomePod is finally here now and Apple users can rejoice as it was worth the wait! This relatively small speaker sounds on par with the Max, can be placed anywhere in the room, and has an updated Siri that can take care of all your music, smart home, or messaging needs.
An Apple Exclusive
HomePod is a marshmallow-like speaker and a textbook example of Apple's trademark simplicity in design. There are no buttons or switches on it, only a top with a colorful light which controls the speaker manually. During playback, two volume control buttons appear along with a colorful LED dot. Tapping the dot will pause whatever you're listening to while additional taps cycle through next and previous tracks. It's a novel idea, but you get used to doing things this way quickly.
Spatial Awareness is a feature which lets you place the HomePod anywhere within a room and its built-in sensors will determine the best audio output for its position relative to walls and obstacles. This ensures you're getting the same sound quality regardless of placement. Speaking of sound quality, it is mostly on par with that of Google Home Max, even surpassing it in certain genres like rock where rich bass often takes a backseat to expressive vocals and high guitar solos. Considering it is considerably smaller and weighs half as much, the HomePod is an excellent performer.
Pairing the HomePod with your iOS device takes literally a few seconds and requires only that you place them next to each other. The speaker integrates seamlessly into your existing HomeKit setup and can either orchestrate or become part of its scenes. Siri responds well to playback commands but can do much more like read weather reports, remind you of calendar appointments, or answer questions. You can even use the HomePod as a phone and place or answer calls.
Are There Drawbacks?
HomePod is firmly rooted in the Apple HomeKit environment, doesn't work on Android devices, and can only stream Apple Music through voice commands. This isn't a problem if you're committed to an Apple-only smart home. If you love listening to Spotify or other streaming services, you'll need to access them from your iPhone or iPad before they can start streaming. HomeKit has a rigorous acceptance process and supports far fewer 3rd-party devices than either Amazon or Google, so you're potentially missing out on useful gadgets by insisting on it.

Tech Specs
Dimensions: 6.8 x 5.6 x 5.6 in
Drivers: Woofer, seven tweeters
Connectivity: 3.5mm jack, Bluetooth, USB-C Wi-Fi
Omnidirectional: Yes
Compatible with: Apple Siri
The Pros
Adjusts playback based on environment
Outstanding sound quality
Intuitive controls
Excellent HomeKit support
The Cons
Doesn't work with Android devices
Only Apple Music can be controlled by voice
5. Ultimate Ears Megablast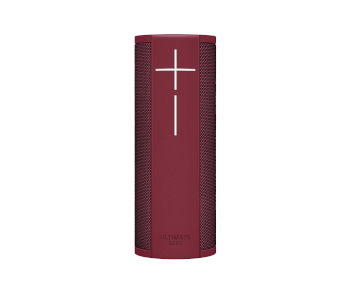 View on Amazon
Editor's Rating: 4.1/5
All the smart speakers we've reviewed so far have been designed as stationary home devices you'd only move once in a while. What if you want Alexa functionality and the portability of a rugged Bluetooth speaker though? That's when you turn to Ultimate Ears and the Megablast, a waterproof, robust, and loudspeaker that performs as well on the beach as it does at home.
Experience Massive Sound Anywhere
Megablast looks like many of UE's other portable speakers – it is brightly-colored, has a D-ring you can attach to a bag, and sports two enormous volume buttons you're likely not to miss even if you're in a drunken stupor. Its outer shell is waterproof as well as hard, meaning that you can bring the speaker to a pool party and be sure that it will continue playing flawlessly the next day.
True to its name, the Megablast is loud – almost 100dB loud! You'd think that a portable speaker of its dimensions would produce distorted and shrieking nightmare fuel instead of good-sounding music, but you'd be wrong. While it's true that the bass does drop off a bit at max loudness, even then you're treated to a well-rounded sound that really comes into its own in rap tracks and bass-fueled electronic music.
Alexa is UE's smart assistant of choice and pairs painlessly with the Megablast over its app. She'll gladly control playback, access Spotify & TuneIn, or control compatible smart home devices. You won't be able to answer calls with the Megablast or group it with other Alexa-enabled devices, but you can pair it with eight other UE speakers for a comprehensive stereo experience.
What We Didn't Like
A rechargeable battery powers the speaker and lasts for 16 hours. Recharging it entails opening up a rubber stopper that exposes the USB-C port, which can be fiddly. There's a charging station which will fill the battery up wirelessly, but you'll need to pay extra for it. While not in use, the Megablast goes to standby mode to save power. You can't use Alexa in standby mode, so you're out of luck if you've set up any alarms or have appointments to keep as she won't remind you.

Tech Specs
Dimensions: 10.1 x 5.5 x 5.6 in
Drivers: Dual tweeters, active drivers, and passive radiators
Connectivity: Bluetooth, Wi-Fi
Omnidirectional: Yes
Compatible with: Amazon Alexa, Google Assistant
The Pros
Rugged design
Portable
Loud output without compromising sound quality
Has almost complete Alexa functionality
The Cons
Tricky charging without base station
Base station sold separately
Standby mode makes Alexa useless
6. Best budget Option – 3rd Gen Echo Dot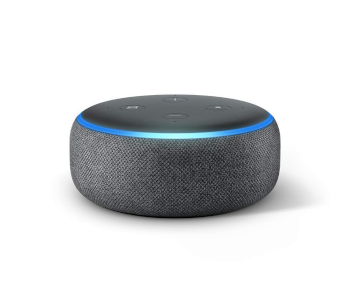 View on Amazon
Editor's Rating: 4.4/5
Releasing the original Echo was a landmark moment for Amazon. Its true masterstroke though was following the pricey model up with the Dot, a tiny, affordable speaker with the same powerful Alexa integration as its bigger brother. The second version made it even better and the next one is just around the corner. The 3rd gen Dot improves upon its predecessor's sound quality and adds some compelling new features. It will start shipping on October 11 and can already be pre-ordered at the time of writing.
Your Gateway into the World of Alexa
The new Dot retains much of the 2nd gen's appearance but is more in line with other newer Echos as it is available in the same three colors and its convex sides are covered with fabric we've already seen on the Echo. The button layout remains the same, as does the trademark indicator ring. You can boost the Echo's output by plugging a more powerful speaker into its 3.5mm jack or through Bluetooth. Finally, the Dot's removable adapter now connects through a unique port instead of micro-USB.
Amazon touts improved audio quality as the new Dot's biggest improvement, and we're inclined to agree. The single 1.6-inch active driver is 0.5 inches bigger than the previous one, which Amazon says translates into 70% louder output. Two new Echo Dots can be combined to produce stereo output now as well. Keep in mind though that the Dot is primarily designed to offer the convenience of Alexa at an affordable price and can't keep up with other devices we've reviewed in terms of fidelity.
Conversely, Alexa support is the same if not better than the Echo's. Expect to be able to call loved ones, access streaming services, or make use of increasingly popular fitness tracking skills with speed. Alexa had trouble hearing voice commands over songs in previous versions. Now that the Dot has a better and more sensitive mic array, this too should become a problem of the past.
What's Bad About It?
It's far too early to tell what problems users might encounter with their newest Dot. What we can say now however is that sound quality, although better, is still this smart speaker's weak spot.

Tech Specs
Dimensions: 1.7 x 3.9 x 3.9 in
Drivers: Woofer, tweeter
Connectivity: 3.5mm jack, Bluetooth, Wi-Fi
Omnidirectional: Yes
Compatible with: Amazon Alexa
The Pros
Affordable
Complete Alexa functionality
Multiple Dots can be combined for stereo sound
The Cons
Sound quality isn't on par with other smart speakers