Best Smart Stoves of 2019
3D Insider is ad supported and earns money from clicks and other ways.
Nothing brings the family closer together than spirited conversation over a home-cooked meal. Making culinary magic involves a lot of prep work and time wasted glancing on the clock to make sure you aren't burning the roast though. If you've got a passion for both mouthwatering delights and the latest technological developments, a smart stove is the perfect upgrade to your kitchen.
Smart stoves excel at evenly cooking food thanks to their advanced convection ovens. More importantly, they give you control over a cook from anywhere through Wi-Fi and their companion apps. Getting precise info on the oven's temperature, remaining cooking time, and current settings is only a tap or two away whether you're talking to friends in the living room or on your way home from work.
In this review, we're showcasing the three best smart stoves from well-known manufacturers Samsung, LG, and Whirlpool. All three are beautiful, highly-sophisticated appliances with excellent cooking performance and cutting-edge smart features. Pick a favorite and experience the 21st-century approach to gourmet cooking.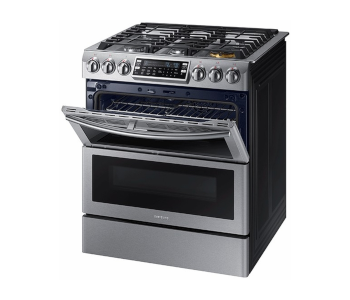 Do you like creating elaborate meals that involve a lot of baking, broiling, and otherwise using your stove's oven? Delicious as meals prepared in an oven are, they take a while and can only be prepared one by one. Samsung's time-saving answer to this problem is the Flex Duo range of stoves. They feature an oven that turns into two with a simple insert! The NX58K9850SS is a high-end gas stove with the Flex Duo feature, five diverse burners, and smart connectivity.
Appearance
This stove is available a standard as well as a beautiful black stainless steel finish that sets it apart from similar models. It has six knobs which light up with bright blue LEDs to unmistakably signal that the stove is working. Between them, there's an LED screen with clearly-labeled individual controls for two parts of the oven on each side. Buttons that turn on the stove's modes like baking or Healthy Cook are located at the panel's center along with a numeric keypad for setting custom temperatures and timers.
Features
A two-in-one oven is the NX58K9850SS's stand-out feature. The principle behind it is simple – a single oven cavity has two built-in convection fans and heating element. If you need to cook two items at the same time, you insert a smart divider in the middle, creating two separate spaces. You can then regulate the cooking time and temperature for each. The divider does a good job of completely separating the two ovens and doesn't let smells from one get into the other.
You don't need to use the divider though – the oven can be used like any other model. There are three racks which can be set at various heights. With a capacity of 5.6 cu. ft., the oven can accommodate anything from a Thanksgiving turkey to multiple trays of cookies with ease.
There are five stovetop burners, each with its own purpose. The bottom right one has a strength of 22,000 BTU. It's the heavy-duty burner used for fast boiling and for working with large pots. The one behind it is best for bringing smaller pots to a low simmer. The central burner is rectangular in shape and intended for grilling. The two burners on the left are for general cooking.
Apart from standard options like cooking modes, custom temperature settings and a keep-warm mode, the NX58K9850SS also has the Healthy Cook option. This setting contains presets for a number of healthy food options including baked potatoes, white fish fillets, or grilled chicken. It even lets you dehydrate fruits and vegetables to create healthy snacks.
Performance
Both the stovetop burners and oven benefit from smart design choices and work well. The shape of the burners and height of the grate above them let flames rise upward and heat a pot rather than reaching over its sides. Baking made in either part of the oven is even and done quickly once it is preheated. Using the touch controls to set up a cook is intuitive as well.
Smart Features
This oven is part of the Samsung Smart Home environment. To make use of Wi-Fi control, you'll need to download the Smart Home app for either Android or iOS. The connection process is straightforward and takes less than a minute. Once successful, the stove will be added to a list of compatible products and is accessible by tapping on the corresponding icon.
You can monitor and control every operation remotely. You'll need to turn the stove on manually and preset a timer before any of the remote-controlled options become available for safety reasons. The app is used to set the temperature and monitor the cooking time of both the stovetop burners and either oven. It also lets you track a cook and change its parameters at any time. Finally, you're able to access the probe's temperature data and reset it if necessary.
Are There Drawbacks?
The oven takes a long time to preheat. This range is advertised as being a slide-in model, but its sides aren't shaped to fit neatly between kitchen counters. If you have counters that support slide-in stoves, you may need to modify them for it to fit properly. Unlike the other two stoves on review, this one doesn't work with Alexa or the Google Assistant
Tech Specs
Dimensions: 36 x 29.9 x 26.4 in
Type: Gas range
No. of burners: 5
No. of racks: 3
Rack positions: 7
Oven capacity: 5.8 cu. ft. – 2.4 cu. ft. for lower oven, 3.4 cu. ft. for upper oven
The Pros
Two individually controlled ovens in one
Five excellent burners with distinct uses
Light-up knobs
Intuitive touchscreen interface
Versatile companion app
The Cons
Oven takes a long time to preheat
May not be compatible with slide-in kitchen counters
No support for AI assistants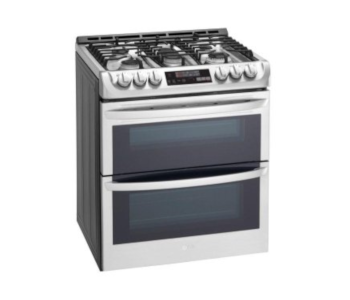 If Samsung's Flex Duo stove is a bit too small and expensive for you, LG's Smart Double Oven is a worthy alternative. It has two separate ovens with a combined volume of 6.8 cu. ft. Both benefit from the ProBake convection baking technology which ensures evenly-cooked meals no matter the temperature and time settings. It is visually impressive, easy to maintain, and comes with SmartThinQ, one of the best smart appliance apps of today.
Appearance
At first glance, LG's stove shares many design features with Samsung's model. There are six prominent control knobs, five burners, and a premium stainless steel finish. The similarities end at its front as on it there are two elegant oven handles and no storage drawers. The biggest design surprise awaits when you open the ovens. Their interior is a vibrant blue. This may be off-putting to some, but works well in modern kitchens with other stainless steel appliances and blue LED screens
Features
The LTG4715ST's stovetop burners are arranged in the same configuration as Samsung's with the two most frequently used ones on the left. The biggest burner is a bit weaker at 18,000 BTU and located on the right along with the smallest one. The most powerful burner is suited for flat-bottomed woks. If yours is round, it will still fit thanks to an included wok grate.
You get a griddle with this stove and can use it with the central oval burner. This lets you make pancakes or fry some meat without having to break out a pan. Each burner's flame can be fine-tuned to accommodate pots of different diameters.
The control panel is touch operated and has a single set of instructions. Toggling which oven they apply to is done by pressing the Upper or Lower buttons. Here's where you set cooking times and temperatures, select the type of cook, and set up a delayed start which begins cooking a meal after a set time. Supported cooking modes include regular baking and broiling along with convectional baking. There's also pizza mode which is useful for baking both homemade and store-bought pizzas.
Cleaning your stove is a thankless job, so LG made it easier by introducing EasyClean alongside the standard self-cleaning cycle. It works by boiling a small amount of water inside the oven to superheated steam. The steam is effective at removing day-to-day grime and the whole process takes just 10 minutes. After it's done, you wipe the inside of the oven down with a cloth and everything is clean again!
Performance
The LTG4715ST bakes evenly thanks to ProBake. Fans in other convection ovens are placed on the bottom. The ProBake design features fans in the middle of each oven. This ensures that hot air circulates evenly and makes rack positions less important. Accurate cooking temperatures are very important however, and this stove maintains them flawlessly.
Smart Features
LG has a single app called LG SmartThinQ that's used to control all of their home appliances. If you already have one of those, a quick product registration is all you need. If not, you need to download the app first and create an account. Keep in mind that the stove only supports 2.4GHz Wi-Fi networks.
When you tap on the stove icon, you're brought to the LTG4715ST's dashboard where you can check on the status of ongoing cooks at a glance. The remaining time as well as the temperature and current settings are also displayed and can be changed. There are additional tabs for managing and getting more info on the EasyClean function as well as troubleshooting and push notification settings. You can get notified when a cook is complete or if the stove malfunctions and don't need to keep running the SmartThinQ app in the background.
SmartThinQ also has support for Amazon Alexa and Google Assistant. Talking to them lets you find out the current cooking temperature and how much time is left on the timer without having to check manually or turn on your phone.
Are There Drawbacks?
The stove's back has a full panel. There's no room for the gas line to be tucked inside of it, which means that there needs to be extra space for the line to fit. The stove may not align with your counters and jut out from them because of this. The touch controls take some getting used to and you may need to consult the manual a lot before getting the hang of them.
Tech Specs
Dimensions: 37.9 x 30 x 28.9 in
Type: Gas range
No. of burners: 5
No. of racks: 3
Rack positions: 6
Oven capacity: 6.9 cu. ft. – 4.6 cu. ft. for lower oven, 2.3 cu. ft. for upper oven
The Pros
Large capacity
Even heating
Comes with a griddle and wok grate
Easy to maintain
Good app and smart assistant support
The Cons
Needs extra space in the back for gas line
Controls take a while to get used to
No storage drawer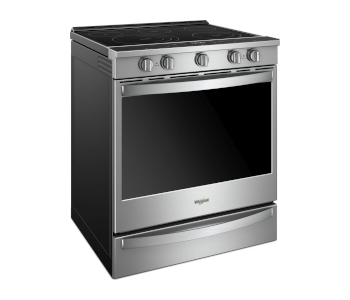 Cooking is both a science and an art form. For a recipe to turn out perfect, you need the right amount of ingredients and some inspiration. If you're just starting out or often don't know what to cook for dinner, there's a smart stove that can help! Whirlpool's WEE750H0HZ is an electric range that connects to Yummly, an app that features thousands of recipes, how-to videos, and other personalized content. It won't just make you a better cook either – Yummly can send cooking times and temperatures to the stove for consistent results every time.
Appearance
This is the most minimalistic model we've tested. Apart from the handles on its oven and storage drawer and the heating element knobs, there's nothing to break up its smooth contours. The stove is available in matte black, classic, and black stainless steel. Its touchscreen control panel has a sparse set of buttons along with a color LCD screen that's easy to read and navigate.
Features
The cooktop has five ceramic glass heating elements, each with a specific function. The two front-most elements are the biggest and used for cooking large quantities of food or with bigger pots. They have three and two concentric heating circles respectively. All of them can be turned on for maximum power, or individually for pots of different sizes. Elements in the back include a versatile smaller one, a warming element that can only be turned on and off to keep food warm, and a fast boil element.
The oven is controlled by the touchpad. Its most interesting features are Frozen Bake and Favorites. Frozen Bake works with specific frozen meals like lasagna, fries, nuggets etc. and adjusts cooking parameters so you don't need to preheat the food. Favorites lets you save frequently used presets for easier access. It keeps track of what times you use the oven and suggests recipes based on the time of day or previous cooks.
Performance
The WEE750H0HZ's cooking performance is dependable. Whether you're boiling pasta, roasting some lamb chops, or baking cookies on all three racks, the results are consistently good. Energy consumption is also handled well. The stove never stays on the target temperature long. The temperature is increased in bursts and then drops below the target. This lets the stove use less electricity in the long run while delivering great-tasting results.
Smart Features
This is where the WEE750H0HZ shines! The Yummly app offers not just a way to control the stove but can enhance your cooking experience. Don't know what to cook today? Load the app up and pan your phone's camera over the food that's in your fridge. Yummly will identify each ingredient and come up with recipes that use them. Each step from food prep to cooking times is documented either with a thorough text description or video tutorials. These range from short clips on specific techniques like chopping onions correctly to complete meal instructions.
Some featured recipes have a fork icon next to them. This means that they contain cooking instructions which sync with the stove. Once you prepare the ingredients as instructed and start the cook, Yummly will transmit the cooking time and temperatures to the stove. This is most convenient for recipes which require temperature changes as the stove will now make them automatically.
There's also a separate Whirlpool app for basic smart stove remote control. It comes with Scan-to-Cook, a feature that's the result of Whirlpool's collaboration with major frozen food manufacturers. You scan a supported meal's barcode with the app, and it automatically loads specific timer and temperature instructions.
The last smart feature of note is the stove's compatibility with 3rd-party devices. Alexa and Google Assistant will preheat the oven, tell you when it will finish cooking, or set the timer. The Nest Learning Thermostat is supported too. If you connect the stove to it, Nest will automatically lower the ambient temperature if it detects that the stove is on to save energy. The thermostat will also send you a warning if it detects that the stove is on when no cooks are scheduled.
Are There Drawbacks?
The control panel is very touch-sensitive and will respond to the slightest pressure. You'll need to keep it locked during cooking so you don't accidentally change a setting. The cooktop is prone to smudging. It requires daily maintenance to look nice which may not sit well with people who have busy schedules.
Tech Specs
Dimensions: 36 x 30 x 28.6 in
Type: Electric range
No. of burners: 5
No. of racks: 3
Rack positions: 7
Oven capacity: 6.4 cu. ft.
The Pros
Excellent companion apps and 3rd-party smart device support
Great for cooking frozen food
Concentric heating elements
Stores frequently-used settings
The Cons
Overly sensitive touchpad
Stovetop requires constant cleaning