6 Best Wireless & Wi-Fi Temperature Sensors in 2019
3D Insider is ad supported and earns money from clicks, commissions from sales, and other ways.
Keeping a close tab on the temperature and humidity levels in your home or business has numerous benefits. It can improve your family's health, ensure that your pets are OK while you're away, or save you thousands of dollars in mold removal or pipe replacement costs. If only you didn't have to walk over to the thermometer each time and note the readings down on a piece of paper…
With a wireless temperature sensor the days of manually tracking humidity and temperature levels are over! These ingenious sensors are easy to set up where they're needed, and their readings can be viewed remotely either on a separate console or through an app. Better yet, you can set them to alert you when they detect extremes and take action even before a problem arises.
The market is flooded with smart sensors of questionable reliability, and it took us some time to find six which would satisfy our tough standards. Below you'll find the most accurate and versatile wireless temperature sensors available today. Whether you need to track conditions in multiple places or make sure that your guitar is in no danger of rotting, you'll likely find a good sensor among our favorites.
Budget
Ambient Weather WS-10-X4
4.0/5.0
Battery life (months): 12+
Humidity range: 10-99%
All sensors can be monitored simultaneously.
Check Amazon
Best Value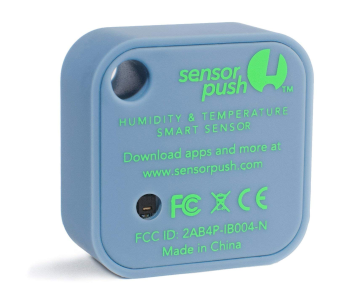 SensorPush
4.6/5.0
Battery life (months): 12+
Humidity range: 0-100%
Easy setup and app supports unlimited sensors and users.
Check Amazon
Top Pick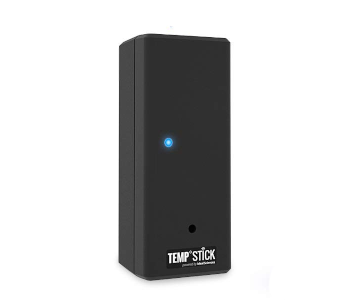 Temp Stick
4.8/5.0
Battery life (months): 6-12
Humidity range: 0-100%
Very easy to install and takes accurate readings.
Check Amazon
What to Look for in a Wireless Temperature Sensor
Accurate & Consistent Readings
Multi-sensor Support
Connection Options
User Interface & App
Wireless & Wi-Fi Temperature Sensors Comparison Table
#1 Best Overall – Temp Stick Wireless Temperature Sensor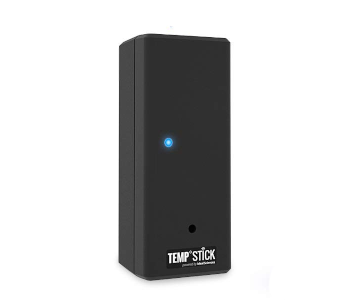 View on Amazon
Editor's Rating: 4.8/5
There's always at least one deal breaker that keeps most temperature sensors from being perfect. Either they're inaccurate, offer no historical data for comparison, or come with a hefty monthly subscription if you want to access anything other than current data. We're thrilled to say that Ideal sciences' Temp Stick is plagued by none of these. It's the most reliable, accurate, and easy to use temperature sensor we've ever had the pleasure of testing!
In a Class of Its Own
The Temp Stick is a smart sensor that you can set up anywhere and get detailed reports from via Wi-Fi. Installing it is a breeze – insert the included batteries, pair it with your phone, and start receiving accurate temperature as well as humidity data on your phone or web browser immediately. Depending on how many times per day you pull accumulated data, the batteries can last up to a year.
The temperature it can measure reaches from -40°F to 125°F, making the Temp Stick ideal for any environment from cold storage to home temperature monitoring. It is accurate to within 0.7 degrees, much more than many competing models. If you need to keep tabs on more than one environment, additional sensors can all be monitored through the same app.
The companion app is designed to give you a clear overview of current temperature and humidity readings. These can be tracked and viewed in a timeline that stretches as far back as the sensor has been used. You can set up temperature and humidity thresholds from here as well. Once they've been exceeded, you can receive push notifications and emails alerting you of the change. Need to keep more people informed? The app lets you set up 10 additional contacts that can receive the same alerts.
What We Didn't Like
The data the Temp Stick displays isn't shown in real time. Rather, it displays it in intervals ranging from hourly to once every 5 minutes. This is also the most expensive single sensor on our list, but we feel that the Temp Stick's superb performance justifies the steep price.

Tech Specs
Dimensions: 3.5 x 1.5 x 1.3 in
Temperature range: 40°F to 125°F
Temperature accuracy: ±0.7°F
Humidity range: 0-100%
Battery life: 6-12 months
The Pros
Takes accurate readings
Very easy to install
Sends alerts to multiple users
Comprehensive data history
No subscription fees
The Cons
A bit pricey
Limited to displaying data in 5-minute increments
#2 Best Value – SensorPush Wireless Thermometer/Hygrometer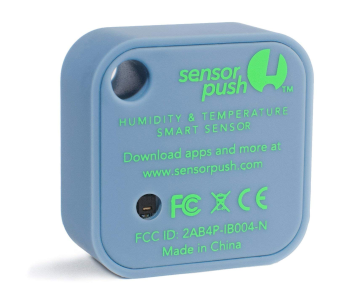 View on Amazon
Editor's Rating: 4.6/5
Sometimes small environments like display cabinets or instrument cases need to be monitored too, and a bulky temperature sensor just won't do. Luckily, the SensorPush is a tiny yet powerful temperature & humidity sensor you can place and access from anywhere. Best of all, it's as accurate as bigger models, only trailing a little behind our overall winner!
Measure the Environment of Every Nook and Cranny
The small size of this sensor lets you place it where others just couldn't reach. It's powered by a tiny coin cell battery that provides the sensor with enough juice to keep reporting for a year or more if conditions aren't too cold. Setting it up involves downloading a smartphone app and holding it close to the phone for the Bluetooth pairing sequence to be complete. There's also a Wi-Fi connection option, but more on that later.
The thermometer takes readings every minute and stores them locally. There's enough memory for 20 days' worth of data which gets pushed onto your phone as soon as it is in range, so taking a vacation or forgetting to collect the data isn't a problem. The app stores a log for an unlimited time just like the Temp Stick's. Also similar are the notification settings and threshold alert options.
Current data is represented with clear big numbers and percentages while historical readings can be viewed in a graph complete with timestamps. If you'd like to analyze the data further, there's an option to export it in a format that's suitable for spreadsheet programs. A single sensor supports unlimited users. Likewise, the app can connect to an unlimited number of sensors which can then be labeled and scrolled through on the dashboard.
What Should Be Improved?
On its own, this sensor can connect to a smartphone only through Bluetooth. A Wi-Fi gateway is available, but it will cost you extra. The line graph you have access to in the app isn't a good tool for keeping track of fluctuations because only the minimum and maximum readings are shown, leaving you to guess at the readings in-between. Time is also displayed on an hourly basis and you can't zoom in to see smaller increments.

Tech Specs
Dimensions: 1.6 x 1.6 x 0.7 in
Temperature range: -40°F to 140°F
Temperature accuracy: ±0.7°F
Humidity range: 0-100%
Battery life: 12+ months
The Pros
Sensor can fit into very small spaces
Local data storage
Easy setup
App supports unlimited sensors and users
Great balance of cost and quality
The Cons
Enabling Wi-Fi requires a separate purchase
Historical data can be hard to interpret
#3 iHome iSS50 5-in-1 Smartmonitor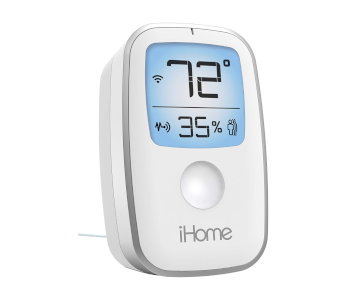 View on Amazon
Editor's Rating: 4.5/5
All sensors we've reviewed do a great job of reporting what the temperature and humidity are like. iHome's Smartmonitor does this too while being able to detect sound, movement, and light levels as well. It doesn't have the broad range and sensitivity of some other models, but its sheer versatility augmented by support for lots of 3rd-party smart devices meant we couldn't pass up on it.
Five Sensors, Endless Possibilities
The first peculiar thing you'll note about the Smartmonitor is its power source. Unlike other, battery-powered devices, it draws its power from your home's grid and can work indefinitely. It also has a somewhat bulky design that makes it stable and makes room enough for a big, dimmable LCD screen. Plug it in and you're ready to go, unless you also want to pair it with HomeKit that is, in which case you'll need to scan the provided QR code.
The monitor's display is informative, showing the current temperature and humidity in big bold numbers. The app is where this model really starts to show its huge potential though. There's an overview that lets you see readings for all the quantifiable sensors and lets you know if motion is active. You can use this data to set activation conditions for other iHome products.
If you've paired the monitor with HomeKit or another smart home hub like SmartThings, you can use its broad array of readings to control just about any smart device you have. Temperature too low? Adjust the thermostat once it drops below a certain threshold. Sound and motion sensors show that no one is in the room? Turn lights and the AC off to conserve power! The combinations are endless. Oh, and if you feel like listening to the Smartmonitor's readout through a smart speaker, support for Amazon Alexa and Google Assistant exists too.
What's Bad About It?
Since the Smartmonitor is tethered to a power cord, you're limited in where you can place it and won't be able to get any readings in the event of a power outage. The unit isn't water-resistant and the temperature range it can measure is much smaller than those of competing models. Lastly, the Wi-Fi connection can be spotty.

Tech Specs
Dimensions: 2.6 x 2.3 x 4.2 in
Temperature range: -32°F to 99°F
Temperature accuracy: Not specified
Humidity range: 10-99%
Battery life: Runs on AC power
The Pros
Five sensors in one
Big LCD screen
Supports many 3rd-part smart devices
Can be used with Alexa and Google Assistant
The Cons
Isn't battery-powered
Narrow temperature detection range
Spotty connection
#4 Govee Thermometer/Hygrometer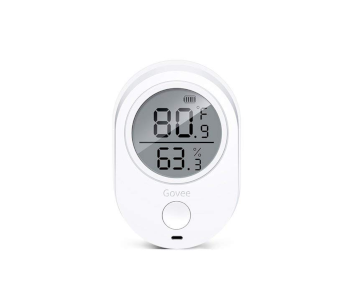 View on Amazon
Editor's Rating: 4.2/5
Next up is an affordable and somewhat basic model, the Govee Thermometer/Hygrometer. Its wide temperature range and excellent sensitivity make this one of the most accurate sensors we've seen. Couple that with a fair price and no monthly fees, and it's easy to recommend Govee as a barebones solution to anyone who insists on at least the basic smart features.
Exact Readings Regardless of the Environment
This sensor has been cleverly designed for both convenience and utility. As it runs on batteries that have been tested to last over six months, you can place it anywhere. Some two-sided adhesive tape is included for wall mounting. The round display can be read across the room and updates its sensor readings every two seconds. Data is recorded every 60 seconds and can be viewed on your phone once the sensor is paired.
Govee keeps an internal 20-day log of its readings. It's worth noting that the sensor is both sensitive and quick to recognize temperature fluctuations. Holding warm or cold objects next to it for a few seconds is enough to alter its readings.
The free Govee app gives you an overview of all the data the sensors has collected in informative graphs. It's easier to visualize the readings than those of the SensorPush since the graph is divided into 30-minute increments and turns red if readings cross the thresholds you've set. Apart from graphing, standard features like alarms and exporting the data to a .CSV file are also present.
Where They Missed the Mark
This model doesn't support Wi-Fi and its Bluetooth radius is a mere 200 feet. Its connection to the app gets even more tentative the more walls are between them and may break altogether after more than two. Other models we've tested can all stand on their own while this one either needs to be mounted or laid down on a flat surface. Future versions could benefit from a flat bottom so that the sensor can be placed on shelves or tables.

Tech Specs
Dimensions: 3.5 x 2.2 x 1 in
Temperature range: -68°F to 140°F
Temperature accuracy: ±0.5°F
Humidity range: 0-99%
Battery life: 6+ months
The Pros
Very accurate & sensitive
Big clear display
Informative graphs
The Cons
Small operation radius
Can't stand on its own
#5 La Crosse Technology 926-25106-Wgb Wireless Monitor System Set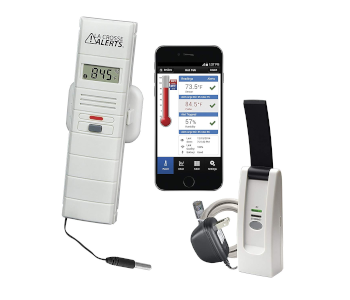 View on Amazon
Editor's Rating: 3.8/5
Sometimes measuring the ambient temperature won't be enough for you to get a complete picture. That's why this wireless monitor system made by La Crosse Technology comes with a wet probe you can use to accurately gauge not only the conditions outside, but in the soil and water as well. Whenever you need a reliable way of measuring the temperature of the water in your pool or judging the readiness of your garden for planting season, this is the sensor to get.
An Affordable Yet Versatile Temperature Sensor
The 926-25106-Wgb system consists of a gateway which plugs into a standard power outlet, a battery-powered sensor, and the wet probe. Four more sensors can be bought separately and monitored through the app. The sensors have an excellent range and their signal strength isn't lowered by distance or obstacles so expect accurate results even if the receiver is far away.
The sensors monitor temperature and humidity conditions constantly and update their findings every minute. You can look these up online or via the free app. If you bought multiple sensors, you can name each and gain access to all of their readouts. You can also set up thresholds & alerts.
What's Bad About It?
The biggest complaint we have about this sensor is that some of its advanced features are locked behind a monthly subscription. Without it you can't receive alerts which not only respond to the humidity and temperature thresholds you set, but tell you when the sensors are experiencing connection issues or the battery is about to die. After a while the sensor starts losing connection to the receiver. As far as we've seen there's no fix for this and a new sensor needs to be purchased.

Tech Specs
Dimensions: 5.2 x 0.8 x 1.4 in
Temperature range: : -40°F to 140°F
Temperature accuracy: ±0.4°C
Humidity range: 3-99%
Battery life: 4-6 months
The Pros
Comes with wet probe
Multiple customizable alerts
Excellent sensor range
Affordable
The Cons
Some features require a monthly subscription
Connection issues
#6 Best Budget Option – Ambient Weather WS-10-X4
View on Amazon
Editor's Rating: 4/5
Do you need a multi-sensor solution for a large home with pets in danger of a heat stroke in summer or a warehouse full of pipes that may freeze in winter? If you're willing to forgo some smart features, you'll find that the WS-10-X4 is a system worth considering. It comes with four sensors already and can be expanded to 8, offering a comprehensive and accurate overview of current conditions in multiple environments
The Most Affordable Way to Monitor Your Home or Business
This monitoring system includes a central console you set up indoors which has its own thermometer and hygrometer, and four additional sensors that can be placed outside. The console will run for a year or more on four AAA batteries while the sensors need 2 each. Inserting the batteries is everything you need to get going, so setup is a cinch.
The sensors show excellent uniformity in their readings if you give them a few minutes to adjust to their new environment. Both temperature and humidity readings are very accurate and can be viewed either on the console or each individual sensor. If a sensor's output doesn't correspond to an accurate measurement you took elsewhere, you can calibrate it manually and the console will display the true result.
The console offers a comprehensive overview of every sensor's readings and can automatically cycle through two screens every five seconds if you've installed more than four. Thresholds can be set for the first four, and when they're reached the console emits a beep. Historical data isn't available, but the WS-10-X4 does keep track of each sensor's minimum and maximum recorded readings.
Are There Drawbacks?
Since there's no Wi-Fi and app to inform you of the readings, this model is only of real use when there's someone around to monitor it. Apart from that, the sensors' signal strength could be better. They have a supposed range of 300 feet, but walls will shorten it considerably, and they won't work if the signal needs to penetrate metal to reach the console.

Tech Specs
Dimensions: 4.5 x 5 x 1 in
Temperature range: -40°F to 140°F
Temperature accuracy: ±1°F
Humidity range: 10-99%
Battery life: 12 months
The Pros
Very affordable
Comes with four sensors
All sensors can be monitored simultaneously
Has audible temperature and humidity alerts
The Cons
No smart features
Limited range