6 Best Smart Thermometers of 2019
3D Insider is ad supported and earns money from clicks and other ways.
How often are you awakened at night by your child's cries only to discover that they are running a fever? In cases like these, it's imperative to have a reliable thermometer on hand which will measure the temperature quickly and help you plan out the best course of action. It's time to safely dispose of your mercury-filled thermometer and get a cutting-edge smart one instead.
Smart thermometers aren't only safer and quicker than glass ones, they also have smartphone apps that can tell you how dangerous a high temperature is and offer tips on managing it. Some connect through Wi-Fi letting you see the temperature as soon as your partner takes it no matter where you are. Others can take measurements without touching the skin or help you conceive.
You'll find the best smart thermometers reviews below as well as a table with their basic features below. They're all accurate and give readings quickly. Which one to pick then?That depends onyour budget, the age of your family members, and your preferred temperature taking method. There's a great smart thermometer for any scenario, so check out their reviews and add a powerful new tool to your ailment-fighting arsenal.
Budget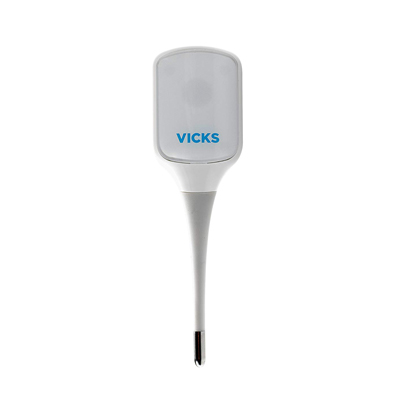 Vicks Smart Temp
4.0/5.0
8 seconds response time
Suitable for any age
Gathered data is easy to export and multiple user profiles.
Check Amazon
Best Value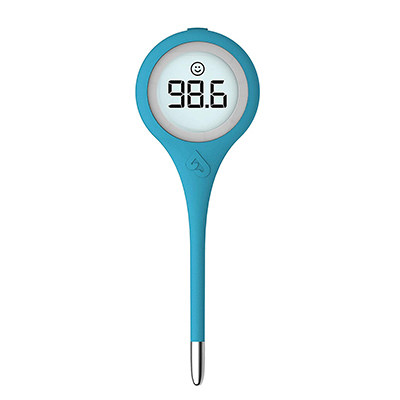 Kinsa QuickCare
4.5/5.0
8 seconds response time
Suitable for all ages
Quick and accurate readings and versatile app, large display.
Check Amazon
Top Pick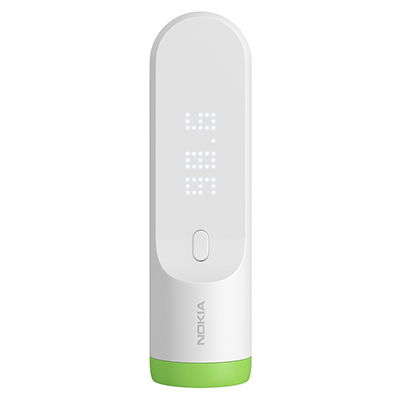 Nokia Thermo Smart
4.7/5.0
2 seconds response time
Suitable for all ages
Non-invasive yet accurate readings and connects through Wi-Fi.
Check Amazon
What to look for in a Smart Thermometer
Temperature Taking Method
Response Time
App & Stand-alone Mode
6 Best Smart Thermometers Comparison Table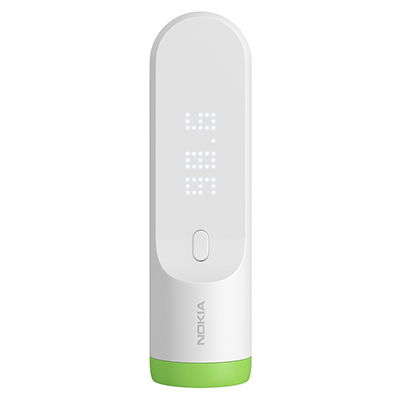 View on Amazon
Editor's Rating: 4.7/5.0
When you've got a teething or sick infant, the last thing it wants to do is sit still while you take its temperature. Nokia's Thermo allows you to take an accurate reading of even the fussiest babies since all you need to do is pass it over the child's forehead. This non-invasive approach coupled with an informative app makes the Thermo stand out from the rest. It may be expensive, but its ease of use makes the Thermo worth it.
No Fuss, No Stress Temperature Taking
The Thermo is made from soft ABS plastic. Its minimalistic design consists of a green round end that goes onto your forehead, an on/off, button, and a set of LEDs. Each reading takes only two seconds and is accompanied by a temperature displayed through the onboard screen as well as an indicator light that shines either green, yellow, or red depending on the results. Two AAA batteries power the thermometer and can last for two years.
The best thing about the Thermo is its non-invasive approach. Its instruction manual says that the thermometer should be placed on the middle of the forehead and then moved sideways, but you can also just press it down in one place and still get consistent readings. Even better, the Thermo can take your temperature without actually touching the forehead! Hovering over it at a height of half an inch will still result in accurate readings.
Thirty two readings can be stored internally and will be synced with the app once paired. The Thermo supports both Bluetooth and Wi-Fi so you can keep tabs on your child's real-time temperature even when you're at work. Multiple user profiles are supported and each has its own history, name, and profile picture. The app is regularly updated with advice from leading pediatric and medical institutions so you'll know exactly what to do to bring the fever down and deal with other symptoms.
What's Bad About It?
This is by far the most expensive smart thermometer on the list. It needs to be connected to the app to be used separately, and this process needs to be repeated each time you replace the batteries else it won't work.

Tech Specs
Dimensions: 4.6 x 1.3 x 1.3 in
Temperature taking method: Temporal
No. of stored readings: 32
Response time: 2 seconds
Suitable for: All ages
The Pros
Non-invasive yet accurate readings
Clever design
Connects through Wi-Fi
Comprehensive app
The Cons
Very expensive
Needs to be paired with a phone each time the batteries die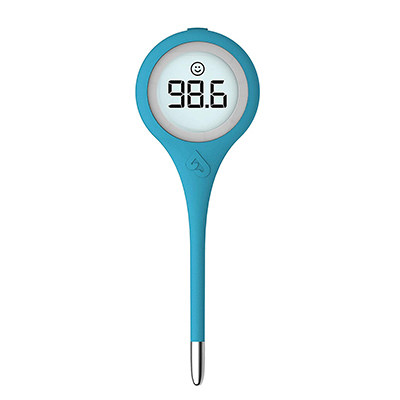 View on Amazon
Editor's Rating: 4.5/5.0
Traditional thermometers take accurate temperature readings but don't provide any context for them. What exactly does it mean to have a fever when coupled with other symptoms? If you buy Kinsa's excellent QuickCare smart thermometer, you'll know exactly what needs to be done when a fever is detected. It takes reliable readings in seconds, comes with an amazing app, and costs less than $20!
A Capable Thermometer at an Amazing price
The QuickCare is a versatile thermometer that takes 8 seconds to read your temperature. Its probe is thin and small so you can use it on infants as well as adults. The end comes with a large display that shows results either in degrees Celsius or Fahrenheit. Its internal memory can store 50 readings. A 3-volt battery powers the thermometer and can be easily replaced.
Setting the thermometer up involves downloading the Kinsa app for Android or iOS, giving it a bunch of permissions, and pairing the QuickCare via Bluetooth. Temperature readings are displayed simultaneously on the app's main screen and on the thermometer. You can create accounts for each family member and keep track of their temperature histories through a graph.
The app acts as a basic diagnostic tool as well. It prompts you to select symptoms like headaches or coughs alongside temperature readings and then suggests what action to take and whether or not a doctor's visit is needed. The suggestions vary depending on age and the severity of reported symptoms. Other useful features include frequent digital coupons you can use to save on medicine and a fun game that keeps small children busy during measurement.
What's Bad About It?
Like the Thermo, you can't use the QuickCare as a stand-alone digital thermometer without pairing it with the app at least once. Its connection to the app is spotty so the thermometer might not get recognized when you need it to work.

Tech Specs
Dimensions: 4.7 x 1.3 x 1.3 in
Temperature taking method: Underarm, oral, rectal
No. of stored readings: 50
Response time: 8 seconds
Suitable for: All ages
The Pros
Quick and accurate readings
Long-lasting battery
Versatile app
Large display
The Cons
Needs to be paired with app to work on its own
Frequent app errors and connection issues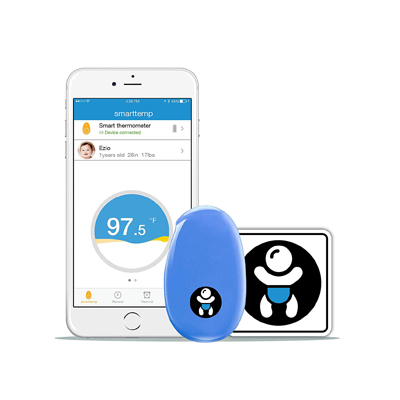 View on Amazon
Editor's Rating: 4.4/5.0
A normal temperature now is no guarantee that your sick child's fever won't suddenly flare up later in the night. While you could spend a sleepless night taking its temperature every few minutes, Infanttech's Smarttemp is a better solution. This waterproof thermometer is actually a pad you secure under the baby's arm that measures temperature continuously. Once a set threshold is reached, you get notified via the app and can react quickly without needlessly worrying beforehand.
Round-the-Clock Temperature Monitoring
The Smarttemp is a simple tab which you secure to the child with disposable strips. It is very thin and not too big, so it won't impede the baby's movement or cause discomfort when worn throughout the day. It is waterproof, meaning that you can thoroughly clean it after each use and take temperature readings of the baby's bathwater too.
Although it is designed for infants, there's nothing stopping you from using the Smarttemp on older children or adults. You get 15 strips with the initial purchase and refills are cheap. With occasional use, the Smarttemp will last 3 years. If your children are prone to illnesses or you want to use its continuous monitoring feature all the time, battery life can drop significantly.
The app syncs with the thermometer via Bluetooth. It shows temperature data in an easy to understand chart and lets you add 7 days of medical history like the medication the child took etc. Medicine reminders can be set up as well. One app supports multiple pads so you can track two or more sick kids at once.
What We Didn't Like
Bluetooth is usually not an issue with other thermometers as you're beside the child while taking its temperature. Since this thermometer operates continuously, your smartphone needs to be within 30 feet of it to register alerts. This distance is further reduced by thick walls and bad signals. Since the Smarttemp is hermetically sealed, there's no way of removing its battery, meaning you'll have to replace the entire thermometer once it expires.

Tech Specs
Dimensions: 4.2 x 3.3 x 1.4 in
Temperature taking method: Underarm
No. of stored readings: N/A
Response time: Continuous
Suitable for: Infants and up
The Pros
Continuous monitoring
Waterproof construction
Excellent versatility
The Cons
Works only in Bluetooth range
Batteries can't be replaced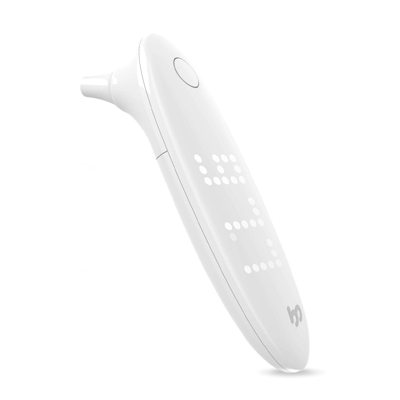 View on Amazon
Editor's Rating: 4.1/5.0
Sick children are irritated and often won't be still. This can have a serious impact on thermometer accuracy, so it's important to have a thermometer which can do its job as quickly as possible. Earmo is an inner ear thermometer which takes only a second to produce consistent readings on its big bright screen. It's ideal for kids that just can't sit still and won't wake them up if you use it while they're sleeping
The Speedy Smart Thermometer
Earmo is designed with a comfortable grip and good visibility of its results regardless of lighting. Its prominent set of LEDs displays temperature in large, easy to read numbers. Five readings can be stored and cycled through for easy comparison without relying on the app. Each reading is also accompanied by a smiley face if it falls under normal parameters or a sad one if action should be taken.
The thermometer operates by using an infrared beam to sense the child's tympanic temperature. You can clean it with a damp cloth or an alcohol solution and don't need disposable covers for its tip. There are no vibrations or beeps so the Earmo won't disturb your child's sleep.
The BonBaby app is your hub for all things Earmo. Aside from keeping track of long-term readings for different family members and offering tailored advice on how to treat a fever, the app also serves as a medical diary. It lets you track the child's height and weight, which medicine you gave it and when etc. You can even record the child's sleeping schedule and have all this data in one place for your pediatrician to peruse.
Are There Drawbacks?
In theory, nothing prevents adult family members from using this thermometer's smart functions. The app won't let you create an adult profile however and anyone trying to enter an age older than 17 will be denied. Viewing previous temperatures stored in the Earmo is done by sweeping over its screen. This may not work right away and can be frustrating if you want to check a recent temperature reading that isn't synced with the app yet.

Tech Specs
Dimensions: 5.3 x 1.9 x 1.7in
Temperature taking method: Inner ear
No. of stored readings: 5
Response time: 1 second
Suitable for: Children 2 and up
The Pros
Nearly instantaneous results
Large bright display
App stores a lot of data relating to child's health and development
The Cons
Profiles for adults can't be created
Scrolling through readings stored on the device sometimes doesn't work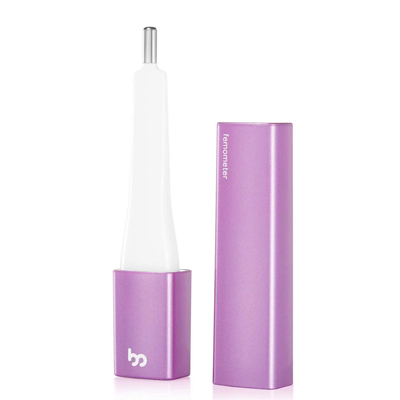 View on Amazon
Editor's Rating: 4.0/5.0
Trying for a baby is yet to become an exact science, so every piece of info that gives you the best chances of conception can help. The Femometer is designed to take your basal body temperature (BBT), which is one of the best indicators of your cycle. It's a niche thermometer but very useful in helping you discover more about your body, how to conceive or avoid doing so.
A Glimpse into the Workings of a Woman's Body
The Femometer is a stylish gadget that comes inside a case that also serves as its on/off switch. Removing it from the case puts the thermometer in standby mode. Your basal body temperature is measured by placing the Femometer under your tongue and waiting for 90 seconds. After you've done this a few times and the app establishes a pattern, measuring time decreases to a minute. The battery it comes with won't last very long, but luckily you get a spare as well.
BBT tracking works by establishing a baseline and then observing spikes in temperature. The spikes are indicative of ovulation and serve as a better predictor of your period than simple calendar tracking, which is especially useful for women with irregular periods. The Femometer app uses aggregated BBT data to construct your own fertility calendar complete with suggestions on when to try for a baby. Adding more data manually will further increase the app's accuracy. You can add info on sexual activity, any related medication you're taking, or incidents of cramps.
What We Didn't Like
This smart thermometer is the worst defender when app dependency is concerned. There's no screen on it and no way of accessing any data unless you're using the app. Response times are also inconsistent. Lastly, you have to use the thermometer every day and at roughly the same time or else it won't be accurate.

Tech Specs
Dimensions: 4 x 0.7 x 0.5 in
Temperature taking method: Oral
No. of stored readings: 300
Response time: 60 – 90 seconds
Suitable for: Adult women
The Pros
Accurately tracks ovulation cycles
App offers comprehensive overview and calendar data
Elegant design
The Cons
Useless without the app
Inconsistent response times
Loses accuracy if you neglect regular temperature taking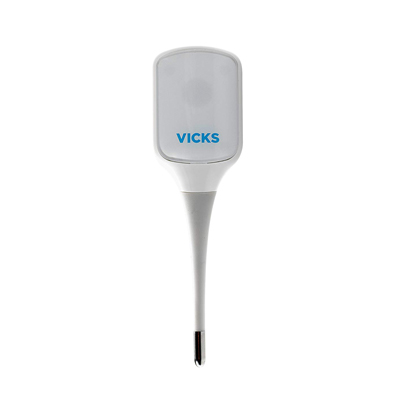 View on Amazon
Editor's Rating: 4.0/5.0
Being able to log temperature data is useful, but it's just one piece of the puzzle when trying to reach an accurate diagnosis. Accompany it with thorough notes in an easy to read format, however, and you'll be doing both yourself and your physician a favor. The Vicks Smart Temp is a thermometer whose app lets you export readings in either.JPEG or.CSV formats for effortless viewing on other devices. It's also simple to use and affordable.
Temperature Data and More for Less
This thermometer is as simple as can be – there's a larger rectangular part with the Vicks logo and the ON button you hold onto which tapers to a thin metal probe at the insertion point. A red LED flashes when the thermometer is turned on and changes to green once the temperature taking starts. A beep indicates that the process is complete after 8 seconds followed by one of the LEDs again to indicate either a normal or elevated temperature.
The app stores multiple profiles complete with names, pictures, and age. Taking the temperature is done by selecting a profile and pressing start. A complete result is then displayed in either green, yellow, or red. This is saved into the app's database under the selected profile along with the time and date of measurement. You're also given the chance of adding notes like what you did to try and bring the fever down, which medication was administered, and so on. You can either take a snapshot of the database or export it as an organized spreadsheet.
Medication alerts are another useful feature. Setting one up involves entering basic information like the name of the medicine, its prescribed dosage, and any additional notes. Then you specify the times when the medication needs to be taken. The app will now send a push notification so you don't forget.
What We Didn't Like
There's no way of knowing the exact temperature without connecting the Vicks thermometer to its app. If you take more than one measurement in quick succession, the results may vary. The average is closest to the actual result, but you shouldn't need to resort to such workarounds in the first place.

Tech Specs
Dimensions: 3.2 x 1.1 x 7.5 in
Temperature taking method: Underarm, oral, rectal
No. of stored readings: N/A
Response time: 8 seconds
Suitable for: Any age
The Pros
Affordable
Easy to use
Gathered data is easy to export
Medicine alerts
Multiple user profiles
The Cons
Precise readings available only through app
Temperature needs to be measured a couple of times for accurate result