Smart Thermostat Black Friday 2019 Deals from Nest, Ecobee, and Honeywell
3D Insider is ad supported and earns money from clicks and other ways.
Winter is almost here. With it comes snow, the holidays, and sky-high power bills. Did you know that half of that bill is the result of heating costs? Smart thermostats are the answer as they can keep you toasty while optimizing the HVAC's power use. Getting one is the best decision you'll make this Black Friday.
These are the best smart thermostat deals for Black Friday 2019: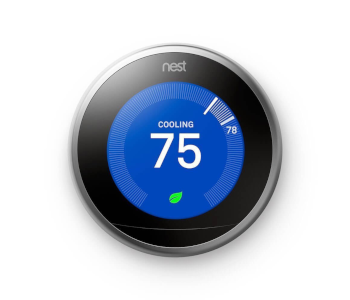 Nest 3rd-Generation Learning Thermostat
Original Price: $225
Black Friday Price: $179.99
Nest's Learning Thermostat continues to be the most popular smart thermostat on the market. No wonder, since it offers an intuitive user experience, has a sleek look, and its capabilities grow as you add more gadgets to your smart home.
The thing it's most famous for is its ability to learn and adapt. Hooking the thermostat up initiates a learning period in which it observes how you set the temperature during the day. It has enough data after a week to create a schedule based on your habits so that you don't need to do anything anymore. If you do make changes, Nest's thermostat will remember and incorporate them into its routine.
You can control the thermostat by twisting its dial and pressing the device, through the excellent Nest app, and by giving it commands through Amazon Alexa. The latter is particularly useful since you can incorporate the Learning Thermostat into Alexa's routines and set up complex automations. For example, putting the thermostat into Away mode can turn off all the lights and activate your security system's motion detectors.
Nest's dynamic schedules also strive to keep power bills low. There's an Eco mode that lowers the temperature even if you're home and a light sensor that knows when the sun is shining on the device, causing it to heat the house less. Nest now includes an additional temperature sensor you can place in another room and get a better overview of the temperature throughout your home. Six sensors are supported, and a schedule can be set for each.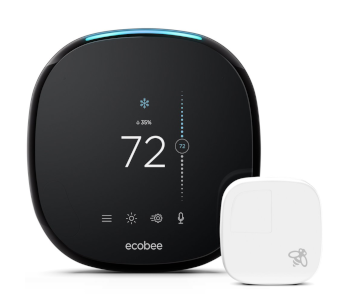 Ecobee4 Smart Thermostat with Voice Control
Original Price: $249.99
Black Friday Price: $199.99
Ecobee's fourth iteration is a thermostat that comes with everything you need to stay comfortable and start outfitting your smart home. The thermostat is an excellent choice if you don't already have an Amazon Echo speaker since it has one built-in. That means you get access to Alexa, Amazon's AI assistant, and the best smart home controller in the world.
The Ecobee itself is a stylish device that's straightforward to install. You may not even need an electrician since it comes with in-depth installation instructions. Other useful accessories include two sensors you can strategically place around the house to get a better idea of its temperature. Unlike Nest's Ecobee's sensors can detect occupancy. This allows you to engage Follow Me, a mode that adjusts the temperatures of individual rooms based on whether or not someone is inside.
Follow Me is just one of the Ecobee's many energy-saving features. It has geofencing, meaning that power consumption will automatically be lowered if your smartphone isn't in range. There's also a feature that adjusts the HVAC based on local weather reports. Eco mode is available, too, and you can adjust optimum temperature settings for both home and away modes. Finally, the app has a budgeting feature that breaks down your monthly HVAC expenses and can help you cut down on costs even more.
Best Buy also offers the Ecobee3 lite at $40 off for $139. It's an ideal alternative to the model above if you already have an Alexa speaker or a simple HVAC system.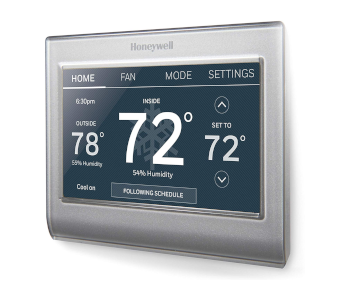 Honeywell Home Wi-Fi Smart Color Thermostat
Original Price: $199.99
Black Friday Price: $119.99
Need a modern thermostat less tech-savvy folks will love to use too? Then Honeywell's Smart Color Thermostat is the one to splurge on this Black Friday. It supports Alexa, the Google Assistant, and works with other smart devices seamlessly through IFTTT. On the other hand, it has an intuitive touchscreen anyone can learn how to use.
The screen is definitely this thermostat's best feature. It is large enough to display a lot of information on your home's microclimate. Its central part shows the current indoor temperature and humidity with the same information for the outside displayed to its left. The right side of the screen is home to temperature adjustment arrows. The screen is touch-operated and responds well to commands.
You can access every feature from the screen or use the handy app. More advanced features include a 5-day weather forecast, weekly schedules, and a marketplace. The latter is particularly useful since it lets you order filters and pads when old ones need replacing.
It's a pleasure to control Honeywell's thermostat with your voice. You can direct Alexa to tell you the current temperature and change it to either a specific value or by several degrees.