6 Best Smart Toilets of 2019
3D Insider is ad supported and earns money from clicks, commissions from sales, and other ways.
The flush toilet has been around for hundreds of years, yet its core design has undergone few changes in all that time. With the surge of innovative technologies and a rising concern for the environment, it's high time that this household staple was reimagined. Enter the smart toilet, the most significant advancement in the way we use our bathrooms since the 1800s!
Smart toilets and toilet seats aren't only more elegant than their predecessors, they're chock-full of comfort and hygiene enhancing features too. Even the most basic models have built-in bidet wands that help thoroughly clean you while cutting down your household's toilet paper expenses. The seats make no sound as you lower them, keep your bottom toasty thanks to strategically-placed heating elements, and dry you off once you're done. Some models even flush as you stand up, so you'll never need to wonder whether you forgot to or not.
Here are the six best smart toilets and toilet seats on the market. While quite an investment, they'll instantly improve your sense of well-being and reduce the time you have to spend slaving away with a toilet brush in your hand. Pick the model whose features suit you best and elevate your bathroom experience to the next level.
Budget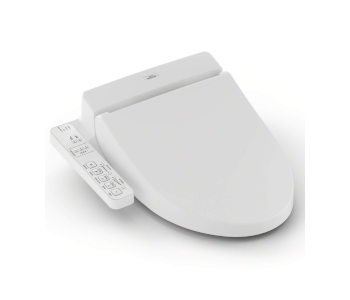 TOTO C100 WASHLET
4.1/5.0
Dimensions: 23.5 x 20.5 x 9 in.
Weight: 16 lbs.
Affordable yet brimming with features.
Check Amazon
Best Value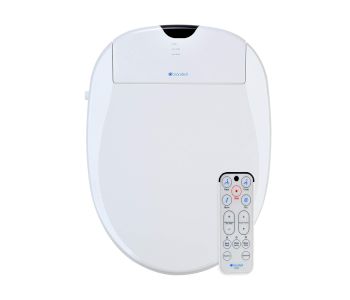 Brondell S1000-EW Swash 1000
4.5/5.0
Dimensions: 20.8 x 15 x 5.7 in.
Weight: 14.3 lbs.
Fantastic balance of cost and features.
Check Amazon
Top Pick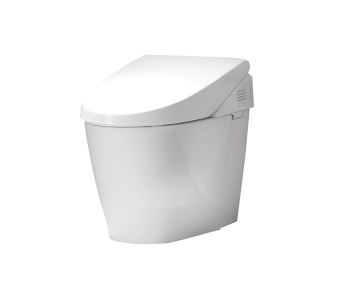 Toto Neorest 550H
4.7/5.0
Dimensions: 27.8 x 15.3 x 21.5 in.
Weight: 151 lbs.
Minimal water use without impact on cleanliness.
Check Amazon
Smart Toilets & Toilet Seats Comparison Table
1. Best Overall – Toto Neorest 550H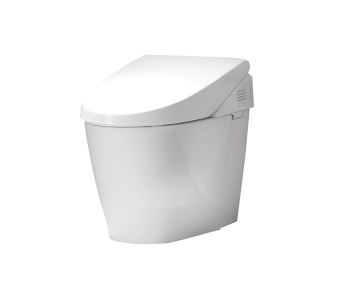 View on Amazon
Editor's Rating: 4.7/5
Do you want supreme comfort and convenience when using the bathroom no matter the cost? Then look no further than Toto's Neorest series of smart toilets. Neorest is designed to save water, reduce the need for cleaning, and offer you the most hygienic experience possible thanks to its fantastic built-in Washlet bidet toilet seat. You can automate all of its features or use the included remote control for maximum convenience. The toilet costs a pretty penny, but it will transform your visits to the bathroom forever.
Overview of Features
The Neorest impresses at first glance with its distinct modern look. It is smaller than regular toilets but still conforms to industry standards so anyone will be able to use it. The small form factor is great for cramped bathrooms but works for bigger spaces as well. The bowl is made from cotton-white ceramic with a unique SanaGloss finish that makes it harder for particles to stick to its surface. You'll want to hire a professional to install the Neorest since it needs to be hooked up to a power supply.
This is one of the most water-efficient toilets on the market as it uses only 1 or 0.8 gallons of water per flush depending on your preferences. Flushes are followed by a spray of eWater, a fine mist of ionized water particles. These have similar disinfectant properties to bleach and ensure the toilet's continued cleanliness. Of course, you will need to clean the Neorest from time to time, but much less frequently than with other toilets.
The bidet and toilet seat combo dubbed the Washlet contains the Neorest's personal hygiene and comfort options. The seat as well as the water it dispenses can be heated, has multiple cleaning modes, and even a night light. We'll go into more detail on the Washlet when we review its stand-alone version.
Flushing, the bidet, and heating options are all automated, but you can take control at any time thanks to the Neorest's excellent remote. It has touch-sensitive buttons that let you adjust the dryer and spray nozzle settings the way you like them. Two users are supported, so your partner can enjoy her own settings without having to put them in manually each time.
What We Didn't Like
The Neorest has a weak dryer. It will get the job done eventually, but some users may find the process to take too long. The toilet also has an automatic open & close feature. This kicks in as soon as you enter the bathroom when turned on. We wish there was a way to adjust this feature's sensitivity since the seat needlessly goes up every time you enter the bathroom for a different reason.
Tech Specs
Dimensions: 27.8 x 15.3 x 21.5 in.
Weight: 151 lbs.
Gallons per flush: 1 / 0.8
The Pros
Minimal water use without impact on cleanliness
Elegant, compact design that looks well in any bathroom
Excellent seat with a slew of comfort and hygiene options
Remote control with two user profiles
The Cons
Automated open & close system is too sensitive
Dryer takes a while to do its job
2. Best Value – Brondell S1000-EW Swash 1000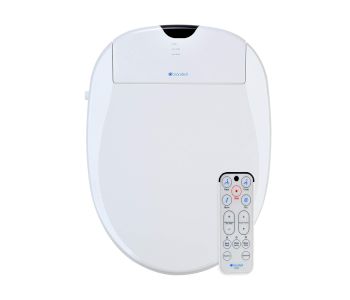 View on Amazon
Editor's Rating: 4.5/5
You don't need to spend thousands of dollars on a smart toilet if you want to take advantage of its comfort and hygiene features. You can turn your ordinary bowl into a luxury toilet & bidet combo if you replace the old toilet seat with Brondell's Swash 1000! This versatile seat offers numerous heating, drying, and spray options, all accessible from an easy-to-use remote. It is self-cleaning and always has hot water on hand. Best of all, the seat works only when you need it to thanks to a body sensor.
Overview of Features
Unlike with smart toilets, you can easily install the Swash 1000 on your own. Installation starts by attaching the water supply hose to a T-valve to allow supplying the seat as well as your toilet. Then you have to attach some brackets to the bowl and place the seat onto them, ensuring a good fit. Plug the seat into a nearby outlet, insert batteries into its remote, and you're done!
The best thing about the Swash 1000 are its ceramic heating elements. You usually need a separate hot water tank and might get sprayed with cold water towards the end of the wash. The Swash 1000 heats the water as it's passing through, ensuring a steady stream of water warmed to your exact specifications.
The remote allows for minute spray customization. You can choose the spray's intensity, location, and water temperature with a button press. People with medical conditions can also use an aerated mode, which disperses the spray with air bubbles that make it softer without reducing its effectiveness. You can adjust the spray's width as well as its location from fixed to oscillating.
The Swash 1000 is designed with the best hygienic practices. Its stainless steel wands are cleaned and sanitized after each use. An odor filtration feature is also in place – it uses a fan and active carbon filter to quickly get rid of and neutralize any odors from inside the bowl.
Using the Swash 1000 has a negligible effect on your power bill, and there's an eco-friendly feature which uses even less power. You don't have to worry that the seat will needlessly waste power or activate when children play around it as it has a body sensor. This makes sure the seat is only in use when enough pressure is applied on it. Once you're done, the seat uses hydraulic sensory to lower the lid gently.
What's Bad About It?
It takes a long while for the wands to extend and begin washing, leaving you to wait uncomfortably. Their water pressure isn't on par with toilets like the Toto Neorest, so you might need to look for an alternative if the pressure proves to be too weak.
Tech Specs
Dimensions: 20.8 x 15 x 5.7 in.
Weight: 14.3 lbs.
The Pros
Fantastic balance of cost and features
Provides endless supply of warm water
In-depth spray and seat configuration options
Self-cleaning and equipped with odor filtration system
Easy to install
The Cons
Lower water pressure than other models
Wands take a while to start working
3. KOHLER K-5401-PA-0 Veil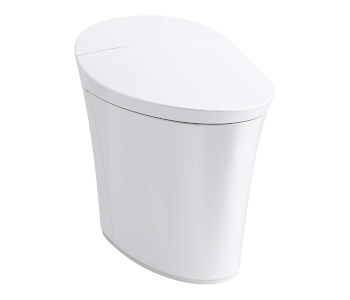 View on Amazon
Editor's Rating: 4.5/5
Kohler is a renowned plumbing product manufacturer and Toto's main competitor in the smart toilet niche. Their Veil Intelligent Toilets are as feature-rich as they are classy, featuring a comprehensive LCD remote, lots of heating and wand cleaning options, and a motion-activated seat that will never slam down in the middle of the night. It's a worthy alternative to Toto's Neorest, and a fantastic option for your next bathroom remodel.
Overview of Features
The Veil is a modern, minimalistic toilet with elegant curves and a slim bowl. It is set at a comfort height of 17 inches, meaning you'll sit more naturally and won't need to squat your knees. This is great news for the elderly and people with joint problems while making bathroom visits more comfortable for everyone. The toilet has a dual tank that can dispense either 1.2 or 0.8 gallons of water per flush. The tank is designed to go inside your wall, so installation by a qualified professional is a must.
Using the Veil is as luxurious as it is hi-tech. The toilet has responsive motion sensors which cause the lid to gently lift as you approach and slowly go back down once you're done. The seat is heated for those cold winter nights and cleans itself with warm water after flushing. Speaking of cleaning, the Veil is easy to maintain thanks to a stick-resistant porcelain surface. There's also a UV light which disinfects the bidet wand for maximum hygiene.
This is a toilet and bidet in one! Adjusting the wand in various ways is easy thanks to the wall-mounted LCD remote. This lets you choose the water, seat, and dryer temperature. It also enables you to change the wand's position and choose between pulsating and oscillating modes. Pulsating mode alternates between weaker and stronger bursts of water and is excellent at eliminating stubborn waste. Shifting to oscillating mode will give you a once-over from back to front to finish the job.
Are There Drawbacks?
It takes the Veil three minutes to refill after each flush. This isn't a problem under normal circumstances but quickly becomes one if you need to flush multiple times. The toilet comes with panels you can install to obscure the space behind it. These panes might not fit correctly.
Tech Specs
Dimensions: 26.1 x 17.2 x 21 in.
Weight: 114.6 lbs.
Gallons per flush: 1.2 / 0.8
The Pros
Excellent self-cleaning options
Optimum height & clean look
Responsive touchscreen remote
Thorough cleaning wand with two distinct settings
The Cons
Decorative panels might not fit properly
Refiling the tank takes long
4. Bio Bidet IB835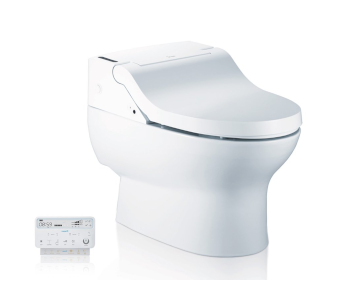 View on Amazon
Editor's Rating: 4.4/5
Bio Bidet's IB835 is a less expensive alternative to our overall winner, yet it doesn't lag behind in terms of features. The toilet has a remote control with a plethora of advanced wash regulation options. It heats water up instantly, is straightforward to install, and is easy to use for every family member, even kids.
Overview of Features
The IB835 doesn't stray far from a traditional toilet design. Its most unique feature in that respect are easily accessible physical controls located on each side of the toilet. These let you operate essential functions like flushing and nozzle adjustment if the power goes out. Installing the toilet boils down to removing the old one, hooking the IB835 up to water & electricity, and mounting a wall bracket that houses the remote.
Even though the IB835 is solid all around, the remote is by far its best-executed feature. It can be mounted to the wall or removed and has a cool backlit see-through screen that gives you all the info you need at a glance like the currently active cleaning and temperature modes, oscillation patterns, and battery life.
The remote's main panel contains touch buttons for flushing, engaging the dryer or bidet function as well as adjusting the nozzle's position manually and stopping the wash altogether. Children can press the Kids button and get a gentle wash without needing to fiddle with more complicated program settings. Advanced users can lower a secret part of the remote that contains controls for the odor filtration system, water or seat temperature, and nozzle intensity settings.
Such a fine degree of wand control lets you design washes that are ideal for any situation and can even massage tender areas if you turn on the corresponding setting. The dryer is another of the IB835's outstanding features – it delivers a powerful stream of warm air that does an excellent job of drying you off and eliminating the need for toilet paper! Automatic flush completes the experience and kicks in once you stand up. You can always press the manual flush button if one time isn't enough.
What's Bad About It?
Some corners had to be cut to make the IB835 less expensive. Thankfully, the most noteworthy are a lack of nightlight and UV light for wand disinfection.
Tech Specs
Dimensions: 27.7 x 15.8 x 21.1 in.
Weight: 40 lbs.
Gallons per flush: 1.6
The Pros
Fantastic remote control
Can be installed without professional help
Features are as basic or advanced as you want them to be
Excellent dryer
The Cons
No nightlight
No UV light
5. Ove Decors 753H SMART TOILET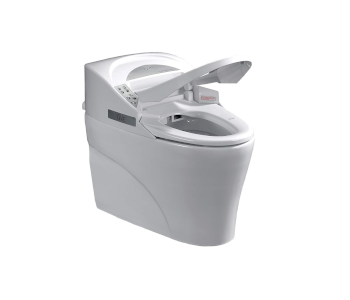 View on Amazon
Editor's Rating: 4.3/5
Next up is a smart toilet from Ove Decors. This is the model to get if you want to stop worrying about flushing as it has a smart flush function that kicks in every time you stand up! The toilet also has variable wash & dry settings, a nightlight, and self-cleaning all accessible from a comprehensive wall-mounted keypad.
Overview of Features
The 753H is an elongated-style smart toilet with a visible tank that stores hot water. It is the toilet with the most traditional look in the review and should fit into any bathroom and appeal to everyone regardless of age. Installing it is a complicated process that's poorly explained in the manual, so your best bet is to have a professional take care of it.
Normal flushing uses up 1.3 gallons of water. This can be lowered to 0.8 gallons if you switch to water-saving mode. The water tank keeps the bidet water at a constant temperature. You can choose between four temperatures and turn on eco mode if you want to use less electricity. However, this will cause the water inside the tank to cool and heat only when you're using the toilet.
The 753H comes with a large wall-mounted control panel. Its dated appearance and lack of touch control have no impact on the panel's performance though as it offers a wide array of options in every area of the toilet's operation. Water, dryer, and seat temperature can be set to one of four settings while water pressure has eight settings ranging from a mild splash to a vigorous jet. The control panel will remember your favorite settings too!
This is another toilet model with a built-in nightlight. The light is bright enough to guide you in the dark while its gentle blue color doesn't hurt the eyes when you use the toilet shortly after waking up. The seat doesn't open or close automatically, but it does have a soft close feature that prevents it from slamming down.
What's Bad About It?
Remote operation for this toilet is slow and frustrating. The first time you hit a button it only illuminates the panel without doing what you actually wanted. This requires you to press a second time and wait for a beep. Only after the beep is heard will the action be completed, and even then you'll have to wait longer than is comfortable. Ove's customer service isn't responsive. It may take them several days to get back to you if you encounter a problem and more to solve it.
Tech Specs
Dimensions: 31.3 x 16.8 x 23.8 in.
Weight: 88 lbs.
Gallons per flush: 1.28
The Pros
Comprehensive control panel
Automatic flush system
Useful night light
In-depth water spray strength customization
The Cons
Complicated to install
Actions take a long time to register and complete
Poor customer service
6. Best Budget Option – TOTO C100 WASHLET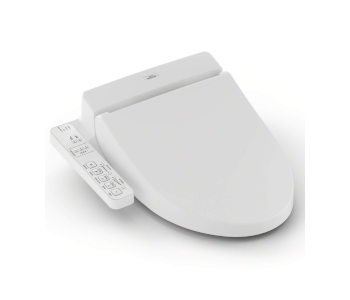 View on Amazon
Editor's Rating: 4.1/5
Our last entry is also one of the smartest. Toto's C100 Washlet observes your behavior and adjusts its power-saving mode accordingly. This means that it will automatically turn off water & seat heating while you're sleeping or at work! Add to that its affordable price and all the money you'll be saving on toilet paper, and the C100 Washlet has the potential to pay for itself in no time.
Overview of Features
The C100 Washlet is bulkier than normal toilet seats, understandable given the water tank and abundance of electronics it needs to house. The seat doesn't come with a remote. Rather, there's a control panel to your right that lets you adjust its settings. You install the C100 Washlet in the same way as the Swash 1000 and can do so without having to call a plumber.
This seat has proactive toilet-cleaning measures in the form of pre-mist. It sprays a fine mist into the bowl each time you sit down. This makes the ceramic surface slippery and less prone to sticking, increasing the effectiveness of flushing. Odors are eliminated as well thanks to a built-in deodorizer. The wand's nozzles get dirty after a while too. You can take care of that by activating the wand cleaning feature which sprays water continuously through both sets of nozzles for five minutes.
Both temperature and nozzle settings have a high degree of customization. There are three wand modes, rear, soft rear, and front wash, each with five intensity settings and positions you can adjust mid-operation. The toilet seat and water are kept temperate at all times. Turning the eco feature on will lower both tempreratures, and you can disable pre-heating altogether if you don't mind waiting for warm water.
Are There Drawbacks?
The Washlet's hot water tank is small and might not give you enough warm water to wash thoroughly after a messier use of the toilet. The dryer's heating element is prone to malfunctioning. You can get by with cold air if you need to, but the dryer becomes useless during the winter that way.
Tech Specs
Dimensions: 23.5 x 20.5 x 9 in.
Weight: 16 lbs.
The Pros
Affordable yet brimming with features
Pre-mist makes toilet bowl easier to clean
Lots of temperature and wash settings
Can be installed onto many ordinary toilets
The Cons
Low-quality dryer heating element
Small hot water tank