6 Best Smart Toothbrushes of 2019
3D Insider is ad supported and earns money from clicks, commissions from sales, and other ways.
Have you been diligently brushing your teeth since childhood, and yet still suffer from cavities, bleeding gums, or bad breath? While your diet is partly to blame, did you ever consider that you may be brushing the wrong way? Giving areas of your mouth too much or too little attention can take its toll in the long run. With a smart toothbrush in one hand and your trusty phone in the other, you'll never make a tooth brushing mistake again!
Smart toothbrushes combine the convenience & effectiveness of electric toothbrushes with info they send to a smartphone app. Using one daily can help you correct brushing issues you probably weren't even aware of, and makes this tedious chore more fun for everyone with trackable stats, alerts, and games for the youngest members of your family.
Below are six smart toothbrushes we feel are best for impeccable oral hygiene. Many smart toothbrushes can work for weeks on end without recharging. Some have interchangeable toothbrush heads suitable for different cleaning tasks, while others excel at turning you morning bathroom ritual into a fun and informative experience. Check out our reviews to find your favorite.
Budget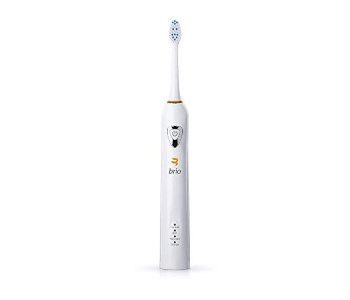 Brio SmartClean Sonic
4.5/5.0
No. of brushes: 3
Battery life: 3 weeks
Has a smart timer & exceptional battery life.
Check Amazon
Best Value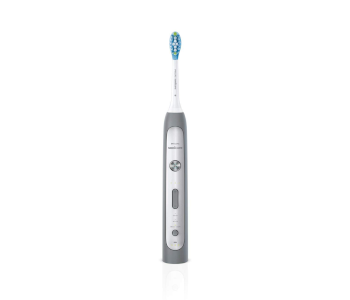 Philips Sonicare FlexCare
4.6/5.0
No. of brushes: 1
Battery life: 3 weeks
It has different sensors which help you brush correctly.
Check Amazon
Top Pick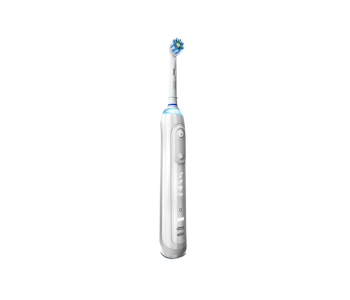 Oral-B Genius Pro 8000
4.7/5.0
No. of brushes: 3
Battery life: 12 days
This is compatible with all Oral-B brush heads.
Check Amazon
What to Look for in a Smart Electric Toothbrush
Ergonomics & Ease of Use
Timer & App
Waterproofing
Battery Life
Additional Costs
Smart Toothbrushes Comparison Table
#1 Best Overall – Oral-B Genius Pro 8000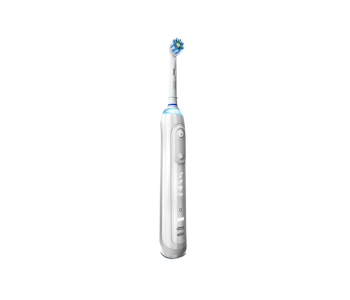 View on Amazon
Editor's Rating: 4.7/5
Oral-B has been putting out exciting smart toothbrushes ever since the Pro 6000 was revealed in 2014. Since then their products have gotten even more advanced, culminating in the Pro 8000, an all-around excellent smart toothbrush solution that caters to all adults regardless of their preferred brush head or cleaning habits. Customizable, effective, and clever – that's how we'd describe the Genius Pro 8000, and that's precisely why it's our overall winner.
Brush Smarter, Not Harder!
The brush's body is ergonomically designed and has just enough weight to it without feeling cumbersome. In the box, you'll find three brush heads suitable for thorough cleaning, better whitening, or sensitive gums. There's also a wonderful traveling case and a phone holder you attach to your mirror. The brush's smart features depend on the footage taken by a smartphone's camera, so supplying the holder is a nice touch.
There are five cleaning modes to choose from, each addressing different needs. Most people will be fine with sticking to standard mode, but anyone who needs to spend a little more time cleaning their tongue or whitening their teeth will be glad that other options exist. The base of the brush is compatible with a wide array of Oral-B brush heads and has a ring that can light up in one of 12 colors so multiple family members can use it.
Your phone's front camera guides the brush while the app tells you how much longer you need to spend on a segment of your mouth. The superb pressure sensor is useful for this. It prevents you from doing any harm to your teeth's enamel by slowing the rotation speed down and flashing red until you've eased off on the brush.
The app is minimalistic yet contains all the info you need for successfully maintaining oral hygiene. There's a 2-minute timer that counts down each time you brush, a graphical representation of mouth zones & their current cleanliness, and an overview of past cleanings.
What's Bad About It?
The Genius Pro 8000 is thorough and sophisticated, but it is also a very expensive brush. Other than that, the only problem is the hassle of setting the brush up each time you want the full experience. You may not feel like placing your phone in the holder and aligning it with your face all the time to get accurate instructions when the brush is so good even without the app.


Tech Specs
No. of cleaning modes: 5
No. of brush heads: 3
Waterproof: Yes
Battery life: 12 days
Accessories: Travel case, smartphone holder
The Pros
Seamlessly supports multiple users
Excellent pressure sensors
Compatible with all Oral-B brush heads
Comes with lots of quality accessories
The Cons
Expensive
Taking full advantage of its features can be time-consuming
#2 Best Value – Philips Sonicare FlexCare Platinum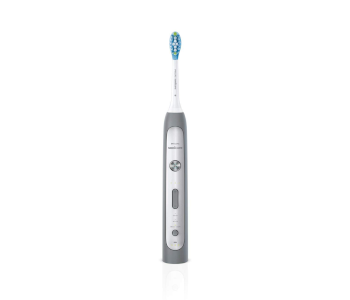 View on Amazon
Editor's Rating: 4.6/5
Most of us are probably doing something wrong while brushing our teeth. Admit it, you either neglect one area or keep scrubbing like there's no tomorrow. The Philips Sonicare FlexCare Platinum seeks to teach you about proper dental hygiene while keeping those pearly whites safe. It comes with an excellent if at times overbearing app, has loads of accessories, and we've found that its real-life performance is as good as its name is long.
Your New Tooth Brushing Coach
The Sonicare FlexCare Platinum is a stylish and highly effective toothbrush. Its oblong head and strategically-placed bristle patches are designed to easily reach between teeth and remove even stubborn plaque. The toothbrush holds a massive charge and 20 days of regular use went by before it needed a refill, so even if you're vacationing abroad the brush can travel along with you.
Smart features abound both in the brush itself and in its app. There's a pressure sensor that causes the handle to gently vibrate if you're putting too much weight into it, a motion sensor that discourages you from needlessly moving the brush, and a location sensor which tells the brush its position within your mouth. There are three speed settings and three cleaning modes, the most interesting of which are Deep Clean and Whitening which concentrate on plaque removal and extra care for your front teeth respectively.
What sets this model apart from the competition is the comprehensive app. In it you can see a representation of your mouth divided into six sections. If you start at its upper end, the location sensor will guide the brush along your current setting's path and ensure that you've spent the proper amount of time on each segment. You can even view the results of your last cleaning and get cheeky tips on what you did wrong and how to improve next time.
What We Didn't Like
Unlike Oral-B's 7000 or 8000, this toothbrush comes with a single head. The app doesn't do a good job of explaining itself a lot of the time, and if you start brushing on a position that's slightly different than indicated, the location sensor can give out wrong readings.


Tech Specs
No. of cleaning modes: 3
No. of brush heads: 1
Waterproof: No
Battery life: 3 weeks
Accessories: Traveling case, UV cleaning light
The Pros
Excellent at getting rid of plaque
Long battery life
Different sensors help you brush correctly
App offers a lot of cleaning insight
The Cons
Only one toothbrush head
Sensors are sometimes inaccurate
#3 Oral-B 7000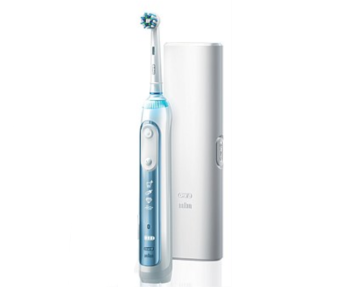 View on Amazon
Editor's Rating: 4.5/5
Until it was surpassed by the 8000 series, Oral-B's 7000 was the smartest toothbrush available. It focuses on keeping your whole mouth clean with a special emphasis on the tongue. Packed with 6 cleaning modes, 4 diverse toothbrush heads, and a dedicated timer, it's still one of the most high-tech & best smart toothbrushes you can buy.
Improving Your Habits One Brushing at a Time
Oral-B knows how to design a comfortable toothbrush, and the 7000 is no exception. Its grip is rubberized and feels good in the hand whether you're a 10-year-old or an adult. Since the toothbrush is waterproof, you can multitask & take care of your teeth while showering. You can choose one of four brush heads for this. Three of them are the same ones you get with the 8000, while the last one has extra-long bristles that supplement dental floss and can get between teeth much better than regular ones.
The tongue is potentially the dirtiest, yet most often neglected part of our mouth. The 7000 addresses its cleaning by offering a special mode that makes the brush oscillate slower to make brushing the tongue more comfortable. Modes that gently massage sensitive gums, restore whiteness to coffee-stained teeth, and perform a deep cleaning are also available.
The brushing experience is augmented by Oral-B's app. When synced with the toothbrush through Bluetooth, the app will start counting down when you start brushing, prompting you to change zones or apply less pressure along the way. It also has access to news & weather so you're never bored while brushing. Don't want to use the app all the time but still want to be sure you're brushing correctly? Use the standalone timer you get with the 7000 instead.
Where They Missed the Mark
All issues this toothbrush has relate to its battery in one way or another. The most glaring one is its capacity. With regular use, a charge will last 10 days. That's fine if you're the only one brushing your teeth with it, but can go down drastically if more people share the toothbrush. While it's charging, the 7000 flashes with a really bright blue light that can be annoying if you're in an adjacent room and leave it to charge overnight.


Tech Specs
No. of cleaning modes: 6
No. of brush heads: 4
Waterproof: Yes
Battery life: 10 days
Accessories: Travel case, timer
The Pros
Many different toothbrush heads and cleaning modes
Motivational app
Tongue cleaning mode
Bonus timer
The Cons
Very short battery life
Annoying charging light
#4 Philips Sonicare for Kids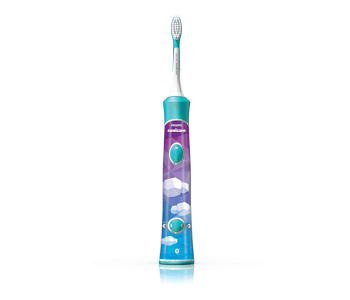 View on Amazon
Editor's Rating: 4.5/5
Getting young children into the habit of cleaning their teeth consistently is no picnic. Wouldn't it be nice if the toothbrush itself could help them more easily accept the need to brush every day? That's precisely what the Sonicare for Kids was designed to do. It's a cool-looking toothbrush with a fun companion app your little ones will be thrilled to brush along with each day. Add to that Phillips' customary quality, and you've got a toothbrush not even mom or dad would mind using.
Building a Lifetime Habit
This colorful toothbrush was clearly designed with kids in mind. It has two big buttons and a removable front panel on which you can place all kinds of stickers. You only get one toothbrush head, but it is well-made and has soft, uniform bristles that even the youngest kids won't find uncomfortable. Depending on your child's age, you can set the brush to either low which will brush their teeth gently for one minute, or high which gives them the full two-minute experience.
The main incentive for kids to keep at is the fun app. Within they'll meet Sparkly, a purple monster whose teeth have seen better days. Once active, the app shows them Sparkly's mouth and they can follow along with him zone by zone. Apart from cleaner teeth, kids get virtual items of clothing after each brushing and can give Sparkly a unique look.
While this aspect of the app is pretty basic, parents can unlock advanced features by creating an account. This unlocks the ability to track your kids' brushing sessions over time, set reminders for them to charge the battery or brush more frequently, and you can even add custom rewards or messages they'll receive after they've been brushing consistently for a while.
What's Bad About It?
Sonicare for Kids is an affordable smart toothbrush, but replacement heads are not. A two-pack costs half as much as the toothbrush itself, making long-term use expensive. The brush's design makes it fit well in the hands of older children, but those just starting out may have a harder time holding it correctly.


Tech Specs
No. of cleaning modes: 2
No. of brush heads: 1
Waterproof: No
Battery life: 2 weeks
Accessories: 8 interchangeable stickers
The Pros
Excellent companion app
Suitable for children of all ages
Good design of both base and brushes
Advanced parent mode
The Cons
Toothbrush heads are expensive to replace
Might be cumbersome for really young children
#5 Kolibree Smart Toothbrush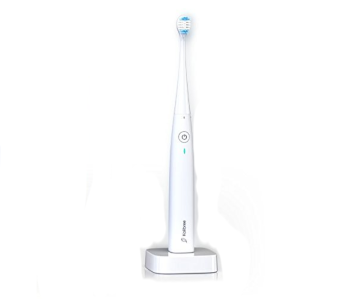 View on Amazon
Editor's Rating: 4.1/5
The smart toothbrushes we've talked about so far cater either exclusively to adults or kids. Kolibree is a toothbrush that both can use. Its impressive array of sensors lets the Kolibree app know exactly where the brush is in real time, and its games & data tracking will keep both you and your tyke interested in brushing regularly.
One Smart Toothbrush for the Entire Family
Kolibree is perhaps the most elegant smart toothbrush yet! It's a bit on the slim side and shorter than most other models we've reviewed, making it ideal for even smaller kids to use while not being too small to fit an adult's grip comfortably. The design is very minimalistic as only the large power button and an LED light stand out from its black base.
The toothbrush's most notable feature is its onboard sensors. Not only does it have 3D motion sensors, but a gyroscope and an accelerometer as well. These are needed to establish the Kolibree's exact location in your mouth and are the cornerstone of its app's effectiveness. In the app you're treated to a simplified view of a mouth and can precisely move the toothbrush in response to suggestions. As a single session is in line with dentists' recommendations, you can expect excellent results if you do as the onscreen instructions suggest.
Kids might find this mode boring though, which is why the app features a couple of games. iOS users get to guide Rabbids through an obstacle race and avoid all kinds of junk by brushing the right part of their mouth. Both they and people with Android phones can steer a pirate in collecting coins. You can create multiple user profiles and have family members compete against each other.
Another of the app's standout features are stats. Granted, there are no custom notifications like we saw with Sonicare, but you can track how many times you've brushed in a row, earn experience points, and unlock titles to stay motivated.
What We Didn't Like
The Kolibree's battery has a weak charge. Their webpage claims that a charge can last for 10 days, yet we've tested it and got closer to a week's worth. There also doesn't seem to be a way to speed up or slow down the motor, leaving you with a single brushing mode. Finally, the toothbrush heads need to be twisted and yanked out to be removed, so a child probably won't be able to do it alone.


Tech Specs
No. of cleaning modes: 1
No. of brush heads: 3
Waterproof: No
Battery life: 10 days
Accessories: Extra toothbrush heads
The Pros
Sophisticated location sensors
Sleek design
Achievement tracking & educational games
The Cons
Poor battery life
Single mode setting
Heads are hard to replace
#6 Brio SmartClean Sonic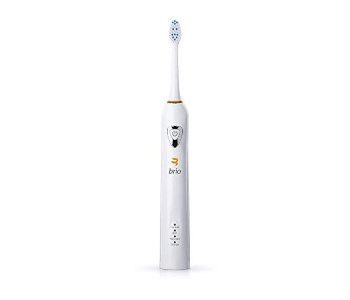 View on Amazon
Editor's Rating: 4.5/5
Having to stare at a smartphone while brushing can certainly be a nuisance, but can a toothbrush really be smart without an app? It turns out that it can, as users of the Brio SmartClean Sonic will tell you. It has a built-in timer that's as effective at guiding you as most apps, boasts a ridiculously long battery life, and is much cheaper than our winner. Best of all, its performance is superb!
The Smart Toothbrush That Keeps on Going
Brio's brush looks like so many electrical models with its white body and sturdy base. The only accessories you get with it are two replacement brushes, meaning you'll have to come up with a travel case yourself. And that's something you'll definitely want to do as the brush can be used twice daily for a whopping six weeks on a single charge!
The premise behind how the SmartClean Sonic works is simple. It is equipped with a 2-minute timer you turn on before brushing. The brush then vibrates gently at half-minute intervals to let you know it's time to move onto the next quadrant. The motor is very powerful and designed so that all you need to do is guide the brush and still get sparkling results.
Whichever of the three settings you choose, the results are outstanding! Brio's brush operates at a high oscillation rate that enables it to get rid of food rests, plaque, and bacteria while going easy on the gums thanks to the soft brush head. Such rapid movement also causes bubbles to form which help the cleaning process. This leads to visible and quick stain removal and a pleasing sense of cleanliness after each brushing.
What Should Be Improved?
Although stable while not in use, this toothbrush is somewhat uncomfortable to hold. Its base is made of a glossy plastic that feels sticky when wet. The original brush heads are poorly made and may need to be replaced after a short while. The replacements are better though.


Tech Specs
No. of cleaning modes: 3
No. of brush heads: 3
Waterproof: No
Battery life: 3 weeks
Accessories: Extra brush head
The Pros
Exceptional battery life
Smart timer
Excellent value for the money
The Cons
Uncomfortable to hold
Low-quality toothbrush heads