6 Best Smart Vents & Air Conditioners of 2019
3D Insider is ad supported and earns money from clicks and other ways.
HVAC systems and air conditioners bring climate control and comfort into our homes. They can turn a winter's day toasty and cool us off in summer, but it can cause high power bills and the odd grumbling family member who's always too hot or too cold.
Smart vents and air conditioners are the answer! Smart vents are much more efficient at directing where in the home the air should go, while smart ACs can lower a room's temperature with precision moments before you get home. Both systems feature apps which let you control them from anywhere, nuanced temperature controls, and scheduling options which ensure that energy is spent only when there's someone around to enjoy a temperate and cozy home atmosphere.
We've assembled the best representatives of both climate control devices and bring their unbiased reviews in this in-depth guide. Whether you love to micromanage your home's temperature room by room or need an effective remote-controlled solution for an apartment, there's a model among them that's sure to be perfect.
Budget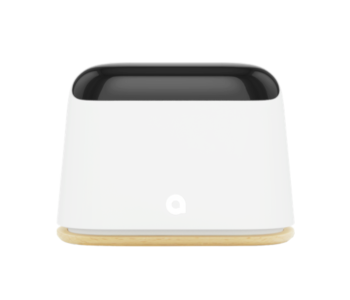 Ambi Climate 2
4.4/5.0
Type: AC controller
Special feature: Learns your usage patterns
Has an adjustable airflow and supports Amazon Alexa.
Check Amazon
Top Pick (AC)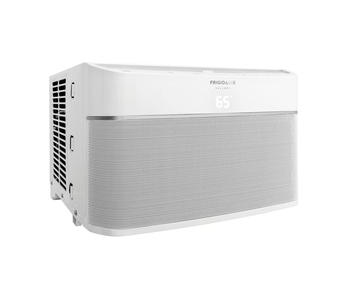 Frigidaire Gallery Cool Connect
4.7/5.0
Type: Window AC
Special feature: Excellent scheduling options
Has a stylish design and an easy to use app.
Check HomeDepot
Top Pick (Vent)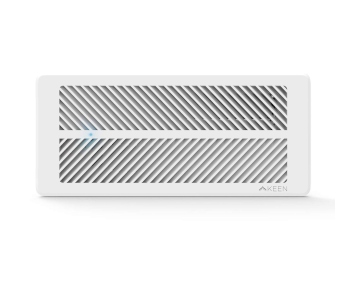 Keen Home Smart Vent
4.6/5.0
Type: Vent
Special feature: Magnetized front panels
Easily replaces existing vents and has a long battery life.
Check Amazon
Smart Vents & Air Conditioners Comparison Table
1. Best Smart Vent – Keen Home Smart Vent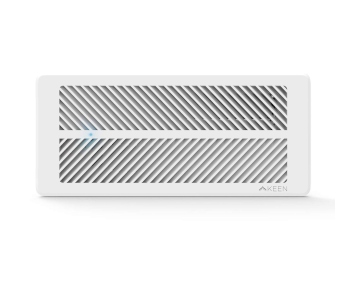 View on Amazon
Editor's Rating: 4.6/5
Does the temperature in your home vary wildly from room to room during the winter? Even if you've invested in a smart thermostat, the most you can hope for is a more uniform temperature which will affect even rooms which aren't in use. If you buy Keen Home's smart vent system, you can micromanage the climate in your home by setting a precise temperature for each room where a smart vent is installed. Their setup is intuitive, the app is functional, and widespread automation support truly makes the vents part of a smart home.
The Smart Approach to Room-By-Room Temperature Control
To get started with Keen Home smart vents, you need at least two items – a vent and the Smart Bridge which connects the vents to devices like the Nest Learning Thermostat or Samsung's SmartThings Hub through Zigbee. The vents themselves are easy to install as they're designed to replace existing ones. They screw tightly into the wall or ceiling and setting one up takes 20 minutes or less. The manual provides thorough instructions and states that only a ladder & screwdriver are required for installation.
The front panel is the most interesting piece of the smart vent's hardware. Unlike traditional plates which screw onto the vent, Keen Home has made theirs magnetic. This lets you easily swap one out if it gets damaged and gives you smoother access when it's time for maintenance or to change the batteries. Speaking of which, each vent uses 4 included AA batteries which last for 2 years. You can quickly tell if a vent is operational & what it's doing thanks to a built-in LED light which glows different colors or flashes when it's heating, connecting to the Wi-Fi etc.
The Keen Home app guides you through the vent connection process and lets you establish zones throughout the house. Once you set a zone's preferred temperature, the vents will work to regulate the airflow so that only the area where the target vent is located is affected. This is useful for both creating a comfortable living space and saving energy since it allows you to precisely control the temperature in one room while not wasting energy on another. You can set up an occupancy schedule for each vent on a weekly basis too.
Keen Home's vents play nicely with a wide array of other home automation gadgets. They pair with the Nest Learning Thermostat and the Ecobee4 and can adjust the temperature based on their remote sensors. Support for Wink and SmartThings is even more interesting as this allows you to adjust their behavior as part of a scene. For example, you could create a home scene where a smart light turns on and the vents start regulating the temperature as soon as you've unlocked a door equipped with a smart lock.
What We Didn't Like
Connection issues are this product's major flaw. The vents frequently lose connection to the bridge and there's nothing apart from their blinking LEDs to indicate that there's a problem. You'll have to keep an eye on them to reestablish the connection. Other than that, the app doesn't let you specify the exact start & stop times in scheduling modes. You get four 6-hour blocks instead during which the vents can be active or not.

The Pros
Easily replaces existing vents
Magnetic front panel
Long battery life
Good 3rd party product support
The Cons
Frequent connection issues
Imprecise scheduling options
2. Flair Smart Vent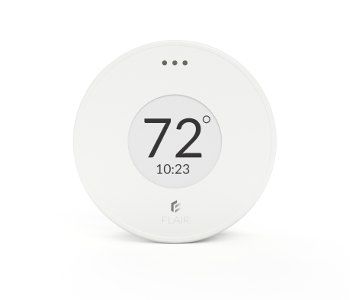 View on Flair
Editor's Rating: 4.4/5
Keen's smart vents are great for sprucing up your HVAC system, but what if you've got window air conditioners as well? Flair offers a comprehensive climate control system in form of their smart vents and the Flair Puck smart thermostat. The system boasts a long battery life and widespread 3rd party support. You'll have to wait for certain vent sizes to be restocked though and the system is more expensive than Keen Home's which is why it still comes highly recommended but isn't at the top of the list.
Personalized Temperature Control Whichever Room You're In
Flair's smart vents come in four sizes and have an elegant white exterior that fits well with the existing décor in most homes. The front panel is made of metal and more durable than that of Keen Home's models. A C battery is used to power each vent and has an operating time of 4 years, or you can go for the hardwired option. Installation is on par with Keen Home's and shouldn't take long for an experienced DIY-er.
The stand-out feature here is the Flair Puck. This versatile gadget is part of the Flair smart vent starter package and acts as a thermostat, sensor, and smart hub in one. Its primary function is vent control. The Puck communicates with each vent and adjusts the air it puts out to maintain either a balanced temperature across all rooms or a custom one you can set from the Puck itself or its app. The Puck can also act as an IR remote and control most window air conditioners or mini splits.
The Flair app has a simple yet pleasant design and lets you access all aspects of climate control quickly. In it, you can assign every vent and Puck to a room and view temperature information as well as a line graph that tracks temperature changes over time. Geofencing via Bluetooth is also supported – the Puck can detect when your smartphone comes into Bluetooth range and adjust the temperature accordingly so only the room you're currently in is affected.
Smart home integration is important for Flair as evidenced by the support for Nest, Honeywell, and Ecobee smart thermostats. Wink, SmartThings, and Phillips Hue are supported as well so you can purchase only one Puck as the main hub and get cheaper alternatives to act as remote sensors.
Are There Drawbacks?
If you don't have or plan on investing into a smart hub like SmartThings, fully outfitting your home with Flair smart vents and Pucks can be expensive. A single Puck is enough to control the system, but getting more for their sensor capabilities will quickly raise the cost since one can currently be had for around $100.

The Pros
Sturdy build
Excellent battery life
Versatile control unit
Can be used to control window AVCs and mini splits and multi
The Cons
Expensive
Not all vent sizes are available
3. Best Smart Air Conditioner – Frigidaire Gallery Cool Connect Smart Window Air Conditioner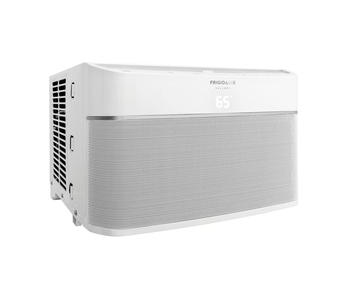 HomeDepot
Editor's Rating: 4.7/5
An air conditioner is only good when it blows fresh cool air into your home, and most of them can't do that unless you're physically there to activate them. Frigidaire's 10,000-BTU Gallery Cool Connect smart AC connects to your smartphone through Wi-Fi, allowing you to schedule its running time from wherever you are. It's understandably more expensive than traditional AC units with the same capacity, but the luxury of entering a pre-cooled apartment on a sweltering day makes up for this instantly.
The Sleek Smart Air Conditioner
Frigidaire's Gallery Cool Connect is the best-looking window air conditioner ever! With its curved angles and upward-facing louvers, the Gallery Cool Connect hardly looks like an AC at all. The white body topped with a plastic cover that hides its unseemly interior helps the AC blend naturally with your furnishings. The design isn't only aesthetically pleasing though – since air is blown upwards instead of being blasted onto the floor, the room's temperature is lowered much more evenly.
You control the AC either directly from its touch-operated interface, with a slim IR remote, or through the app. All three modes are responsive and let you choose operation modes, fan speeds, and temperature settings. There's a white LED temperature indicator at the front which tells you the current temperature when the unit is turned on.
The three operating modes include Cool, Eco, and Fan. Cool mode maintains the set temperature while using up the most power. Eco mode cuts down on power use by turning the AC off for a time when the target temperature has been reached. Fan mode won't lower the temperature, but it is useful for maintaining air circulation when you can't open the windows. This isn't the quietest AC around, but neither are the noises it makes unpleasant once you get used to it.
Frigidaire's app is straightforward and centered around scheduling. It guides you through the scheduling process with questions on occupancy times, preferred day & night temperatures etc. You can apply the suggested schedule or tweak it any way you like. There are separate options for weekday and weekend operation as well as day and night usage. Sleep mode is another useful app feature which aids energy conservation by raising the target temperature over time.
What We Didn't Like
The most frustrating thing about using this AC is not being able to save preferred settings in the app. Each time you turn the AC off, they will revert to Eco mode, forcing you to manually switch it back to Cool mode and putting in a temperature if that's the setting you keep using. This is further compounded by long waiting times – the app takes its time when communicating with the AC at each step of the setup.

Tech Specs
Dimensions: 19.8 x 14.5 x 19.5 in
Weight: 63lb
Cooling rating: 10,000 BTU
Fan Speeds: 3
Programs: 3
The Pros
Stylish design
Quickly cools and then maintains the temperature
Easy to use app
In-depth scheduling options
The Cons
App doesn't save your preferences
Long response times when using app
4. LG LP1417WSRSM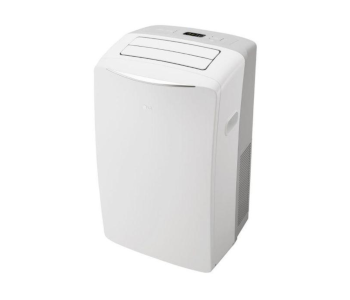 HomeDepot
Editor's Rating: 4.6/5
Installing window ACs in multiple rooms is prohibitively expensive, so why not go for a portable one instead? If you're in the market for a portable AC you can also control remotely through a smartphone, then LG's LP1417WSRSM is the answer. Its name doesn't roll off the tongue, but its 14,000-BTU cooling rating leaves an unforgettable impression. This AC is easy to set up and move, can cool a large-sized room by 10 degrees in less than half an hour, and is quiet to boot!
The Smart Portable Blizzard
While not as stylish as the Gallery Cool Connect, LG's portable AC sports a nice two-toned look. Its interface is neatly laid out with a LED temperature indicator in the middle flanked by the power and mode buttons to the left and the fan button on the right. Setting it up involves placing a slidable exhaust mounting kit onto a window and attaching the exhaust hose. The AC comes with a long power cable and has sturdy caster wheels that make moving its 70-pound bulk manageable.
There are three operation modes accompanied by as many fan settings. Cool and Fan modes are similar to Frigidaire's model except that the higher output lets you cool down rooms as big as 500 square feet. Dry mode turns the AC into a dehumidifier capable of extracting 3 pints of water from the air per hour. There are two fan covers and a water tank which occasionally need to be changed or emptied. An indicator lights up on the unit and you receive a notification in the app when it' time to do so.
This AC uses the same SmartThinQ app as LG's other appliances including smart washers, dryers, and refrigerators. Once the AC is recognized and paired, it gets a separate icon on the app's dashboard with the current temperature and settings next to it. Tapping the icon brings up a more detailed overview of AC controls as well as five modes like home, vacation, away etc. which can be customized individually with different temperature, duration, and fan speed settings.
What's Bad About It?
LP1417WSRSM's onboard screen only displays the target temperature. To view the actual temperature you'll need to consult the app. There are two plugs for draining the water tank and both are located inconveniently. You'll have to attach a hose to one and place its other end into a bucket since not even smaller containers will fit underneath them.

Tech Specs
Dimensions: 13 x 33.3 x 18.5 in
Weight: 70lb
Cooling rating: 14,000 BTU
Fan Speeds: 3
Programs: 3
The Pros
AC and dehumidifier in one
Easy to move around in spite of weight
Excellent cooling capabilities
The Cons
Current temperature can only be viewed in the app
Awkward drainage plug placement.
5. Kenmore Smart Room Air Conditioner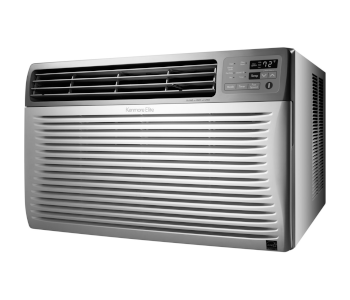 View on Amazon
Editor's Rating: 4.2/5
Air conditioners are the best weapon against sweltering heat, and that's reflected on your power bill. While using one always puts a strain on your power budget, going for an AC made by Kenmore will make sure that strain is reasonable. Their smart air conditioners boast an excellent energy efficiency rating, come with a nice companion app, and can even be voice-controlled with Amazon Alexa.
An Energy-Efficient Replacement for a Standard Window AC
The tested model of Kenmore's AC has a cooling rating of 10,000 BTU, but models with as much as 24,500 BTU are available. The layout is always the same – the AC installs onto a window or can be wall mounted. It has a white-gray color combo, the louvers are on the upper left side followed by temperature, fan, & mode controls as well as a small LCD screen on the right.
You're given ample airflow control options since there are 3 fan speeds and the louvers can be positioned so that they blow air out either in front or upward, Directional fins inside the unit are easy to manipulate too and can make the air come out sideways which is useful if the AC is near a workspace. Kenmore's model has Cool & Eco modes as well as a fan and dry function.
The app is tastefully designed and lets you access all of the AC's mode & temperature settings through adjustable dials. Pairing it to the AC is straightforward and involves scanning a QR code on the back of the AC. There's a scheduling option for each day of the week as well.
This is the only AC we've reviewed which can be controlled with Amazon Alexa through an Echo or other supported device. With the Kenmore skill installed, Alexa can turn the unit on or off, make temperature adjustments either in increments or to an exact number, and tell you the current temperature.
What's Bad About It?
Kenmore's smart AC is the loudest model we've tested. You won't be able to comfortably watch TV or have a conversation if you turn the fan to the highest setting. The AC also has trouble connecting to its app.

Tech Specs
Dimensions: 23.6 x 15 x 22.2 in
Weight: 74lb
Cooling rating: 10,000 BTU
Fan Speeds: 3
Programs: 4
The Pros
Adjustable airflow
Supports Amazon Alexa
Well-designed app
The Cons
Loud
App has connection issues
6. Best Budget Option – Ambi Climate 2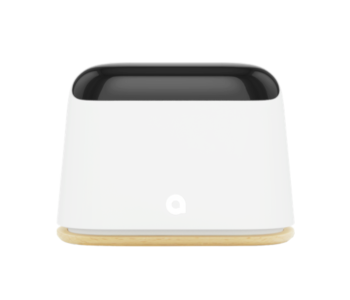 View on Amazon
Editor's Rating: 4.4/5
Do you already own a reliable air conditioner whose only drawback is a lack of Wi-Fi remote control? In that case, getting the Ambi Climate 2 is a no-brainer. This unassuming device facilitates remote control of your AC from anywhere, provided its standard remote has an LCD screen. More importantly though, it picks up on your habits over time and adjusts the AC according to your preferences with outstanding consistency.
The AC Controller That Knows How to Keep You Cool
Ambi Climate looks like a nondescript modern gadget and would be hard to place without knowing exactly what it does. Even so, its curved design and wooden base are sure to make it a conversation piece. Rather than installing it on the wall, you need to position Ambi Climate in a direct line of sight to an AC. It plugs into a standard outlet and has a USB charging port on the backside.
This device relays commands to the AC from your smartphone instantly. There's nothing to control on the Ambi Climate itself – everything is done through its app. The screens you're presented with initially are nothing special – you can shift between a supported AC's fan settings and programs with a tap or set the target temperature manually. Ambi Climate comes with a humidity sensor so both humidity and temperature changes can be tracked on a daily, weekly, or monthly basis and reviewed in graph form. There's also a log which tracks each time either the Ambi Climate or its connected AC are used.
The most ingenious feature though is Comfort mode. In this mode, you're asked a series of questions on your temperature preferences, times of occupancy etc. After that you get access to a simple button interface which helps assess your comfort levels. The app presents a series of options ranging from Hot to Freezing which you select depending on how comfortable the room feels. After a few days, Ambi Climate's AI will figure out your preferences and maintain the temperature accordingly.
There's more to it though – Ambi Climate takes local weather data and humidity levels into account too. This augments its comfort calculations so that the AC is able to keep you cool while consuming less energy if the weather changes.
Are There Drawbacks?
Although the app can control multiple ACs, an Ambi Climate 2 will most often only be able to handle one because of the line of sight requirement. It also works only with a select few higher-end models, so if you've got a budget AC to begin with, you won't be able to take advantage of its smarts.

The Pros
Much cheaper than getting a smart AC
Excellent app
Learns your preferences and adjusts the AC accordingly
Can save energy in the long run
The Cons
Works with limited number of ACs
Multiple units required for households with more than one AC