6 Best Smart Washers and Dryers of 2019
3D Insider is ad supported and earns money from clicks, commissions from sales, and other ways.
Doing laundry can be such a bother – you need to carefully measure the detergent, figure out which setting is the best for your current dirty pile, and set aside the time to keep an eye on your washer or dryer while they're working. It would be nice if you could just load up the laundry, go about your business, and take care of it from anywhere and anytime the mood strikes you. There's no need to dream of such luxuries anymore as modern washers and dryers are at your beck and call thanks to the wonders of Wi-Fi.
Smart washers and dryers are just as eco-friendly and reliable at freshening up your laundry as their non-connected rivals. The major difference is that they can be operated through a smartphone app regardless of your location. You'll always know what the status of a load is and how long it will take to complete since these smart appliances send out timely notifications to your phone. Some of them feature innovative controls, impressive customization options, and more on top of that.
Three washers and dryers each made it into our list. They are the best that money can buy. Whether you've got delicates that simply can't be washed with the rest of your laundry, have mounds of terribly stained shirts to clean, or need a dry, crease-free dress almost as soon as it is washed, the models on offer can take on any laundry challenge.
Budget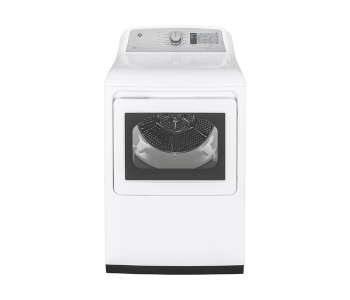 GE GTW750CSLWS
4.3/5.0
Type: Washer
Capacity (cubic feet): 5
Automatic detergent dispenser. Water Station feature.
Check HomeDepot
Best Value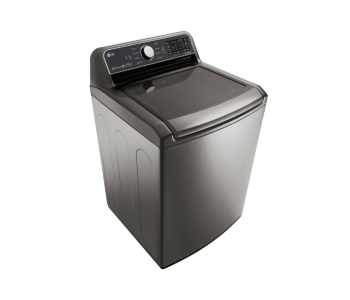 LG Electronics WT7200CV
4.6/5.0
Type: Washer
Capacity (cubic feet): 5
Stable and quiet with lots of presets and customization options.
Check HomeDepot
Top Pick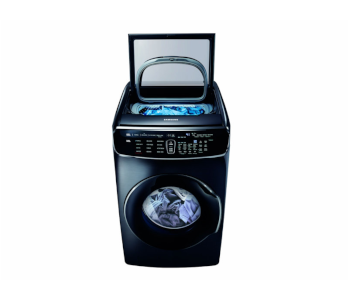 Samsung FlexWash
4.8/5.0
Type: Washer
Capacity (cubic feet): 5.5
Lots of presets and customizable washing options.
Check HomeDepot
Smart Washers and Dryers Comparison Table
1. Best Overall – Samsung FlexWash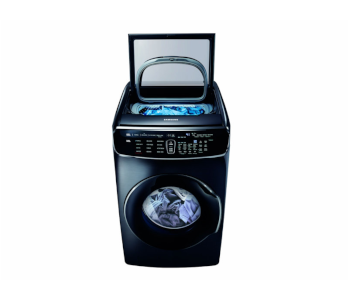 View on HomeDepot
Editor's Rating: 4.8/5
How many times has a delicate sweater bled all over your other laundry, giving it a pinkish hue that takes ages to remove? It would be a waste of time and water to have to run a separate wash just for an item or two, which is why Samsung has designed a smart washer with an ingenious solution. The FlexWash has a smaller top-loaded compartment designed to wash a few garments just as effectively as its spacious bottom drum. Couple that with a versatile smartphone app, and you've got the washer of the future – today.
Say Goodbye to Color Bleeding
The FlexWash looks as great as the laundry it washes! Its sleek metal exterior, rounded corners, and prominent door give the washer a space-age look that will uplift any basement or laundry room. Also eye-catching are its frontal controls. The series of lights and buttons is clearly labeled so choosing either a preset or going into in-depth tweaking of the current load's wash cycle is a breeze.
The degree of customization is remarkable! You can choose the water temperature, how many cycles the load will go through, how many times the laundry will be spun and rinsed, and more. For extra dirty laundry, there are variable pre-soak and steam cleaning settings as well. The two drums operate independently from one another and each has separate settings. Best of all, the FlexWash takes less time than ordinary washers to complete a load regardless of the setting and it is noticeably quieter too.
The app is what really seals the deal though. With it, you can check up on the FlexWash from anywhere, get notified when a load is done, and set up a timer that will turn the washer on when it's most convenient. All presets and customization options are accessible through the app, as is individual drum control.
What We Didn't Like
At 46 inches, the FlexWash is considerably taller than other washers. You'll need to make sure that you have enough room for it before buying since you also have to account for the space needed to operate the top-loading drum. The machine isn't prone to malfunctions. When something does go wrong however, you'll have to deal with Samsung's support which can be slow in resolving the issue.
Tech Specs
Dimensions: 46 x 27 x 34 in
Capacity: 5.5 cu. ft. (4.5 in front drum, 1 in top drum)
Rinse cycles: 1
Max. rinse speed: 1,300 RPM
Wash cycles: 9
Wash speeds: 4
Wash temperatures: 5
The Pros
Washes two loads at the same time
Lots of presets and customizable washing options
Fast and quiet operation
Excellent companion app
Stylish look
The Cons
Needs more vertical space than other washers
Lackluster customer support
2. Best Value – LG Electronics WT7200CV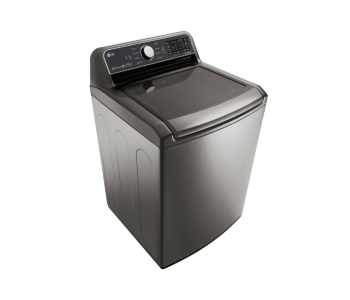 View on HomeDepot
Editor's Rating: 4.6/5
Modern washers are more energy-efficient than older models but take longer to finish a load. They also don't use enough water, sometimes leaving your clothes sticky or riddled with detergent stains. LG's WT7200CV can be a water- and energy-saving washer, but you can also program it to tackle tough stains or finish a load up quicker at the expense of frugality.
Minute Customization for Impeccably Clean Laundry
The WT7200CV is a top load washer designed to be stable, great to look at, and intuitive to use. Its drum is highly resistant to rusting and uses six types of movement to affect stains from all sides and produce better results than normal washers. You can keep an eye on the current load's progress through a heavy-duty glass door and see how much longer the load will take from a bright LED display. Programs are selected with a traditional dial and can be altered by pressing one of many buttons next to it.
You can customize the washer's behavior on top of each preset. Cold wash takes longer than normal but using it saves energy. Conversely, speed wash can shorten the washing time considerably by spraying the laundry with powerful water jets. For stubborn stains, there's StainCare. When this option is on, the washer will start out regularly and add hot water towards the end of the cycle to gradually eliminate stains of differing severity. Finally, Water Plus increases the amount of water used by 20%, ensuring rinsed laundry every time. Even if you don't engage any of these special options, the WT7200CV will take your preset input and the laundry's weight into account to determine optimum wash times and water temperature.
The washer connects to your smartphone through Wi-Fi and can be controlled via the SmartThinQ app. This lets you start or pause a wash and check how long it has to go. You can choose many more presets and download new ones to try as well. Other than run and program the washer, you can monitor its energy consumption or get tips on cleaning & maintenance.
What's Bad About It?
Sometimes the washer will agitate the laundry unevenly, leaving you with vigorously washed or even entangled items which were closer to the middle and barely washed ones that were nearer the drum's edge. The additional options mentioned above can only be activated once the cycle starts. This means you'll need to wait for the machine to gauge the laundry's weight and calculate the needed water before you can alter anything.
Tech Specs
Dimensions: 44 x 27 x 28.4 in
Capacity: 5.0 cu. ft.
Rinse cycles: 14
Max. rinse speed: 950 RPM
Wash cycles: 8
Wash speeds: 5
Wash temperatures: 5
The Pros
Stable and quiet
Lots of presets and customization options
Excellent value for the money
Good companion app
The Cons
Clothes in a load might get washed unevenly
Some features can't be activated before a cycle starts
3. Best Budget Option – GE GTW750CSLWS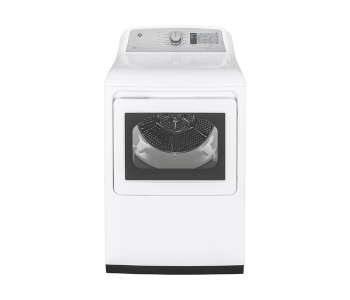 View on HomeDepot
Editor's Rating: 4.3/5
Sometimes even the brightest of us forget to add detergent before starting up a load of laundry. If you purchase General Electric's GTW750CSLWS, you'll need to remember to add some only every couple of months as this clever washer can hold 75 ounces of liquid detergent. What's more, it uses that detergent both economically and intelligently based on the clothes you've put in and the cycle you've selected.
The Cost-effective Smart Washer
Appearance-wise the GTW750CSLWS is in line with most modern mid-level washers. It's narrower than other models we've reviewed so it will more easily find its place in cramped spaces. Like LG's model, it has a transparent door which makes checking up on the laundry easy. Its control scheme is laid out well. There's a selection dial in the middle with 14 settings. It is flanked by power & pause buttons on one side and an extensive presets menu on the other. There's also a large timer that's easy to see from the front.
A detergent reservoir isn't this washer's only unique feature. It also has a built-in Water Station faucet which is used for manually pre-soaking or hand-washing severely stained clothes. The faucet can run either pure water or mix a little detergent into it for more effective results. There are many presets to choose from, but you can always take matters into your own hands and add another rinse, delay washing, or manually set the amount of detergent used.
GE's smartphone app is useful but offers little we haven't seen with other models. You can get phone alerts when a load is done as well as 30 minutes after that if you don't empty out the washer in the meantime. Alexa and the Google Assistant are supported too. Their functionality is currently limited only to a status overview and you can't start, pause, or program the washer with either.
Are There Drawbacks?
The GTW750CSLWS's performance is average. Considering you're paying a premium for it, the unique features and app may not be enough to justify the price difference between this machine and an equally capable "dumb" one. With a height of 48 inches, it's the tallest washer on our list. This may pose a problem for shorter people as the bottom of the drum is low and they may not be able to reach it.
Tech Specs
Dimensions: 48 x 27 x 27 in
Capacity: 5 cu. ft.
Rinse cycles: 6
Max. rinse speed: 800 RPM
Wash cycles: 13
Wash speeds: 5
Wash temperatures: 6
The Pros
Automatic detergent dispenser
Water Station feature
Good control layout
Small footprint
Affordable
The Cons
Smart assistant support is basic
May not be suited for shorter people
Average results
4. Whirlpool WED8700EC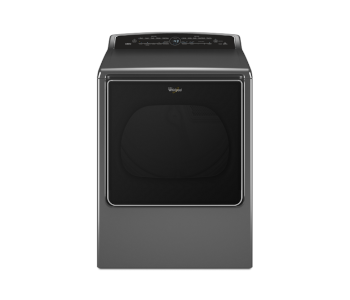 View on HomeDepot
Editor's Rating: 4.6/5
Do you ever get confused by your dryer's presets? It's hard to know exactly what to use for casual clothing, bedding, or sportswear if you've nothing to go on but vague program names. Whirlpool's engineers sympathize with the rest of us and have designed the WED8700EC to be an intuitive and powerful dryer anyone can start using right away. It doesn't come cheap, but the dryer's numerous options, large capacity, and useful smartphone app are worth it.
Your Laundry, Your Way
This dark-gray dryer is both imposing and easy on the eyes. There are no sharp corners, its metal exterior is brushed, and the square-shaped door gives the WED8700EC a striking look. The controls are located on top, touch-operated, and lit up by pleasant blue LEDs. There's a large timer in the middle that lets you know when the load will be complete.
Whirlpool helps you pick out the correct preset with a simple two-step decision-making process. First, you choose what kind of laundry to dry. You can pick anything from bulky bedding through mixed clothing to delicates. Then, you decide how the laundry should be dried. Apart from the normal setting, there's also a gentle one for delicates, steam sanitization, and a customizable timed drying option. Once these two types of settings are selected, you can activate additional features which reduce static, keep your clothes from wrinkling, or set the dryer to a lower heat to conserve energy.
The dryer's companion app offers standard options like remote activation, pause, and notifications. All 23 presets can be accessed from it and additional ones can be downloaded as well. Whirlpool keeps the app current and offers specialty presets for items like bathing suits or winter jackets depending on the season.
What We Didn't Like
Unlike other drums made from stainless steel, this is white painted metal instead. This can cause the drum to rust prematurely. You can pair the dryer with only one smartphone as the app will accept a single account. This limits its smart functionality since only one family member gets notified if something goes wrong.
Tech Specs
Dimensions: 42 x 29 x 32 in
Capacity: 8.8 cu. ft.
Drying Cycles: 23
Drying Temperatures: 5
The Pros
Intuitive preset selection
Large capacity
Clean and up-to-date app
The Cons
Drum is prone to rusting
App supports only one user
5. Samsung FlexDry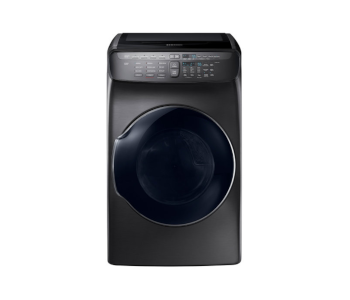 View on HomeDepot
Editor's Rating: 4.3/5
The FlexDry is the perfect companion to Samsung's excellent FlexWash as they share the same look, are similarly effective at what they do, and both have two compartments. In the dryer's case, the smaller compartment is used to dry delicate items which can't withstand tumbling. This is an above-average appliance you'll have to pay a premium for, so you'll need to decide whether its steep price is worth the added convenience.
Drying, Fast and Slow
The FlexDry looks nearly identical to its washer counterpart. It is an inch taller as well as an inch and a half slimmer and can accommodate 7.5 cubic feet of laundry. Its control panel is also split into a smaller upper section with fewer controls for the top compartment and a larger one with more varied options for the front load drum.
There are twelve presets for the main drum, each relying on hot air, water vapor, or a combination of both. Some like Delicates and Active Wear are meant for specific fabrics. Others address issues like sanitizing the laundry with hot steam, removing wrinkles over a 20-minute period, or refreshing the laundry by subjecting it to a quick gust of warm air. Clothes in the smaller compartment aren't tumbled – hot air is passed through the compartment instead. You can place the items directly onto the compartment's bottom or use a rack that lifts them up and allows the hot air to dry the clothes from all sides.
The Samsung Smart Home app is used to control the FlexDry wirelessly. Pairing the dryer with your phone and setting it up takes just a few minutes. The app allows you to control either dryer and select their presets, start a new load, or pause one that's already running. You can opt to receive a status update when a load is complete too.
Are There Drawbacks?
You can't stack anything on the FlexDry since its top needs to be unobstructed for the upper dryer to be accessible. It's also an expensive appliance with a smaller capacity than most models in the same price range.
Tech Specs
Dimensions: 47 x 27 x 32.5 in
Capacity: 7.5 cu. ft. (6.5 in the drum and 1 in the top compartment)
Drying Cycles: 9
Drying Temperatures: 5
The Pros
Two drying compartments
Diverse presets
Excellent for delicate clothes
App is well-designed and easy to navigate
The Cons
Can't be stacked with other appliances
Smaller capacity than similarly-priced competitors
6. LG DLE7200VE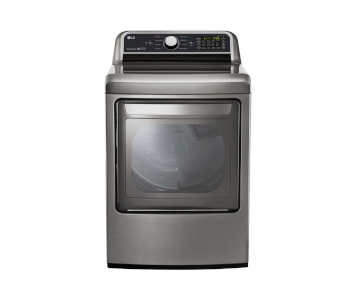 View on HomeDepot
Editor's Rating: 4/5
Loading a drier up can be an ordeal, especially if your laundry room is cramped and the dryer's door can't swing all the way open. LG has equipped the DLE7200VE with a flexible door which can open in two ways to prevent wet clothes from hitting the floor. Purchase it alongside our best value pick and you'll have a smart washer drier combo that's hard to beat.
Easier Loading, Easier Living
Washers and dryers often come in pairs, so it's no surprise that the DLE7200VE was designed with a companion in mind. Its exterior, color scheme, and control setup go hand in hand with the WT7200CV washer. Its capacity of 7.3 cubic feet is enough to handle a full wet load from said model. You can open the door like you would an oven for easier loading when transferring the laundry. Once the laundry is dry, you can open the door normally and place a basket underneath the drum without obstruction.
This dryer is energy-efficient as certified by the Energy Star. You'll noticeably save on power bills thanks to the Sensor Dry system which detects how wet the laundry is and dries it only until the moisture has evaporated. Manual controls include presets for speed and air drying, and you can use Heavy-Duty mode to squeeze every ounce of moisture from bedding or heavy linens. Already dry clothes can be treated with Wrinkle Care, a setting which gently steams heavier fabrics and prevents creases from forming.
The SmartThinQ app takes care of the DLE7200VE's connected features. It lets you download and use custom-made presets, receive notifications, schedule loads, and check on the progress of a load in real time. The app is also useful in diagnosing and troubleshooting most common issues which you'll be able to resolve without calling tech support.
What's Bad About It?
Each supported load type comes with a heat setting that you can't change. The only way to do so is to put the info in manually through timed drying mode. The controls are straightforward but sometimes don't respond immediately. You'll need to select the same option multiple times for it to be registered. Finally, Sensor Dry can be hit & miss. It does a good job of calculating how long items need to be dried most of the time. Occasionally though, items will remain damp if you're using it.
Tech Specs
Dimensions: 45.5 x 27 x 29 in
Capacity: 7.3 cu. ft. compartment)
Drying Cycles: 5
Drying Temperatures: 5
The Pros
Door can be opened in two ways
Energy-efficient
Straightforward controls
Great at preventing creases
The Cons
Temperature can be adjusted for a single type of cycle
Sensor Dry occasionally doesn't get the job done
Button controls aren't responsive