6 Best Smart Water Bottles of 2019
3D Insider is ad supported and earns money from clicks, commissions from sales, and other ways.
You might be sticking to an exercise routine and eating healthy, but are you also keeping track of your daily water intake? Proper hydration is essential for peak mental and physical performance and should be taken seriously. You've already got enough on your plate, so why not let technology take care of reminding you to take a sip every so often?
Smart water bottles were designed to do just that! They can hold water like any ordinary bottle but also come with sophisticated sensors that tell you how much water you've consumed or what its temperature is. Some come with smartphone apps that make it easier to put your water drinking habits into perspective and motivate you to improve them. There are even models that cater to kids and ones with extra features you wouldn't dream of seeing on a bottle.
This guide features detailed reviews of the six best smart water bottles on the market today. All of them will make sure you remain hydrated, but differ in terms of price, features, and whether or not they're dishwasher safe. Whichever bottle you choose, you can look forward to an improved complexion, more energy, and less mental fatigue!
Budget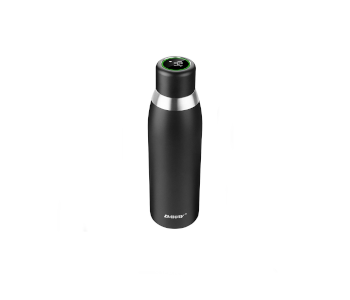 Sguai by Maxtron
4.1/5.0
Features: 4.0
App / stats: 4.0
Intuitive smart lid with color-coded temperature sensor.
Check Amazon
Best Value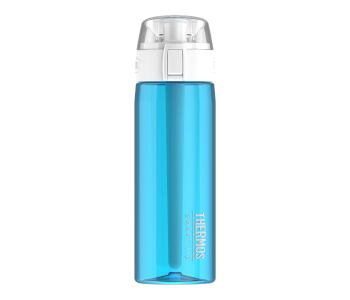 Thermos Hydration Bottle with Connected Smart Lid
4.6/5.0
Features: 4.4
App / stats: 4.8
It has an intuitive app design with lots of useful metrics.
Check Amazon
Top Pick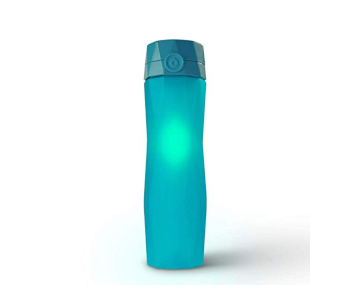 Hidrate Spark 2.0
4.7/5.0
Features: 4.5
App / stats: 4.9
Excellent companion app and clever hydration reminders.
Check Amazon
Smart Water Bottles Comparison Table
1. Best Overall – Hidrate Spark 2.0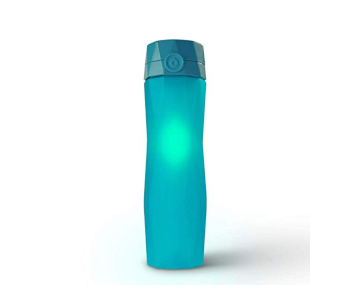 View on Amazon
Editor's Rating: 4.7/5
Not all of us want to be reminded to stay hydrated with annoying push notifications. That's why the Hidrate Spark 2.0 has a simple yet effective solution – it glows when it's time for you to take a sip. The bottle can do so much more though – it has a fantastic companion app with many metrics and customization options, it looks chic, and can be washed in the dishwasher. This may be one of the more expensive options out there, but we feel this is justified given all that the Spark has to offer
Overview of Features
The Hidrate Spark is a stylish smart water bottle available in five color options ranging from black & white to purple and green. It has a frosted glass finish and a faceted texture that makes the bottle easy to hold without its surface having to be rough. The lid fits tightly and conceals a round drinking spout for easier sips on the go. The most recognizable element of the bottle's design is its light. You can set this to glow whenever you're low on fluids, when you've reached your daily goal, or to remind you to drink occasionally.
Setting the Hidrate Spark up involves confirming that its sensor stick is attached correctly, ensuring there's an airtight seal, and syncing it with the Hidrate app. The stick is where the Spark gets its data from – it is outfitted with a humidity sensor and accelerometers. It knows precisely how much you've drunk, provided you set the bottle down on a flat surface to rest for ten seconds after each sip. This data is then transferred to the app every time you're in Bluetooth range.
The Hidrate app is fantastic both design-wise and in terms of functionality. It has a soothing blue background that contrasts with data on daily or weekly water intake in white. The dashboard is occupied by a circle which shows your daily hydration goal and slowly fills up as you drink throughout the day. You can also check out how you've been doing on a weekly or monthly basis, or even compete with other Spark owners in maintaining your goals.
Another advantage of the Hidrate app is that it syncs to all popular fitness apps like Apple Health or Fitbit. This helps the app calculate your daily water intake based on your activity level and relays water consumption information to the fitness app, so it has more complete metrics. You don't need to sync to a fitness app for the spark to determine an optimum daily water intake if you enter gender, age, weight, and activity levels manually. You're also able to adjust the recommended daily intake if you find it is unrealistic.
What We Didn't Like
The Spark suffers from intermittent connection issues. Whenever the connection fails, the bottle tries to sync with your phone, which takes time. The bottle's frosted coating can scratch easily and even peel off after a short while. This has no effect on its performance, but it looks unattractive.

Tech Specs
Dimensions: 3 x 3 x 10 in.
Capacity: 24 oz.
Has temperature sensor: No
Reminds you to drink: Yes
Dishwasher-safe: Yes
The Pros
Excellent companion app
Clever hydration reminders
Stylish design
Good capacity
The Cons
Finish peels off easily
Frequent connection issues
2. Best Value – Thermos Hydration Bottle with Connected Smart Lid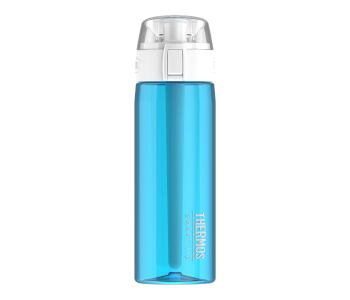 View on Amazon
Editor's Rating: 4.6/5
Thermos is one of the world's best-known bottle manufacturers, and it's easy to see that a lot of research and forethought has gone into designing their smart bottle. While it isn't suited for hot liquids like bottles the company is known for, the Thermos Hydration Bottle is well designed, has a great app, and is intuitive to use. You can get it for around $40, making this the bottle with the best bang for your buck.
Overview of Features
There's not much to say about the Thermos' design other than it is elegant and functional. You get to choose between gray and aqua with both colors having the same white lid. The lid houses the bottle's smarts and is battery powered. One charge lasts for 12 days, and the battery is recharged through a USB port on the back. This makes the lid unfit for dishwashers, but the bottom part of the bottle is dishwasher safe.
This bottle measures how much liquid is inside it as well as the temperature. It syncs instantly with the Thermos app over Bluetooth. The app has a minimalistic design which helps you find all the info you need quickly. Setup requires you to put in metrics like age, height, and weight, as well as the duration and intensity of your daily activities. A recommended daily water intake is then calculated but can be changed manually at any time.
Most statistics are accessible from the dashboard. First, there's the large circle which indicates how full the Thermos is and the liquid's temperature marked with a snowflake if it's cold enough. Underneath are three smaller circles that tell you how much water you've consumed today, how long ago the bottle was last filled, and how many sips you've taken. These are reset and added to your daily statistics whenever the bottle is refilled.
You can view daily progress at the bottom of the dashboard along with accessing weekly or monthly data in graph form. The Thermos app also syncs to Fitbit, adding ounces of water consumed daily to its array of fitness stats.
What's Bad About It?
Although the Thermos supports Fitbit, getting the app to connect to Fitbit's servers can be a chore. These frequent syncing issues make the feature almost useless. The lid's battery quickly starts losing its charge. The 12-day max holds up for the first few charges but declines to less than a week after that.

Tech Specs
Dimensions: 3.1 x 3.1 x 10.6 in.
Capacity: 24 oz.
Has temperature sensor: Yes
Reminds you to drink: No
Dishwasher-safe: Yes
The Pros
Attractive and ergonomic design
Measures water temperature
Intuitive app design with lots of useful metrics
Great value for the money
The Cons
Has trouble syncing with Fitbit
Battery loses capacity after a few charges
3. Ozmo Smart Cup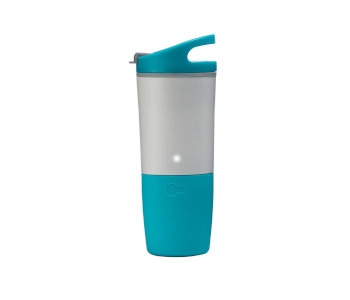 View on Amazon
Editor's Rating: 4.3/5
The bottles we've reviewed so far are great for cold and lukewarm water, but what if you want to hydrate with tea or coffee? In that case, you need the Ozmo Smart Cup! This hefty bottle can hold both hot and cold beverages as long as they aren't boiling! It has an intuitive reminder system, a useful app, and can even track different kinds of drinks you've consumed.
Overview of Features
The first thing you'll notice about the Ozmo is how bulky it is. The bottle can hold 16 ounces of liquid and is stout, so you won't accidentally knock it over during a workout. The lid has a big handle for easier carrying as well as a protective cover for the ergonomically-shaped drinking spout. There are three bright colors to choose from along with a combination of seafoam green and gray. Each bottle has an LED that lights up when you need to hydrate and vibrates to grab your attention even if you aren't looking its way.
Unlike models that rely on sensor sticks, the Ozmo has seven sensors at different heights in the actual bottle. The first one is at the 12-ounce mark while others are closer together towards the bottom. This eliminates a common problem where sensor sticks stop reporting intake accurately when there's little water left.
The best thing about the Ozmo is that you can use it with any beverage that's between 39°F and 140°F. It has a dedicated mode for keeping track of coffee consumption and will alert you if you're drinking too much caffeine. The app also has a barcode scanner that lets you add thousands of drinks for an accurate overview of your daily habits. Alcoholic beverages are supported too.
This is another bottle with a cute and functional app. Its setup process is straightforward and involves putting in your demographics to determine the daily water intake. You get three hydration goals per day – easy, medium, and hard. Ignoring them is an option as well. Other features include the daily goal progress bar, weekly graphs, and a local weather report. Ozmo syncs with Garmin and Fitbit fitness trackers. It exchanges activity level and hydration data with them to better figure out your daily goal.
Are There Drawbacks?
16 ounces might be enough for an average person, but it is too little for serious athletes who are the most likely to buy the Ozmo in the first place. The bottle isn't dishwasher-safe due to the way its sensors are placed.

Tech Specs
Dimensions: 3.9 x 3.8 x 10.6 in.
Capacity: 16 oz.
Has temperature sensor: No
Reminds you to drink: Yes
Dishwasher-safe: No
The Pros
Great for hot and cold drinks
Tracks many kinds of beverages
Lights and vibrations draw attention to the bottle
Accurate sensors
The Cons
Small capacity
Can't be washed in dishwasher
4. Gululu Interactive Smart Water Bottle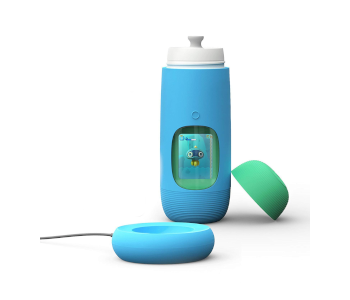 View on Amazon
Editor's Rating: 4.3/5
It's hard to keep track of children's drinking habits, and even harder to enforce healthy ones if your child is stubborn. That's where The Gululu Interactive bottle can help! It uses gamification to get your child to stick to her water goals. The bottle is fun, designed to withstand abuse, and easy to use for children and parents alike.
Overview of Features
Gululu is designed with the active child in mind. Its thick body holds 13.5 ounces of water and has a rubber coating so it won't shatter if it falls. The drinking spout is disposable, and you also get a spare if the first one gets damaged or becomes too dirty. Charging is easy too – just place the bottle onto its charging pad, and it will be good for the next two days after three hours.
The bottle's main appeal are the pets your child can interact with on its LCD touchscreen. The child chooses one of three pets during the setup and then gets to care for them by drinking. Reaching their daily goals causes the pet to grow and unlocks rewards in form of treasure chests.
There's no need for the child to use the app to play since there are gestures it can use on the sides of the bottle instead. This interaction accustoms them gradually to drink an appropriate amount of water. If they're falling behind, the pet will gently remind them to drink more and even grow weaker if they don't drink enough for a while.
Parents get to monitor their child's water consumption habits and play time from the app. There they can check daily or weekly reports or set school and night modes. Activating either mode will turn the bottle's LCD screen off so the child can focus on school or go to sleep at the right time. The app connects to the bottle through Wi-Fi so you can keep track of how the kid is doing hydration-wise during the day even when you're at work.
There's also a social aspect to Gululu. Bringing two bottles close together and shaking them will introduce their characters to one another. They and their owners will then become friends. This lets you check how the other child is doing and encourages yours to do well too.
What's Bad About It?
Gululu isn't dishwasher-safe due to the sensitive electronics in its LCD screen. It is also by far the most expensive smart bottle on the list. The Gululu app goes through frequent updates. Sometimes this results in it not being able to connect to the server. This can make the bottle useless until the next update rolls out.

Tech Specs
Dimensions: 3 x 3 x 7.9 in.
Capacity: 13.5 oz.
Has temperature sensor: No
Reminds you to drink: Yes
Dishwasher-safe: No
The Pros
Makes staying hydrated fun for kids
Durable build and replacement spout
Can be shut off during night and school
Interactive touchscreen
The Cons
Expensive
Has trouble connecting to server after app updates
5. Hydra Smart Bottle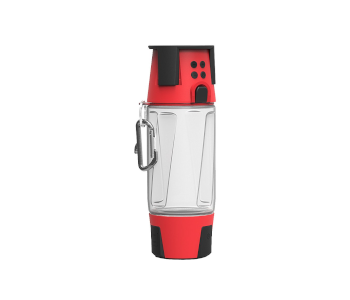 View on Amazon
Editor's Rating: 4/5
The Hydra Smart Bottle is a unique product designed to help cyclists, hikers, and other outdoor types who need an all-in-one hydration solution. More akin to a Swiss army knife than a bottle, the Hydra is brimming with unique features. These include speakers, a microphone, a color-changing LED, and a hidden compartment. It may not keep track of your hydration stats, but the Hydra does everything else you'd expect from a smart bottle and then some.
Overview of Features
Nothing about the Hydra's appearance suggests the breadth of features hidden within. It holds 20 ounces and has a carabiner clip complete with a bottle opener. You can get it in gray, black, or red.
Checking the lid reveals a set of four buttons. These are used to activate the 5W speaker system, adjust the volume, and navigate your playlist. The Hydra also has a microphone. It syncs with your phone and can act as a hands-free speakerphone, letting you talk while concentrating on the road! Its speakers have a satisfying amount of oomph given their size. You can accentuate the highs and bass even more by extending the Hydra's legs and setting it onto a hard surface.
An LED light is another feature both nature lovers and party goers will appreciate. The light has three modes. It can act as a white lantern and guide you in the dark, set out red SOS signals, or cycle through six colors. You can sync the light to the current song and create a fun light show too.
As if that wasn't enough, the Hydra also has a 4,000mAh power bank! This lets you charge a phone or GPS system wherever you are and could prove to be a life-saving feature. Finally, there's the small hidden compartment. You can use it to store survival essentials or small valuables.
Bizarrely, the accompanying app focuses only on improving your sleep. It syncs with the bottle and creates a light show complete with soothing nature sounds played through the speakers to help you fall asleep sooner.
What We Didn't Like
This isn't a conventional smart bottle. You can't use it to track hydration, get alarms when it's time to drink, or sync it with fitness apps. The speakers are surprisingly good for music playback. However, there's an audible echo when you're using them in speakerphone mode.

Tech Specs
Dimensions: 3.8 x 3.8 x 12.6 in.
Capacity: 20 oz.
Has temperature sensor: No
Reminds you to drink: Yes
Dishwasher-safe: No
The Pros
Has lots of useful features
Good quality speakers
Versatile light
Can be used as a speakerphone
The Cons
Echo can be heard during conversations
No hydration or fitness tracking features
6. Best Budget Option – Sguai by Maxtron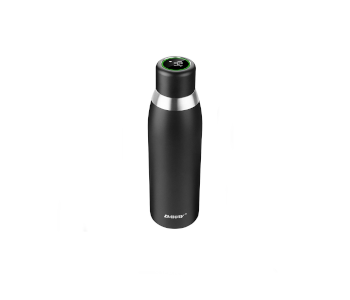 View on Amazon
Editor's Rating: 4.1/5
The worst part of keeping water in a bottle is that it will inevitably reach room temperature over time. No one likes drinking lukewarm water, which is why Sguai by Maxtron features doubly-insulated walls which maintain the temperature of cold drinks for 24 hours and hot ones for 12! It is attractive, comes with a smart cap, and reminds you to drink water frequently. Best of all, the bottle is affordable.
Overview of Features
Sguai has a sporty, minimalistic design with smooth curves and a textured surface that fits well in hand. You can choose between matte black and pearly white finishes. The bottle is made from high-grade stainless steel and has a silicone base which keeps it from falling and making clanking noises once you put it down. The bottle's two thick walls keep the liquid inside hot or cold while also preventing sweat from forming on the bottle's sides.
Sguai's smarts are located inside its lid which charges through an insulated USB port. The battery lasts for a week while needing only 20 minutes to recharge! The lid is activated by swiping over it and shows the water temperature, battery level, and reminder settings. It is bright and visible even in sunlight.
The exact temperature is shown in degrees Fahrenheit along with a handy indicator LED. Green means it's OK to drink as much as you want and applies to temperatures lower than 90°F. Yellow means that the liquid is between 90°F and 140°F and should be sipped with caution, while red warns you of waiting for it to cool down before drinking. The bottle does an excellent job of keeping the drink inside at the desired temperature, which changes only by a couple of degrees even after hours have passed.
This bottle also has an alarm function that reminds you to stay hydrated. It beeps every two hours and can be turned on or off by double-tapping the lid and then holding until a confirmation beep is heard.
Are There Drawbacks?
The Sguai doesn't have an app, meaning you don't get to track water consumption or get push notifications. It also has a small capacity, so you'll need to refill it frequently during the day. The timer doesn't have a clock and will continue to beep every two hours regardless of the time until you turn it off.

Tech Specs
Dimensions: 1.8 x 2.8 x 8.8 in.
Capacity: 13.5 oz.
Has temperature sensor: Yes
Reminds you to drink: Yes
Dishwasher-safe: No
The Pros
Keeps drinks at desired temperature
Has hydration alarm
Intuitive smart lid with color-coded temperature sensor
Affordable
The Cons
Small capacity
No app