6 Best Smart Water Heaters and Controllers of 2019
3D Insider is ad supported and earns money from clicks, commissions from sales, and other ways.
Enjoying a hot shower whenever you feel like it is one of life's simple pleasures. It comes at a high cost though – having hot water at the ready means it's constantly being heated and reheated which leads to needless energy consumption and sky-high power bills. If your old water heater is due for a replacement, getting a smart one is the best way of saving energy while not giving up on that relaxing shower. And if it's working fine, you can still get all the benefits of a smart water heater by upgrading your traditional model with a smart controller.
Smart water heaters and controllers establish a wireless connection to your phone or computer. From there, you can monitor the heater's status, set schedules, and precisely adjust the output temperature. If there's ever a leak or malfunction, sophisticated sensors can alert both you and a licensed technician in time to prevent the worst. Best of all, this works no matter where you are.
Here are the best smart water heaters and water heater controllers on the market. Whether you need a water heater that can satisfy the needs of a family of five or a controller that will give you peace of mind on an upcoming trip, there's a model among them that will enrich both your smart home experience and your wallet.
Budget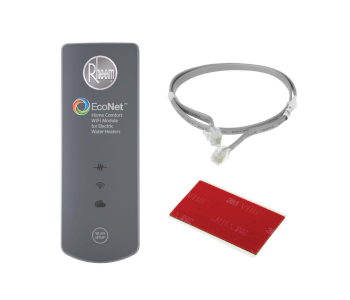 Rheem Home Comfort WiFi Module
4.2/5.0
Type: Water heater controller
Dimensions: 8.8 x 4.9 x 1.8 in
Easy to install, responsive app, and affordable.
Check Amazon
Best Value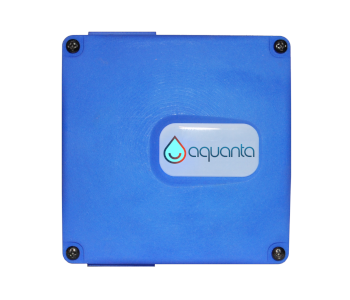 Aquanta Networked Water Heater Controller
4.4/5.0
Type: water heater controller
Dimensions: 5 x 5 x 2.6 in
It saves energy by determining usage patterns.
Check Amazon
Top Pick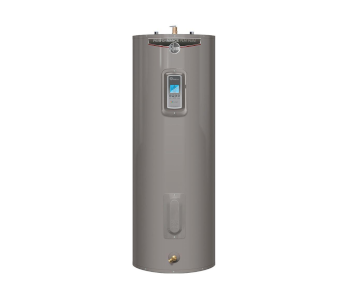 Rheem Performance Platinum Hybrid Smart Water Heater
4.6/5.0
Type: Hybrid electric
Capacity: 50 gallons
Energy-efficient and has a comprehensive app.
Check HomeDepot
Smart Water Heaters & Water Heater Controllers Comparison Table
1. Best Overall – Rheem Performance Platinum Hybrid Smart Electric Water Heater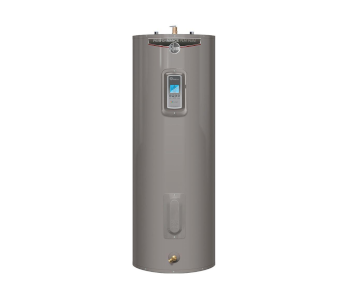 HomeDepot
Editor's Rating: 4.6/5
Water heaters are the 2nd most power-hungry appliance in your home, right after HVAC systems. Balancing the hot water demands of a busy household and high power bills is a challenge that will come easier if you invest into Rheem's 50-gallon Performance Platinum water heater. It takes advantage of quality materials and a sleek touchscreen interface to save big in the long run and it also comes with a smartphone app that gives you complete control over it wherever you are.
The Future of Water Heating
You probably wouldn't associate the word beautiful with a water heater, but that's just what the Performance Platinum is! Its modern metal-gray exterior is enhanced by a colorful touchscreen interface which lets you precisely set the water's temperature in 1-degree increments. The water heater is exceptionally quiet too as its pump turns on sporadically and produces noise that's barely louder than a whisper.
During times of low water consumption, the heater operates by taking in the surrounding air and using its heat to elevate the water temperature. This process is much more energy efficient than using only the electric heating element. When hot water demand grows, the element turns on to provide the necessary warm water output quickly. At 50 gallons, the water heater has enough capacity to meet all the demands of a 5-person household. You can also save more energy while no one's home for a while by using Vacation mode. This instructs the water heater to heat only enough water so that the pipes don't freeze.
The water heater has built-in Wi-Fi. To use its smart features, you have to install the EcoNet app and put in your Wi-Fi credentials. The app lets you set the temperature remotely and can send text or email notifications in the event of a water leak or maintenance issue. It also displays safety & maintenance tips you can use to keep your water heater running smoothly.
What We Didn't Like
Unlike traditional water heaters, this one has a side inlet & outlet for safety reasons. This makes DIY installation harder. It takes longer to heat the water when not a lot of it is consumed since the electric heating element won't be used.


Tech Specs
Dimensions: 61 x 22.3 x 22.3 in
Type: Hybrid electric
Capacity: 50 gallons
The Pros
Energy-efficient
Touchscreen controls
Vacation mode
Comprehensive app
The Cons
Tricky installation
Takes a while to heat water
2. Best Value – Aquanta Networked Water Heater Controller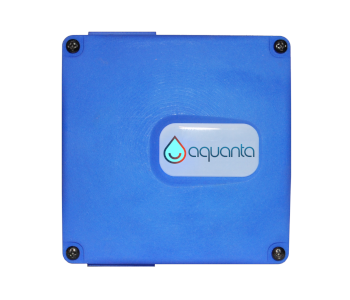 View on Amazon
Editor's Rating: 4.4/5
A new smart water heater will lower your power bills, but what if you don't want to make that considerable investment or have a water heater which still works well? Aquanta is an energy-saving gadget that connects to your existing water heater and makes it more efficient. It tracks your household's hot water usage over time and helps you come up with a heating schedule that lets everyone enjoy a hot shower while bringing needless power consumption down considerably.
Hot Water Only When You Need It
Aquanta is made up of two parts – a pair of hot and cold temperature sensors that attach to the T&P valve and cold water pipe respectively, and a small blue control unit which stands on top of the heater. The installation is a relatively simple DIY job which requires some electrical and plumbing knowledge. Installing Aquanta is a simple affair and requires no specialized electrical or plumbing knowledge. If you're comfortable with turning off circuit breakers and attaching sensors to pipes, you'll be done in 15 minutes.
You control Aquanta via a web app either from your smartphone or computer. The web app has an intuitive interface through which you can activate or disable Aquanta's intelligent mode, create manual schedules, or set up leak alerts. It also shows the current amount of hot water so you can heat more in time if the need arises.
Once a usage pattern has been established, Aquanta will turn the water heater off during times of infrequent use to save energy. It also has overheating detection as an additional safety precaution. Aquanta even works with Nest! When paired with a Nest thermostat, it will automatically shut off your water heater once Away mode is engaged.
Aquanta is compatible with IFTTT which expands its functionality and notification options further. Setting up Aquanta-specific recipes is easy and allows you to receive leak notifications, log times when the energy budget was exceeded for the day, or get a text message whenever someone uses hot water.
What's Bad About It?
Aquanta is only compatible with gas and electric storage-style water heaters. While these are present in the vast majority of American households, owners of tankless, heat pump, and boiler-fed water heaters aren't able to take advantage of it. There's no mobile app which some users might find off-putting.


Tech Specs
Dimensions: 5 x 5 x 2.6 in
Type: water heater controller
Usable with: Electric storage-style water heaters
The Pros
Saves energy by determining usage patterns
Straightforward installation
Comprehensive scheduling and alert options
The Cons
Isn't compatible with some water heater types
No smartphone app
3. Rheem Performance Platinum Liquid Propane Smart Tankless Water Heater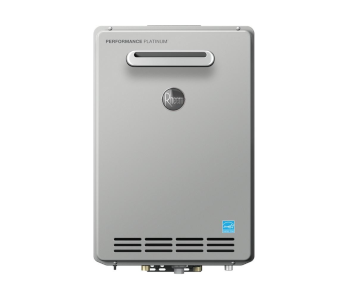 HomeDepot
Editor's Rating: 4.3/5
Rheem's Performance Platinum line is made up of water heaters designed to provide maximum comfort and energy efficiency without compromising on output. The tankless water heater that's part of it comes with the same EcoNet smart experience as our overall winner, features a power-saving setting, and supplies hot water within seconds without wasting power on heating an entire tank.
Efficiency Plus Smarts Equals Major Savings
Everything about this water is engineered to make it as efficient as possible, starting with its installation. This model takes up less space than a traditional heater and offers even more installation options thanks to improved vent placement. Rheem's gas-powered water heaters come with condensing technology which captures the heat from exhaust fumes and uses it to help raise the water temperature making the process more energy-efficient.
Owners of large homes are reserved towards tankless water heaters as these can often not meet their needs. The Performance Platinum model has an output of 9.5 gallons per minute which is enough to simultaneously supply three bathrooms with hot water. You could be showering, running the dishwasher, and running a bath and still have enough hot water left for the needs of others. The heater is designed to work in all climates, so even if you're living in the continental US its output will not suffer.
Efficiency is further enhanced by the EcoNet app. Its version for tankless models allows you to turn the heater on and off, set the outgoing temperature, and receive alerts on leaks or other problems. The app will walk you through troubleshooting steps you can attempt on your own and suggest the nearest professional services to resolve more serious issues.
Are There Drawbacks?
This model doesn't come with recirculation, meaning that you'll need to purchase a kit separately if you don't want to let out cold water from the pipes first each time you use a far-away faucet. You have to connect two pipes with a plastic clip during installation. This clip is flimsy and sometimes even missing altogether. Without it, the water heater will leak.


Tech Specs
Dimensions: 61 x 22.3 x 22.3 in
Type: Gas-powered tankless
Gallons per minute: 9.5
The Pros
Excellent water output
Can be used in any climate
Convenient vent placement
Energy-efficient
The Cons
Tricky installation
Takes a while to heat water
4. RINNAI CONTROL-R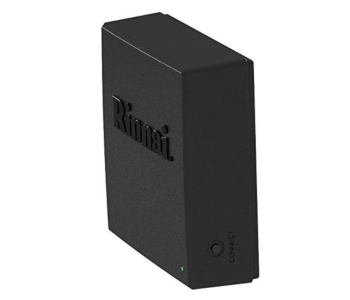 View on Amazon
Editor's Rating: 4/5
Tankless water heaters deliver hot water on demand and take up next to no space. If you have one made by Rinnai, you can smarten it up with the Control-R, a small unit which lets you control the heater remotely or through voice commands using Amazon Alexa.
Unlock Your Tankless Water Heater's True Potential
This controller attaches easily to any gas-powered Rinnai tankless water heater manufactured within the last 10 years. It connects through two wires and is ready to start controlling the water heater in minutes. You can pair the Control-R with Rinnai's push button and remote sensors to enable automatic recirculation of water once someone enters a room where hot water is needed instantly.
Rinnai's app has a minimalistic design and clean interface made up of four icons with additional ones popping up in case there's an alert. Tapping on the "Priority" icon brings you to a screen where the heater's temperature and scheduling options can be adjusted. "Usage" offers an in-depth overview of stats such as the current water flow, inlet & outlet water temperatures, how long the system has been in operation etc.
"Monitoring" displays maintenance tips and error logs. In this tab, you can also set up remote monitoring through a licensed dealer. When an error occurs, the code is immediately sent to the dealer's version of the app along with pertinent statistical data which helps diagnose and address the problem quicker.
This is the only smart water heater controller which supports Alexa. Voice activation works well for the most part, but you'll need to mispronounce Rinnai as "reen-eye" for it to work. Even then, commands are executed after 10-20 seconds, so you might be better off using the app instead.
What's Bad About It?
App compatibility is by far the biggest issue with the Control-R. The Android version wouldn't even start on most phones while its iOS equivalent would time out during certain actions. Rinnai's subsequent patches have largely fixed this, but the apps are still unstable and buggy.


Tech Specs
Dimensions: 3.7 x 3.7 x 1.2 in
Type: Water heater controller
Usable with: Rinnai tankless water heaters
The Pros
Remotely controls tankless water heaters
Has recirculation scheduling
Supports Amazon Alexa
The Cons
Buggy and unstable app
Alexa is slow to respond
5. EnergySmart Electric Plastic Water Heater Controller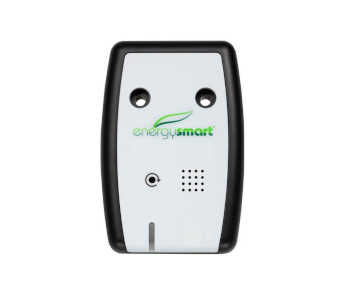 View on Lowes
Editor's Rating: 3.9/5
Lowe's is a large retailer that has, like Amazon, made a foray into the home automation niche. The EnergySmart water heater controller is a device which automates the operation of EnergySmart water heater models. It is under the umbrella of Iris, the proprietary Lowe's smart home hub. If you own a compatible model, this inexpensive add-on is a great investment.
Smart Water Heaters the Iris Way
You don't need Iris to use the controller since it connects to your home Wi-Fi network and has a webpage interface much like Aquanta. This interface is limited to turning the device on or off and adjusting the temperature. Once paired with Iris however, you can use the Iris app for more in-depth control.
Adding the water heater controller to the list of known Iris devices involves entering a code printed on its side and waiting a few minutes for it to be registered. The controller can then be accessed through the app, which enables scheduling and water alerts. Scheduling is particularly useful as it lets you specify the running times and water temperatures for an entire week. Iris also displays the estimated hot water level and can notify you if it drops below a set point.
Are There Drawbacks?
This controller makes use of the onboard interface of specific EnergySmart water heaters and isn't compatible with competing models. The water heaters it does support are few, available only at Lowe's, and are more expensive than similar models.


Tech Specs
Dimensions: 4.2 x 2.8 x 1.5 in
Type: Water heater controller
Usable with: EnergySmart electric water heaters
The Pros
Remote scheduling
Low hot water level alerts
Good Iris integration
Very affordable
The Cons
Doesn't have stand-alone smartphone app
Works only with a select few electric water heaters
6. Best Budget Option – Rheem Home Comfort WiFi Module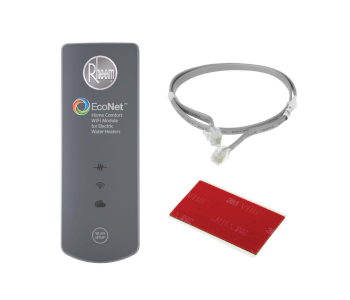 View on Amazon
Editor's Rating: 4.2/5
If you're already satisfied with your Rheem electric or gas-powered water heater, there's no need to go all in and buy a smart model. Rheem offers a convenient and affordable upgrade to select "dumb" models through the Home Comfort Module. This Wi-Fi controller unlocks the ability to control your water heater remotely through the EcoNet app.
Smarten Up Your Rheem Water Heater at Little Cost
Home Comfort is an unobtrusive gray gadget which connects to your water heater through a specialized cable. The cable attaches to the water heater's control panel, drawing power from and relaying instructions to it at the same time. Two wires need to be connected, so don't attempt the install if you have no electrical knowledge. Otherwise, setup is done in minutes.
The EcoNet app is now in its 3rd iteration and has an improved layout that's easy to navigate. Temperature adjustment, troubleshooting, and alert settings are clearly labeled and easy to customize. Vacation mode can be turned on remotely from it and its duration can be set too.
Home Comfort comes with a leak sensor which sets off an alarm once water is detected. This will send a push notification, email, or text to your phone, informing you of what happened and providing a standardized error code that will help technicians locate and service the problem faster.
What We Didn't Like
Rheem's app would greatly benefit from a scheduling tool. Day-to-day heating times can't be set – your only options are to manually turn the water heater on or off. The module isn't prone to disconnects, but if one does happen, you need to reinsert the connection cable to reestablish the link. This isn't a problem if you're home, but if it happens during vacation you won't be able to check up on the water heater and react to leaks in time.


Tech Specs
Dimensions: 8.8 x 4.9 x 1.8 in
Type: Water heater controller
Capacity: Rinnai tankless water heaters
The Pros
Remote control for an array of electric and gas-powered Rheem water heaters
Easy to install
Responsive app
Affordable
The Cons
No daily or weekly scheduling options
Reconnecting to Wi-Fi requires you to be present