10 Best SmartThings Compatible Devices of 2019
3D Insider is ad supported and earns money from clicks and other ways.
One of the most important steps in planning how to automate your home is choosing which hub will be the basis of your smart home ecosystem. This hub coordinates different smart devices and ensures they all work together harmoniously. Even though Amazon Alexa and other voice-based platforms are quickly gaining traction, Samsung's SmartThings remains the most robust option with more than 300 supported products and a thriving user community.
SmartThings is an excellent choice for novices to the world of home automation. It is easy to set up, straightforward to use, and offers room to grow as a user once you've got the hang of the basics. This guide will introduce you to what SmartThings is and how it benefits you. You'll also get to learn about the best SmartThings compatible devices that increase convenience, safety, and fun in your home. Read on to discover why SmartThings is so inviting and get a glimpse into what you can look forward to if you invest in it.
What is SmartThings?
Samsung's SmartThings is a home automation platform that aims to bring all of your smart gadgets together. At its heart is the SmartThings Hub, a bridge that facilitates communication between your phone and the smart devices present in your home. The hub communicates with these devices through two special protocols – Zigbee and Z-wave. These protocols use radio waves for communication. They are much more stable than Bluetooth and don't interfere with your Wi-Fi. They're also easy to implement and draw little power, which makes Zigbee and Z-wave the most cost-effective option for many smart device manufacturers.
Most compatible devices come with their own apps, but having to install and use a separate one for each new smart home addition quickly becomes confusing and impractical. The real power of SmartThings lies in giving you access to each device through one app!The SmartThings app starts you off by checking that the hub is up to date and automatically adding any compatible devices it detects. You then assign rooms them and integrate found devices into routines.
Routines are series of actions that happen based on a button press or external trigger. For example, tapping on the "Good Morning" routine can activate a smart plug connected to your coffee maker and set the lights to an energetic color. The same can be achieved if you trigger a motion sensor during a predefined time of day. The routine configuration options are extensive and grow exponentially with the addition of new devices and logic instructions you can create yourself or find online.
Best Compatible Devices
The beauty of SmartThings is that it brings together a variety of devices which have nothing in common at first glance. From fridges through lights to security cameras, there's little in a modern home that SmartThings can't control and improve.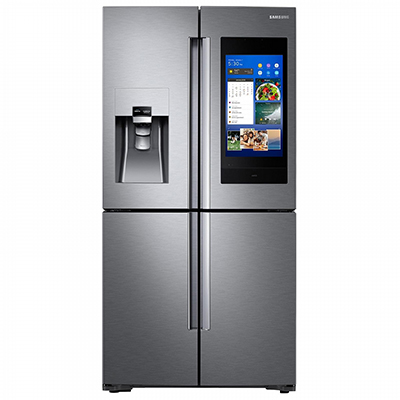 View on Amazon
The Family Hub is both a fantastic refrigerator and your kitchen's smart command center in one. It has features you'd find on other high-end fridges like adjustable shelves, a water dispenser, and an ice maker. It also has a 21-inch LCD screen that connects to the internet and supports the SmartThings app.
Running the app from the Family hub will sync the devices already recognized on your phone to it and allow control from the fridge. This means you get to access a larger video feed from a security camera or tinker with thermostat settings while you're having breakfast. Conversely, the SmartThings app on your phone lets you regulate the temperature inside the fridge and check on stored food through one of three cameras.
Apart from SmartThings, the family hub comes with a host of popular and useful apps. You can check what's new on your favorite social media sites, tune into music streaming services or online radio streams, and make shopping lists. Items added to the shopping list can even be purchased online and delivered, saving you a trip to the grocery store!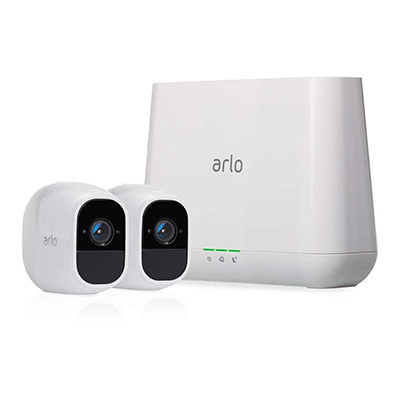 View on Amazon
Arlo Pro 2 is a comprehensive security camera system made up of two cameras and a hub. Yes, the hub is another white plastic gadget that will take up space, but it has a built-in 1000dB siren and accommodates local storage with two USB ports.
The cameras are small and unobtrusive. They have magnetic bases for easier installation and are weatherproof so you can set them up outside or around the house. They stream crisp 1080p video and have infrared LEDs that make night vision possible. Built-in speakers and microphones allow for two-way communication which comes in handy when you want to scare away burglars or talk to your pets.
The SmartThings app recognizes Arlo Pro 2 as a security camera and lets you control everything about it except sensitivity. This means you can access the video feed, engage in two-way communication, or configure the camera modes and rules. These govern how the cameras react and when. The Arlo Pro 2 can be armed and disarmed, set to work on a schedule, or work in geofencing mode which arms the cameras once your phone leaves the house.
The Arlo Pro 2's motion detectors can serve as a trigger for other connected devices. These, in turn, are able to activate the cameras too – a window sensor or motion-activated light can turn on an Arlo camera preemptively and have it record even though its sensor didn't pick anything up.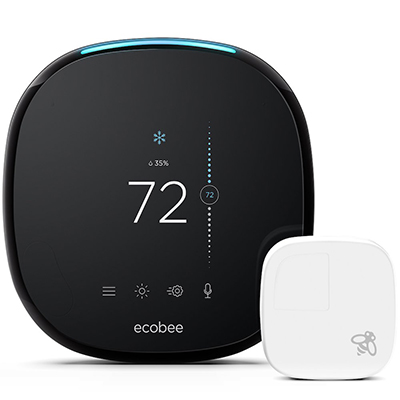 View on Amazon
The 4th-gen Ecobee is a smart thermostat that saves energy while ensuring that every occupied room in your home is warm and cozy. It comes with a standalone temperature & motion sensor which sends data to the thermostat and helps it direct the HVAC system to heat a room only when it's needed. Ecobee also doubles as an Alexa speaker, letting you access news, control other smart gadgets, or make to-do lists just by speaking a series of commands.
A smart thermostat is a valuable addition to your SmartThings setup since it presents you with new temperature-based control options. House getting too hot during the summer? Have a certain temperature become the trigger for a smart fan! The Ecobee's occupancy sensor has detected someone's arrival? Make that the cue to turn the lights on and start playing some music.
Of course, you can also control Ecobee directly through the SmartThings app. Setting a target temperature, planning heating & cooling schedules, and making Ecobee react to 3rd-party motion and temperature sensors are just a few things you can set up in minutes.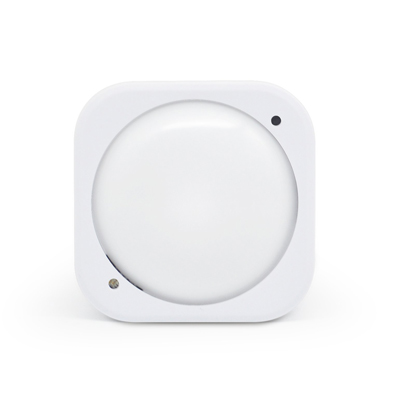 View on Amazon
Six measurements in one make the Multisensor 6 the most versatile routine trigger on the market and a boon for any SmartThings user. Its application is limited only by the number and kind of other smart devices you have.
Seismic & motion sensors detect movement and changes in the sensor's position. Movement is a reliable trigger for lights, thermostats, etc., while seismic activity detection turns the Multisensor into a burglar alarm. Once that sensor is triggered, you could use SmartThings to make the lights start flashing red or activate the alarm siren inside the Arlo Pro 2's hub.
Humidity & temperature sensors let you control the climate in your home to a greater degree. High humidity can now be dealt with by engaging automated bathroom vents. Readings from the temperature sensor paint a more complete picture of the climate inside the house and help connected thermostats operate the HVAC system more efficiently.
Finally, there are the light and UV sensors. If you have dimmable bulbs, the light sensor's data can be used to regulate their brightness, so the room you're in is well-lit throughout the day. Too much UV radiation is cause for concern and the perfect trigger for smart blinds.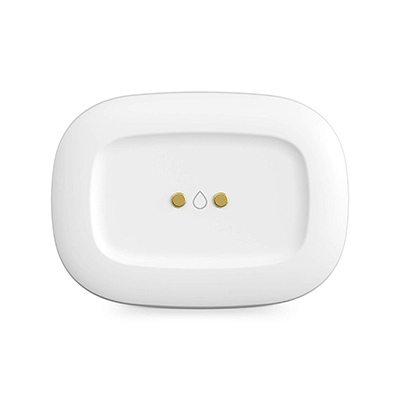 View on Amazon
Water damage can wreak havoc on your home more than any burglar, which is why you want to have a dependable water leak sensor. Samsung's own model is tiny and fits under sinks or washing machines easily. The sensor sends a notification to your phone if the two metal plates on its bottom come into contact with liquid. Thanks to SmartThings, its quick response is just the first active step you can take.
The sensor integrates seamlessly into the SmartThings environment. On one hand, it sends notifications to your phone when a leak is detected. On the other, detection can be set as a trigger for relevant devices. These include lights that can signal a flood alert with a custom color or on/off pattern, cameras that capture the incident as it unfolds, and smart plugs which turn plugged in devices off to prevent electrocution.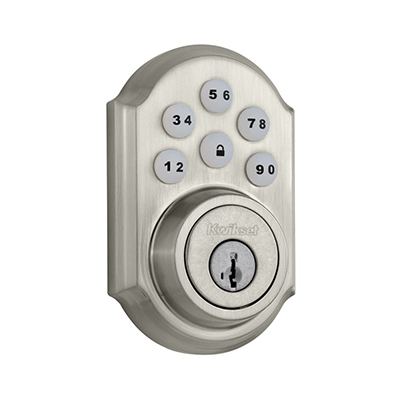 View on Amazon
How many times have you forgotten your house keys? Kwikset's SmartCode deadbolt makes worrying about keys a thing of the past since it is opened by a cleverly-designed numeric keypad. There are only six buttons to press, which will throw off anyone trying to guess the combination by observing you. Installing the deadbolt is a breeze since it is battery-powered.
The keypad is backlit to ensure you'll put in the right code whether it's day or night. Your main code can be between four and eight digits long. There's also a second code you issue temporarily to friends, house guests, etc.
Connecting the deadbolt to SmartThings allows you to control its modes of operation and receive notifications on it remotely. The app lets you toggle between restricted and free pass modes as well as lock the deadbolt through geofencing. Unlocking a door may also trigger the AC, the lights, or a smart air purifier to welcome you to a bright & clean home.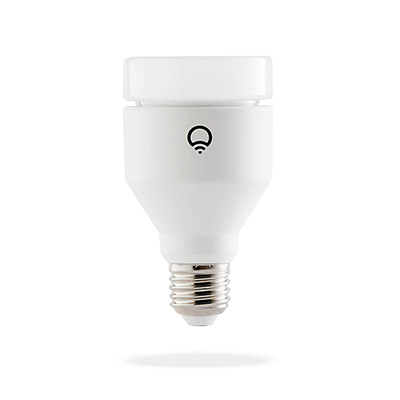 View on Amazon
Along with plugs, light bulbs are the best entry-level smart gadget. They're easy to operate and give immediate, satisfying results. Some models like Phillips Hue lights require a hub though, which is why we recommend LIFX.
At 1,100 lumens, the LIFX bulb is among the brightest smart bulbs on the market. Its RGB LEDs produce millions of colors or simulate daylight with a variable color temperature. The bulb is dimmable and fully customizable through the SmartThings app.
Tapping on its icon inside the app brings you to a slew of options including a color wheel, color temperature settings, and scheduling options. You can sync the light to music and host unforgettable parties, or have it change its color temperature from an energizing white in the morning to soothing orange when it's time to relax at night.
Pairing the LIFX bulb with other devices makes for useful and colorful results. For instance, you can program the bulb to change its color depending on the situation and glow one color if the alarm is tripped, another if the smoke detector goes off and so on. Setting up a schedule lets you simulate occupancy while you're on vacation while turning the light on if a connected security camera registers movement will prompt crooks to go find easier prey.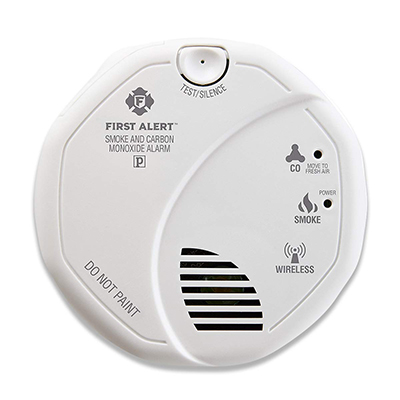 View on Amazon
Investing in a smoke and CO detector could literally save your life, so why not make it a smart one? First Alert's model may look like your parents' old smoke alarm, buta built-in Z-wave antenna lets it communicate with SmartThings which alerts you of the hazard wherever you are. The alarm has a photoelectric sensor that excels at detecting smoldering fires.
You can mount the detector either on a wall or the ceiling since it runs on batteries. When it is triggered, a red light is activated and the sensor starts emitting a series of beeps. Three signalize smoke while four point to dangerous levels of carbon monoxide. The beeps are loud enough to be heard throughout the house.
SmartThings integration increases the detector's usefulness exponentially. Setting up routines beforehand with it as the trigger lets you activate sirens or turn the lights a particular color. The app also displays battery levels and reminds you to change them when power is low.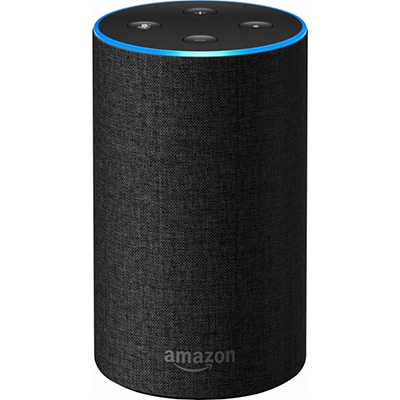 View on Amazon
The Echo is the best-known smart speaker in the world. You'll need it or one of Amazon's other speakers to take advantage of Alexa, the AI assistant who'll tell you jokes, give you a heads up on the weather, or control other devices through voice inputs.
The echo looks like a cylinder with intuitive volume and playback controls on top. It has an aux in jack, so music streamed to the speaker can be broadcast to non-connected speakers as well. Buying multiple Echos allows you to connect them so that all of them are active at once or based on which is nearest. The first Echo had problems with tinny sound and no punch to its bass, but that has since been addressed.
The echo's main appeal for SmartThings uses it its ability to control devices with voice commands. Many devices are compatible with Alexa natively, but those that aren't can still be operated with SmartThings as the bridge. Lights, cameras, thermostats, etc. That you could otherwise control only through the SmartThings app now become accessible through Alexa too.
Voice controls for devices without native support are rudimentary but useful. Just being able to turn the porch light on or increase the temperature by a few degrees is worth the Echo's asking price, especially for older or disabled people.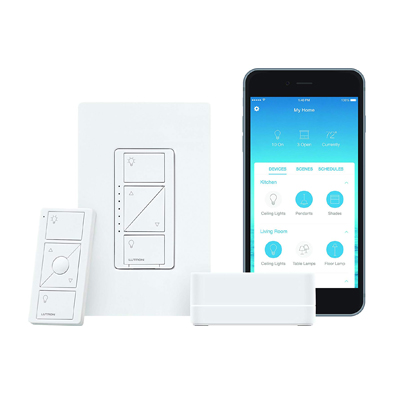 View on Amazon
Outfitting your home with smart light bulbs is expensive. Lutron's Caseta is an affordable dimmer switch that allows you to control conventional lights in a room either physically or wirelessly from your phone. It supports all kinds of dimmable bulbs, is as straightforward to install as regular dimmer switches, and works with SmartThings.
Integrating Caseta into the SmartThings app adds it to the list of dimmer switches. From there, you can control lights, adjust their brightness levels, and name the switch so it is recognized by Alexa. Caseta has a smart away mode which periodically turns the lights on when no one's there to fool thieves. It also works with geofencing and will turn the lights off once you leave to save energy.