6 Best Smoke Detector Cameras of 2019
3D Insider is ad supported and earns money from clicks and other ways.
Most burglars are put off by imposing security cameras, but the few that aren't know how to get around them. That's why it makes sense to also invest in a hidden camera that will put them behind bars even if your primary surveillance system is breached.
Smoke detectors are the perfect hiding place for a security camera! They can be found in every household, they're high up which makes it hard to spot the tiny camera lens, and they're so ordinary that thieves pay no attention to them anyway. There's nothing ordinary about smoke detector cameras though! These stealthy security devices catch criminals in the act either through continuous recording or motion activation. They save hours of video or broadcast a live feed wirelessly without limits.
These are the six best smoke detector cameras you can buy today. They support varying SD card sizes, have different resolutions, and not all of them have apps. That's why it's best to look at each model's thorough review. Find out all there is to know on our top picks and make your home safer in a clever way.
Budget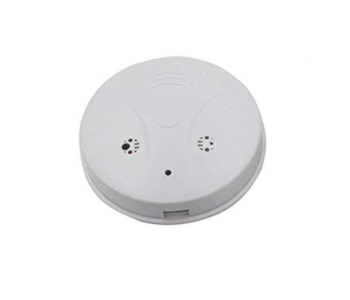 Amayia Upgrate Smoke Detector Camera
4.2/5.0
Resolution: 1080p, 25fps
Field of view: 78°
Can switch between 1080p and 720p.
Check Amazon
Best Value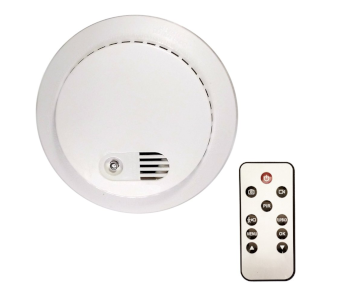 PalmVID DVR PRO Smoke Detector Hidden Camera
4.5/5.0
Resolution: 1080p, 25fps
Field of view: Up to 90°
Adjustable field of view and long-lasting battery.
Check Amazon
Top Pick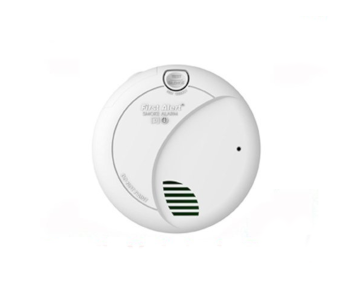 SecureGuard Smoke Detector 1080P WiFi Spy Camera
4.7/5.0
Resolution: 1080p, 25fps
Field of view: 45°
Functional app and good battery life.
Check Amazon
Smoke Detector Cameras Comparison Table
1. Best Overall – SecureGuard Smoke Detector 1080P WiFi Spy Camera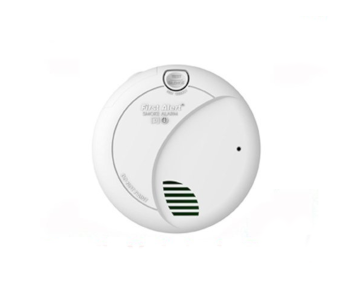 View on Amazon
Editor's Rating: 4.7/5
Many smoke alarm cameras come with tradeoffs – either they need to be plugged in, have poor video quality, or there's no way of checking their footage remotely. You'll find none of these restrictions on the SecureGuard smoke detector WiFi spy camera! This American-made security camera can be installed onto any surface, connects to your network in seconds, and broadcasts its feed wherever you are. It is noticeably more expensive than the competition, but its superb video quality and ease of use are worth it.
Overview of Features
SecureGuard's camera is expertly hidden inside a fake smoke detector body with only a small hole for the lens to give it away. You'd need to know precisely where to look to tell the difference though. The camera runs on a rechargeable Li-ion battery which lasts for 36 hours of continuous monitoring. You get mounting brackets and instructions that make it easy to position the camera on either a wall or the ceiling. You aren't limited by the need for an outlet so you can get creative with placement.
Connecting the camera to the SecureGuard Mobile app is a quick process that involves turning it on, downloading the app, and scanning the camera's QR code. Once it connects to your home network, SecureGuard's camera will keep its connection hidden, and its own hotspot won't show up in the list of available ones! This is especially useful against tech-savvy burglars who could disable it remotely.
The app has a simple and functional layout that lets you access the camera view, add more cameras to the same screen for a better overview, and record clips. A 16GB SD card is part of the package, and the camera supports 32GB ones too.
Video quality is SecureGuard's best advantage over the competition. The camera records in true 1080p with a framerate of 25fps. The viewing angle is 45 degrees, so you'll get an excellent view of what's in front of the camera without any distortion. Picture quality is outstanding – colors are vibrant, and details like a burglar's outfit or hairstyle are easy to see.
Are There Drawbacks?
This camera doesn't have night vision and is useless in a completely dark room. Luckily, it can operate with a dim light source, so placing a night light in the same room will fix this problem. Don't expect the same amount of detail you'd get during the daytime though. A constant Wi-Fi connection is required for the camera to work. It won't record if the Wi-Fi is down.

Tech Specs
Package dimensions: 6.8 x 6.8 x 5 in.
Power source: Rechargeable battery
Resolution: 1080p, 25fps
Field of view: 45°
Has app: Yes
The Pros
Excellent video quality during the day
Easy to install and set up
Functional app
Good battery life
The Cons
No night vision
Won't record without a Wi-Fi connection
2. Best Value – PalmVID DVR PRO Smoke Detector Hidden Camera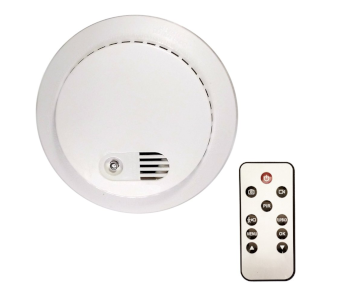 View on Amazon
Editor's Rating: 4.5/5
Do you want a smoke detector camera that can work on its own for days without needing a recharge? In that case, you need PalmVID's DVR PRO! This model has a built-in DVR which records footage to an SD card, an adjustable field of view, and it can be controlled with a remote.
Overview of Features
The DVR PRO looks like any other smoke detector, and thieves won't bother looking at it twice. The camera does have indicator LEDs that flash whenever it is powered on or the video mode is changed, but these are discrete and hidden inside its housing. You install the DVR PRO using two provided screws and mounting brackets. These can be screwed in all the way if you want to install the camera permanently or left slightly loose and twisted off for relocation.
An adjustable field of view is the camera's unique selling point. It extends up to 90 degrees in a downward ark, so you can position the camera in an inaccessible location that's hard to see and still get usable 720p footage at 24 frames per second. There's also the option of downscaling it to VGA if you need to make room for more recordings. Footage can be viewed either on a computer when you take the SD card out or on a TV connected with the supplied video cable.
The DVR PRO comes with a fantastic battery featuring 100 days of standby time per charge! It has enough juice to record 32 hours either continuously or cumulatively if you use motion detection as the trigger. A power cable is also included so you can plug the DVR PRO in and not worry about recharging the battery.
What's Bad About It?
The camera lens is hidden behind the smoke detector grille. This adds to its concealment but makes the plastic in front visible if you're using a smaller field of view. This model doesn't have night vision either.

Tech Specs
Package dimensions: 6.3 x 6.1 x 4.7 in.
Power source: Rechargeable battery, power cable
Resolution: 1080p, 25fps
Field of view: Up to 90°
Has app: No
The Pros
Adjustable field of view
Excellent value for the money
Long-lasting battery
Responsive remote control
The Cons
Smoke detector grille visible in picture at small field of view
No night vision
3. CAMXSW WiFi Smoke Detector Camera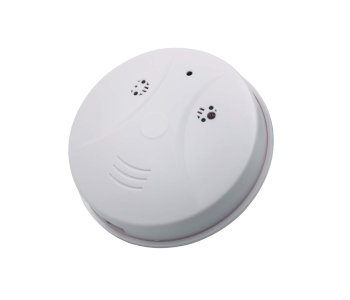 View on Amazon
Editor's Rating: 4.3/5
Our top two picks are great at keeping an eye on your home but may be too expensive if you need to cover more than one room. The smoke detector camera by CAMXSW has an attractive price, records in 1080p, and has a companion app for remote viewing and recording.
Overview of Features
This smoke detector camera runs on battery power and can be plugged in for continuous use. This limits your placement options but lets you check the feed or snap a picture at any time. The viewing angle of the lens is 90 degrees, so you'll get a good overview of an entire room while not experiencing barrel distortion. Videos are shot in 1080p and look decent considering the price.
CAMXSW uses the generic P2P Cam app for wireless camera control. The app has a minimalistic design and few features, but it is responsive and lets you quickly access the feed, take a snapshot, or start recording. Pairing is done by scanning a QR code after which the camera will appear in a list of devices. You can access a combined view if you own multiple cameras and control each by tapping its portion of the screen.
Videos are recorded onto an SD card. You don't get one with your purchase though. The maximum size of the card is 32GB. Recording works the same way as with dash cams – the oldest footage is recorded over once there's no more room on the card.
Are There Drawbacks?
Poor battery life is by far the camera's greatest shortcoming. Charging the battery takes 6 hours, and it can record for only 3. This forces you to either use the camera sparingly or plug it in. Most hidden cameras' lenses are positioned at an angle so they can identify faces even if placed vertically. CAMXSW's camera points straight ahead, meaning it will capture people's heads if placed on the ceiling.

Tech Specs
Package dimensions: 5.2 x 4.9 x 2.5 in.
Power source: Rechargeable battery, power cable
Resolution: 1080p, 25fps
Field of view: 90°
Has app: Yes
The Pros
Good balance of price and value
Simple companion app
Easy to install and pair
Small size
The Cons
Lens isn't at an angle
Short battery life
4. Seahon Smoke Detector Wireless Hidden Spy Camera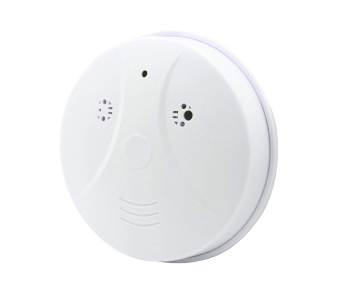 View on Amazon
Editor's Rating: 4.2/5
Monitoring your home in 1080p lets you record details you'd miss at lower resolutions, but it has its drawbacks. FullHD videos take up much space and may not stream correctly if your Wi-Fi can't handle the required bandwidth. That's why the Seahon smoke alarm camera features variable video resolutions! It is also motion-activated, has a mobile app, and is easy to install.
Overview of Features
The Seahon camera is hidden inside a standard smoke detector housing and completely invisible. A pair of indicator LEDs are the only thing in its design which might arouse suspicion, but these can be turned off in the app. Opening the front cover reveals a rechargeable battery and the camera body you can plug directly into an outlet. A QR code is printed on the camera's cover for easy pairing.
This model supports variable video resolutions. These include 480P, 640P, 720P, and 1080P. While you'll get the sharpest picture in 1080p, the smaller resolutions let you record longer. The picture quality is decent, although colors appear faded and there's a slight blue hue. This has no bearing on the camera's potential to identify intruders, however.
Seahon's camera uses the iMinicam app. It is similar in design to already mentioned apps – there's a dashboard with a list of connected cameras and tapping on one activates its live view. You can use the app to start and stop recording, turn the LEDs on and off, or take pictures. There's also a setting that switches between continuous and motion-activated recording modes. The camera has excellent motion sensors that respond instantly at a range of 20 feet.
What We Didn't Like
This is another smoke alarm camera with a weak battery. It records for five hours when fully charged, so you'll need to plug the camera in for peace of mind. Conventional smoke alarms run on batteries, so burglars might get suspicious if they see the thick black power cable coming from this one.

Tech Specs
Package dimensions: 5.2 x 4.9 x 2.4 in.
Power source: Rechargeable battery, power cable
Resolution: 480p – 1080p, 25fps
Field of view: 90°
Has app: Yes
The Pros
Four video resolutions to choose from
Excellent motion sensors
Good video quality
Companion app is easy to use
The Cons
Poor battery life
Using cable limits placement and makes camera more conspicuous
5. Heymoko Wi-Fi Smoke Detector Camera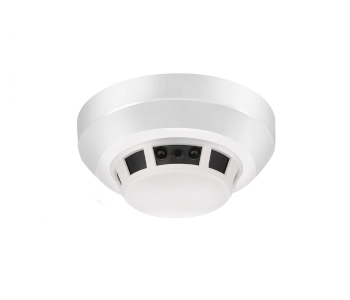 View on Amazon
Editor's Rating: 4/5
Heymoko's smoke detector camera is another competitively-priced model with a lot going for it. There's the accurate motion sensor that notifies you when movement is detected, above average 1080p video quality, and a small form factor that makes the detector camera hard to spot.
Overview of Features
The Heymoko smoke detector camera is the smallest one on review. Its design also limits placement to the ceiling. This isn't as big of a drawback as it sounds because the camera's viewing angle is 110 degrees. That along with vertical positioning gives you a comprehensive overview of larger rooms, making Heymoko's camera ideal for lobbies and living rooms.
The app is this model's best asset. It has more advanced features than the competition, most notably motion-activated alerts. Triggering the sensors causes the camera to take 3 pictures in rapid succession and send an alarm to your phone. You can dismiss it or tune into a live feed and catch the bad guys red-handed. Multiple user support adds another layer of security since it lets other family members install the app and monitor the feed when you're busy. One app supports multiple cameras too.
The 1080p videos Heymoko records are crisp and vibrant. It's tough to make out people standing directly underneath it, but the wide-angle lens has no trouble discerning people at the edges of its view. You're able to store plenty of footage since the camera supports SD cards with 128GB of max storage. Older videos are recorded over so you'll never run out of room.
What's Bad About It?
You might be wondering why this camera is so low on the list given its good specs. Short answer – abysmal battery life. The battery lasts a measly 2 hours and takes twice as long to recharge. Heymoko provides you with a power cable, but this looks even more suspicious than the Seahon's since ceiling installation is required.

Tech Specs
Package dimensions: 4.1 x 3.9 x 3.8 in.
Power source: Rechargeable battery, power cable
Resolution: 1080p, 25fps
Field of view: 110°
Has app: Yes
The Pros
Outstanding companion app
Motion alert notifications
Great video quality
Multiple users can access the feed
The Cons
Abysmal battery life
Not as stealthy as other models
6. Best Budget Option – Amayia Upgrate Smoke Detector Camera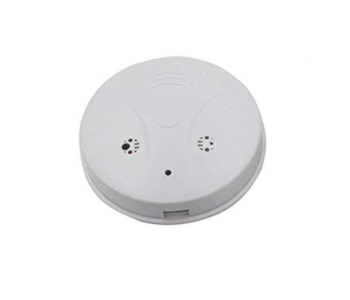 View on Amazon
Editor's Rating: 4.2/5
Want to put an array of smoke detector cameras throughout your home or business? There's no better or cheaper way of doing this than getting multiple cameras by Amayia! The camera's highest resolution is 1080p but can be lowered to 720p to prolong recording. Battery life is also good which is important since the camera doesn't have a power cord.
Overview of Features
Amayia's smoke alarm camera is as easy to set up as SecureGuard's model since there's no app. All you need to do is insert an SD card and charge the battery. The first time takes 7 hours which drops to 5 hours for subsequent charges. You get 10 hours of working time per charge which can be spaced out through many days if there's little activity to trigger the motion sensor.
You get a small yet comprehensive quickstart guide that shows how to set the detector up and is helpful if you don't understand how to operate the camera or its remote. Speaking of which, the remote is slim and small. It has an on/off button and four buttons that control recording, picture taking, motion detection, and sound recording respectively. The camera has a blue LED which glows whenever you record video or take pictures manually. Setting it to motion detection mode will turn the light off.
You can choose between 1080p and 720p modes. Videos are easily accessible since a USB cable is included, so you don't need to remove the card to view its contents. You can also take the card out and insert it into a card reader if this is more convenient for you. The camera has a webcam mode that can be turned on while it is connected through USB. This is handy if you don't have a webcam but need one now and then.
Are There Drawbacks?
The battery is supposed to stick to the smoke detector body. Low –quality glue was used for this so the battery might come loose. You'll need to pay attention not to rip out the cables connecting it to the camera if this happens. This camera's video is of lower quality even though it is rated at 1080p. The footage is slightly blurry and has poor contrast. This isn't a deal breaker but may cause smaller details to remain hidden.

Tech Specs
Package dimensions: 5.7 x 5.6 x 3 in.
Power source: Rechargeable battery
Resolution: 720p, 1080p, 25fps
Field of view: 78°
Has app: No
The Pros
Can act as webcam
Good battery life
Records sound
Can switch between 1080p and 720p
The Cons
Battery isn't glued to the housing properly
Below average video quality