6 Best Smoke Detectors of 2019
3D Insider is ad supported and earns money from clicks, commissions from sales, and other ways.
According to the National Fire Protection Association, having smoke alarms leads to more than a 50 percent reduction in deaths from house fires. People who have multiple smoke alarms also forget to change their batteries or don't insert them at all, which results in loss of life that could have easily been prevented. Even working smoke alarms should be replaced every 10 years – if it's high time you replaced yours, you'll want to do so with state-of-the-art models.
New smoke alarms are safer and much more advanced than ones produced a mere decade ago. For one thing, they have signal LEDs and beep when it's time to replace the battery, making it impossible to forget to buy new ones. Some models are hardwired as well and have backup batteries which last for years. The most advanced smoke alarms can send alerts to your phone and even work together with other smart devices to increase the effectiveness of their warning or potentially save lives!
Below you'll find reviews for six of the best smoke detectors money can buy. Whether you're looking for an inexpensive model for your first home or a sophisticated upgrade for your existing smoke alarm, you're sure to find the right solution among our top picks. Take a look at their reviews & specifications and drastically improve your home's fire safety with the purchase of a new smoke detector.
Budget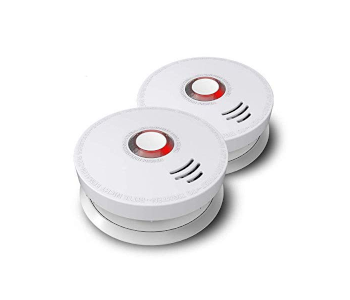 Ardwolf GS528A Wireless Smoke Detector
4.0/5.0
Dimensions: 4.6 x 4.6 x 3.3 in.
Sensor: Photoelectric
Two capable smoke detectors for a great price.
Check Amazon
Best Value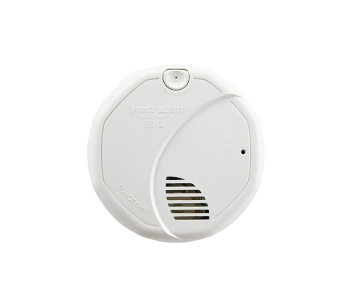 First Alert BRK 3120B Smoke Detector
4.5/5.0
Dimensions: 5.7 x 5.7 x 2.4 in.
Sensor: Dual
Its dual sensor ensures good accuracy.
Check Amazon
Top Pick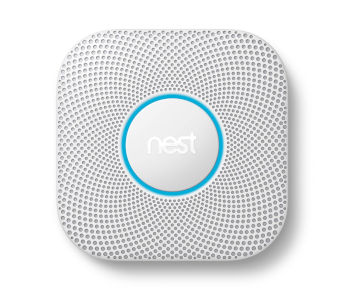 Nest Protect
4.7/5.0
Dimensions: 5.3 x 5.3 x 1.5 in.
Sensor: Dual
Accurately and quickly detects any kind of fire.
Check Amazon
Smoke Detectors Comparison Table
1. Best Overall – Nest Protect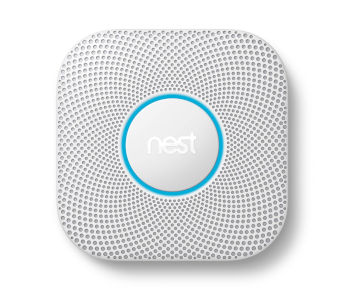 View on Amazon
Editor's Rating: 4.7/5
Nest's Protect is undisputedly the best smoke detector in existence. It has two detection modes so it can pick up on smoldering as well as fast-burning fires. There's also a CO detector and a humidity sensor that helps the Protect distinguish between a boiling pot of water and a real fire. Best of all, the Nest Protect is a smart thermostat – it interfaces with other Nest products as well as smart gadgets in general through IFTTT. While it does cost more than your average smoke alarm, the Protect's life-saving potential makes it worth every penny.
Overview of Features
The Nest Protect looks nothing like conventional smoke alarms. It is a rounded rectangle with a sleek white exterior and prominent LED ring. You can choose between wired and battery-powered versions and perform the installation smoothly as the Protect's screws don't need a drill to find purchase in your walls. If you go for the battery-powered version, you get 6 AA batteries that last five years with regular use. The detector gives you ample warning before they run out, so going battery-powered is the right option even if you know your way around wires.
The RGB LED ring is the Protect's best physical feature. It glows different colors and in distinct patterns depending on the situation. The ring will flash yellow if a small amount of CO or smoke is detected and turn to red when either reaches dangerous levels. Green means everything is alright while blue signals that the Protect is either connecting to the Wi-Fi or undergoing a software update. The ring can also be used as a night light or turned off altogether.
Nest Protect is reassuringly accurate. It will ignore water vapor and smoke produced by regular cooking but activate immediately if it detects either fire or the presence of carbon monoxide. When an emergency does happen, the detector's light changes, a siren starts blaring, and a loud voice tells you what's going on. The latter is particularly useful since you're told what kind of emergency triggered the alarm and in what room if you have multiple detectors installed.
Nest Protect's standalone functionality is excellent, but the detector comes into its own when you connect it to the Nest app. You just scan a QR code, and the Protect is added to your existing Nest account as well as paired to other Nest Products. It synergizes well with Nest IQ cams which can take pictures of your home when an emergency starts and send them to your phone no matter where you are. The Nest Learning Thermostat is also affected – a high CO alarm will cause it to turn off the heating and prevent the problem from getting worse!
The Protect is a truly smart device as it connects to 3rd-party smart gadget through IFTTT. This lets you set up different alerts when there's an emergency as well as take potentially life-saving actions automatically. For example, the Protect can send a notification to your Facebook account, cause smart lights in your home to flash with a warning color, or engage your smart sprinklers to water the lawn and help keep the fire from spreading.
What We Didn't Like
Connection issues are the Nest's greatest problem. Units may disconnect from your Wi-Fi even when the signal is strong. Disconnected units sometimes don't reconnect automatically, forcing you to do it yourself.
Tech Specs
Dimensions: 5.3 x 5.3 x 1.5 in
Sensor: Dual
Detects: Smoke, carbon monoxide, humidity
Power source: Hardwired & battery
The Pros
Accurately and quickly detects any kind of fire
Intuitive LED ring
Works seamlessly with other Nest products and smart gadgets
Loud and informative alarms
The Cons
Frequent connection issues
Disconnected devices may not reconnect automatically
2. Best Value – First Alert BRK 3120B Smoke Detector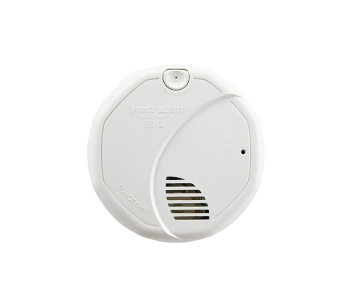 View on Amazon
Editor's Rating: 4.5/5
The problem with affordable smoke detectors is that they usually come with only one type of sensor. You're limited to either the detection of fast-burning fires if the model has an ionization sensor or smoldering fires if the sensor is photoelectric. First Alert's BRK 3120B has a dual sensor that picks up on both fire types quickly. It also connects to other First Alert products and can be had at a reasonable price.
Overview of Features
Unlike the Nest Protect, the BRK 3120B looks like most other smoke detectors. It has a grille the smoke gets through to reach its sensors as well as a button you press to either test the device or turn off the 85dB alarm. The BRK 3120B needs to be wired, so some electrical knowledge is required for installation. You can also install two AA batteries as backup. These should last for years since they're rarely used. An LED light near the grille shines when the batteries are low and is accompanied by a beep, so you're sure to get the memo once it's time for a replacement.
The best thing about the BRK 3120B is its interconnectedness. This model doesn't have a built-in CO alarm but can connect to 18 First alert products including ones that do. That lets you structure your home's smoke & CO security system in a way that's both affordable and has CO alarms only where you need them, provided you need them at all.
The BRK 3120B connects to a maximum of 12 supported devices via an orange wire you hook up while performing its installation. Connected alarms will all sound in unison when one is triggered! This is fantastic for people with large homes as they're able to set up the BRK 3120B in an attic or garage and hear the alarm every time in spite of not being near the device closest to the fire. Identifying where the fire started is easy as well since the LED of the alarm that picked it up first glows red while others are green.
What's Bad About It?
The BRK 3120B is prone to false alarms if the room it is in is subjected to abrupt changes in temperature and humidity. You'll have to regularly clean the detector as dust build-up can cause it to go off when there's no smoke.
Tech Specs
Dimensions: 5.7 x 5.7 x 2.4 in.
Sensor: Dual
Detects: Smoke
Power source: Hardwired & battery
The Pros
Dual sensor ensures good accuracy
Connects to other First Alert devices
Excellent value for the money
Has battery backup power
The Cons
May experience false alarms under certain conditions
Needs to be cleaned regularly
3. First Alert Onelink Safe & Sound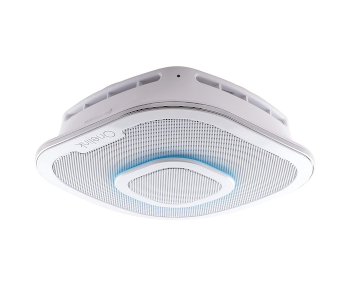 View on Amazon
Editor's Rating: 4.4/5
First Alert has been in the smoke detector market for over 40 years, and the Onelink Safe & Sound is proof that they're keeping up with the times. This elegant and effective smoke & CO detector doubles as a fully-functional Amazon Alexa speaker! You can connect multiple Safe & Sound detectors wirelessly or integrate them into scenes using Apple HomeKit.
Overview of Features
The Safe & Sound is another peculiar-looking smoke alarm. It is larger than most models since room had to be made for Alexa functionality. Like the Nest Connect, it features a multi-purpose LED light that glows different colors depending on the situation and doubles as a night light. The alarm needs to be hardwired but comes with a backup battery. While you can't replace the battery, it lasts 10 years, which is how long you should use a smoke alarm anyway.
This detector has a photoelectric sensor as well as carbon monoxide detection. The lack of an ionization sensor isn't a significant drawback in domestic situations since smoke detection is key to responding to house fires, and the Safe & Sound excels at this. It has a resounding alarm that tells you which room in the house is affected and what kind of emergency is taking place. Multiple Safe & Sound detectors connect like the BRK 3120B, so all of them will sound when one detects a threat.
You interact with the Safe & Sound's advanced features by using its app. There you can set how to receive alert notifications, control the built-in speaker's music playback, and more. Emergency notifications, in particular, are handled well – a separate screen shows up on your phone informing you of the nature of the alert along with the option of calling emergency services or dismissing the warning.
As previously mentioned, the Safe & Sound is an Alexa speaker. This means you get to wirelessly listen to music, tune in to news & weather reports, or compile shopping lists and go over your calendar. Alexa also allows you to control hundreds of smart devices through applets known as Skills. Safe & Sound works well with HomeKit too and can become part of its home automation scenes.
Are There Drawbacks?
The Safe & Sound has excellent all-around features, but it is very expensive. The detector costs more than twice as much as the Nest Protect while its only edge over it is the Alexa speaker you could get separately for $30. The speaker is worse than an original Echo – its quality is lower, and you need to be close to it for Alexa to recognize commands.
Tech Specs
Dimensions: 5.6 x 5.6 x 1.8 in
Sensor: Photoelectric
Detects: Smoke, carbon monoxide
Power source: Hardwired & battery
The Pros
Loud and informative alarm
Good companion app and notifications
Has built-in Alexa speaker
Long-lasting backup battery
The Cons
Very expensive
Speaker performs worse than an Echo
4. ARIKON Smoke and Carbon Monoxide Detector Combo
View on Amazon
Editor's Rating: 4.1/5
Arikon is a new company in the world of smoke detectors that's rapidly making a name for itself with the smoke & CO detector combo! Theirs is one of the cheapest smoke detector models on review, yet it has features like a light-up LCD screen that more expensive competitors lack. The device is easy to install, informative, and effective at detecting harmful gasses.
Overview of Features
This smoke detector looks like a blend between traditional and new models like the Safe & Sound since it is both round and perforated with holes. This is the smallest device we've tested, so you can install it in cramped spaces or close to potential CO hazards like gas-powered heaters or stoves. The detector is powered by batteries and comes with a mounting bracket as well as a detailed instruction manual that speeds up the installation process.
There's an LCD display in the center of the device which expresses current CO levels in ppm or parts per million. It lights up periodically to let you know the value in darkness. There's also an LED ring around the screen that lights up every minute to signal that the detector is working as it should. It glows differently depending on the emergency when one arises.
This model's photoelectric sensor is sensitive, and the response time is quick. Each alert is accompanied by a loud beep and the flashing LED ring, so it's impossible to miss even if you're visually impaired or have trouble hearing. The detector will also beep when it's time to change the batteries, Luckily, this won't happen often as the device is energy efficient.
What We Didn't Like
The detector might start to emit a cracking sound after it's been in use for a while. This sound has no impact on its effectiveness but is annoying. While detailed, the manual that comes with the device is poorly translated and ripe with misspellings.
Tech Specs
Dimensions: 4.7 x 4.7 x 1.8 in
Sensor: Photoelectric
Detects: Smoke, carbon monoxide
Power source: Battery
The Pros
Has backlit carbon monoxide indicator
Useful indicator lights and loud siren
Straightforward installation
Affordable
The Cons
Poorly translated manual
May start making cracking sound after awhile
5. Kidde 21026043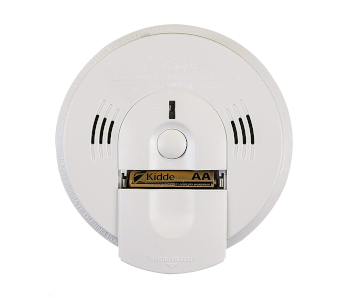 View on Amazon
Editor's Rating: 3.8/5
Do you like the voice announcements you get with high-end smoke detectors but don't want to spend hundreds of dollars for a single unit? In that case, get Kidde's 21026043! This affordable smoke & CO alarm is easy to install since it is battery-powered, announces which type of danger is detected, and beeps loudly. Combine it with photoelectric smoke detectors to have a comprehensive fire and CO alarm in place.
Overview of Features
The 21026043 is a white, puck-shaped detector that runs on batteries. Installing it involves screwing in the supplied mounting bracket, inserting two AA batteries into the detector, and sliding it into place on the wall. Since it has a conventional design, the 21026043 may fit into an existing bracket if you're replacing an old detector. The device won't snap into place unless batteries are installed correctly and will start to flash & beep once they get low.
Voice alerts are the 21026043's main selling point. You'll hear a no-nonsense voice telling you there's a fire or that elevated CO levels have been detected. Both the voice and an accompanying beep are loud enough to be heard from multiple rooms away or on a different floor.
The 21026043's CO alarm deserves special praise for its sensitivity and quick response time. Contrary to a common myth, carbon monoxide is lighter than air and diffuses throughout a room evenly. This allows the 21026043 to pick up on trace amounts of it long before the concentration is lethal regardless of where you position the detector.
What's Bad About It?
The 21026043 only has an ionization sensor for smoke detection. This makes it a good choice when dealing with the danger of fast-burning fires but also means the detector responds to smoke slower than models with dual or photoelectric sensors. It's a good thing that the 21026043 is powered by disposable batteries as it drains them quickly. Expect to need to change the batteries every 3-4 months with regular use.
Tech Specs
Dimensions: 6.8 x 6.8 x 2.2 in
Sensor: Ionization
Detects: Smoke, carbon monoxide
Power source: Batteries
The Pros
No hardwiring required
Fits into many existing wall brackets
Excellent carbon monoxide sensor
Voice commands are loud and clear
The Cons
No photoelectric sensor
Quickly drains batteries
6. Best Budget Option – Ardwolf GS528A Wireless Smoke Detector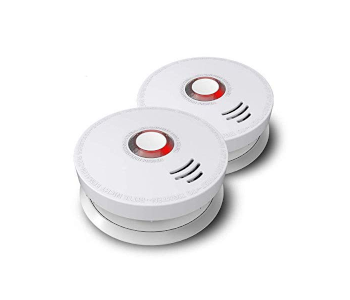 View on Amazon
Editor's Rating: 4/5
The smoke detectors we've reviewed so far all perform well, but most are too expensive to buy in bulk. Bigger homes and offices require multiple devices for optimum coverage, which is why you should turn to Ardwolf if you need to secure large spaces at reasonable prices. The GS528A smoke detector 2-pack is an excellent starting point as you get two responsive alarms for less than $25!
Overview of Features
The GS528A is a standard, no-frills smoke alarm with a photoelectric sensor. It has a generous 10-year warranty and is powered by an included 9-volt battery. A fresh battery lasts for one year, but your mileage may vary depending on how frequent the alarm is triggered. Using a 9-volt battery means that the GS528A has to be thicker than other models to accommodate it. However, the detector manages to remain compact due to its small diameter.
Like most new smoke alarms, the GS528A has an indicator LED. The red LED is bright and can be seen from an adjacent room even during the day. It also flashes every 30 seconds when it's time to replace the battery, minimizing the likelihood that the detector will stop working.
The GS528A only detects smoke, yet it does so with a photoelectric sensor whose quality is above average for the price. Even small amounts of smoke are enough to trigger the flashing LED and beeping alarm. The two devices you get in a pack don't communicate with each other, but their sirens and LEDs do well when they need to grab your attention.
Are There Drawbacks?
The batteries you get with the GS528As are garbage. They'll fizzle out in a couple of months, so it's best not to use them at all and go for a trusted brand instead. This is another model that comes with a poorly-translated manual. While using and installing the detector is straightforward, you'll have a hard time of deciphering what the manufacturer has to say if you need to consult the instructions.
Tech Specs
Dimensions: 4.6 x 4.6 x 3.3 in
Sensor: Photoelectric
Detects: Smoke
Power source: Battery
The Pros
Two capable smoke detectors for an excellent price
Loud siren and bright signal LED
Easy to install and unscrew when it's time for battery replacement
10-year warranty
The Cons
Low-quality battery
Poorly-written manual