6 Best Action Cameras for Snowboarding of 2019
3D Insider is ad supported and earns money from clicks and other ways.
Snowboarding is a thrilling sport that's as exciting for the audience as it is for the riders. Shooting snowboarders in action used to be a professional's job since suitable cameras were bulky and expensive. Now anyone can make a breathtaking montage of death-defying snowboarding stunts, provided they have the right action camera.
A capable snowboarding action camera needs to be built to withstand freezing temperatures and snow while shrugging off an inevitable tumble. It also has to have image stabilization to minimize the impact of a rough slope on viewer enjoyment. If it happens to have superb image quality and can get your adventures out into the world fast on top of that, you know you have a winner.apa
This guide showcases the best action cameras for snowboarding and skiing you can get today. They vary by price and capabilities, but all are capable of making awesome snowboarding videos you can share online with minimal touch-ups. Pick one that aligns with your budget & videography needs and turn your snowboarding skills into everlasting memories.
Budget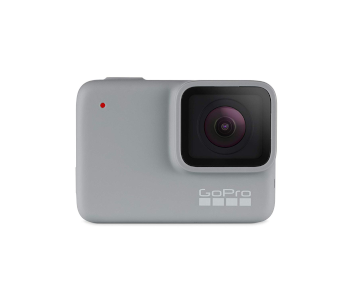 GoPro HERO7 White
4.2/5.0
Weight: 6.4 oz.
Waterproof: 33 ft.
Pleasant color palette and adequate presets.
Check Amazon
Best Value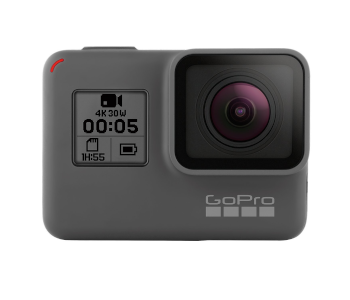 GoPro HERO5 Black
4.7/5.0
Weight: 4.2 oz.
Waterproof: 33 ft.
In-depth exposure settings and three points of view.
Check Amazon
Top Pick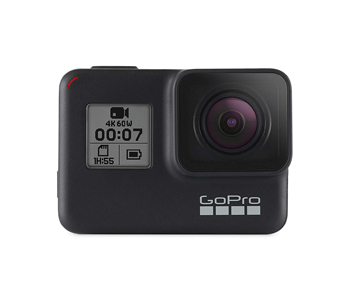 GoPro HERO7 Black
4.9/5.0
Weight: 4.2 oz.
Waterproof: 33 ft.
This has a fantastic hybrid image stabilization.
Check Amazon
Action Cameras for Snowboarding Comparison Table
1. Best Overall – GoPro HERO7 Black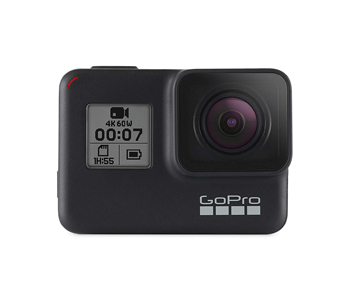 View on Amazon
Editor's Rating: 4.9/5
GoPro makes the best action cameras in the world, and the HERO7 Black stands as the company's crowning achievement. It features the most advanced image stabilization technology on the market, shoots at impressive resolutions & framerates, and comes with new social media sharing options. All of these mean your snowboarding adventures will be recorded in crystal clarity with movie-grade smoothness and be ready for upload once you're back at the lodge.
Overview of Features
Appearance-wise, the newest HERO Black is identical to its two predecessors. It's built to last and will still work even if it comes loose during a demanding trick. You don't need a housing to take the HERO7 Black snowboarding as it is waterproof up to 33 feet on its own. The camera uses the same mounting method as its predecessors. That means you can take advantage of the wide variety of mounts and other accessories compatible with past models to position it either on your board or suit & helmet. That flexibility lets you experiment with points of view and come up with amazing shots.
Industry-leading image stabilization is by far the best reason to get the HERO7 Black. The latest Black model features HyperSmooth, a technology which combines internal stabilization hardware with GoPro's already impressive software. The result are the smoothest rides you'll ever record regardless of how rough the slope is. HyperSmooth completely replaces the need for a gimbal and gives footage that would otherwise be unusable a professional look.
The Black's impressive hardware is backed up by an equally sophisticated software package. You'll find that it's easy to control the camera either with verbal commands or by using the touchscreen which is responsive enough that gloves aren't a problem. It connects to Wi-Fi as well, so you could have a friend record and monitor its feed while you concentrate on your mule kicks and wildcats.
It's now much easier to share your adventures too! On the one hand, there's automatic uploading to YouTube and Instagram. On the other, you can set up a live feed and stream to your followers on Facebook! That may be tricky to pull off on your own as these features dare accessed from the GoPro app, but bring a friend along and it will work just fine.
What We Didn't Like
We were hoping that GoPro would upgrade the HERO7 Black's battery, but it wasn't meant to be. You're stuck with the same 1,200mAh Li-ion battery the older generations had. Expect to record for an hour straight, less if you're shooting at the camera's maximum resolution of 4k at 60fps. Voice commands didn't improve much either. The GoPro will respond to them half the time in ideal conditions and even less as you're running down a windy hill.
Tech Specs
Dimensions: 1.8 x 2.4 x 1.3 in.
Weight: 4.2 oz.
Waterproof: 33 ft.
Screen diameter: 2.4 in.
Lens angle: 170°
Max resolution: 4K, 60fps
Still resolution: 12MP
Battery life: 60 minutes
The Pros
Fantastic hybrid image stabilization
Excellent video quality
Advanced social media sharing
Rugged and waterproof
The Cons
Short battery life
Unresponsive voice commands
2. Best Value – GoPro HERO5 Black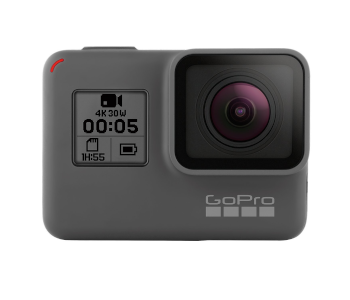 View on Amazon
Editor's Rating: 4.7/5
The 5th-edition GoPro HERO Black is three years old, and two new generations have been released in the meantime. Why would you want one? Because now that it is considerably cheaper, the HERO5 offers the best bang for your buck. It has the same design as the newest model and software image stabilization that turns shaky footage into smooth rides. The HERO5 Black is also the first camera to feature editing software that makes putting together presentable videos a snap.
Overview of Features
Design-wise, the HERO5 Black is a big step up from the previous generation. It doesn't need a waterproof housing, is tough as nails, and finally has a touchscreen. There's also a small info screen on the front which shows the current shooting mode along with battery life & remaining SD card space. The 2-inch touchscreen is its most welcome addition as you can now review footage or change video modes without reaching for your phone.
The HERO5 Black has a maximum resolution of 4K at 30fps. Its 170-degree wide-angle lens allows it to capture the entire breathtaking vista in front of you as you're barreling down the slope. You can now switch to Linear mode as well. This mode trims the GoPro's trademark fisheye view, leaving you with a video that's cropped but free from distortion. The GoPro does an excellent job of figuring out which aperture and ISO settings to use, but you can tinker with these yourself if you know
how.
The HERO5 Black is a beast when it comes to video editing. GoPro has streamlined the editing experience with two apps – Quik and Splice. Quik is your go-to app for automated editing. It makes cuts from recorded footage and arranges them in a tasteful way complete with transitions and background music. Splice is a more hands-on editing tool but only available to Apple users.
What's Bad About It?
The GoPro HERO 5 Black was the first to come with the 1,200mAh battery that's still in use today. However, you'll get more out of it with this version of the camera since there are no moving parts and the chip is less power-hungry. Still, you shouldn't expect more than 70 minutes of uptime. The first iteration of the touchscreen responds poorly when operated with wet fingers. That means you might have trouble using it while wearing gloves.
Tech Specs
Dimensions: 1.8 x 2.4 x 1.3 in.
Weight: 4.2 oz.
Waterproof: 33 ft.
Screen diameter: 2.4 in.
Lens angle: 170°
Max resolution: 4K, 30fps
Still resolution: 12MP
Battery life: 70 minutes
The Pros
Excellent value for the money
Improved waterproof design
In-depth exposure settings and three points of view
Streamlined video editing software
The Cons
Mediocre battery
Touchscreen doesn't respond well to wet fingers
3. DJI Osmo Action Cam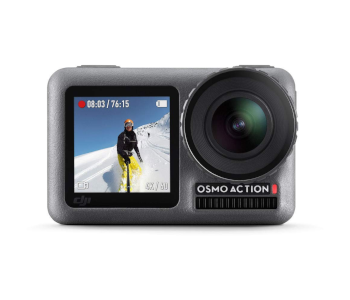 View on Amazon
Editor's Rating: 4.6/5
Are your videos as much about you as they are about your rides? DJI's Osmo Action Camera will make sure you look as good as the tricks you pull off thanks to its front screen. The camera has proprietary image stabilization on par with that of the HERO7 Black as well as better battery life. It even costs less. If you don't mind the lackluster app, this is the best alternative to our winner you can get.
Overview of Features
DJI managed to nail the Action Cam's design on the first try! Its standout feature is the 1.4-inch front LCD screen you can quickly switch to by double-tapping the rear one. It lets you take selfies and have more control over how videos with you at the center look. The camera has a sturdy metal casing with rubberized grips, so it's comfortable to hold. You'll want to mount it for snowboarding though, which is why it's great that the camera is compatible with GoPro mounts.
The camera boasts an impressive array of resolutions ranging from 720p to 4K at 60fps. You can set the aspect ratio to 4:3 for each if you want to get rid of the fisheye effect the 145-degree lens produces. You get four neutral density filters which limit the lens' exposure to sunlight. They're perfect for handling the combined glare of snow and sunshine and let you make balanced videos without having to get creative in post-processing. If you don't mind losing image stabilization, you can also turn on HDR for better color balance and softer shadows.
DJI has a lot of experience with image stabilization on their drone cameras, so it's no surprise that it works flawlessly on the Action Cam. The stabilization is called RockSteady and uses proprietary software to pull off impressive smoothing.
You'll love the Action Cam's custom menu system if you switch settings frequently. This menu lets you create custom video profiles and quickly access them with a few swipes. That way you could instantly change from a stabilized 4K video in 4:3 to a 16:9 slow-motion mode that shows how much air you're getting in FullHD at 120fps.
Are There Drawbacks?
Surprisingly, the Osmo Action Cam doesn't have social media sharing options like the GoPro. You can neither live stream from it nor upload videos to your social media accounts without using the app. Speaking of which, DJI's app is its second weak point. It takes multiple tries to pair to your phone regardless of its operating system and doesn't let you download some video formats. The Osmo Action Cam has only been out for a few months, though, so this problem can still be fixed.
Tech Specs
Dimensions: 1.7 x 2.6 x 1.4 in.
Weight: 6 oz.
Waterproof: 36 ft.
Screen diameter: 2.25 in.
Lens angle: 145°
Max resolution: 4K, 30fps
Still resolution: 12MP
Battery life: 90 minutes
The Pros
Great image stabilization
Second color LCD screen
Custom menu options
Easy to handle even when wearing gloves
The Cons
Poor social media sharing
App suffers from pairing issues
4. Olympus TG-Tracker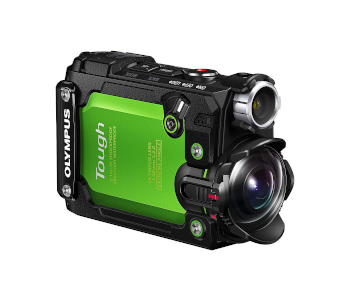 View on Amazon
Editor's Rating: 4.4/5
All the action cameras we've reviewed so far will produce spectacular snowboarding videos but won't t tell you much about them. The TG-Tracker is an innovative action camera from Olympus jam-packed with sensors that allow it to create log files along with videos. These include important info like your GPS position, changes in elevation, and speed. The camera has a flip-out screen, is easy to control while wearing gloves, and has a well-designed app.
Overview of Features
The TG-Tracker is the most unorthodox-looking camera on review. It has bright green sides that make it easier to locate in the snow and a 1.5-inch screen that flips out and makes it look like a camcorder. The screen isn't touch-operated and can't be rotated, but the TG-Tracker's physical controls are easy to reach and respond well when handled in gloves. This camera is also one of the most rugged as it is waterproof down to 100 feet and won't crack if you put 200 pounds of weight on it.
Footage shot with the TG-Tracker looks sharp and colorful. The white balance is spot on, and the camera adjusts quickly when transitioning from light to shadow. The TG-Tracker has a backscatter illumination CMOS sensor that captures more light than the standard CMOS equivalent. That along with a built-in flashlight ensures you can record when lighting conditions aren't ideal.
You'll get the smoothest experience when shooting at 1080p, 60fps, but the TG-Tracker is capable of 4K at 30fps like the GoPro HERO5 Black. Slow-motion is available yet limited to 720p and 480p. You can turn on five-axis image stabilization, but it does a worse job than our value pick.
You can choose between shooting videos in Normal and Log modes. The latter makes use of the TG-Tracker's GPS and an array of sensors to provide accompanying data on the route you traveled, elevation changes, the temperature, and more. You may overlay this data on top of the recording or export it separately. The TG-Tracker is able to share your videos on social media, but you'll need to install a separate app for that.
What We Didn't Like
While starting and stopping to record is easy, the TG-Tracker's menu system is confusing. Its lens has a super-wide viewing angle with heavy barrel distortion. It's likely your arms will be visible, especially when you move them to change a setting. You can reduce the field of view, but getting to that setting isn't straightforward.
Tech Specs
Dimensions: 3.7 x 1.4 x 2.2 in.
Weight: 6.4 oz.
Waterproof: 100 ft.
Screen diameter: 1.5 in.
Lens angle: 205°
Max resolution: 4K, 30fps
Still resolution: 8MP
Battery life: 95 minutes
The Pros
Enhanced videos with telemetry & sensor data
Flip-out screen
Rugged build
Great image quality and low-light performance
The Cons
Confusing menu system
Wide lens angle causes pronounced barrel distortion
5. Yi 4K+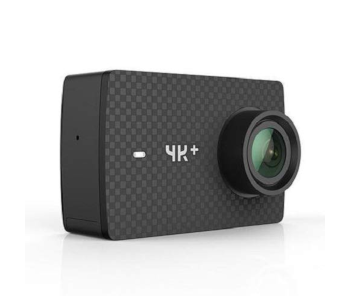 View on Amazon
Editor's Rating: 4.2/5
The Yi 4K+ is the world's first action cam to feature 4K at 60 frames per second. Its video quality is better than that of the HERO5 black, and it's cheaper than the Black's sixth iteration. Premium features like a responsive touchscreen and voice commands are present too. It is a fantastic action camera on paper, but a few crucial shortcomings make it less suited for snowboarding.
Overview of Features
The 4K+ resembles a GoPro but is both smaller and lighter. It has a 2.2-inch touchscreen and a single multifunction button complete with an on indicator LED. You can attach an external microphone thanks to a USB-C to 3.5mm converter and watch your runs on other devices through Micro HDMI. A 1,200mAh replaceable battery powers the camera and lets it shoot for 70 minutes on a full charge.
While not as stable, the videos captured with the Yi4K+ rival GoPro's current flagship model in quality! 4K looks sharp and balanced while lesser resolutions and high framerates make for buttery-smooth viewing. Color accuracy is particularly noteworthy, so your suit and board are sure to pop. You can fiddle with exposure and color settings or let the camera handle the specifics. Yi 4K+ supports different color profiles, including flatline which serves as the best baseline for post.
Live video streaming is another feature pioneered by Yi. You can reach out to your YouTube and Facebook followers with a few taps, provided you're within Wi-Fi range. The camera supports both 2.4 and 5GHz Wi-Fi. You initiate live streams through the Yi app, which is impressive in general. The app lets you upload or transfer footage as well as apply filters and fun effects.
What's Bad About It?
Given its impressive specs, why is the Yi 4k+ not our value pick? Because the camera isn't waterproof on its own. You'll need to buy a separate housing if you want to use it on the slopes. Sound quality is another issue – the built-in microphone is poorly made and not suitable for windy conditions. Shooting with a housing makes it even worse.
Tech Specs
Dimensions: 2.6 x 0.8 x 1.6in.
Weight: 3.2 oz.
Waterproof: 33 ft.
Screen diameter: 2.2 in.
Lens angle: 155°
Max resolution: 4K, 60fps
Still resolution: 12MP
Battery life: 70 minutes
The Pros
High resolutions and frame rates with excellent video quality
Intuitive and versatile companion app
Easy to control
Good value for the money
The Cons
Isn't waterproof
Bad sound quality
6. Best Budget Option – GoPro HERO7 White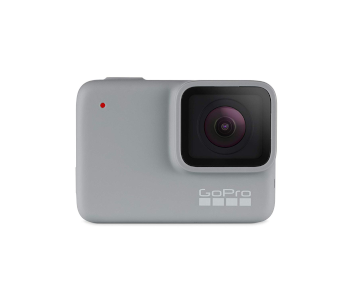 View on Amazon
Editor's Rating: 4.2/5
Do you just want to stomp your backflips and have them look great on camera? In that case, GoPro's most basic action cam is also the best one you can get! The GoPro HERO7 White is a stripped-down version of the Black with fewer controls and video modes. In spite of this, it's an action camera that delivers high-quality videos every time.
Overview of Features
The differences in build quality between the Black & White are minimal. Most notable are the absence of the frontal info screen and a lighter shade of grey. The info screen has been replaced with a red LED that glows when the camera is recording. Waterproofing is on par with the HERO7 Black, meaning you don't have to worry about snow or moisture.
Limited resolution and framerate options are the biggest drawback to the White's performance. Its default video mode is 1080p at 60fps which can be upped to 1440p at 30fps. However, this does not mean that video quality is worse! We were pleasantly surprised by the White's ability to meticulously render trees in the distance as well as board tracks on the slope. You don't get filters with it, but you won't need them either since the White handles excess glare and sunlight well. Its color profile is on the warmer side which helps to eliminate excess blues when you hit a shadowy part of the track.
Point and shoot is at the heart of the White's user experience philosophy. Its touchscreen offers minimal controls but lets you quickly switch between recording video, making time-lapses, or snapping 10MP stills. Slow-motion is supported too, yet limited by the camera's low framerate to 2x. The app is similarly restricted, but the editing features you get with Quik remain unchanged.
Are There Drawbacks?
The GoPro HERO7 White has an excellent runtime, but its battery can't be removed. That means you'll have to plan what to shoot during a busy day snowboarding to not run out of juice at a crucial moment. Only the Wide field of view is supported, so you won't be able to crop the picture.
Tech Specs
Dimensions: 1.8 x 2.4 x 1.1 in.
Weight: 6.4 oz.
Waterproof: 33 ft.
Screen diameter: 2.4 in.
Lens angle: 170°
Max resolution: 1080p, 60fps
Still resolution: 10MP
Battery life: 90 minutes
The Pros
GoPro HERO Black-level build quality at a fraction of the price
Beginner-friendly controls
Pleasant color palette and adequate presets
Voice commands
The Cons
Fixed battery
No SuperWide and Linear modes