5 Best Solar-Powered Security Cameras in 2019
3D Insider is ad supported and earns money from clicks and other ways.
Keeping track of too many things all at the same time can be quite a headache, so we are quite relieved that home security is less of a problem nowadays with the wide range of security cameras in the market. There are now security cameras of all shapes and sizes, with advanced communication features, and even fake ones!
In this article, we put the focus on solar-powered security cameras. The stalwarts of outdoor security, solar-powered security cameras offer a unique combination of reliability and ruggedness, on top of excellent all-around video recording capabilities. Why should you get a solar-powered security camera? And what are the best models in the market this 2019?
Why get a solar-powered security camera? Pros and cons
Solar-power security cameras, by their basic nature, are made to be used outdoors. If you need a security system that spans a large tract of land, then going solar-powered is a practical move. What are the features of solar-powered cameras that set them apart from all other security cameras?
1. No need to change batteries
When you set up a system of security cameras outside, you won't always have the luxury of being able to tap it into a nearby power line – that is, unless you're willing to lay down hundreds of feet of electrical power cables. While a simple battery-powered camera might seem like a viable solution to this problem, most security cameras have batteries that last only a couple of weeks at best.
If you don't want the hassle of constantly checking up on your security cameras to change batteries, then a solar-powered camera is your best bet. It doesn't even have to be a large piece of land – a solar-powered camera can also be a worry-free option for keeping your front yard secure.
2. Made for outdoor conditions
Since they are made for the outdoors, solar-powered security cameras are uniquely suited to withstand outside conditions. At the bare minimum, they are built with substantial water-resistance. Some models can also be dust-proof, treated with UV protection, or come with a canopy that allows that camera to capture clear videos even while it's raining.
If you're considering leaving your solar-powered cameras without having to check up on them for long periods of time, then we recommend getting the most rugged model you can find. You never know what could happen right there, and there's a chance that you could lose some of the footage if your camera doesn't have cloud storage capabilities.
3. Start recording only when motion is detected
Since solar-powered cameras run on batteries, any measure that conserves power can greatly enhance the reliability of the camera. For this reason, virtually all security cameras have motion detectors and have an option to only start recording when the motion detector gets triggered. Not only does this conserve power, but also saves up on equally valuable storage space.
4. Environmentally friendly
It's a small step but powering your security system via renewable energy is still a step in the right direction towards decreasing your carbon footprint. By reducing your dependence on the local power grid, you also reduce your dependence on non-sustainable energy sources. That is, unless, your grid is already powered by renewable energy, in which case, great for you!
Even considering all these benefits, there are still a couple of drawbacks to installing a solar-powered security camera that you need to keep in mind before you decide to go this route.
1. Expensive
This is a problem that continues to besiege any form of renewable energy – it can be so much more expensive. In the case of solar-powered security cameras, having solar panels in these systems can really drive up the price of the camera compared to more traditional, wired alternatives.
2. Needs to be cleaned
Just because the battery of your camera automatically recharges via the solar panel doesn't mean that you won't be doing any work maintaining it. Solar panels are notorious for suffering a massive drop in efficiency when a surface of dust, dirt, snow, or moisture accumulates on its surface. If visible light can't pass through to the photovoltaic cells of your panel, then your camera will probably be dead in a few hours.
3. May fail in inclement weather
The cameras and solar panels may be able to withstand heavy rains but having extended periods of rain will mean that your camera's battery will not be recharged by the sun. You could unwittingly miss out on some critical footage when this happens without your knowledge. Swapping out batteries may be an option in some models, but not all solar-powered security cameras offer this provision.
4. Can be easily stolen
Two things make solar-powered security cameras exceptionally attractive to thieves: they are expensive, and they are not tethered down by a power cable. Thus, you could be on your usual rounds only to find that your camera and solar panel have been stolen. Even worse, you might have no footage of the theft if your camera has no cloud storage capabilities.
The top 5 best solar-powered security cameras in 2019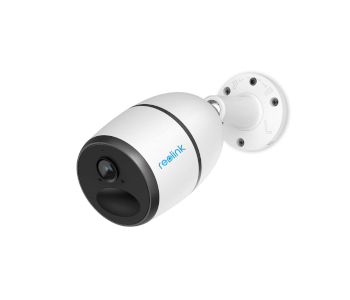 Our pick for the best overall solar-powered security camera is the Mobile Cellular Security Camera from REOLINK. Chock full of features, this is a security camera that you can install practically anywhere and still maximize everything that it has to offer. It's very pricey, though, which is a fact that bears mentioning early on.
The main reason why we chose this camera for our best pick is its support for 4G-LTE and 3G-GSM connectivity. This means that the camera can get a data connection even when it's out in an area with no Wi-Fi. This is a huge game-changer, as we've become used to relying solely on local storage when installing security cameras in exceptionally remote areas. With this feature alone, the REOLINK Cellular Security Camera is placed at the top in terms of reliability.
The camera itself is top-notch – 1080p Full HD recording, up to 33 feet of night vision, a 110-degree field of vision, and 2-inch CMOS sensor. The sensitivity of the passive infrared (PIR) sensor can be adjusted so that the motion detector doesn't get triggered by small animals such as rats or birds.
Even with the mobile connection providing perpetual access to cloud storage, the REOLINK Cellular Security Cameras still offers support for local storage on a microSD card. Aside from being able to remotely monitor live footage, the camera also has a two-way communication feature. If your camera is under threat of theft, then a sound suddenly emanating out of it might be enough to dispel the thieves.
We've already mentioned that this security camera is one of the more expensive options. The bad news is that it doesn't stop there. The REOLINK Cellular Security Camera doesn't come with a solar panel and a power adapter – you'll need to buy those separately.
If you have the budget, then you are not going to go wrong with this solar-powered security camera. However, if the price is a bit too steep for you, then check out our more pocket-friendly entries below.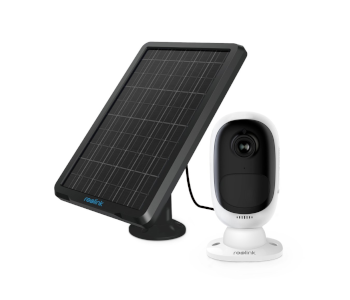 Going the solar-powered route doesn't have to cost a fortune. This is best exemplified by this 2-in-1 bundle from REOLINK that includes a standalone solar panel and a security camera at a friendly price. Except for the wired connection between the solar panel and the camera, the setup requires no other wiring, making it very easy to install with an innovative magnetic mount system.
Despite the affordable price tag, the security camera under this bundle has all the great features we have come to expect from the REOLINK brand. It can capture footage at 1080p Full HD resolution, has night vision up to 33 feet, an extra-wide 130-degree viewing angle, can be accessed remotely via the mobile app by up to 10 users at the same time. If there's a clip that you'd like to download, you can do so directly to your mobile device via the app.
The camera also has a two-way communication feature, supports both local storage to a microSD card and storage to the REOLINK cloud, and instant app push notifications.
The biggest limitation of this REOLINK camera bundle is that it requires a Wi-Fi connection to connect to the cloud, and even then, it only supports the 2.4GHz band. With no option for 4G connectivity, you either have to install it near a Wi-Fi router or make do with local SD card storage.
Still, we like how this bundle comes with everything you need to install a working solar-powered security camera setup. For just around $120, the REOLINK Argus is a steal.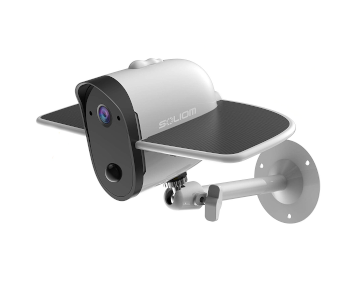 The SOLIOM solar-powered security camera already wins a few points on the design alone. With a solar panel that's integrated with the body of the camera itself, the SOLIOM camera looks more coherent and requires much less installation. Although it also means that the camera will need to be exposed fully to the elements for the panels to receive sunlight, the camera's IP66-rated weatherproofing should keep it safe enough.
The SOLIOM security camera is compatible with a 2.4GHz Wi-Fi network which will allow it to stream videos real-time and to push notifications to your phone if its alarm gets triggered. To reduce power consumption and to lessen the number of unnecessary alerts you receive on your phone, the camera's PIR sensor has fully adjustable sensitivity and detection range.
Through the SOLIOM mobile app, you can save up to 20 recorded videos for free on the cloud. The camera also has a microSD card slot for local storage.
SOLIOM recommends that the solar panels receive between 3 to 5 hours of direct sunlight per day for the battery to remain fully charged. Should there be extended inclement weather, you also have the option to charge the camera's battery via USB cable.
The SOLIOM does a lot of things well and has an interesting design to boot. It's not the cheapest solar-powered security camera there is, but it's one of the best considering its price.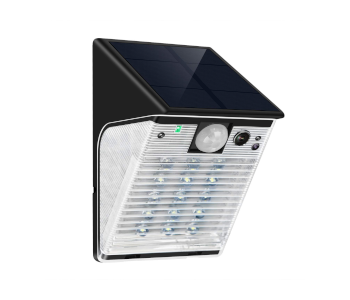 For the ultimate theft deterrent, this solar-powered security camera from ENSTER doesn't just start recording footage, but also shines an ultra-bright floodlight when it detects any motion. The solar panel is built right into the top surface of the camera, which means you can install it with a couple of 3M mounting strips or some screws.
Despite the addition of a powerful floodlight, the camera of the ENSTER still perform almost as well as the other security cameras in this list. It can record 1080p Full HD video, works with 2.4 GHz Wi-Fi networks, supports both cloud storage and local storage, delivers real-time video to your mobile phone, and has an adjustable PIR sensitivity. To top it all off, it has been built with a waterproof IP65 rating.
If you tend to get a lot of people moving around your property at night, then this security camera and floodlight combination is the perfect choice. It's also cheaper than most solar-powered security cameras, which is quite surprising given the value it offers.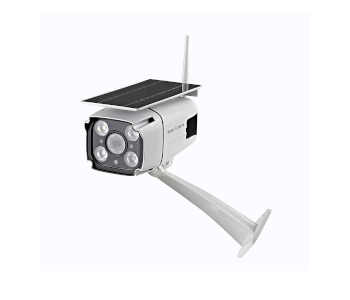 Rounding up the list is this affordable solar-powered camera from EVERSECU that has managed to receive a lot of favorable customer reviews despite the modest price tag. The solar panel for the camera is built into its top surface, effectively acting as a canopy for the camera. According to the manufacturer, the solar panel only needs to receive 30 minutes of direct sunlight per day to fully charge the camera – quite an impressive figure.
One more thing we like about the design of this camera is that the solar panel can be detached from the body of the camera and placed at a spot where it will receive more daylight. This is a nifty feature that helps make this camera more versatile in terms of where it can be installed.
Aside from the minimalist and streamlined design, the camera offers just about any feature expected of a security camera. It supports local storage on a microSD card, provides real-time video streaming to your mobile phone, has one-way audio, and wide-angle adjustable PIR sensor. Not being able to speak into the camera makes this camera a bit less fun, but at least you still get to see and hear everything near the camera. It even has an inductive streetlight that turns on when the PIR sensor detects any motion at night.
The EVERSECU solar-powered security camera is proof that you don't necessarily need to look at the big brands only to find a high-quality product. With such a low price tag, this solar-powered security camera is clearly punching way above its weight class.
Final thoughts
Solar-powered security cameras are the ultimate technology for outdoor security. They don't need their batteries to be replaced or have long power cables. They are also built to last, even when under outdoor conditions.
If you're thinking of installing a security camera at your front yard, at an outdoor parking space, or around a farm, we highly recommend going for a solar-powered model. Nothing beats the convenience and reliability of using solar power. The technology also isn't so expensive nowadays, either.