6 Best Solar Powered Watches of 2019
3D Insider is ad supported and earns money from clicks, commissions from sales, and other ways.
A watch is the best piece of jewelry for people who want to express their personality. Some are rugged and designed to provide other useful data on top of telling time. Others demonstrate your good taste and knowledge of the finer things in life. Whichever watch you prefer, there's nothing worse than having to keep replacing the battery or constantly remembering to rewind it.
That's why you need a solar watch! Timepieces powered by the sun won't let you down; they have batteries that store a charge for months and are as accurate as other models in their respective price ranges. By getting such a watch, you're becoming more independent, lessening your impact on the environment, and setting a trend others will want to follow.
In this article, we showcase the six best solar powered watches you can buy today. From sophisticated chronographs through diver's watches to tactical timepieces, there's a sun-fueled model for any watch enthusiast to consider. Find the one you like the most and expand your collection with a unique blend of art and eco-friendly technology.
Budget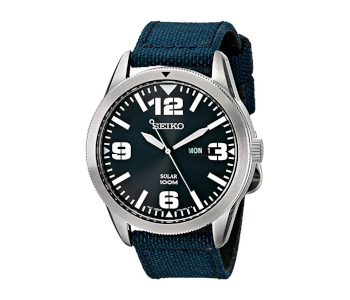 Seiko SNE329
3.9/5.0
Water-resistant down to: 330 feet
Movement: Seiko V157
Easy to check time regardless of light.
Check Amazon
Best Value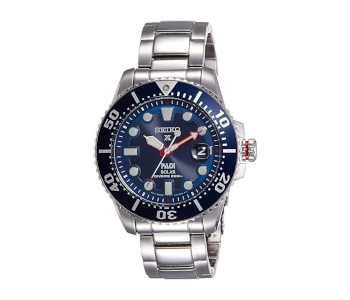 Seiko Prospex Padi Solar SNE435P1
4.6/5.0
Water-resistant down to: 660 feet
Movement: Seiko V157
PADI-certified and can be worn over wetsuits.
Check Amazon
Top Pick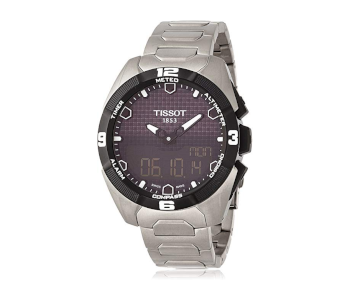 Tissot T-Touch Expert Solar
4.7/5.0
Water-resistant down to: 330 feet
Movement: ETA E84.301
Intuitive touchscreen and lots of extra features.
Check Amazon
Solar Powered Watches Comparison Table
1. Best Overall – Tissot T-Touch Expert Solar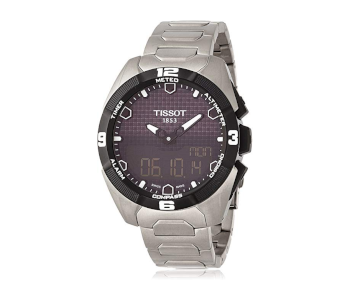 View on Amazon
Editor's Rating: 4.7/5
The T-Touch line of Tissot's high-end quartz watches has been going strong since 1999. Expert Solar is the company's crowning achievement, boasting a diverse set of features, a limitless power supply, and a timeless aesthetic. The watch seamlessly blends tradition with the newest advancements and is much more than just a fashionable piece of men's jewelry.
Overview of Features
The first thing you'll notice about the expert Solar is its large size. Men with thin wrists might find the watch too big, but it had to be to fit the plethora of features while ensuring everything is legible. Tissot did a great job at this since everything from the compass on the watch's bezel through the numbers and LED screen is viewable at a glance.
The case is made from titanium, while the face is covered with touch-sensitive sapphire crystal. There are points underneath specific numbers you can press to activate twenty of the Expert Solar's additional functions. These include an altimeter, compass, chronograph, timer, and more. The touch function isn't active until you press a button on the side of the watch. Doing so lets you access each feature while pressing the plus and minus buttons cycles between options once you've made your choice.
Different functions use either the LED screen or the Expert Solar's dials. For example, turning the compass on turns the hands into a compass needle! They move with speed and precision to match your orientation in a way that's sure to impress anyone watching. Other features like the calendar appear briefly on the screen before it assumes its default display. You can simultaneously keep track of two time zones. One will be displayed on the screen while hands take care of the other.
What We Didn't Like
The compass is unreliable. You need the hold the watch to line up with the horizon for accurate results, but it doesn't have a level to ensure you're positioning it correctly. You'll need to adjust the altimeter before using it each time as changes in pressure affect its accuracy.
Tech Specs
Weight: 4.34 oz.
Type: Analog and digital
Case diameter: 1.77 in.
Case material: Titanium
Dial window material: Sapphire crystal
Band Material: Titanium
Movement: ETA E84.301
Water-resistant down to: 330 feet
The Pros
Intuitive touchscreen
Lots of extra features
Premium build and feel
Excellent readability
The Cons
Delicate compass
Altimeter requires frequent recalibrating
2. Best Value – Seiko Prospex Padi Solar SNE435P1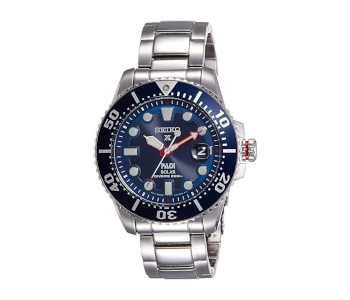 View on Amazon
Editor's Rating: 4.6/5
Diving watches are an integral part of many people's underwater adventures. If you're one of them, what could be better than a watch certified by the Professional Association of Diving Instructors? One that also leaves an impression in the office, of course. Seiko's Prospex Padi Solar SNE435P1 is a competent diving watch, an accomplished dresser, and an inexpensive purchase to boot.
Overview of Features
The Prospex Padi Solar SNE435P1 is a collaboration diving watch. Its PADI endorsement is evident in the vivid blue & red color scheme while Seiko's touch is unmistaken once you examine its build. The hands are particularly interesting since they have a distinct Seiko look while hiding several intelligent features. They're coated in a fluorescent material that shines brightly in the dark after a few minutes in the sunlight. They also refract light so that it powers Seiko's V157 solar movement.
The melding of a quartz movement with solar power is a resounding success. On the one hand, it is accurate yet inexpensive since no mechanical parts are involved. On the other, the battery is quick to charge up and lasts for ten months before needing a refill. That means you can keep the SNE435P1 in a drawer until diving season comes along again and still make use of it right away.
As befits a dive watch, the Prospex Padi Solar SNE435P1 is water-resistant to 660 feet thanks to a stainless steel case and crown that screws down for extra tightness. There's also an aluminum bezel divided into six segments you can use to track diving times.
The wristband is made from stainless steel too and has a secure three-point clasp. You can even wear it over a wetsuit since a diver's extension is included. The dial window is another component geared towards diving. It's made from Hardlex instead of sapphire crystal. While Hardlex isn't as clear and is less scratch-resistant, it cracks on impact rather than shattering.
What's Bad About It?
The Prospex Padi Solar SNE435P1 has a thickness of 0.45 inches. That makes it bulky and might cause the watch to snag on shirts. The bezel tends to move a step or two on its own once you align it to the 12'o clock position. This issue becomes even worse when the watch gets wet since the bezel becomes easier to rotate.
Tech Specs
Weight: 5.9 oz.
Type: Analog
Case diameter: 1.71 in.
Case material: Stainless steel, aluminum bezel
Dial window material: Hardlex
Band Material: Stainless steel
Movement: Seiko V157
Water-resistant down to: 660 feet
The Pros
Excellent diver watch for a reasonable price
PADI-certified
Can be worn over wetsuits
Superb water resistance
The Cons
Loose bezel
Thickness may cause it to snag on clothes
3. Casio G-Shock G-Steel GSTB100XA-1A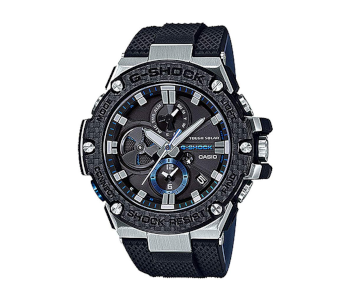 View on Amazon
Editor's Rating: 4.5/5
Do you often dress to impress, but need a watch that can take scratches or impacts in stride? In that case, look no further than Casio's G-Steel GSTB100XA-1A. Part of the venerable G-Shock series, this watch can take a beating and still look gorgeous. It's keeping up with the times, too, since there's a simple yet indispensable companion app that makes this watch more versatile and easier to use.
Overview of Features
The GSTB100XA-1A impresses with its blend of universal appeal and superior build quality. Its rugged lines and dark color palette enhance the watch's rugged appearance, as does a unique carbon fiber bezel. In spite of its size and intricate face, the GSTB100XA-1A remains a thoroughly wearable watch. It's not as sports-driven as other models in the G-Shock series. However, the GSTB100XA-1A is in its element both in a boardroom and on a court.
You don't need to worry about damaging the GSTB100XA-1A as it is impervious to shock, dust, and scratches. The GSTB100XA-1A is powered by a solar battery that keeps the watch ticking for close to two years on a full charge. It starts to recharge with minimal sun exposure and can even draw power from fluorescent light, so keeping the GSTB100XA-1A in top form should never be a problem.
The Casio app is one of the GSTB100XA-1A's highlights. It is cleverly understated yet useful since the goal is to enhance the watch's time-telling aspects, not add smart functionality to it. You may use the app to set the world time based on 300 cities, activate a timer, or set the alarm. You could do everything the app does on the GSTB100XA-1A itself, but tapping on your phone's screen a few times instead of fiddling with its crown is much more satisfactory.
What We Didn't Like
Casio advertises the GSTB100XA-1A as being water-resistant to a depth of 660 feet. You don't want to put that claim to the test, though. The watch face and case are held together by four thin screws that may start to leak under a lot of pressure. The watch is on the heavier side and has a diameter of 2.1 inches, which might make it too big for some men.
Tech Specs
Weight: 8 oz.
Type: Analog, Bluetooth-enabled
Case diameter: 2.12 in.
Case material: Stainless steel, carbon bezel
Dial window material: Sapphire crystal
Band Material: Resin
Movement: Quartz
Water-resistant down to: 660 feet
The Pros
Looks great for both sports and business wear
Tough exterior
Long-lasting battery
Simple yet functional app
The Cons
Large size
Not as water-resistant as advertised
4. Casio Pathfinder PAG240-1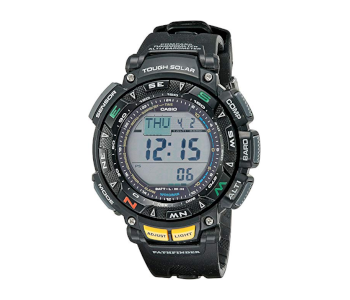 View on Amazon
Editor's Rating: 4.3/5
So far, we've discussed solar watches for casual wear and diving, but what if you need one for hikes and camping trips? Casio's Pathfinder series offers a variety of watches for nature lovers, and the PAG240-1 is the most accessible model. It has an ingenious dual-layer LCD screen that superimposes different information on top of the main screen. Add a host of measurements plus a killer backlight, and you've got one of the best survival watches around at a fantastic price.
Overview of Features
The PAG240-1 isn't a watch you'll be wearing to formal dinners, which is a small price to pay since it might end up saving your life. Its case and screen are made from high-quality plastic that resists scratches and makes this watch the lightest one on review. Six buttons surround the watch face, all of them prominent and easy to press while wearing gloves. The resin strap is flexible and has enough holes to fit men of any wrist size comfortably.
The number of features Casio managed to pack inside this watch is impressive. You've got an altimeter, barometer, compass, and temperature sensor. On top of that, there are standard watch features like a chronograph, timers, and alarms. Turning the chronograph on makes the current time display smaller so you can view both at the same time.
There's a separate screen in the top left corner of the display. It provides additional numerical information but also acts like a graph that displays up to 40 historical readings for the barometer and altimeter. This comes in handy when you're tracking elevation changes or want to use changes in barometric pressure to get a rough weather forecast.
The duplex screen is this watch's greatest feature. It consists of two layers; a regular display, and one on top of it that comes on when needed. The overlay shows informative arrows that behave differently based on mode. They'll turn into a compass needle, can mark multiple world times, and tell you when the sun will set or rise.
The PAG240-1 has a solar battery charged by tiny cells positioned in a circle on the watch face edge. The battery powers the watch for six months when full and takes little ambient light to start charging. You'll run out of juice faster if you use the excellent backlight, though. It colors the face a bright green that's visible in sunlight or glare. You can activate the backlight by pressing the corresponding button or raise your arm in dim light for automatic activation.
Are There Drawbacks?
The face has a spinning bezel with compass directions. It's flimsy, dirt can easily get in, and the bezel might eventually come off if you rotate it often. The PAG240-1 is a bulky watch, even more so than Seiko's diver model. It may snag even on loose-fitting shirts, so it's a hassle to wear the watch during cold months.
Tech Specs
Weight: 2.3 oz.
Type: Digital
Case diameter: 1.99 in.
Case material: Plastic resin
Dial window material: Plastic
Band Material: Resin
Water-resistant down to: 330 feet
The Pros
Versatile set of time and survival features
Dual-layer screen
Strong backlight
Rugged build
The Cons
Compass dial is prone to coming off
Bulky
5. Citizen BM8180-03E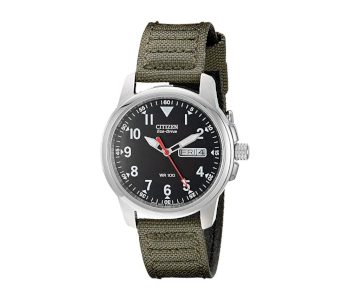 View on Amazon
Editor's Rating: 4.1/5
Do you want a tactical solar watch with a pleasing aesthetic? Citizen's BM8180-03E will get you through the field as well as conversations by the watercooler. It's a no-nonsense timepiece with few bells & whistles, but that makes it all the more appealing to the fashion-conscious minimalist. The watch has an eco-friendly movement that saves power and keeps it running for months on end. Best of all, its price is more than reasonable.
Overview of Features
The BM8180-03E rocks a tactical look you'll love if you're into watches that are understated yet clearly well-made. Unlike most watches we've discussed, it has a small case diameter and is only 0.4 inches thick. That lets you wear the BM8180-03E under tight-fitting shirts and quickly tuck it away to prevent reflections. The stainless steel case is polished to a bright shine and tastefully tapers off towards the strap.
You get a canvas strap colored hunter green. Its holes are reinforced with metal that prevents tearing and simplifies threading the closure pin. There's no quick way of releasing the BM8180-03E. On the other hand, this type of closure makes it hard to come off accidentally. The strap's canvas material is sturdy, and you can wash it with soap & water.
There's not much to look at when examining the watch face. However, the few elements that are there work together in harmony. The face itself is black and marked with large white hour numbers, minute straps, and minute markers in multiples of five. The hour and minute hands are pudgy and geometric, while the second hand is slim and stands out because of its bright red color. Even though there's no dedicated stopwatch function, you can easily use the second hand to precisely track time in small increments.
An Eco-Drive movement powers the BM8180-03E. The technology behind it has been refined for decades, and the result is a precise, solar-powered timekeeping tool that won't overcharge. There's even a power-saving mode you can switch the BM8180-03E to if you aren't planning to use it for a while and don't want the battery to run dry.
What's Bad About It?
A mineral crystal window protects the dial. While clear, the window scratches more easily than others on our list. There's a day of the week and month counter on the face's right side. It can get stuck, and there's no way of repairing it other than sending the watch back to Citizen.
Tech Specs
Weight: 7.2 oz.
Type: Analog
Case diameter: 1.46 in.
Case material: Stainless steel
Dial window material: Mineral crystal
Band Material: Fabric
Movement: Eco-Drive E100
Water-resistant down to: 330 feet
The Pros
Cool-looking tactical watch with a thin profile
Power-saving mode
Rugged canvas strap and secure closure
The Cons
Dial window prone to scratching
Date marker can get stuck
6. Best Budget Option – Seiko SNE329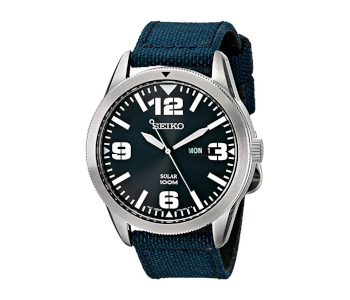 View on Amazon
Editor's Rating: 3.9/5
Our final recommendation is another watch from Seiko. This time, it's a timepiece that charms with its elegance and simplicity. The SNE329 is a sports watch with no extra features. That being said, it's a sophisticated example of Japanese precision engineering that keeps ticking for months even if you don't expose it to the sun. Look no further if you're in the market for an affordable, eye-catching watch with character.
Overview of Features
The SNE329's charm lies in its simplicity. Its only distinct features are the stainless steel coin-shaped bezel and a triangle mark on the 12 'o clock position. However, looking closer reveals additional signs of quality craftsmanship. The numbers are large and bright, so you should have no trouble telling the time at a glance. They're also colored using Lumibrite, a substance that soaks up light and emits it in the dark.
The strap is made out of nylon. While not as robust as stainless steel or as hardy as resin, the strap is both flexible and durable. Each hole is reinforced with leather for additional durability. Nylon is also easy to color, so the strap is a shade of blue that perfectly accompanies the watch face. Speaking of which, the watch face is painted in a way that makes it look indigo in dim light but glows a vibrant blue outdoors, making for a striking appearance.
The three hands each have their own shape and move around with grace. They're accompanied by a window close to the number three that displays the current day and date. The SNE329 uses the same Seiko V157 movement present in the SNE435P1. The battery lasts ten months and is protected from overcharging.
Are There Drawbacks?
You might get a unit whose second hand is misaligned. Instead of pointing to a number, the hand will land between it and the next. Unlike the SNE435P1, this watch doesn't always hold its charge as long as advertised. Remember to leave it out in the sun every few months to ensure it works without interruption.
Tech Specs
Weight: 5.2 oz.
Type: Analog
Case diameter: 1.69 in.
Case material: Stainless steel
Dial window material: Hardlex
Band Material: Nylon
Movement: Seiko V157
Water-resistant down to: 330 feet
The Pros
Simple, elegant design
Matching strap and watch face
Easy to check time regardless of light
Protected from overcharging
The Cons
Second hand might not align with numbers
Loses charge earlier than advertised