Sonos Playbar vs. Bose SoundBar: How do they compare?
3D Insider is ad supported and earns money from clicks, commissions from sales, and other ways.
Are you looking for a great addition to your home entertainment system? We all like to entertain guests in our home. However, you want to do so using top of the line equipment. You also want some reliable background music or even music that will take center stage during bigger parties.
When you think of the top of the line entertainment systems, there are usually two brands that come to mind. They are Bose and Sonos. Each brand offers a variety of speaker types. However, their standalone units are quite popular when it comes to needing a speaker for at-home listening.
The speakers from both brands make great options when it comes to playing music or listening to podcasts or other types of video media. You might be in the market for a new speaker if you tend to entertain guests in your home, hosts parties, or have family and friends over for dinner. You want sound that is high quality. You also want a system that will look nice with your décor and furniture.
Both manufacturers are quite well known in the world of audio products. Bose sells audio equipment almost exclusively and has been doing so since 1964. Sonos was founded back in 2002 and is most well-known for its developing and manufacturing of smart speakers.
Given the track record of both manufacturers, consumers struggle with determining which is best. That only makes sense, since both offer great products with great sound and versatility. We've found the best way to evaluate and compare the two is to look at their individual products.
Here, we have taken a closer look at the top products available by both brands. We look at units that are all in one as well as soundbars that can be used to complement existing surround sound systems. You will want to keep that in mind as you look at our reviews. You might be looking for an all in one unit or you might prefer a soundbar. Either way, we've looked at both options from both companies. Here, you are sure to find the speaker that best meets your home entertainment requirements.
Budget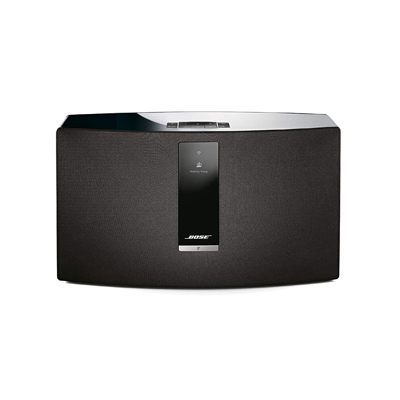 Bose SoundTouch 30
4.7/5.0
Connectivity: Ethernet, Bluetooth, WiFi, AUX
Compatible with Alexa: Yes
Very powerful standalone speaker, and solid for streaming purposes.
Check Amazon
Best Value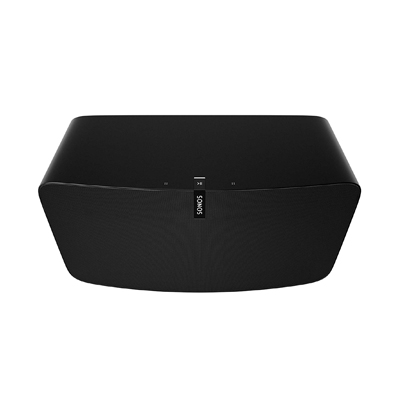 Sonos Play: 5
4.8/5.0
Connectivity: Ethernet, WiFi, AUX
Compatible with Alexa: Yes
Strong width and bass, and great option for music streamers.
Check Amazon
Top Pick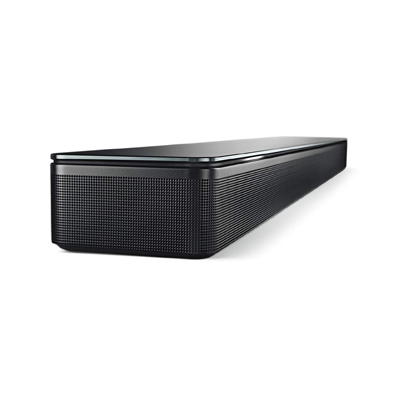 Bose Soundbar 700
5.0/5.0
Connectivity: WiFi, Ethernet, Bluetooth
Compatible with Alexa: Yes
Built-in Alexa, adjustable equalizer, and App control.
Check Amazon
Sonos vs. Bose Music Systems Comparison Table
| Image | Model | Connectivity | Best Features | Price |
| --- | --- | --- | --- | --- |
| | Bose Soundbar 700 | Ethernet, Bluetooth, WiFi | Lightweight, Alexa built-in, app control | Check Price |
| | BOSE Wave Soundtouch Music System IV | Bluetooth, WiFi, AUX, USB, FM, Ethernet | Very easy set up with rich, high-quality sounds. Remote is included. | Check Price |
| | Sonos Play : 5 | Aux, Ethernet, WiFi | Interface is easy to use, compatible with Alexa and easy to set up | Check Price |
| | Bose Soundtouch 30 | Aux, Bluetooth, Ethernet, WiFi | Lots of bass, very powerful speaker | Check Price |
| | Sonos Playbar | Ethernet, WiFi | Very crisp dialogue audio, wall mounting option | Check Price |
Sonos vs. Bose Music Systems: Detailed Reviews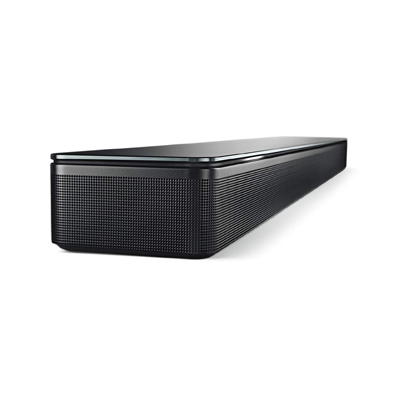 View on Amazon
Editors Rating: 5.0/5
This Soundbar from Bose is similar to the Sonos Playbar also included later on in our reviews and comparison. The Bose Soundbar 700 is part of a larger system that you can build using other speakers from Bose. Doing so will get you a full 3.1 or 5.1 surround sound system. This is not an all in one product but combining it with others can give you some really high-quality sound.
With this Bose Soundbar 700, you can connect right to your television which is a pretty unique feature. You can also use this soundbar with live streaming devices for added versatility and compatibility. This will give you the best sound possible. You are also able to adjust the equalizer using either the Bose app or the remote.
There are several options when it comes to input with this product. This also increases versatility since some other products really limit your input options.
In addition, the app is compatible with both iOS devices as well as Android ones. This gives you a higher level of convenience and versatility. The primary options for connectivity include WiFi and Bluetooth. However, it is also compatible with Apple Airplay 2 which is quite unique as this is a brand-new option. If you are looking for the newest technology, you have found it here with this product.
One of the biggest highlights of the Bose Soundbar 700 is that it has Alexa built right into its hardware. It is the only option on our list that offers this feature. This is a stark difference between this option and anything offered from Sonos on our list. For example, the Sonos Play: 5 requires that you use a separate Alexa speaker.
With this option, you can save a bit since you don't have to purchase another speaker device. You'll want to keep that in mind when comparing the overall price of each system we highlight here. The design of the Bose Soundbar 700 is quite distinct and classic. It offers a mix of metal and class and looks quite sophisticated.
It will look great with nearly any furniture or décor you have in your home. It's eye-catching but tasteful. So, it will be a great addition to the room during dinner parties or at other times you're entertaining in your home.
Tech Specs
Connectivity: WiFi, Ethernet, Bluetooth
Built-in Alexa: Yes
The Pros
Sophisticated design
Built-in Alexa
Adjustable equalizer
App control
Very light, weighing only 10 pounds
The Cons
Cannot sync older Bose speakers
Power supply required
We don't typically give out perfect ratings, but this option warrants a break from our usual scoring guidelines. You won't find better sound quality with other options on the market. While we offer plenty of options that will deliver great quality sound here in our list, none of them come close to this Bose option.
You also get a few things with this option that you don't elsewhere such as built-in Alexa and compatibility with Apple Airplay 2. This product offers great versatility and compatibility.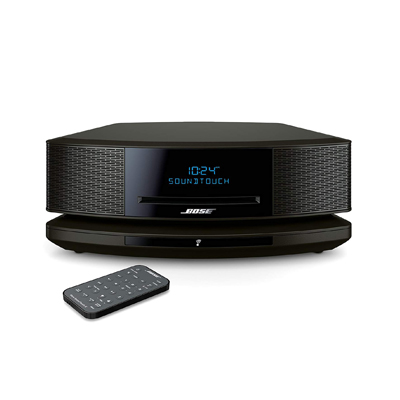 View on Amazon
Editors Rating: 4.8/5
This is an incredibly versatile speaker, making it one of the best on our list. You will find that your entire home is filled with great sound when you listen to music with this speaker. Bose is known for its high-quality speakers. They provide some of the best clarity, frequency balance, and sounds. This model stays right on track with that trend.
The versatility of this speaker is showcased in part with its compatibility. It supports MP3's, CDs, Wifi and Bluetooth. It also works with a variety of apps including Amazon Music, iTunes, Pandora, and Spotify. You might even be able to add in some music options you haven't ever used before, such as iHeart Radio.
There is a remote that comes with the system and provides playback control. You can also integrate Alexa into this device, but you need to have an existing Alexa device in order to do so. You can control a few things with just the sound of your voice, including accessing a variety of online music applications. This just gives a layer of convenience to using the product.
Along with the music system and remote control, you also receive an AC power cord and owner's guide with your purchase. The SoundTouch app that is compatible with the product can be accessed from your computer, tablet or smartphone.
Despite the versatility of this speaker, it does have some downsides. You cannot transmit music from a CD to additional synced speakers. The CD player is also not of the highest quality. It is pretty prone to breaking and malfunctioning. In addition, you cannot adjust the equalizer on this speaker.
Despite the downsides, this is a highly rated speaker if you are looking for a modern sound system. You'll get really vibrant and solid sounds. If you are looking for a high-quality CD player, however, this is not the option for you. CD's seem to be turning into obsolete technology. If the use of a CD player is not of high priority to you, this is a great option to consider. However, if you do want reliable use of a CD and CD player, you'll want to steer clear of this option and consider a different product.
Tech Specs
Connectivity: AUX, USB, FM, WiFi, Ethernet, Bluetooth
Compatibility: Compatible with Alexa
Includes: Comes with remote
The Pros
High-quality sound
Easy to set up
Compatible with Alexa
Great customer service
Music Services accessibility
Remote included
The Cons
Fragile CD player prone to breaking and malfunctioning
No surround sound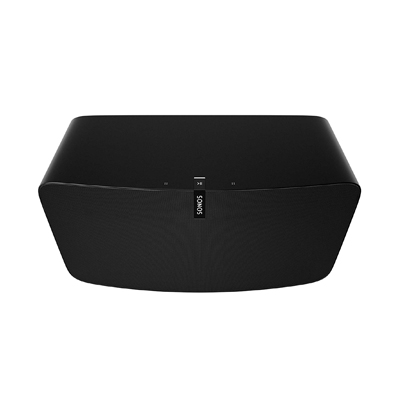 View on Amazon
Editors Rating: 4.8/5
This option is very closely aligned with the Bose Wave SoundTouch Music System IV in a lot of ways. It is similarly priced and has just about the same options when it comes to connectivity. There is also a great similarity in the quality of sound you can expect from both options. The Sonos Play:5 uses three custom-designed woofers for a strong bass.
This speaker is a good option if you are looking to get your music content from streaming online options. There isn't a CD player with this speaker, which makes it a bit more modern than the Bose Wave SoundTouch Music System. However, clearly that is a downside if you are looking for a CD player, though the one offered with the Bose Wave SoundTouch Music System is not the highest quality anyway.
This product does come with an Ethernet port so you can get a reliable and strong internet connection if you need one. When WiFi is down or spotty, you can connect directly to your router. This is a great safety net if you think you might need one. The last thing you want is to be hosting a party and have the WiFI go down with no ability to directly connect.
With this product, you'll also enjoy a Sonos Controller app which gives you access and control to streaming features. The woofers on this model are strong and the speaker is made up of Class-D amplifiers. So, you won't get any distortion, but you will get music that is rich in its tones. You will enjoy great sound quality with this product.
There is an option available for two-room purchasing. This would give you two different speakers so that you can enjoy further-reaching sound throughout your house. This is a great option if you typically throw larger parties and want to make sure the sound carries properly to every respective room.
The Alexa compatibility is another feature this speaker has in common with the Bose Wave SoundTouch Music System IV. You need to have an existing Alexa speaker as Alexa is not actually built into the speaker. It isn't standard to have Alexa built-in but doing so would be both cheaper and more convenient.
There aren't many downsides to this speaker. However, it isn't perfect. The software is not entirely reliable. Other users have experienced quite a number of failures with their wireless cards. This isn't ideal if you plan on using the speaker during parties. You want something reliable when planning to entertain guests. While this is its only major drawback, it could easily be considered a deal-breaker, depending on your needs.
Tech Specs
Connectivity: Ethernet, WiFi, AUX
The Pros
Strong width and bass
Easy to set up
Easy interface to use
Great option for music streamers
Comes with an Ethernet port
Compatible with Alexa
The Cons
Software is unreliable
Customer service can be lacking at times
No surround sound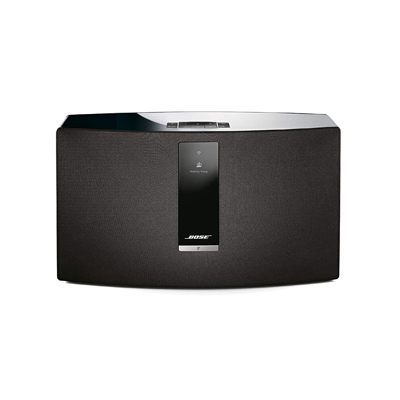 View on Amazon
Editors Rating: 4.7/5
The Bose SoundTouch 30 gives exceptional performance and sound quality in a single piece. It is a great all in one product and is compatible with a wide variety of applications. This makes it quite versatile, depending on your specific needs. The Bose SoundTouch 30 gives you a display screen that shows playback information, similar to the Bose Wave SoundTouch Music System.
This is a good option for streaming music wirelessly or for use with Bluetooth and WiFi. It does not offer a CD player. However, it does have an Ethernet port if you are looking for a wired option when connecting to the Internet. You can stream a variety of services including Amazon Music and Spotify.
You can integrate Alexa, but you'll have to have an independent Alexa speaker in order to do so as it isn't built right into the speaker. The audio formats available include Apple Lossless, WMA, MP3 and AAC.
This speaker has waveguide technology that is proprietary as well as drivers that are very high performing. If you typically entertain a lot of people in your home, or you are looking for a really great sound, this is the speaker for you. It is part of a family of speakers that can grow right along with your needs. This is a nice feature to have if you think you'll have to expand entertainment needs.
The only real downside to this speaker is it can't be adequately used in a connected system. Overall, Bose doesn't like anyone connecting other speakers with theirs, so you won't find an AUX cable. Further, you will even experience quite a delay to the sound once other speakers are connected.
That delay leads to an echo that can really overcome any quality sound the speaker ordinarily offers. This speaker can really only be used as a standalone product and not part of a greater entertainment system. This can be a huge drawback if you wanted to create a larger system. However, if you are just looking for a standalone product, this one is hard to beat.
Tech Specs
Connectivity: Ethernet, Bluetooth, WiFi, AUX
The Pros
Very powerful standalone speaker
Solid for streaming purposes
Compatible with Alexa
Comes with an Ethernet port
The Cons
Sound delay can really cause an echo effect so it can only be used as a standalone
Does not come with a CD player
Has very limited remote functionality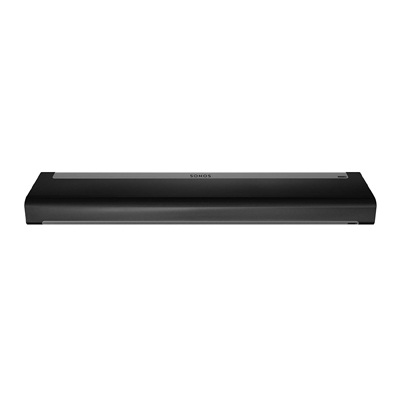 View on Amazon
Editors Rating: 4.6/5
Sonos wants you to connect a number of their speakers together to create a more substantial entertainment system. You begin with their Playbar and then you can add in a speaker and a sub. This will get you a real and substantial surround sound system.
You can do all of this wirelessly so you don't have to worry about getting any cables tangled. You also won't have to look at a bunch of wires or have your guests look at them when you're entertaining. The system is also pretty customizable. It contains equalizing controls so that you can choose your settings as they relate to the room's acoustics in which you'll be playing your sound.
The soundwaves you will get from this Sonos Playbar are clear and quite loud. You'll also get six mid-range drivers and three tweeters. You'll enjoy high and mid frequencies that are clear in sound. You can build this up to be a 3.1 or a 5.1 surround system.
You will want to buy a subwoofer because the subtones leave a bit to be desired. The Sonos Playbar is compatible with Alexa but again you have to either already own, or be willing to purchase, an independent Alexa speaker. It will work both connected to the Playbar or wirelessly.
Drawbacks of this product are limited but do exist. You have to have direct power for it to work. In addition, we do strongly recommend you purchase a subwoofer which means you'll be spending more money. You'll want to take that into consideration if you also have to purchase an Alexa speaker.
Tech Specs
Connectivity: Ethernet, WiFi
Compatibility: Compatible with Alexa
The Pros
Very clear and crisp dialogue audio
Compatible with Alexa
Works with a variety of streaming services, including Amazon Music
Can be mounted on the wall
The Cons
Requires direct power
Best quality requires adding a subwoofer
Conclusion
In this article, we've covered some of the best options available from both Sonos and Bose, two of the most trusted manufacturers of sound products and systems. In each option, we've tried to highlight the strengths and weaknesses of each system. We've also outlined some critical specifications you should keep in mind when choosing your product.
You'll probably have noticed that we paid attention to some of the same features with each product. This gives you a better foundation for drawing comparisons between each of the products. Things like connectivity, versatility, and Alexa compatibility all make a significant difference in how well each speaker will perform in your life. Some of these features also have an impact on your overall spending such as the Alexa compatibility.
Whether you're looking at one of the speakers on our list, or shop to find your own deal, these features should be at the top of your list. They are universally impactful on the ability of the speaker or system to deliver solid, high-quality sound.
Hopefully, after reading this article, you feel more familiar with sound systems and speakers and are better able to choose the one that will be the best fit for you, your home, and your entertainment needs.
Before we close, though, there's one thing we want to remind you. The best speaker in the world won't serve you well if the price is more than its value. That value is very specific to you because the value will depend almost exclusively on what you need to get from your speaker. Sometimes it is the least expensive model that gives you everything you need without weighing you down with its price tag. Don't just consider the price.
First, look at those important features we highlighted above and decide which product would actually work best for you. From there, consider price and draw comparisons as needed. This will give you the right product as close to your price range as possible.
More than any other consideration, the value of the speaker is what you should hold in the highest consideration. Our top pick was chosen for a reason. It isn't the cheapest option but it does deliver the best sound, in our opinion. However, you should use your judgment in determining which speaker is best for you and your individual needs.
[rating-form id="1″]