Headphones Comparison: Sony MDR-7506 vs. Audio-Technica ATH-M40x
3D Insider is ad supported and earns money from clicks, commissions from sales, and other ways.
If you need professional headphones that are more budget-friendly, the Sony MDR-7506 and the Audio-Technica ATH-M40x are two of the best options on the market. Both headphones normally sell for less than $100 and offer great value for the money. But they have different strengths and are better suited for different usages despite being similarly marketed for professional studio use – one is better as all-around studio headphones while the other is more suitable for DJing and casual listening.
Removing their different sound profiles from the equation, the two headphones are also similar in many important aspects, including build quality, portability, and connectivity. This makes choosing between them more difficult, especially if you find them selling for almost the same price. But we'll make things easier for you with this comparison guide. In this head-to-head comparison, we'll detail both the differences and the similarities between the MDR-7506 and the ATH-M40x to help you make a more informed decision.
Quick Look
Sony MDR-7506
Audio-Technica ATH-M40x
Type
Wired over-ear
Wired over-ear
Enclosure
Closed-back
Closed-back
ANC
No
No
Connectivity
1/8 in (3.5 mm) analog, 1/4 in
(6.3 mm) adapter
1/8 in (3.5 mm) analog, 1/4 in
(6.3 mm) adapter
Battery
N/A
N/A
Weight
8.1 oz
8.5 oz
Price
Amazon
Amazon
Design
The ATH-M40x are better-designed headphones than the MDR-7506, edging out the Sony product in most of the categories here. They include two audio cables and are better-built, with their detachable and easily replaceable audio cables adding to their durability. Moreover, they are generally more comfortable to wear due to their better ear cup design, although their tighter clamp is going to be an issue for some people.
On the other hand, the Sony headphones are more compact when folded, which makes them a bit more portable. While they are not as comfortable as the Audio-Technica headphones, they are lighter and have a looser clamp that makes them more comfortable if you have a large head. Their overall design is still good, but the ATH-M40x simply have more strengths.
Fit
The ATH-M40x are generally more comfortable to wear, with their more spacious ear cups and thicker cushions being the main reasons. Their ear cups have a better adjustment range because of their rotating design. They are lightweight and decently breathable for closed-back headphones.
However, they have a tighter clamp, which can be uncomfortable for long listening sessions if you have a large head. The tighter fit does have a positive side, though: It makes for a more secure fit, allowing you to move from one audio equipment to another in the studio or while DJing without worrying about your headphones sliding off.
While the Audio-Technica headphones are more comfortable overall, the MDR-7506 are not too far behind in comfort. You may find them more suitable for long listening sessions due to their slightly lighter frame and looser clamp, with the latter aspect being especially beneficial if you have a large head. Their closed-back ear cups also allow for a decent amount of airflow.
On the other hand, their ear cups are noticeably shallower and have thinner cushions while their looser clamp makes them less secure on your head. Due to their shallow ear cups, the MDR-7506 can feel like on-ear headphones instead of over-ear headphones if you have large ears. In addition, their ear cups have a more limited adjustment range.
Build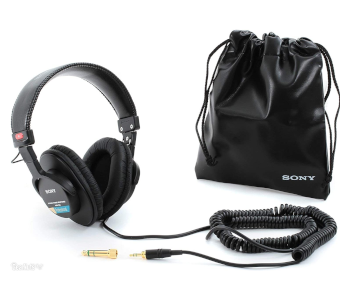 The MDR-7506 and the ATH-M40x use the same materials in their construction: plastic, metal, and artificial leather. Their build qualities are similar, with almost the same strengths and weak points. For both headphones, the headband has artificial leather padding and is reinforced with a thin strip of metal while the ear cups and arms are both made of plastic.
Their headbands and ear cups are both durable and sturdy, but their earpads feel cheap, especially the ones on the Sony headphones. The good news is that the earpads of both headphones are easy to replace. Unfortunately, the folding design of both headphones adds more moving parts that are more vulnerable to wear and tear. You need to be careful when folding and unfolding them, especially since their arms or yokes are also made of plastic instead of solid metal.
Although the mostly plastic builds of the two headphones are similarly decent, the ATH-M40x are a bit better in this category. Unlike the MDR-7506, their audio cable is detachable, which makes it easy to replace when damaged, adding to the durability of the headphones. You can easily replace the audio cable with either official replacement cables or third-party ones. In addition, the ATH-M40x don't have exposed wiring near the arms that can get caught into something.
The two headphones are also similar in aesthetics. Both have utilitarian designs with mostly black colors and minimal branding on the headband. But the MDR-7506 look more like professional studio headphones due to the amount of branding on the ear cups and their non-replaceable coiled audio cable, while the ATH-M40x can pass off as casual headphones more easily. While not as important as other aspects, the aesthetics need to be considered if you intend to use your headphones in a non-studio environment like at the office or during commutes.
Controls
Like other headphones designed for professional use, both headphones lack a remote or any form of controls for call and music management and volume adjustment. This can be inconvenient if you intend to use them as casual headphones. But for studio use and simply listening to music at home, their lack of in-line controls is not going to be a big issue.
If you want more mobile-friendly headphones, you can equip the ATH-M40x with a third-party cable that includes an in-line remote – their detachable cable makes this a very easy task. For the MDR-7506, replacing their non-detachable cable is more difficult but not impossible.
Portability
Both headphones are quite portable for over-ear headphones, with their foldable ear cups making them easier to pack for travel. The Sony headphones are a bit lighter and more compact when collapsed, giving them a small edge in this category. But on the other hand, the Audio-Technica headphones have ear cups that can swivel into a flat position to make them less cumbersome to wear around your neck when not in use.
Soft pouches are provided for both headphones. But while the pouches protect your headphones against dust and scratches, it's much better to invest in a hard-shell travel case for storage. A hard case offers better protection against physical damage and minor water spills and is recommended if you travel a lot for work.
Accessories
The ATH-M40x have the edge in this category. In addition to their carry pouch and 1/4 in (6.3 mm) adapter, they include two interchangeable audio cables similarly terminating in a mini-plug: one is a 9.8-foot straight cable while the other is a 3.9-foot coiled cable that can also extend up to around 9.8 feet. The MDR-7506 also include a carry pouch and a plug adapter, but since their audio cable is not detachable, there are no additional cables included in the box. Their stock cable is a coiled type that can extend up to around 9.8 feet and has a 1/8 in (3.5 mm) analog plug.
Performance
Unlike in the design section, there is no clear winner between the two headphones in the performance section. The MDR-7506 are better for purely studio use. Their more neutral sound profile is better for mixing and mastering while their lower sound leakage makes them more suitable for recording tracks in the studio.
In the opposite corner, the ATH-M40x are easier to drive and have a more enjoyable and less fatiguing sound that makes them better for casual use. They are also better in the connectivity category, not only because their detachable cable system makes them more versatile but also because they have two different types of cables out of the box.
Sound
The MDR-7506 and the ATH-M40x are both good-sounding headphones that can clearly reproduce vocals and instruments, but they have different sound profiles. The Sony headphones have a more clinical and more accurate sound that makes them more suitable for sound mixing and mastering in the studio. They are the better option if you need closed headphones with a neutral sound, especially in regard to the bass.
Their bass is deep, detailed, and more natural while their mid-range is clean and flatter. Their treble is also good, but it's more emphasized and can be harsh in some tracks. They are the more balanced headphones that are good for a variety of music genres, including rock, dance music, R&B, and hip hop. However, their sound signature is more fatiguing and more boring, which can also be said for many other neutral headphones.
Easier to drive and more mobile-friendly, the Audio-Technica headphones have a more enjoyable and more musical sound profile. Their bass is controlled and more emphasized but not overpowering while their mid-range is clear and balanced, but it's less accurate. Their treble is good while their soundstage is larger and more spacious than that of the MDR-7506. For bass-heavy music, the ATH-M40x, which have a less fatiguing sound, are the better headphones.
The MDR-7506 are better studio headphones overall. In addition to their more accurate sound being beneficial for mixing and mastering, their lower sound leakage also makes them a better option for recording tracks. On the other hand, the ATH-M40x are better for casual listening. They are also better for DJing, with their rotating ear cups allowing for easy one-ear monitoring, but the MDR-7506 are also a good option.
Isolation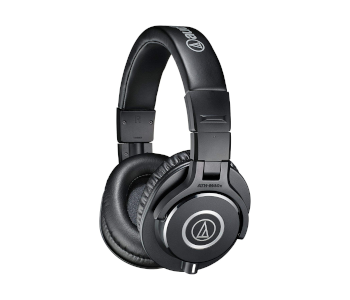 The two headphones only provide passive sound isolation with their closed-back ear cup designs. In the noise isolation department, both the MDR-7506 and the ATH-M40x are about average, similarly reducing a decent amount of ambient chatter and high-frequency noises. This is more than enough when using them in the studio and at the office.
Regarding sound leakage, the MDR-7506 are better than the ATH-M40x. Their passive seal is better when it comes to preventing sound from leaking out of the ear cups. This makes them a better option for recording tracks in the studio. For recording, headphones with low sound leakage are a must to keep your sensitive mic from picking up the live feedback on your headphones and ruining the record. The sound leakage of the ATH-M40x is not terribly high, but the MDR-7506 are simply better on that front.
Both headphones are not recommended for commuting and traveling. They are mediocre at blocking out low-frequency noises like the deep rumble of airplane and bus engines. You'll need to increase the volume if you want to block out more noise, but that will also make the sound leakage more audible, especially on the Audio-Technica headphones, which can be annoying for the people around you.
Mic
As mentioned in the controls category, both headphones lack an in-line remote, which also means they lack a mic for calls. This is a total non-issue for headphones designed primarily for professional studio use. If you want to use your headphones for online multiplayer gaming, you can modify them and equip them with a boom mic. For non-gaming use, you can simply buy a compatible audio cable with an in-line mic, but this alternate solution is mainly for the ATH-M40x since their detachable cable system makes it easier to use different audio cables.
Battery
Both the MDR-7506 and the ATH-M40x are passive headphones that don't need batteries to be fully functional. This means you can use them as long as your audio source has power. The only time you need to worry about battery management is when using a battery-powered portable amplifier, which is only optional for both headphones.
Connectivity
While their cable designs are different, the two headphones use the exact same analog connectors: their audio cables have 1/8 in (3.5 mm) plugs that allow for easy compatibility with most devices, including portable music players, smartphones, and gaming consoles. Both headphones also include 1/4 in (6.3 mm) adapters for interfacing with studio equipment. Their wired connectivity eliminates latency issues, which is especially beneficial for gaming and watching video content.
The ATH-M40x are slightly better in this category, though, mainly due to their detachable cable system, which allows you to use different cables for certain situations. They include straight and coiled audio cables that can extend up to roughly 10 feet. If you want a different cable for mobile use, you can look into third-party cables that are compatible with the ATH-M40x, which have a locking mechanism for their audio cable. The MDR-7506, on the other hand, only have a non-detachable coiled cable, which is useful in a studio setting but can be inconvenient for non-studio use.
Wrap-up
Sony MDR-7506
The MDR-7506 are better headphones for mainly studio use. Their more neutral sound profile is better for mixing and mastering while their lower sound leakage makes them more suitable for recording tracks in the studio. They are also good for DJing, with their more compact design making them easy to pack if you regularly travel for work. For casual listening, their neutral sound is not going to please everyone; some will like the accurate, clinical sound while others will find it boring.

Compared to the ATH-M40x, they are lighter and have a looser clamp, but they are not as comfy as the Audio-Technica headphones, mainly due to their shallower ear cups. Their build quality is decent, but they have a non-detachable cable that makes them less durable. Overall, the MDR-7506 are the better option for all-around studio use. They have an older design, but they are still some of the best studio headphones under $100.
Pros
Cons

Neutral sound for mixing and mastering
Low sound leakage
Easy to drive
Very compact when folded
Replaceable earpads

Non-detachable audio cable
Shallow ear cups
Mostly plastic build
Audio-Technica ATH-M40x
Although they are primarily marketed for professional studio use, the ATH-M40x are better for casual listening and for DJing; their rotating ear cups for one-ear monitoring are especially beneficial for the latter. They have a more enjoyable sound with good bass impact and balanced reproduction of vocals and instruments. They are easier to drive and can be converted into more mobile-friendly headphones with an in-line remote and mic, which is made easier by their detachable cable system.

The ATH-M40x are slightly better-built than the MDR-7506: They have no exposed wiring near the hinges and are more durable due to their detachable cables being easier to replace when damaged. Their earpads also don't look as cheap as that of the Sony headphones. They are more comfortable as well, with more spacious ear cups and thicker cushions, but they have a tighter clamp. If you need headphones that are good for both DJing and casual use, the ATH-M40x are a better option.
Pros
Cons

Clean, detailed, enjoyable sound
Easy to drive
Foldable design
Rotating ear cups for one-ear monitoring
Detachable audio cable

Tight clamp can be uncomfortable
Mostly plastic build
High sound leakage